Lush Oxford Street exclusives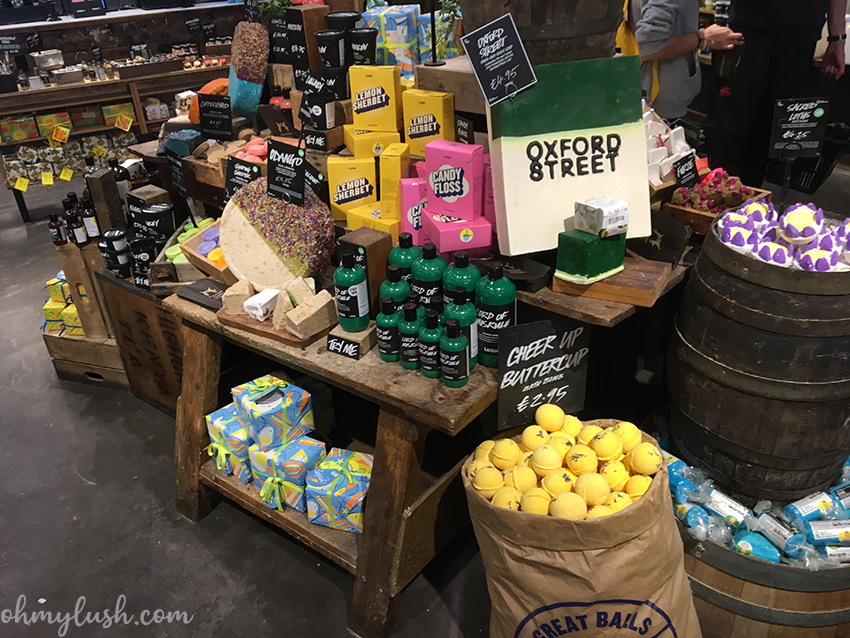 On this page you'll find an actual list of the products that are exclusively sold in Lush Oxford Street in London. A lot of "exclusives" are also available in the Lush UK webshop, so they're not really that exclusive anymore. The only thing you can buy in Oxford St. that is nowhere else to be sold, are the Oxford Street Soap and the Oxford Street Canvas Bag.
Oxford Street Soap
Oxford Street Canvas Bag
Union Jack Knot-Wrap
Ylang Song Bath Bomb
Cyanide Pill Bath Bomb
Candy Floss Showder
Lemon Sherbet Showder
Fun Mermaid
Fun Speedboat
Love Body Spray
Self Esteem Machine Body Spray
Plum Rain Body Spray
Uptown Funk Body Spray
Some products that are also now available in Liverpool:
Apandapand Soap
Green Gold Soap
Dirty Dusting Powder
Get Closer Dusting Powder
Gymslip Dusting Powder
Princess Dusting Powder
Sunflower Solid Deodorant
Vegelene Multi-Purpose Balm
Turtle Immersion Jelly Bomb
They also have all Slap Sticks, Trix Sticks, Lipstick refills and Glowsticks, the complete hair care range with +40 products that are only available in their store, Liverpool and the Hair Lab in Poole, and then products that are exclusive to selected stores like the Black Label perfumes, some bath oils, temple balms, Golden Slumber bath bomb and the cork pots.