Review: Lush Bubble Bubble Toil and Trouble Bubble Bar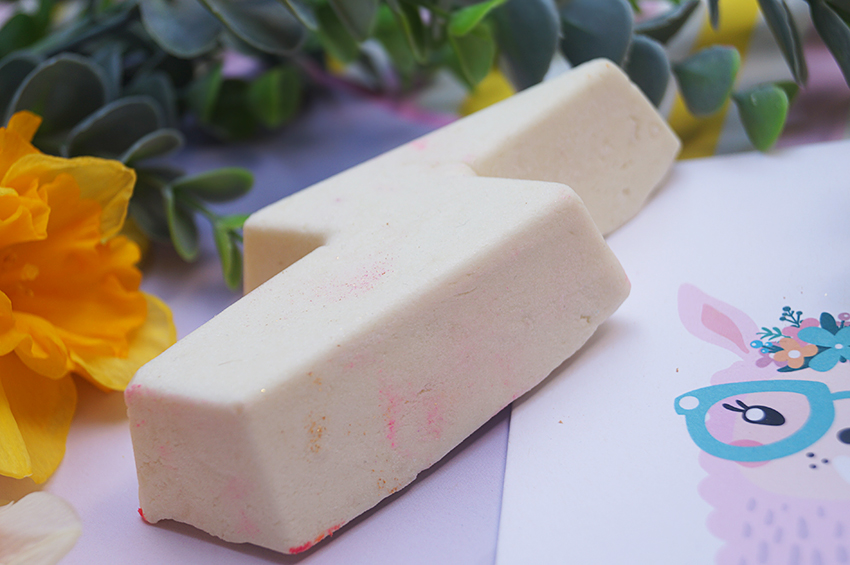 ZAP! A wild bubble bar appears! It uses move glow in the dark — it's very effective! Okay, enough with the Pokemon-nerdiness. But how cool is this bubble bar? The shape, the scent, the glow in the dark part — they really did a great job at Lush HQ. Though it's not the glow in the dark part that convinced me to buy this bubble bar, it was the lovely Calacas scent. Today I'm reviewing this bubble bar for you!
If you're curious about this bubble bar, then keep on reading.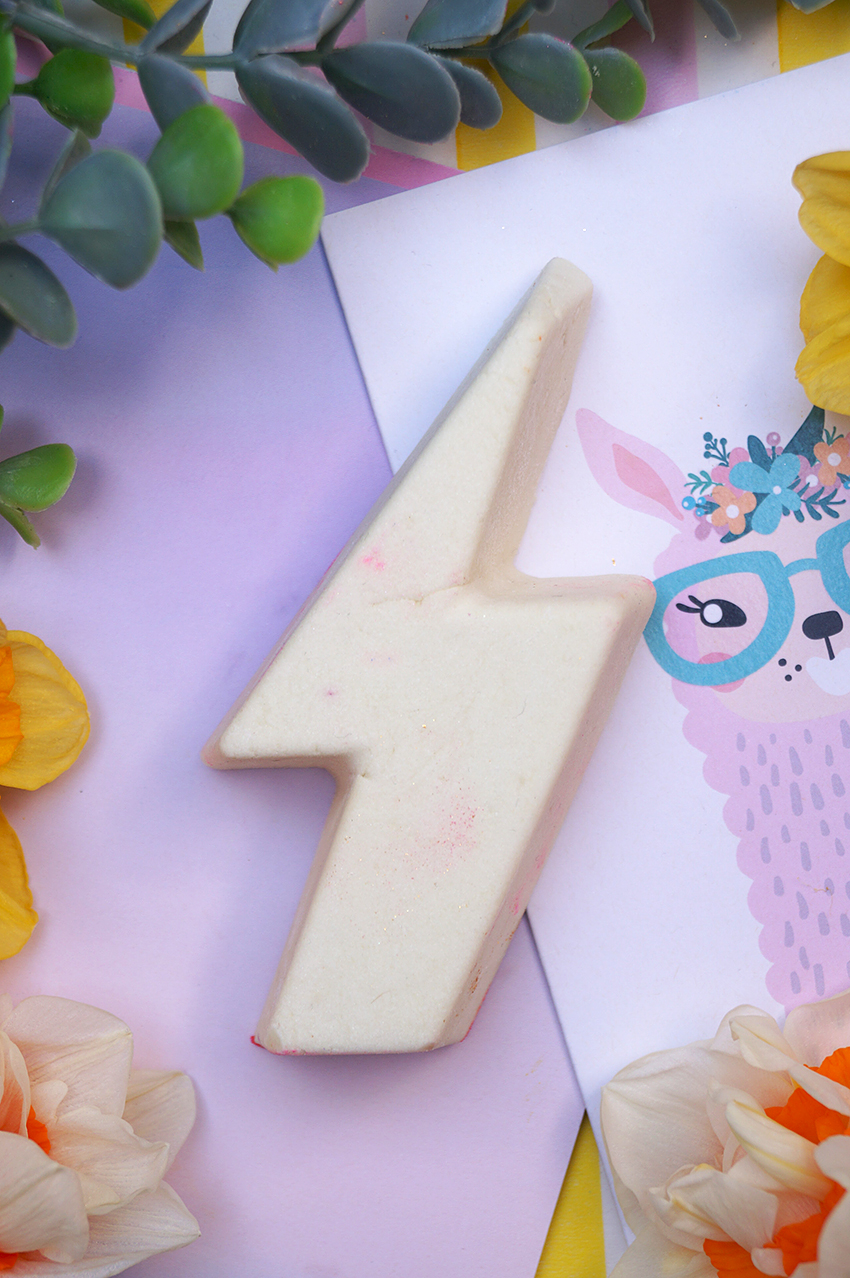 What is it?
Ingredients: Sodium Bicarbonate, Sodium Laureth Sulfate, Cream of Tartar, Luminescent Zinc Sulfide, Popping Candy, Lauryl Betaine, Perfume, Lime Oil, Neroli Oil, Olibanum Oil, Fair Trade Organic Cocoa Butter, Alpha-Isomethyl Ionone, Benzyl Salicylate, *Citral, Hydroxycitronellal, *Limonene, *Linalool
Lush Bubble Bubble Toil and Trouble Bubble Bar costs £4.95 / $8.95 / €6,75 and is part of the exclusive Harajuku bubble bar launch. A part of these bubble bars was released on March 27 (in The Netherlands) and the second part will be released on June 26. Bubble Bubble Toil and Trouble (I'll just refer to it as Bubble from now on) weighs 90 grams and is a Calacas scented bubble bar. It has the shape of a lightning bolt and it's glow in the dark! There's a photo in the webshop that suggest the water should be glow in the dark as well, so I can't wait to test that out. Bubble contains lime, neroli and olibanum — the hardcore Lushie might guess that this is indeed Calacas scented. Other than these oils, it also contains cocoa butter and some popping candy.
The sweet Calacas scent is perhaps the best thing about this bubble bar. That is, if you're just as fond of Calacas as I am. It smells of fruity candies, but not too sweet — it has a dash of citrusy notes as well. It's an uplifting and refreshing scent, while being a lovely candy-like aroma.
Play the video in 2160p quality and on full screen for the best experience! The video has been sped up.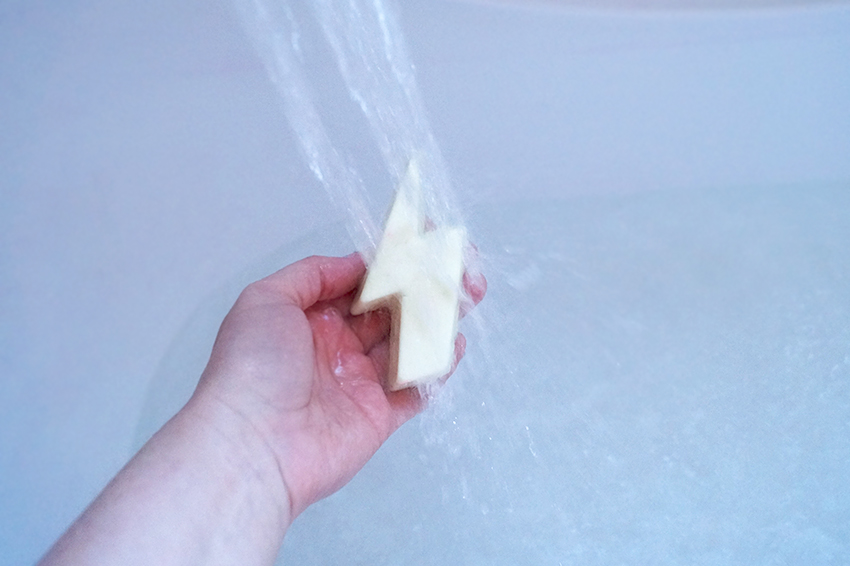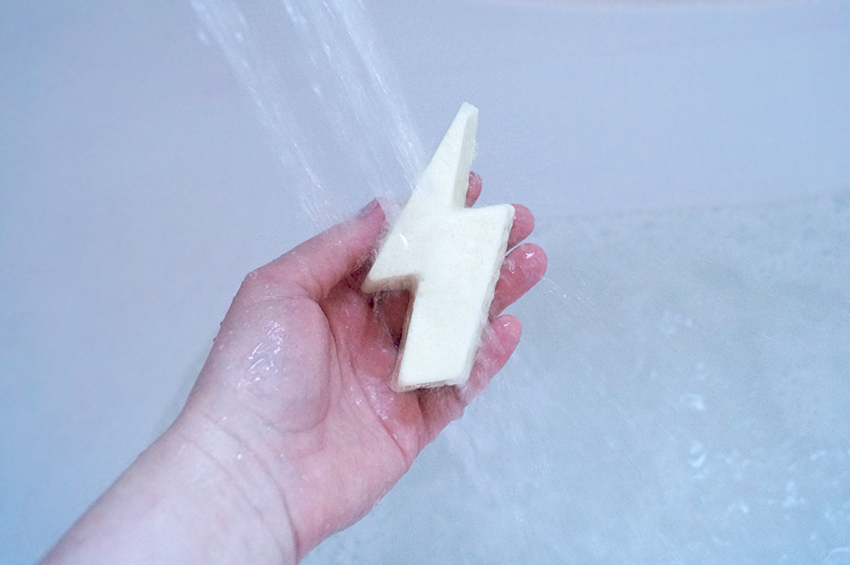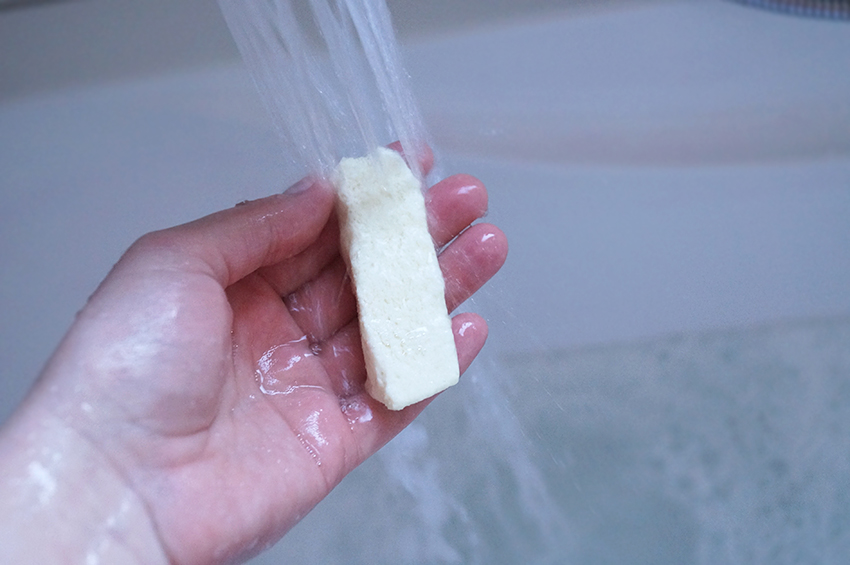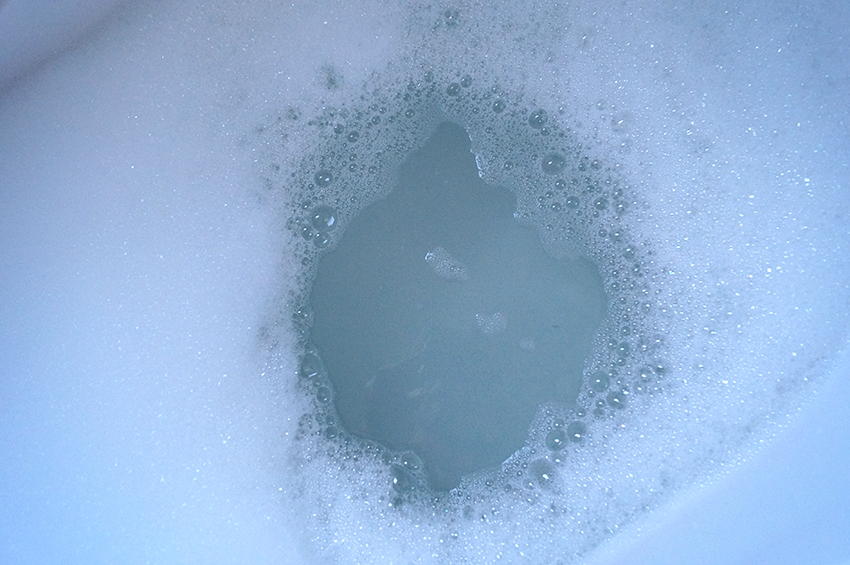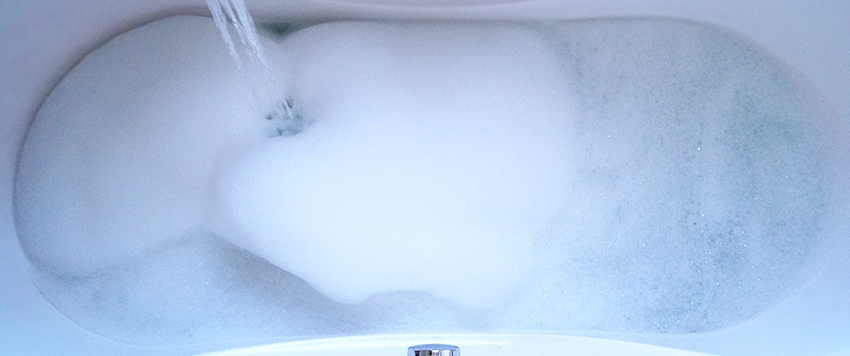 What do I think?
Since this bubble bar has a normal texture (not too hard like a reusable bar), I decide to keep it under the running tap and then break off a piece, crumbling it into the water. I ended up using half a bubble bar. It immediately creates lots of bubbles on the surface, all while the Calacas scent was gradually spreading throughout the bathroom. After it's dissolved, there's a lot of bubbles — but, and this doesn't come as a surprise, there's no color in the water. Just bubbles, and the lovely scent lingering in the bathroom.
Because I always take my baths during daytime because of the lightning for my photos and video, I couldn't test if it was truly glow in the dark — but no worries, I tried this out in the sink later at night! I first let the bubble bar soak up some light, then I filled the sink while holding the bubble bar under the running water. When I turned off the light, I could see that the water was a tinyyy bit of glow in the dark — but it wasn't bright enough to capture on camera. The bubble bar itself was glowing like crazy though! I could also spot some glow in the dark streaks at the bottom of my tub 😂
While the glow in the dark part is fun and the scent is lovely, this bubble bar isn't one I'd purchase again. I really miss the lack of color; just bubbles isn't going to do it for me. I'd combine this bubble bar with a bath bomb, there's lots of nice cocktails you can make with this bubble bar. If you have a Monsters' Ball left somewhere, I'd use that one! My skin did however feel really soft afterwards, because of the cocoa butter in this bubble bar. But I'd much rather prefer colored water.

Lush Bubble Bubble Toil and Trouble Bubble Bar costs £4.95 (England) / $8.95 (USA) / €6,75 The Netherlands)

One Response to Review: Lush Bubble Bubble Toil and Trouble Bubble Bar