Review: Lush Dirty Body Scrub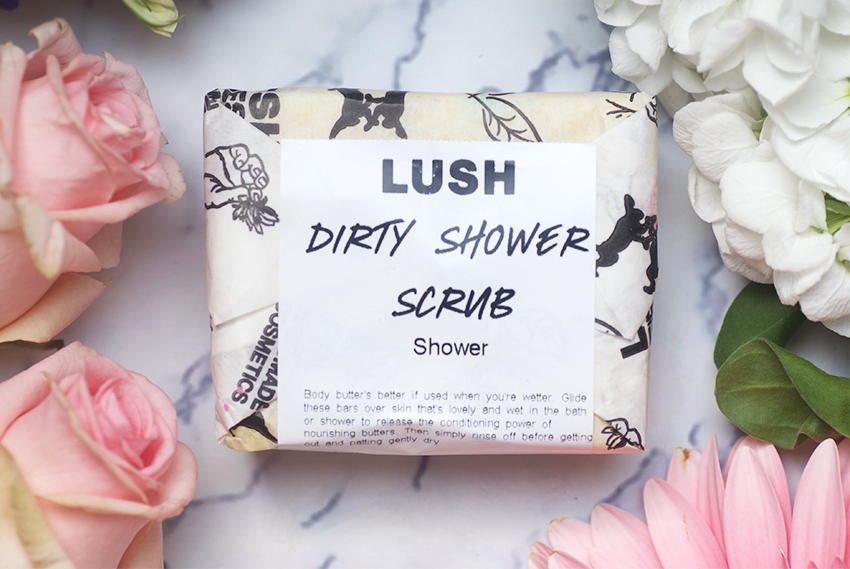 Do you like it Dirty? Good, because today I'm going to talk about a body scrub that makes you squeaky clean. Throw away your dish sponges and get to know this Liverpool exclusive, which is now also temporarily for sale in the Lush Labs. And if you're curious whether to buy this product or to skip it, make sure you keep on reading!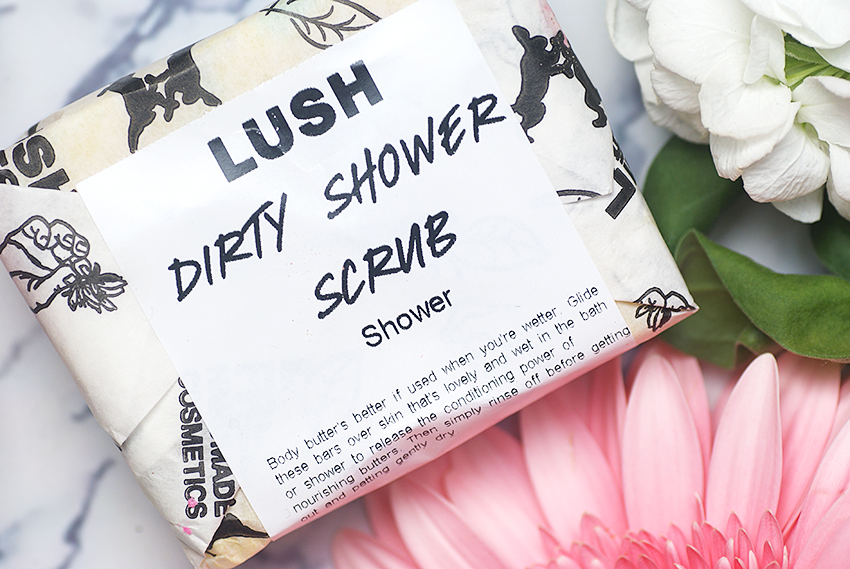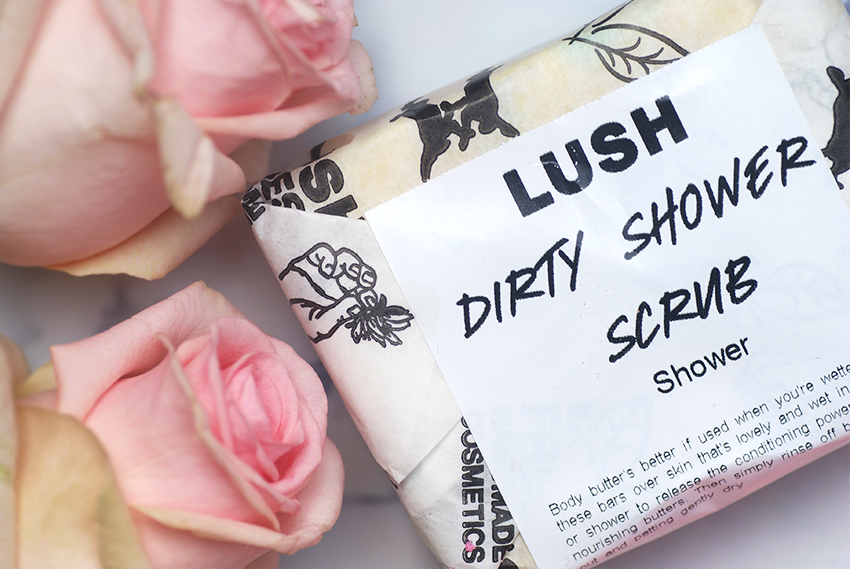 What is it?
Lush Dirty Body Scrub costs £6.95 and can be bought in Lush Liverpool, but it's temporary for sale in the Lush UK webshop, in the Lush Labs. This square scrub looks like a dish sponge and it was designed by Alessandro Commisso, one of the product designers at Lush. In the beginning I didn't like this product at all, why would I scrub myself with a fucking dish sponge? But once I had smelled it in Liverpool, I fell in love instantly. What a wonderful scent! And now I've started to love the design. It just had to grow on me.
The scrub has two sides, one side is for a thoroughly good scrub, the other side is a mild scrub, also packed with butters. A multifunctional product — exfoliating and hydrating. Scrubee is a pretty similar product, but shaped like a cute bee. And Scrubee is my all time favorite product of Lush. I also happen to love these kinds of scrubs, because they're just a bit more extra than just a regular scrub.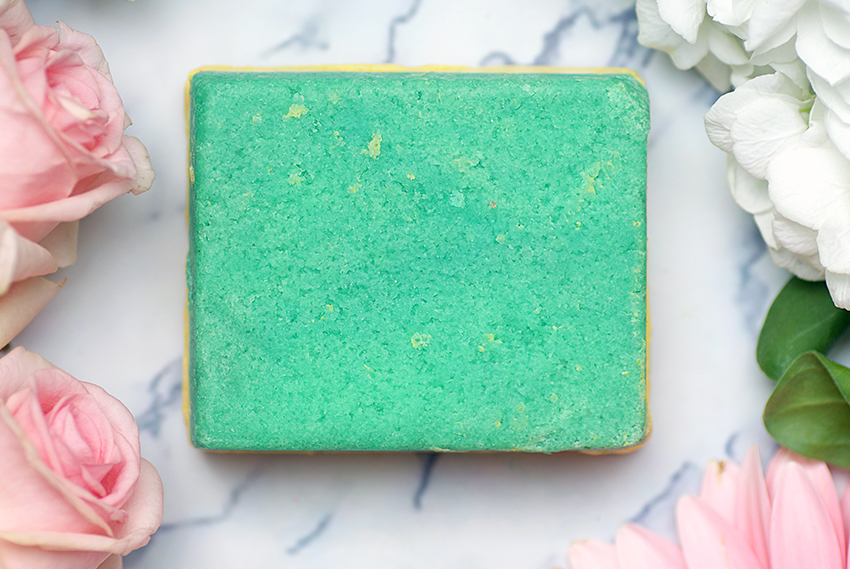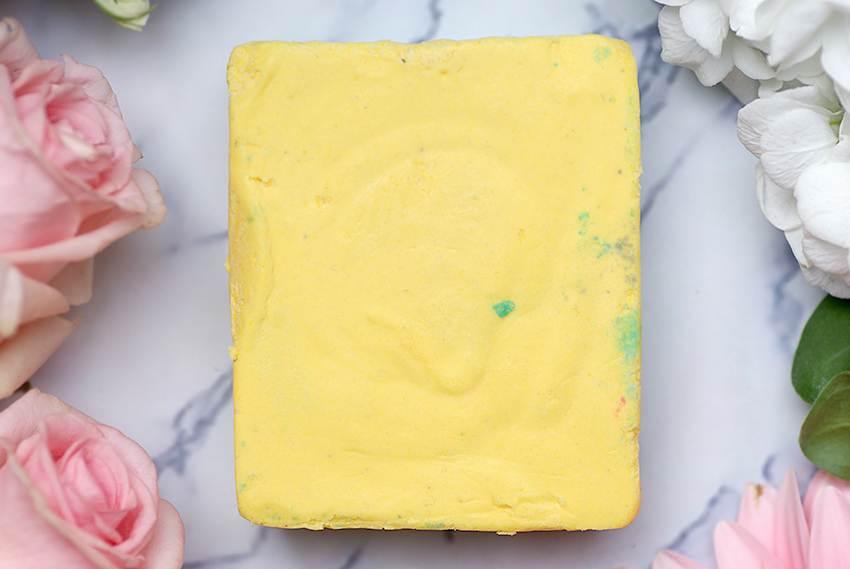 What's inside?
Ingredients: Granulated Sugar, Fair Trade Organic Cocoa Butter, Cupuaçu Butter, Ground Rice, Sodium Bicarbonate, Cocamidopropyl Betaine, Organic Shea Butter, Cream of Tartar, Potato Starch, Sunflower Wax, Sodium Coco Sulfate, Sunflower Oil, Perfume, Spearmint Oil, Menthol Crystals, Thyme Oil, Water (Aqua), Titanium Dioxide, Propylene Glycol, Alpha-Isomethyl Ionone, Hydroxycitronellal, *Limonene, *Linalool, Colour 47005:1, Colour 42090:2, Colour 19140, Colour 42090
The green side is full of granulated sugar for those who'd like a rough scrub, but it also contains cupuaçu butter for a good portion of hydration. The yellow side, which has a slightly finer scrub, contains ground rice, cupuaçu butter, sunflower oil and sunflower wax. You can choose which side you prefer. My skin is used to some coarser scrubs, so I can use both sides without problems. I do notice that the yellow side has more butters to it, therefore it's more hydrating for my skin. It's a mild scrub, great for those with a sensitive skin. The green side is a bit tougher, thanks to the sugar in it. If you're in need of a good thorough scrub, flip it to the green side. It also has butters, but it's more effectively on the skin. I love the fact that there's three kinds of butter in it — cocoa butter, cupuaçu butter and shea butter.
The smell is amazing. I don't know if this product shares its fragrance with the Dirty scent family (I don't know the Dirty products very well) but if so, I'm gonna buy all products with Dirty in their name. The scent is very minty fresh, thanks to the mint oil and menthol crystals in it. This uplifting and refreshing scent has a floral layer to it, which removes the pungent smell of the mint. This combination ensures the perfect balance between mint and floral. I absolutely adore the scent.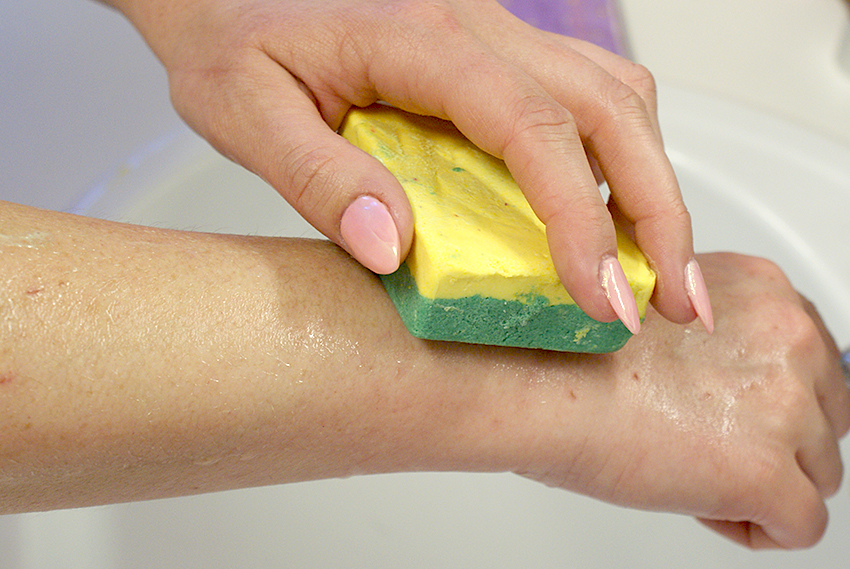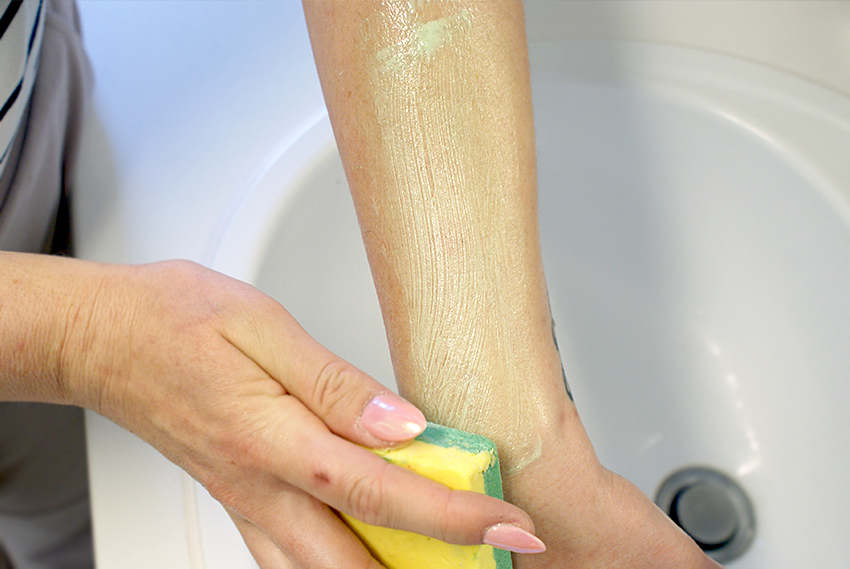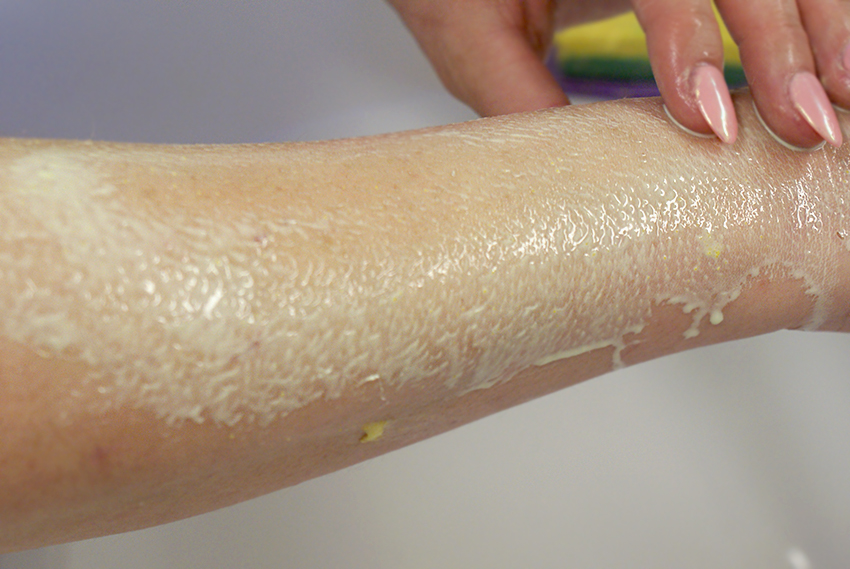 What do I think?
Ahh, I love this product so much. It's easy to hold, does a great job at scrubbing the skin (both coarse and mild – it's up to you!) and the scent is delectable. I love how it glides across my skin leaving a layer of scrub grains and melted butters, such as cocoa butter, cupuaçu butter and shea butter. I can't get enough of the smell and while showering I pray to Lush that the scent will linger on my skin for the next two weeks.
Once I towelled myself down, I can already the notice the effects it has on my skin. It puts a super thin layer on my skin, ensuring that dry skin is gone for awhile. My skin feels a lot better, it's supple and feels smooth and soft. No bumps and it has a radiant glow to it. And the scent? It's present, although very subtle, it's still there. Dirty does everything for my skin that I expect from a body scrub. It doesn't beat my beloved Scrubee (Scrubee smells just a bit better), but it's an amazing runner up. Recommended!

Lush Dirty Body Scrub costs £6.95 (England).