Review: Lush Moon Spell Bath Bomb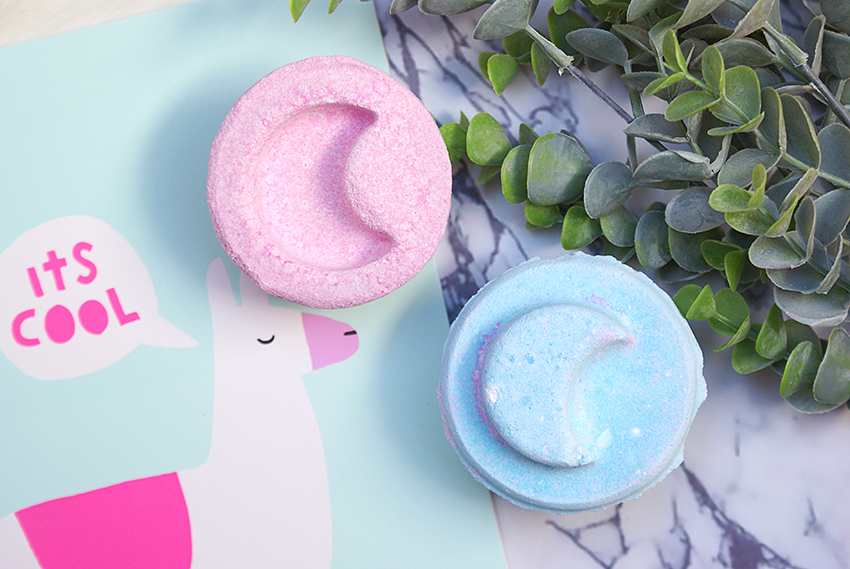 The bath bomb that I'm going to review today, is from my second Harajuku haul. First I ordered about 11 bath bombs from the Harajuku range, then later another 6, including this one. The second order I made was a bit of a "shit I actually wanted this" order. I had to have Moon Spell. Pink and baby blue, my two favorite colors! And how cool is that moon shape? Both halves also interlock, which is pretty cool, if you ask me. So, today I will introduce you to Moon Spell.
If you're curious, keep on reading!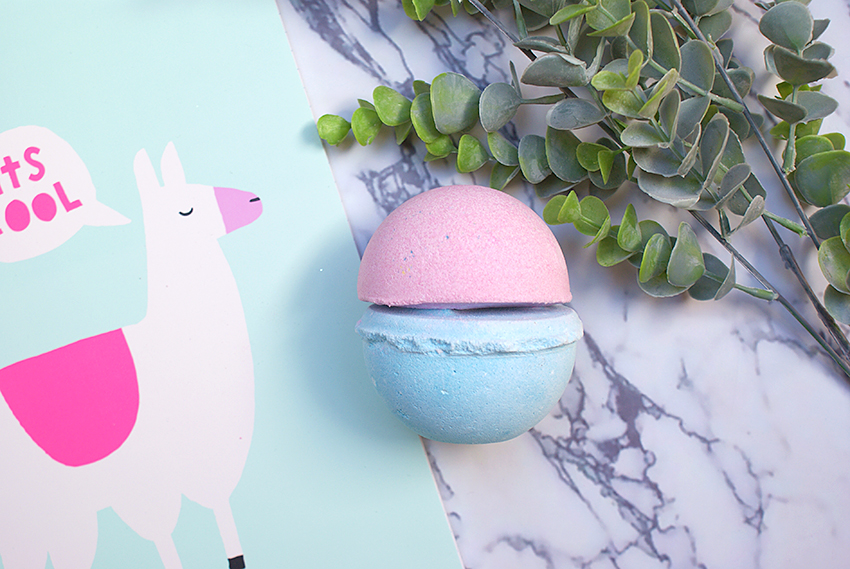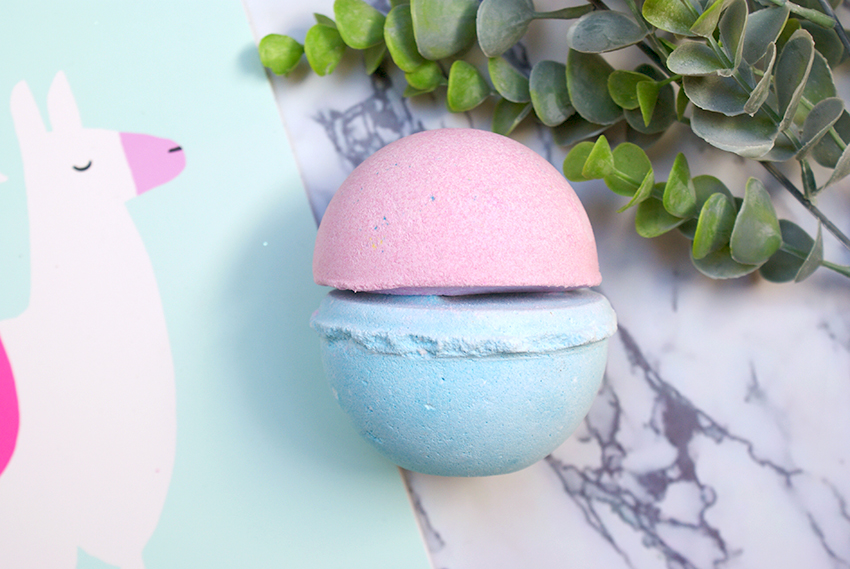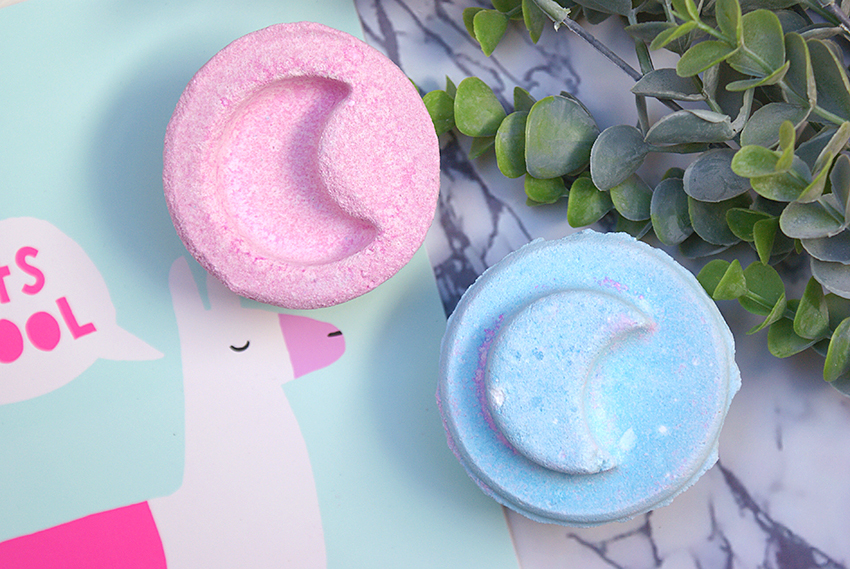 What is it?
Lush Moon Spell Bath Bomb costs £5.95 / $7.95 and is part of the temporary Harajuku range, consisting of 54 new, exclusive bath bombs.
This bath bomb consists of two halves that interlock. Because it's two halves, it's perfect for people who don't want to spend £5.95 / $7.95 on a bath bomb. Or just use the whole bath bomb at once, they go perfectly together in the tub. There's also Star Spell Bath Bomb — which has the same appearance, just different colors and a different scent. However, I found the pastel colors of Moon Spell to be so beautiful, I'm such a sucker for pastel colors.
Moon Spell has one half that contains carrageenan extract. That's actually the jelly, making one half a jelly bomb. By the way, I have read various opinions about Moon Spell. There's people who thought Moon Spell was very disappointing in terms of colors in the bath, while others praise Moon Spell because of the hydrating jelly in it. I'm not very keen on jelly bombs, the chunks of jelly give me the shivers. Like someone sneezed while bathing. Fortunately the chunks of jelly dissolve fairly quickly into the warm water, making it very soft.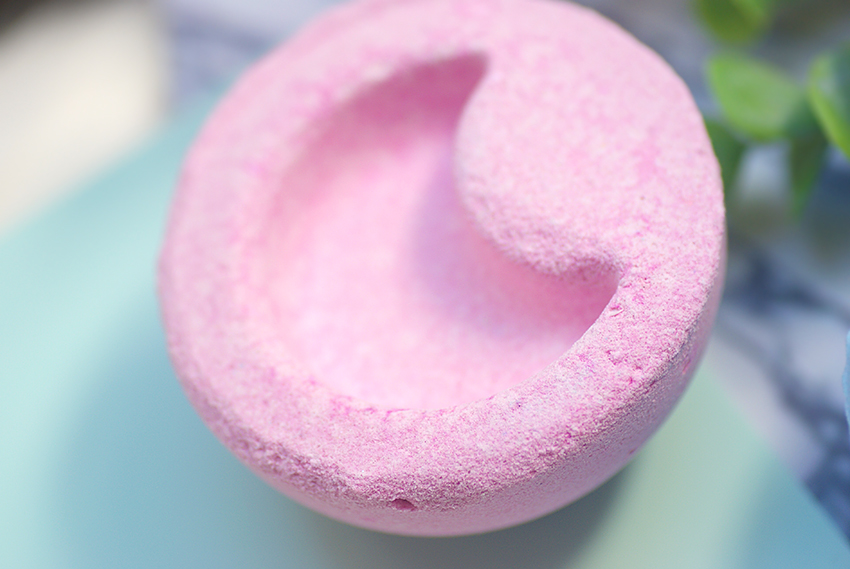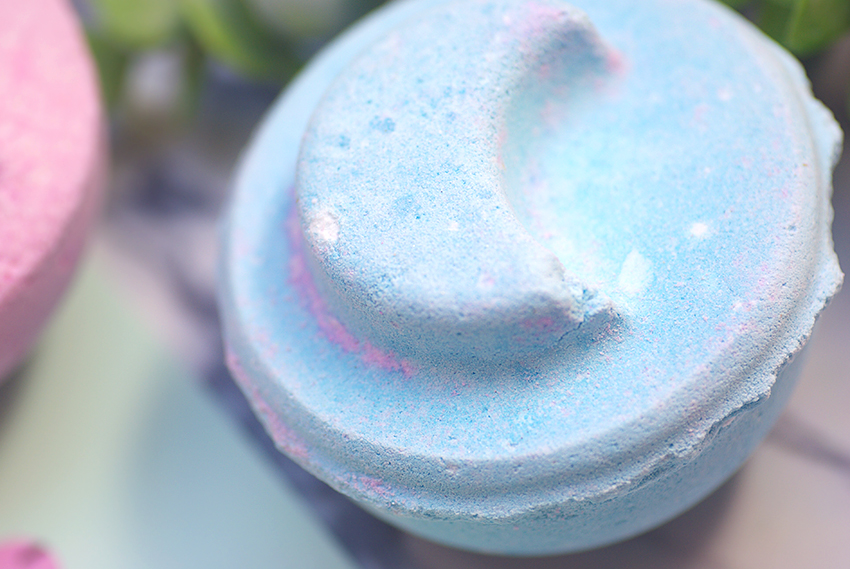 What's inside?
Ingredients: Sodium Bicarbonate, Citric Acid, Carrageenan Extract (Chondrus Crispus), Brazilian Orange Oil (Citrus Sinensis), Water (Aqua), Glycerine, Gum Arabic, Titanium Dioxide, Dipropylene Glycol, Disodium Lauryl Sulfosuccinate, Hydroxypropyl Methylcellulose, Sodium Carboxymethyl Cellulose, *Limonene, Fragrance, Red 28, Blue 1, Red 33
As you could read, Moon Spell has one half that contains carrageenan extract. Furthermore, it contains orange oil and.. oh, that was it already. Well, that's a bit of a disappointment. Call me spoiled, but I'm used to the bath bombs containing a lot more natural ingredients. Oh well. You'd probably think Moon Spell smells like orange. Well, it doesn't. The scent is rather candy-like and sweet. I can't put my finger on it (but this seems to apply to every bath bomb), just it's a just a nice, sweet and a bit fruity scent. Sorry, that's the best I could do.
Play the videos in 1080p quality and on full screen for the best experience! The first video has been speeded up.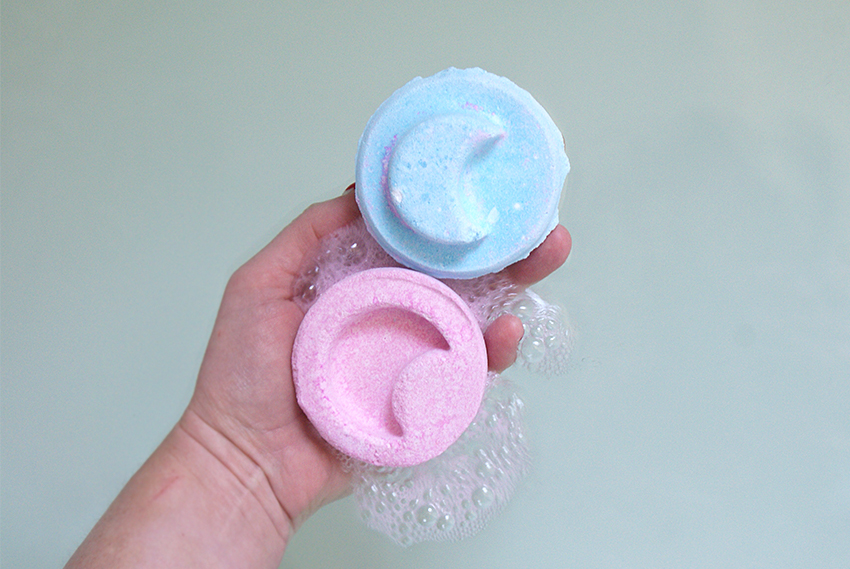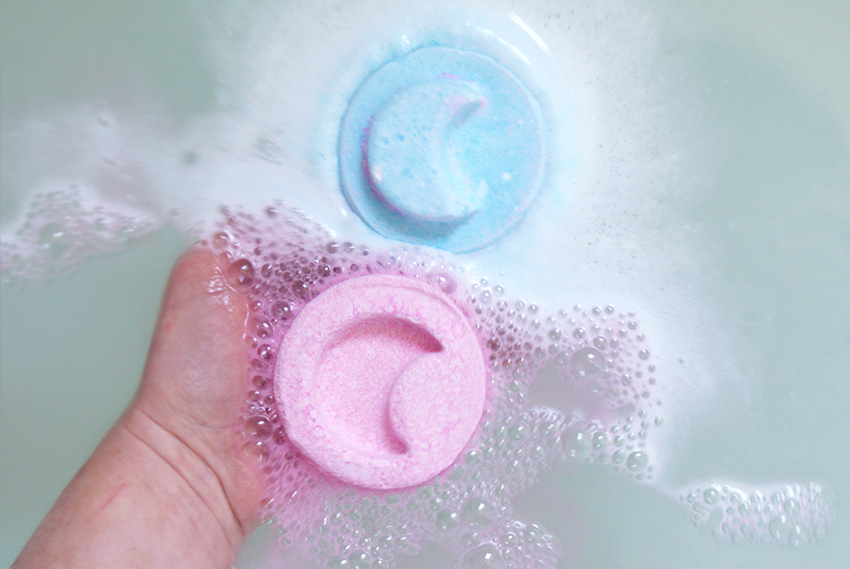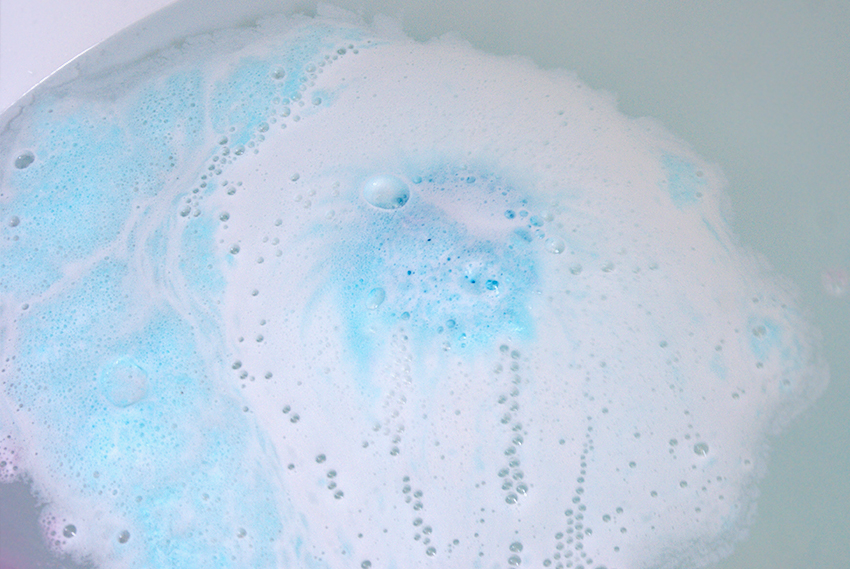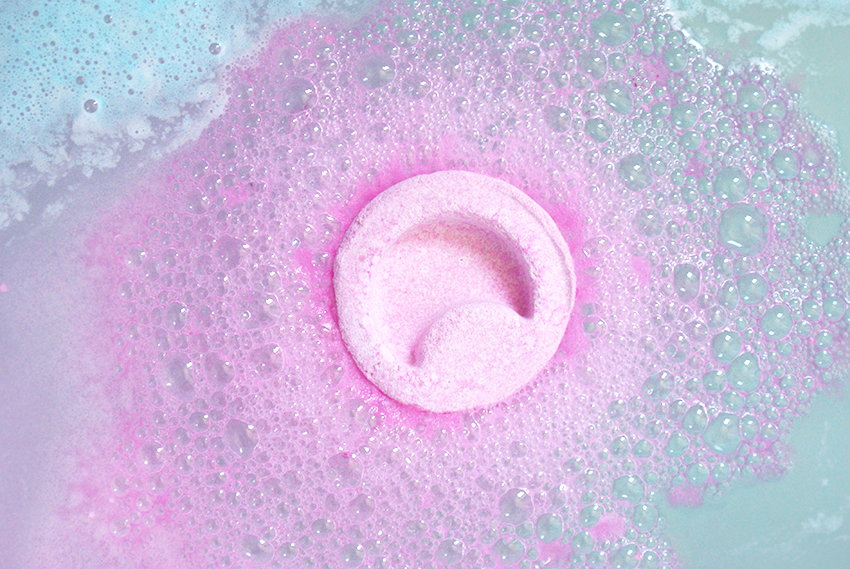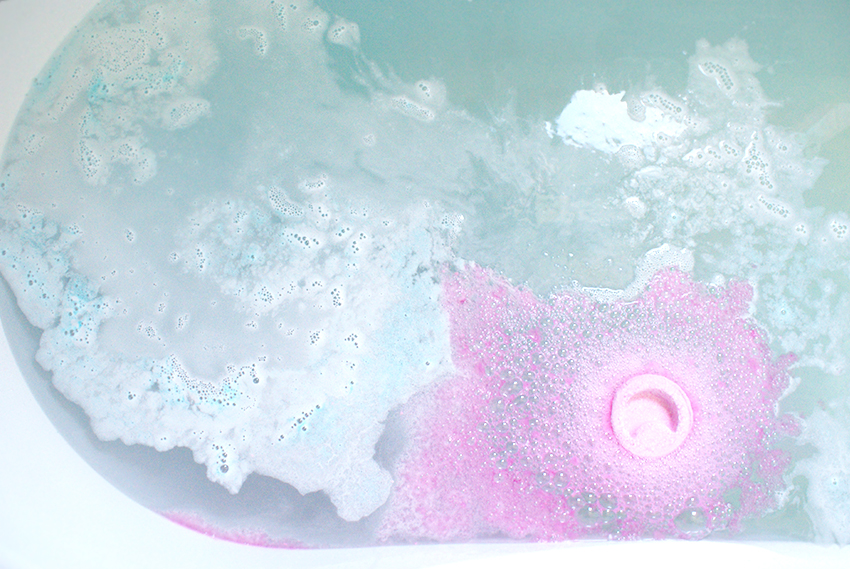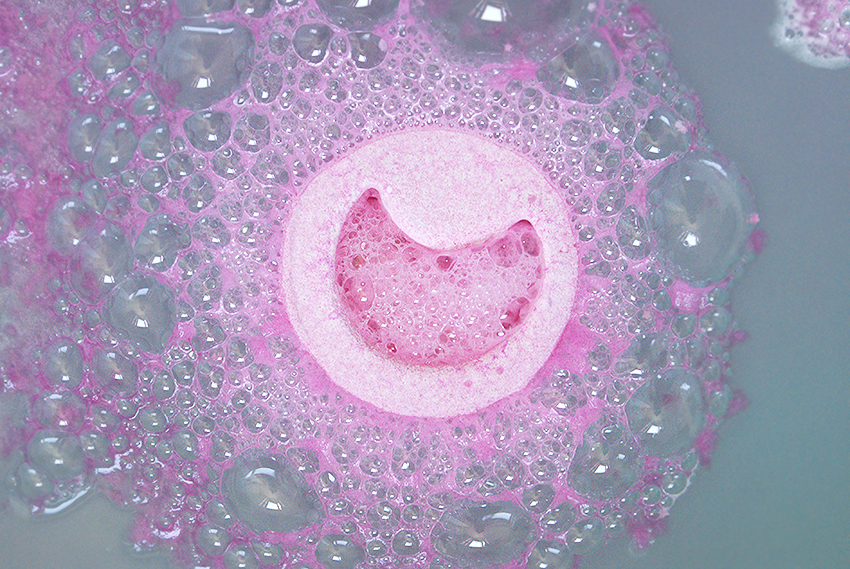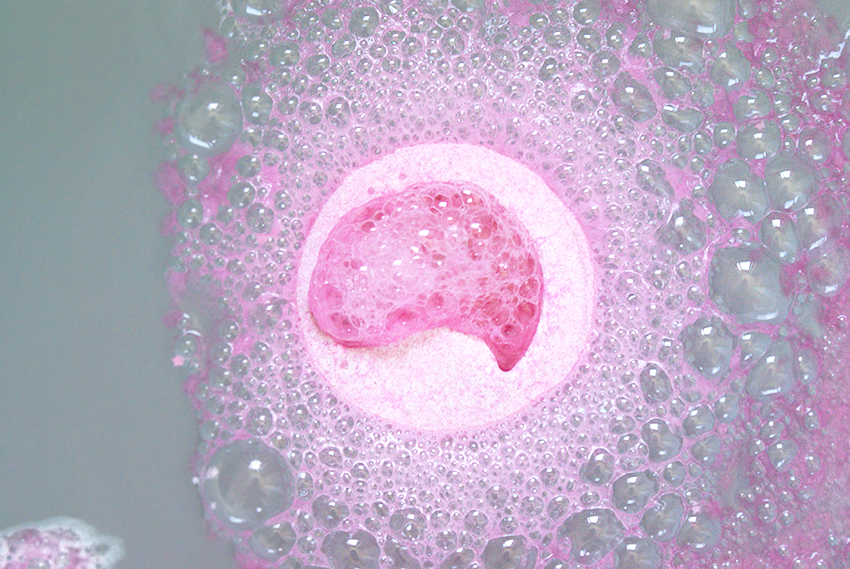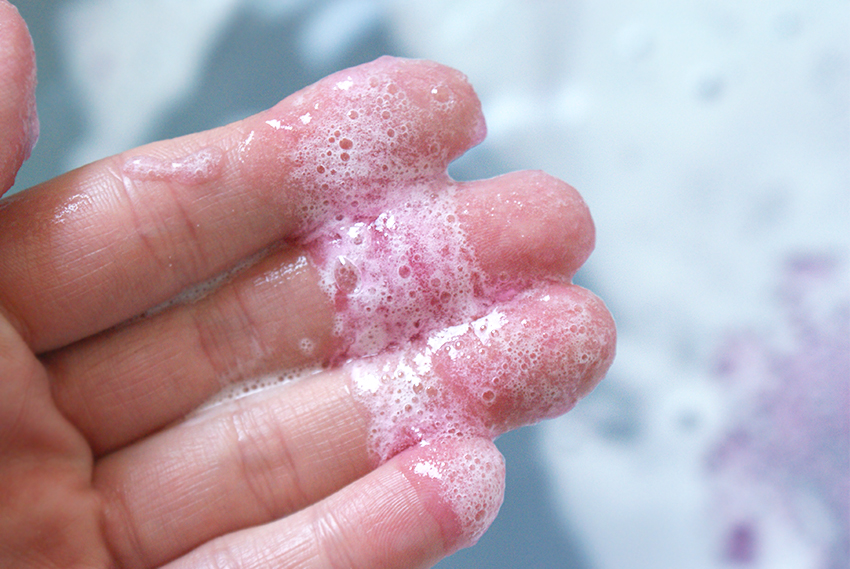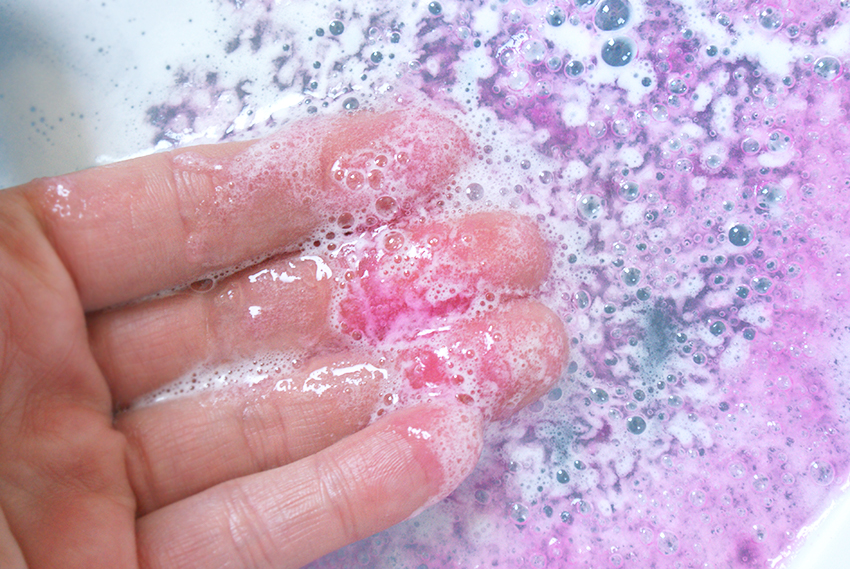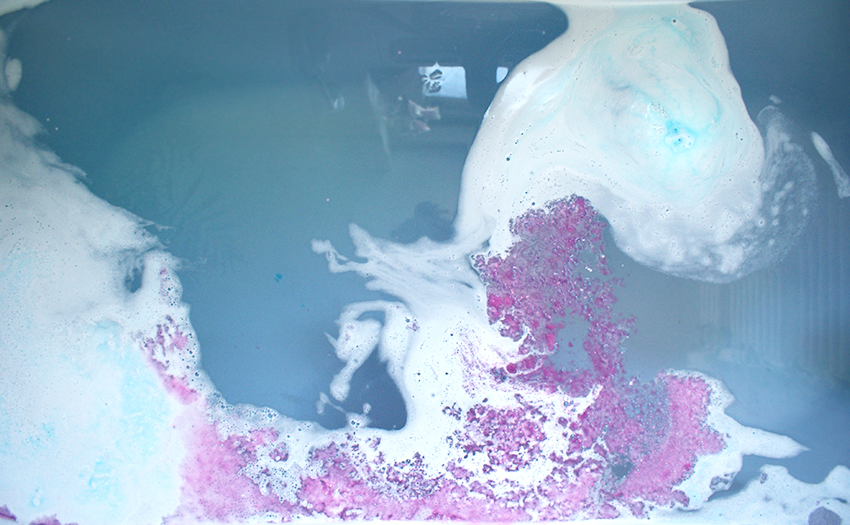 What do I think?
When I lower both halves into the water, they both go their own way separately. The pink half stays in one place, but does not fizz very much, it rather gives off a pink color. The blue half makes its way through the entire bath, just below the surface. It fizzes pretty loud and gives off white and blue soft foam, while by now the pink half creates bubbles and eventually spews out pink frog spawn. (I mean, it definitely feels the same..) Afterwards, while editing the videos above, I noticed there were also tiny stars in the water. How lovely! Eventually both halves took quite a bit to completely dissolve into the water.
I have to say the jelly was less nasty than expected. It dissolved into the water fairly quickly, so I didn't have any pieces of snot floating around me. The color of the water could have been more vivid and bright, instead it turned into a pale blue hue. While bathing, I found the scent to be a bit like watermelon. It had by now become an uplifting and fruity scent, so I'm guessing that the orange oil really made its appearance at that time. The water definitely felt soft and so did my skin afterwards. Go frog spawn!
Would I buy Moon Spell again? No, it kinda gave me a 'meh, is this all?' feeling. I would also certainly not use the halves separately, well, maybe if you have a smaller bath. Or if you don't really care about vivid water. In that case it's a pretty good bath bomb. But for me personally, I'd go for another one.

Lush Moon Spell Bath Bomb costs £5.95 (England) / $7.95 (USA).