Review: Lush Skullduggery Bath Bomb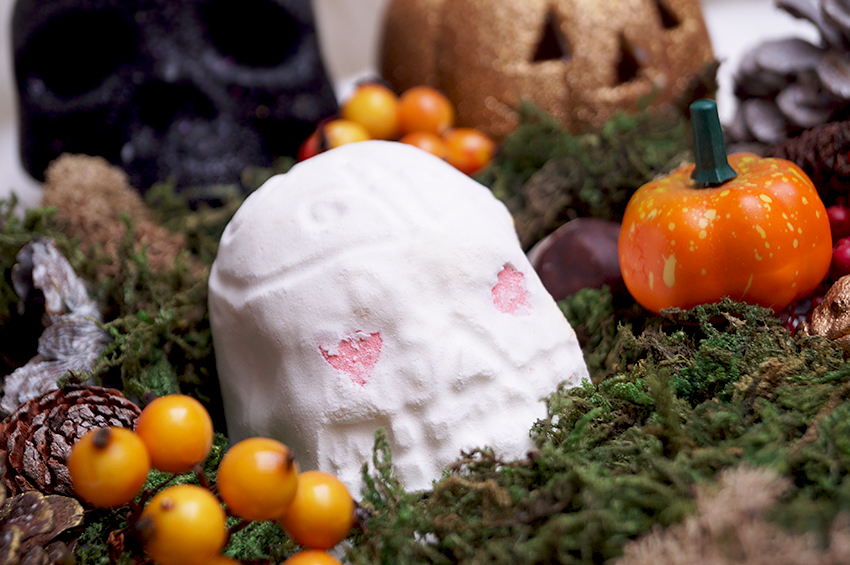 It's been a long time since I've blogged, but I'm back! Not sure how often I'll be blogging again, but today I'm starting off with a bath bomb that was part of the Kitchen box, the Halloween edition. In all my years of being a Lush fan I've never had the honors of trying out this bath bomb, so I was genuinely excited to try this one.
If you're curious about this bath bomb, then keep on reading.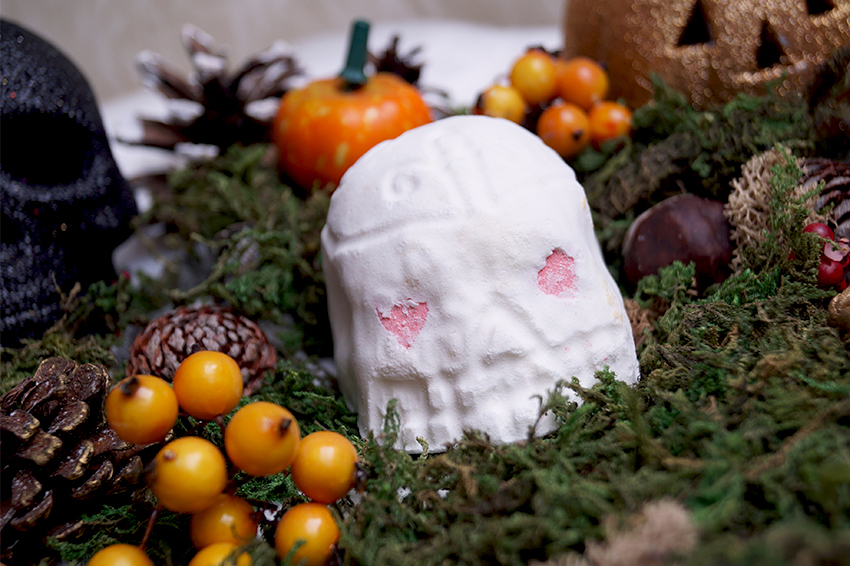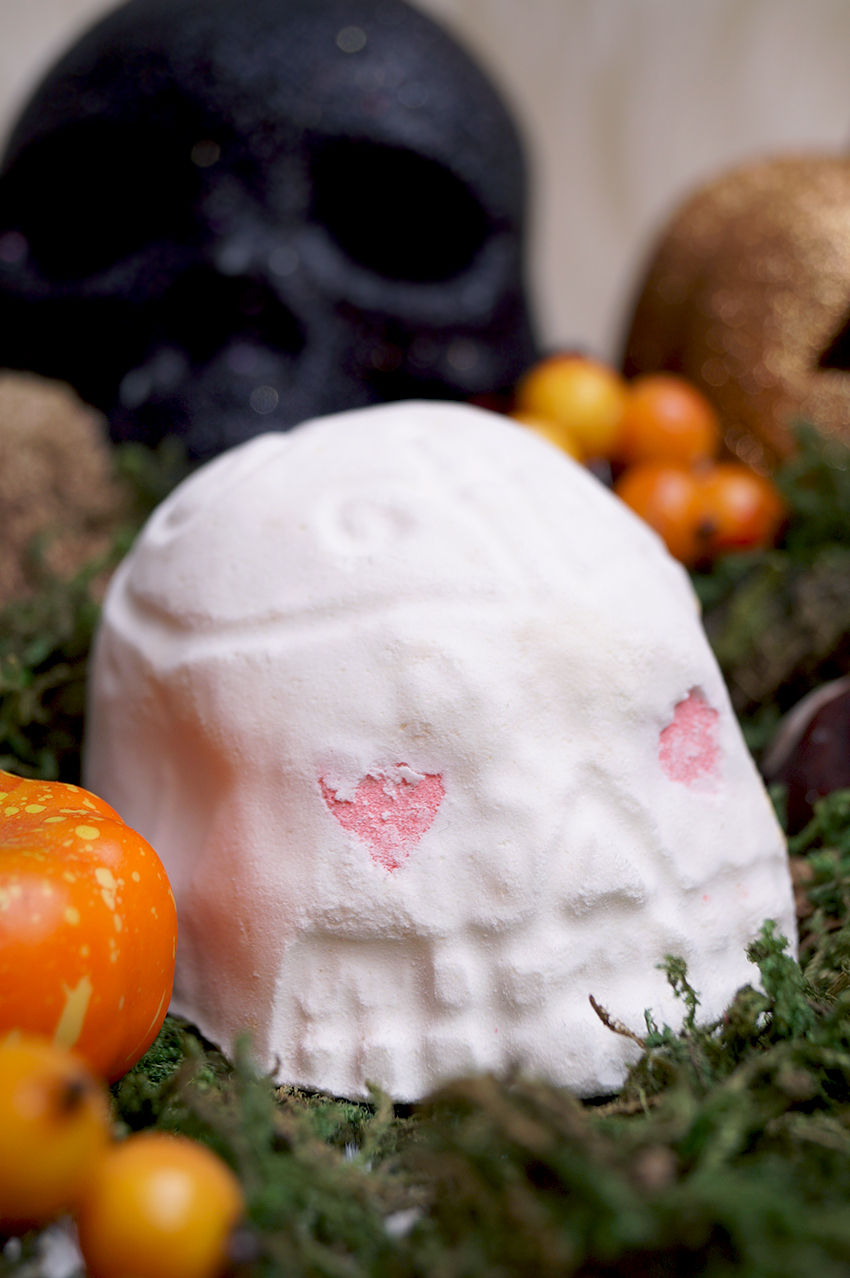 What is it?
Ingredients: Sodium Bicarbonate, Citric Acid, Cream of Tartar, Perfume, Sodium Coco Sulfate, Lime Oil, Olibanum Resinoid, Neroli Oil, Water, Cocomidopropyl Betaine, Dipropylene Glycol, Alpha-Isomethyl Ionone, Benzyl Salicylate, Citral, Hydroxycitronellal, Limonene, Linalool, Colour 14700.
Lush Skullduggery Bath Bomb was part of the Lush Kitchen box, the October 2020 edition. In 2013, it was for sale, and in 2016 it was available for a short period through the old Lush Kitchen system. It has the classic, lovely scent of Calacas, which is a mix of lime, olibanum and neroli. The scent is a sweet, slightly zingy candy-like scent. I love how it matches with Halloween, since it always reminds me of Halloween candy. Throughout the years I've learned not to judge a white bath bomb by its looks — Lush taught me that white, boring bath bombs can have the most amazing, colorful surprising hidden inside. I hope that's the case with this rather colorless bath bomb as well! Apart from that, I love the shape — it's a Mexican skull representing Día de Muertos.
Please excuse my yellow bath water — I was very surprised myself to see this 'happen'. After a quick Google search, it seems that this happens sometimes in the area where I live (near the coast). It's a high mix of dune water mixed with our regular water. It's harmless and safe to either drink or bathe in, it's actually the healthiest water there is. It's not rust, and it's temporary. But I agree, it looks gross and it's annoying since it affects the outcome of this bath bomb. But I can assure you, I did not pee in the water before bathing. 😂
Play the video in 2160p quality and on full screen for the best experience! The video has been sped up.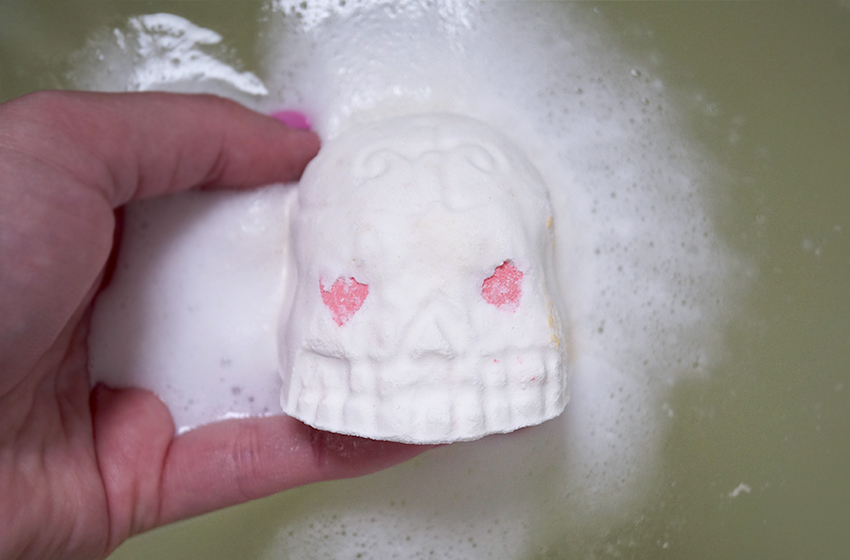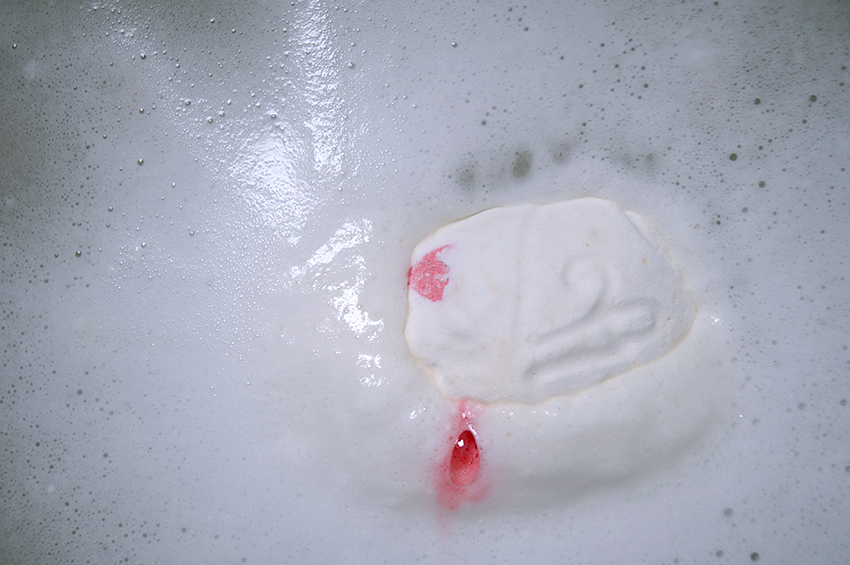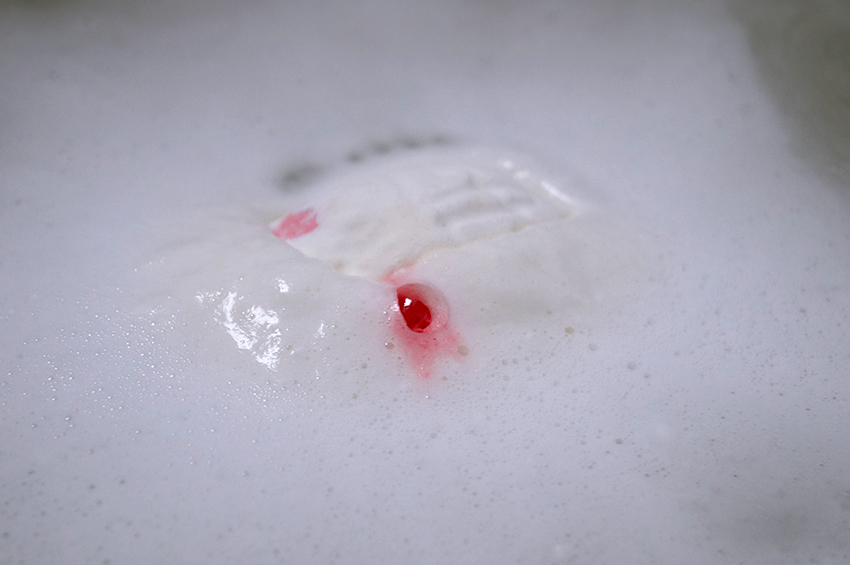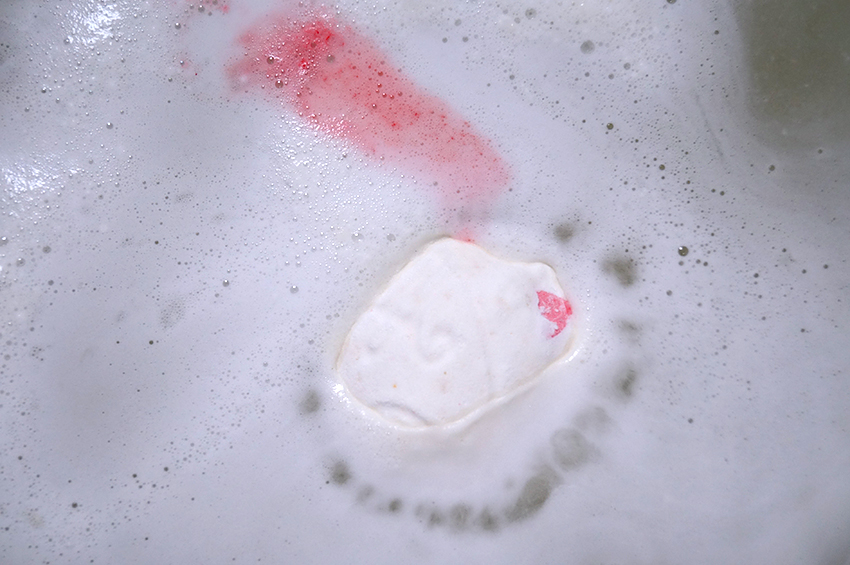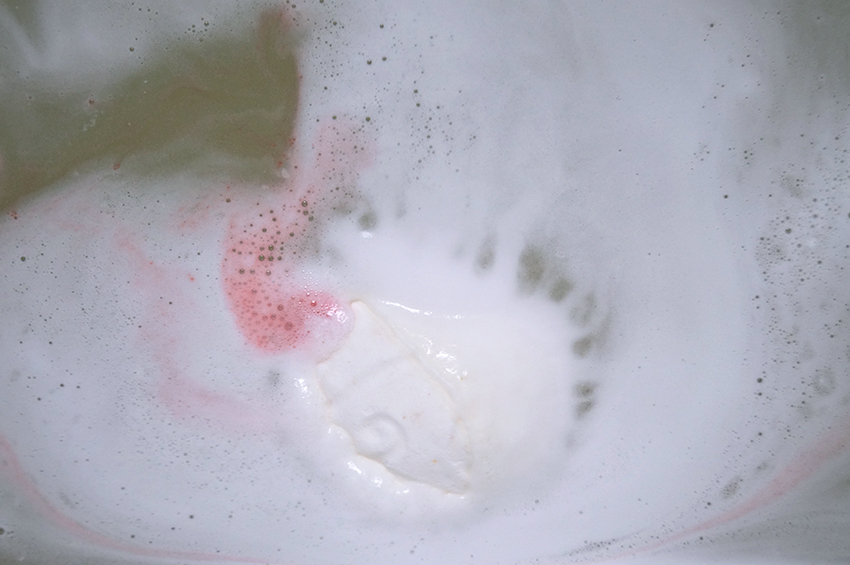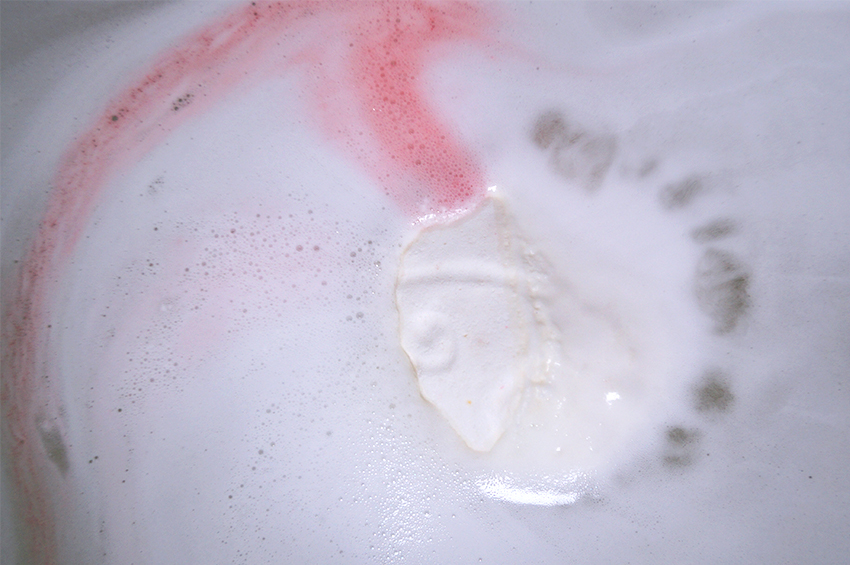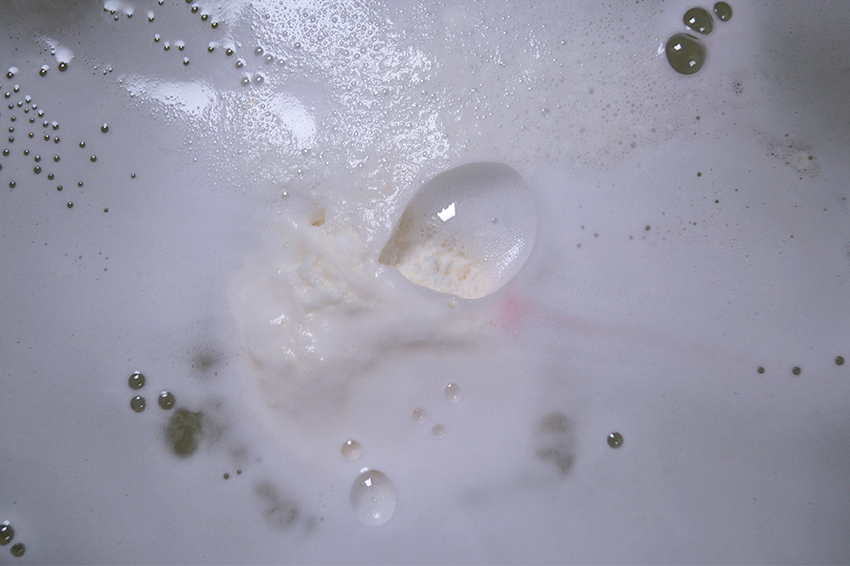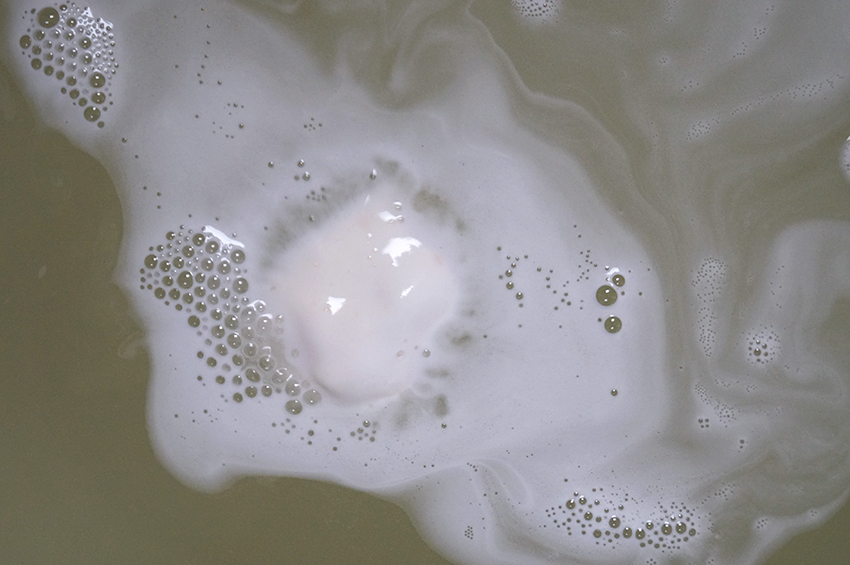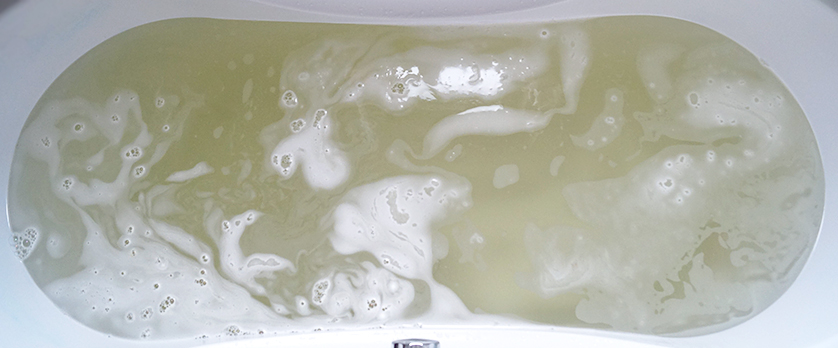 What do I think?
Unfortunately, not all white bath bombs end up being secretly amazing. Skullduggery is a very slow, very foamy bath bomb. It didn't really color my water, so it ended up still being a pale yellow shade. It was however very foamy, and the red spurts were a nice addition. But a hidden color inside the bath bomb would be even more amazing. The scent was very well present — I could even smell it on my skin long after bathing, and the bathroom smelled of Calacas for hours. But in terms of bath art, I'd rather stick with Monsters' Ball, who has also the Calacas scent, but gives us way more bath art and color.

Lush Skullduggery Bath Bomb was in the October edition of the monthly Lush Kitchen box.

2 Responses to Review: Lush Skullduggery Bath Bomb