Review: Lush Ylang Song Bombshell Bath Bomb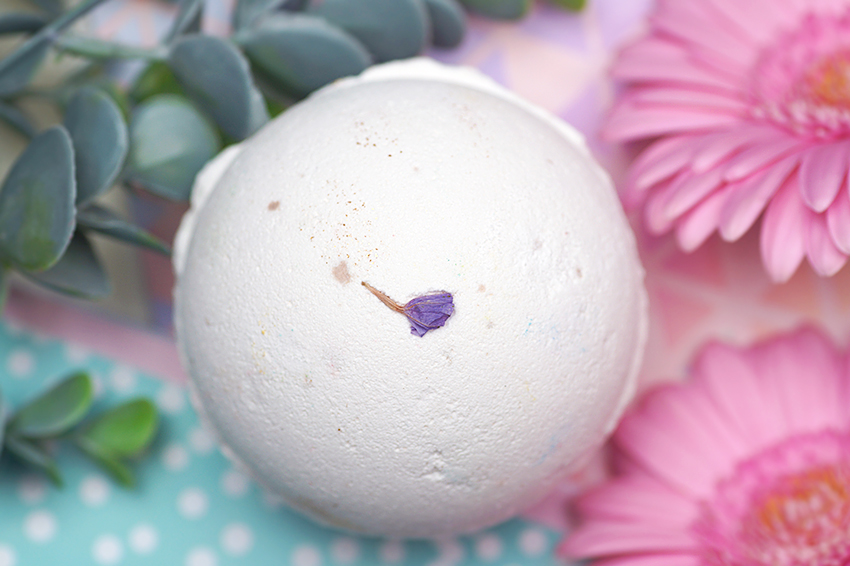 I love it when a bath bomb is full of surprises. Ylang Song Bombshell is one of those, which I found out while tossing it into the tub. At first glance it looks like an ordinary, white bath bomb, but it will transform the water into a completely different color. This UK exclusive has proven that there's more than meets the eye! Today I'll review this bath bomb, so if you're curious about this bath bomb, then keep on reading.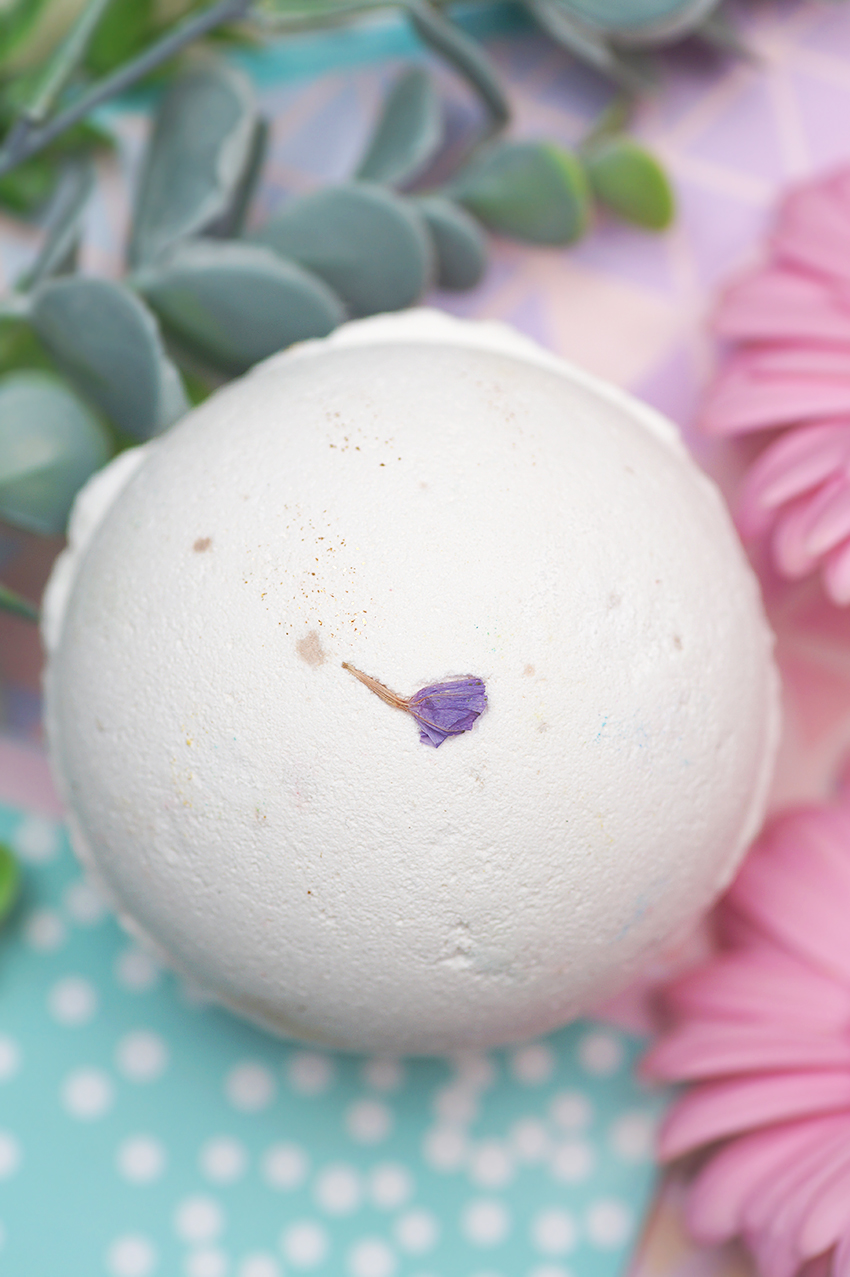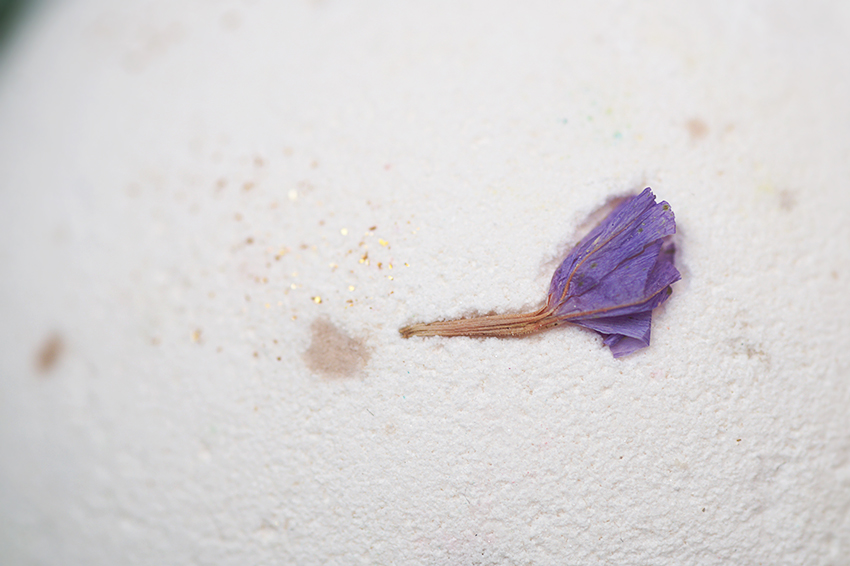 What is it?
Ingredients: Sodium Bicarbonate, Citric Acid, Fine Sea Salt, Cornflour, Peony Petals, Ylang Ylang Oil, Rosewood Oil, Neroli Oil, Rose Absolute, Yellow Rose Petals, Statice Flowers, Tiger Lilies, Water (Aqua), Gardenia Extract, Titanium Dioxide, *Eugenol, *Limonene, *Linalool, Benzyl Alcohol, Perfume, Colour 45350, Colour 42090
Lush Ylang Song Bombshell Bath Bomb costs £4.95 and is only available in the UK webshop. This white bath bomb has a little violet petal on top, which is actually from the Limonium sinuatum plant, also known as sea-lavender. Inside this bath bomb is fine sea salt that acts as a natural preservative, but also cleanses the skin. Furthermore there's ylang ylang, rosewood, neroli, rose and gardenia. In terms of flower petals inside, there's peony petals, rose petals, and tiger lily petals.
This combination of floral ingredients give the bath bomb its floral scent, with a hint of sweet musk. The ylang ylang is well present, but the overall floral scent gets a bit warmer and powdery thanks to the rose and rosewood. I really like the scent, it's a shame there's no other products sharing this scent. However, the ingredients ylang ylang, rose and neroli are present in products from the Ghost scent family, so that might resemble Ylang Song's scent. Unfortunately there's no products available right now sharing the Ghost scent, except for Lucky Cat Bath Bomb, who also smells floral and powdery. But I wouldn't really recommend Lucky Cat, as it stains a lot and gives the water a gross pee color.
Play the video in 2160p quality and on full screen for the best experience! The video has been speeded up.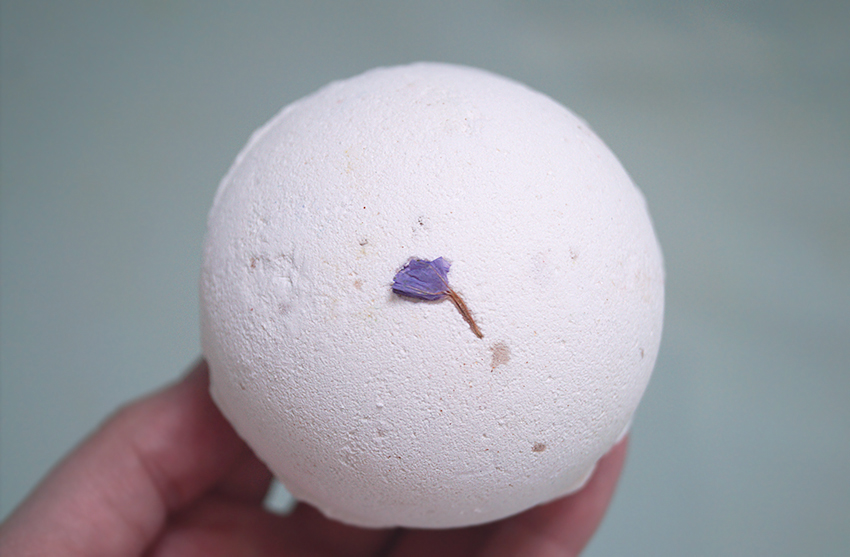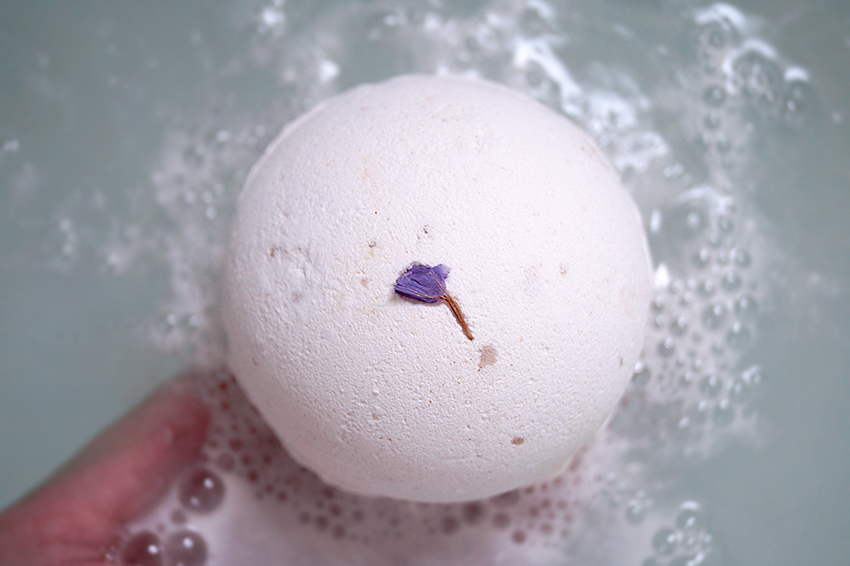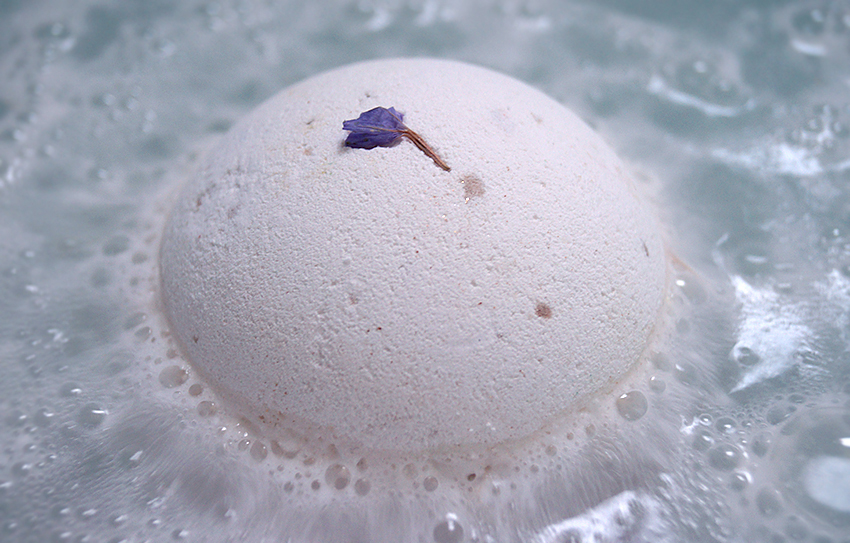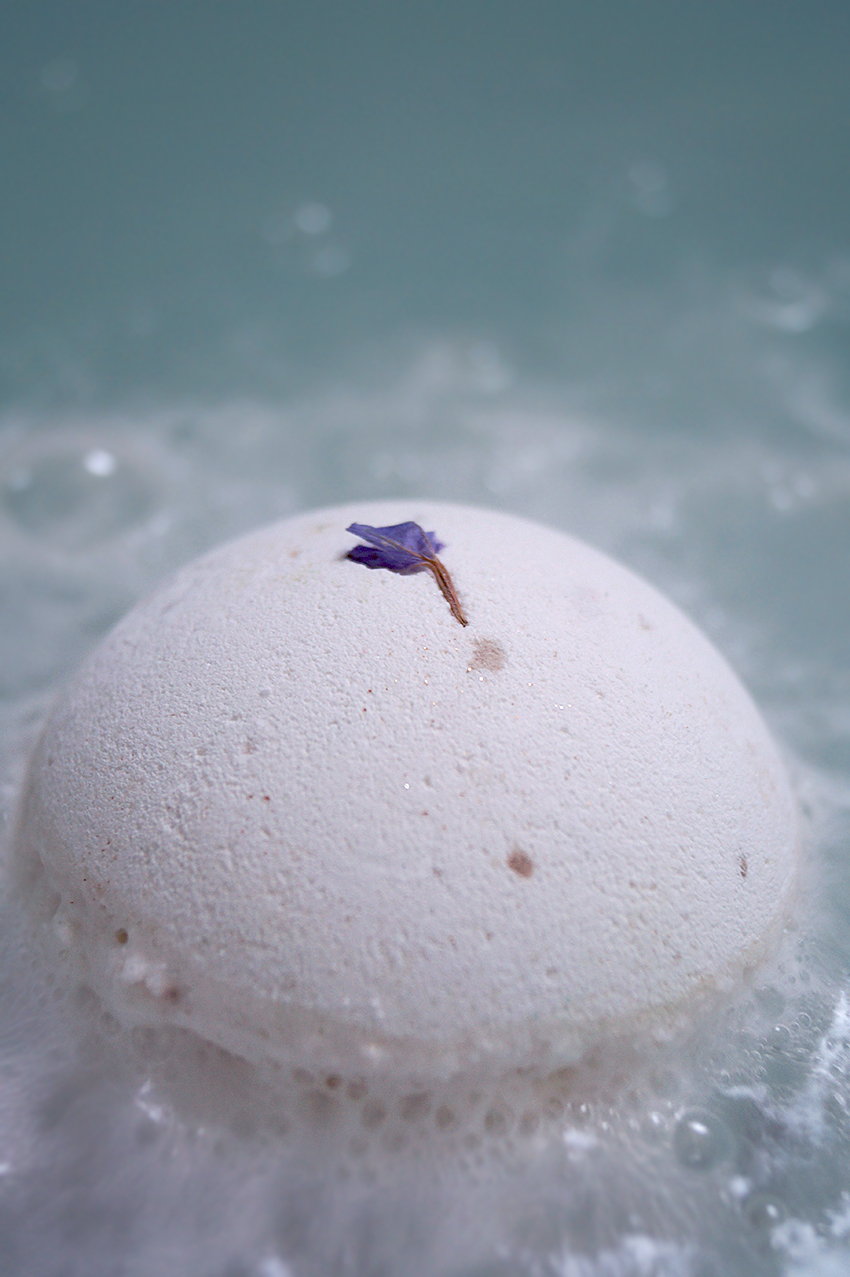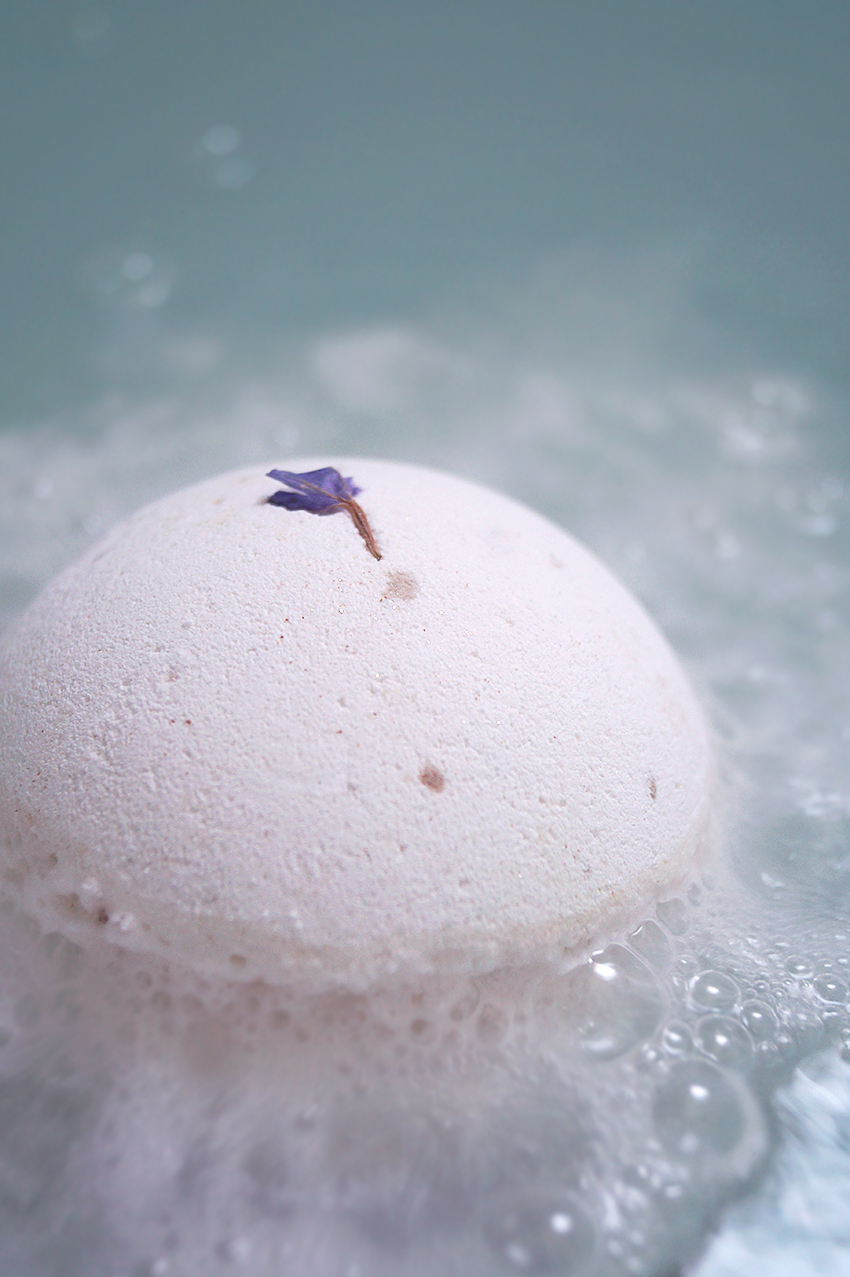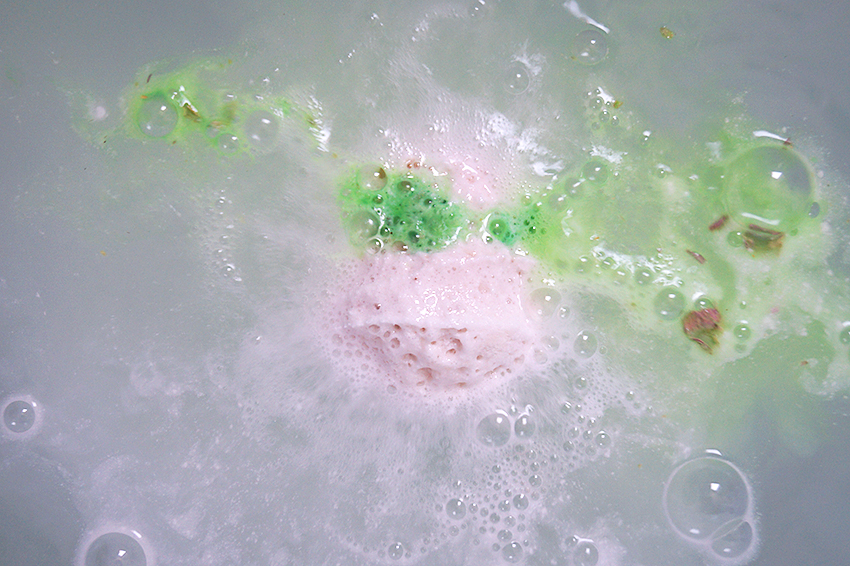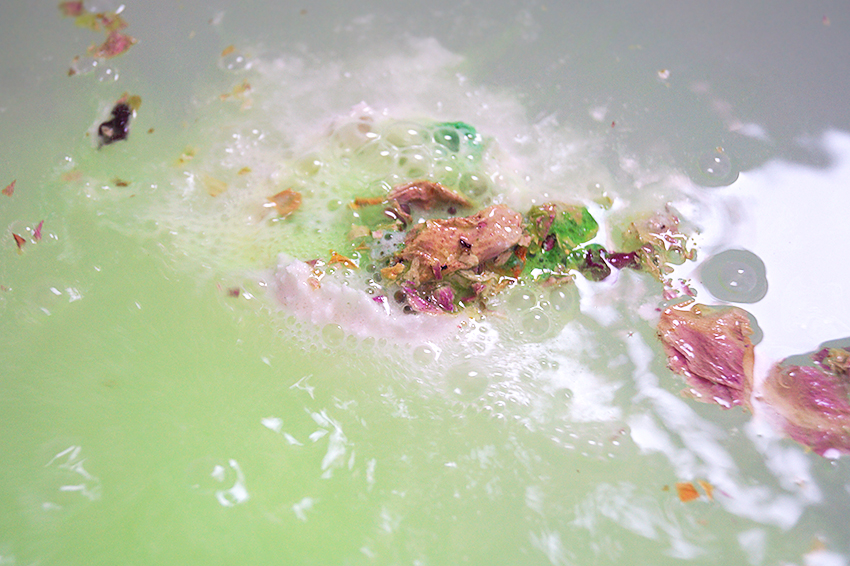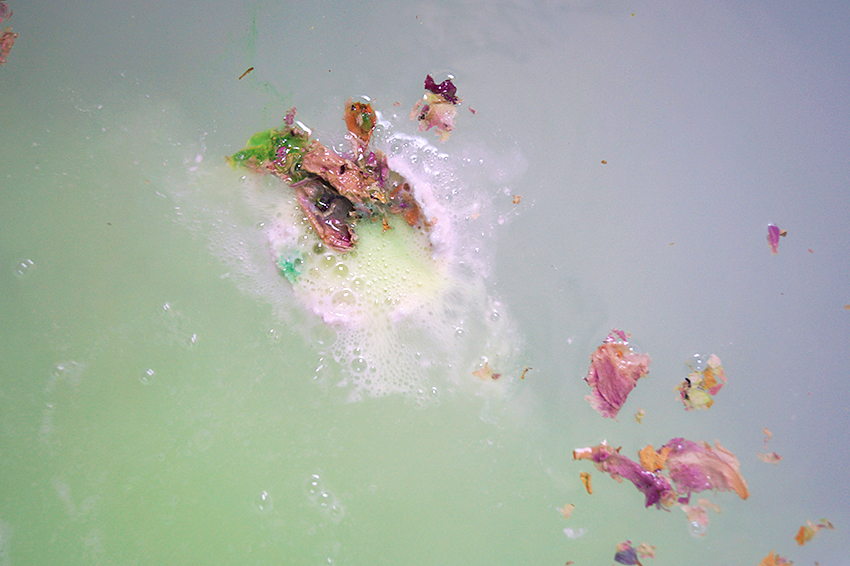 What do I think?
Initially the bath bomb spews out white streams of foam, but as soon as the outer layer has dissolved, a green color appears. Surprise! Green streams begin to take over the water and the water turns into a pastel green shade. Another surprise are the petals that are being released by the bath bomb, which I think looks lovely when they're floating on the surface. They make a bathing session feel so much more luxurious, don't you think? There's not many petals though, so don't worry about running naked to the kitchen for a sieve, after you've exited the bath bomb. You can grab the larger petals yourself to throw away, the smaller ones can be rinsed away. The bath bomb is a quick fizzer, so it's dissolved in under a few minutes.
There is no glitter in Ylang Song, which is undoubtedly a pro for some people. In terms of performance, Ylang Song is a fairly soothing and elegantic bath bomb — a nice floral scent, pastel green water and some flower petals on the surface. It's simplistic, but lovely. There's no bright colors or glitters, which is nice for a change. It's a pity that the scent didn't stick around while bathing, though. But despite my love for glitter and bright colors, I found this bath bomb to be very lovely and I will probably order it a few more times while shopping in the UK webshop.

Lush Ylang Song Bombshell Bath Bomb costs £4.95 (England).