Review: Lush The Olive Branch Bath Bomb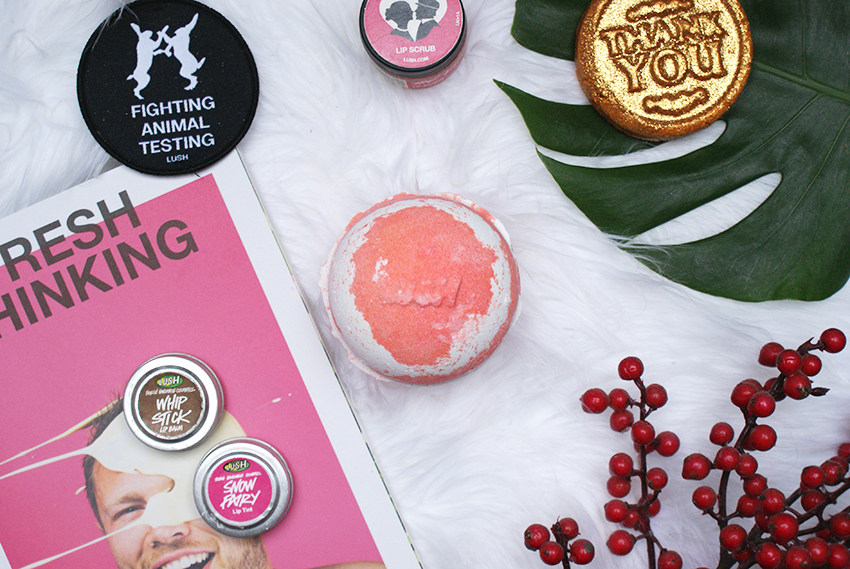 The Olive Branch shower gel is a product that has been in the Lush main collection for a while now. I have already bought this product several times now, due to the mere fact that I'm in love with the scent. When I saw that there is a bath bomb with this scent, I ordered it right away. I mean, what kind of monster do you have to be to let this one slide? If you're curious, read on.
What is it?
Ingredients: Sodium Bicarbonate, Citric Acid, Bergamot Oil, Lemon Oil, Orange Flower Absolute, Sicilian Red Mandarin Oil, Fair Trade Olive Oil, Water (Aqua), Cream of Tartar, Titanium Dioxide, Dipropylene Glycol, Sodium Coco Sulfate, Cocamidopropyl Betaine, Butylphenyl Methylpropional, *Limonene, *Linalool, Perfume, Colour 14700, Colour 45350.
Lush The Olive Branch Bath Bomb costs £3.95 and was one of the twelve Community Favourites bath bombs that Lush released a while back. It's surprised me that there isn't already a bath bomb sharing this scent, as it would be a great addition to the Olive Branch family.
I love the aroma of The Olive Branch, it is a fragrance that is quite unique in the Lush range. Bergamot, lemon and mandarin form the scent of a Mediterranean, fruity cocktail. Those kind of cocktails that taste a liiittle to good on holiday. It's a warm and fruity aroma to me, really good. Furthermore, the smell also gives me an instant happy feeling — that's why I love to use the shower gel in the mornings. No more moody mornings! The bath bomb contains also bergamot oil, lemon oil, orange blossom absolue, Sicilian mandarin oil and olive oil for a soft and nourished skin.
Play the video in 2160p quality and on full screen for the best experience!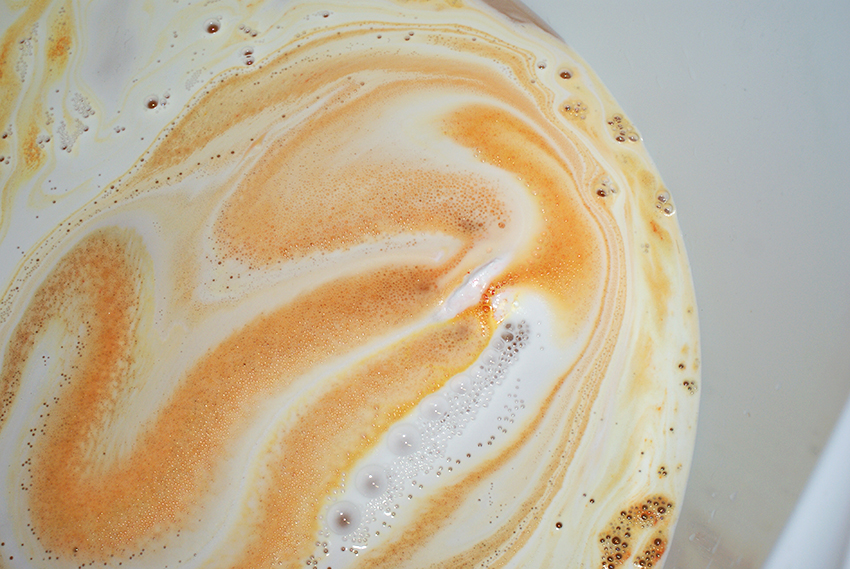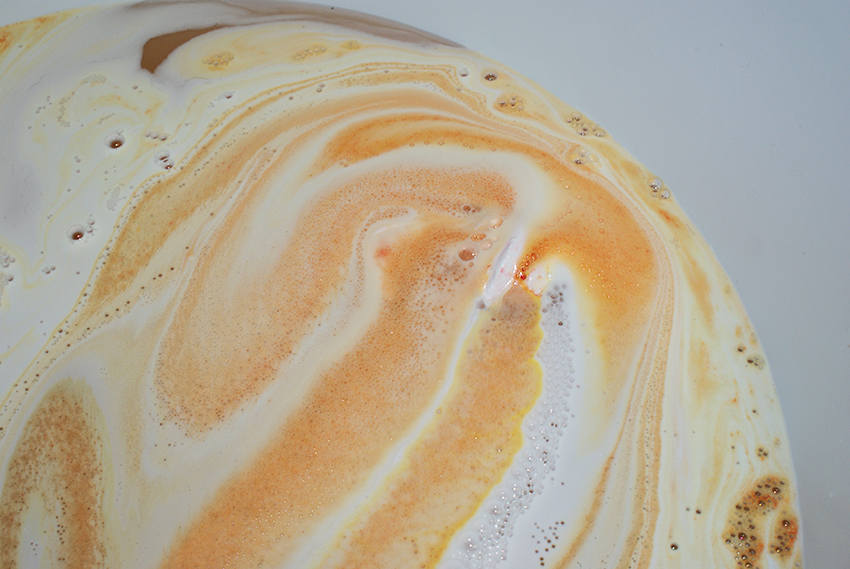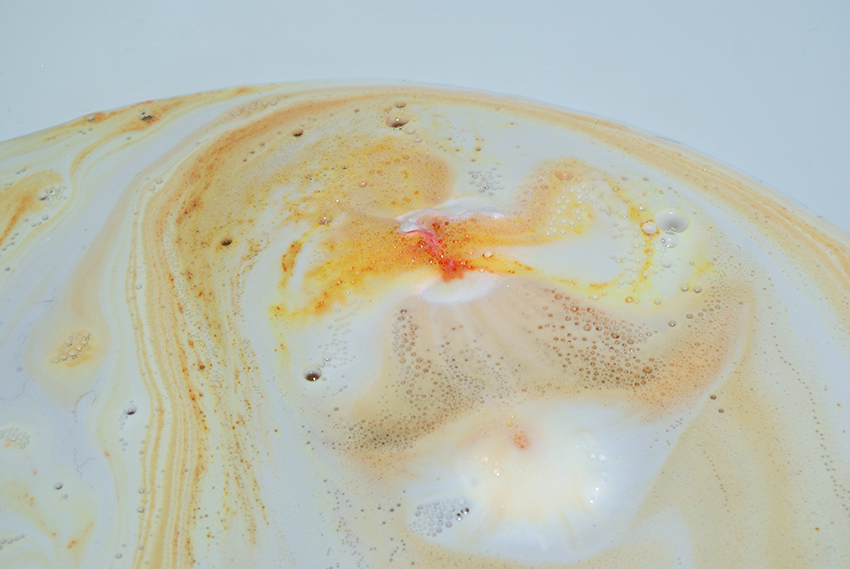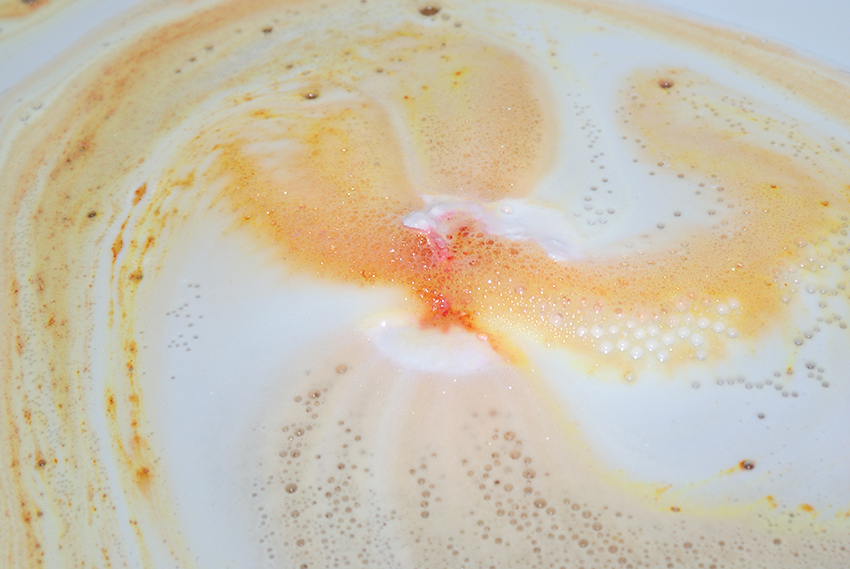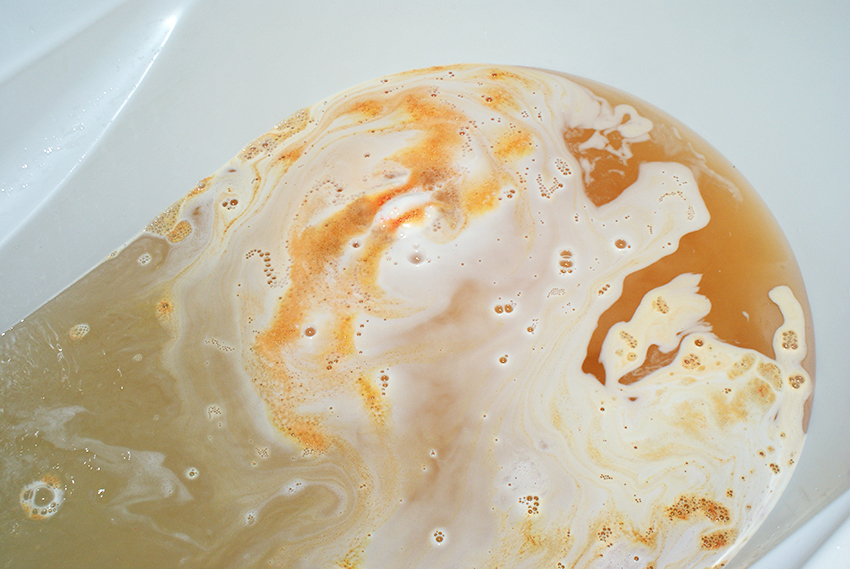 What do I think?
In the tub, this bath bomb is gorgeous. It spews waves of orange and white across the surface, eventually turning the water a bright colored orange. Lovely to see, but it's the scent what made the picture complete. It's fruity, warm, uplifting — just like the shower gel, it's a powerful scent that lingered on me for a while. I even smelled it far after my bath session, when the tub was already drained.
That white foam that you see on the photos felt very soft. Eventually, the foam simply dissolves into the water, but it was good to feel the softness of this foam, meaning that eventually the water was hydrating as well. My skin felt more soft and nourished afterwards, so I think it's safe to say that this bath bomb completely won me over. The only con is that it's not for sale any more, so I really hope Lush will bring back this gem into the main collection. Like I said, it would be an amazing addition to this scent family.

The Olive Branch Bath Bomb is currently not for sale, as it was part of the Community Favourites.