Review: Lush Marshmallow World Bath Bomb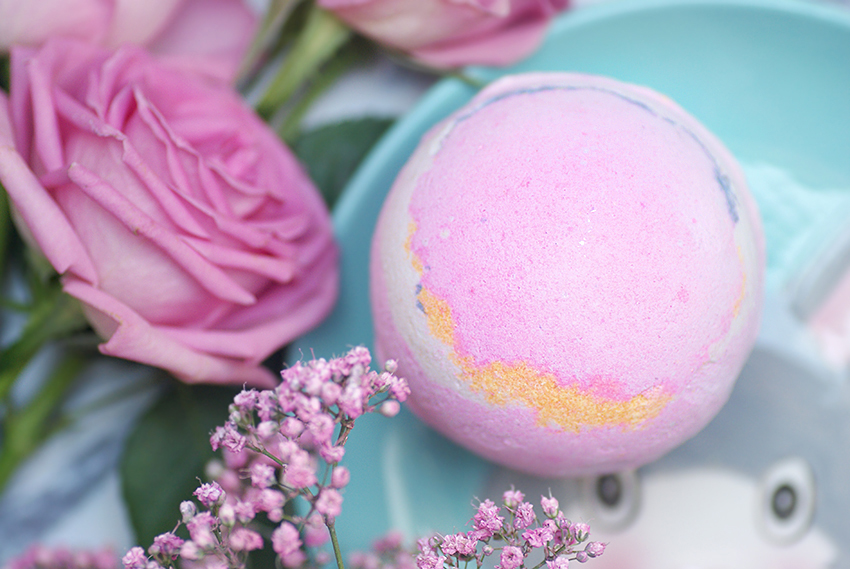 While browsing the webshop awhile back, Marshmallow World immediately caught my attention, and not just because of its gorgeous pink color. Apparently this bath bomb shares its scent with the well known American Cream conditioner! The decision to buy this bath bomb was quickly made, as you can imagine. After I enjoyed its scent for a few weeks while it sat on my desk, I decided to put it to use yesterday.
If you're curious about this bath bomb, keep on reading.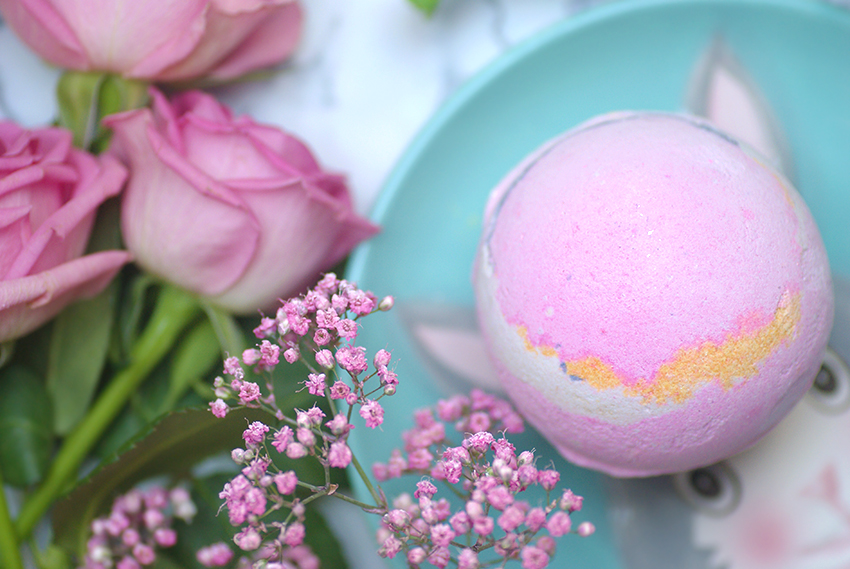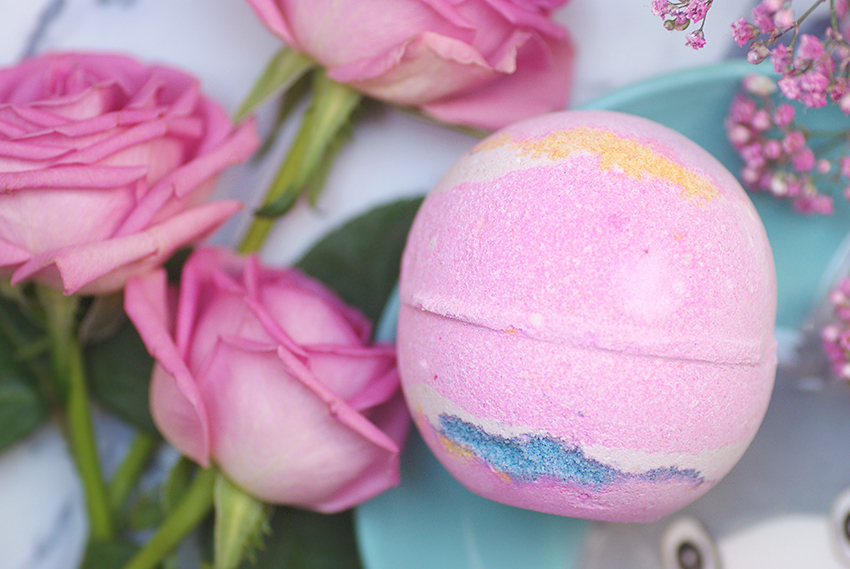 What is it?
Ingredients: Sodium Bicarbonate, Citric Acid, Cornflour, Granulated Sugar, Perfume, Potato Starch, Cream of Tartar, Vanilla Absolute, Clary Sage Oil, Lavender Oil, Benzoin Resinoid, Titanium Dioxide, Icing Sugar, Sodium Alginate, Water (Aqua), Marshmallow Powder, Sodium Laureth Sulfate, Calcium Lactate Gluconate, Lauryl Betaine, Propylene Glycol, Alpha-Isomethyl Ionone, Coumarin, Colour 45410, Colour 17200, Colour 14700, Colour 45350, Colour 19140, Colour 19140:1, Colour 42090, Colour 42090:2
Lush Marshmallow World Bath Bomb costs £5.95 / $7.45 and is part of the temporary Harajuku range, consisting of 54 new, exclusive bath bombs. Marshmallow World shares its fragrance with the popular American Cream fragrance line, known from the best-selling American Cream hair conditioner. This scent is best described as a mix of vanilla with strawberries, a creamy milkshake scent. A sweet, creamy and also slightly floral scent. I'm absolute in love with the scent, so you can imagine how happy I was with this bath bomb. It surprises me that I only bought one, and not a truck full.
Marshmallow World contains vanilla, clary sage oil, lavender oil, benzoin resinoid and marshmallow powder. Further additives are cornflour, granulated sugar, potato starch, cream of tartar and icing sugar. Oh, and lots of color dyes. I'm not sure why they added the sugars, but I like the idea of it. It makes this bath bomb an unique, candy-like bath bomb. The cornflour, potato starch and cream of tartar are added for their softening qualities.
Play the video in 2160p quality and on full screen for the best experience! The video has been speeded up.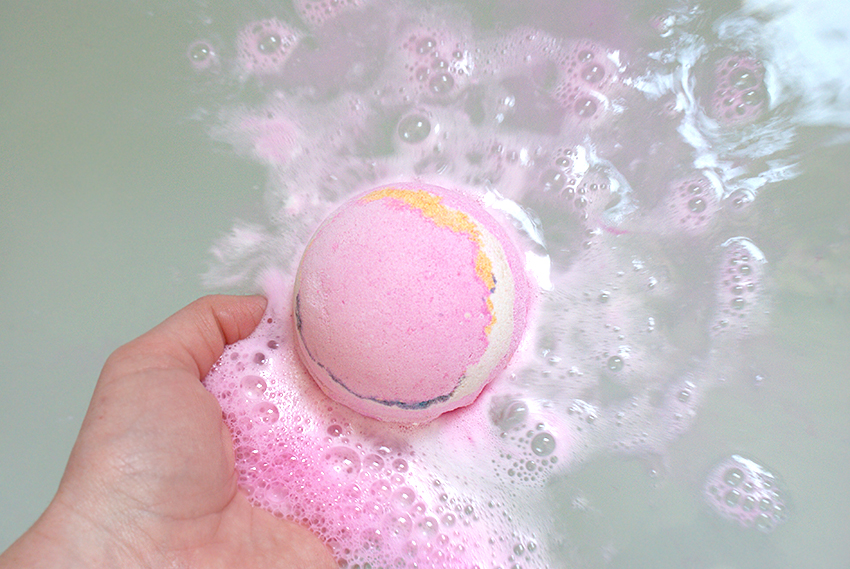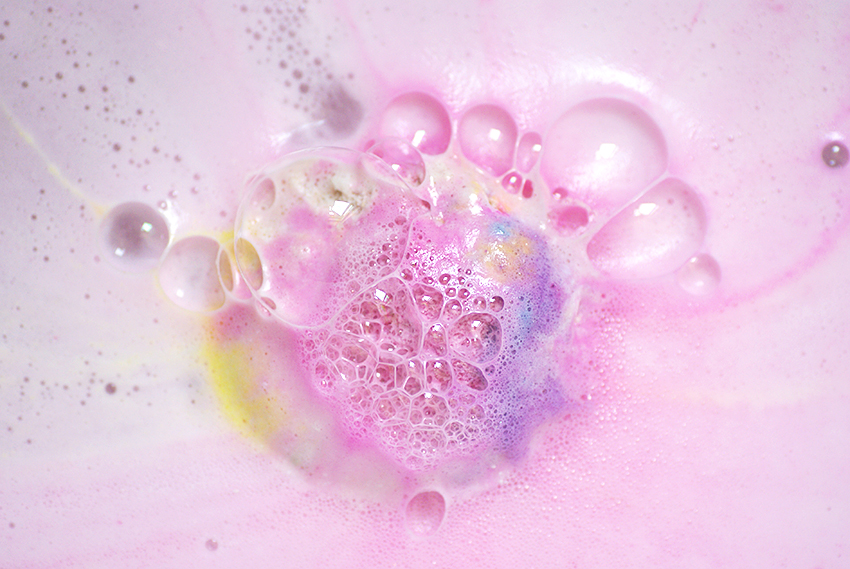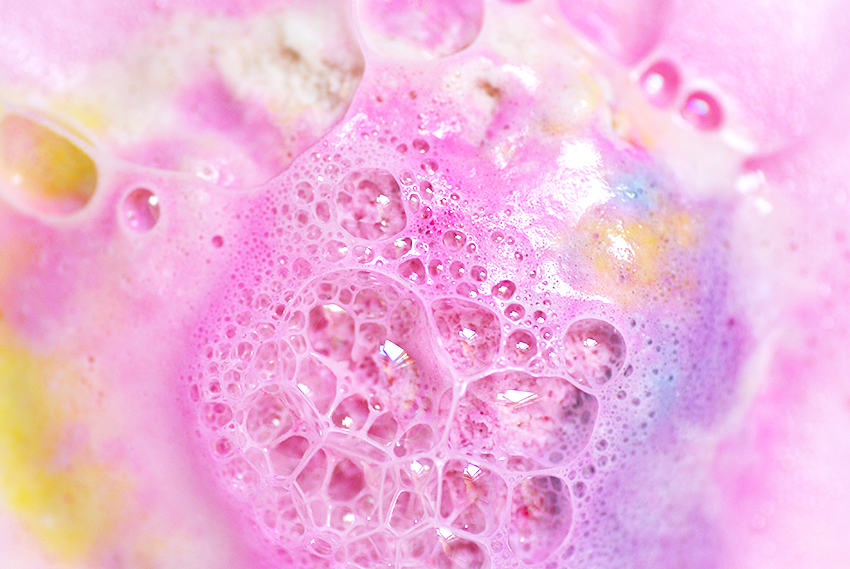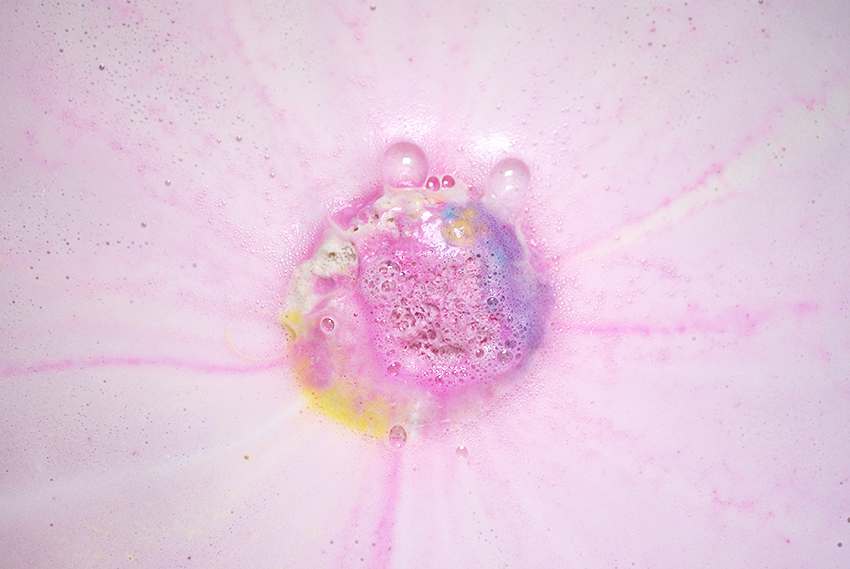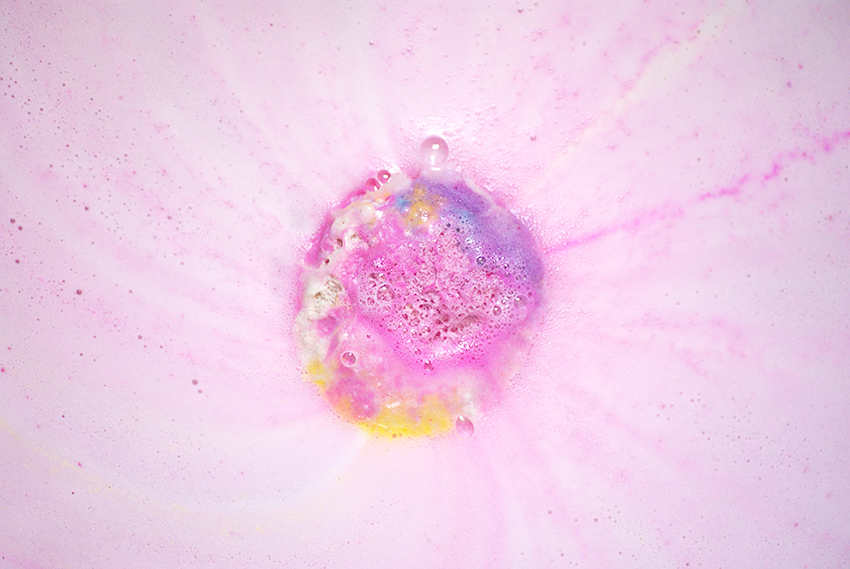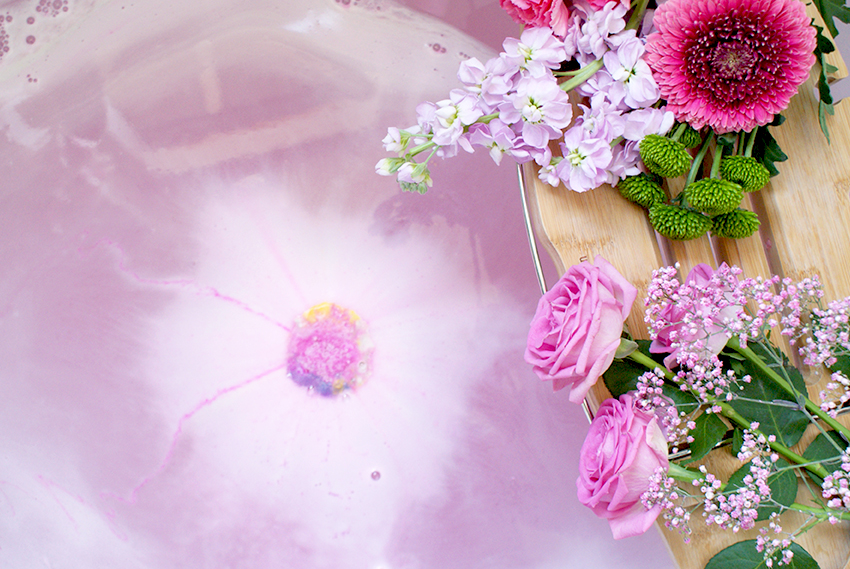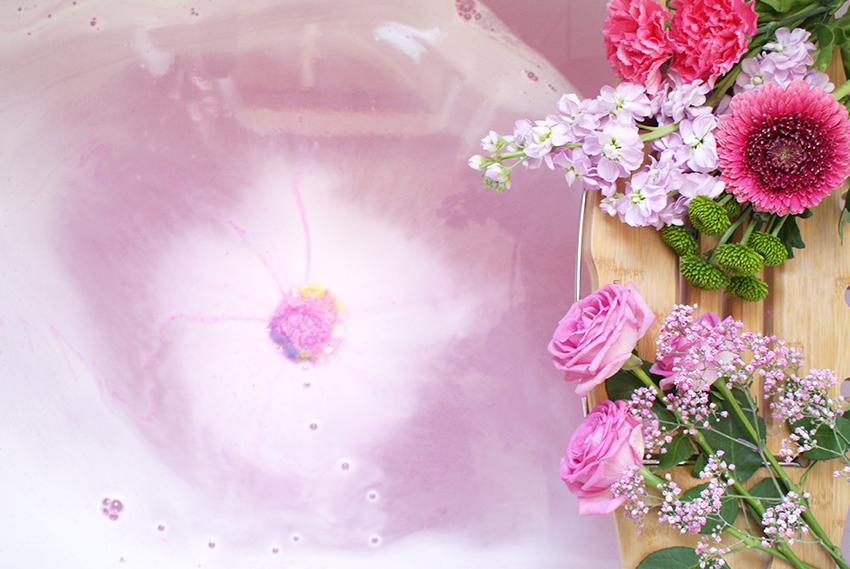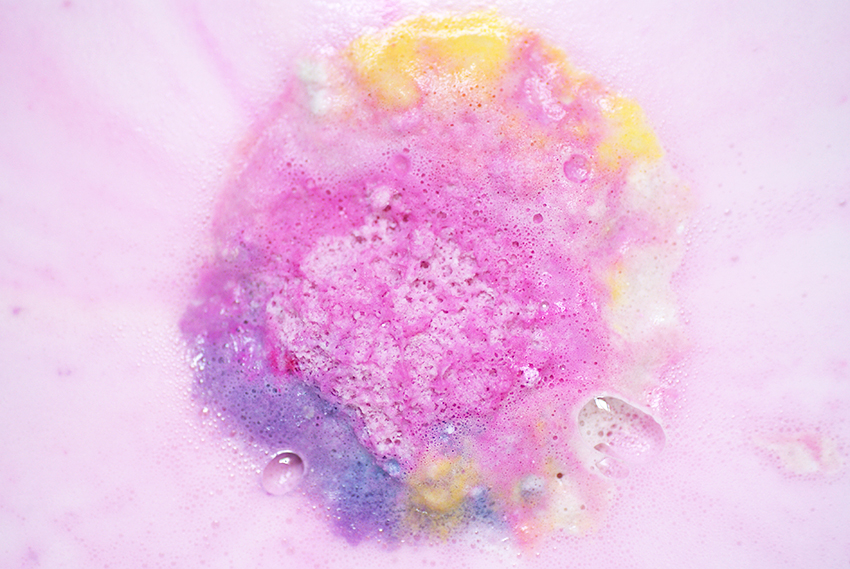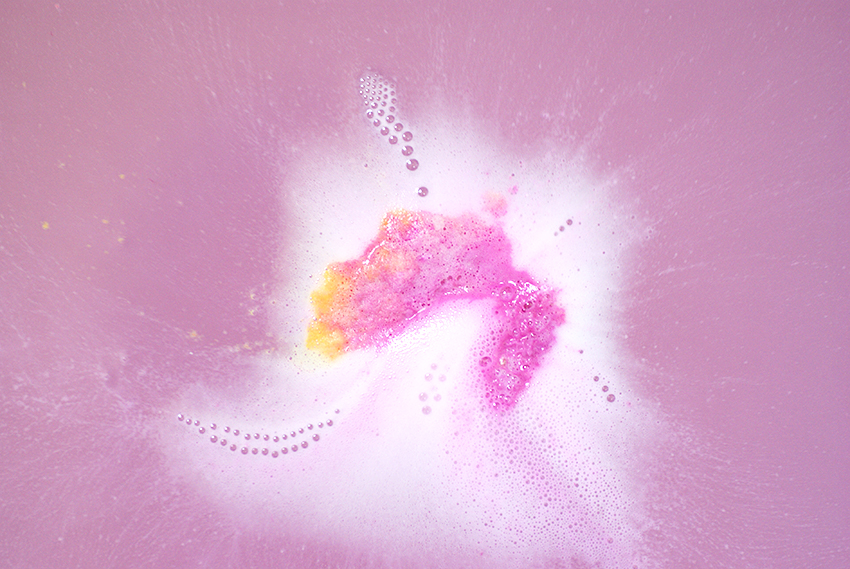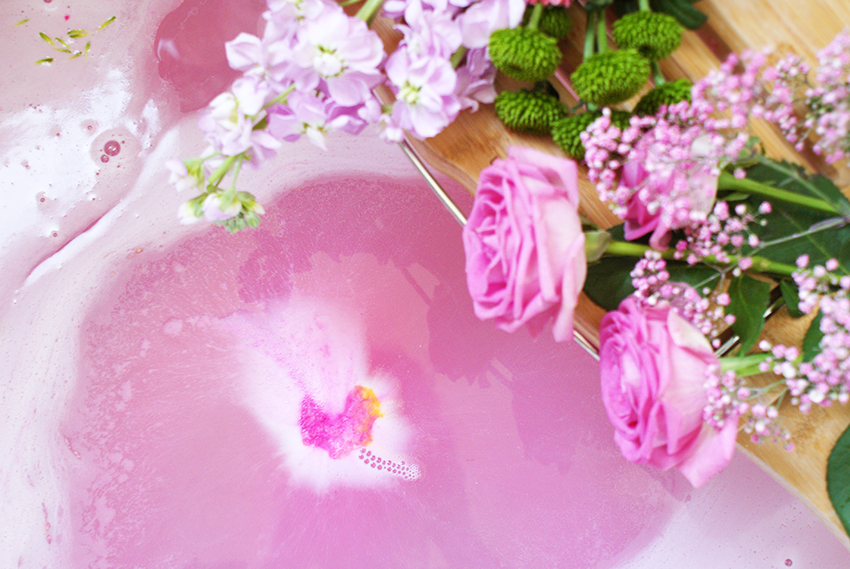 What do I think?
Marshmallow World is a bath bomb that makes the water turn beautifully pink. My favorite color.It's a veryyy slow fizzer, it took at least 10 minutes before it was completely dissolved. A blanket of soft, creamy foam spread over the surface, while underneath the surface the water became a Barbie-like hue. Besides pink, other colors as well emerged from the bath bomb; purple, yellow, but also creamy white. Fuchsia colored strings are also being released, which adds another fun component to this already beautiful, colorful show — this is a candy store under water. Bath art is definitely a 10 for me.
The only downside to this bath bomb is that I wasn't able to detect the scent while bathing, nor did I smell it on my skin afterwards. In many reviews on Marshmallow World, I read that a lot of people praise this bath bomb for its scent lingering on your skin. Well, not on mine. My skin did feel soft afterwards, and I really enjoyed bathing with this stunner. If the scent was more present, I'd give it a 10. Maybe I need to buy another one and give it another try on the scent.

Lush Marshmallow World Bath Bomb costs £5.95 (England) / $7.45 (USA).