Review: Lush Super Milk Hair Conditioner Spray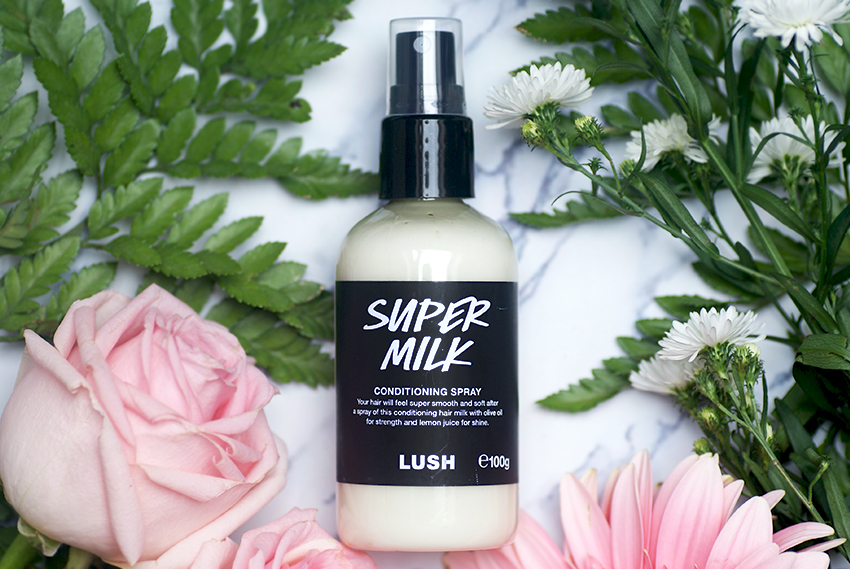 Before I went to Liverpool, I asked around on Instagram if there were any products that I really should buy. One of the suggestions was Super Milk, a spray for your hair. Skeptical as I was about a spray of 15 pound, I still decided to buy it. My hair has been a victim of dyeing it a lot, so it could certainly use some extra care. Super Milk has quite a few promises, so I'm curious as to see if they're true.
If you're curious about this product, make sure you keep on reading!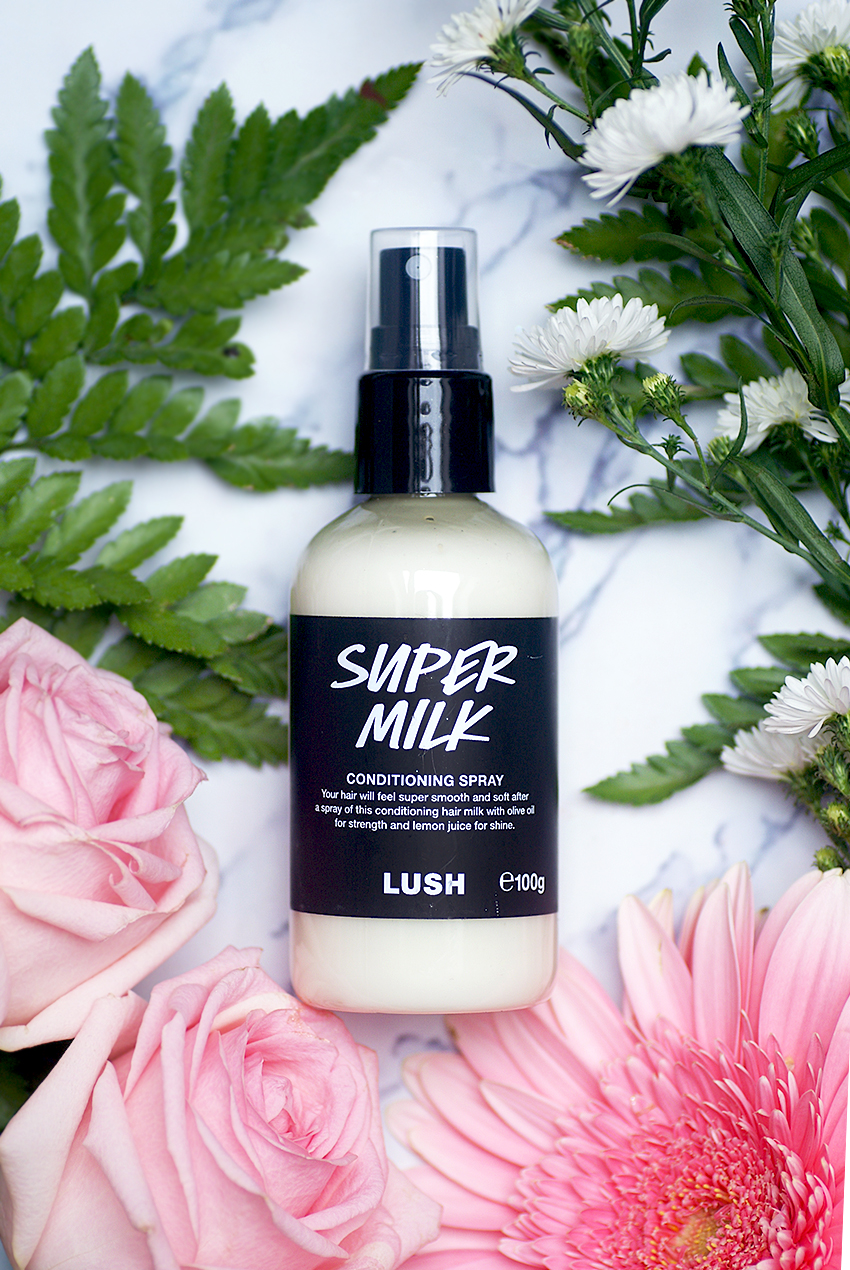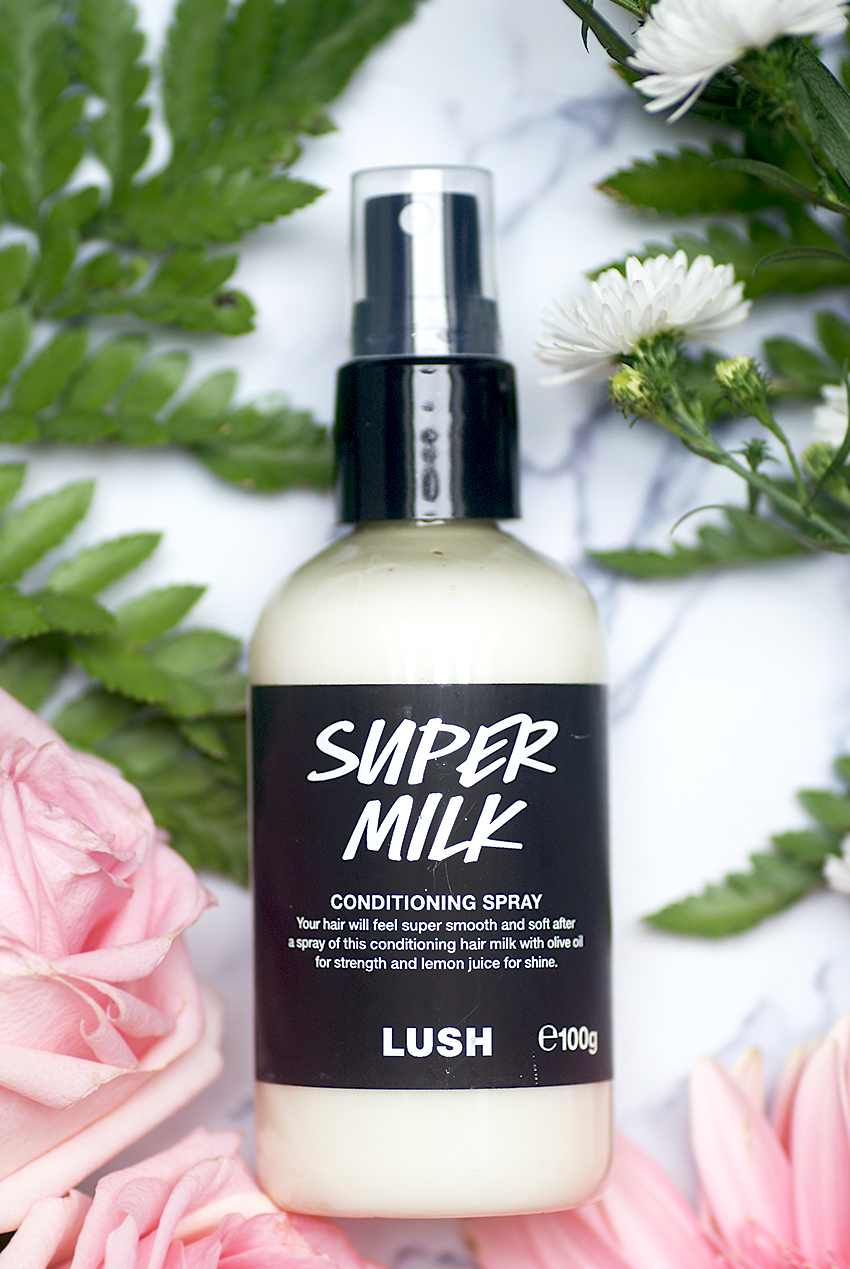 What is it?
Lush Super Milk Hair Conditioner Spray contains 100 grams and costs £14.95. There is also a 250 gram, which costs £29.95. Super Milk is a product that you spray onto your hair and leave it in, no rinsing out. The caring ingredients ensure that your hair is easier to comb through as it detangles, that it's protected, soft and smooth and that it's more shiny. Well, who wouldn't want that, right? Thing is that I'm not a stranger to these promising words. A lot of hair products do nothing for my hair. My hair is straight, pretty long, it tangles very quick and it's fairly dry and frizzy because I dye it a lot. So, bring it on.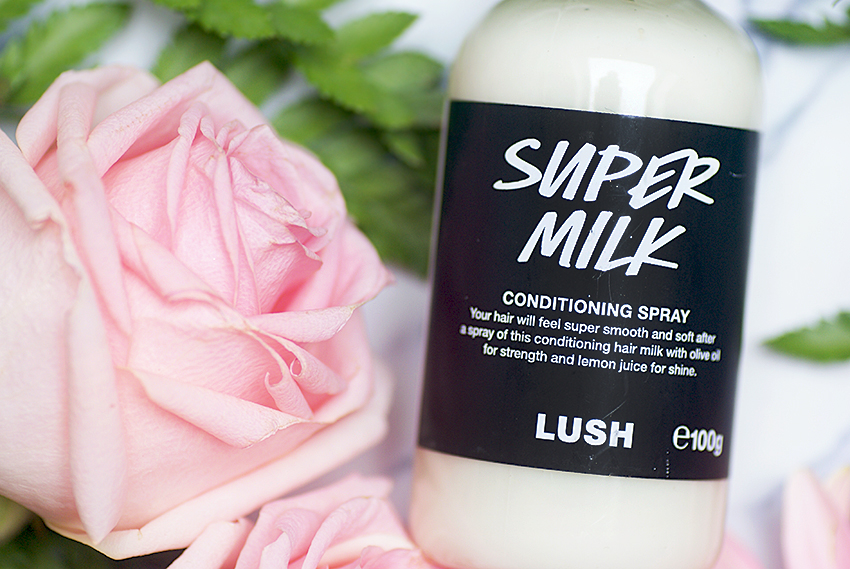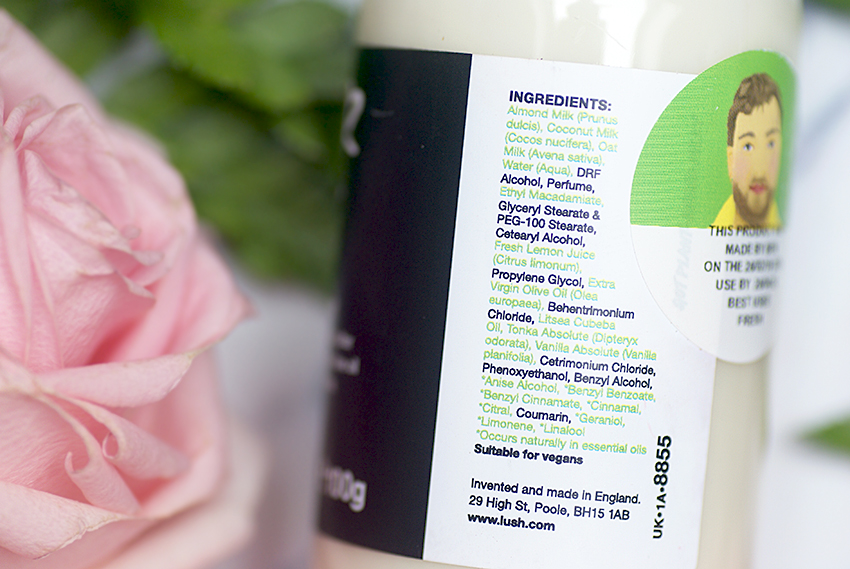 What's inside?
Ingredients: Almond Milk, Coconut Milk, Oat Milk, Water, DRF Alcohol, Perfume, Ethyl Macadamiate, Glyceryl Stearate & PEG-100 Stearate, Cetearyl Alcohol, Fresh Lemon Juice, Propylene Glycol, Extra Virgin Olive Oil, Behentrimonium Chloride, Litsea Cubeba, Tonka Absolute, Vanilla Absolute, Cetrimonium Chloride, Phenoxyethanol, Benzyl Alcohol, Anise Alcohol, Benzyl Benzoate, Benzyl Cinnamate, Cinnamal, Citral, Coumarin, Geraniol, Limonene, Linalool.
The main ingredients of this spray are almond milk, coconut milk and oat milk. Three powerful types of milk — almond milk is soothing and hydrating, coconut milk nourishes due to the vitamins and minerals in it, and oat milk is very soothing. There's also fresh lemon juice in this spray, as well as olive oil, litsea cubeba, tonka absolute, and vanilla absolute. I also spot DRF Alcohol and perfume on the list, but knowing Lush, this will not impair the hair. Furthermore, there's Ethyl Macadamiate ( an alternative to silicones, coats the hair and adds protection), and Behentrimonium Chloride and Cetrimonium Chloride (both an anti-static ingredient which helps to condition the hair).
The substance is a kind of thin milk, a lightweight mist. It is fairly concentrated, so you don't need much of it — a few sprays are enough if you have medium long hair. The biggest mind fuck though was the scent; I expected a sort of warm, creamy and milky smell. Well, not even close. It's a zesty, uplifting scent, it actually reminds me a lot of Avocado Wash shower gel. You can smell the lemon juice very well, but it's not dominant because of the warmth of the almond, coconut, oat and vanilla. It's a combination of zesty and warm scents, which makes a remarkable scent. It also has something nutty to it, which I like. Not quite what I expected, but all in all an amazing scent.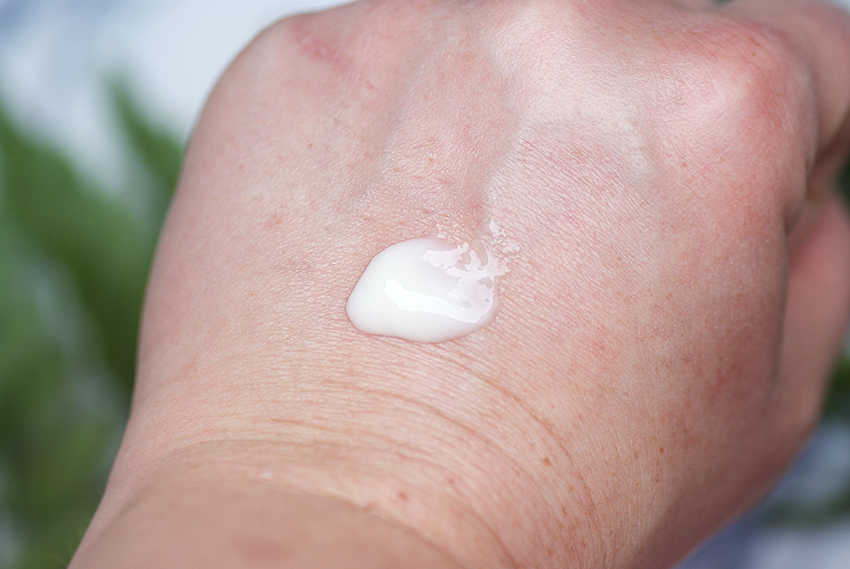 What do I think?
Still a bit skeptical I spray evenly all around my hair, focusing on the lower part of my hair. If I hold the nozzle too close to my hair, I can see the milk on my hair, in that case I run my fingers through my hair to make sure it's evenly divided. I'm afraid to hold to nozzle too far from my hair though, with such a small bottle I don't want to risk wasting a drop of this spray 😂 But now I come to think of it, maybe it's more convenient to spray some milk into your hands, run your hands and then fluff up your hair. Anyway, once I sprayed my strands I immediately notice the divine scent surrounding my hair. When I brush my hair, it doesn't tangle as much as it normally does. I am now able to brush through without swearing because the tears in my hair hurt to detangle.
Once my hair is dry, this is where the fun begins. My hair feels so incredibly soft and smooth. I don't think my hair has more shine to it, but it does have more volume. It doesn't weigh down my hair — on the contrary, my hair is fluffy light and voluptuous. I can easily run my fingers through my hair without coming across kinks and tears. What I also really like is that the scent is present during the whole day. I keep smelling a whiff of warm and zesty notes. If you're in my aura, you should also be able to smell it. Although I don't recommend standing in my aura 😂
I find it astounding how this product turned out to be. It's a godsend for people with difficult hair like me. I can seriously not think of any disadvantages, apart from the fact that it is only available in Liverpool. I am therefore desperately looking for someone who is going to Liverpool soon and wants to bring me home a bigger bottle of this! Until then I will continue to use it every day, as I don't want a day passing by without using it. Fortunately you don't need much product, so hopefully it will last a long time.

Lush Super Milk Hair Conditioner Spray costs £14.95 (100 grams) or £29.95 (250 grams) and is a Lush Liverpool exclusive.

4 Responses to Review: Lush Super Milk Hair Conditioner Spray