Review: Lush Golden Pear Bath Bomb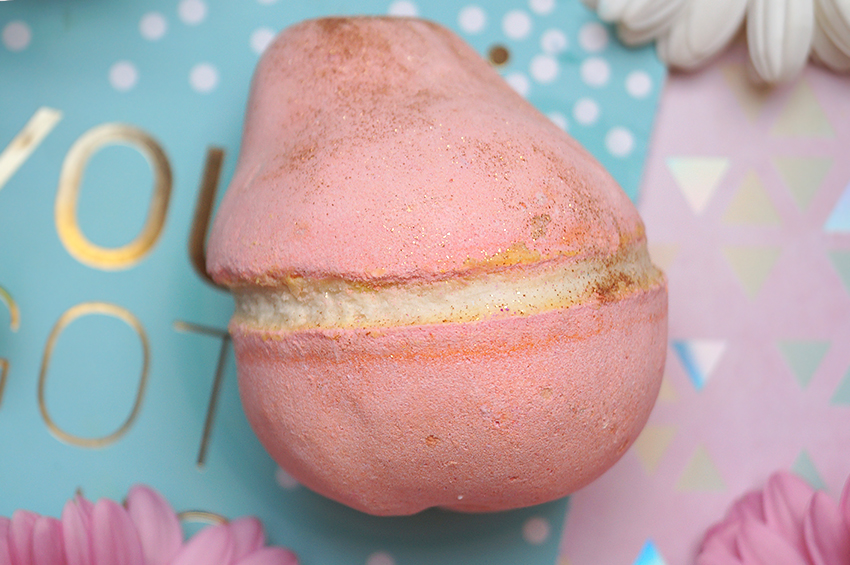 How on earth could I've skipped this bath bomb? I'm in love with the Golden Pear scent — ever since the soap came out a few years ago. This gorgeous bath bomb recently became a part of the scent family, but unfortunately, it'll be discontinued soon. Before that happens, I needed to give it a try. And to be honest, I think it's a pretty underrated bath bomb. If you're curious as to why, keep on reading!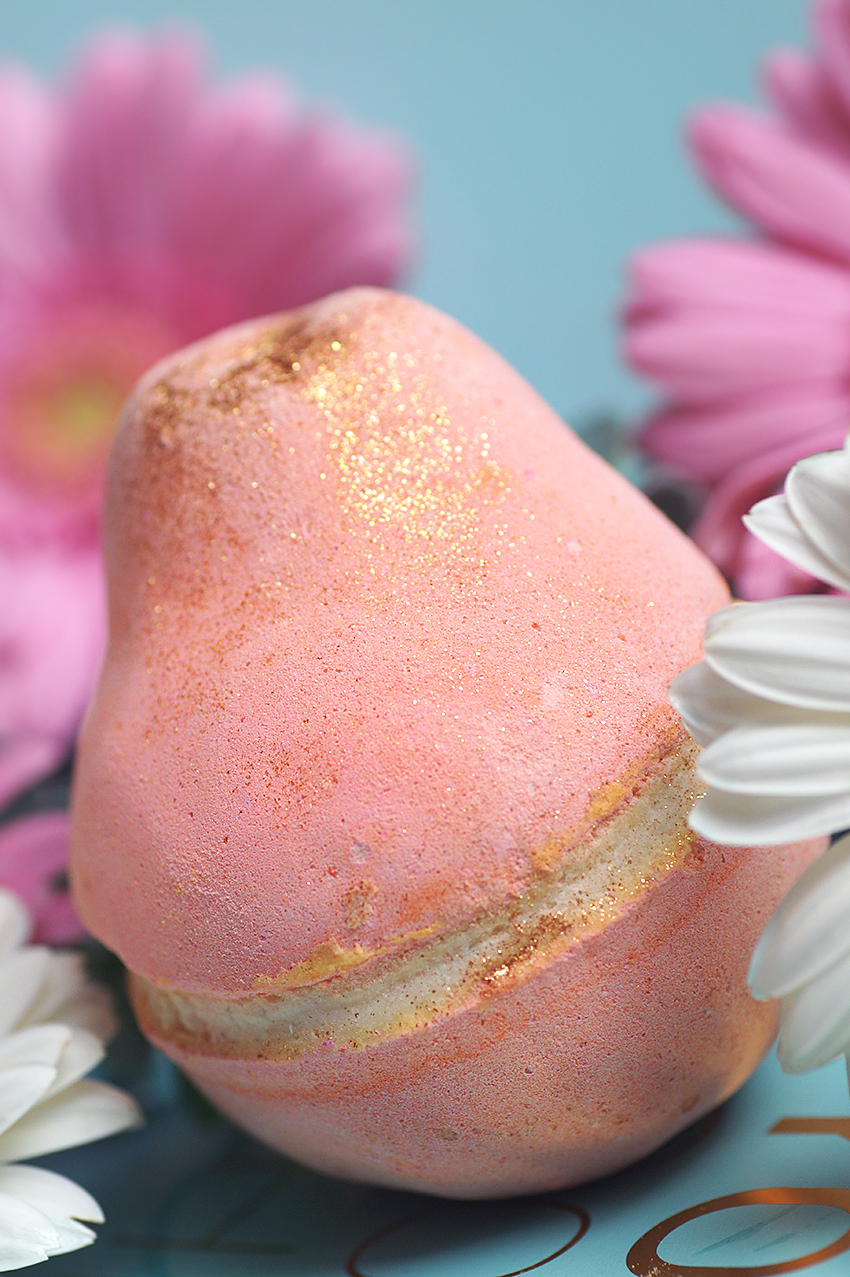 What is it?
Ingredients: Sodium Bicarbonate, Citric Acid, Fair Trade Organic Cocoa Butter, Titanium Dioxide, Laureth 4, Cardamom Oil, Brazilian Orange Oil, Sandalwood Oil, Cream of Tartar, Water (Aqua), Fair Trade Shea Butter, Sodium Coco Sulfate, Dipropylene Glycol, Cocamidopropyl Betaine, Synthetic Fluorphlogopite, Silica, Tin Oxide, Coumarin, *Limonene, Perfume, Colour 14700, Colour 45350, Colour 77491
Lush Golden Pear Bath Bomb costs £5.95 / $5.95 and is part of the temporary Harajuku range, consisting of 54 new, exclusive bath bombs. Golden Pear is a beautiful bath bomb. It has the shape of a pear and, of course, the scent of a pear. In the center of the bath bomb, there's a layer of cocoa and shea butter, great for nourishing and hydrating the skin. Cardamom oil has a spicy scent and it's antiseptic, astringent and it has a firming and toning effect on the skin. It's also warming and relaxing on tired joints! Brazilian orange oil is anti-inflammatory and antiseptic, but will also add a fruity, sweet note to the scent. Sandalwood oil has a warm, sweet and woody smell, but it has also a soothing and softening effect on the skin.
Just like expected, Golden Pears like pears. But not just pears — juicy, fresh pears. Sweeter than those pear ice lollies. It's a warm, fruity and slightly sweet scent. Because of the warm and woody underlying notes of sandalwood, it lessens the heaviness of the fruity pear, resulting in a perfectly balanced scent. I find this bath bomb to be far less pungent than the Golden Pear shower jelly. It's a delicious scent, and I'm glad it's not as strong as the other products from this scent family.
Play the video in 2160p quality and on full screen for the best experience! The video has been speeded up.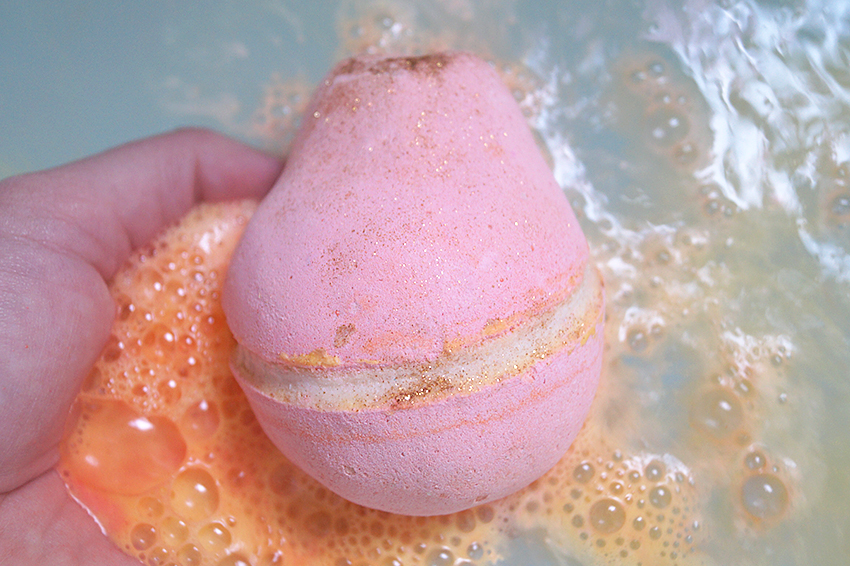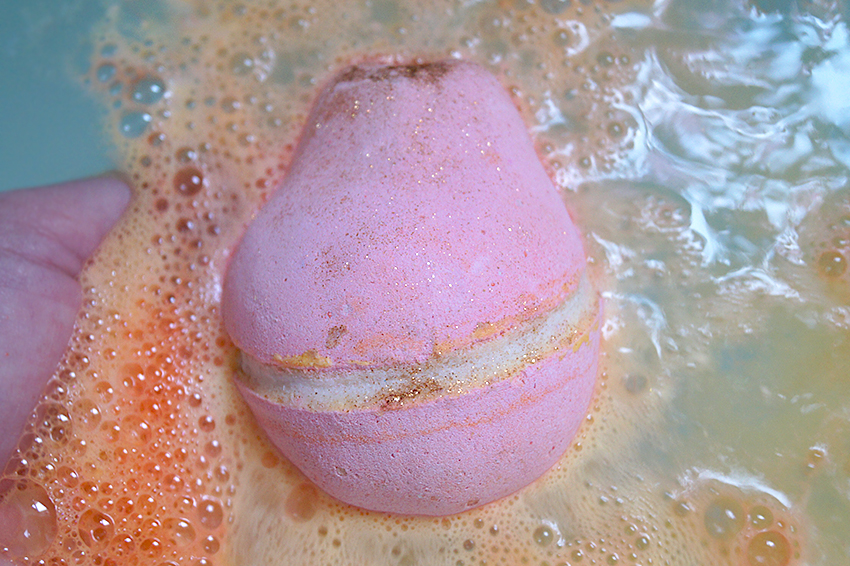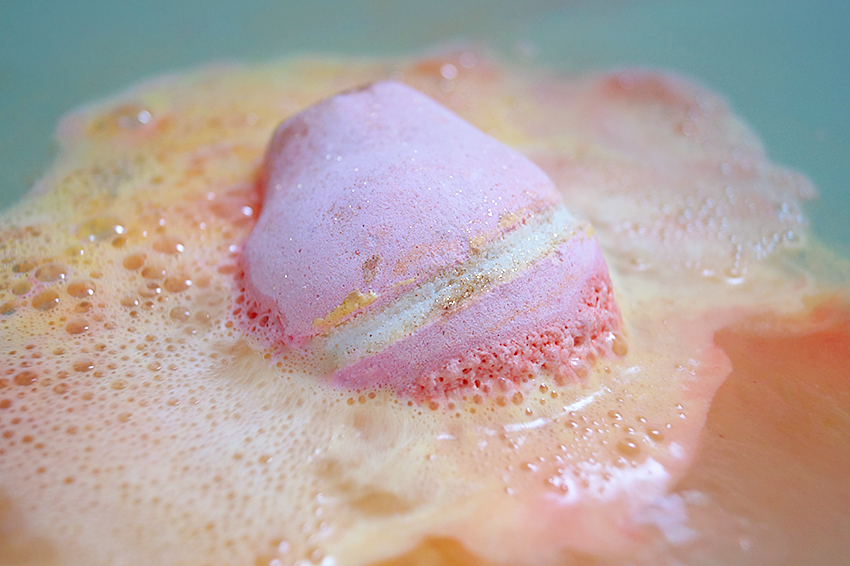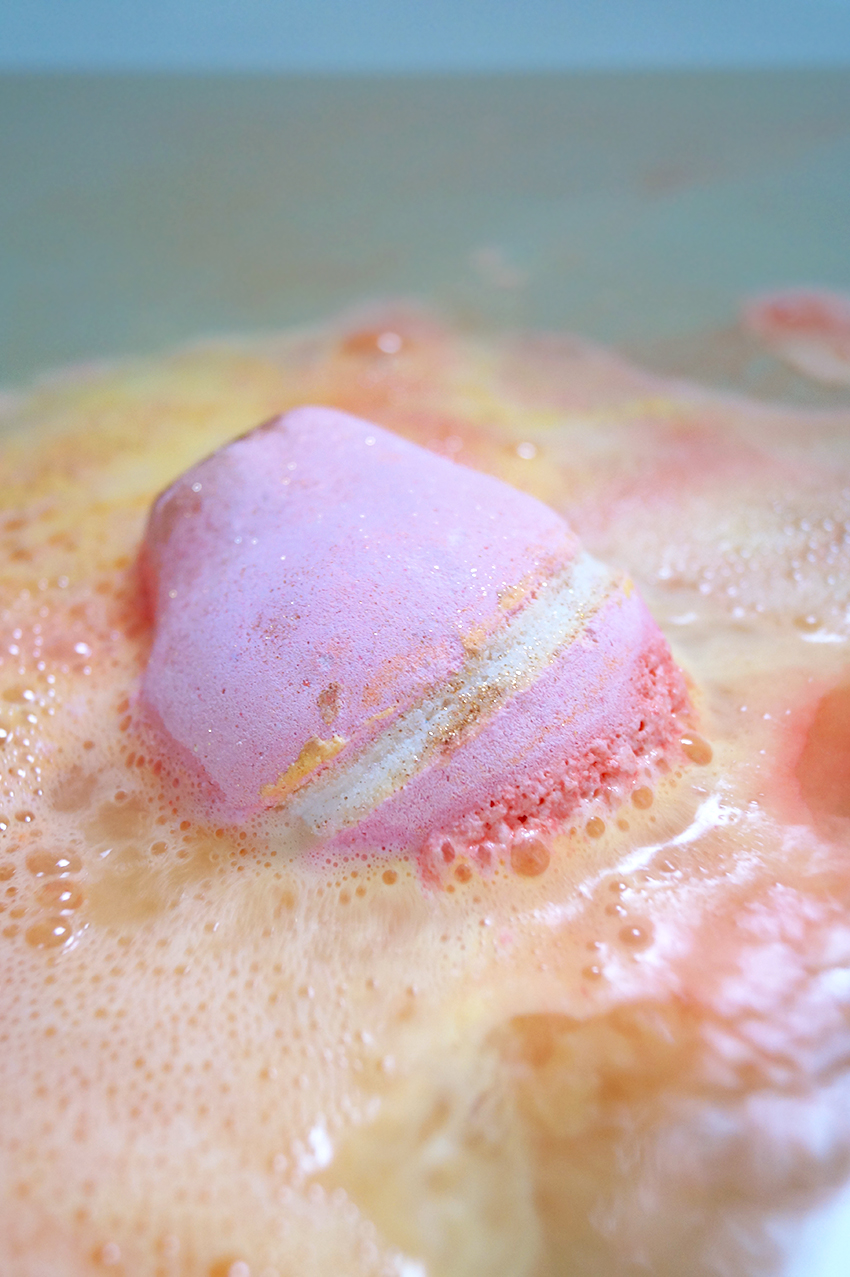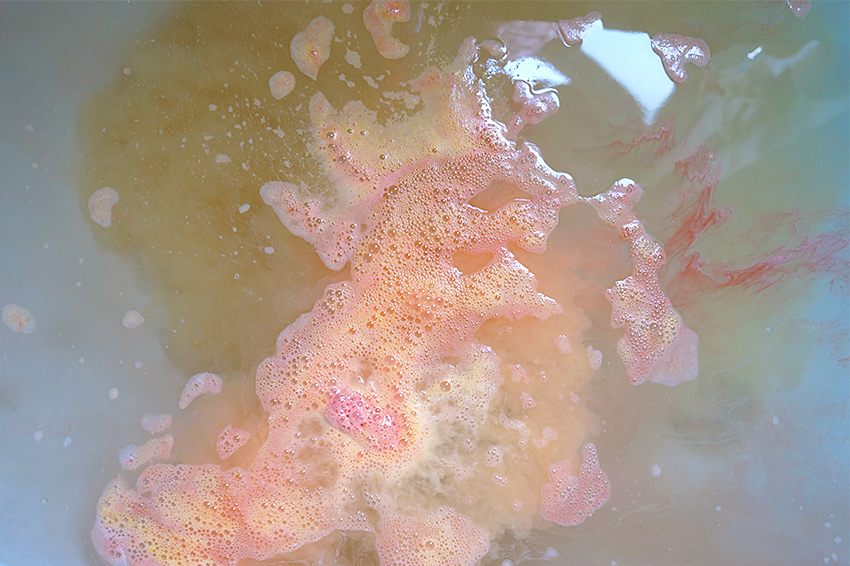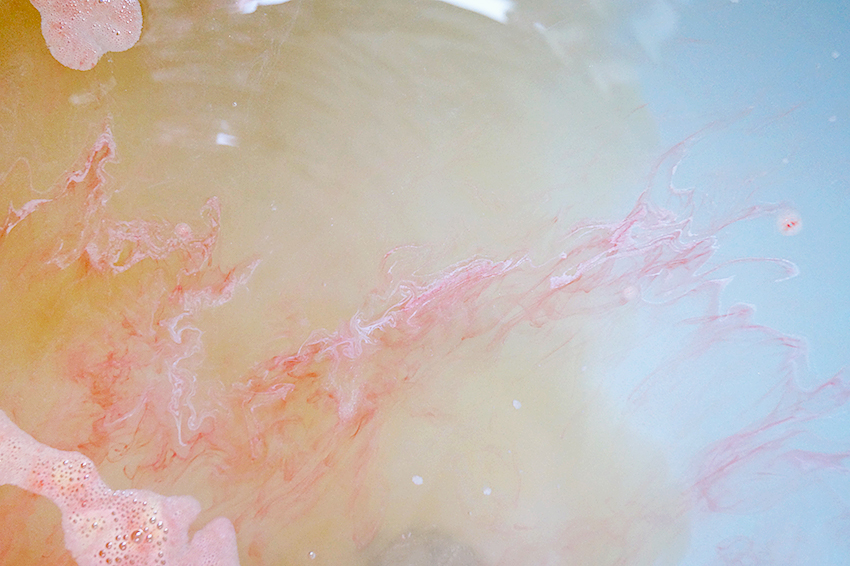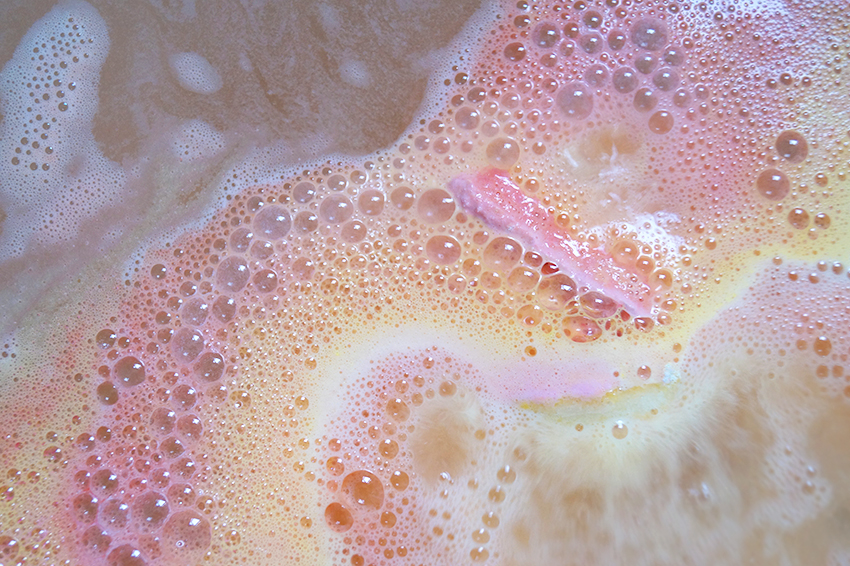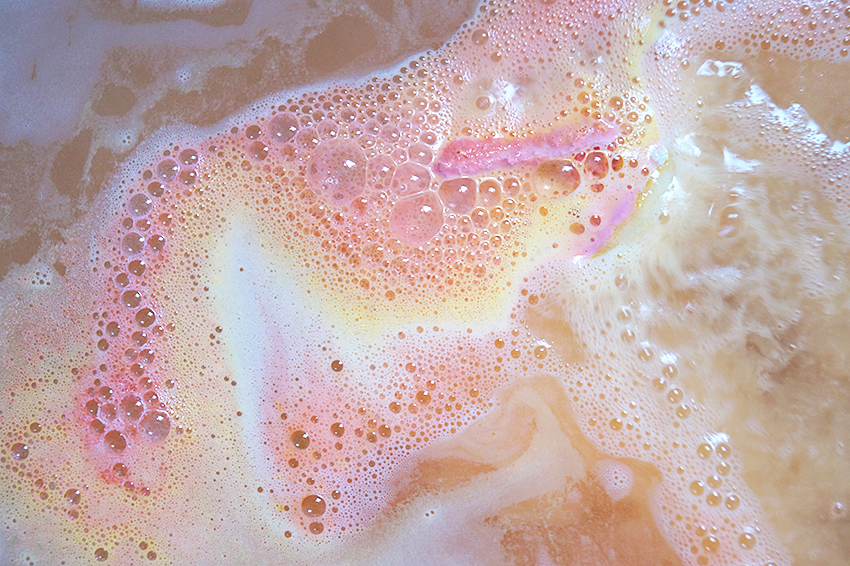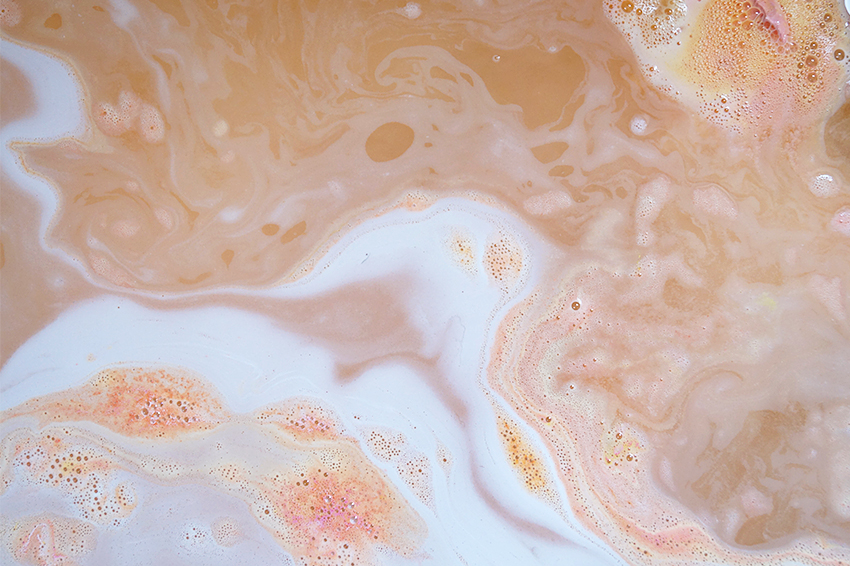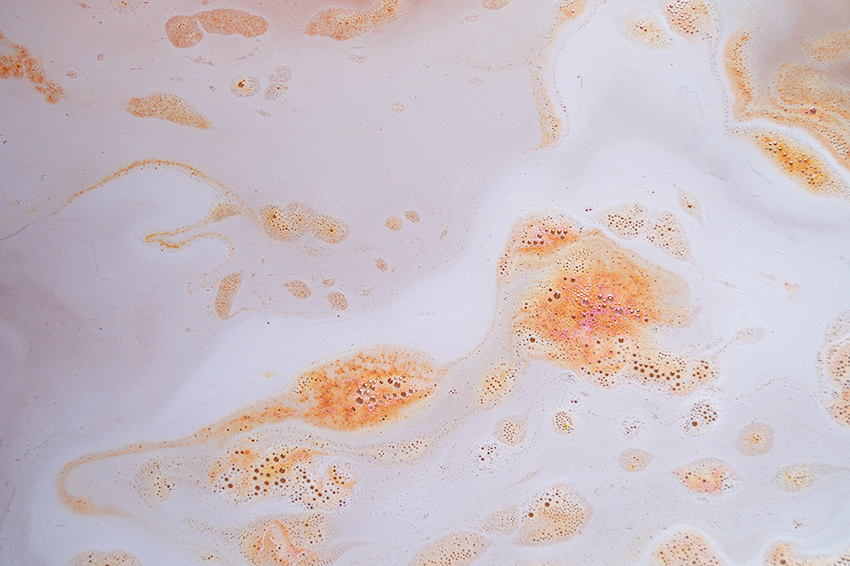 What do I think?
When the bath bomb hits the water, streams of colored foam are being spewed out explosively. It's mainly orange and yellow, but I also spot some red strings in the water, which is a very cool effect. Golden Pear floats through the water and leaves orange and yellow foam behind everywhere it goes. Gradually it turns into a colorful, vibrant show. Orange clouds beneath the surface transform every drop of water into a peachy shade and leaves the water opaque. After a few minutes the bath bomb is dissolved, except for the center — the butters melt slowly into the water.
Unfortunately I couldn't pick up the scent during bathing, except for a few whiffs now and then. The water was very beautiful, although there could've been more glitters, if it were up to me 🙃 I could now hardly spot any glitters in the water. But the amount of butters and oil in the water definitely made up for that! There was an oily layer on the surface, which made my skin baby soft afterwards. There was a velvety layer on my skin that remained for hours. The tub was easy to rinse afterwards, despite all those butters in the water.
I think this is a wonderful bath bomb. If you love the Golden Pear scent, you'd definitely want to try this one. I would've stocked up on this one if it were a bit cheaper, but it's €7,50 in the Netherlands, which is rougly $7,50 or £6.20. With these prices, if I were to stock up on every bath bomb that I like, I'd better start selling organs. So for me, this was a one time bath bomb, but it was definitely a lovely one.

Lush Golden Pear Bath Bomb costs £5.95 (England) / $5.95 (USA).