Review: Lush Golden Pear shower jelly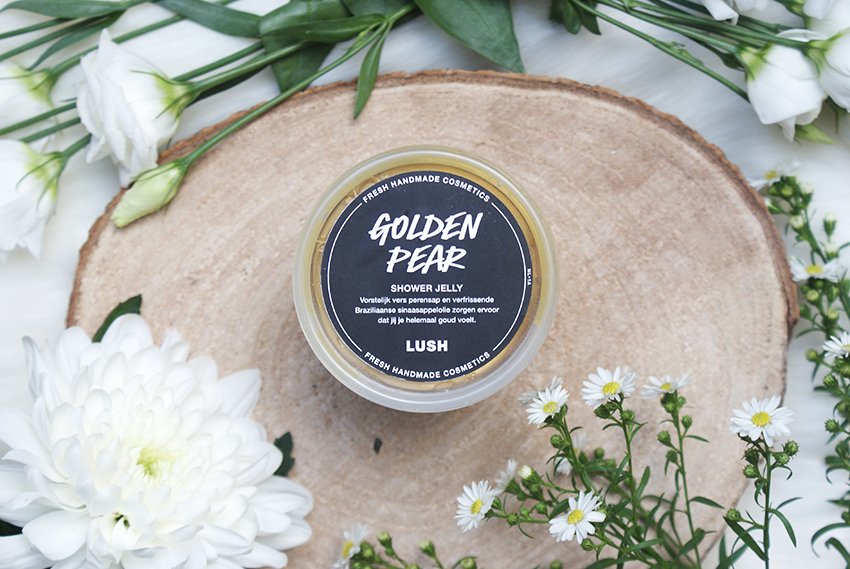 For the past two weeks I've been taking daily baths, all because I'm testing 17 of the new Harajuku bath bombs. Can you imagine how clean I am? I'm glad (and so is my bank account) that I didn't buy all 54 of them though, because my skin is starting to get very dry of all that soaking. Yesterday I skipped taking a bath, which means no bath bomb review today. But I do have a review for you on this divine jelly!
If you're curious about this product, make sure you keep on reading.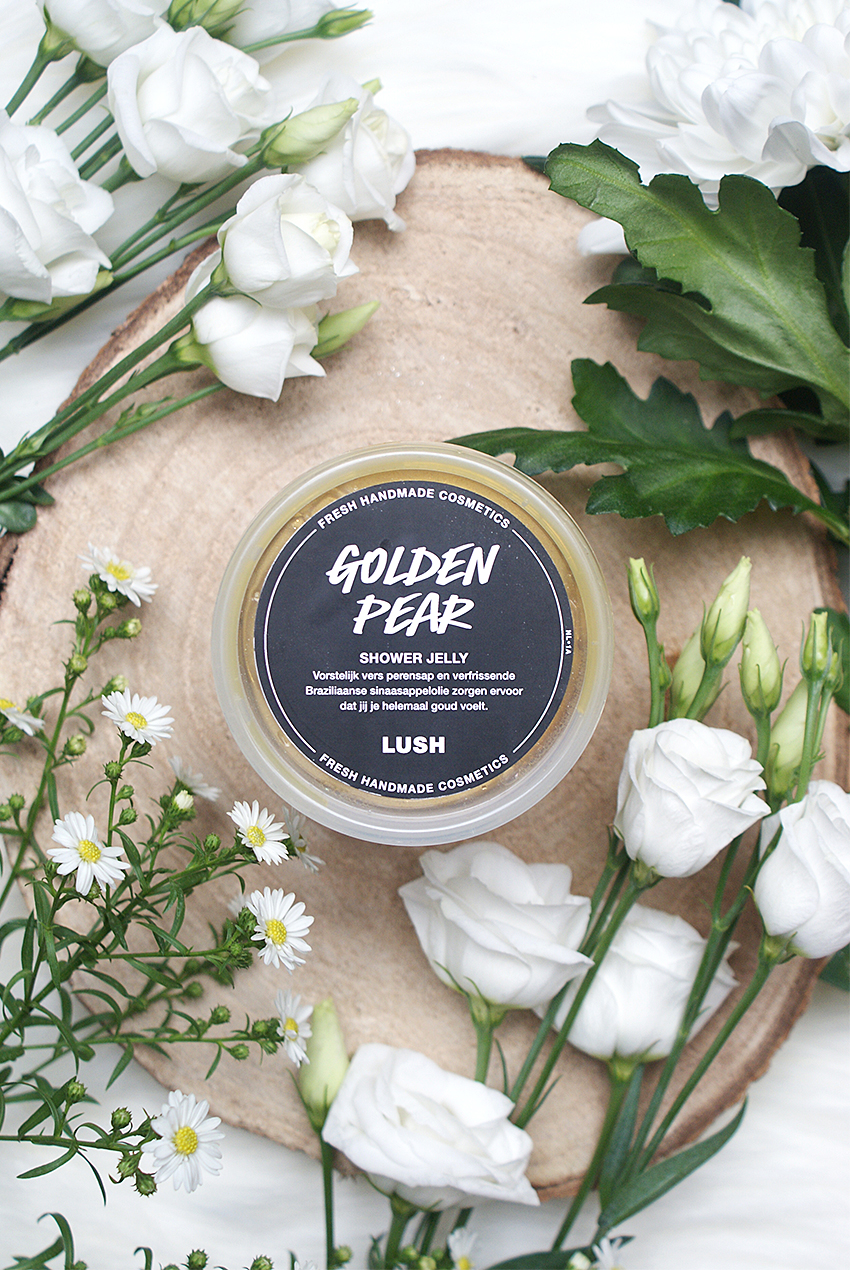 What is it?
Lush Golden Pear shower jelly costs £10.95 for 240 gram, and at this moment it's only for sale in the UK webshop. It's part of the Community Favourites, a temporary line of products. These products can only be purchased online for a limited time. There's also Yog Nog, Yummy Mummy, 29 High St, Plum Rain, Calacas, Yuzu & Cocoa, Sweetie Pie and Twilight shower jelly. They're all 240 gram, which means you'll get a lot of product. If you're not keen on jellies, you can also consider turning a jelly into a shower gel. Or, check out my blog post on how to use a shower jelly.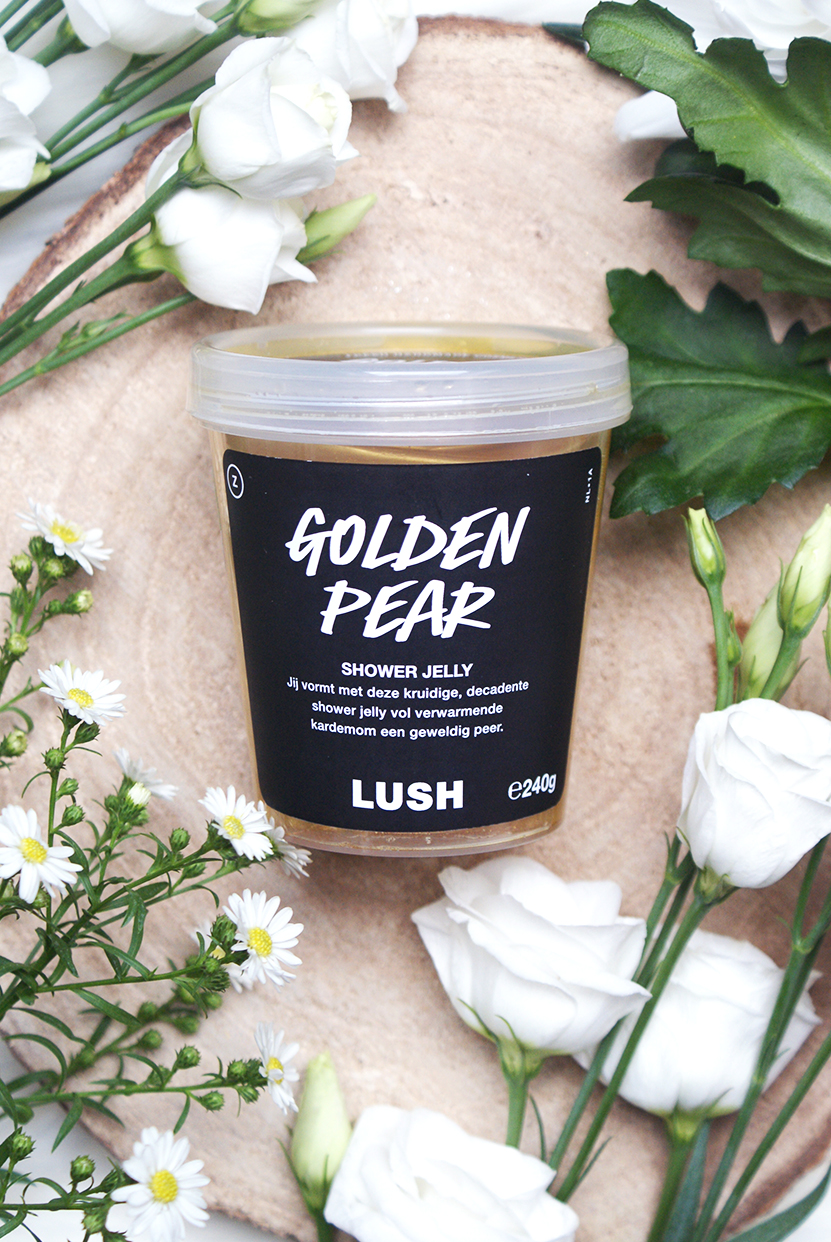 What's inside?
Ingredients: Glycerine, Golden Linseed Mucilage, Sodium Laureth Sulfate, Propylene Glycol, Carrageenan Extract, Perfume, Fresh Pear Juice, Cardamom Oil, Brazilian Orange Oil, Sandalwood Oil, Aloe Vera Extract, Titanium Dioxide, Gardenia Extract, Synthetic Fluorphlogopite, Tin Oxide, Silica, Citronellol, Coumarin, *Limonene, Colour 77491
This beautiful Golden Pear contains golden linseed mucilage (what a luxury, I mean I have cheap linseed from the dollar store), which is extracted by boiling the seeds. A gel can then be made, which has a soothing and caring effect on skin and hair, because it contains many proteins, minerals, vitamins and oil. It also contains fresh pear juice, cardamom oil, Brazilian orange oil, sandalwood oil and aloe vera. So many nourishing and softening ingredients. Delicious.
The smell is incredible, exactly what I was hoping for when I bought it. I love this juicy, fruity scent family. It's a very fruity and spicy fragrance. Very mouth-watering. Cardamom smells sweet and pungent, which is also clearly noticeable in Golden Pear. It's indeed a pretty pungent scent upon opening the bottle. It's as pungent as nail polish would be. Fortunatly, it's not that strong when using it in the shower. Furthermore, I can also detect the sweetness of the orange oil, but it also has some underlying warm notes.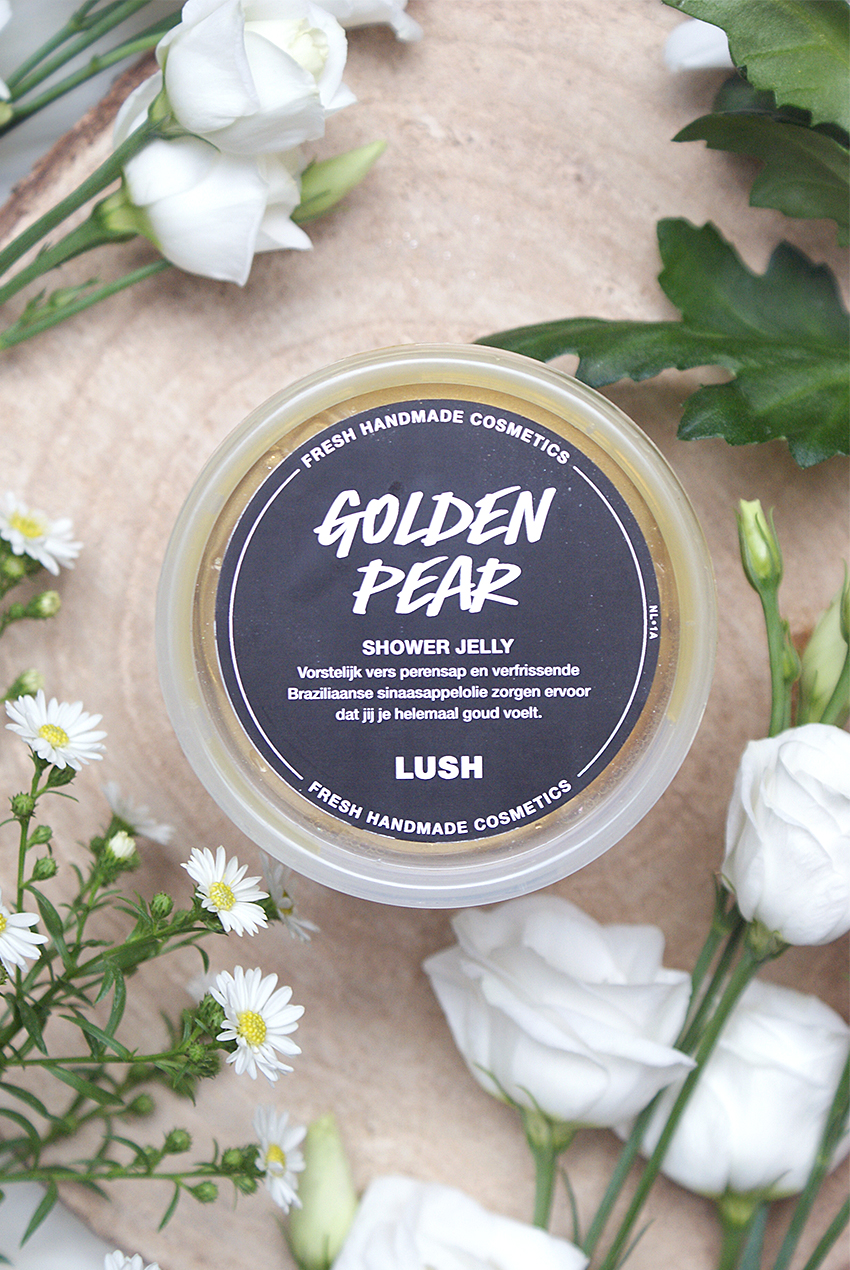 What do I think?
Aside from the struggle I had with the jelly in the shower (and believe me when I say that the jelly won the battle), it has a huge positive impact on my skin. It lathers up very well, it's easy to smother all over my body and the scent is such an invigorating and uplifting boost. My skin feels amazingly soft afterwards! I thought I already had a fairly soft skin, but I really feel a huge difference between the two arms. (I used the jelly on one arm) My fingers easily glide across over my skin and you can hear there's less friction, which means that the skin is less dry. (When the skin is so dry that it is almost flaky, you can hear the friction. Or is it just me?) Anyway, I don't hear this on the arm that I used Golden Pear on. My skin looks radiant and glowy. There's no more dry spots. I can't believe how hydrating this jelly is. What a godsend.
Moreover, it also looks a lot healthier, it glows more and I no longer see dry flakes. Weird, how hydrating this jelly is.
I'm really happy with this jelly. Not just the scent of it, but also the effects on my skin are simply wonderful. I can't stop stroking my own arm. Does that sound weird? The only downside of this product is that I don't really detect the scent on my skin afterwards. But thank God there's a Golden Pear body spray.

Lush Golden Pear shower jelly costs £10.95 (England).

One Response to Review: Lush Golden Pear shower jelly