Review: Lush Chris the Camel Bath Bomb
Meet Chris, our flamboyant and spicy camel this season. Covered with stars and with a colorful saddle on his hump, he is ready to fill our bath with scent and color. It's one of the fun shaped bath bombs this season. Because Chris is spicy as well, I decided to toss him into my bath yesterday. It was cold and rainy outside, I was chilly and I was craving a nice, warm bath.
If you're curious about this bath bomb, then keep on reading.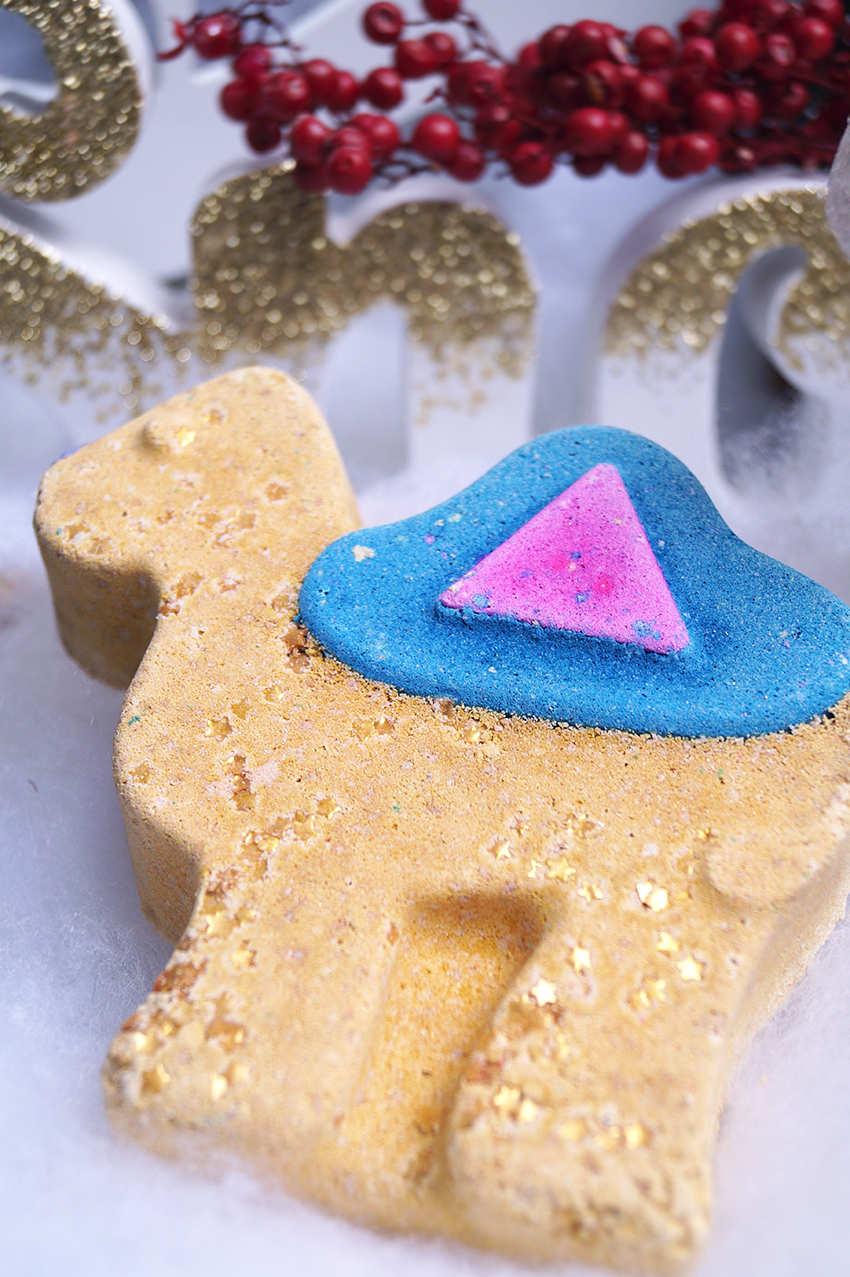 What is it?
Ingredients: Sodium Bicarbonate, Citric Acid, Perfume, Gardenia Extract, Black Pepper Oil, Cinnamon Leaf Oil, Clove Bud Oil, Brazilian Orange Oil, Cream of Tartar, Titanium Dioxide, Date Syrup, Water (Aqua), Glycerine, Sodium Coco Sulfate, Synthetic Fluorphlogopite, Cocamidopropyl Betaine, Hydroxy propyl methyl cellulose, Sodium carboxymethyl cellulose, Dipropylene Glycol, Tin Oxide, *Citral, *Eugenol, *Limonene, *Linalool, Colour 77491, Colour 77492, Colour 42090, Colour 60725, Colour 17200, Colour 42053, Colour 45410, Colour 45410:2, Colour 45410:1
Lush Chris the Camel Bath Bomb costs £4.95 and is part of the Christmas range. This bath bomb has the appearance of a camel, it's SO cute with its blue and pink saddle on his bump. There's small, golden stars all over Chris. He is fabulous, darling. He also contains a lot of ingredients that are guaranteed to warm you up. Perfect for a cold, rainy day, when you fill up your bath to the brim with steaming, hot water.
To start with, Chris contains black pepper oil, which is warming and stimulating. Cinnamon leaf oil stimulates blood flow and warms up the skin. Clove oil also has a warming and stimulating effect, but it also contains eugenol, which is soothing for sore muscles. Orange oil is anti-inflammatory and antibacterial and lifts up the mind. Date syrup is good for dry skin, as it will help the skin to retain moisture.
Chris smells amazing — he is spicy. Finally, a spicy bath bomb. A real spicy bath bomb, but not TOO spicy. Just well seasoned. You can smell the clove bud very well, but it's not to overpowering. The scent has a sweet layer, because of the orange oil. The scent is perfectly in balance, making it a spicy scent everyone can appreciate. The scent seems to be related to Glögg (aka the best shower gel Lush has had during Christmas), but somewhat lighter and less spicy.
tl;dr Chris is spicy and smells good AF.
Play the video in 2160p quality and on full screen for the best experience! The video has been sped up.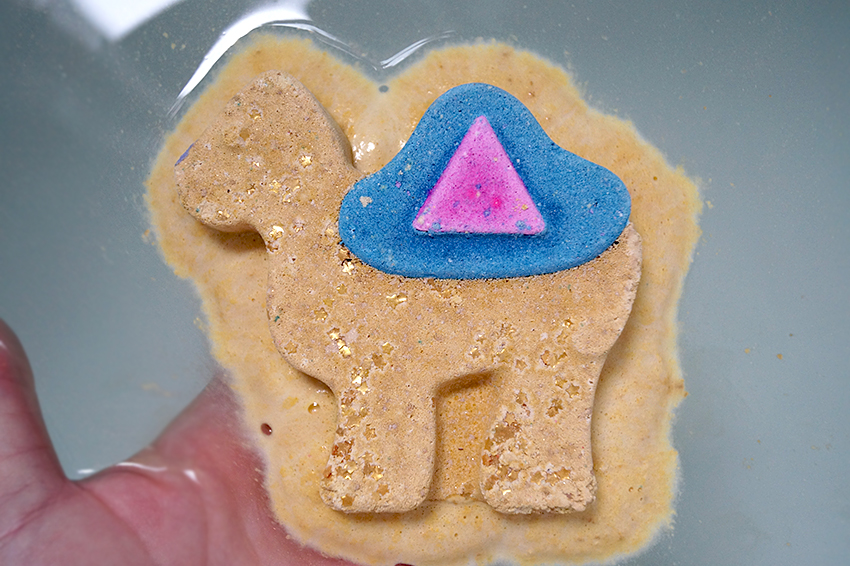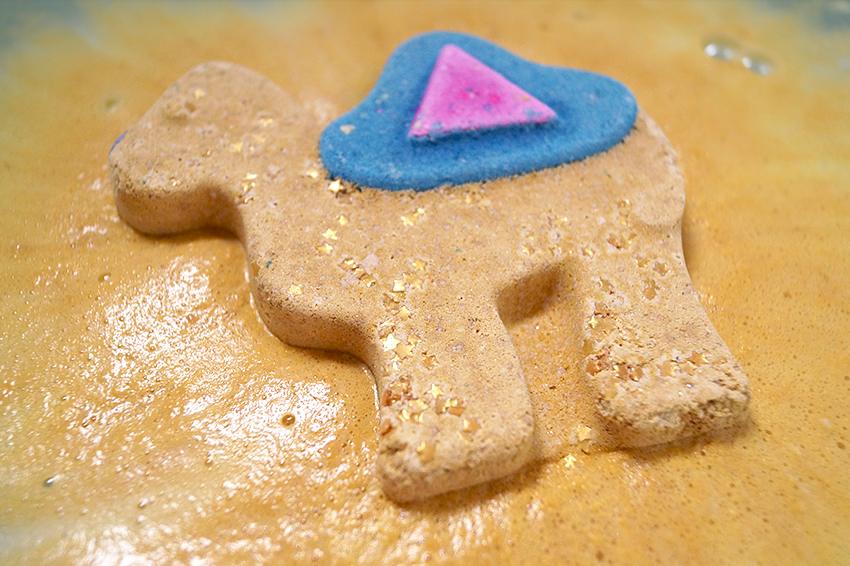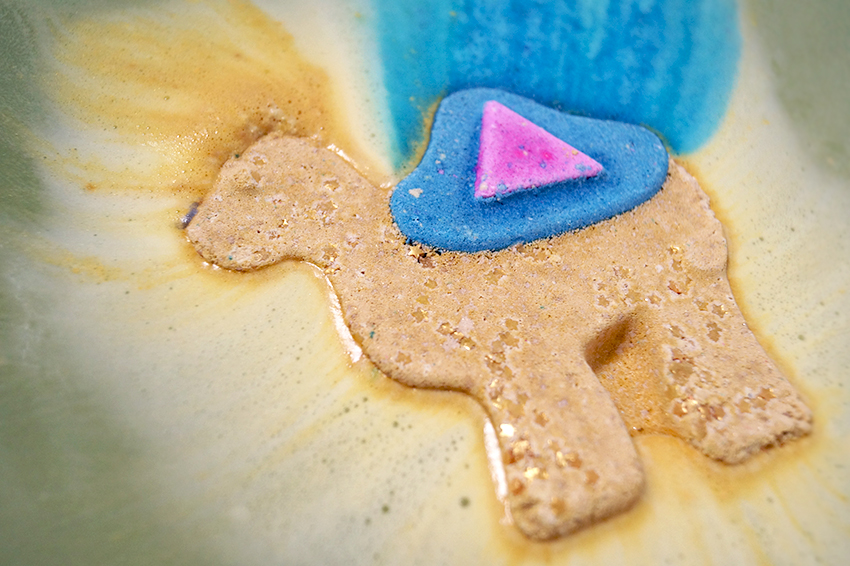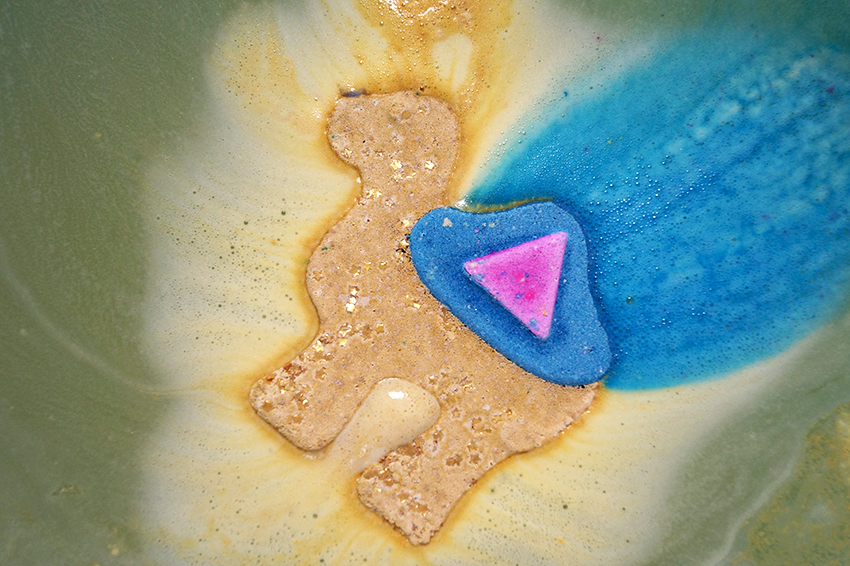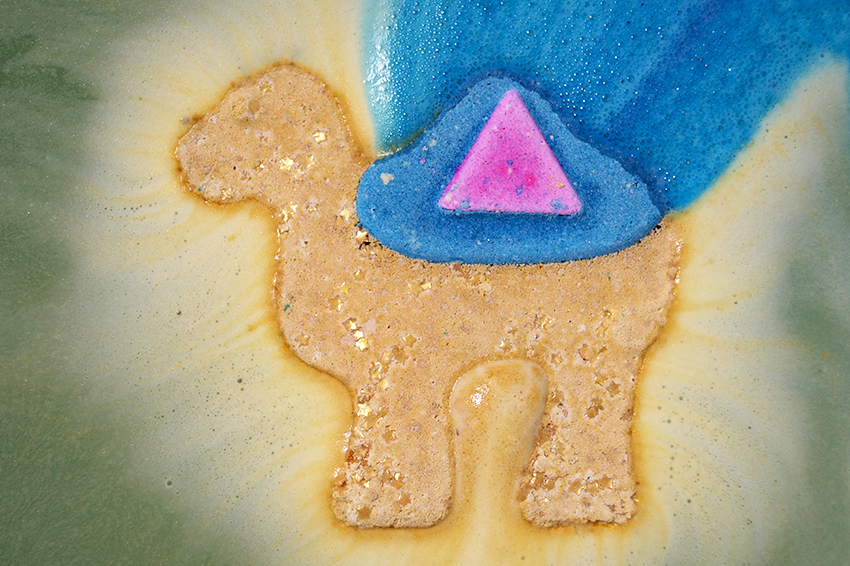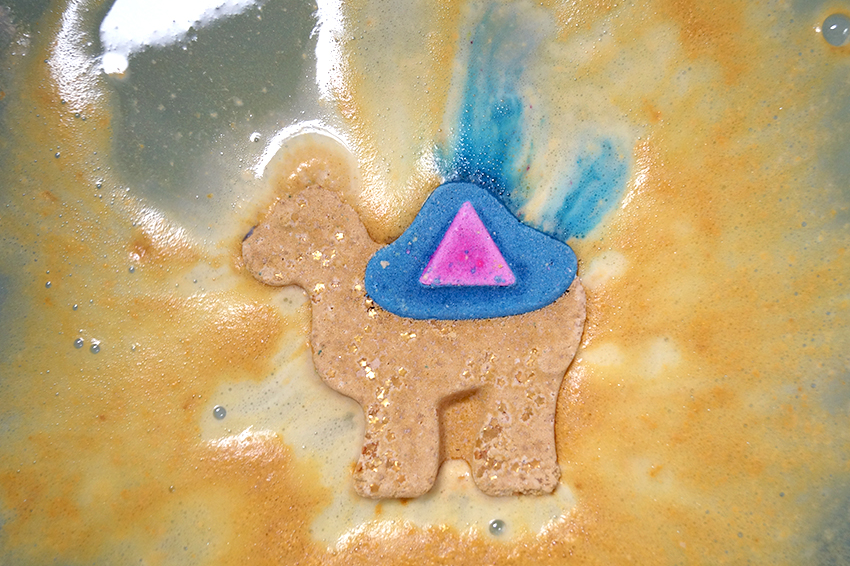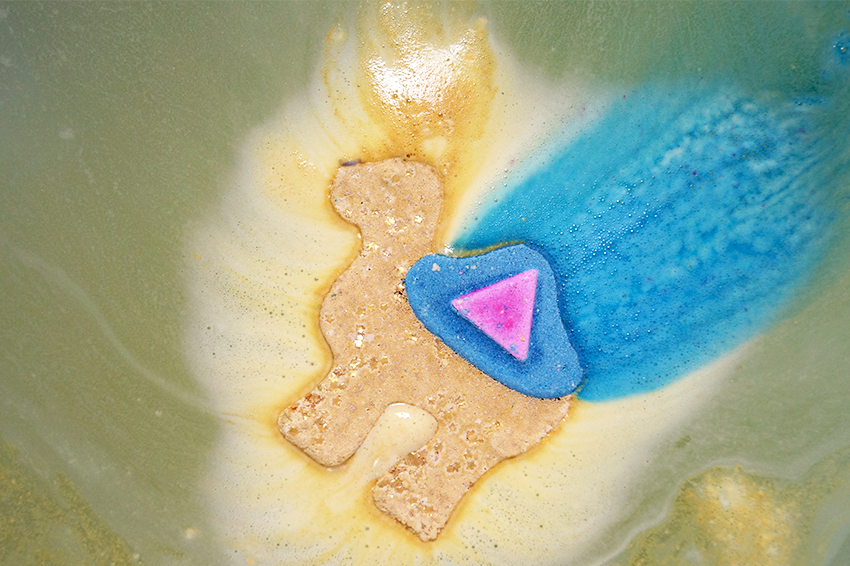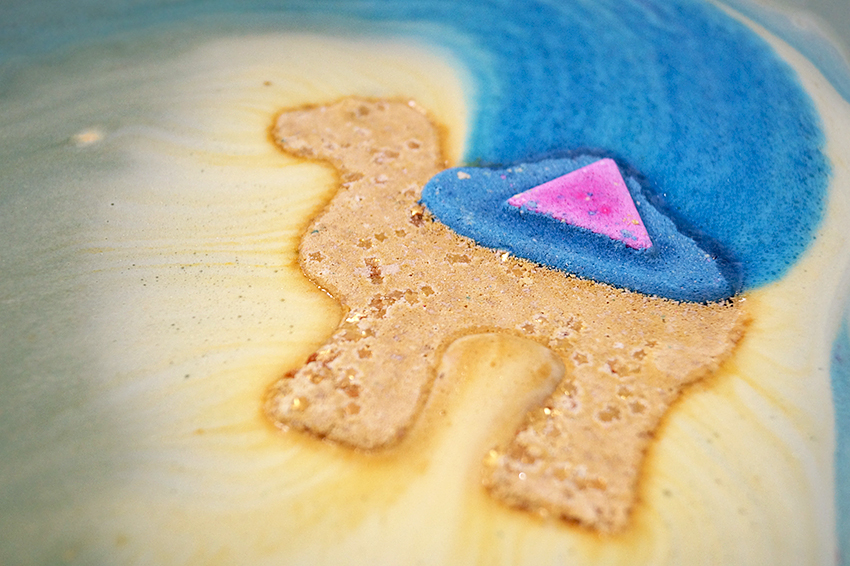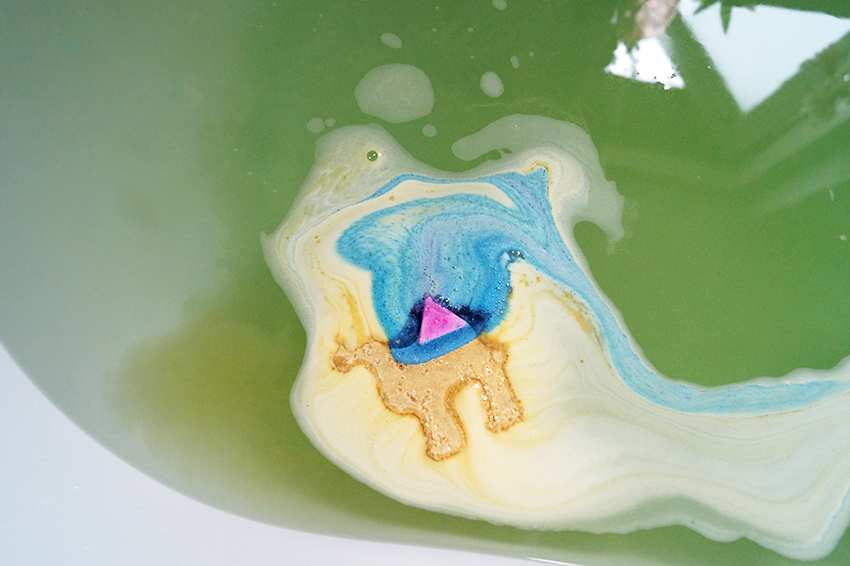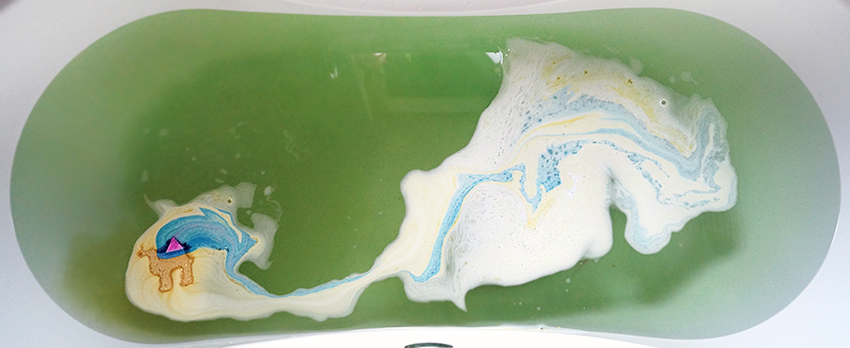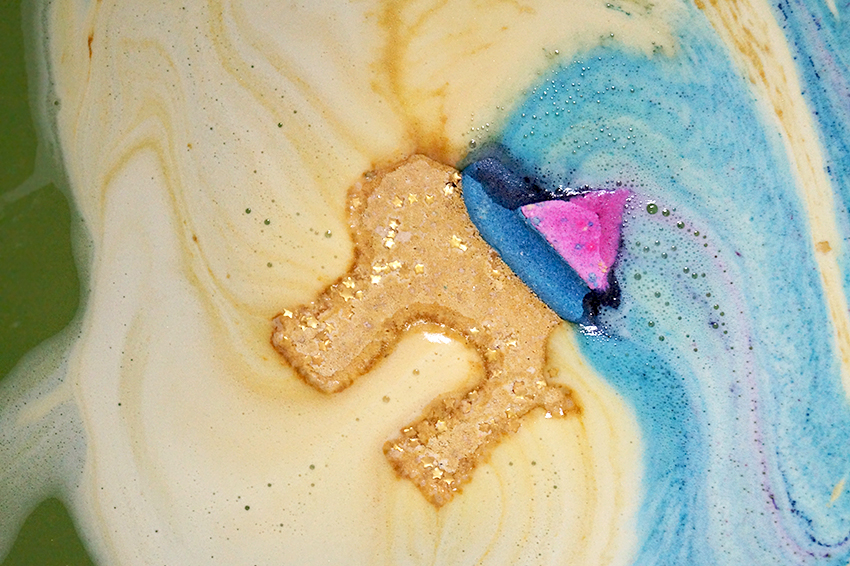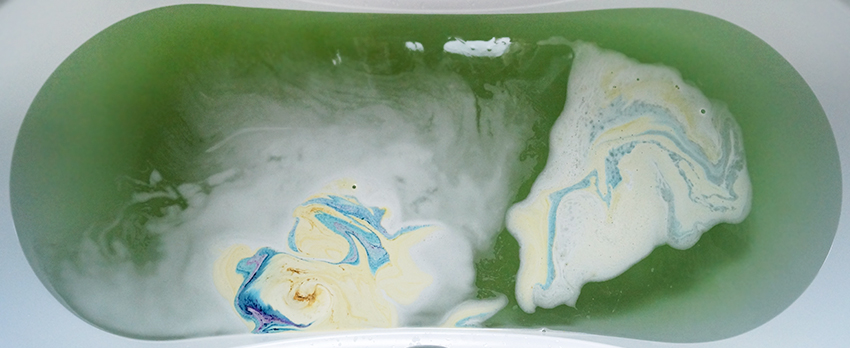 What do I think?
Chris immediately starts spewing out yellow and orange froth onto the surface. A bit of blue too, which comes from his saddle. These yellow and blue colors will blend together, creating a green shade in the water. I love seeing how blue clouds blend with the rest of the water! The small, golden stars come off and float through the water. Chris himself also floats through the water, and boy, he sure takes his time in doing so. Nah, Chris ain't in a hurry. It took him about 15 minuten to fully dissolve. An additional advantage is that the scent was well present. The bathroom slowly transformed into a winter scene.
After completely dissolved (RIP Chris) the water is a green shade, almost opaque. There's all kinds of golden glitters in the water, gorgeous. This golden lustre pulsates with every movement of the water. The spicy scent is subtle, but present, and overall it was a wonderful, relaxing bathing session. It wasn't so much the temperature of the water that warmed me up (I can't stand hot water, so my bath is always just "warm") but rather the ingredients that relaxed both me and my muscles.
Would I buy Chris again? Yes definitely. Its scent is wonderful and the golden lustre in the water never bores me. This is typically a bath bomb that makes me feel what the ingredients do to me. I'd definitely recommend this bath bomb! Just check it out in the story, if you got the chance.
By the way, for my American visitors.. the Christmas range will be out October 15th for you! Just 10 more days!

Lush Chris the Camel Bath Bomb costs £4.95 (England).