Review: Lush Shoot For The Stars mini bath bomb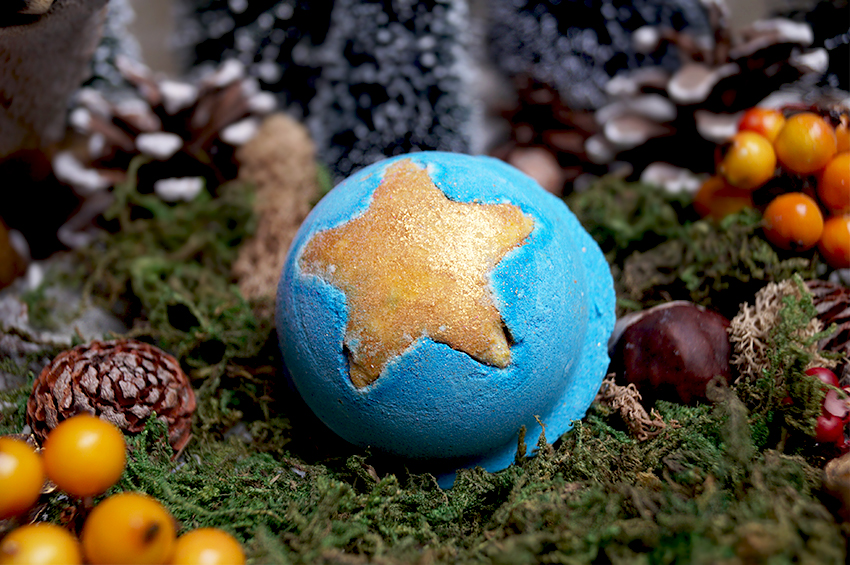 A few weeks ago I reviewed the small Snow Fairy bath bomb for you, which was part of the Christmas Tree gift set. Today's review is about the small Shoot for the Stars bath bomb. The original bath bomb is one of my Christmas favourites, so I couldn't wait to try this one, and see how powerful it is in the tub. Let's find out!
If you're curious about this bath bomb, then keep on reading.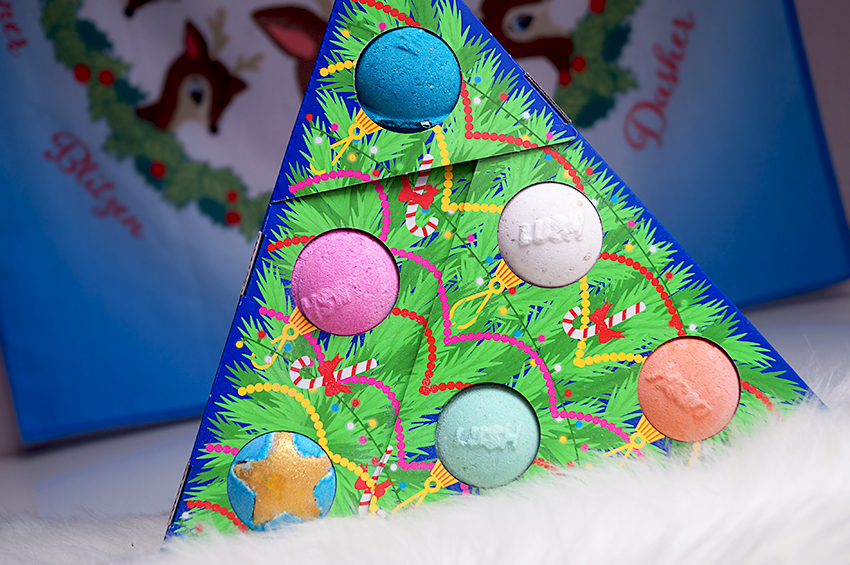 What is it?
Ingredients: Sodium Bicarbonate, Citric Acid, Fair Trade Organic Cocoa Butter, Brazilian Orange Oil, Bergamot Oil, Water (Aqua), Creamed Coconut, Almond Oil, Cornstarch, Titanium Dioxide, Laureth 4, Sodium Laurylglucosides Hydroxypropylsulfonate, Propylene Glycol, Synthetic Fluorphlogopite, Tin Oxide, Silica, *Citronellol, *Geraniol, *Limonene, *Linalool, Perfume, Colour 42090:2, Colour 42090, Colour 77491, Colour 19140:1, Colour 19140
Lush Shoot For The Stars mini bath bomb is part of the Oh Christmas Tree gift set and is not sold separately. This gift set contains 6 mini bath bombs, of which the only one for sale individually is Butterball. The other bath bombs in this gift set are Snow Fairy, Groovy Kind of Love, Intergalactic and Avobath. They're all 95 grams. The original SFTS has a few golden stars inside, made of cocoa butter, but this mini bath bomb has only one. Which I think is much better than 3 or 4, since they always make my bath slippery AF.
This bath bomb shares its scent with the popular Honey I Washed The Kids scent, one of my favorite scents by Lush. It's a warm, creamy and sweet honey & toffee scent. Mouthwatering, really. It's a bit sweet mixed with warm notes, creating the perfect scent.
Play the video in 2160p quality and on full screen for the best experience! The video has been sped up.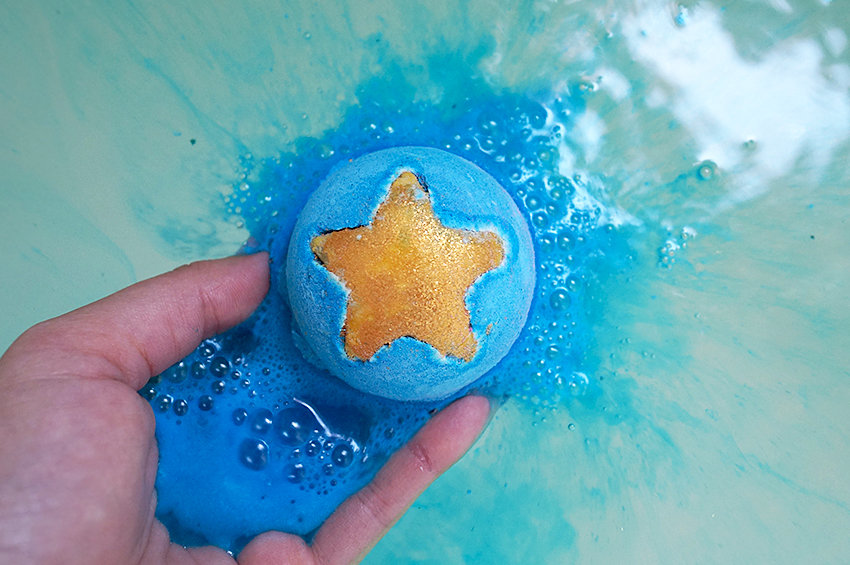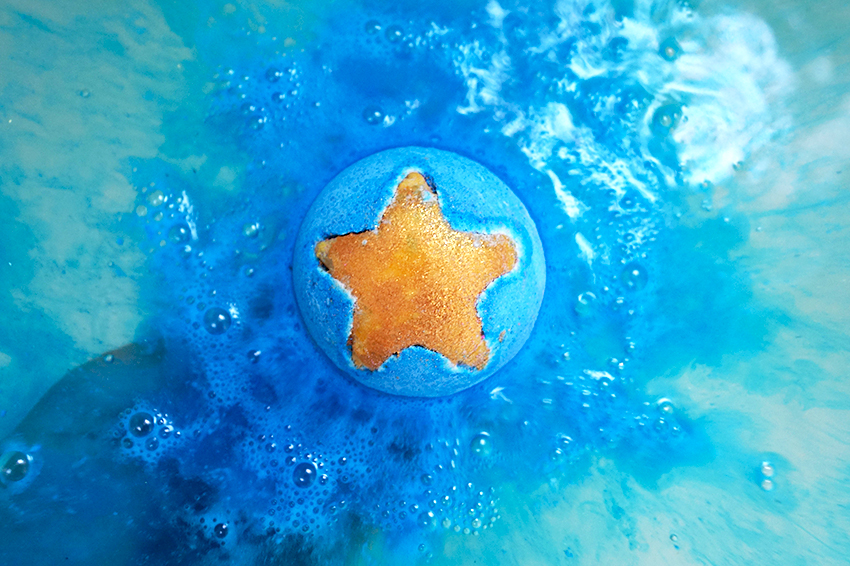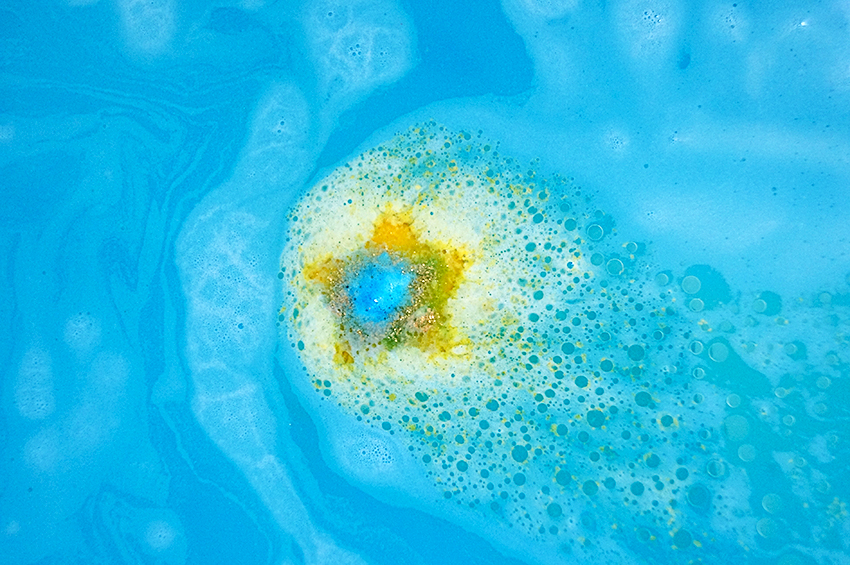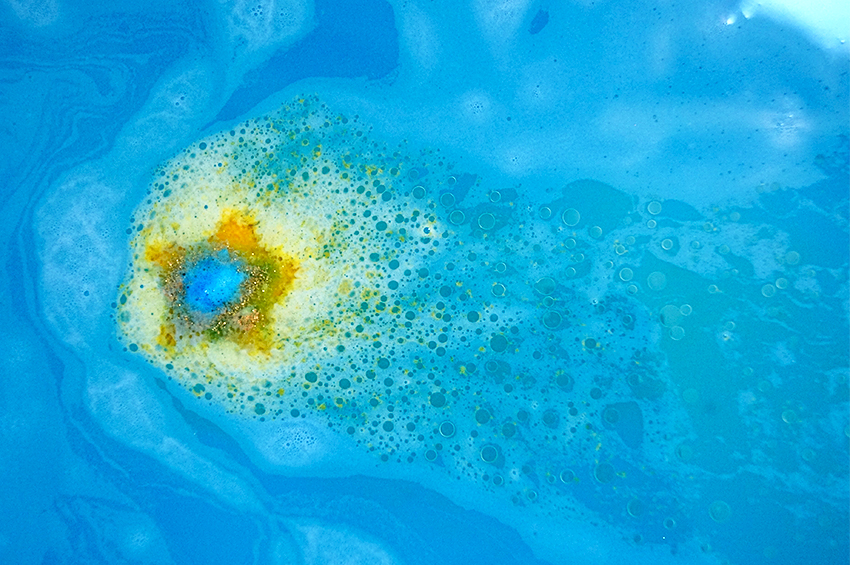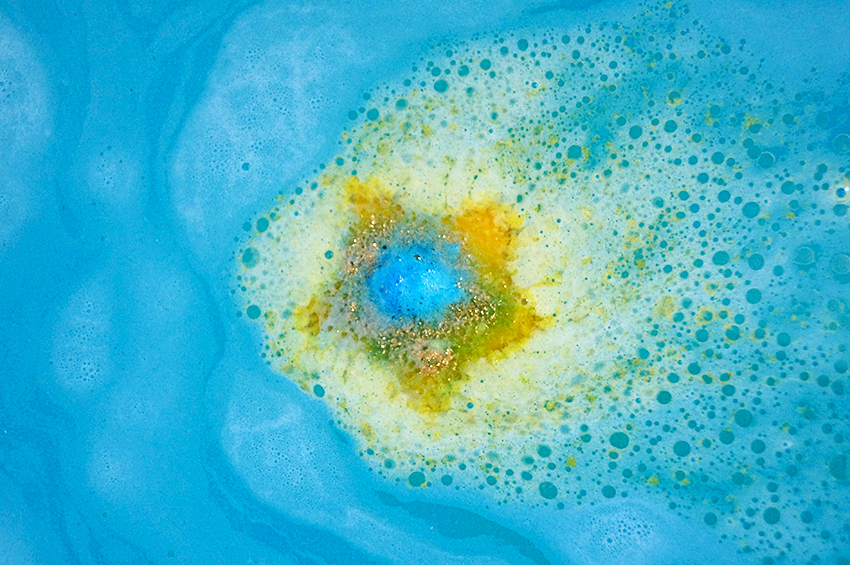 What do I think?
Shoot for the Stars is a fast fizzer, it transforms the water into a gorgeous blue shade pretty quickly. The golden cocoa butter star initially sinks to the bottom, but then emerges to the surface, spreading out its oils. There's some golden lustre as well, floating through the water. The chunk of cocoa butter made the water a lot more softer, resulting in a super soft, moisturised skin. I must admit, the original SFTS isn't inferior to this mini bath bomb! I might even like this small version more, because like I said, the bigger one always makes my bath slippery. I also LOVED the end result, the water was such a gorgeous shade of blue! This is one of the colors I love bathing in. There's something cheery about these colors! The scent could be smelled pretty well, just like the original one.
This gift set has so far, exceeded all my expectations. The small bath bombs packed a punch! I love the idea of this gift set and I hope they'll do these gifts more often. I can't wait to use the other small bath bombs!

Lush Shoot For The Stars mini bath bomb is part of the Oh Christmas Tree gift set and costs £20.00 (England) / $28.95 (USA) / €28.00 The Netherlands)

One Response to Review: Lush Shoot For The Stars mini bath bomb