Review: Lush Goldfinger Bubble Stick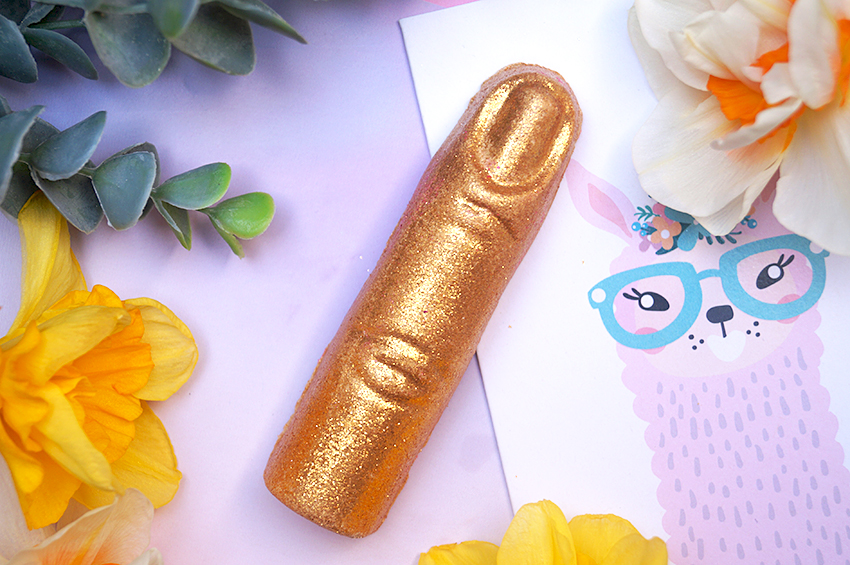 After all the cute bubble bars we've had the past few days, I've got something completely different for you today. A lot of you were curious about this golden finger, which is in my opinion one of Lush weirdest bubble bars 😂 But hey, it's gold, it sparkles and it smells of a very well known Lush scent family. Today I'm going to review this brand new bubble stick for you!
If you're curious about this bubble bar, then keep on reading.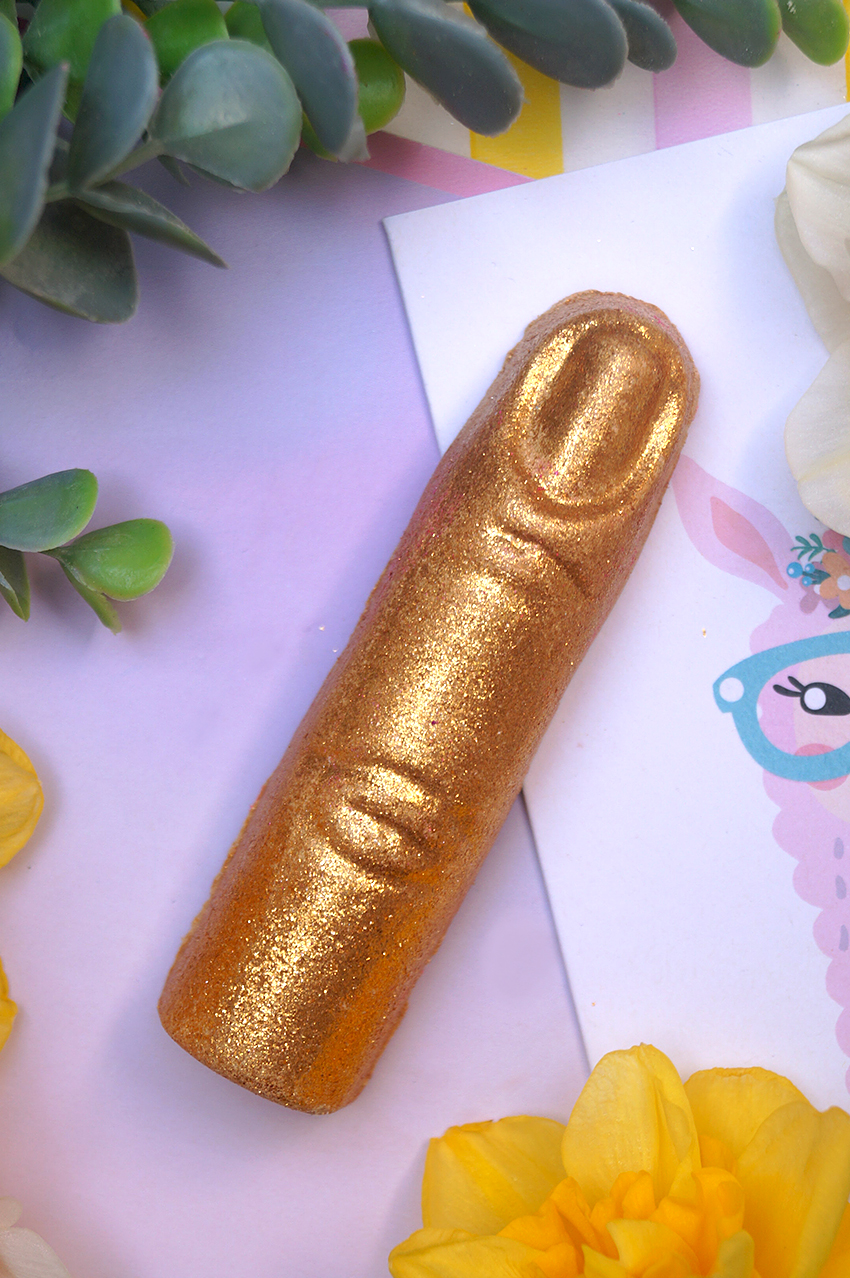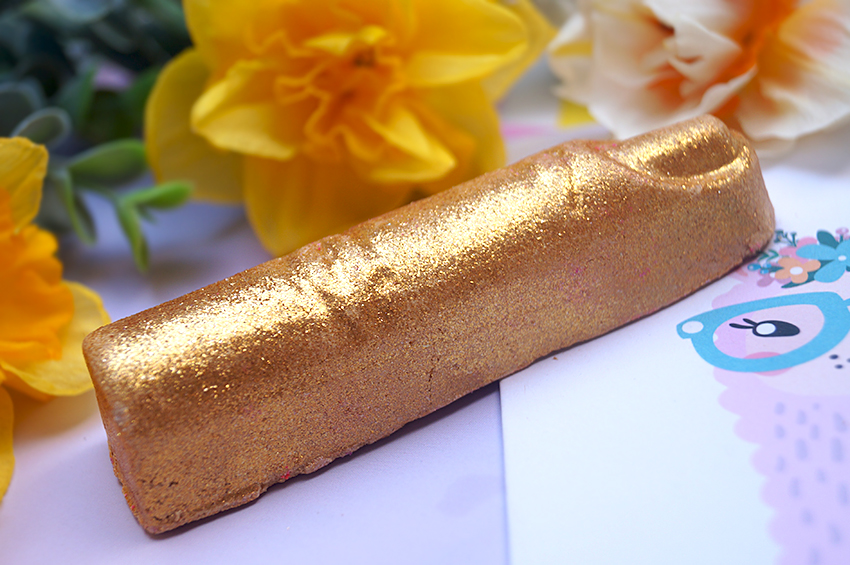 What is it?
Ingredients: Sodium Carbonate, Cream of Tartar, Sodium Laureth Sulfate, Glycerine, Lauryl Betaine, Synthetic Fluorphlogopite, Perfume, Titanium Dioxide, Brazilian Orange Oil, Bergamot Oil, Tin Oxide, Silica, Amyl Cinnamal, Butylphenyl Methylpropional, *Citronellol, *Geraniol, *Limonene, *Linalool, Colour 77491
Lush Goldfinger Bubble Stick costs £3.95 / $6.95 / €5,50 and is part of the exclusive Harajuku bubble bar launch. A part of these bubble bars was released on March 27 (in The Netherlands) and the second part will be released on June 26. This bubble stick is pretty creepy looking, I mean.. a finger? Somehow it gives me the creeps, but I gotta admit it's original. I'm not sure if the fact that its golden makes it better or creepier.. Anyway, anything golden is right up my alley, especially when it's Honey I Washed The Kids scented. It resembles Golden Egg a lot — the latter also being gold, sparkly and HIWTK scented. This bubble stick weighs about 70 grams.
Somehow Golden Egg always smells a tad more creamy to me than other HIWKT products, which I experience with Goldfinger as well. It's a very creamy, delicious smelling bubble bar. It's the classic HIWTK scent — vanilla, toffee, honey, caramel, a mouthwatering scent, one of the best scent families by Lush. It has a slight orange, citrusy note to it, making the scent a bit uplifting as well. The bubble bar smells pretty strong, I love it and I can already imagine making some amazing bath cocktails with this bubble bar.
Play the video in 2160p quality and on full screen for the best experience! The video has been sped up.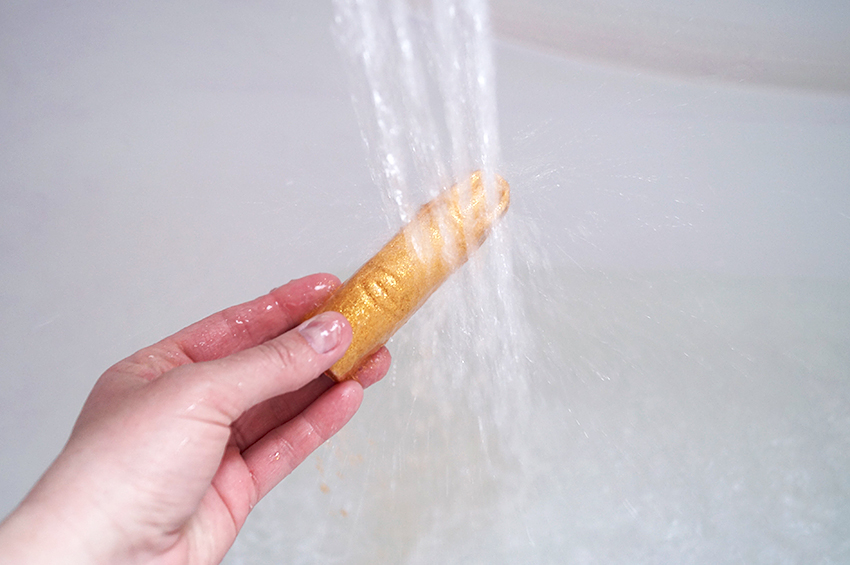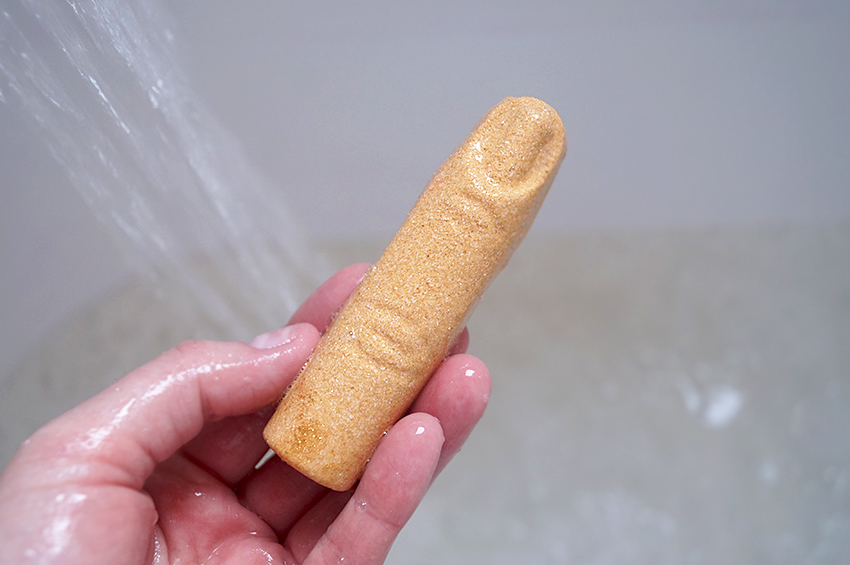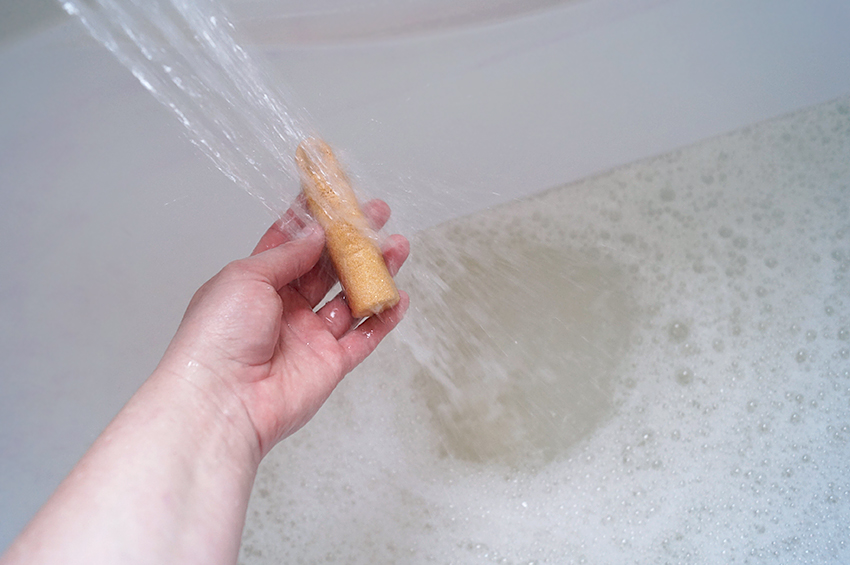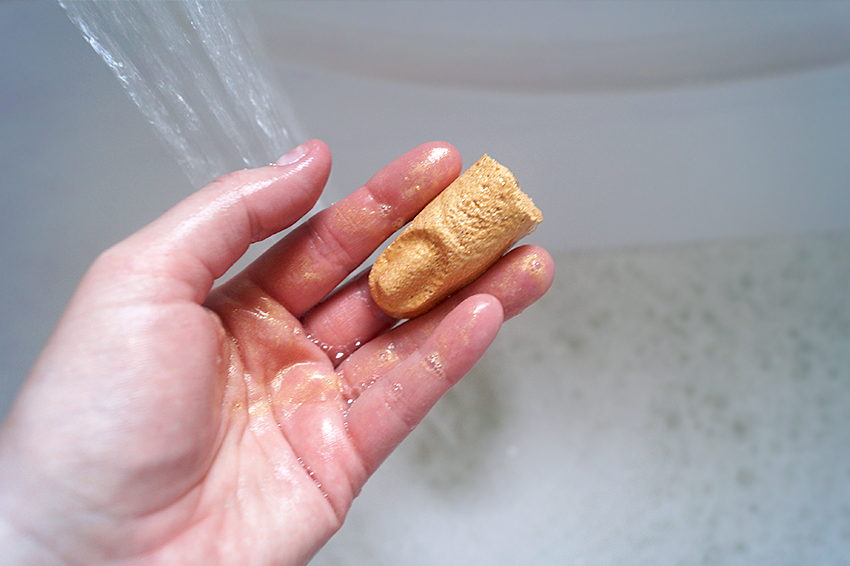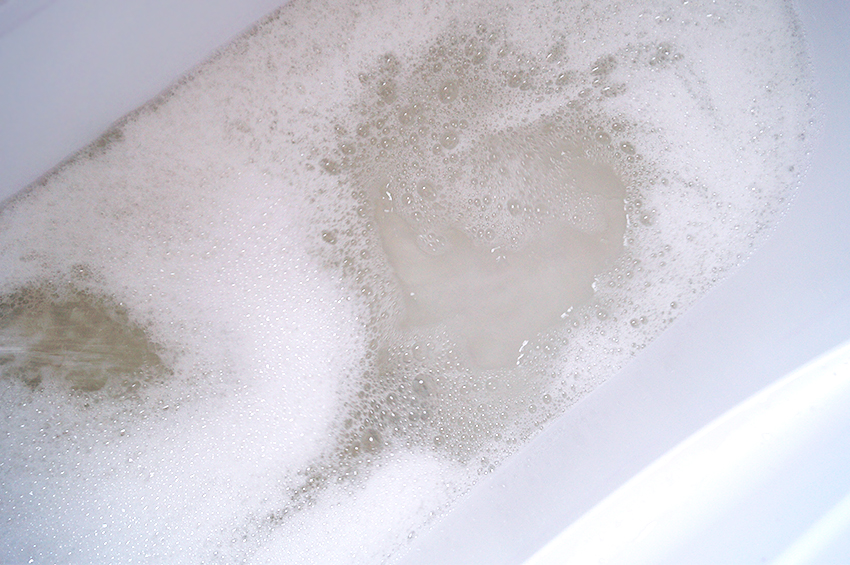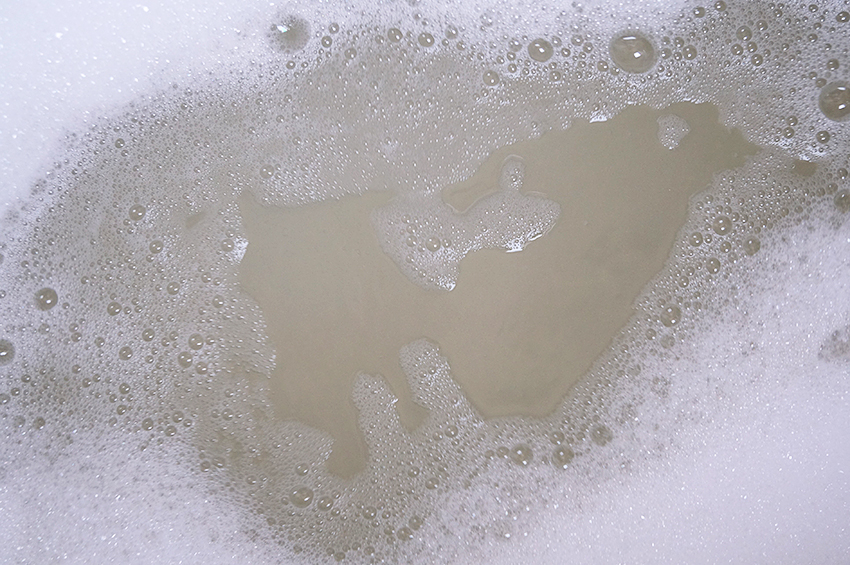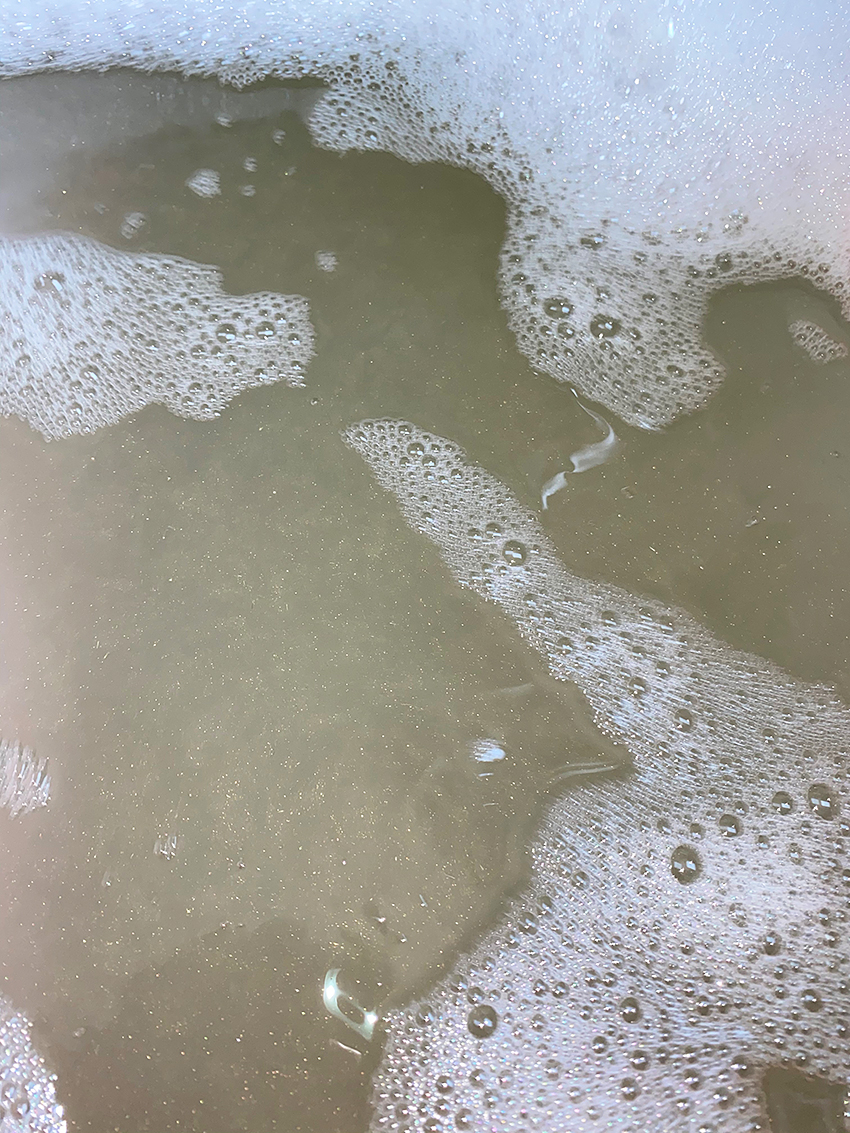 What do I think?
I've had a few bubble bars, like Love Token, that were also gold, but on the inside they were yellow-ish. I'm happy to announce Goldfinger is, underneath the outer, glittery layer, is also glittery from the inside! It doesn't just provide lots of bubbles, but also tiny golden glitters in the water. There's an amazing, creamy, caramel-like scent in the bathroom and the scent's very present. The texture of the bubble stick is much like a reusable bubble bar; too hard to crumble. Because of this, it also dissolves pretty slowly, giving off a lot of bubbles with just a tiny piece of bubble stick. After a few minutes of holding it under the tap, I break the finger in half (ouch) and save the rest for later.
I absolutely love the gorgeous scent, the soft bubbles, the glitters coming off the bubble stick, but there's one huge downside to this bubble stick — it barely gives off any color in the water. I think colored water really adds to the experience, and the lack of any color is really disappointing. Therefore this bubble stick is best paired with a bath bomb, I think you could get about 2 or 3 uses out of it. Either way, it's still a lovely bubble stick, if you love HIWTK and glitters like me. It left my skin soft afterwards and the tub was easy to rinse. I don't think I would buy it again, but I will definitely enjoy.. the other half of the finger (¬‿¬)

Lush Goldfinger Bubble Stick costs £3.95 (England) / $6.95 (USA) / €5,50 The Netherlands)

2 Responses to Review: Lush Goldfinger Bubble Stick