Review: Lush Sex Bomb Bath Bomb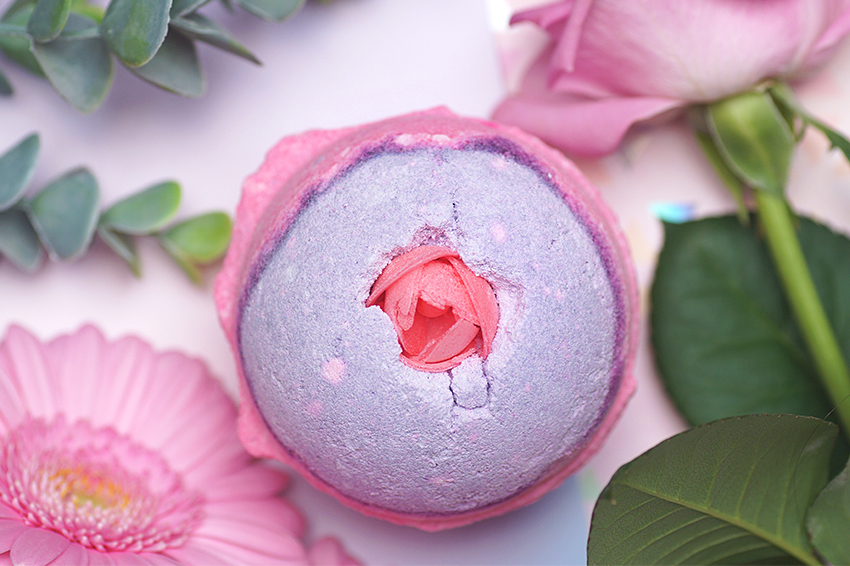 When I was looking through the reviews on my blog, I noticed there are some main range bath bombs that I've never reviewed yet. I reviewed some of them in Dutch, but that was years ago. After all the Harajuku bath bombs, I felt like I needed to review the main range bath bombs as well, so I immediately did a bit of a shopping. I bought a bunch of classics and today I'll start with my review on Sex Bomb — my favorite scent by Lush!
If you're curious about this bath bomb, then keep on reading.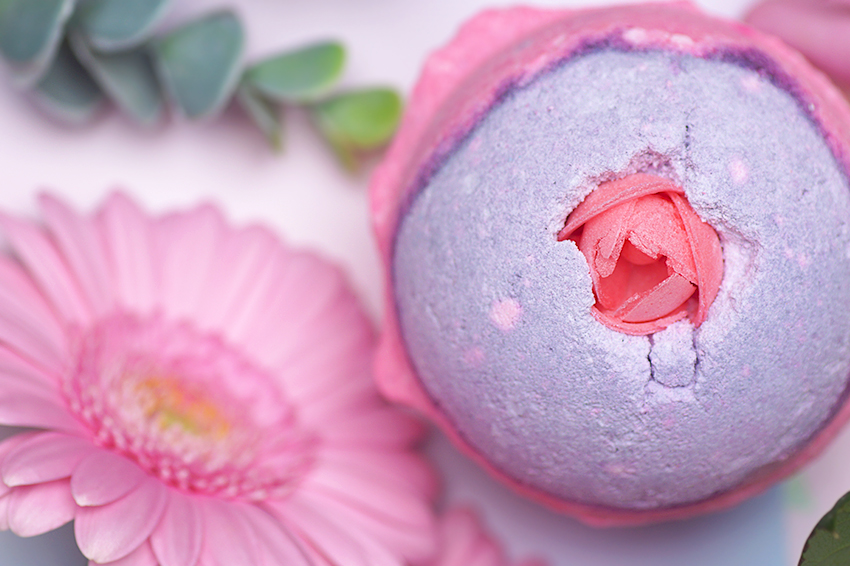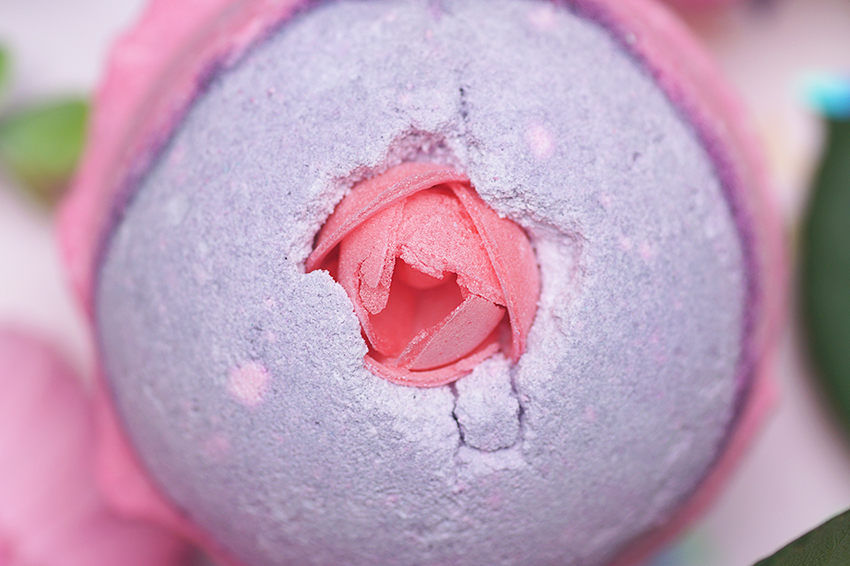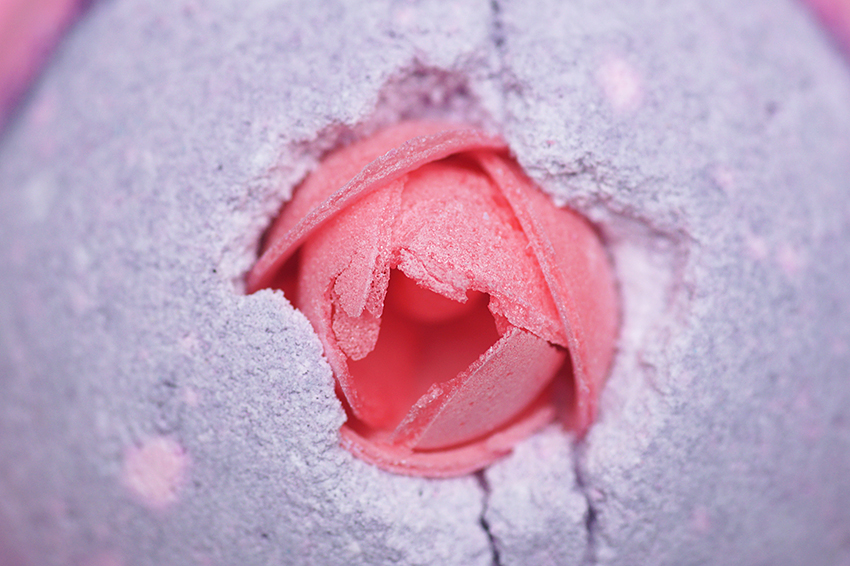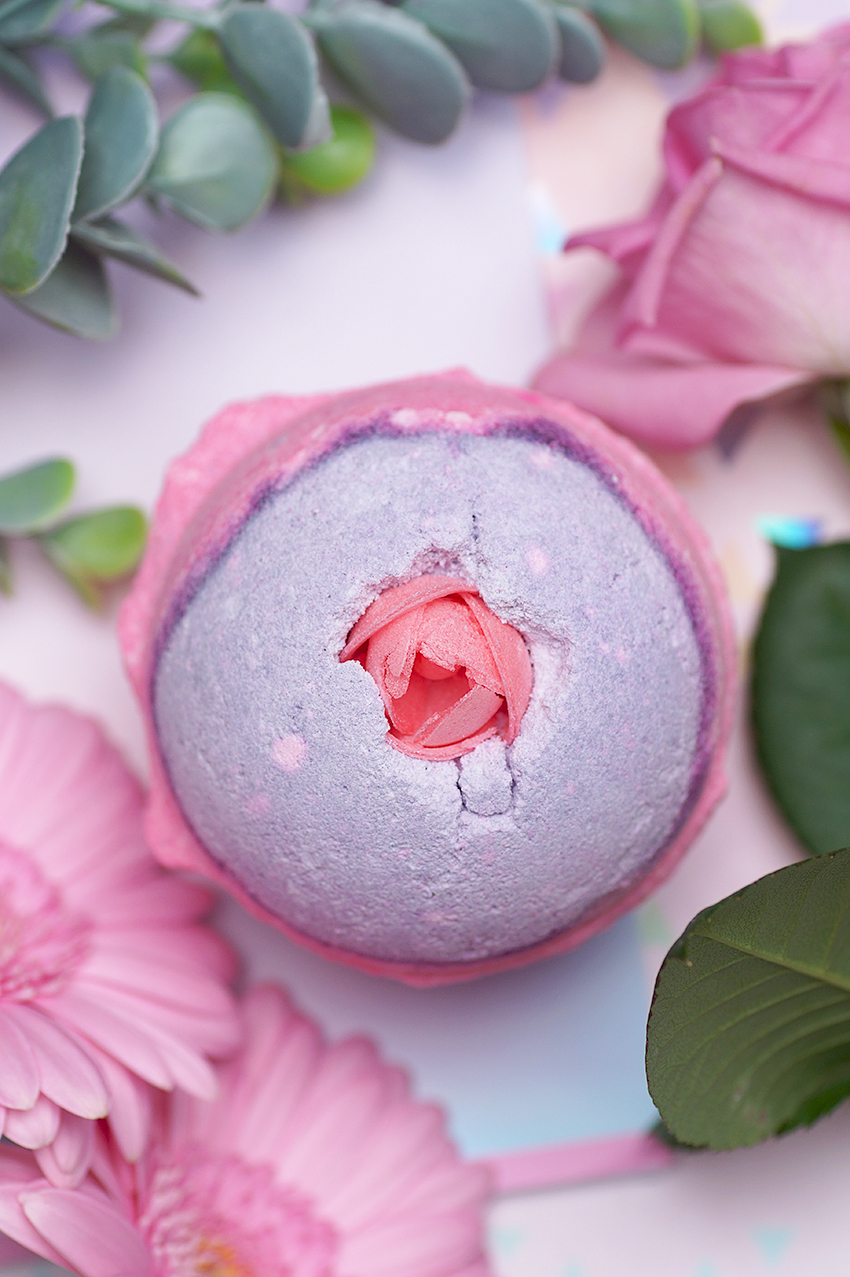 What is it?
Ingredients: Sodium Bicarbonate, Citric Acid, Perfume, Soybean Flour, Synthetic Musk, Jasmine Absolute, Clary Sage Oil, Ylang Ylang Oil, Titanium Dioxide, Propylene Glycol, *Limonene, *Linalool, Butylphenyl, Methylpropional, Alpha-Isomethyl Ionone, Colour 17200, Colour 42090, Colour 14700, Colour 45410, Rice Paper Flower
Lush Sex Bomb Bath Bomb costs £3.95 / $7.95 and is part of the main range. Actually, it's been part of the main range for quite some time now. It was one of their first bath bombs, created in 1999, inspired by Tom Jones' mega hit Sex Bomb. It's been a classic ever since, and not without reason. Sex Bomb doesn't only smell luxurious — it looks great too. It's pink and purple, decorated with a small rice paper flower on top. It's cute, it's feminine, it's just lovely. And if you put this reasonably priced bath bomb in your room, then your room will smell amazing for weeks — if not months! I'm tempted to buy a few hundred, just so I can put them in every room in the house.
Sex Bomb contains jasmin, clary sage and ylang ylang — these aphrodisiacs ingredients make for the amazing scent. Sex Bomb is floral, but also warm. It's not your typical floral scent, it's a sensual, sexy and magical floral scent. The jasmin and ylang ylang are pretty dominant, yet the clary sage makes the overall smell a bit musky. I totally get why this is a bestseller! In addition to these ingredients, it also contains soybean flour. This ingredient provides a rich, softening milk when in contact with water. A sexy and soft skin? Bring it!
Play the video in 2160p quality and on full screen for the best experience! The video has been speeded up.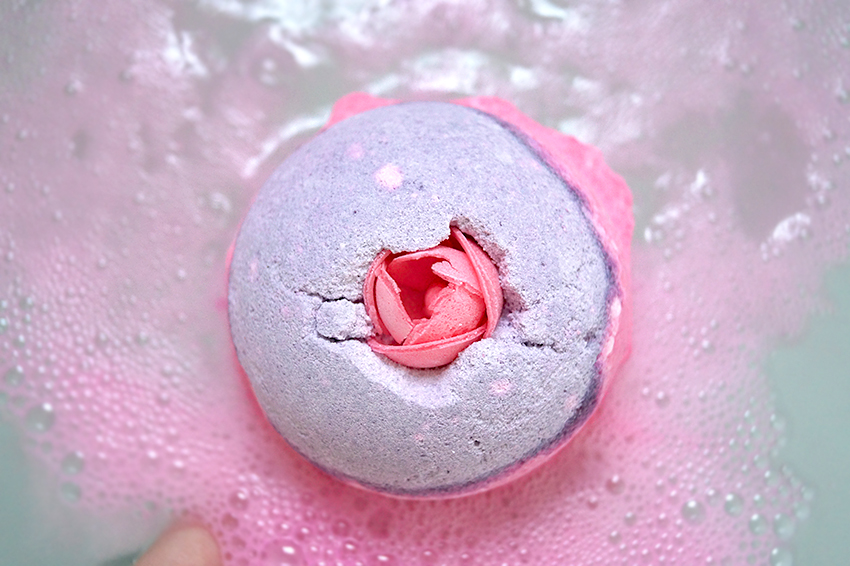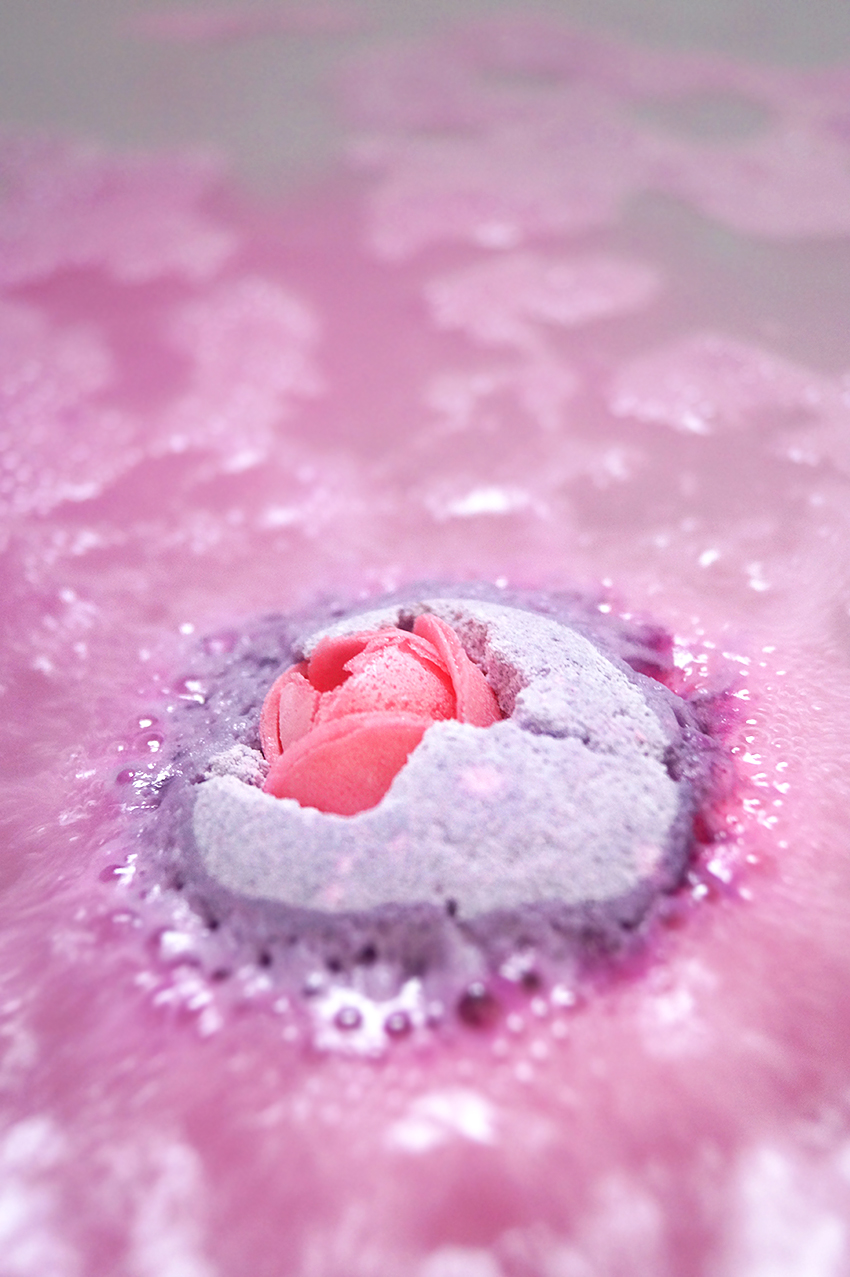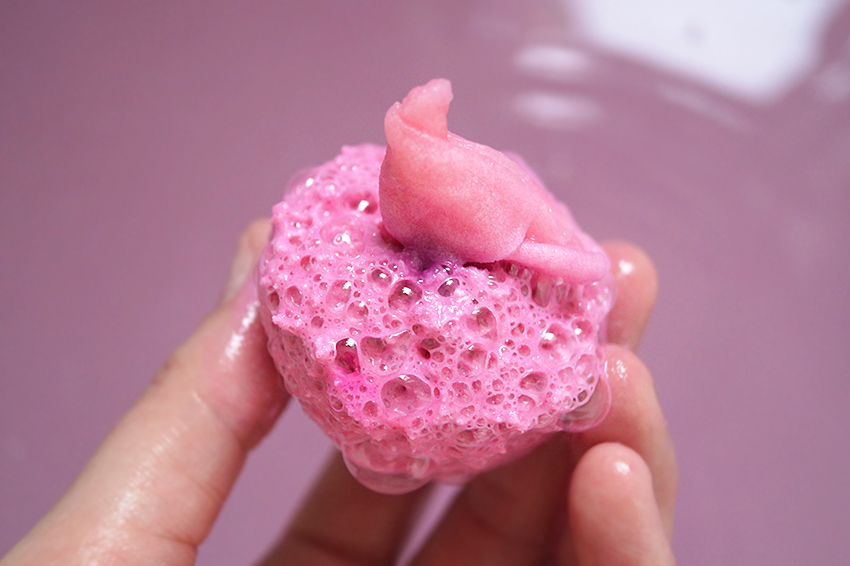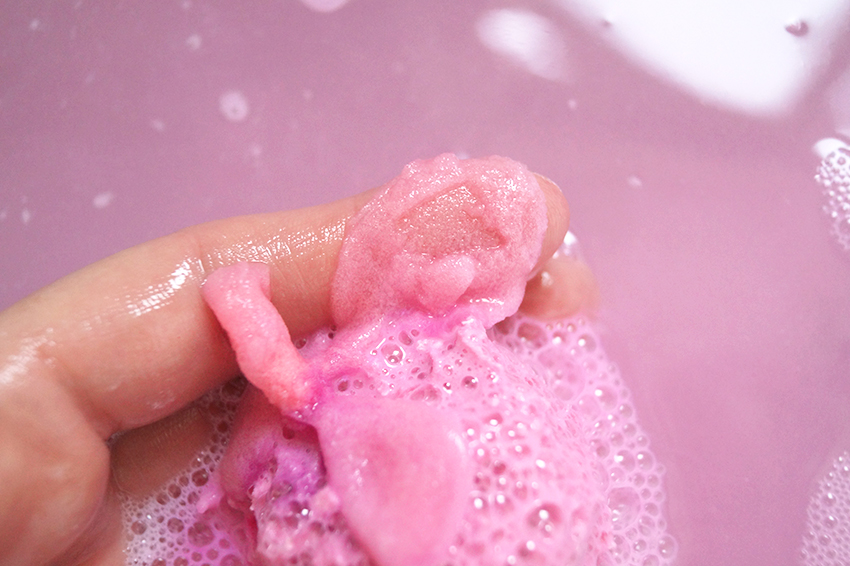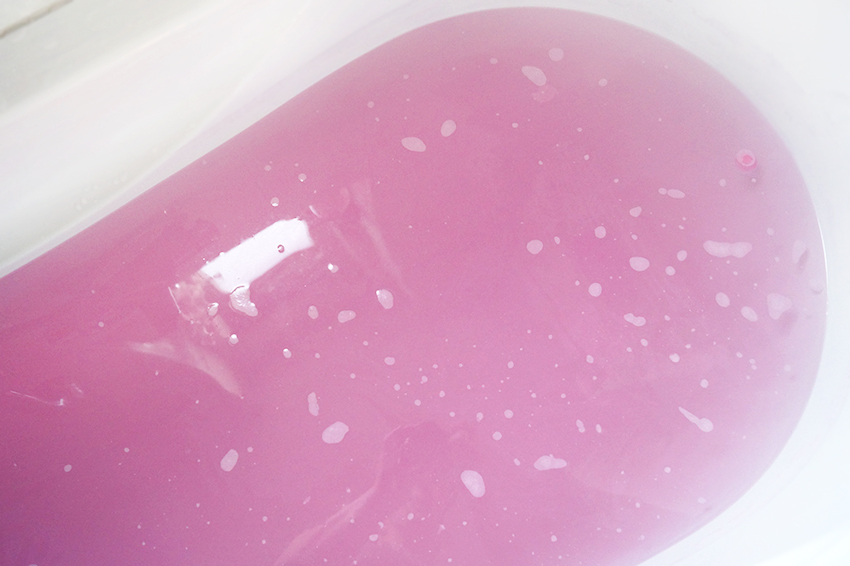 What do I think?
I know, i know — very few photos. I was totally ready to take some photos, but to my surprise it immediately sank to the bottom. Bummer! I love bath art, but Sex Bomb wasn't in the mood for that. It's a very quick fizzer, and it will transform your bath into the most gorgeous shade of pink in no time. The gorgeous scent can be smelled very good, I could even smell it on my room down the hall. While in bath, I could imagine myself laying in a field filled with ylang ylang and jasmine flowers, on a warm, sunny day.
Although Sex Bomb isn't spectacular in terms of effects, the final color of the water is really beautiful. Is there a pink color that's more pretty than this? I think not. There's a continuous, strong floral scent that decorates the bathroom, and there's petals of rice paper floating on the surface. And although this sounds very romantic, it's shit. The petals become soft and mushy in the warm water; almost like chunks of snot. Gross. I can handle a lot of things, but snotty things are the worst things ever. It wasn't as bad as bathing with a jelly bomb, but still.
Both my skin and the entire upper floor smelled like Sex Bomb for hours. I mean, I thought the Sex Bomb shower gel did an awesome job at lingering on your skin, but the bath bomb is also pretty damn impressive. Apart from the snotty petals, I'm head over heels with this bath bomb. If you've never tried a Lush bath bomb, Sex Bomb is amazing to start with. Despite the lack of an aesthetically pleasing performance in the tub, the rest is amazing. The scent, the color, the soft skin afterwards — enough reasons for me to keep buying this classic.

Lush Sex Bomb Bath Bomb costs £3.95 (England) / $7.95 (USA).