Review: Lush The World's Smallest Disco Bath Bomb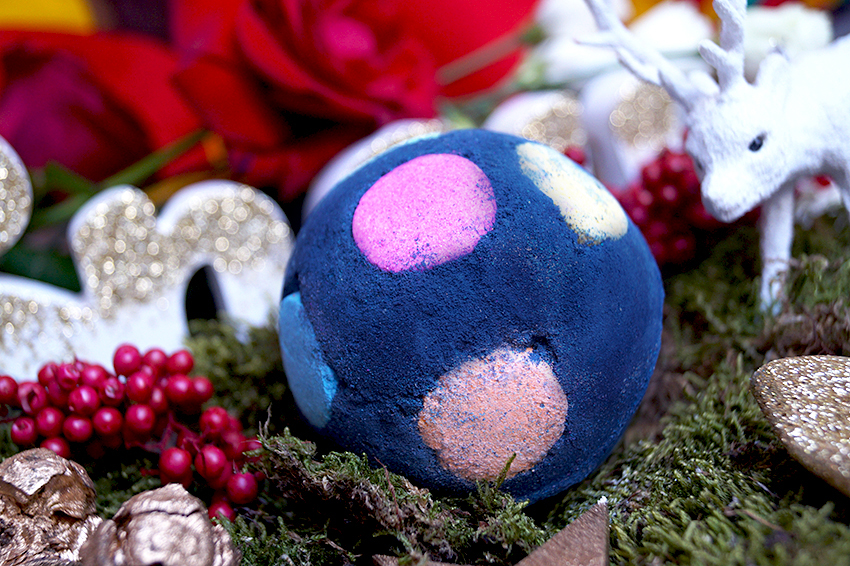 I often talk about having a party in the tub, but with The World's Smallest Disco this becomes reality! When you throw this disco ball into the tub, the brightly colored lights come alive in the bathroom. It must've been a few centuries ago that I used this bath bomb, so time for a new, fresh review.
If you're curious about this bath bomb, then keep on reading.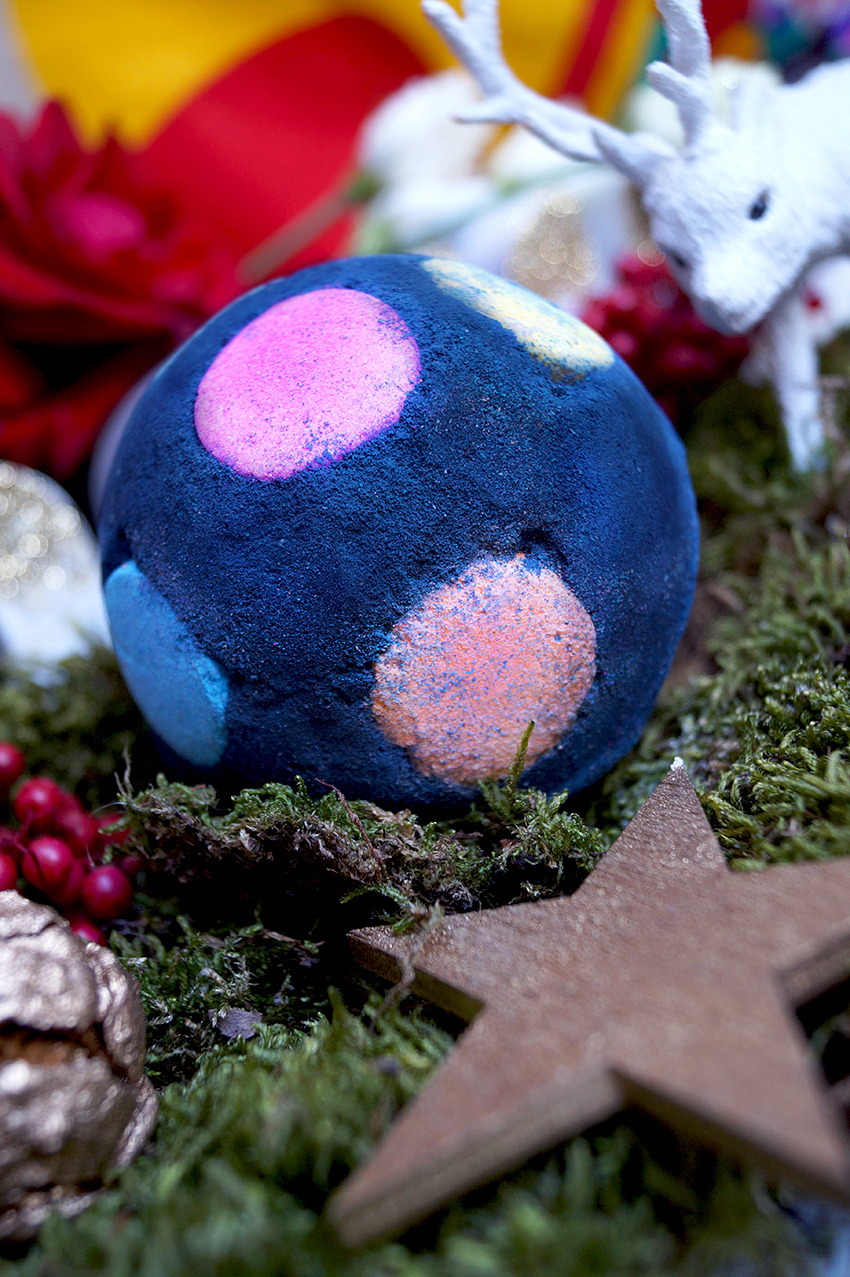 What is it?
Ingredients: Sodium Bicarbonate, Citric Acid, Dipropylene Glycol, Lemon Myrtle Oil, Ylang Ylang Oil, Grapefruit Oil, Popping Candy, Cream of Tartar, Water (Aqua), Titanium Dioxide, Sodium Coco Sulfate, Cocamidopropyl Betaine, Propylene Glycol, Synthetic Fluorphlogopite, Tin Oxide, Alpha-Isomethyl Ionone, *Citral, *Geraniol, Hydroxycitronellal, *Limonene, *Linalool, Perfume, Colour 77499, Colour 17200, Colour 42053, Colour 42090, Colour 19140, Colour 15510, Colour 45410:1, Colour 42090:2, Colour 47005:1, Colour 77491, Colour 45430:1, Colour 45380:3
Lush The World's Smallest Disco Bath Bomb costs £5.50 / $7.95 and is part of the Christmas range. This colorful disco ball has been in the Christmas range since 2018. It looks a lot like Luxury Lush Pud, which is pink and white, but the discs have the same color. This black bath bomb has colored discs as decoration — pink, yellow, blue, green and orange. Furthermore, it contains lemon myrtle oil, ylang ylang oil and grapefruit oil. Weird thing is that the Dutch webshop doesn't mention the ylang ylang oil, but there is cognac oil in their list. 🤔 But both the UK and the NA webshop state that there's ylang ylang oil in World's Smallest Disco, and no cognac oil, sooo.. I think that's the new, updated ingredients list perhaps, and that the Dutch webshop still has the 2018 version of the ingredients list on their site.
The scent is very uplifting and fruity. You can smell the lemon myrtle and grapefruit in it, although the ylang ylang oil makes the smell a bit warmer and less zesty. The citrusy smell still overpowers, but it's not a 'in your face' kind of scent. There's something warm and woody when I give it a good sniff. I really like the scent, despite the fact that I'm not a huge fan of citrusy scent.
Play the video in 2160p quality and on full screen for the best experience! The video has been sped up.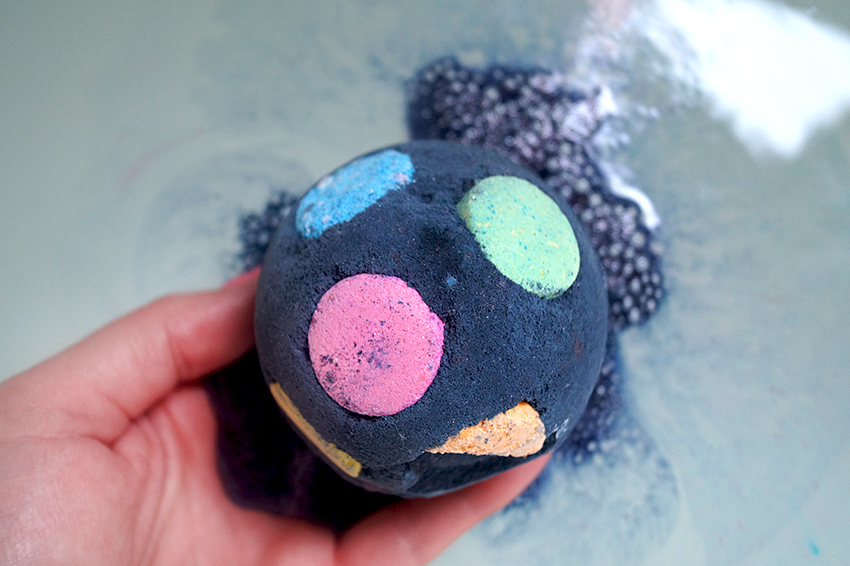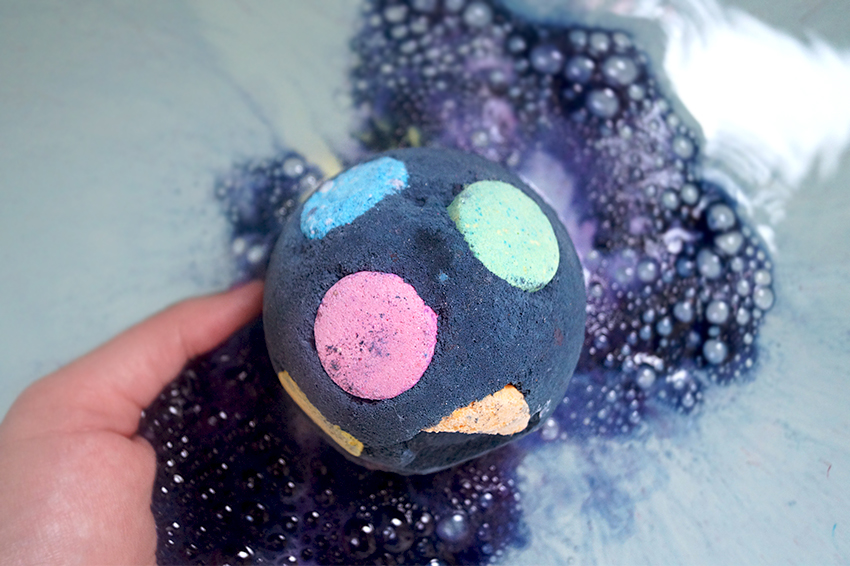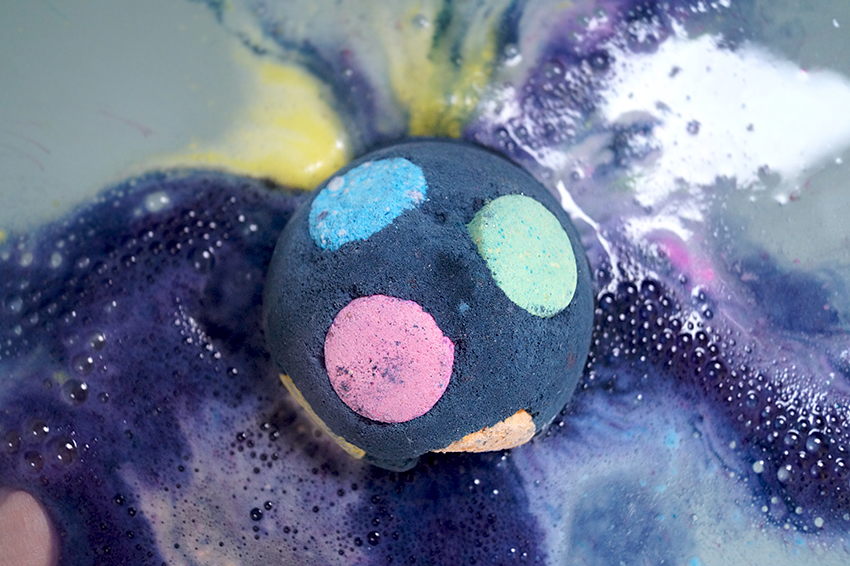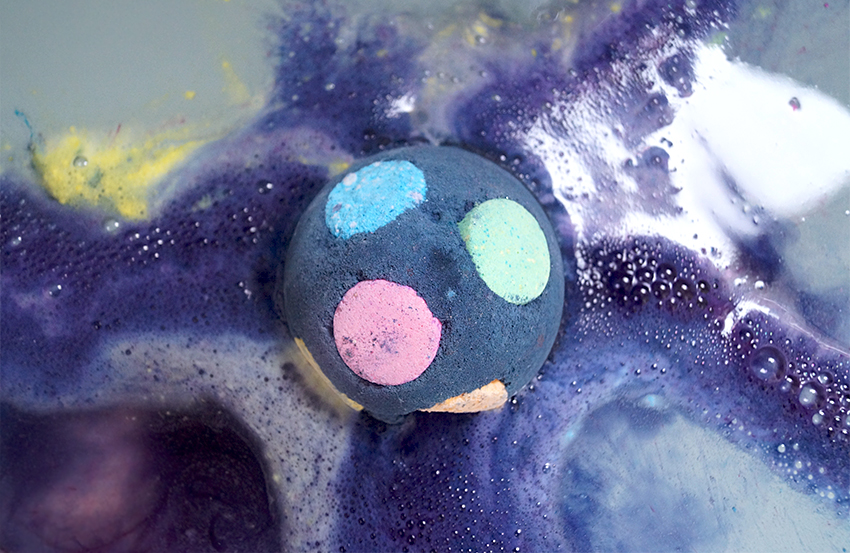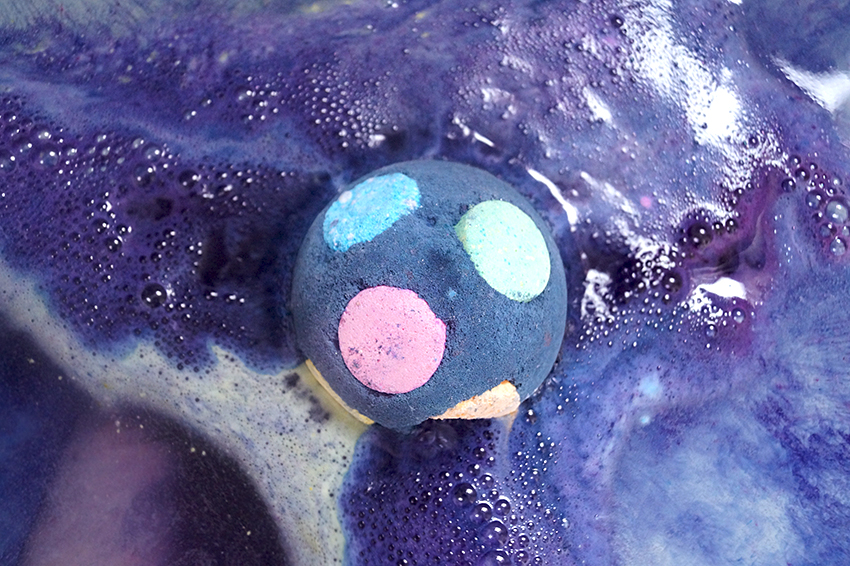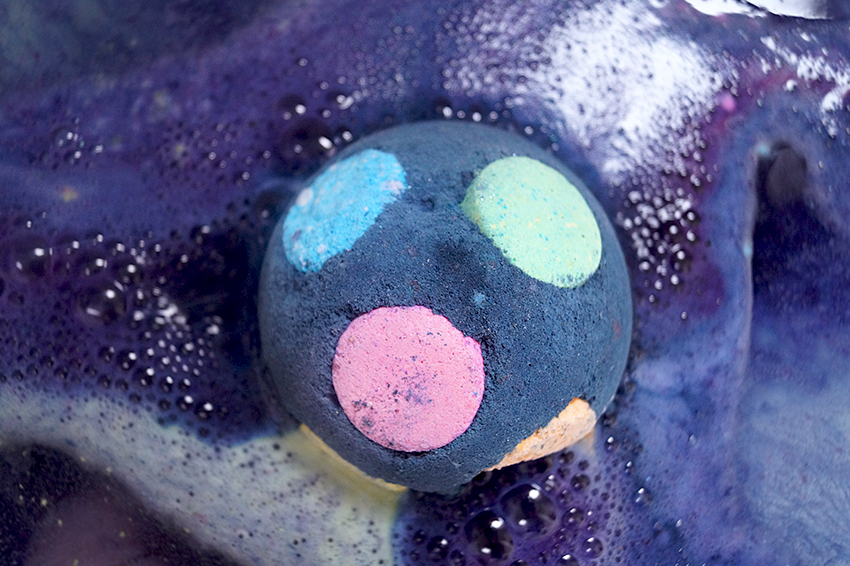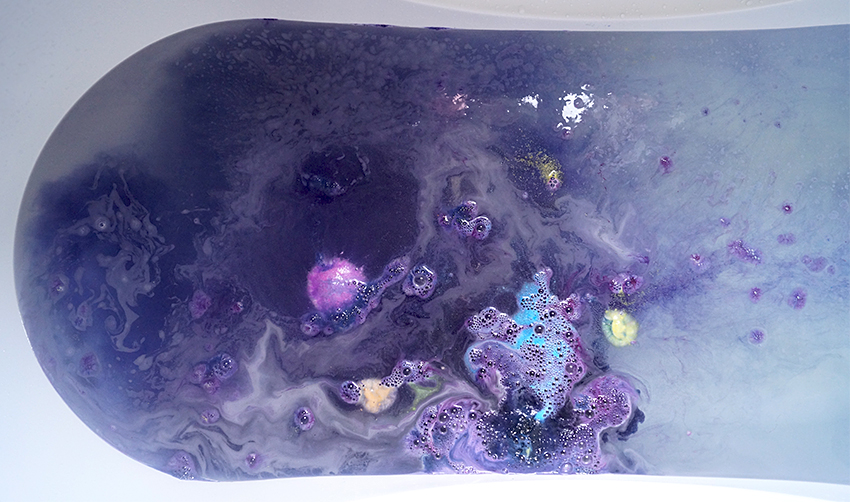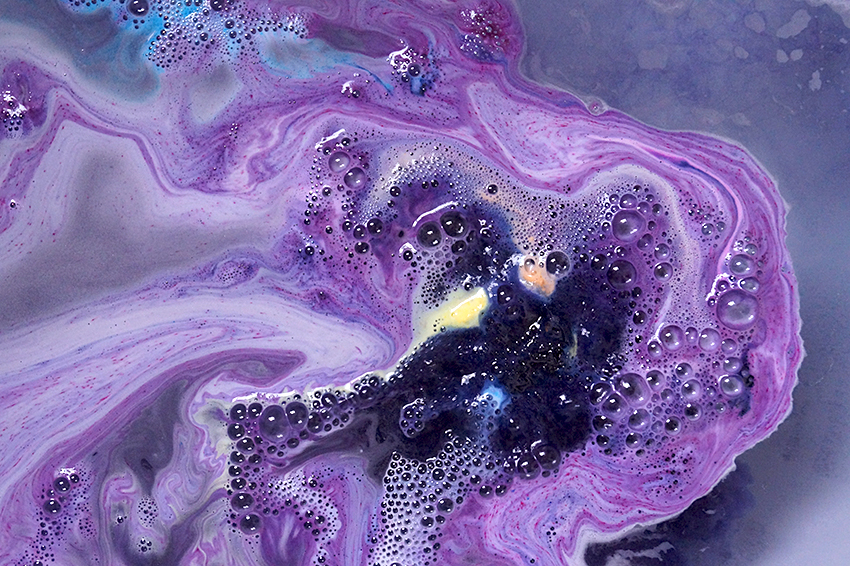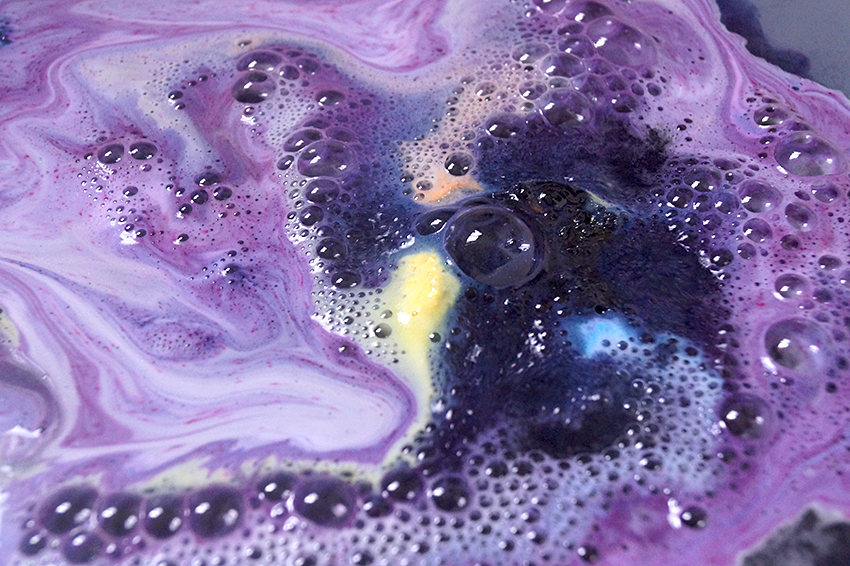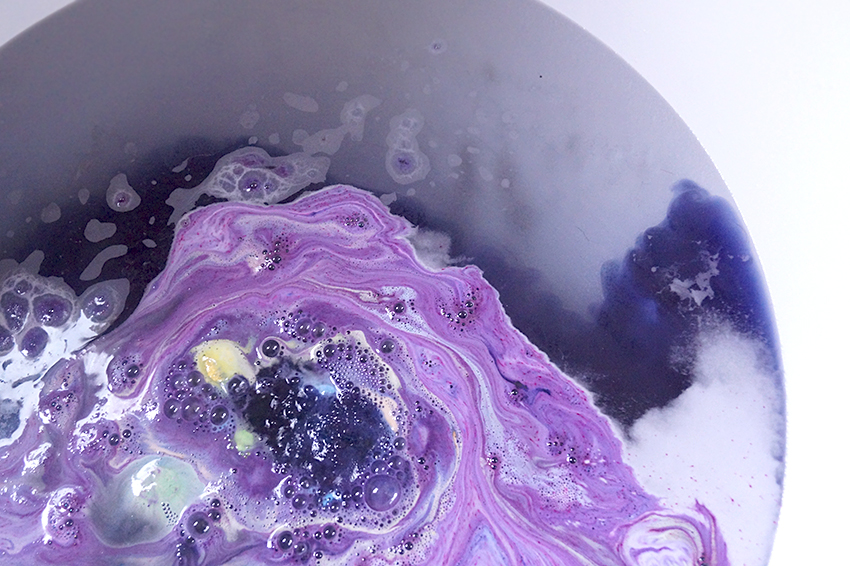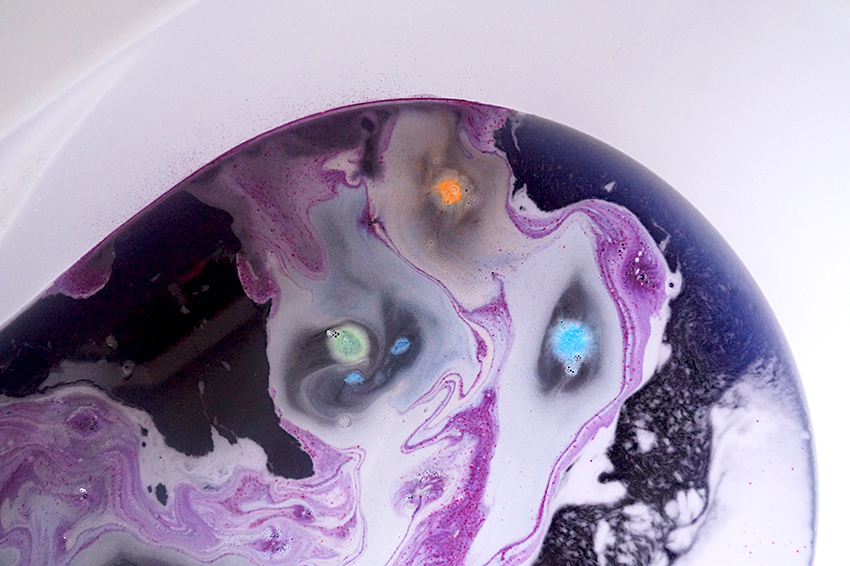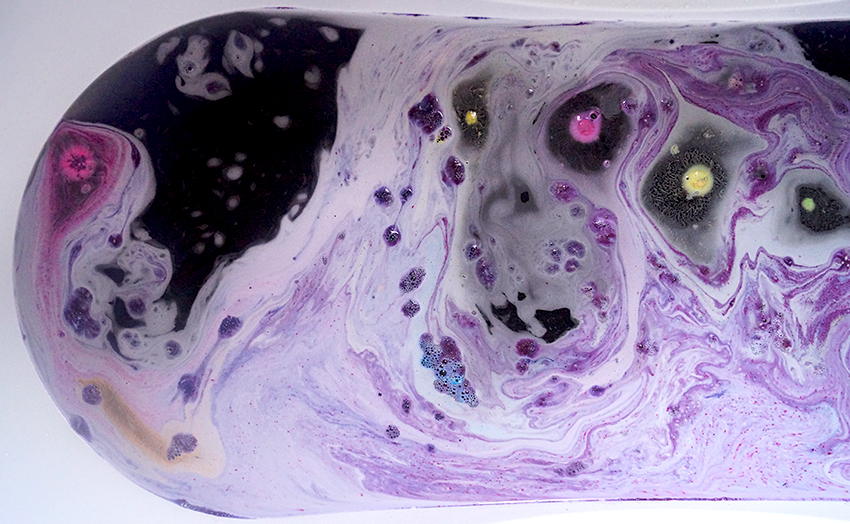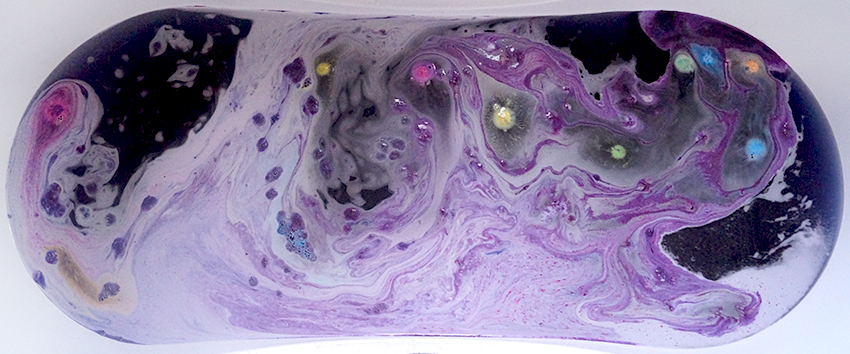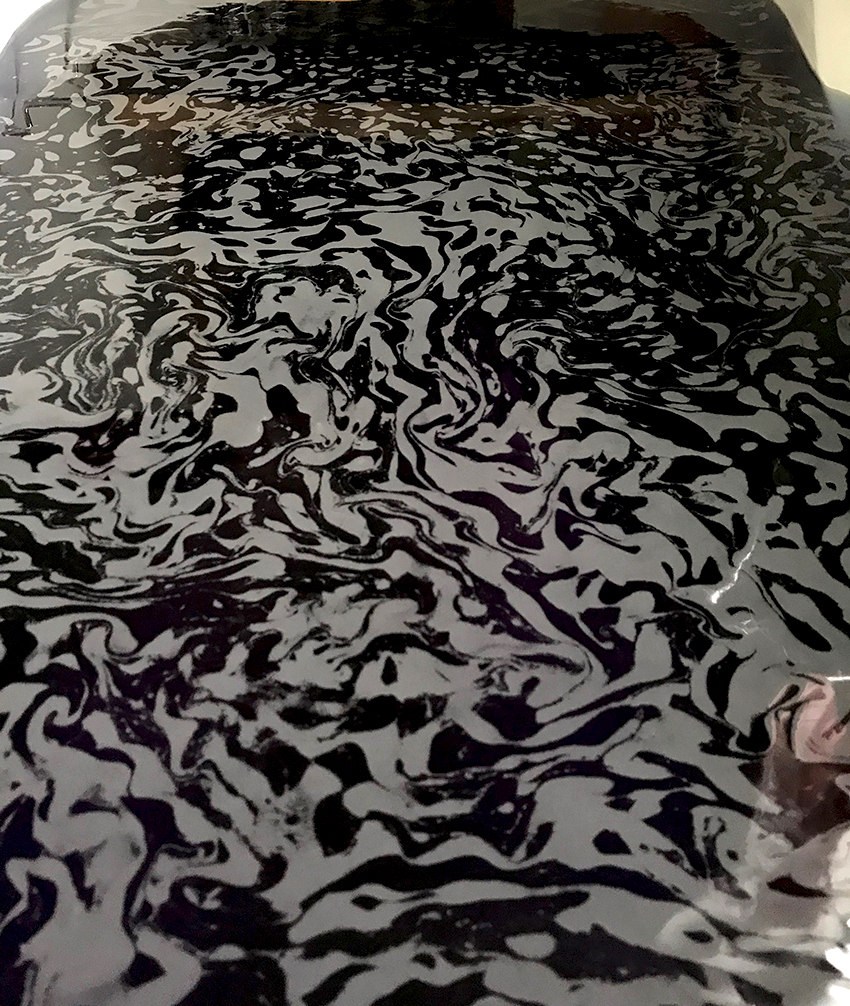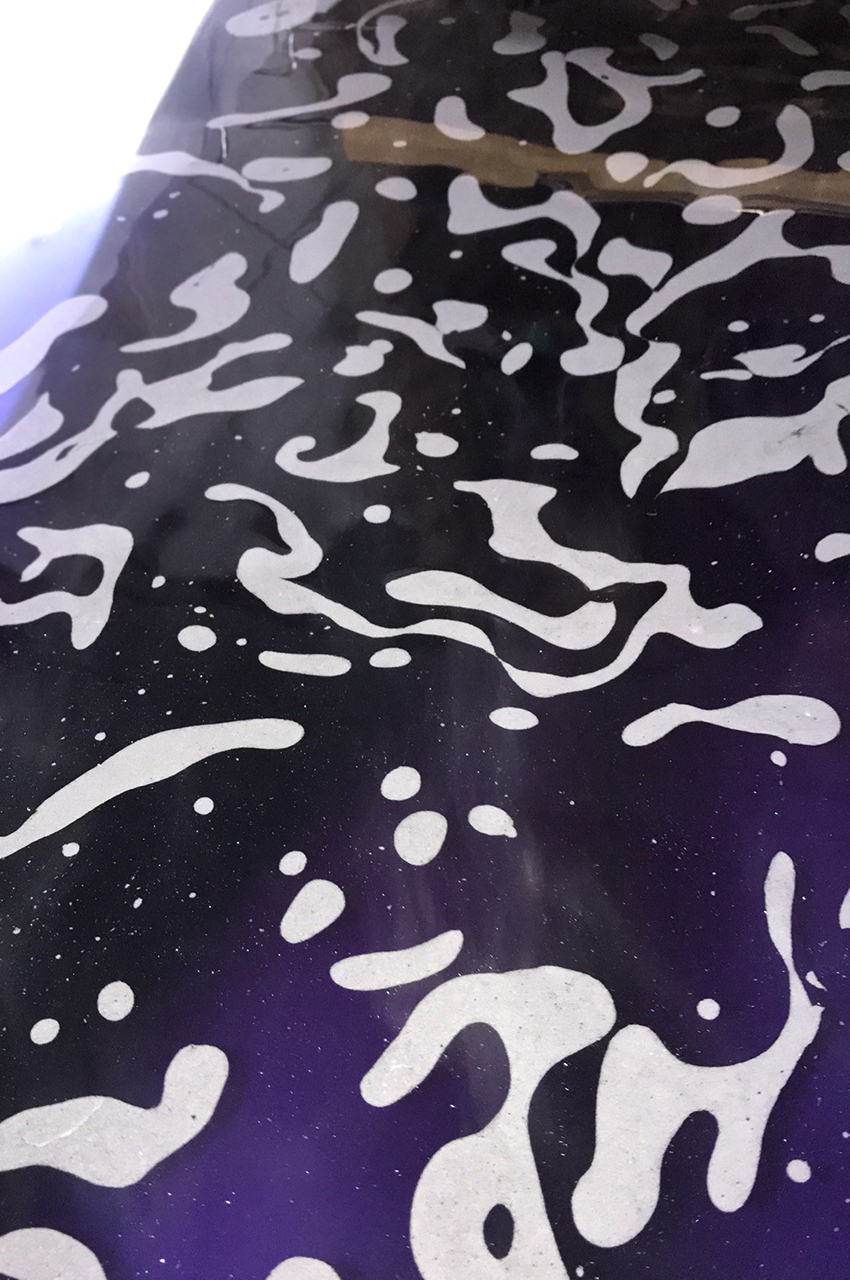 What do I think?
Okay, holy SHITE. What a color explosion! I honestly did not expect this. Loads of very dark purple is being spewed out of the bath bomb, followed by all kinds of bright colors. Each disc spews out colors in every direction, while thick, purple clouds are being formed under the surface, gradually turning the water into a very dark purple shade. The colored discs come off the bath bomb and float through the water, each going their own way. Bath art is 10/10, for sure. A blanket of bright colors covers the intense dark water, while colored lustre comes alive under the surface. A thin, white foamy layer is being appears on the surface in a leopard king of look. Eventually, you're left with intense dark purple, almost ink blue, water with some colorful lustre in it. This is amazing.
The scent was present throughout bathing! I could detect a warm berry scent, it kind of reminded me of the Comforter. Bathing in such dark water was an amazing experience — a pleasant surprise, and it's good to have something completely different for once. Afterwards my skin felt soft and smooth, and the scent lingered very subtle on my skin. I found the bath to be surprisingly easy to rinse — I was afraid it would be a hell of a job, with all those colors. Only the bottom of the tub had some black smudges, but I could easily remove them with a damp cloth.
Is this a bath bomb I would purchase again? Fuck yes. It has completely won me over. If you're looking for gorgeous bath bomb, a true color explosion in your bathroom, try The World's Smallest Disco. It's cheaper than a night out…. (and you don't have to deal with people!)

Lush The World's Smallest Disco Bath Bomb costs £5.50 (England) / $7.95 (USA).

One Response to Review: Lush The World's Smallest Disco Bath Bomb