Review: Lush #Gains Protein Spray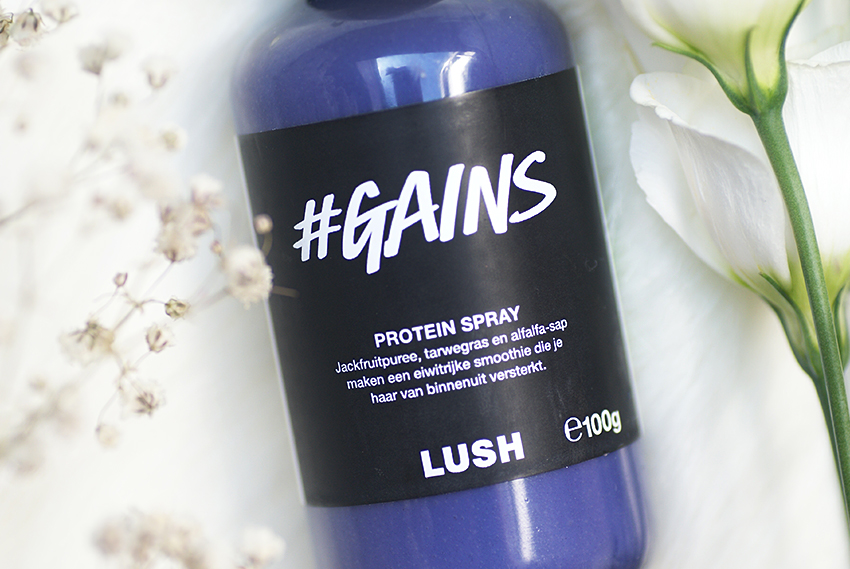 Forget protein shakes – protein sprays are the shit right now. Lush Liverpool surprised us with this protein spray for strong and healthy hair. This sounded like music to my hair ears, since my hair has been pretty damaged from dyeing it often. Lush has been releasing some incredible hair products lately, but #Gains couldn't be skipped. After having it used for weeks, today is when I finally share my thoughts on this product!
If you're curious about this product, make sure you keep on reading.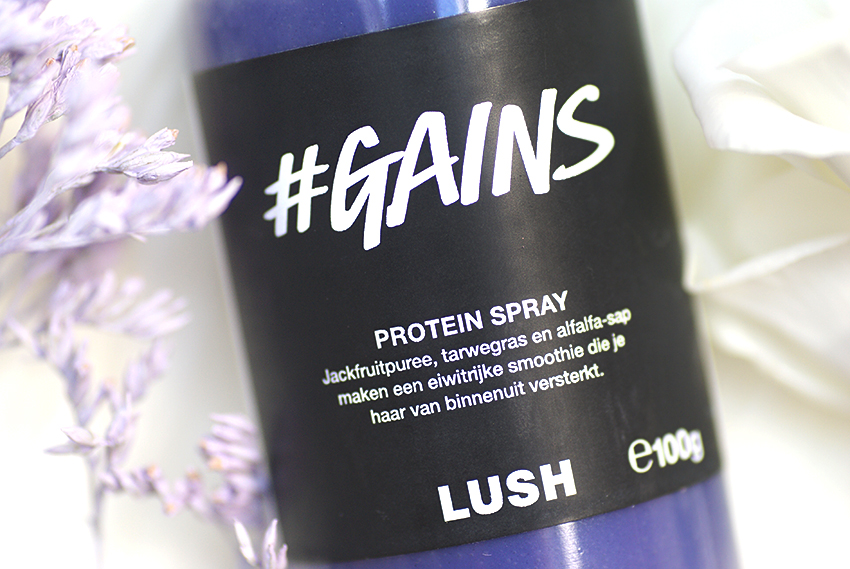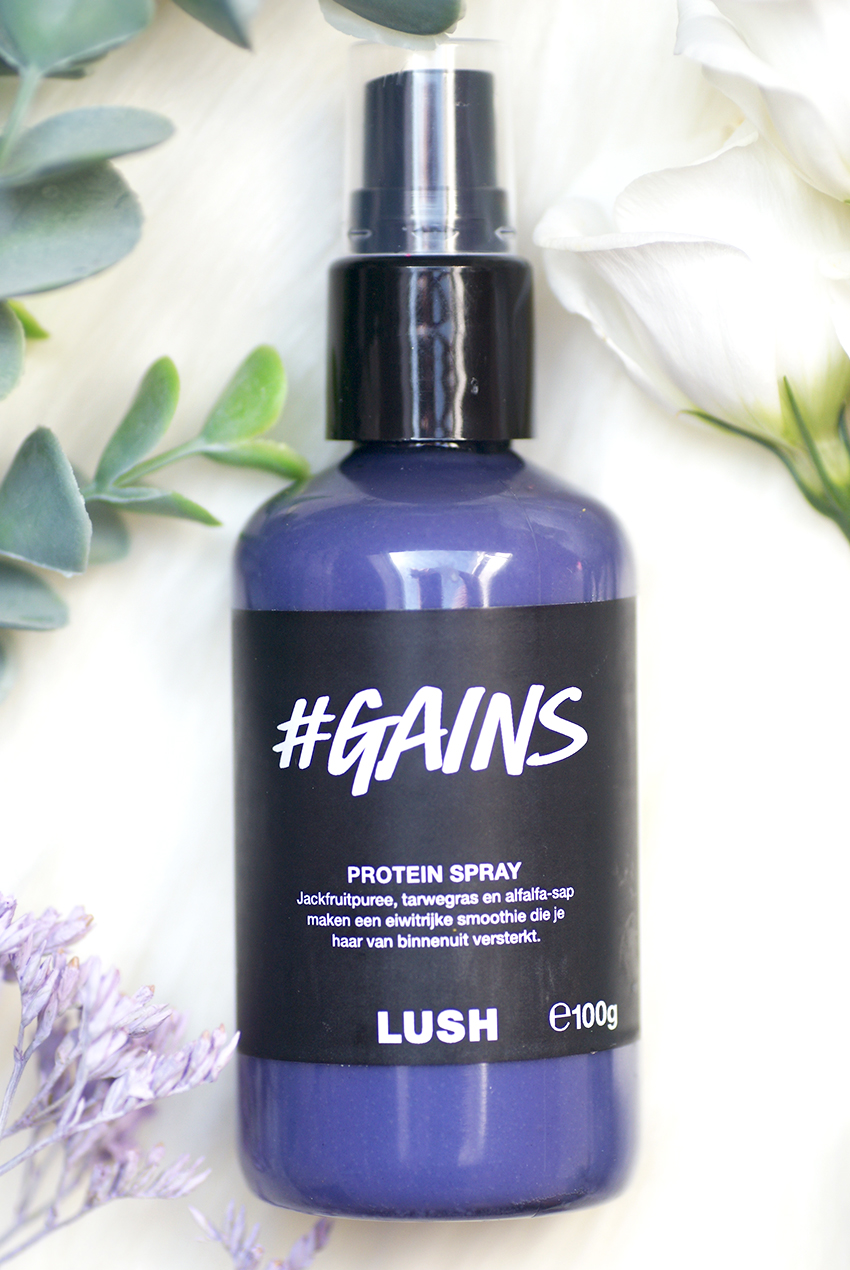 What is it?
Lush #Gains Protein Spray costs £14.95 for 100 grams. It's a spray, you spray it directly on damp or wet hair and leave it in. The bottle is the same as Super Milk and Willow The Wisp, they also come in the same sizes. #Gains is said to be packed with protein-rich ingredients, making your hair stronger. It would also untangle your hair (something I can test like nobody else), prepare it for styling and protect your hair during the day.
I could hardly describe the scent at first until someone said it smells like bananas. Since then, the only thing I'm able to smell is bananas! Well actually, bananas candies. In Europe we have a candy brand named Haribo, and they make (super delicious) candy bananas, and this spray smells exactly like those. It's a bubblegum-sweet scent, yet it also has a somewhat warm, spicy background. Anyway, I love the scent – wouldn't mind smelling this in my hair the entire day! This shit is B-A-N-A-N-A-S y'all.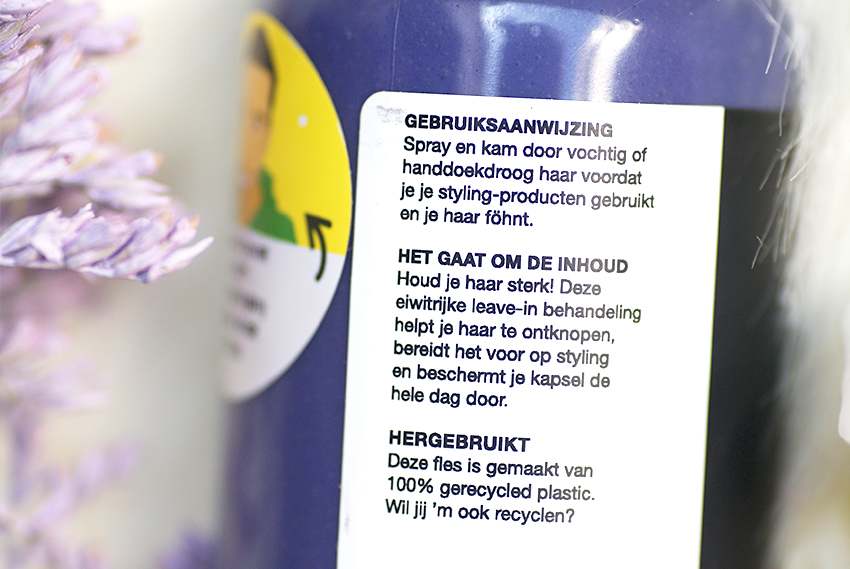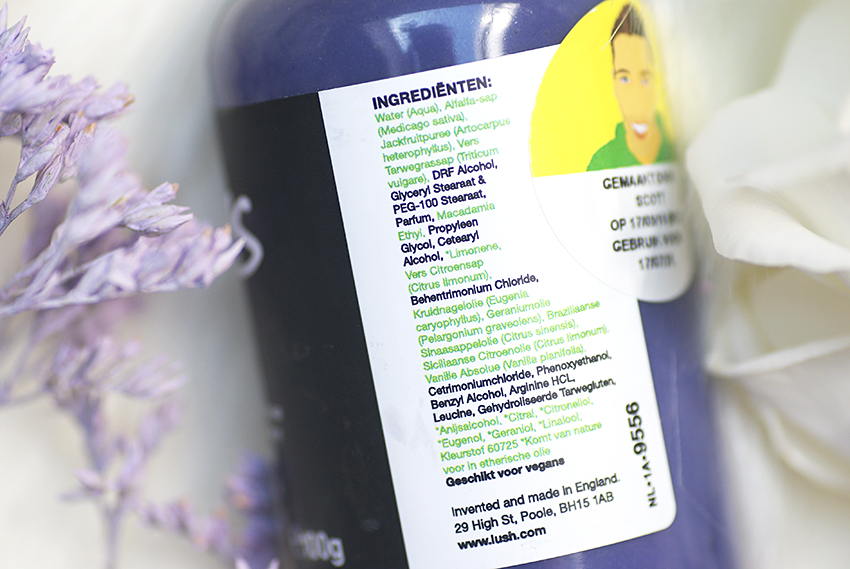 What's inside?
Ingredients: Water (Aqua), DRF Alcohol, Alfalfa Juice, Jackfruit Puree, Fresh Wheatgrass Juice, Glyceryl Stearate & PEG-100 Stearate, Perfume, Ethyl Macadamiate, Propylene Glycol, Cetearyl Alcohol, *Limonene, Fresh Lemon Juice, Behentrimonium chloride, Clove Bud Oil, Geranium Oil, Brazilian Orange Oil, Sicilian Lemon Oil, Vanilla Absolute, Cetrimonium Chloride, Phenoxyethanol, Benzyl Alcohol, Arginine HCL, Leucine, Hydrolyzed Wheat Gluten, *Anise Alcohol, *Citral, *Citronellol, *Eugenol, *Geraniol, *Linalool, Colour 60725
A shitload of ingredients! Let's discuss them quickly. In addition to water and DRF alcohol (which is denatured alcohol), it contains alfalfa juice. Alf-what juice? Alfalfa! Try saying that 10 times in row. Anyway, alfalfaflalalfa juice is full of minerals, vitamin A and D and eight different essential amino acids. It's great for healthy hair growth. Jackfruit puree a natural and vegetal source of protein, that strengthens and improves the condition of the hair. Fresh wheatgrass juice contains about 70% chlorophyll, aka the green pigment found in plants. It's rich in nourishing vitamins, minerals, and protein. Ethyl Macadamiate is often used as an alternative to silicones — it coats the hair and adds protection from heat and humidity. Fresh lemon juice cleanses the hair, but also adds shine to the hair. Both clove bud oil and geranium oil stimulate blood circulation to the scalp. Brazilian orange oil is anti-inflammatory and antiseptic, the Sicilian lemon oil also has anti-bacterial properties, but also adds shine. Vanilla is known for its lovely, warm scent, but it's also soothing and antibacterial.
Furthermore, there are also some 'difficult ingredients', which I'll also briefly explain. Cetrimonium chloride is an anti-static ingredient which helps to condition the hair, but also acts as a preservative. Glyceryl Stearate and PEG-100 Stearate are a combination of two emulsifying ingredients, making a product nicely blended all together. Phenoxyethanol is a mild bactericide and is also a preservative. Arginine HCL improves blood circulation, stimulating the scalp and promoting hair growth. They're attracted to keratin (the protein in the hair) and will cover the strand and stick to it that the split ends come back together again. Leucine is an essential amino acid, they protect and repair each hair strand.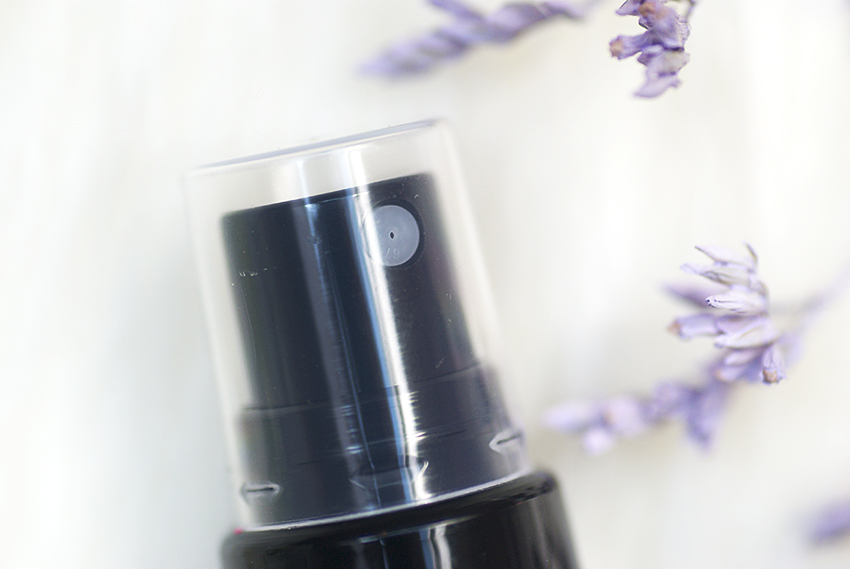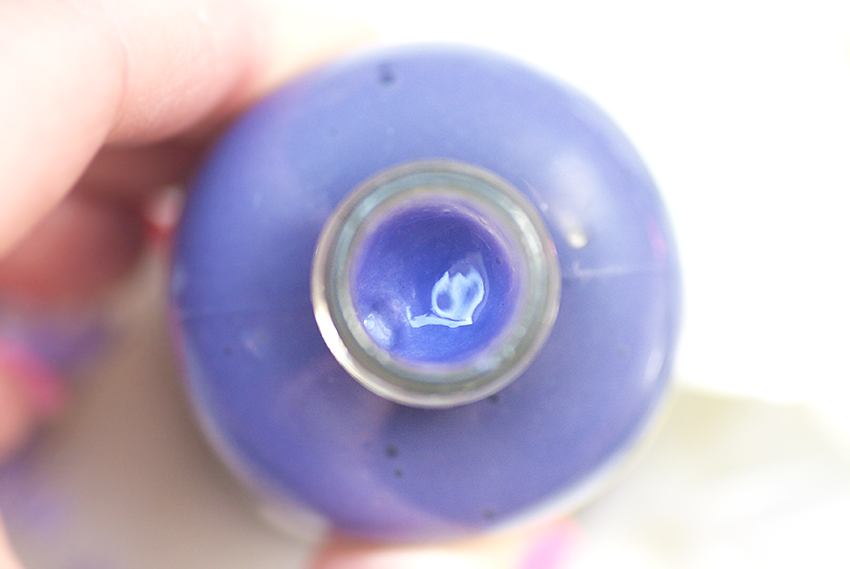 What do I think?
In the beginning you have to figure out for yourself how many sprays you need. I noticed that my hair benefits the most when I use about 5-6 sprays, but I must not fail to mention that my hair is pretty long. I focus on the lower 20 centimeters of my hair, making sure it doesn't weigh my fine and thin hair down. It's really important that you work the product through your hair, and then comb your hair — otherwise your hair will feel dry, tangled and brittle. Once I've brushed my hair, it feels incredible soft, voluminous and fluffy. It's not really frizzy anymore, but it's not smooth either, rather the opposite. My hair also looks a bit dull, it's not really shiny or glossy, unfortunately. Although it gives my hair a lot of volume, the spray also has some disadvantages for me. That's why it took so long before I could really review this product, because I just didn't know what to think about it. Do I love it or do I hate it?
Furthermore, my hair smells amazing during the day. Like, really good. That's a big plus! My hair has also become a lot stronger. I've used Gains almost every day for the last couple of weeks, and I don't have as much fall out as I normally do. I do think the spray doesn't last long. I've used it for about 14 days in total, and there's already about 30 ml out of the bottle, which is almost a third. One time I also accidentally missed my hair while spraying, resulting in some of the spray landing on my shower door — there's tiny, purple specks which won't come off. There was also some of the spray on my tiles, but those could be easily wiped away. On plastic it seems to be hard to remove.
All in all, my hair bounces throughout the day, it's fluffy and light, leaving a sweet scent behind where I go. My hair just feels amaaazing. It's too bad it doesn't make my hair very shiny, but the fact that it makes my hair stronger over time, is something I cherish more than having shiny hair. I will gladly use this spray daily, but when I run out, I won't repurchase it. It's a bit too steep for that as well. I do agree with a lot of people that this product, along with Super Milk and Willow The Wisp, needs to be a part of the main line!

Lush #Gains Protein Spray costs £14.95 (England).

One Response to Review: Lush #Gains Protein Spray