Review: Lush Argan Dragon Shower Oil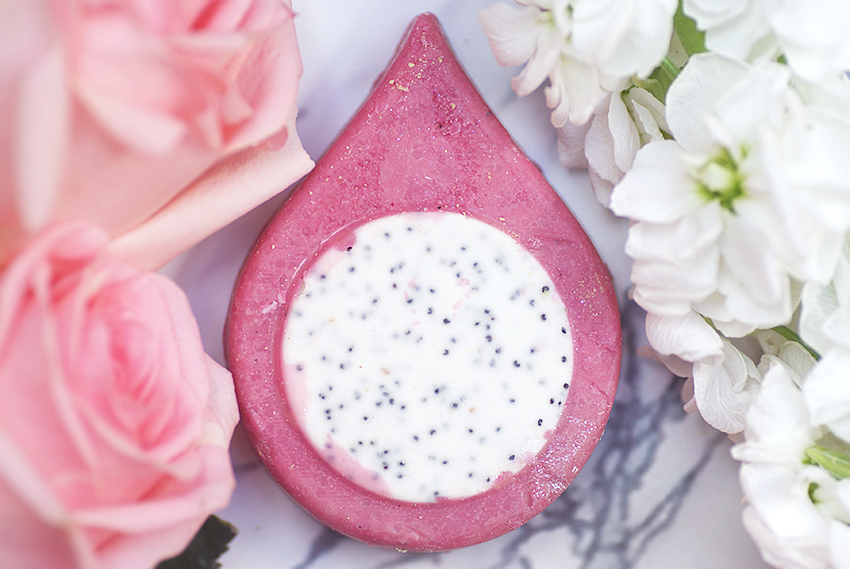 Since I had tried Carrot Shower Oil, I knew from that moment that I wanted more. Fortunately for me, Lush Liverpool had some in their range, including this Argan Dragon. A naked product, so no packaging, that hydrates and scrubs the skin — no bodylotion needed afterwards. In contrast to Carrot, this on has a scrub in the middle, made of poppy seeds. All the more reason to test it. And today that's exactly what I'm going to do.
If you're curious about this product, make sure you keep on reading!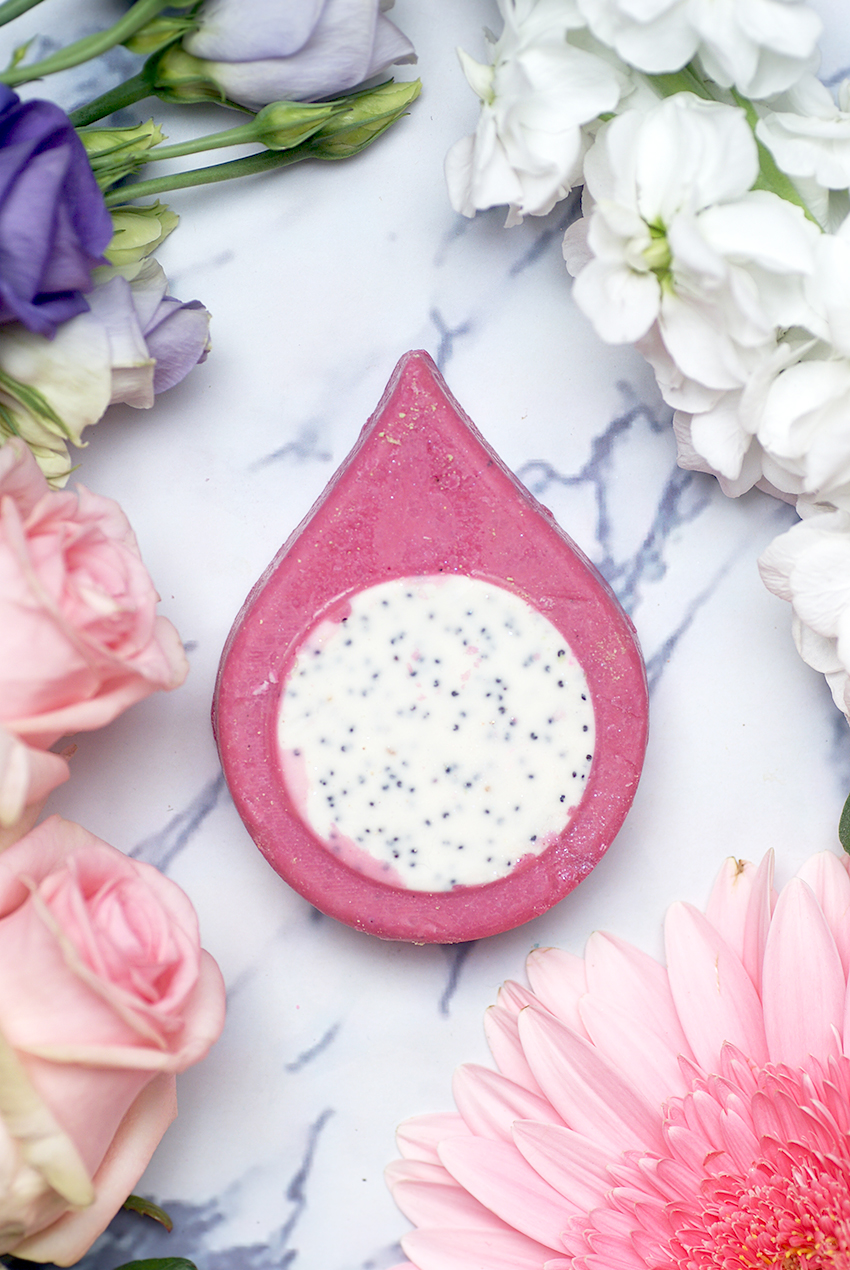 What is it?
Lush Argan Dragon Shower Oil costs £4.95 and can only be purchased in Lush Liverpool, but it was recently also available in Lush Labs. Unfortunately, it's sold out everywhere online now. 😞 Lush really needs to add some of these shower oils to their regular range, as they're a great addition to the naked products.
A shower oil is a naked product that you take with you in the shower and glide over your wet skin. The butters in the shower oil melt and leave a hydrating, non greasy layer on the skin. After gliding it across your skin, rinse it off and gently pat dry. In the center of this shower oil is also a scrub consisting of poppy seeds. The shower oils are mild to the skin and suitable for people with sensitive skin.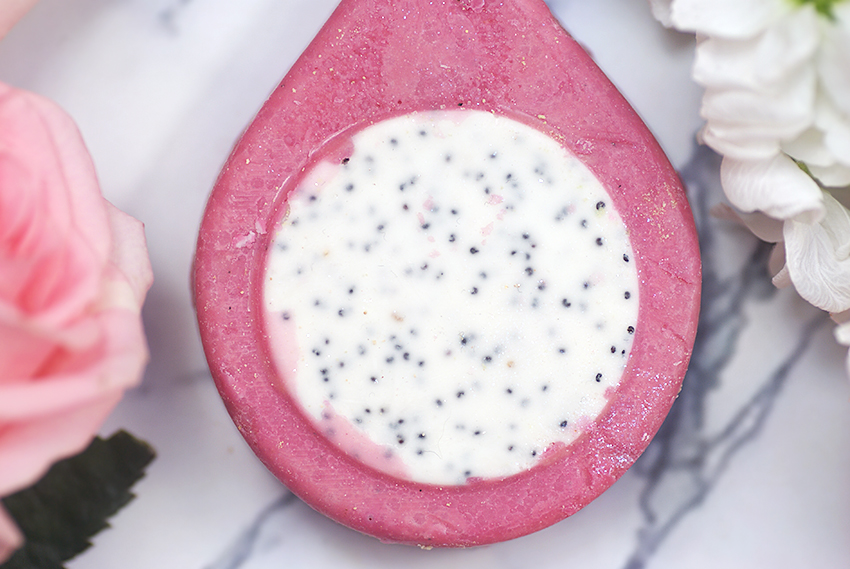 What's inside?
Ingredients: Fair Trade Organic Cocoa Butter, Cocamidopropyl Betaine, Cupuaçu Butter, Argan Oil, Sunflower Wax, Extra Virgin Coconut Oil, Peach Kernel Oil, Perfume, Beetroot Juice Powder, Poppy Seeds, Ylang Ylang Oil, Almond essential oil, Benzoin Resinoid, Dragon Fruit Powder, Titanium Dioxide, Hexyl Cinnamal
The basis of this shower oil is cocoa butter and cupuaçu butter — these melt due to the higher temperature of your skin and leave a layer on the skin. It also contains argan oil, sunflower wax, coconut oil, peach kernel oil, ylang ylang oil, almond oil, benzoin resinoid and dragon fruit powder. Despite the various oils in it, it has a fairly mild scent. I think it smells very much like shea butter — which is a warm, slightly sweet scent. I heard someone say Argan Dragon has a warm cherry scent, and I totally agree! It's not too overpowering, rather subtle. While typing this, I realize that the scent actually resembles the Happy Blooming scent a lot.
Just a small side note — the shower oil discolors very quickly. When I came home from Liverpool with a shitload of Lush products, I had so much to test that the shower oil was for about two weeks on my room. Not in direct sunlight, but in daylight. It did not melt, but it did discolor. The pink top had become a pale color in no time. It doesn't change anything about the scent, but I still wanted to report it. So don't be surprised.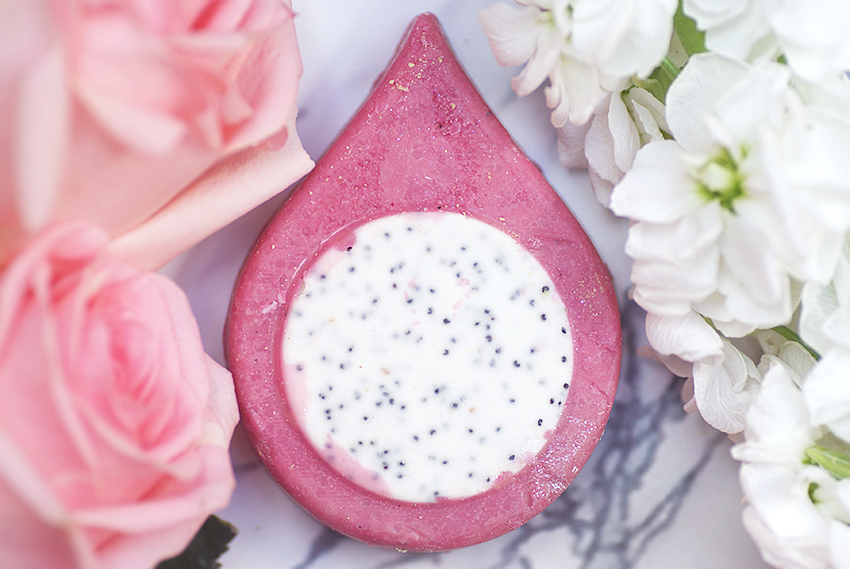 What do I think?
In the shower it's easy to use. It's easy to hold, it glides effortlessly across my skin and you can see the butters being left behind. The scrub exfoliates my skin very lightly while the butters and oils melt into the skin. I do feel the need to use more of this product, somehow one stroke doesn't seem to be enough. Because I smear the shower oil several times over the skin, it does dissolve quite quickly. I have now used it a few times in the shower, on both arms, and it has already shrunk a bit. Maybe I'm being to generous, or it's just a personal preference.
Afterwards my skin feels really hydrated. Make sure you pat the skin dry and not rub it, because you'll rub off the layer. Compared to skin that didn't get the shower oil treatment, my skin feels much softer, smoother and more hydrated. You really notice that the butters do their job as they leave your skin coated in a hydrating layer, without being greasy or heavy. My skin stays hydrated for hours, looks more radiant than before.
I am, just like with Carrot Shower Oil, so glad to have bought this product. It's just such a shame that all these amazing products are only available in Liverpool. It was for sale in the Lush Labs for a while, but it's now sold out unfortunately. Lush, pleeease do something about this!

Lush Argan Dragon Shower Oil costs £4.95 and is available in Lush Liverpool.

2 Responses to Review: Lush Argan Dragon Shower Oil