Review: Lush Strawberries and Cream Bath Bomb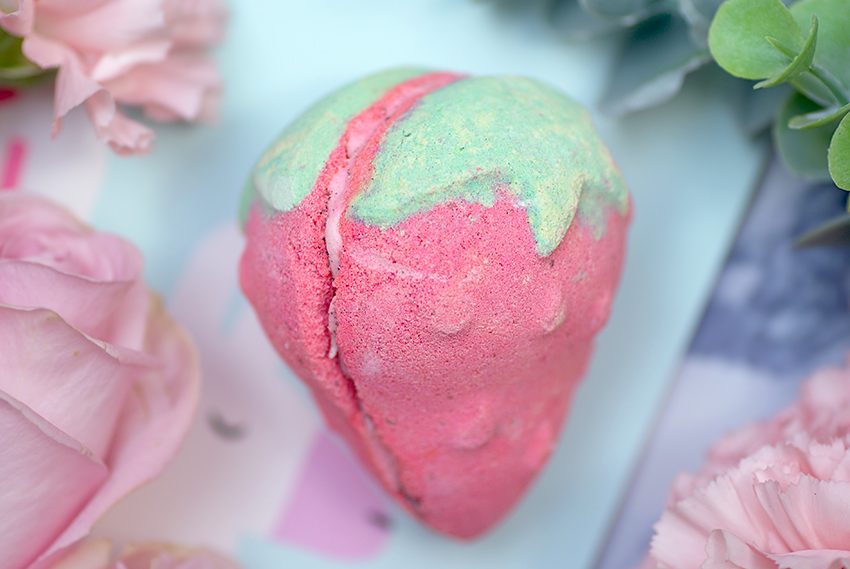 If Lush taught me one thing, it's that size doesn't matter. A small one can perform just as good as a big sized one. This small bath bomb (yes, I was talking about bath bombs, you pervert) will turn your bath into Strawberry Fields, while being one of the cheaper bath bombs from the Harajuku range. Today I'll show you how this little guy performs in the bath. Yes, still talking about a bath bomb here.
If you're curious about this bath bomb, then keep on reading.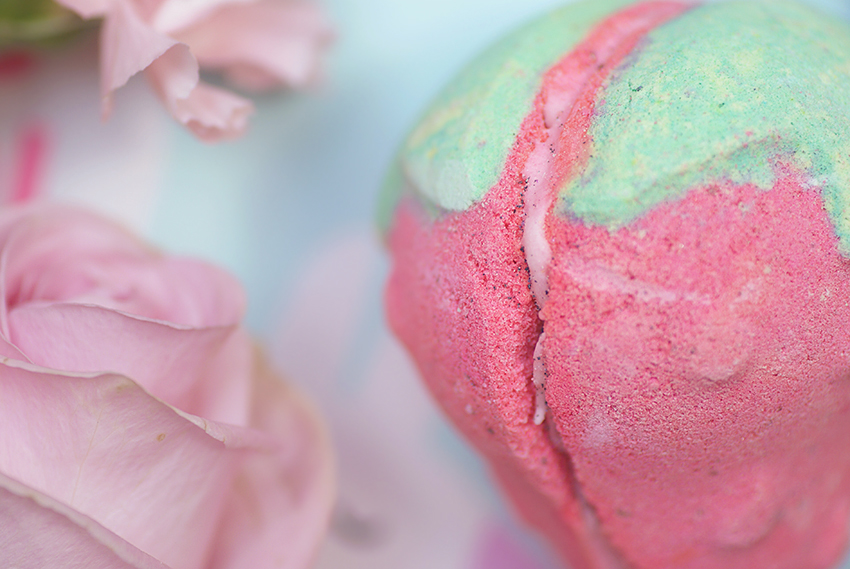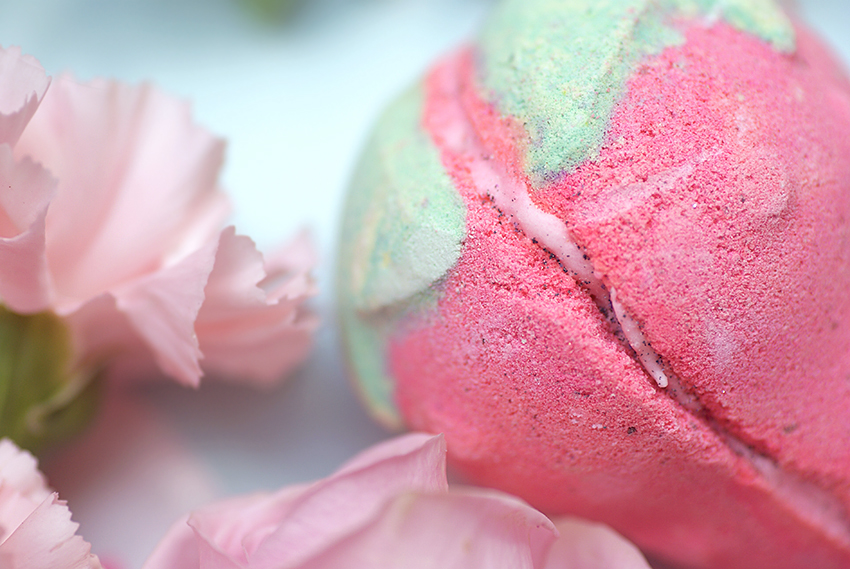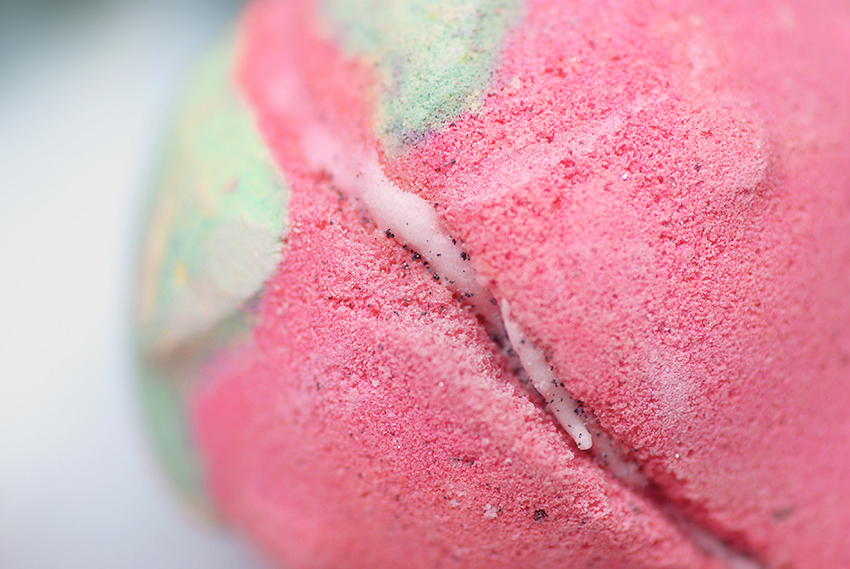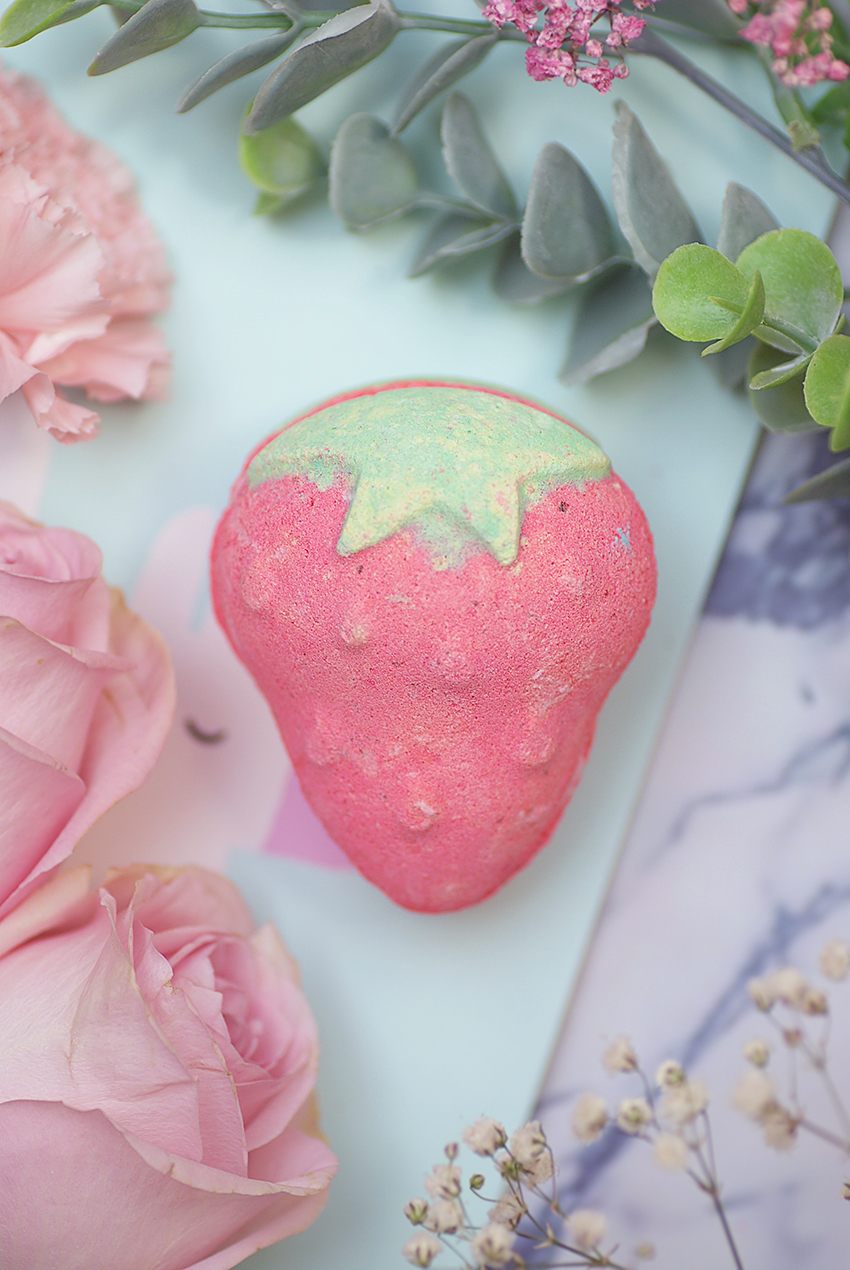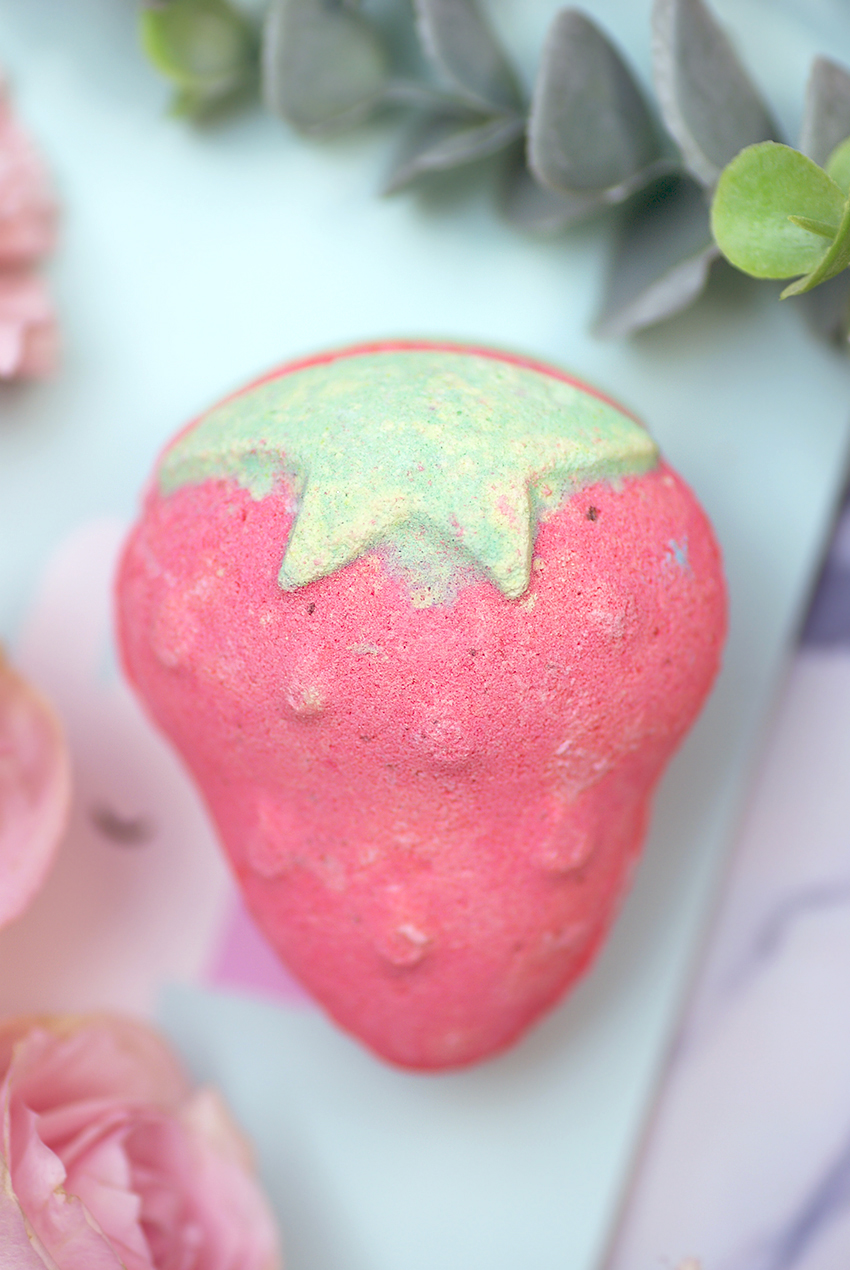 What is it?
Ingredients: Sodium Bicarbonate, Citric Acid, Fair Trade Organic Cocoa Butter, Water (Aqua), Olibanum Oil, Bergamot Oil, Geranium Oil, Black Pepper Oil, Cream of Tartar, Strawberry Powder, Fair Trade Shea Butter, Laureth 4, Sodium Laureth Sulfate, Lauryl Betaine, Dipropylene Glycol, Benzyl Alcohol, Hexyl Cinnamal, *Limonene, Perfume, Colour 14700, Colour 47005, Colour 45410, Colour 42090
Lush Strawberries and Cream Bath Bomb costs £3.95 / $5.95 and is part of the temporary Harajuku range, consisting of 54 new, exclusive bath bombs. This adorable, cute strawberry is slightly smaller than the average bath bomb, hence the difference in price. You can break it in two, there's a buttery layer between the two halves, so it's easily used for two baths if you'd like.
In addition to the buttery layer, which is the shea butter, it also contains cocoa butter, olibanum oil, bergamot oil, geranium oil, black pepper oil and strawberry powder. Those aren't fruity ingredients, therefore the scent is bit less fruity than I expected. It shares its scent with the Yummy Mummy scent family, which offers a fruity and floral scent. It's not a "hey this smells like strawberries" kind of scent, but rather the result of an affair between a strawberry and a flower. It has an underlaying warm and musky layer. And while the olibanum adds sweetness to the overall scent, the bergamot adds a refreshing note. The strawberry powder is a lovely addition as well, it actually functions as a mild scrub. Overall, the scent is great, and fans of the Yummy Mummy scent family should be very happy with this little cutie.
Play the videos in 2160p quality and on full screen for the best experience! The first video has been speeded up.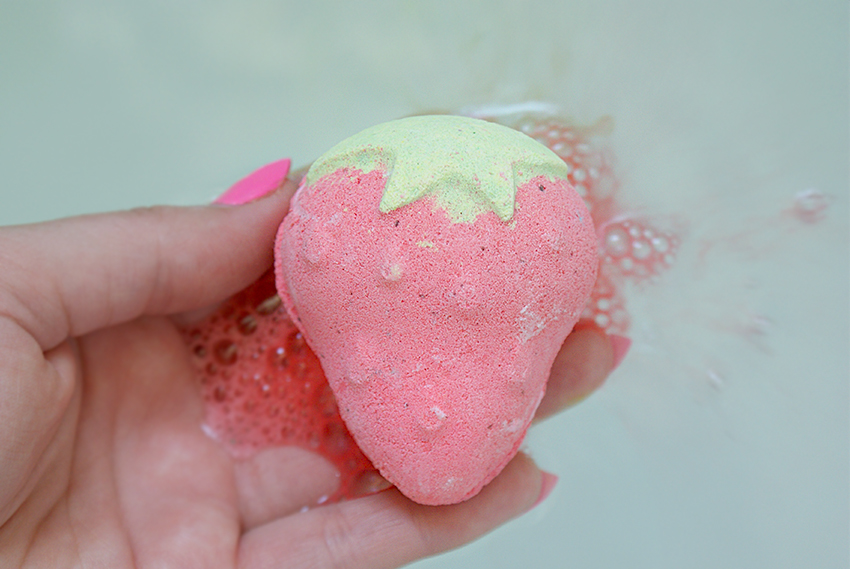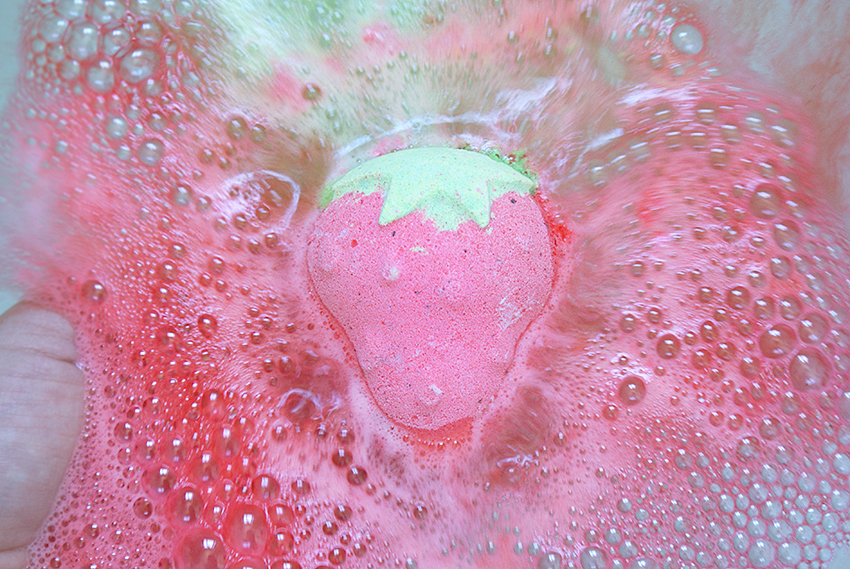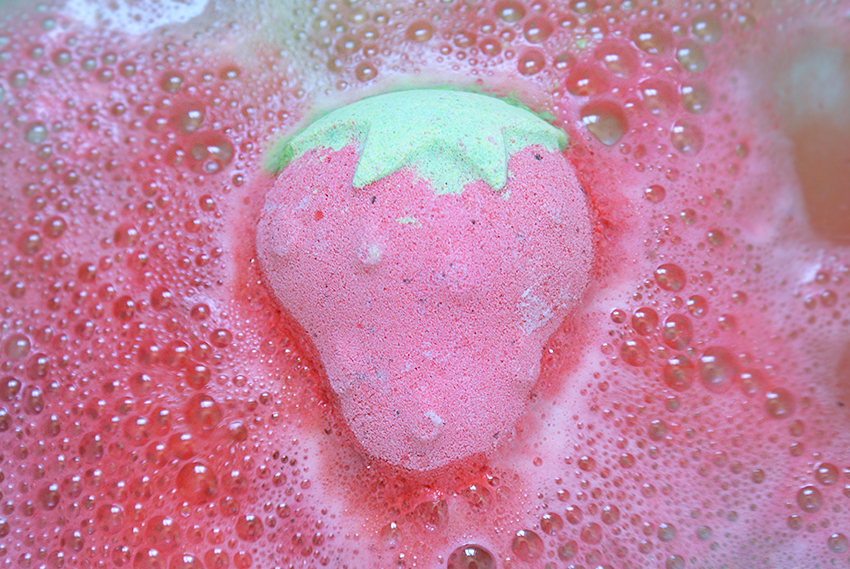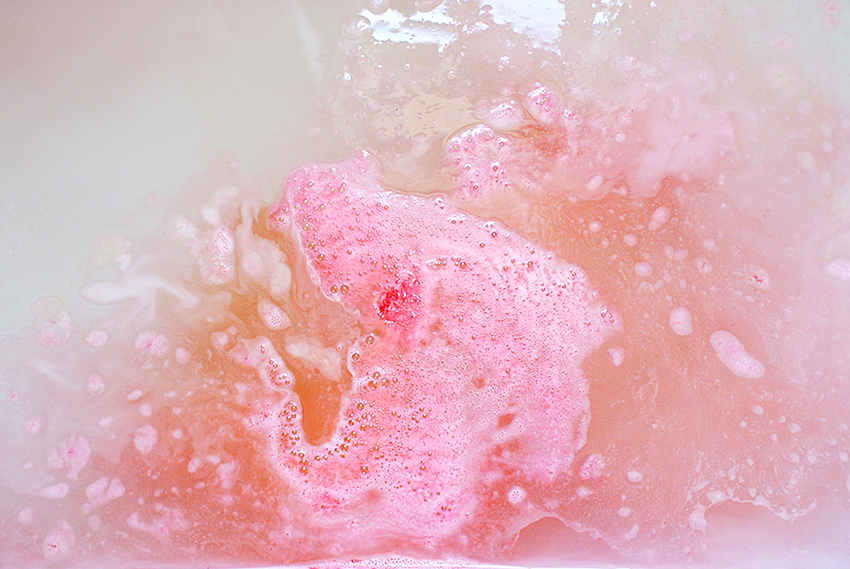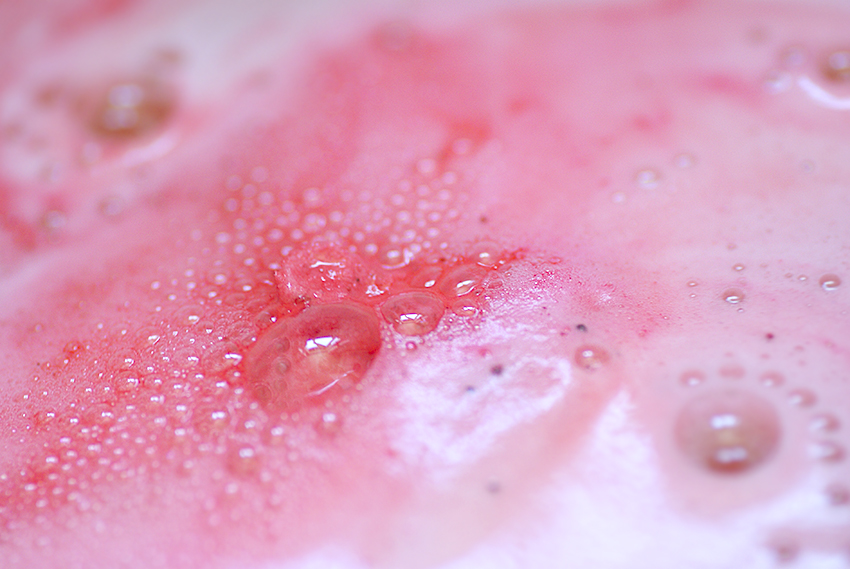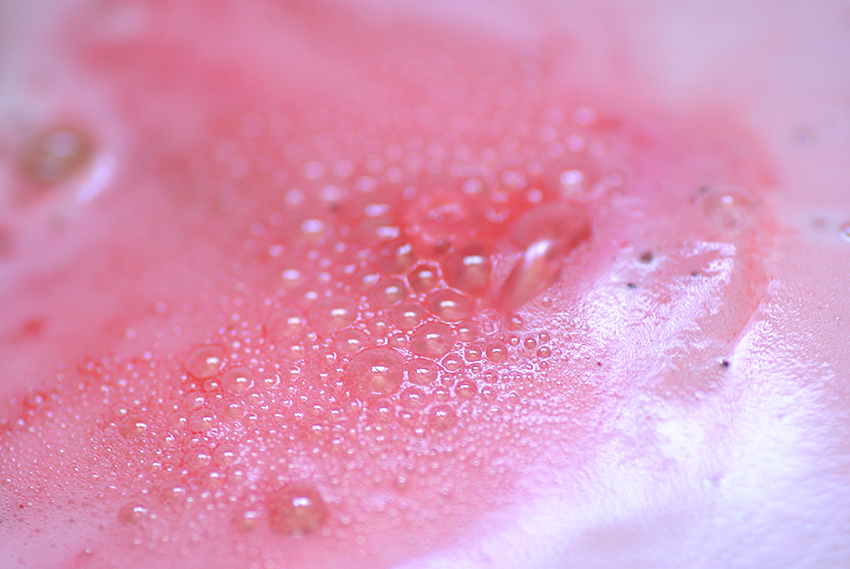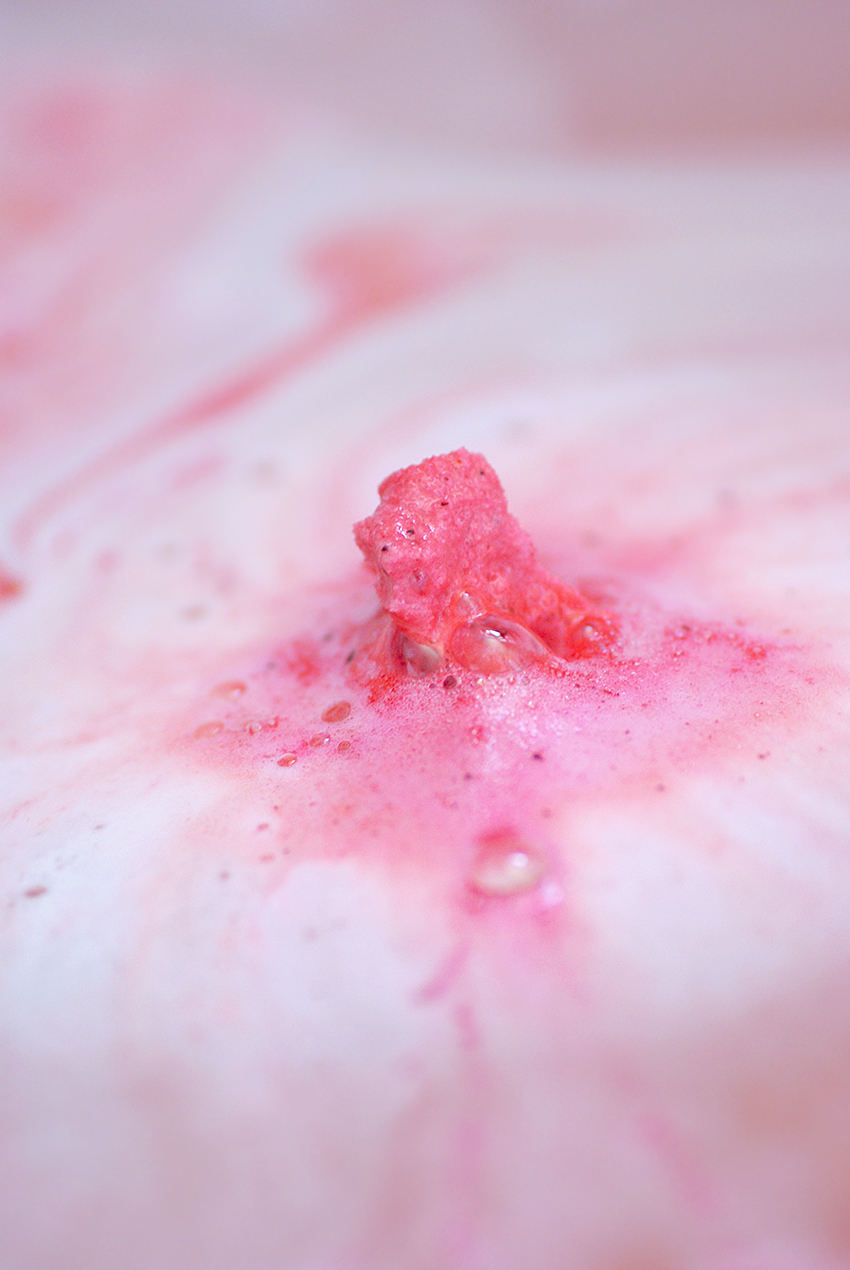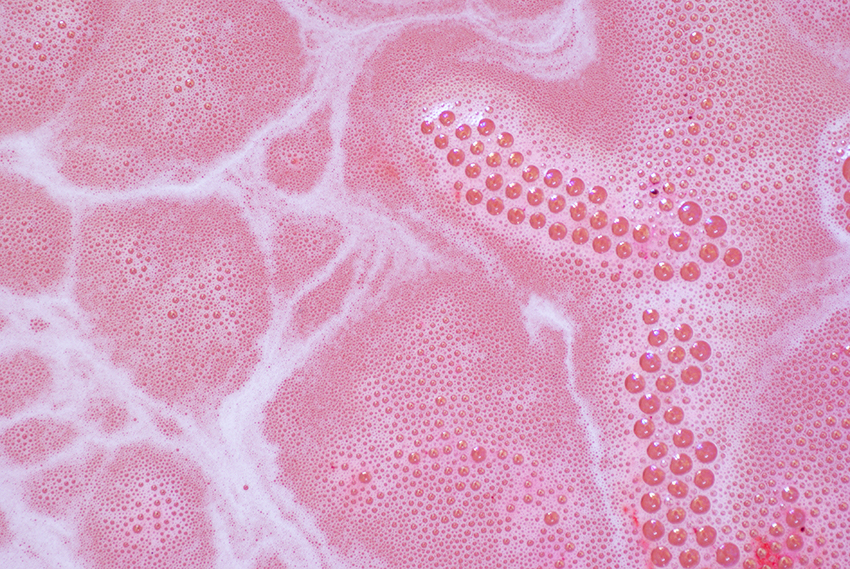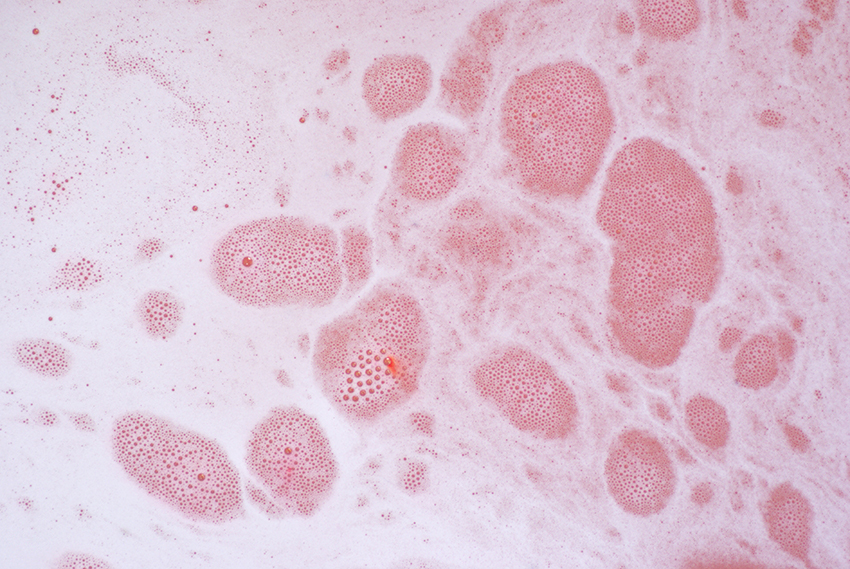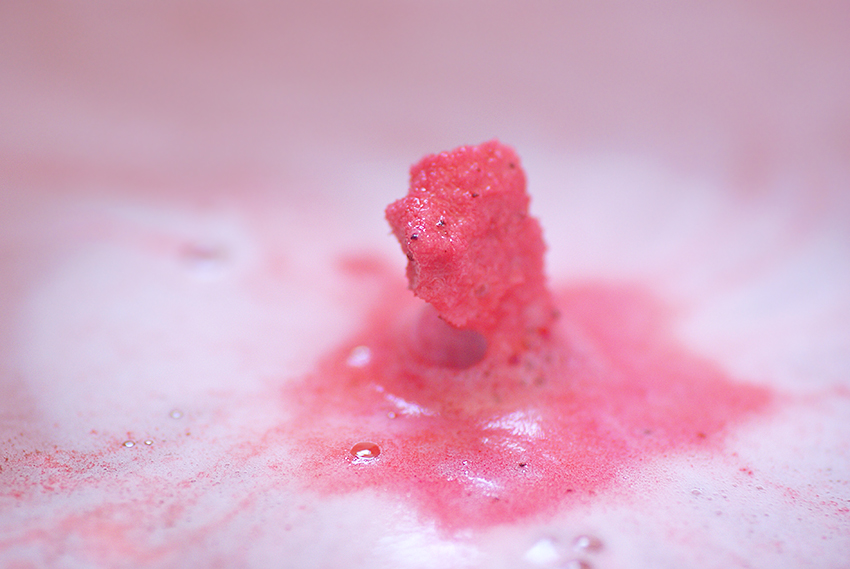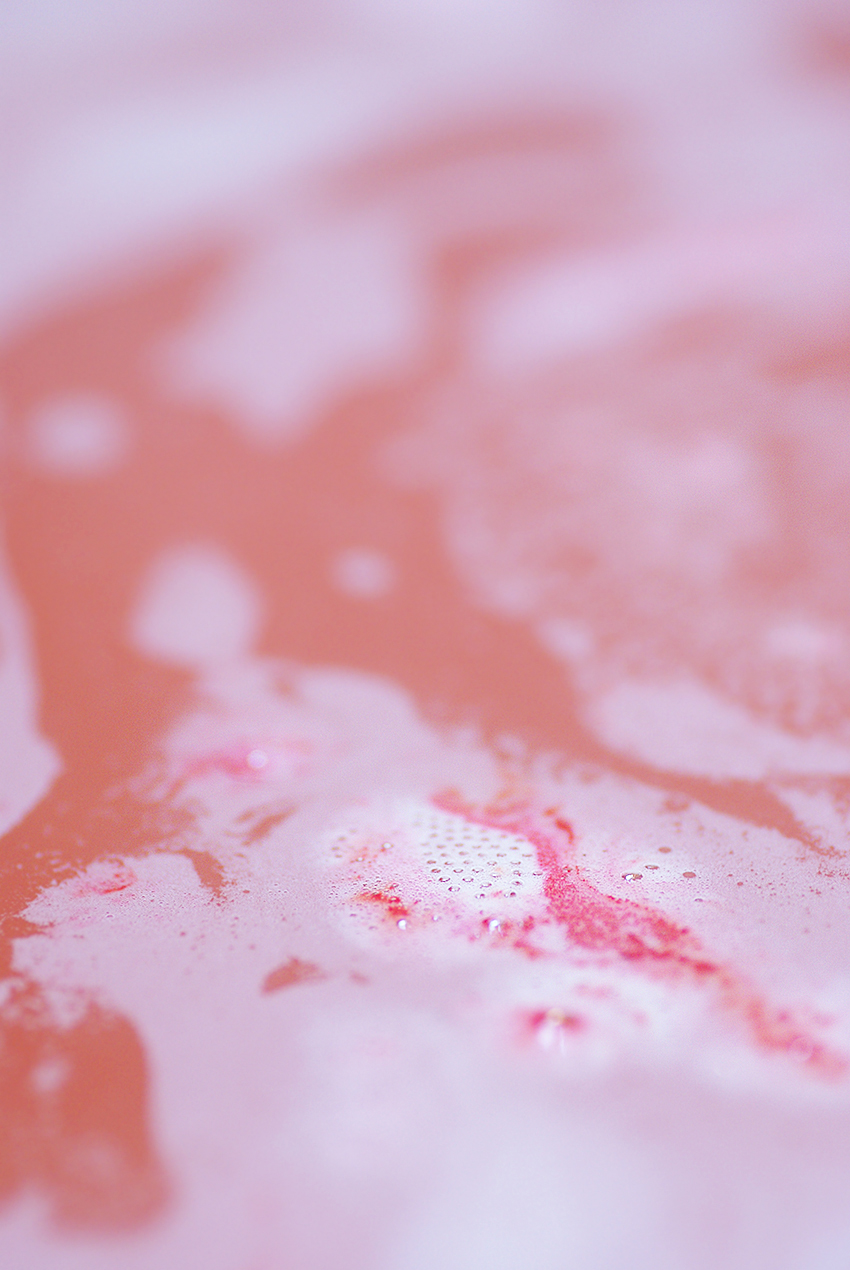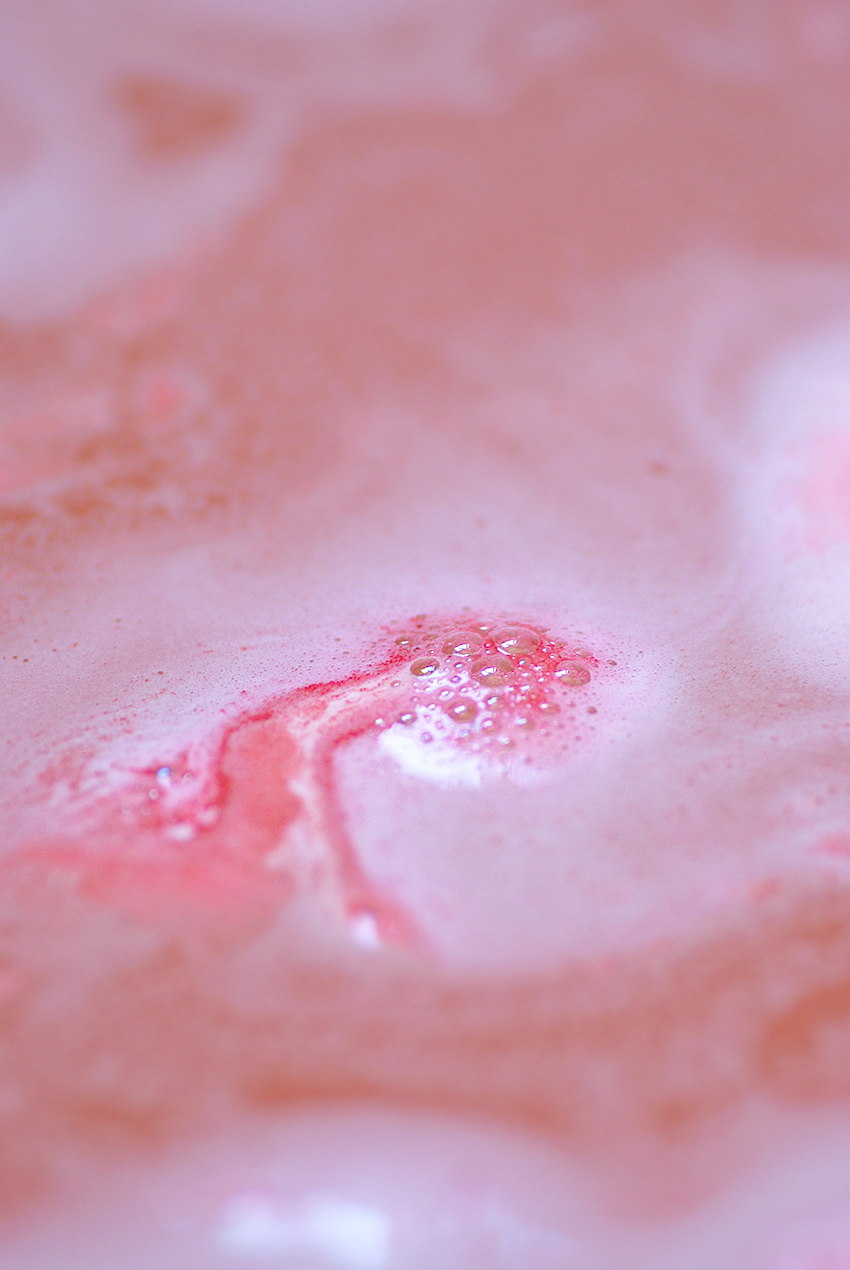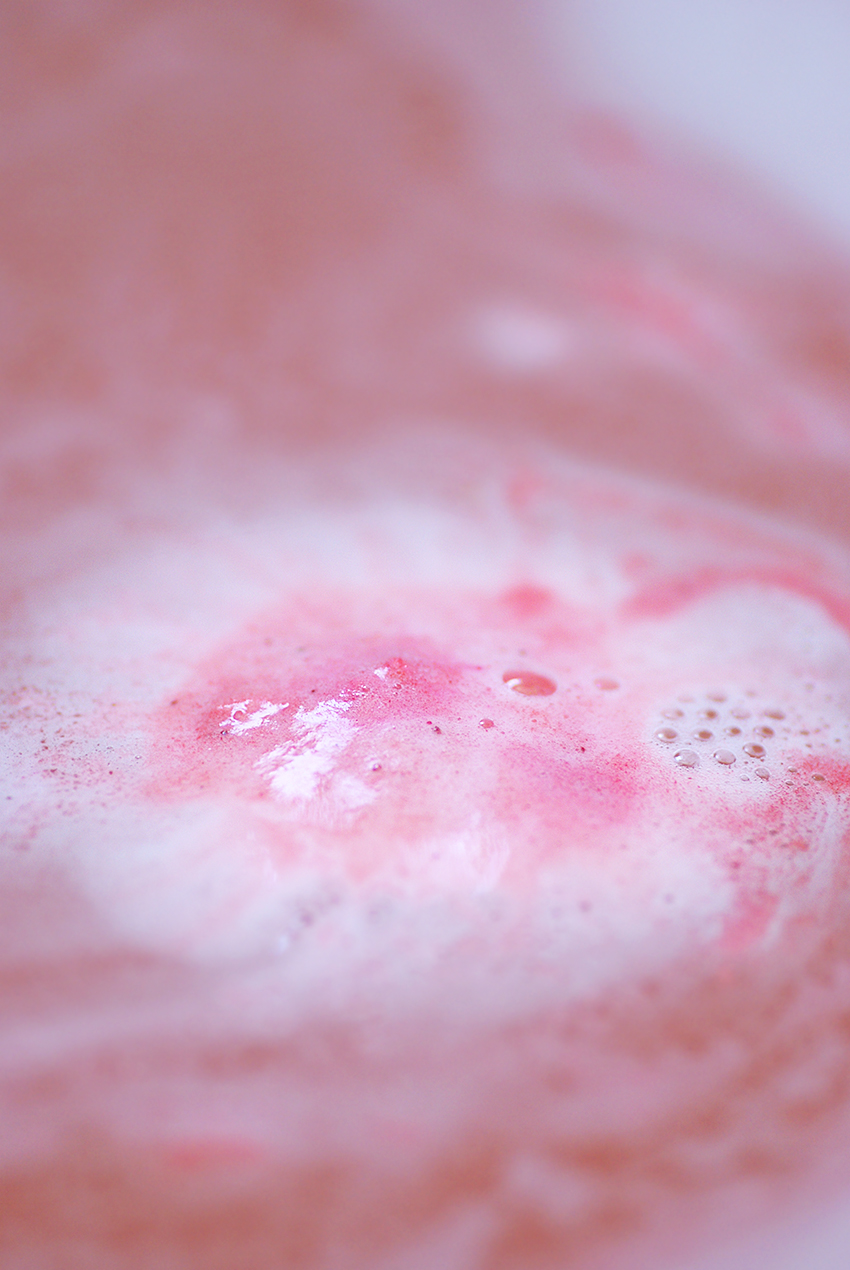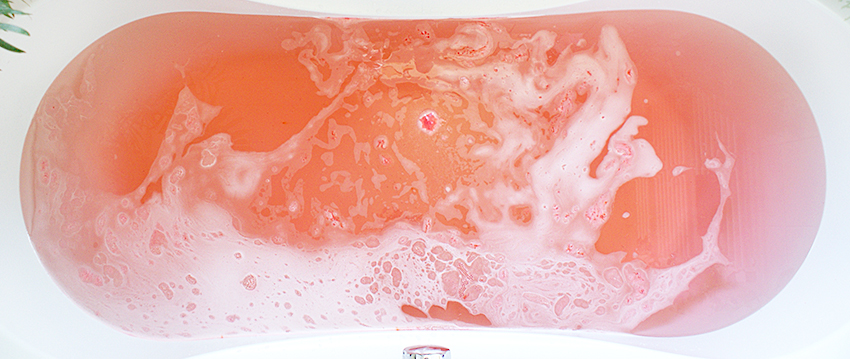 What do I think?
When I lower the strawberry into the water, vibrant red waves of foam are being splurted out of the bath bomb. At the top there is some green foam, but because there's mostly red foam, this quickly disappears. The fact that this bath bomb is smaller than average doesn't prevent it from transforming the entire tub in a strawberry field, scent included. The water gets a clear red color, there are also small specks of cocoa butter floating through the water. A thin frothy layer covers the surface and eventually mixes with the water, which feels very soft. This bath bomb is more buttery than average, it actually made the tub a bit slippery, I had trouble sitting still 😂
The scent could be easily picked up while bathing. Even afterwards, while writing this blog post, I can still smell it on my skin. The butters in the water have made my skin very soft and also hydrated. Dry patches look less dry. All in all this small bath bomb is definitely worth its price, I can really recommend it. Especially if you think £5.95 is too expensive for a bath bomb, then you should really give this fruity one a try.

Lush Strawberries and Cream Bath Bomb costs £3.95 (England) / $5.95 (USA).