Review: Lush Candy Cane Toothpaste Jelly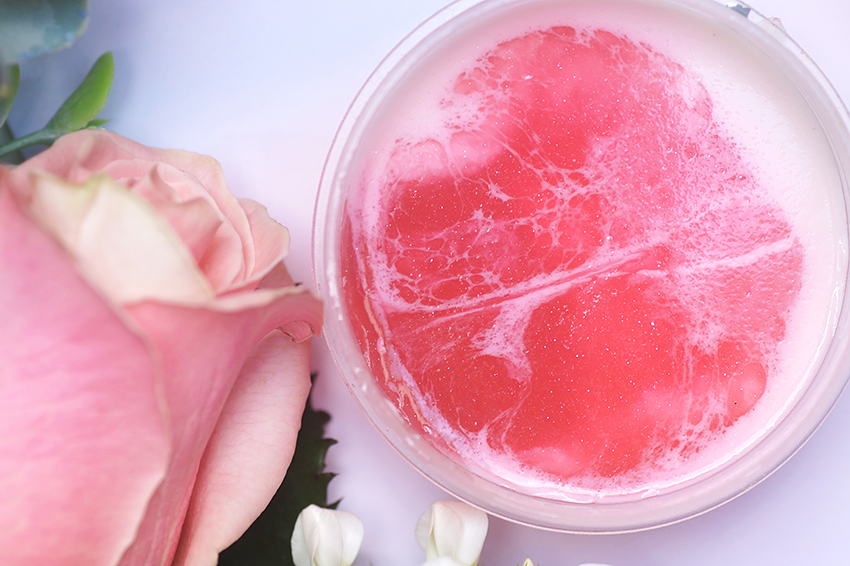 Brush your teeth with a jelly? Well, it took me a while to get used to that idea. I'm someone who likes to stick with her regular products. Lush already made me step out of my comfort zone a few times, I mean.. I've brushed my teeth with tabs that I had to chew on, I showered myself with a wobbly pudding (a shower jelly), I put sea salt in my hair, so yeah.. as far as I'm concerned, I'm already doing pretty well trying out new stuff 😂 A bit hesitant, I took this toothpaste jelly with me to the bathroom. After having it used a few times, I'm ready to give you my opinion about it.
If you're curious about this product, make sure you keep on reading!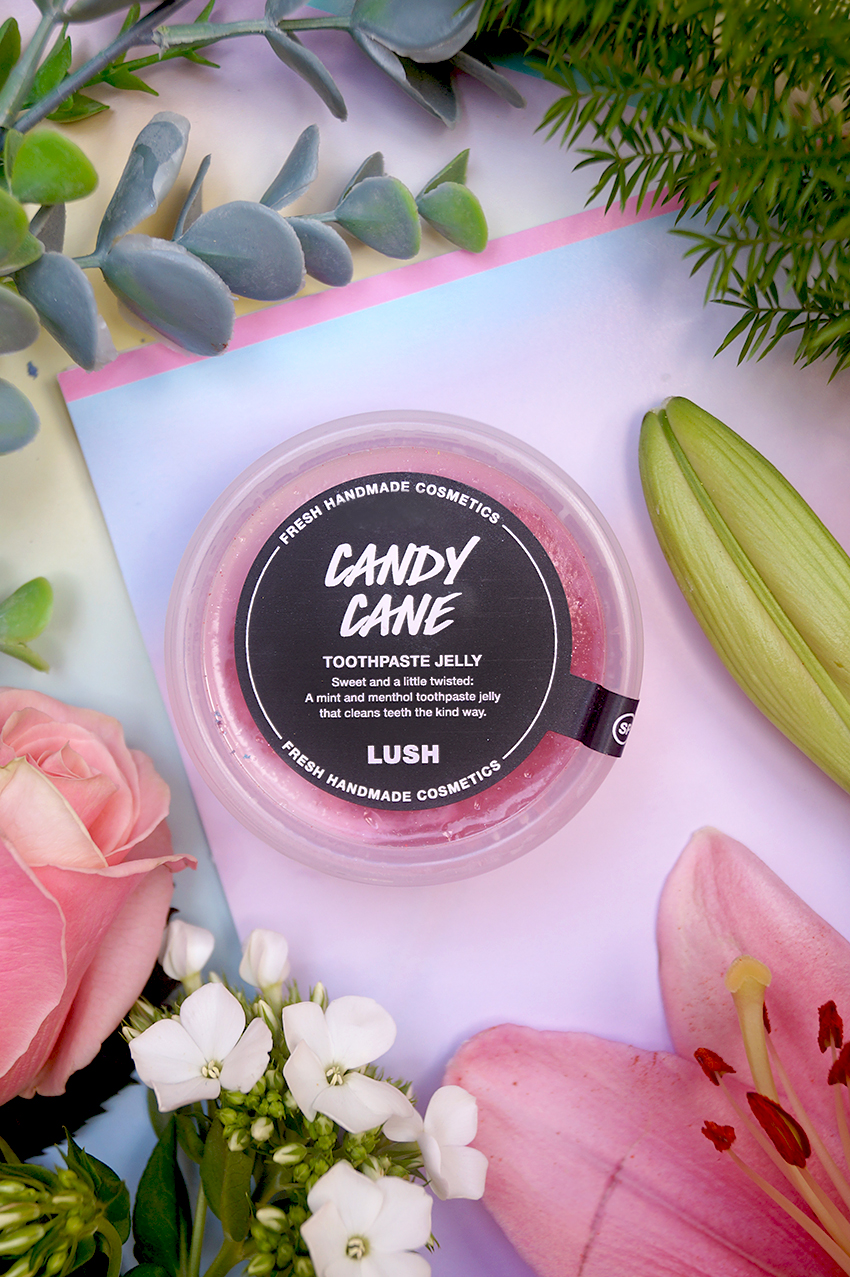 What is it?
Lush Candy Cane Toothpaste Jelly is a toothpaste with a jelly texture, in a jar. The jar contains 60 grams, I don't know the price yet. Lush has been selling toothpaste in the form of toothy tabs. You pop one into your mouth, chew on it, add some water and brush your teeth. I love this idea, but I hardly use them. I'm just too lazy, and I tend to just pop some regular toothpaste on my toothbrush instead of the whole 'chew on a tab' hassle. Fortunately, this toothpaste jelly is a lot easier to use. With a dry toothbrush, scoop a little bit out of the jar. Wet it under the running tap and brush your teeth.
This isn't the first toothpaste jelly Lush has created — there's been more, but they are exclusive to Liverpool and Shinjuku. The best thing about having multiple toothpaste jellies is that you can combine flavours! How cool is that? Just mix and create your own flavour. I'm loving this idea.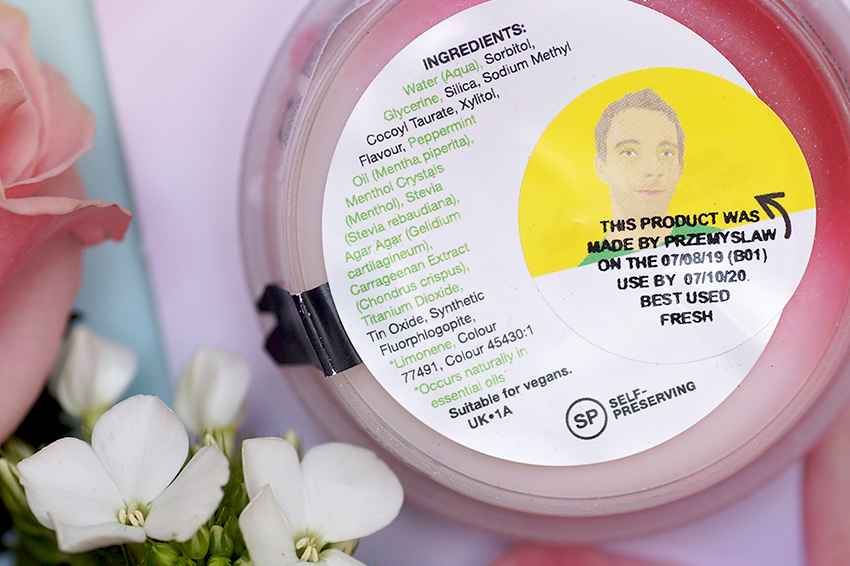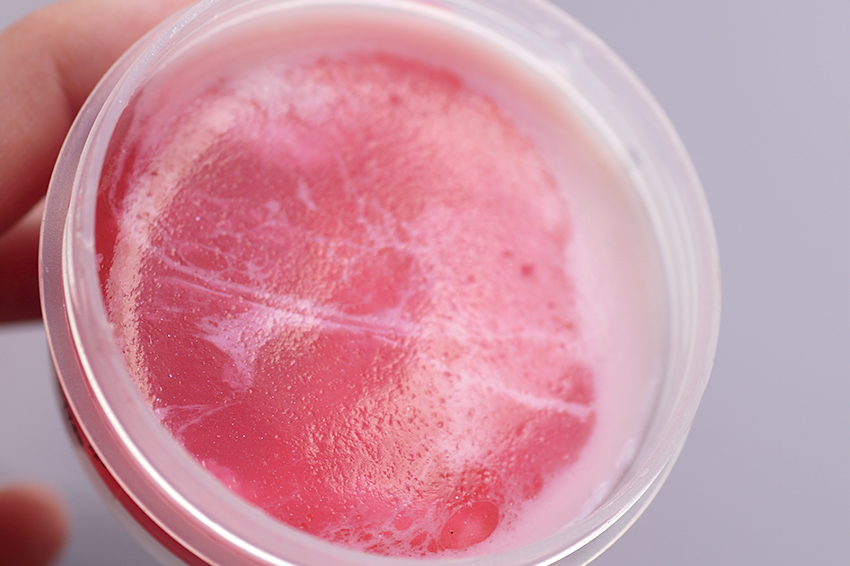 What's inside?
Ingredients: Water (Aqua), Sorbitol, Glycerine, Silica, Sodium Methyl Cocoyl Taurate, Xylitol, Flavour, Peppermint Oil, Menthol Crystals, Stevia, Agar Agar, Carrageenan Extract, Titanium Dioxide, Tin Oxide, Synthetic Fluorphlogopite, *Limonene, Colour 77491, Colour 45430:1
First, let's do a brief analysis of the ingredients list, because I'm very curious about what I'm about to pop into my mouth. I can spot sorbitol, which is a sweetener, but it also makes for a thick and sable texture of the jelly. It's added as a sweet flavour, so that the toothpaste has a fresh taste in your mouth. Glycerin is a humectant, it holds onto water and prevents the toothpaste from drying out in the tube, and also prevents dryness in the mouth during brushing. While glycerine is completely safe, it is however widely debated, as it leaves a film or residue on the teeth which does not easily come off. Silica is an abrasive ingredient used to provide a dental office-like clean feeling thanks to its gently cleansing and polishing. Xylitol is a natural sweetener and an antibacterial ingredient, that also reduces how much acid is formed in the mouth. Peppermint oil ensures a fresh breath, and menthol crystals give your mouth a feeling of freshness. Stevia is a natural sweetener which is used in mouth care products to give products a sweeter flavour without the tooth decay causing properties of refined sugar. Agar agar and carrageenan extract provide the texture for this toothpaste.
Now that it's clear what I'm about to put in my mouth, it's time to put it to the test. But first the smell, because it will also determine the flavour! The scent is very fresh, but it also has something sweet to it. The scent is clearly all peppermint, but there's also a fruity note to it — I think it's strawberries. It's very tasty and refreshing, nonetheless. It smells exactly like a candy cane. I also love that the jelly has the colors of a candy cane! There's a small (plastic-free) glitter in the texture, which isn't harmful to your teeth.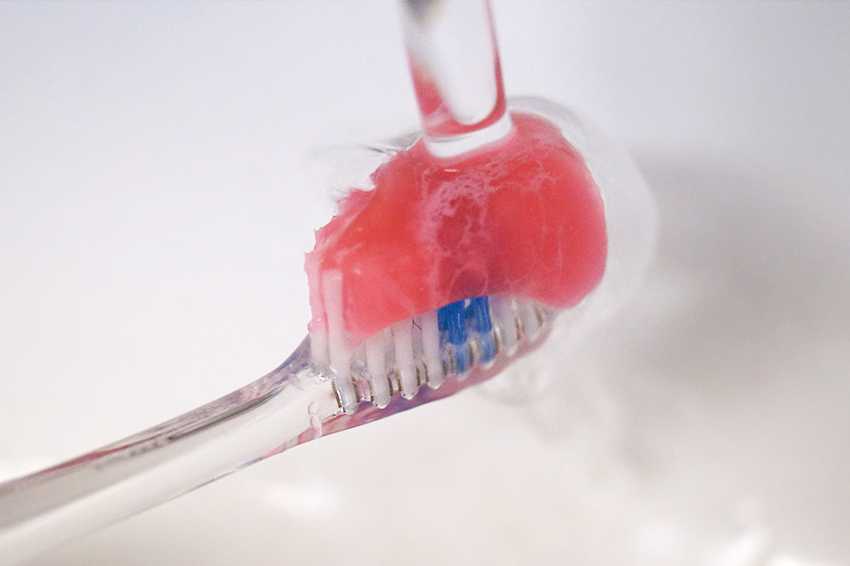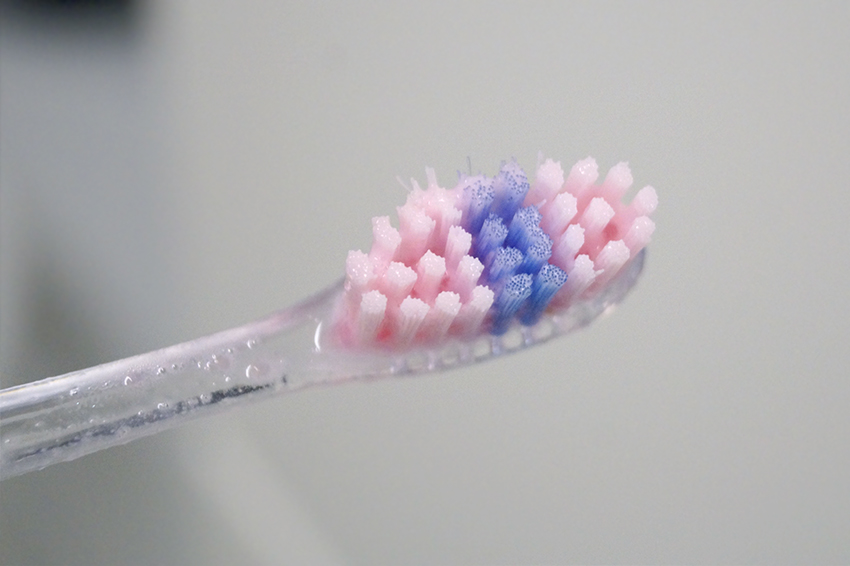 What do I think?
Now it's time for testing! With a dry toothbrush, I scoop a little bit out of the jar. Despite the jelly texture, scooping out is very easy — this toothpaste jelly isn't as solid and 'hard' as a shower jelly. It's softer and less dense. Under the running tap I wet the toothbrush, and despite the water's pressure, the jelly stays on my toothbrush. Thank God! Imagine the chunk of jelly being rinsed off your toothbrush every time you put it under the tap. When I put my toothbrush in my mouth, the combination of the jelly and the water, plus the friction of the brushing, creates a good lather. It's easy to brush my teeth, and the taste is sooo good. It's incredibly fresh, and even tastier than a regular toothpaste, because there's a fruity flavour to it. Usually 3 minutes of brushing your teeth seems like an eternity, but brushing your teeth with this jelly will actually make it look less. It's so much fun brushing my teeth with this stuff.
After brushing, my mouth feels very fresh and clean, just like a normal toothpaste would. The slightly fruity, fresh taste lingers in my mouth for a while, yummy! My teeth feel smooth, my mouth smells wonderful (and yes, I let my boyfriend smell my mouth, don't judge me) and the freshness that lingers in my mouth afterwards is also very pleasant. Man, I'm really positively surprised. It tastes so much better than regular toothpaste. And it's pretty economical to use, as well! You only need a little chunk for a mouth full of lather. I'd say about the size of a pea? After having my teeth brushed with this jelly for almost a week, I can say that my teeth have not become sensitive. My next dental check-up is in 2020 though, so I can't tell you anything about cavities yet 😂
When this toothpaste jelly hits the store (just two more weeks!), I'm definitely buying a few jars. I am sooo in love with this toothpaste jelly! I shit you not. I really want Lush to bring the other flavours to all stores, I'm dying to combine a few flavours. It seems like so much fun! So yeah, I really recommend you give it a try. It's fun, it's tasty, and it goes a great job cleansing your teeth and leave your mouth feeling fresh.

Lush Candy Cane Toothpaste Jelly is part of the Christmas 2019 range and is available September 24th.

2 Responses to Review: Lush Candy Cane Toothpaste Jelly