Review: Lush Charity Pot Coins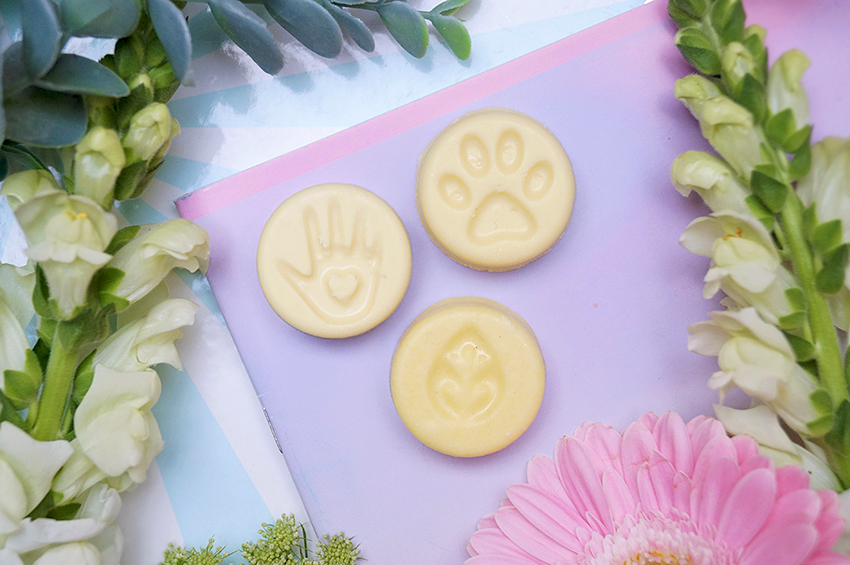 With my hands currently resembling a piece of sandpaper, I have to make sure my hands stay hydrated throughout the day. These cute little Charity Pot coins are new and are also ideal for travelling. Now I happen to always carry a small pot of Charity Pot in my purse, but I was curious how these little coins would last. And not only are these good for the skin, you're also working on your karma!
If you're curious about this product, make sure you keep on reading!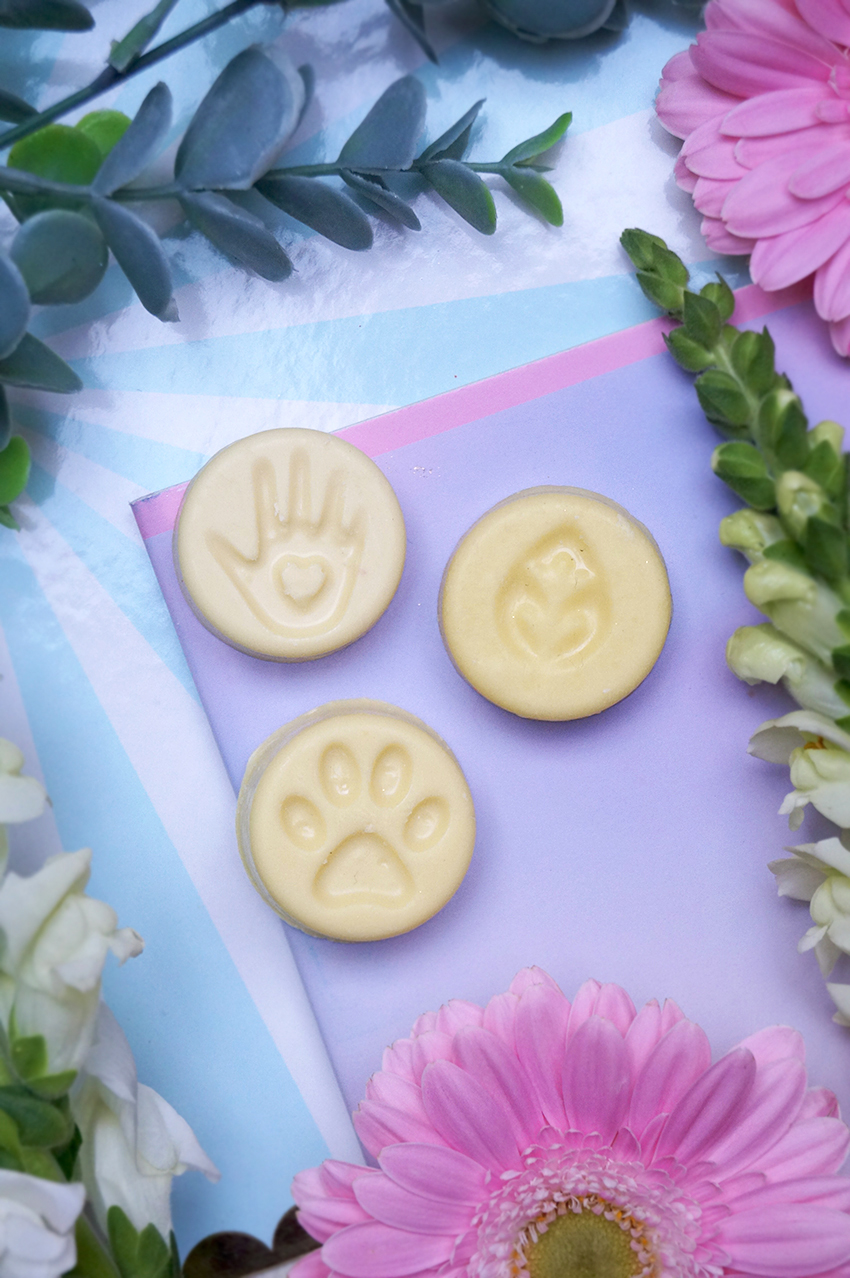 What is it?
Lush Charity Pot Coins cost £1.00 / $2.00 / €1.50 for 10 grams. This product is a solid version of the original potted Charity Pot, a hand and body lotion of which, just like these coins, Lush donates 100% of the price (minus the taxes) to small, grassroots organisations. Because it's a small coin (it's the same size as Lush sample pot) it's ideal to carry with you, just make sure it doesn't melt. Some people put this coin near the sink, on their nightstand, or at their computer. The product comes in a little folded piece of parchment paper, to ensure it doesn't leak onto other stuff. You can use these coins as a moisturizer for your hands or body.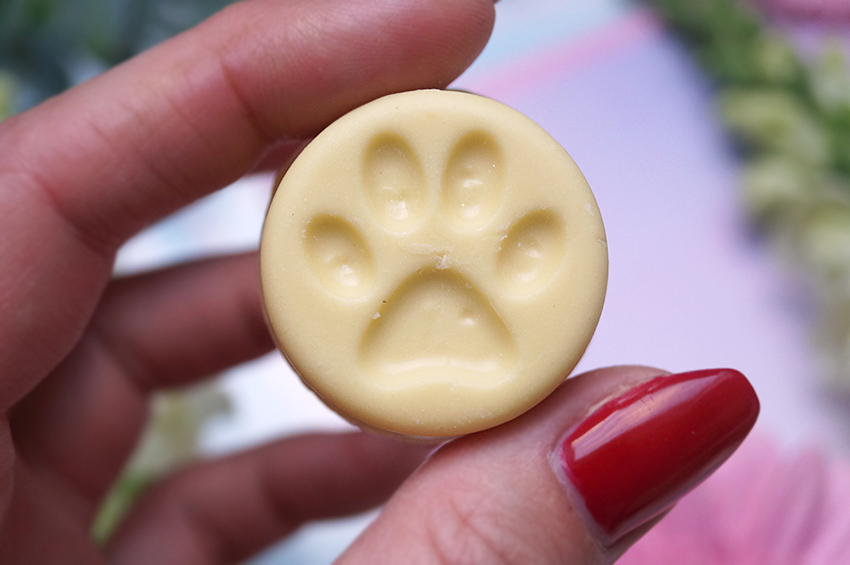 What's inside?
Ingredients: Fair Trade Sierra Leonean Cocoa Butter, Fresh Aloe Gel, Fair Trade Shea Butter, Japan Wax, Organic Jojoba Oil, Fair Trade Olive Oil, Carnauba Wax, Moringa Oil, Perfume, Geranium Oil, Rosewood Oil, Ylang Ylang Oil, Vanilla Absolute, Gardenia Extract, *Anise Alcohol, *Benzyl Benzoate, *Benzyl Salicylate, *Citral, *Citronellol, *Coumarin, *Farnesol, Geraniol, *Isoeugenol, *Limonene, *Linalool
These naked body butters contains a good amount of butters, such as cocoa butter and shea butter. There's Japan wax and carnauba wax as well, used to add hardness to the texture of a product, but also because of their ability to create a protective layer on the skin. The other ingredients are great moisturizers, so I have good hopes for my poor skin. There's oils of moringa, geranium, rosewood, ylang ylang and vanilla, which are great natural oils that each have their own properties.
Scent
The scent is floral with a warm background. It's sultry, warm, powdery and floral. The vanilla is the main note, warm and slighty spicy, accompanied by floral notes here and there. The warmth in the background is perfectly blended with the sultry, floral notes, creating a great scent that I think everyone can enjoy.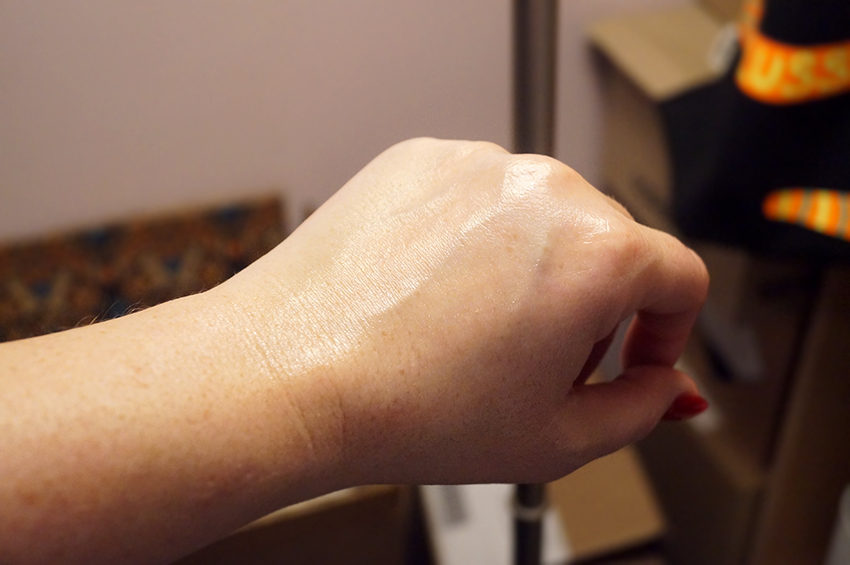 What do I think?
I decided to put a coin on my nightstand, so I could massage onto my hands before I go to sleep. The first thing that strikes me, is how quickly the coin melts between your hands! Because the coins look pretty solid and firm, I thought you'd have it a few good rubs, but it actually melts within a few seconds. It glides with ease over the skin, making it easy to disperse the butters and oils. I massage the residue all over my hands, making sure I don't forgot my fingernails, since I also have dry cuticles. The residue, aka the butters and oils, will definitely stay on your hands for awhile, unless you use very little product. I found this product not to be ideal whenever I'm busy with my phone, because my screen's smeared in no time. So make sure you have time for the product to be fully absorbed!
Once the product is settled on the skin, it's less floral and more warm and powdery. I can smell the scent very subtly for almost an hour, but only when I sniff my hands. The scent isn't too strong or overpowering, it's just.. nice. My skin feels silky soft and supple, and even though there's a slight greasy layer on your skin, it's not a thick, sticky layer. My hands feel so hydrated, it's like I'm wearing some kind of invisible glove of butters and oils. All in all, I'm really happy with these little coins. I've used one for about a week now, every night, and it has only shrunk a little bit in size. You're also supporting a good cause with this purchase, so if you needed another reason to buy this product, here ya go.

Another way to use them..
Yes, what you see is true — I also tossed a Charity coin into my bath. it was actually a tip by fellow Lushie @dutchlushlover! Since the bath oils are all discontinued, she decided to just throw in a Charity coin and see what happens. Since I bought three of these coins, I figured I could easily toss one into my hot bath as well! The coin melted very, very slowly but eventually fell apart in dozens of little blobs of oils, floating on the surface.
Another tip from this Lushie is to use a little bit of shower gel when you use oils in the water, so it doesn't stick to the rims of the bath. I forgot to do this, and I used it together with Phoenix Rising, which also contains a lot of oils, so I think all in all it took me about 35 minutes to get out of the bath. That shit was slippery AF. The rims of the tub were sticky and gross from all the butters and oils and I had to get some abrasive to get it off. But! My entire body was covered in a thin layer of moisturizing ingredients. My dry skin- finally looking moisturized and healthy. But if you're gonna use this product as a bath melt, be sure to use some shower gel and not use another product that contains oils and/or butters. Or have a tow truck company on speed dial.
If you have a positive (or negative) experience with this product, feel free to share them in the comments!

Lush Charity Pot Coins cost £1.00 (England) / $2.00 (USA) / €1,50 (The Netherlands)

4 Responses to Review: Lush Charity Pot Coins