Review: Lush Rose Gold Bath Bomb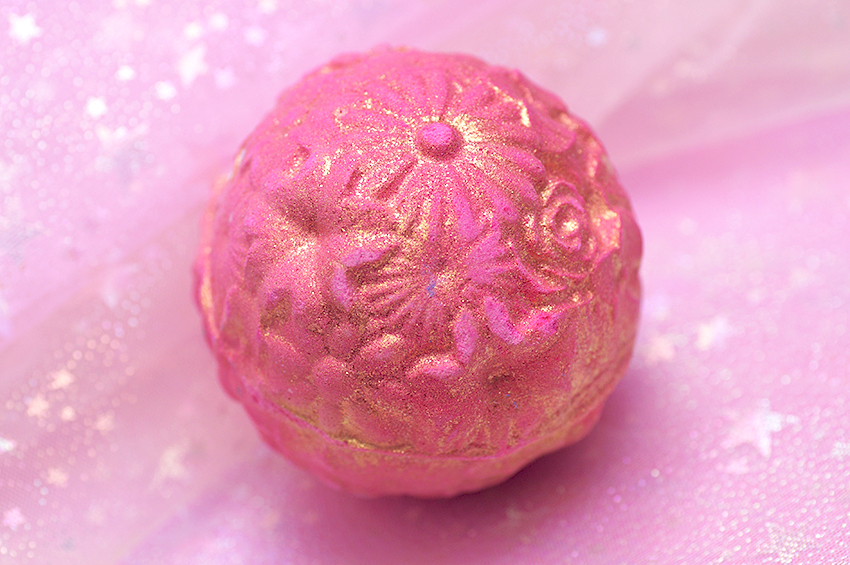 Where I live (The Netherlands) Mother's Day is being celebrated on May 9. Because it is celebrated in England on March 14, the Mother's Day range has already launched over there! Good excuse to place an UK order. A little risky, since due Brexit you have to pay customs tax when you order from UK, but since it wasn't happening on every parcel, I decided to just take my chances. Results: I had to pay 30 euro customs tax :') But it was worth it, because now I get to review the Mother's Day goodies before they launch in Europe and NA. Let's start with this beauty today!
If you're curious about this bath bomb, then keep on reading.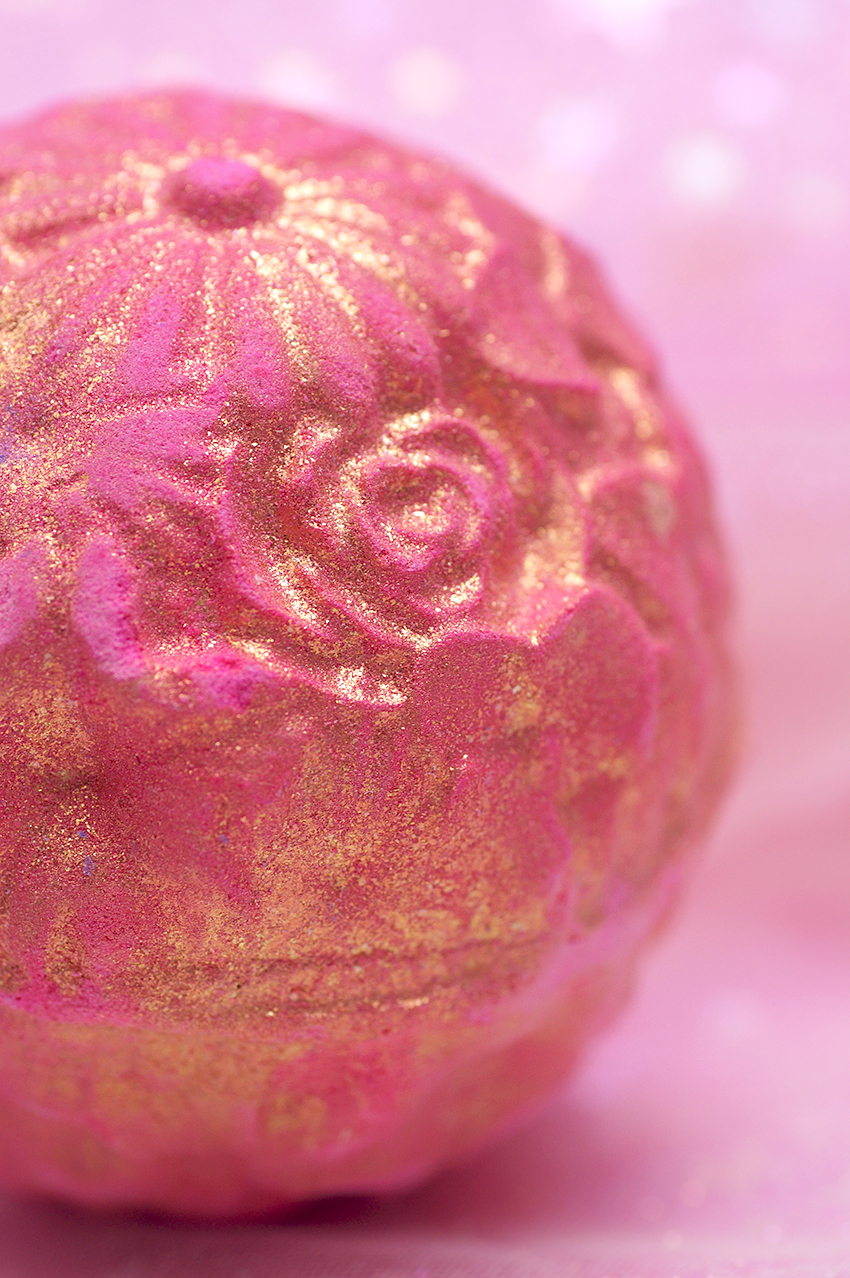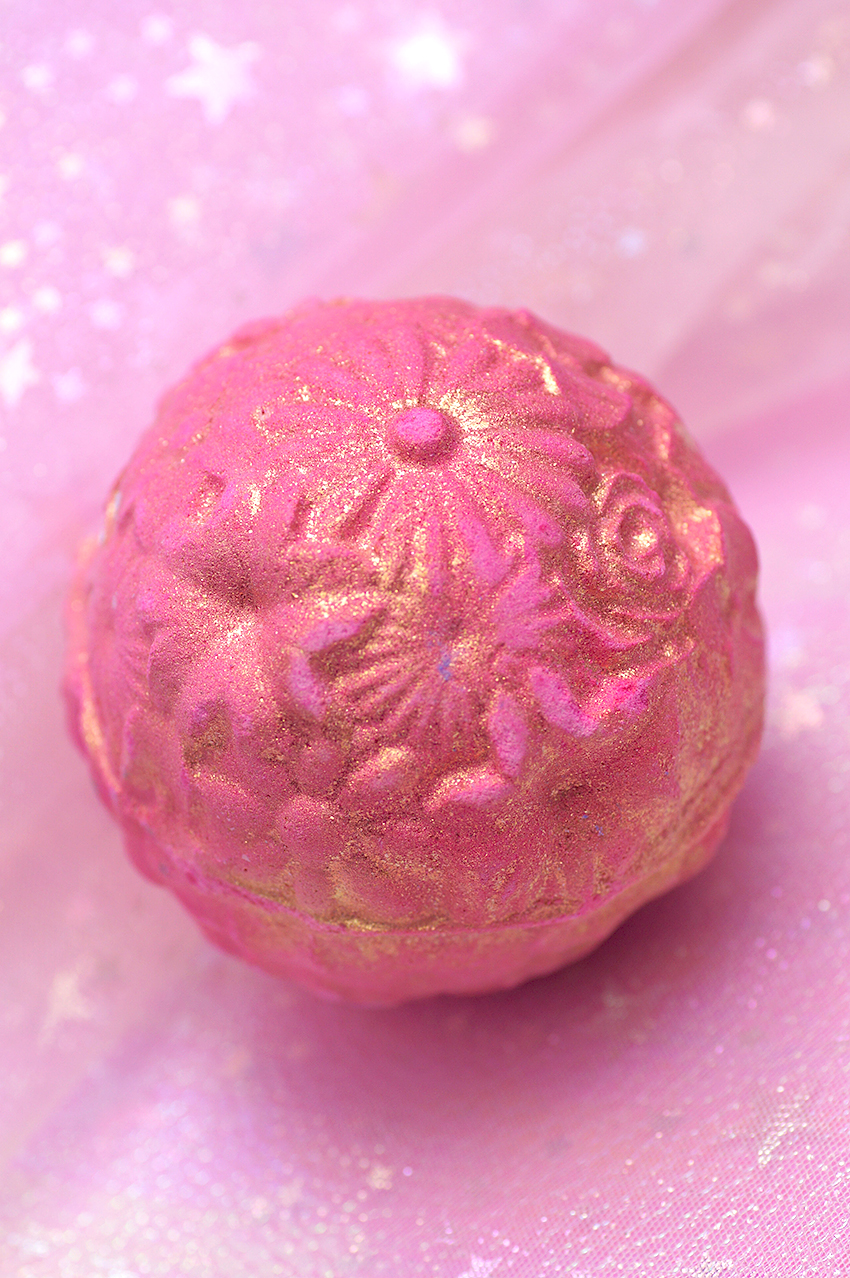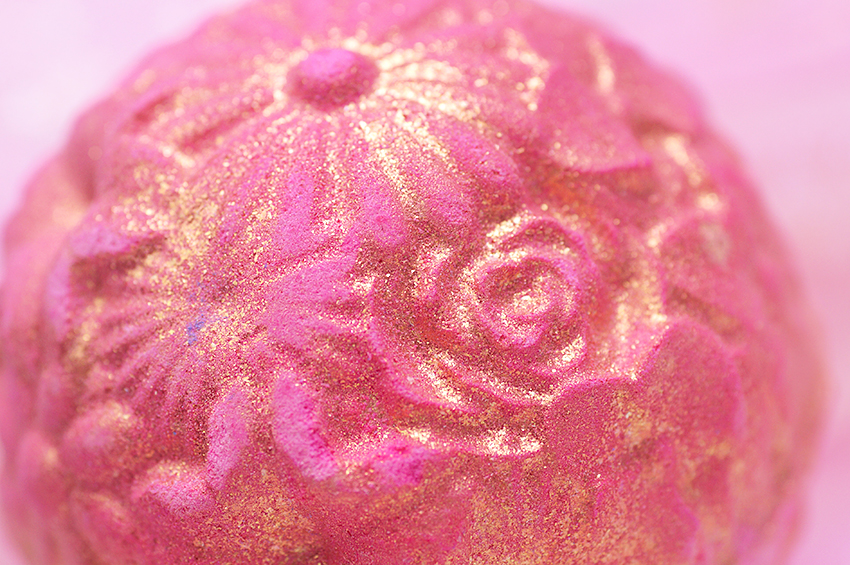 What is it?
Ingredients: Sodium Bicarbonate, Citric Acid, DRF Alcohol, Perfume, Ylang Ylang Oil, Benzoin Resinoid, Bergamot Oil, Sodium Alginate, Orris Root Powder, Water (Aqua), Titanium Dioxide, Sodium Coco Sulfate, Dipropylene Glycol, Propylene Glycol, Cocamidopropyl Betaine, Synthetic Fluorphlogopite, Tin Oxide, Calcium Sodium Borosilicate Silica, Alpha-Isomethyl Ionone, Amyl Cinnamal, Benzyl Alcohol, *Benzyl Benzoate, Benzyl Salicylate, *Farnesol, Geraniol, Hydroxycitronellal, *Limonene, *Linalool, Colour 45410:1, Colour 77491, Colour 15850:1, Colour 45410, Colour 15985:1, Colour 19140:1
Lush Rose Gold Bath Bomb costs £4.95 and is part of the Mother's Day range. This bath bomb is incredibly gorgeous — just look at it! It's so pretty with its golden layer and all around imprint/relief of roses and flowers. This bath bomb shares its scent with Winter Garden, a very mature, powdery, floral scent with ylang ylang dominating. I have to admit that I'm not a fan of Winter Garden, because it smells too strong of ylang ylang, but it wasn't too present with Rose Golden. So, Rose Gold smells less of ylang ylang, but it's still a very floral and warm scent.
Play the video in 2160p quality and on full screen for the best experience! The video has been sped up.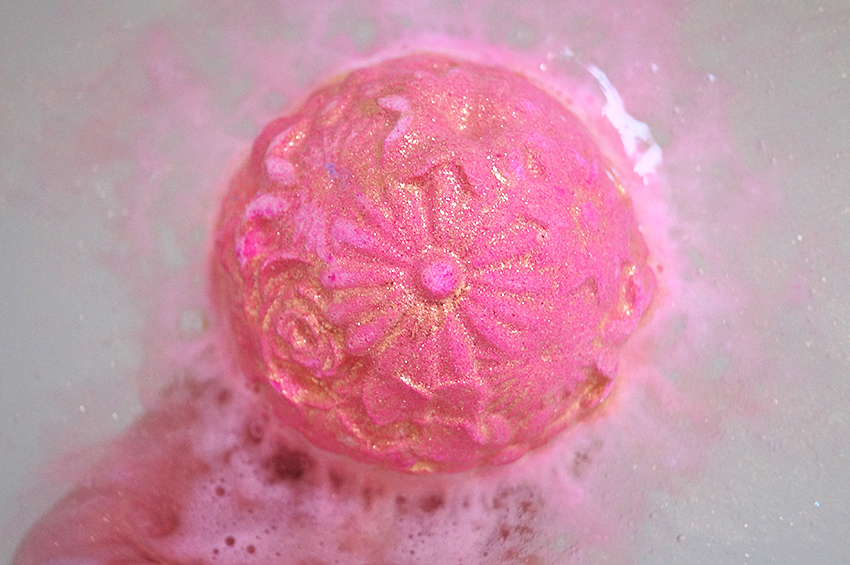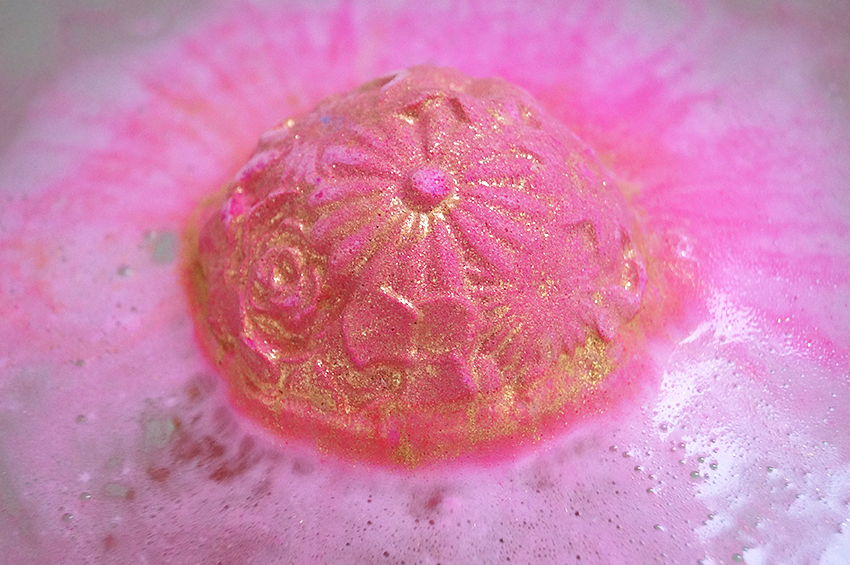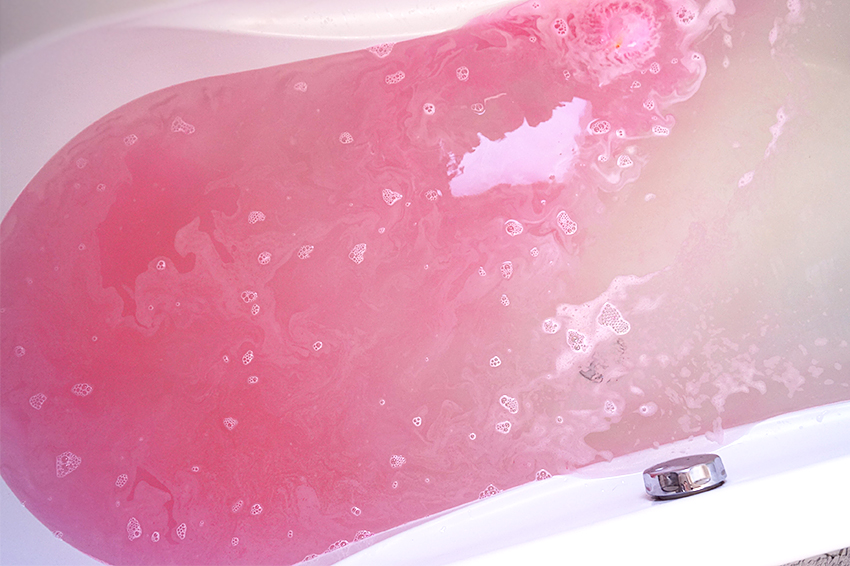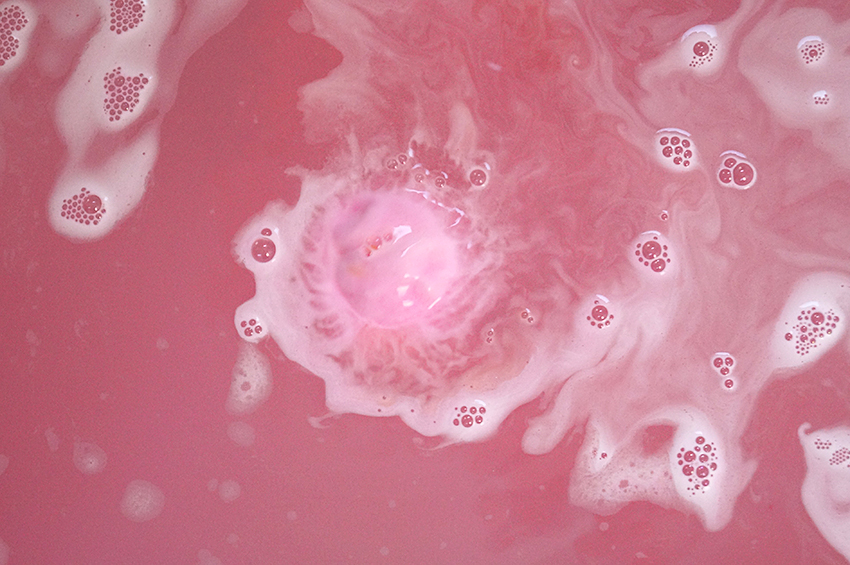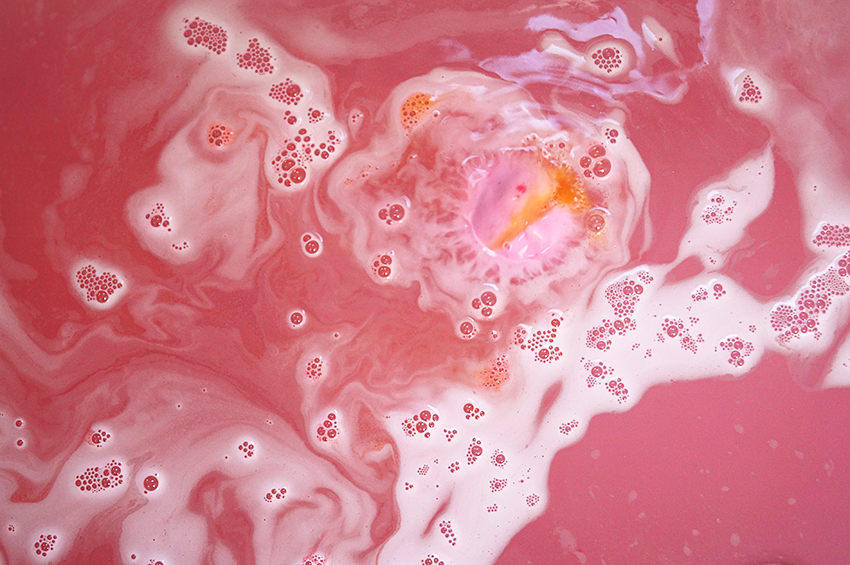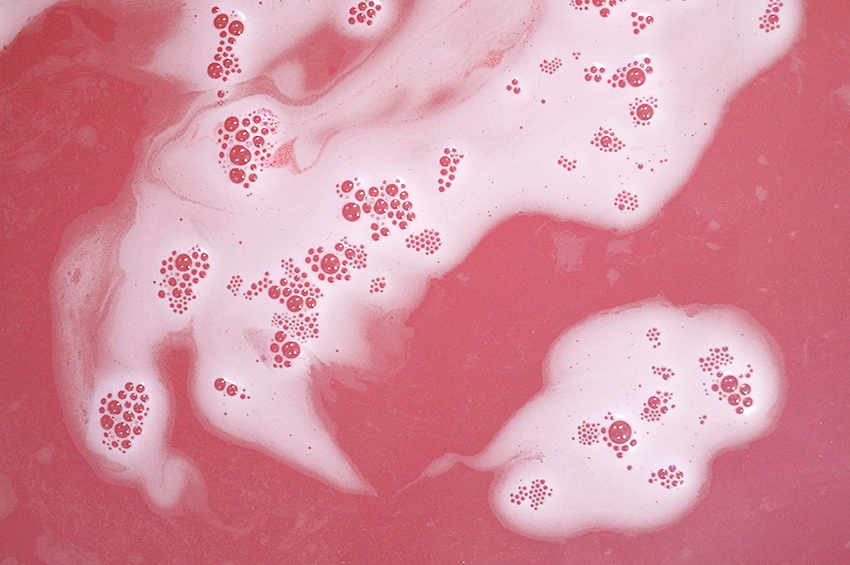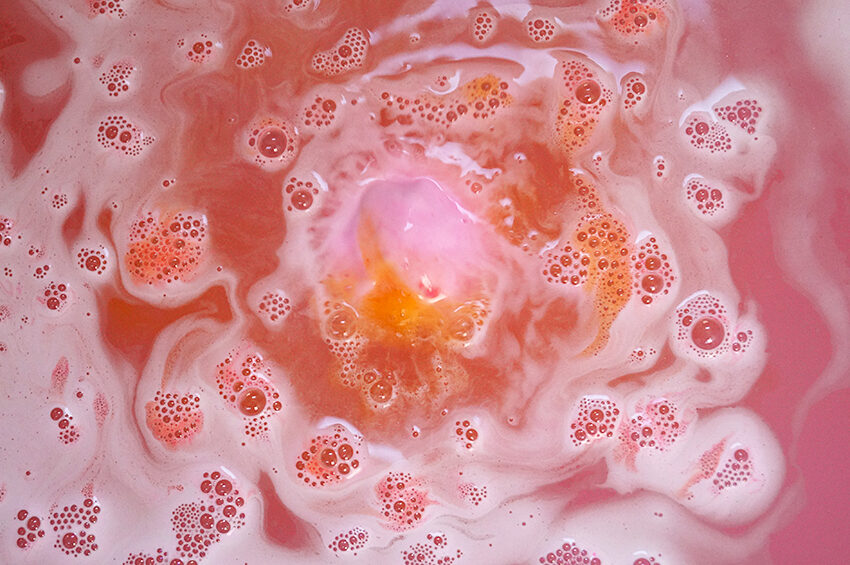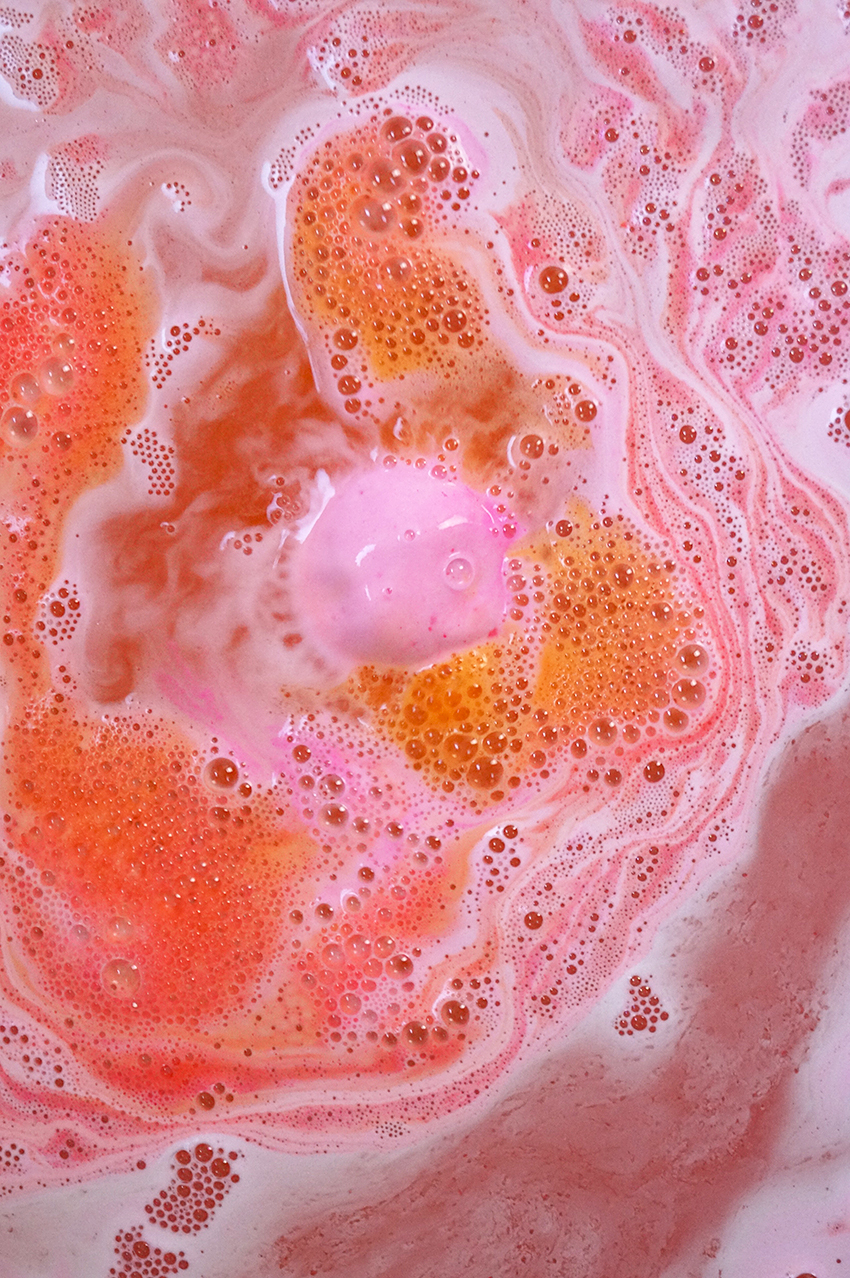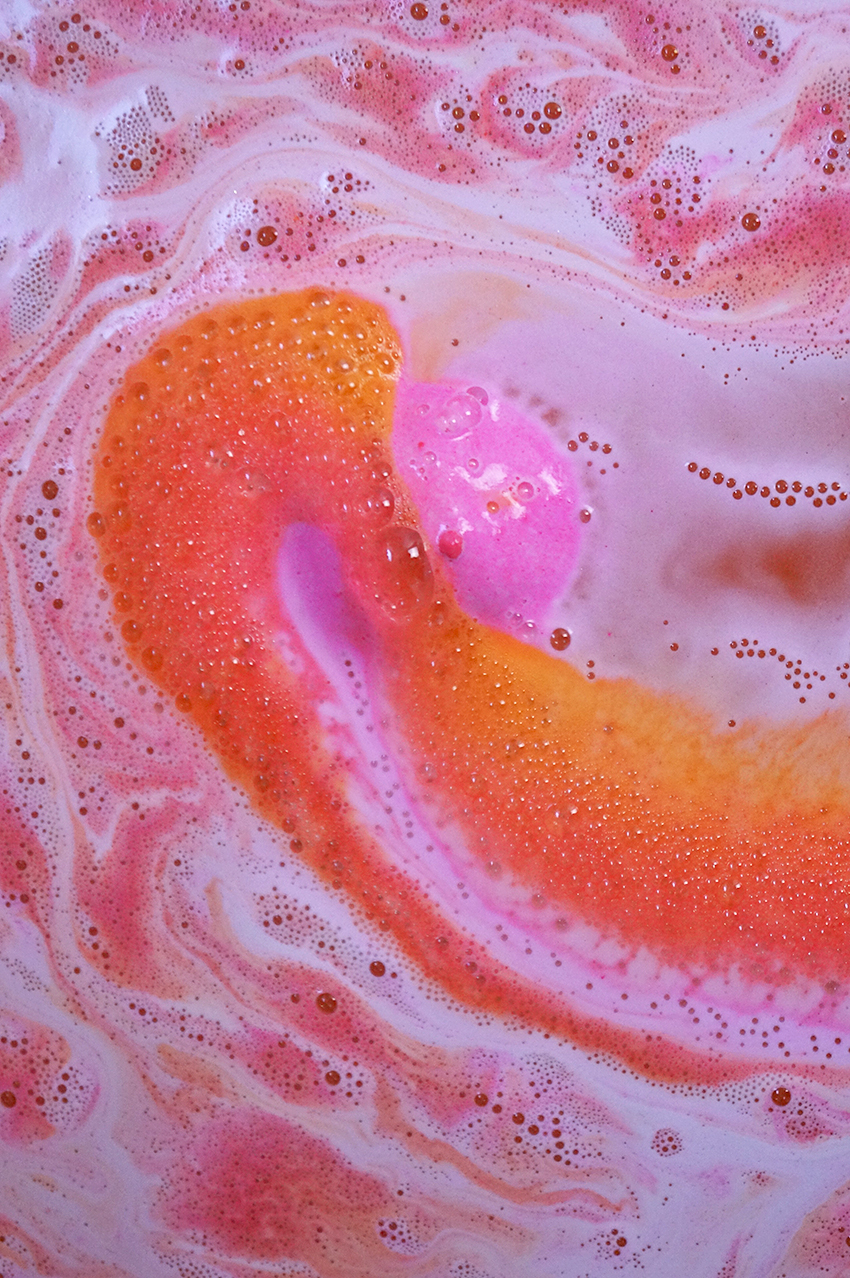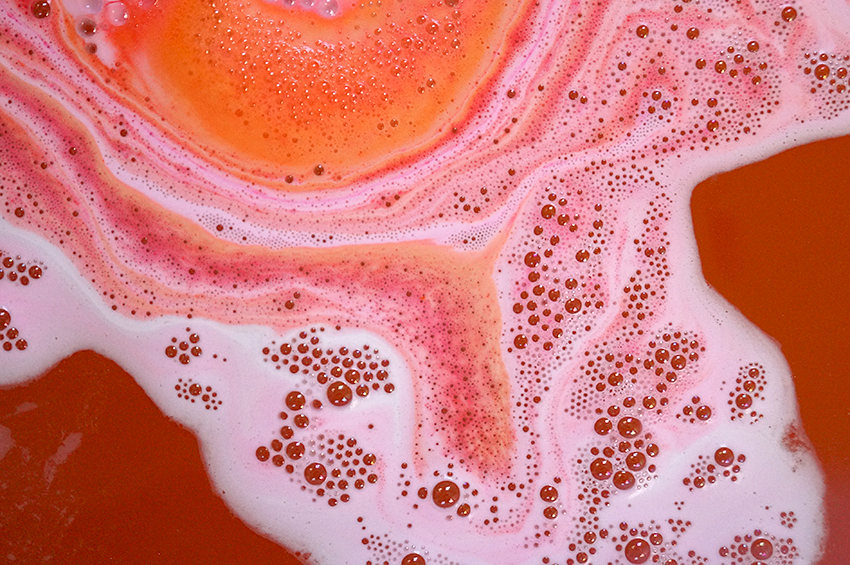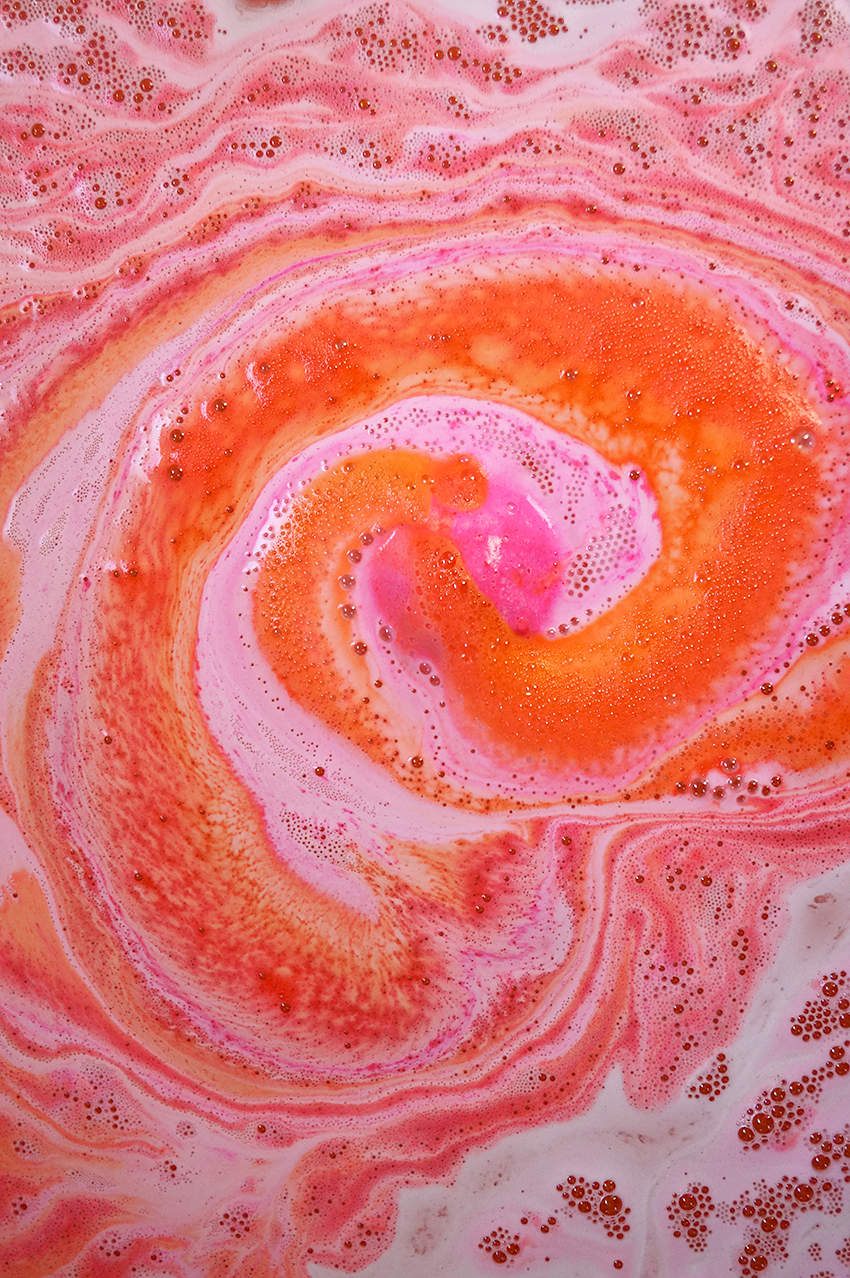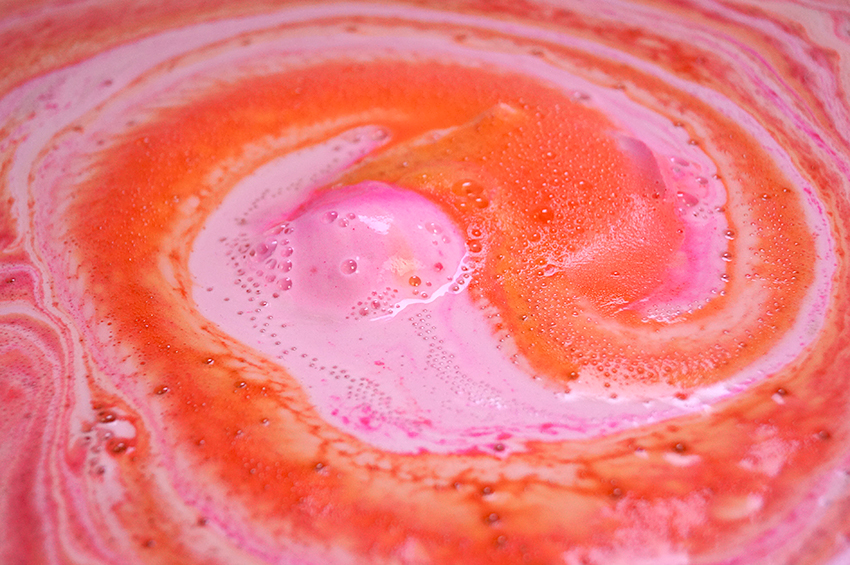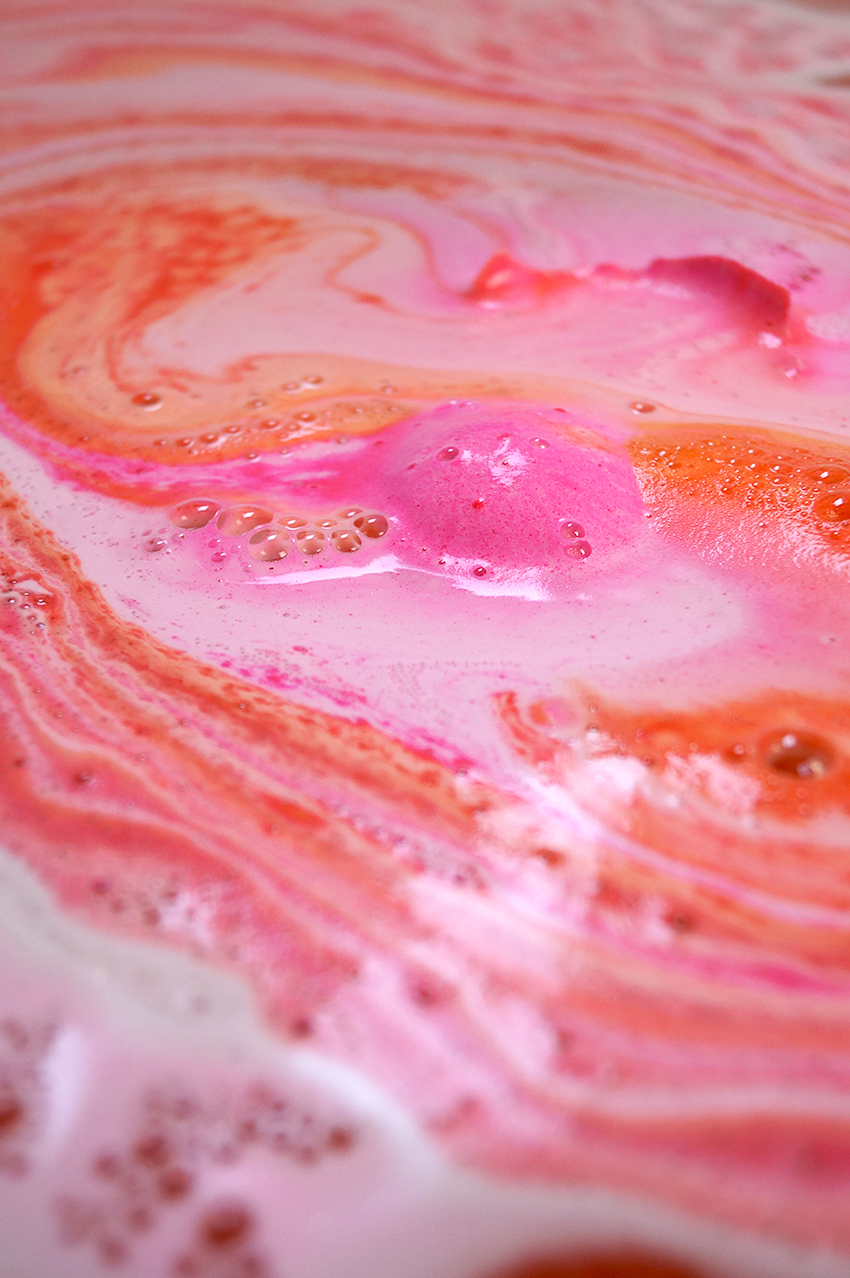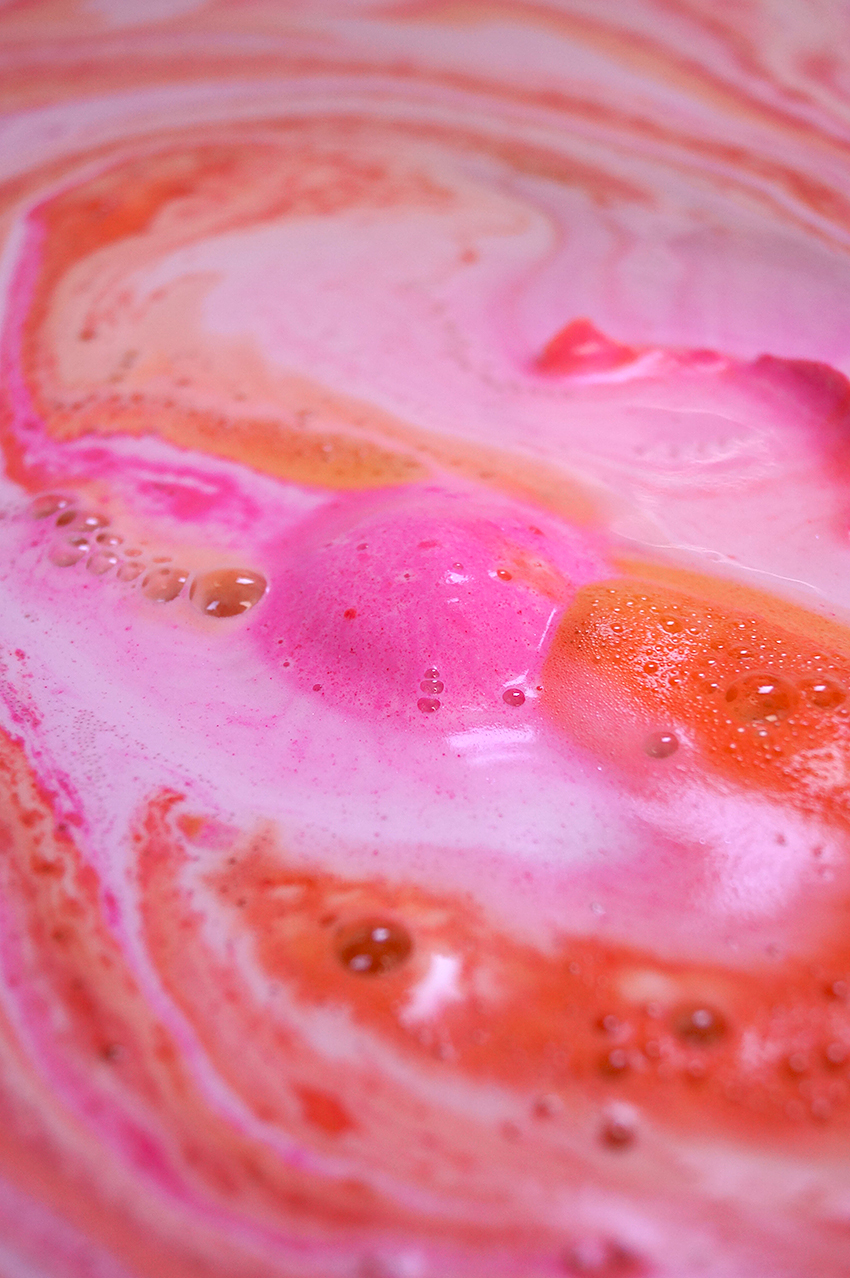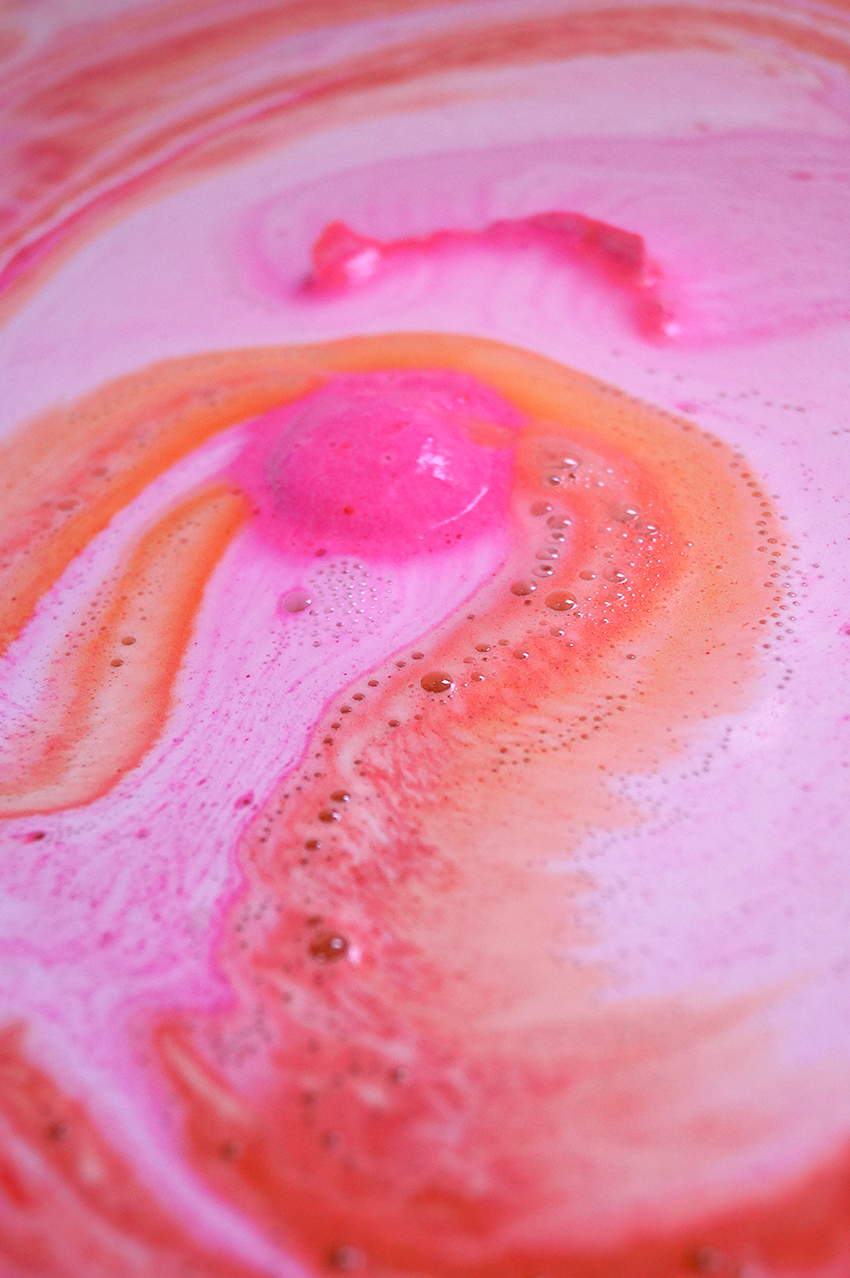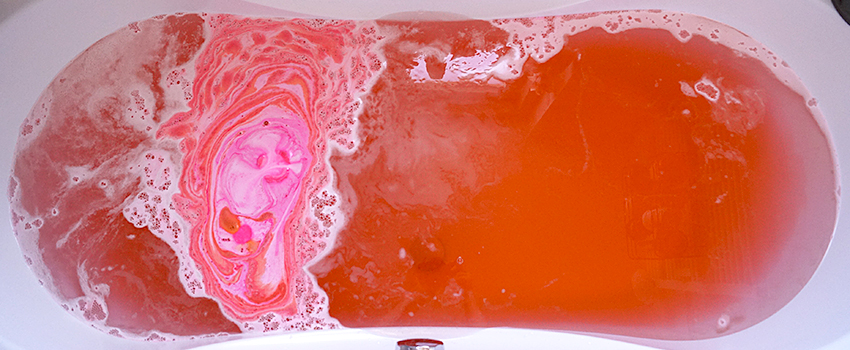 What do I think?
Oh dear, where do I start? Rose Gold has incredible bath art. It starts off with releasing pink clouds underwater, everywhere it goes. Rose Gold spins like crazy, leaving a layer of golden shimmer on the surface. After about 4 minutes the orange center is in sight and is now is spewing trails of orange and yellow foam onto the surface. My husband, who was in the other room at the end of the hallway, could even pick up the floral scent! While the orange core is puking out its bright colors, the water changes from pink to an orange shade. Like a tangerine color, very vivid and cheerful.
There was a subtle shimmer in the water and the entire surface was decorated with bath art — making it look like a gorgeous sunset. I have to say, I'm impressed! Rose Gold doesn't only have the looks, its insides are pretty too. And seeing as this bath bomb was £4.95, I'd say it's a pretty good deal! I'll have to wait and see what the Dutch price of this bath bomb will be, because I definitely feel like stocking up a few. This is a gem and Lush did an amazing job with Rose Gold!
If you have a positive (or negative) experience with this product, feel free to share them in the comments.

Lush Rose Gold Bath Bomb costs £4.95 (England).

One Response to Review: Lush Rose Gold Bath Bomb