Review: Lush The Sleeping Giant Bombshell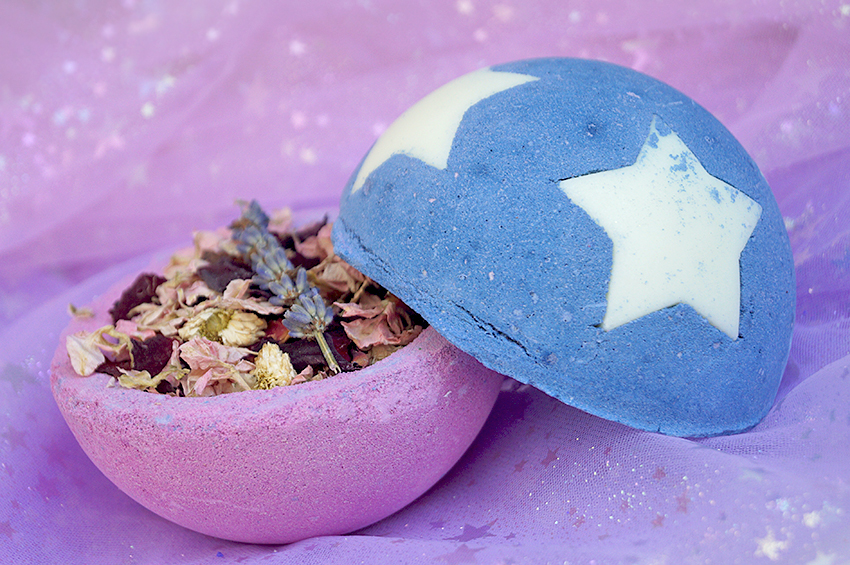 Once in a while Lush brings out extra luxurious bath bombs — the Bombshells. I LOVE these type of bath bombs, as they're c h o n k y and very luxurious. When they launched The Sleeping Giant in January, it was just a matter of time before I got my hands on one. I'm a huge Sleepy fan, so bonus points for that. Today I'm telling you all about this bath bomb!
If you're curious about this bath bomb, then keep on reading.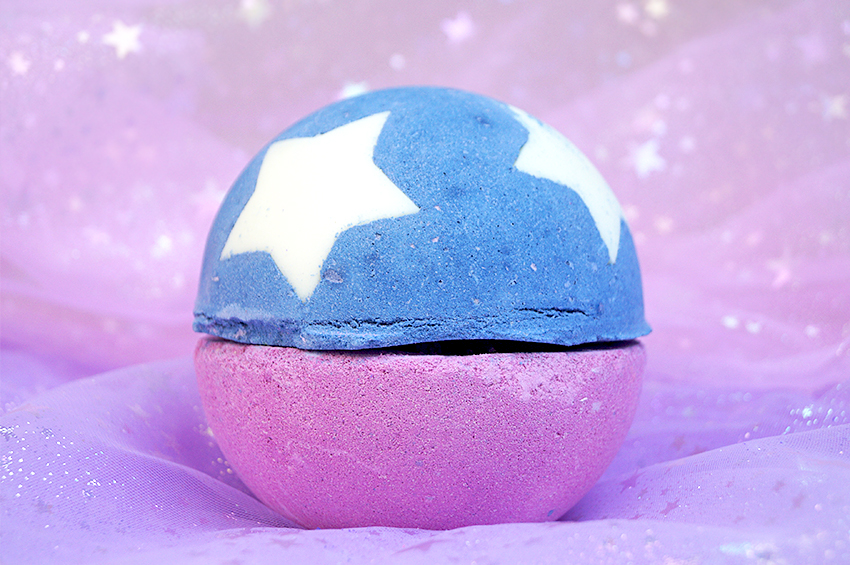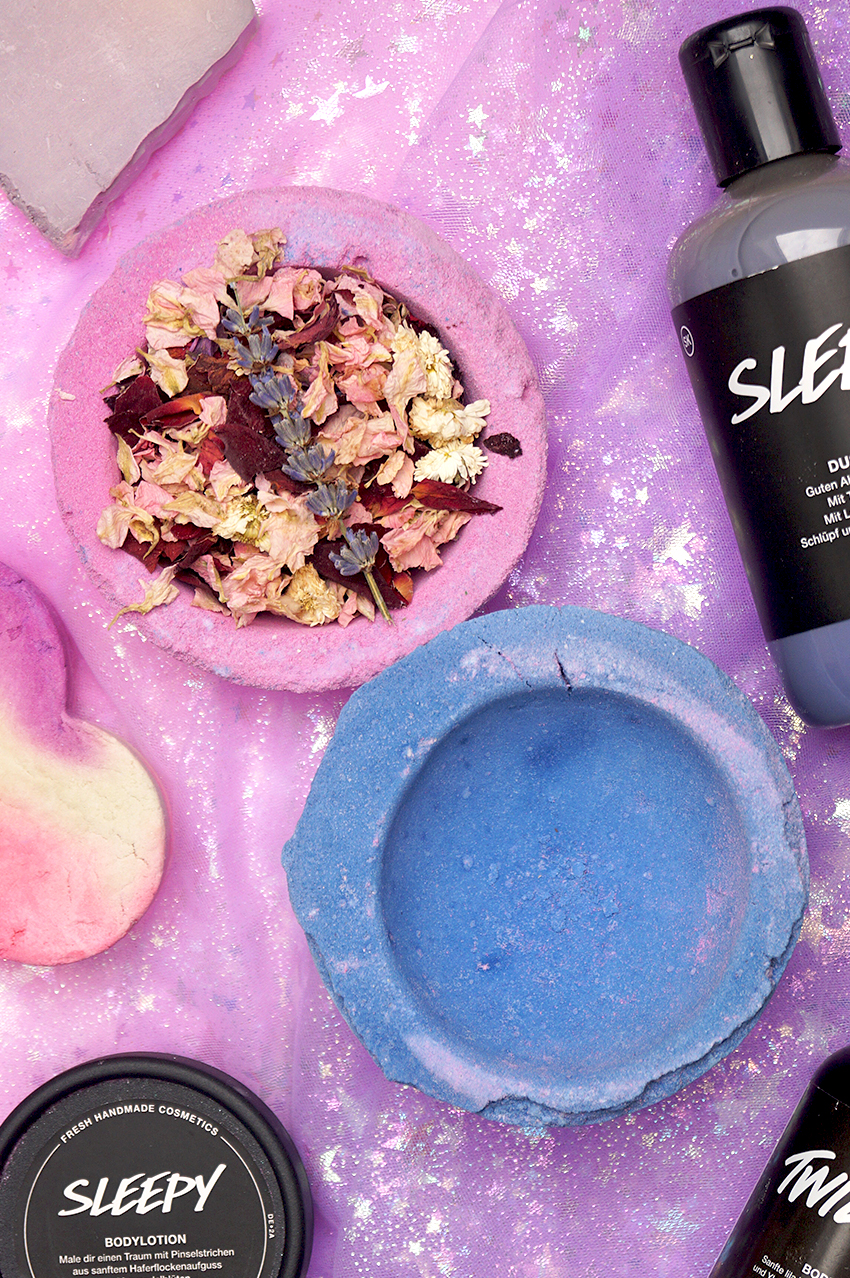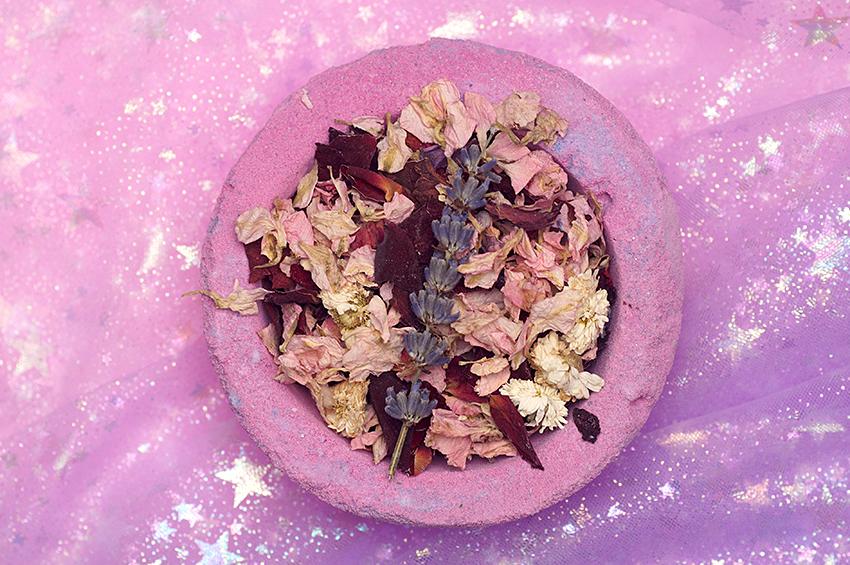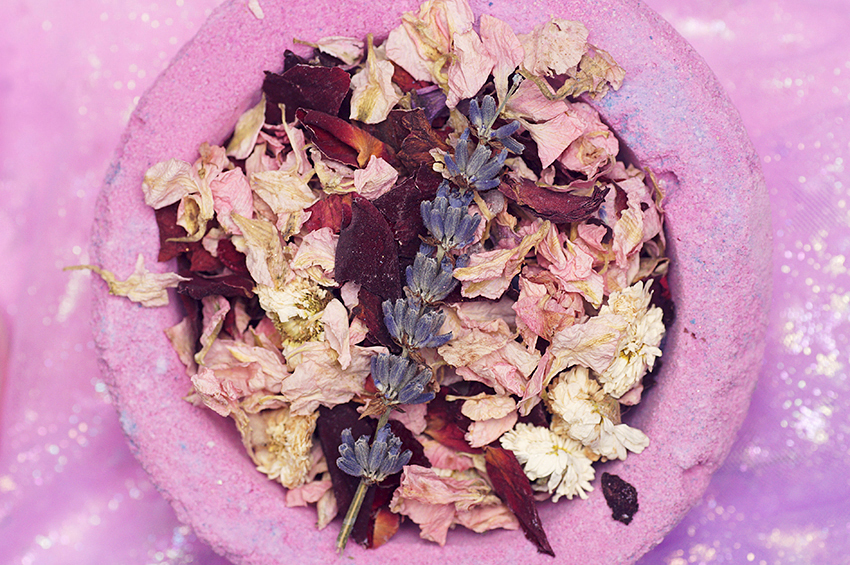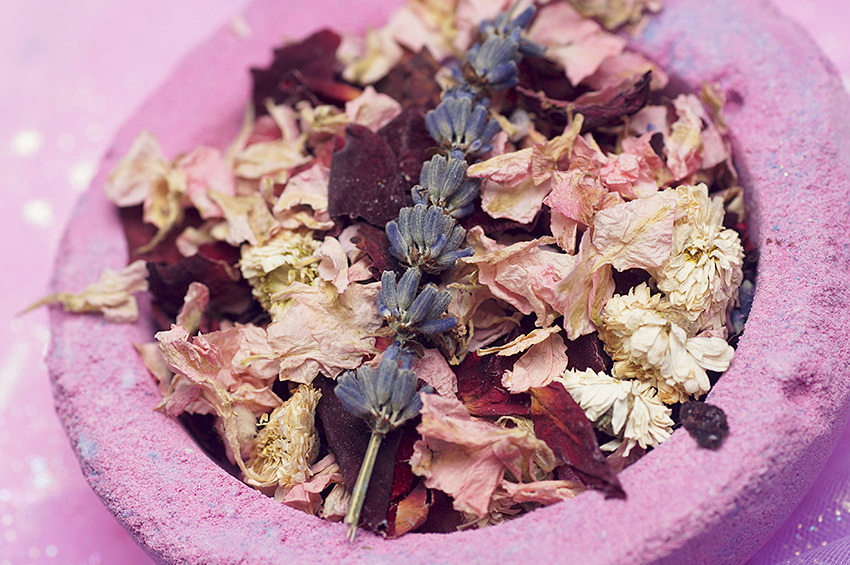 What is it?
Ingredients: Sodium Bicarbonate, Citric Acid, Soy Wax, Lavender Oil, Benzoin Resinoid, Tonka Absolute, Ylang Ylang Oil, Titanium Dioxide, Water (Aqua), Dipropylene Glycol, Luminescent Zinc Sulfide, Propylene Glycol, *Coumarin, *Linalool, Perfume, Colour 17200, Colour 42090, Colour 14700, Colour 45410:1, Dried Lavender Sprigs, Dried Rose Petals, Dried Roman Chamomile Flowers, Dried Pink Delphinium Petals, Dried Blue Mallow Flowers
Lush The Sleeping Giant Bombshell costs £14.95 and is a new bath bomb. It was introduced at the start of 2021, starting as an anchor store exclusive. Hopefully it will be available worldwide soon! This bath bomb is pretty expensive, but keep in mind that these Bombshells are a LOT bigger than regular bath bombs. They consist of two halves, with something inside. This can either be FUN (like with Stegosaurus FUN Egg) or flowers (like Lavender Giant Bombshell and Rose Bombshell Egg). Either way, I feel like you're getting the most bang for your buck. You can choose to use the entire Bombshell at once, or use one halve at a time. Sprinkle some of the contents into the bath, and save some for the next time. It's totally up to you.
The Sleeping Giant shares its scent with Sleepy — a sweet, lavender scent with a floral note, but also a sweet, warm note. Great in the evening, before bedtime. The contents are dried flowers — lavender, rose petals, chamomile flowers, delphinium petals and blue mallow flowers. There are 3 pieces of wax in the top halve — these are glow in the dark! You can keep them for decoration, how cool is that? All in all, this Bombshell looks amazing and smells amazing. I love the contents and the extra glow in the dark figures. It definitely is an exclusive, unique and luxurious bath bomb.
Play the video in 2160p quality and on full screen for the best experience! The video has been sped up.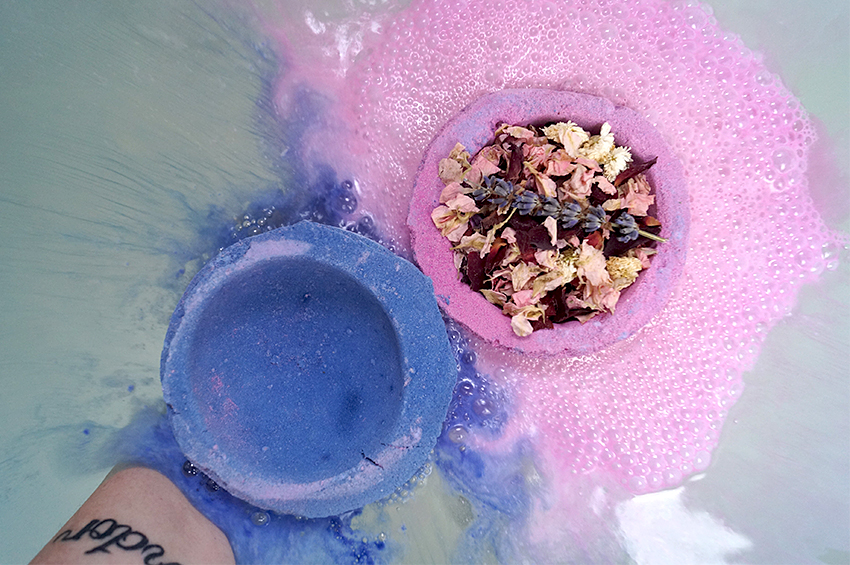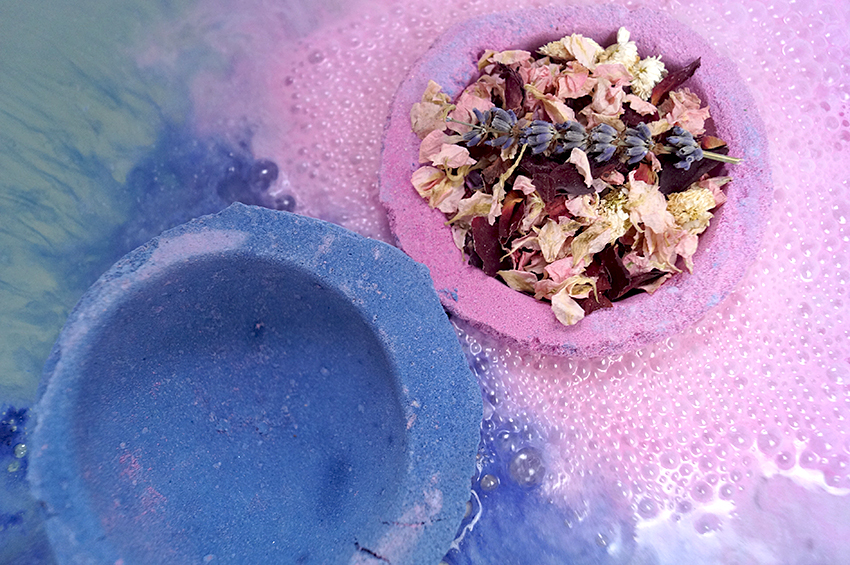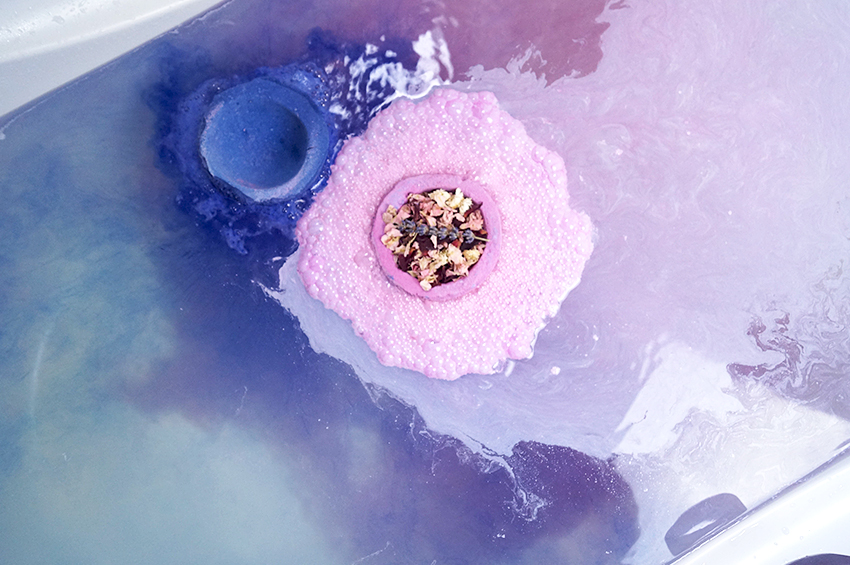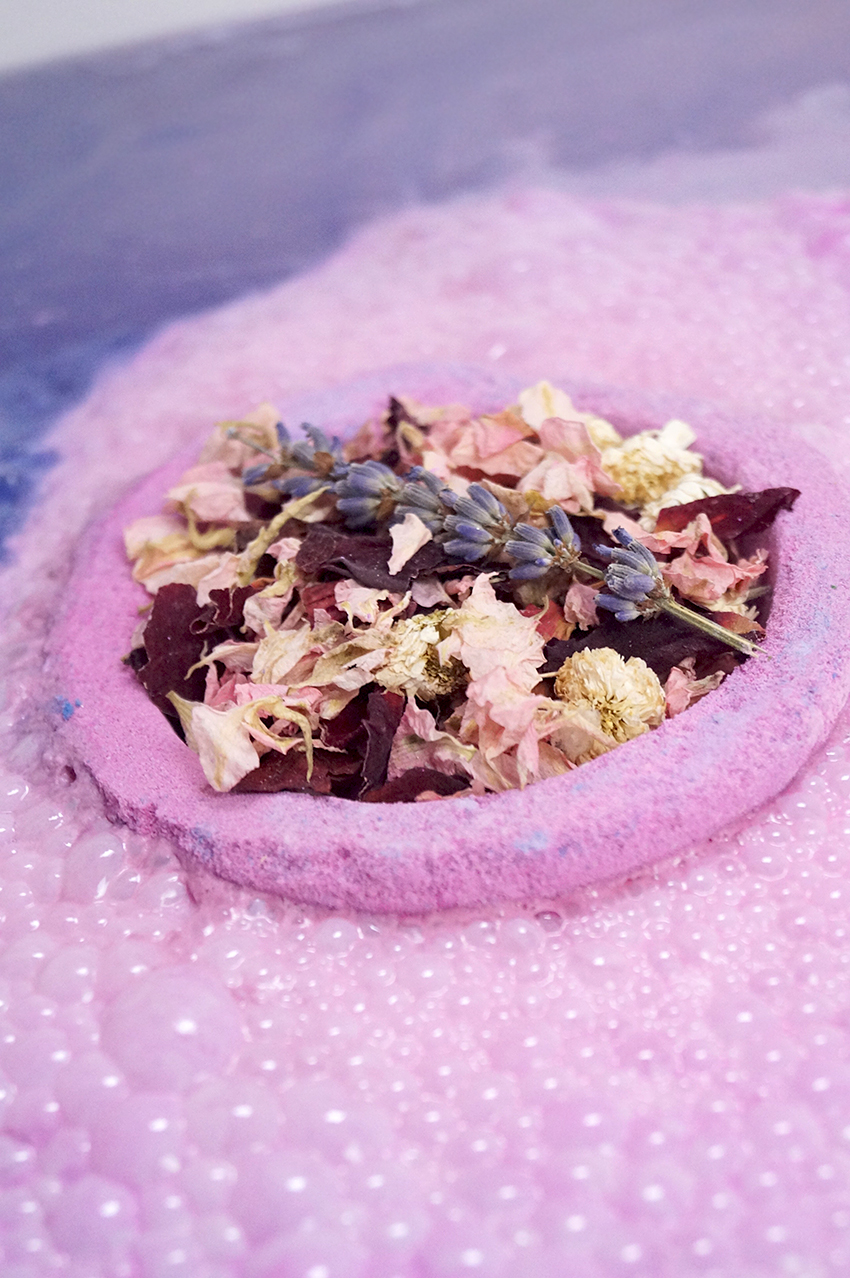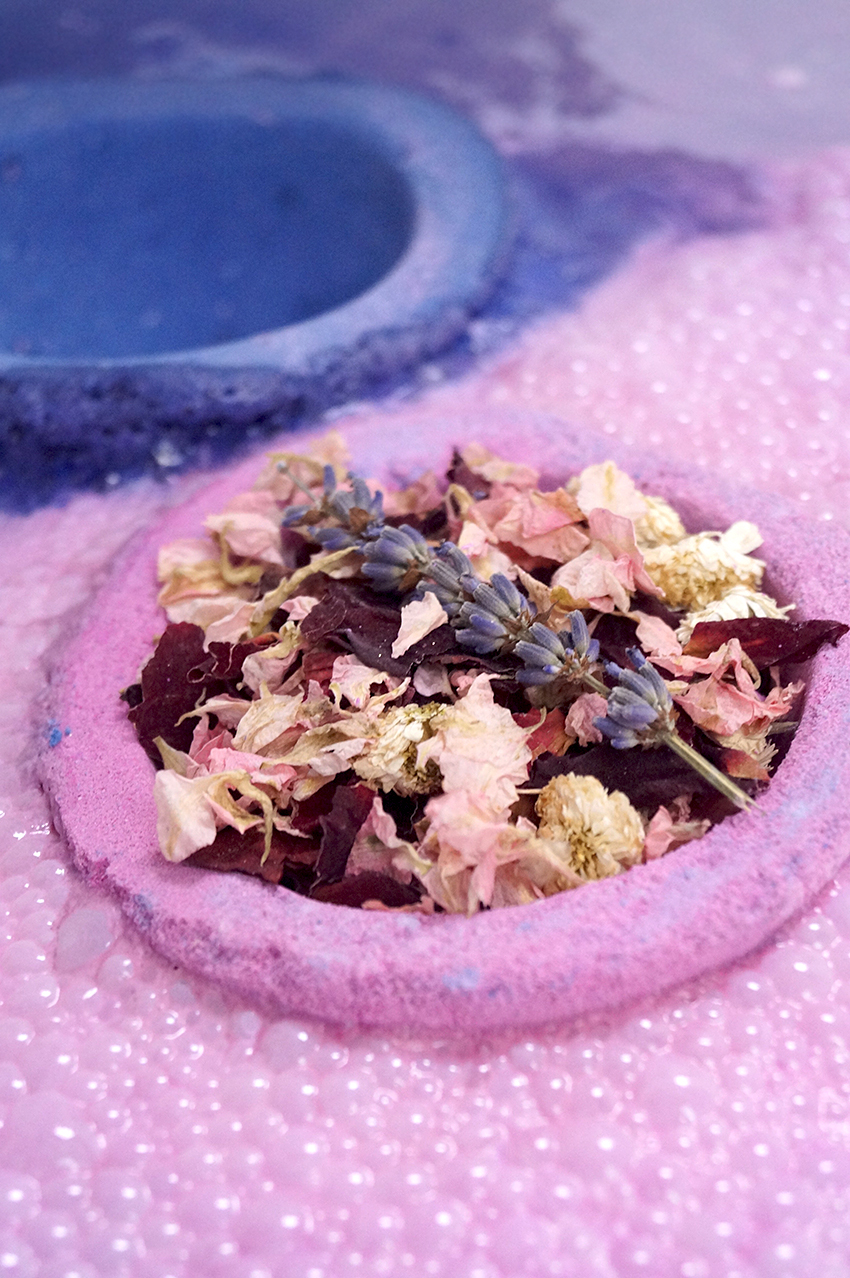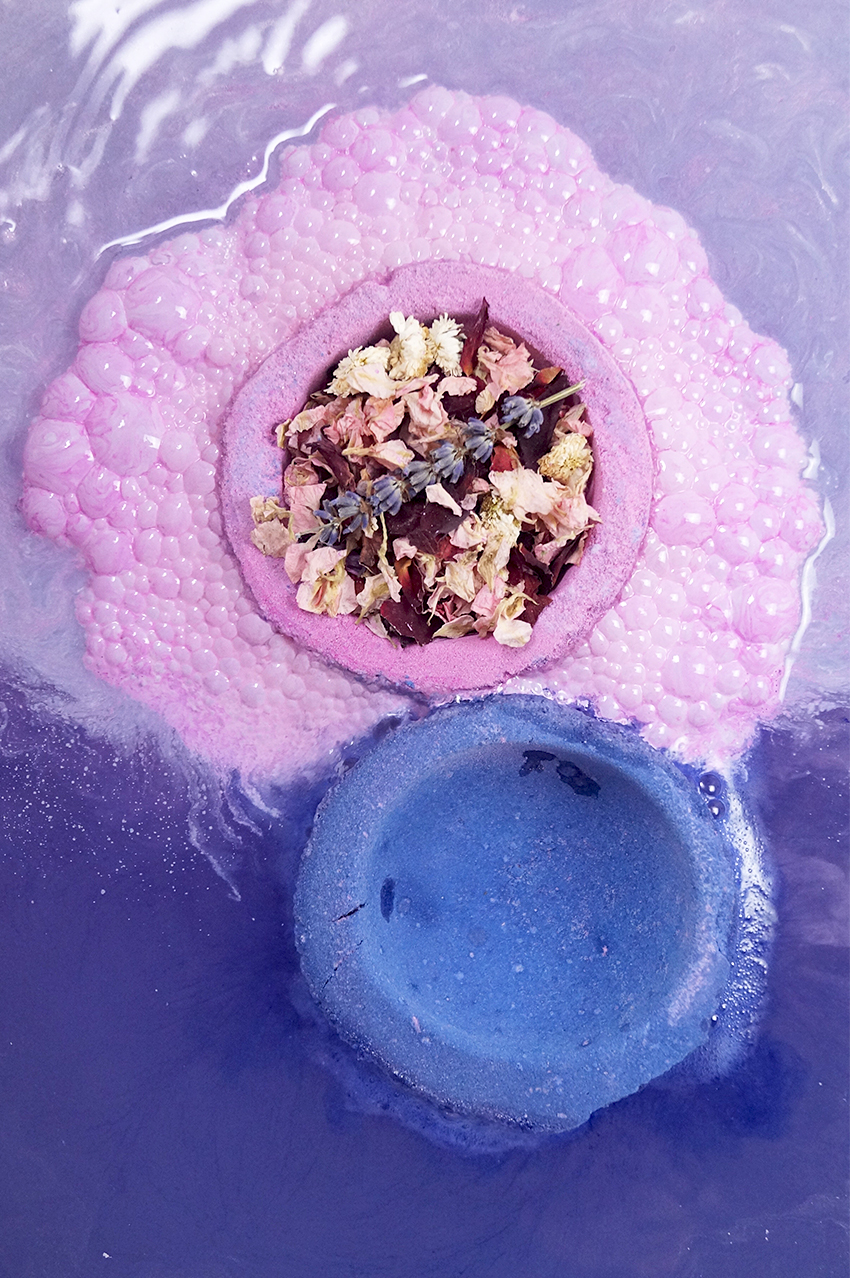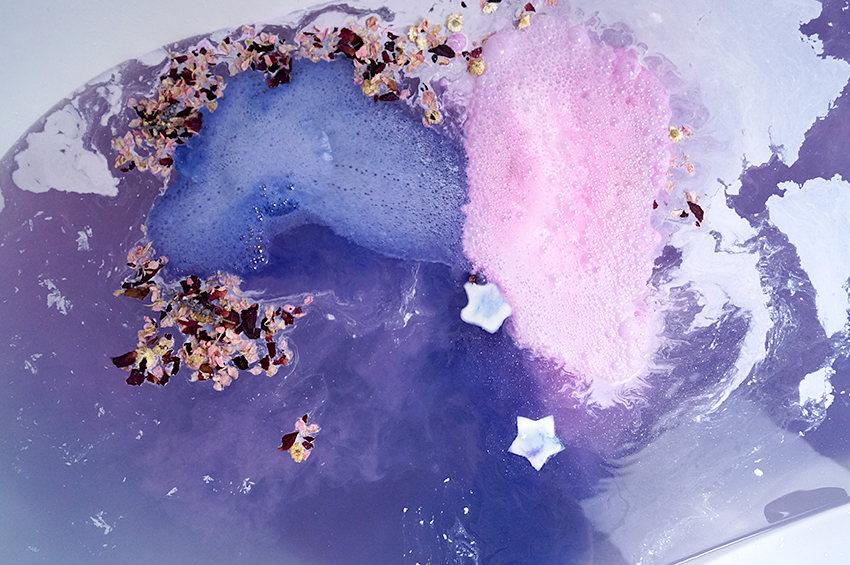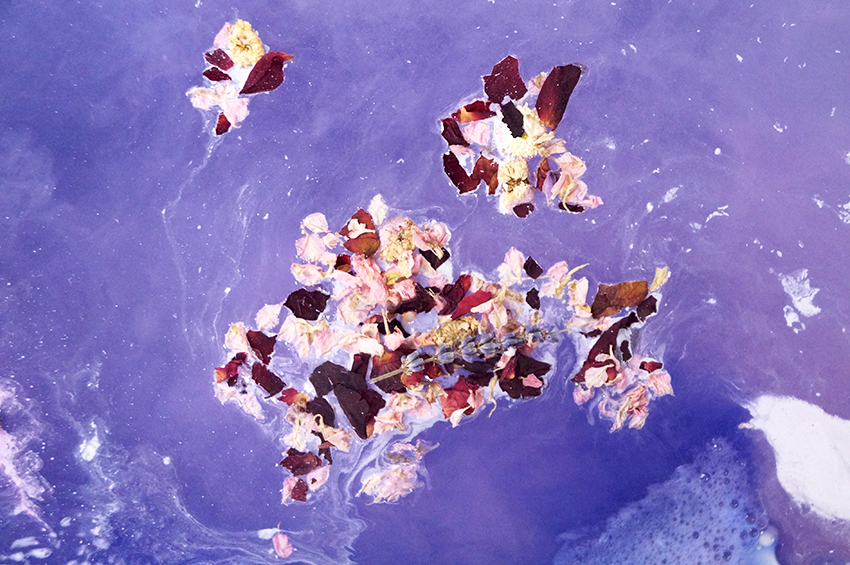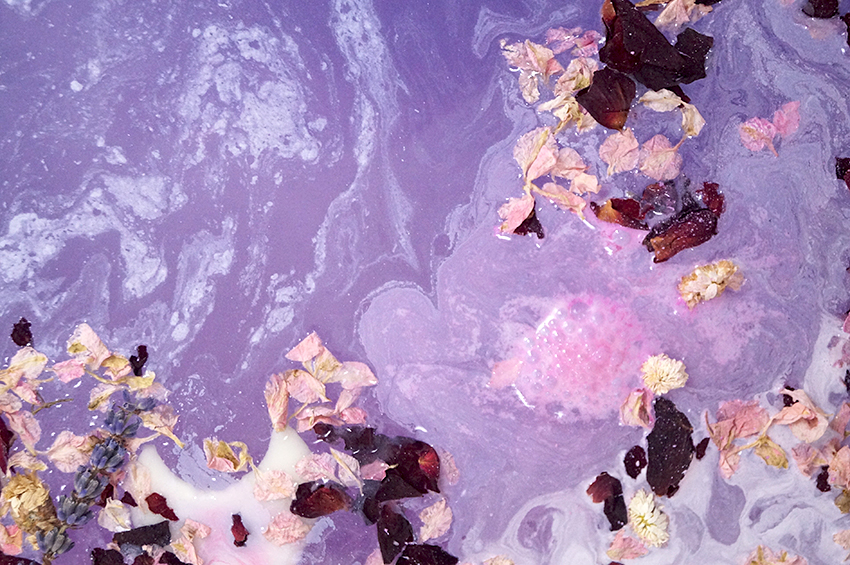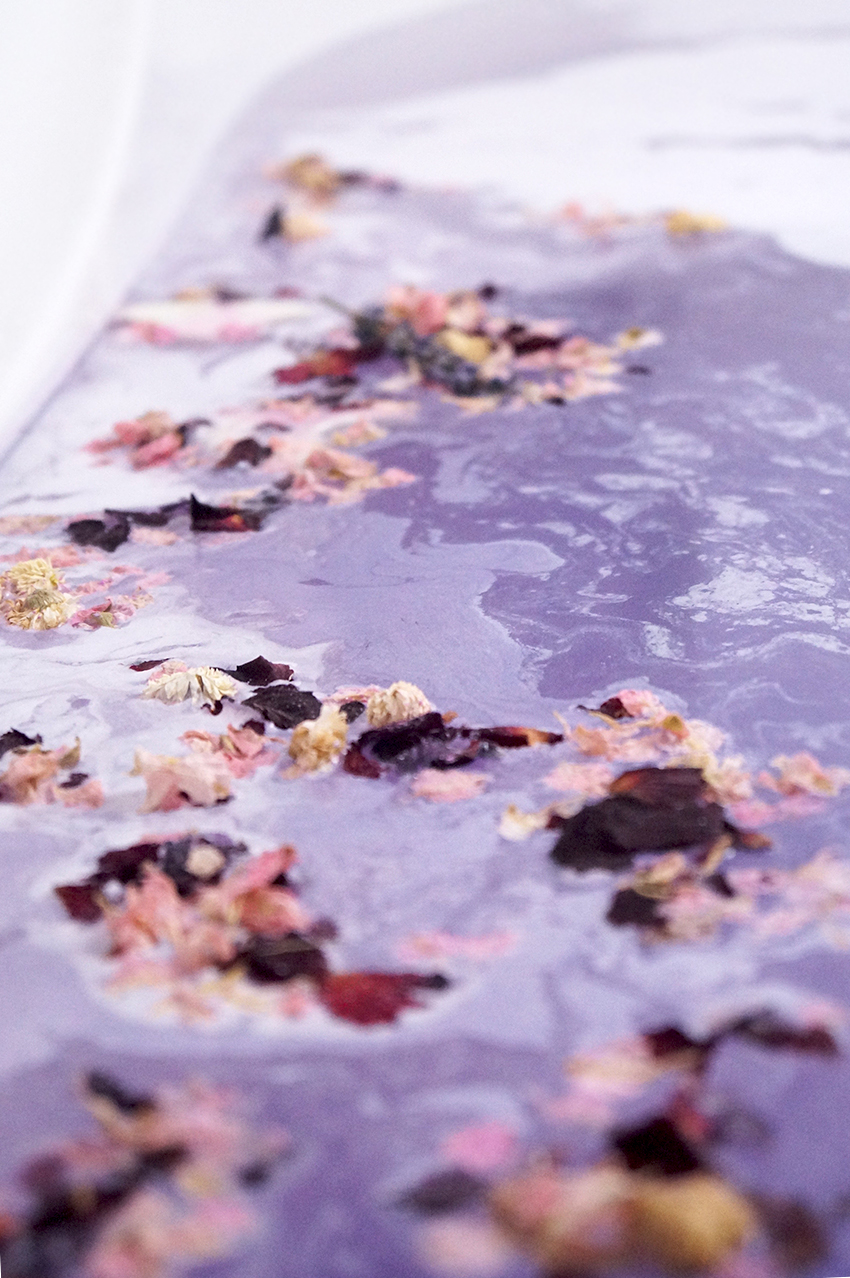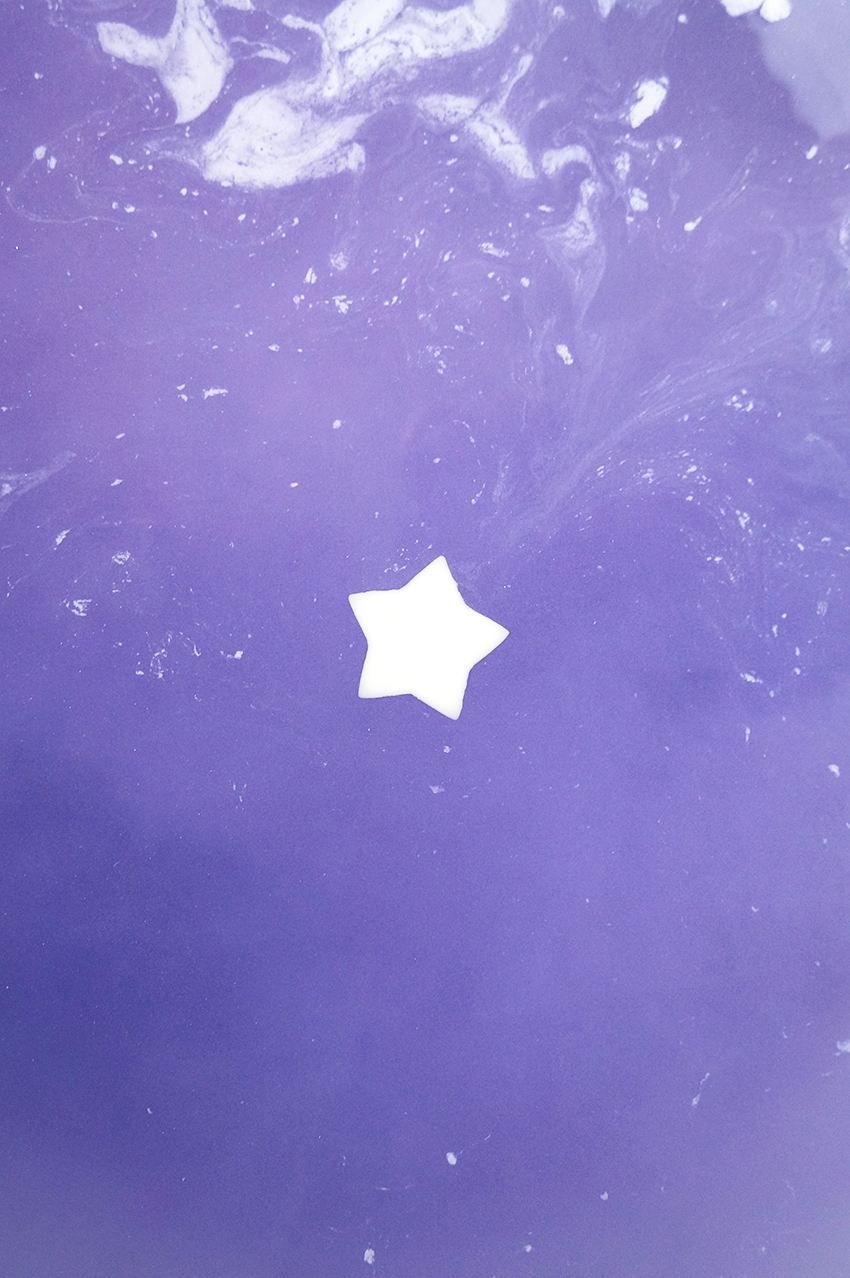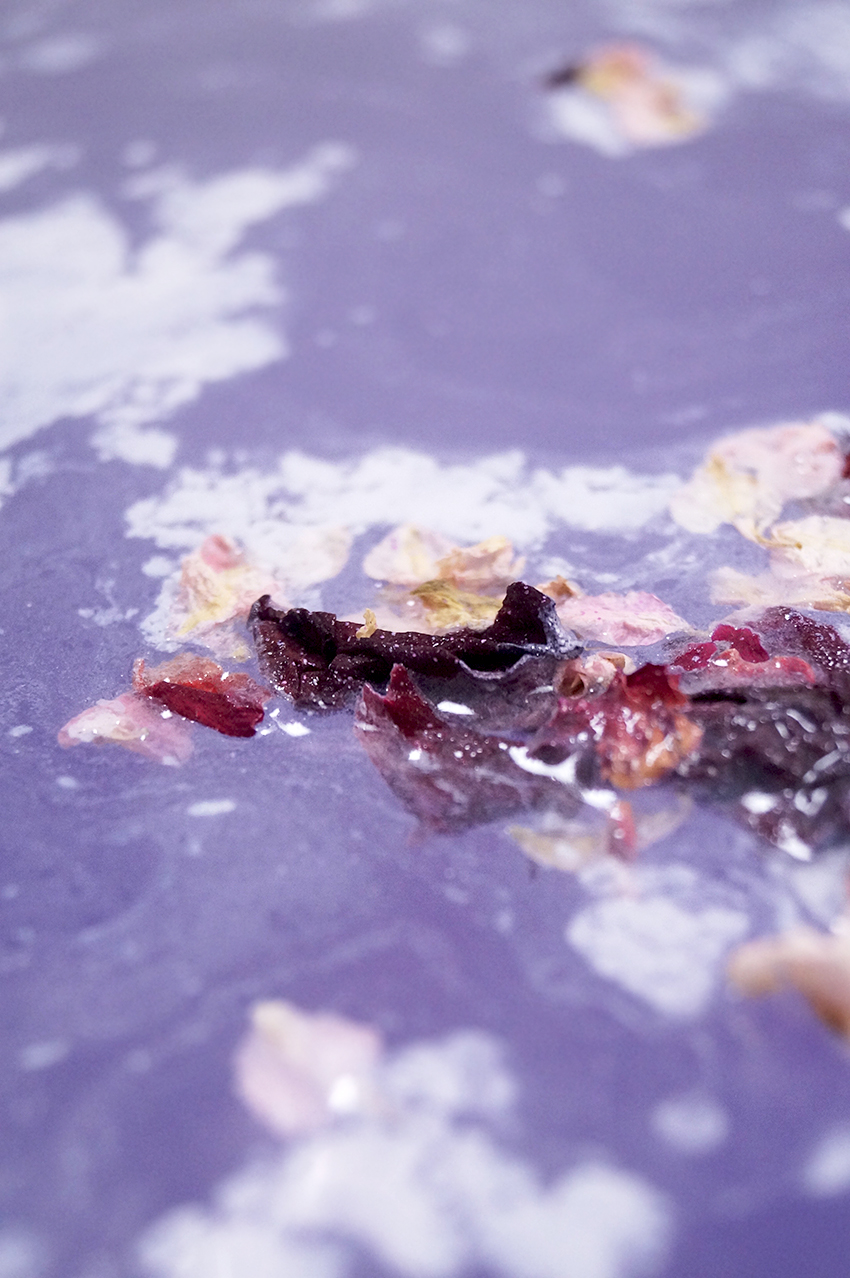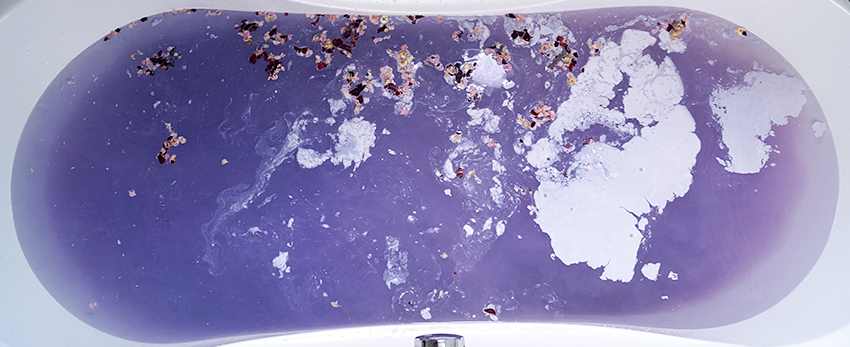 What do I think?
For the full experience I decided to use this bath bomb all at once. Believe me when I say I almost shat my pants while tripping over my softbox lamp's cord while holding this bath bomb in my hands. After my blood pressure dropped to a reasonable level and I was able to calm my nerves, it was time drop this bath bomb into the water. Immediately, both halves starting fizzing and foaming like crazy! The pink halve produced a LOT of milky bubbles, which kinda looked disgusting. The color of the water was both purple and pink, eventually blending into a gorgeous lavender color. There was a loud fizzing, and suddenly the pink halve submerged, leaving behind the dried contents on the surface. They started floating in every direction, encountering the milky puddles and wax figures. A beautiful sight, without hesitation one of the prettiest bath art ever. The water looked so pretty, but also soothing and hydrating because of the milky layer atop.
Once in the water, I didn't ever want to leave this tub. The water was gorgeous, soft and soothing — the milky layers hydrated my skin a little bit, but also made my skin feel very soft. The scent was STRONG! I mean, after 10 minutes I started yawning like crazy, I could feel myself getting tired and drowsy. The calming scent of lavender, which I really needed after tripping while holding this £15 bath bomb, was present throughout bathing — even long after! I went to take a nap afterwards (I took this bath at noon) and I fell asleep very quickly. Did the lavender scent do its job? I'd like to think so!
The only downside were the floating flowers and petals. Yes, it's gorgeous to see. No, it's not convenient having to pluck them from your butt crack after bathing. I think I shat rose petals for days after that bath. They were even in my hair. They were EVERYWHERE. So a piece of advice: shower after using this bath bomb. Thank me later.
Would I buy this bath bomb again? I think I just might treat myself another time with this bath bomb. It was stunning — the bath art, the water, the scent, my skin afterwards. If you're a huge Sleepy fan, I say: treat yo self. But also if you're going through things, or even if you just want to treat yourself to something — buy this bath bomb. You DESERVE it. Every aspect of this bath bomb — even the lavender sprigs between the cheeks of your butt — will make you feel decadent and luxurious AF.
If you have a positive (or negative) experience with this product, feel free to share them in the comments!

Lush The Sleeping Giant Bombshell costs £14.95 (England).

2 Responses to Review: Lush The Sleeping Giant Bombshell