Review: Lush Jingle Bells Bath Bomb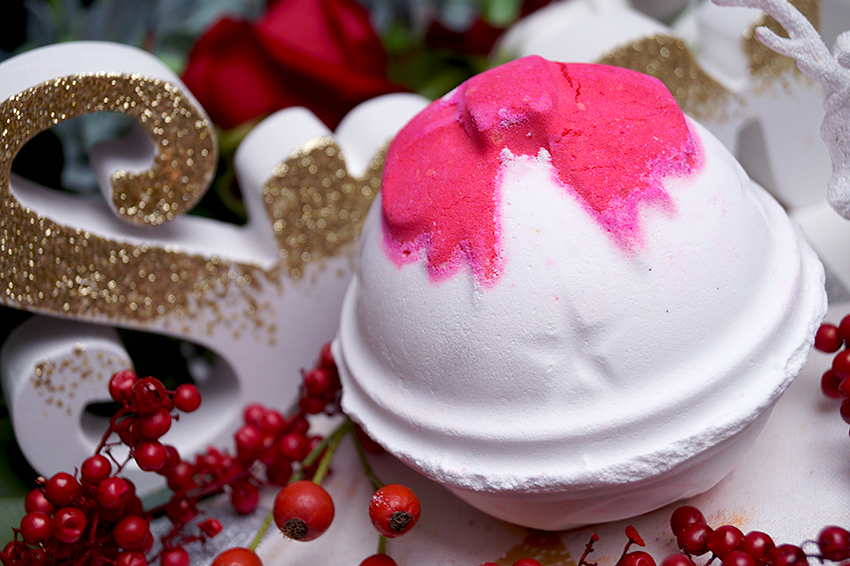 When I heard of the Amazeballs, I wasn't blown away, to be honest. Until I saw Jingle Bells in real life! This massive, white with pink bath bomb struck me with a very familiar scent. When the Lush employee held the bath bomb next to my ear and gave it a good shake, I could hear there was something inside this bath bomb. Oooh, what could it be? Little stars? Sea salt? Someone's soul? You never know with Lush. So, curious as I am, I took this bath bomb home with me. And today I'll tell you all about it!
If you're curious about this bath bomb, then keep on reading.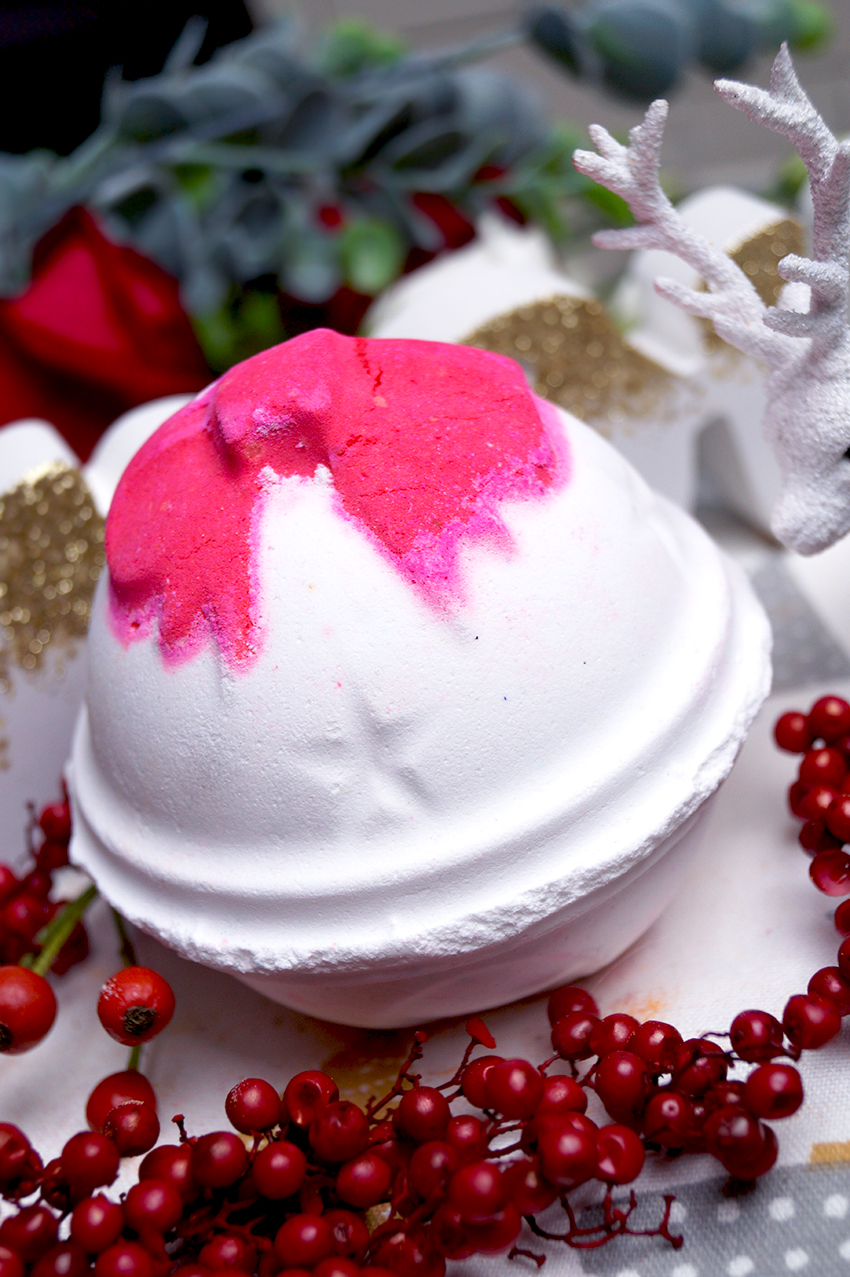 What is it?
Ingredients: Sodium Bicarbonate, Citric Acid, Coarse Sea Salt, Rice Starch, Titanium Dioxide, Perfume, Brazilian Orange Oil, Patchouli Oil, Water (Aqua), Dipropylene Glycol, Disodium Lauryl Sulfosuccinate, Cocamidopropyl Betaine, Propylene Glycol, Amyl Cinnamal, Benzyl Salicylate, Butylphenyl Methylpropional, Citronellol, Geraniol, Hexyl Cinnamal, Hydroxycitronellal, *Limonene, *Linalool, Colour 14700, Colour 42090, Colour 45410:1
Lush Jingle Bells Bath Bomb costs £6.50 and is part of the Christmas range. Jingle Bells is said to be an Amazeball, but unlike the other Amazeballs, this one doesn't have a cap on top. It's a hollow bath bomb, but when you give it a good shake, you can hear there's stuff in side! I like the looks of Jingle Bells, it's simply and elegant, yet it's a LOT bigger than the average bath bomb. It looks very promising, that's for sure!
Jingle Bells contains coarse sea salt (that's whats inside — blue salt crystals!), which ensures a soft, clean skin and stimulates blood circulation. It also contains Brazilian orange oil and patchouli oil. The scent of Jingle Bells wasn't what I expected — it shares its scent with Milky Bar soap, Milky Bath bubble bar and Aqua Marina facial cleanser. I always found Aqua Marina smelling of seaweed (no wonder when there's three kinds of seaweed in it), but I think both Milky products are softer and lighter in terms of the scent. With Jingle Bells, the patchouli really stands out. It's a strong, floral scent with some warm and woody layers. I reminds me a LOT of Karma. I don't really smell the orange oil in it. It's such an unique and characteristic scent, and I can't help but think of seaweed when I smell it. Regardless, I really love the scent.
Unfortunately, I don't have a video of this bath bomb. I forgot to press Record before throwing the bath bomb into the bath.. 🤦🏻‍♀️ When I've bought another one, I'll be sure to record that one and upload it here!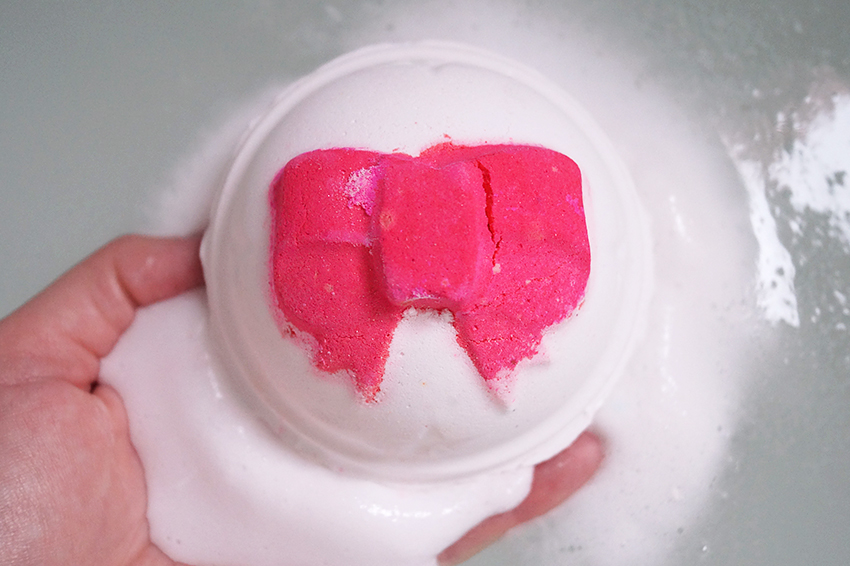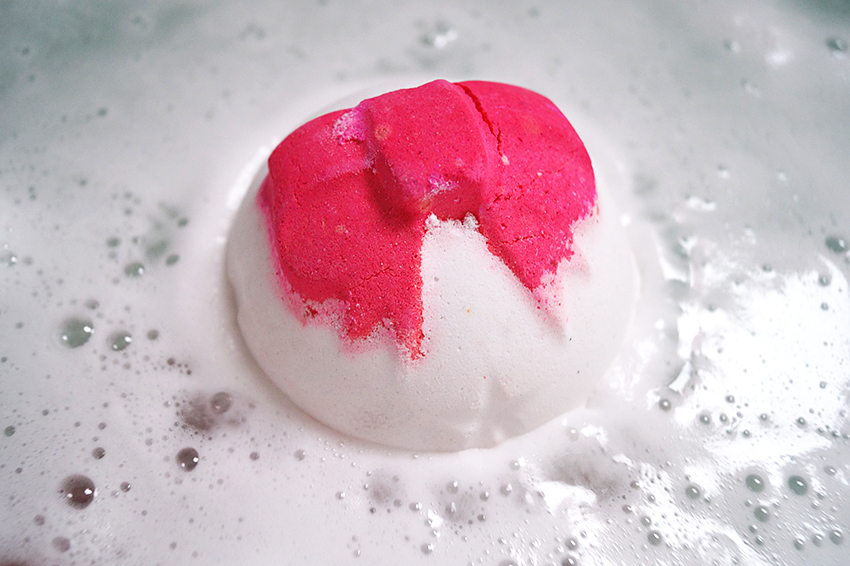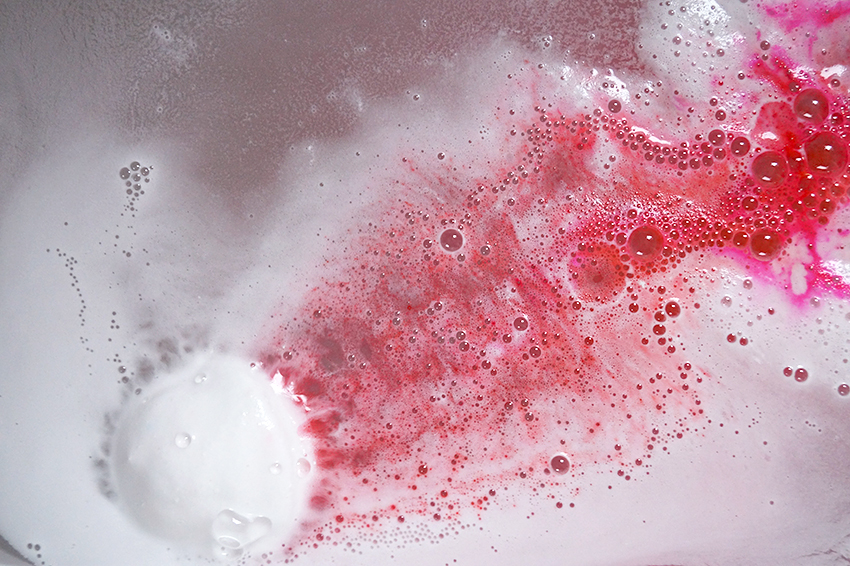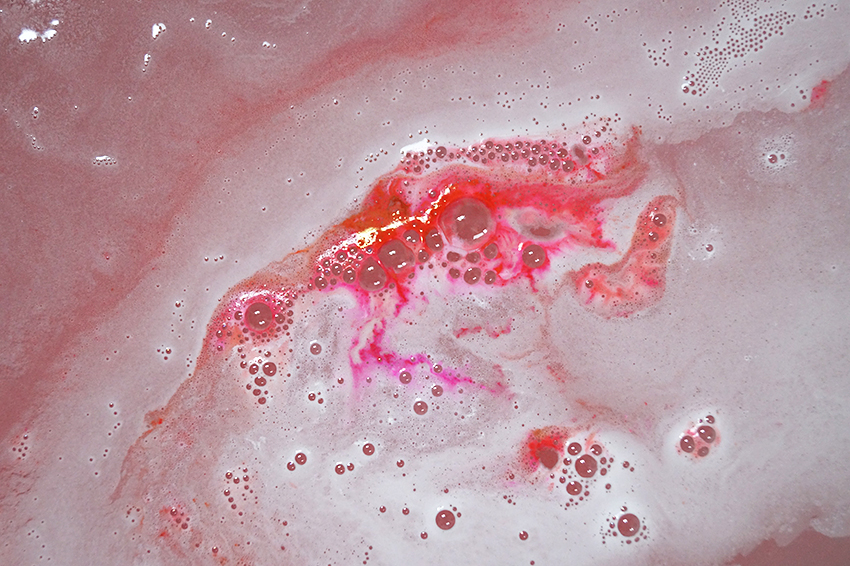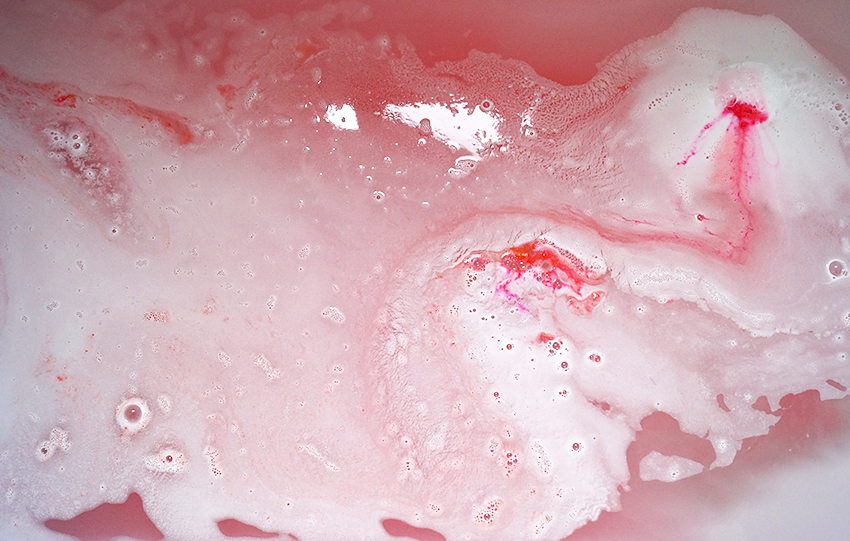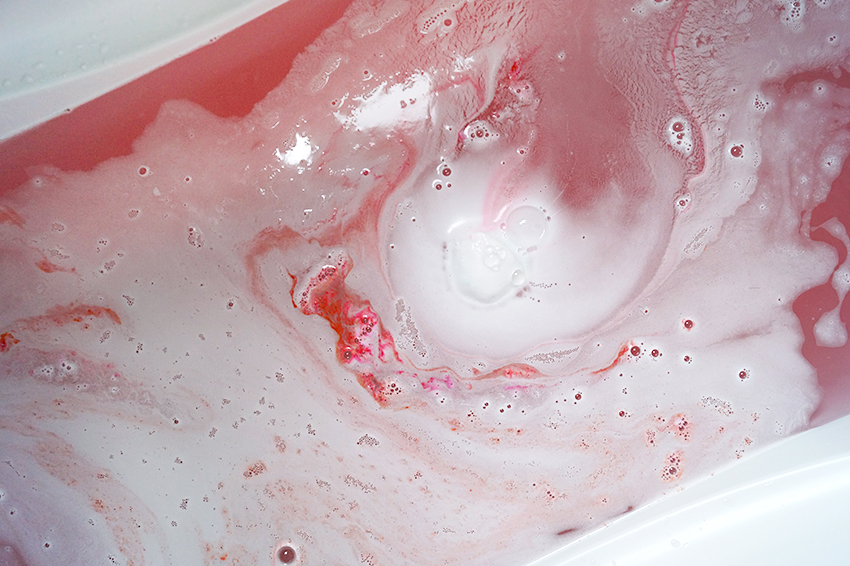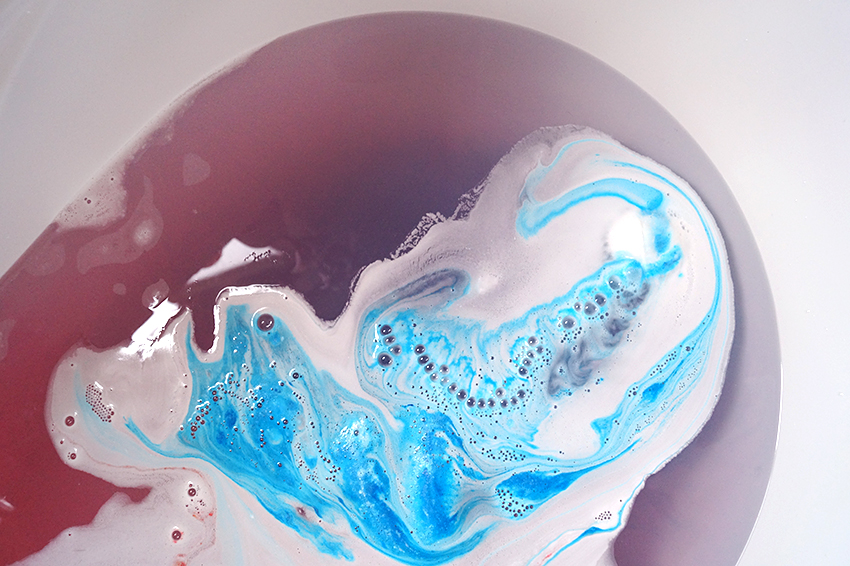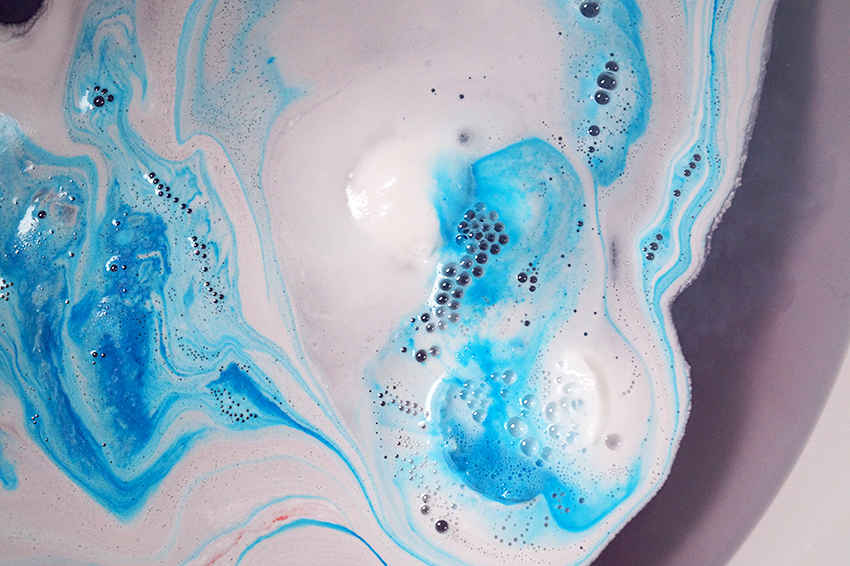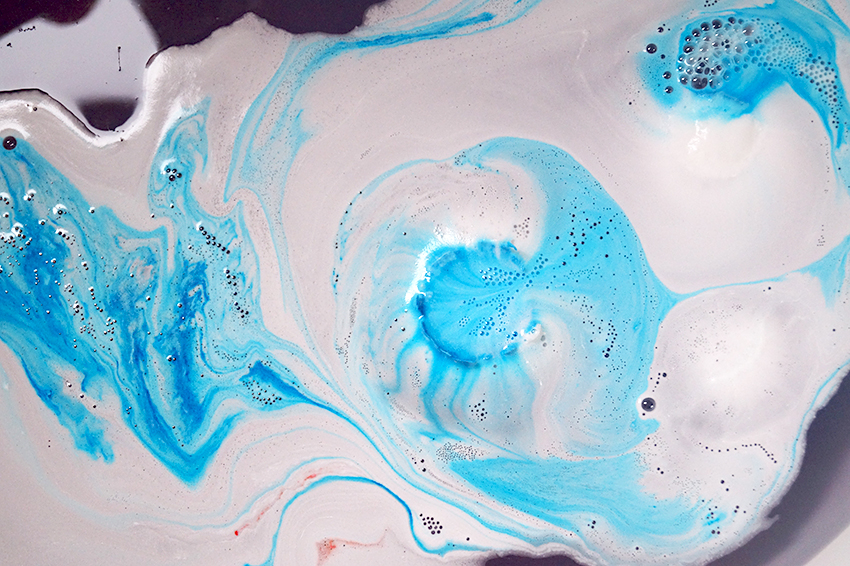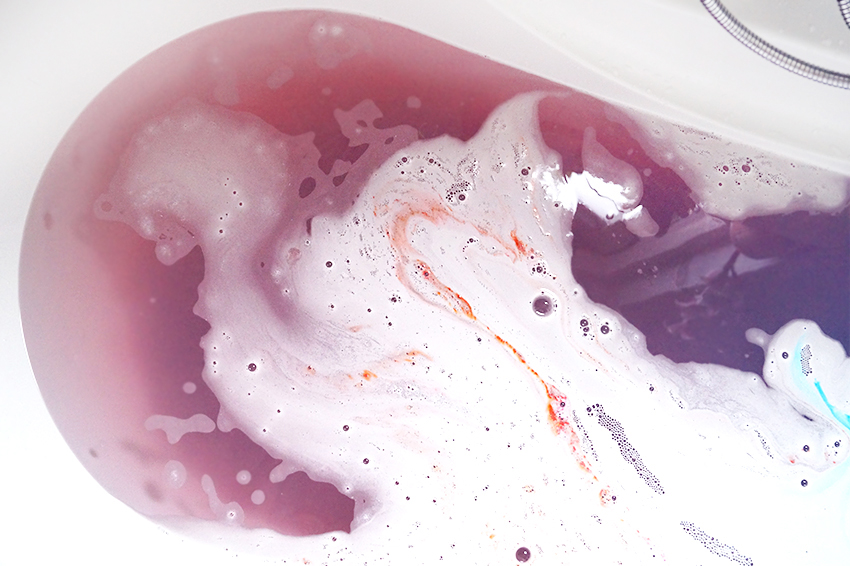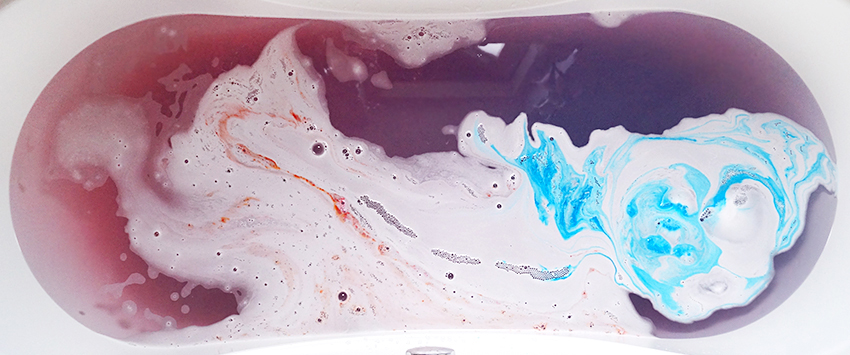 What do I think?
When I lower the bath bomb into the water, a white, thick froth is created. When I let go of the bath bomb, it bobs easily through the water, spewing out streams of bright red colors onto the surface. Here and there I spot some pink swirls, covered in a layer of holographic shine. How FREAKIN' awesome. Below the surface, the water transforms into a deep pink, almost red color. After a good 5 minutes, the bath bomb spews out bright blue streams. The blue gradually blends with the pink water, so that one side of the bath has a purple shade of water, and the other side of the bath is still pink. The bath looks like a gorgeous gradient by now. And the deeper to the bottom, the darker the colours get. What an amazing bath art. Eventually the water has a opaque purple/blue shade with tiny silver lustre under the surface.
The scent did not leave my side while bathing. It filled the entire bathroom, and even hours after bathing I could still smell the scent in the bathroom. On my skin I could also smell it for at least 2 hours — which is rare! My skin also felt softer and more smooth afterwards. This bath bomb surprised me a LOT in terms of effects and scent. I'm 100% going to buy more of these. Hell, I'm even gonna stock up on them. Jingle Bells is a bath bomb that meets all my expectations. I'm in love. More of these quality bath bombs, please!

Lush Jingle Bells Bath Bomb costs £6.50 (England).