Review: Lush Twilight Bubble Bar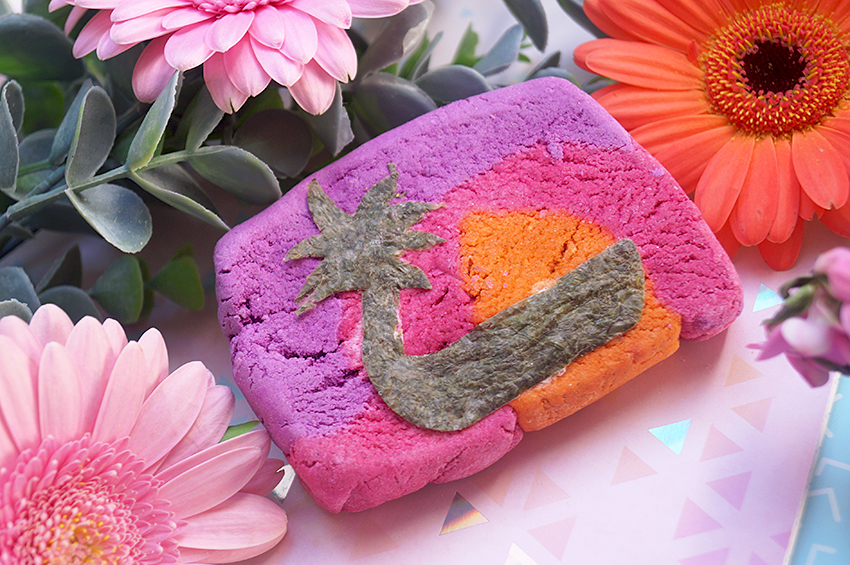 When @pistashiba asked me what bubble bars I wanted from the Harajuku launch, it was inevitable that I'd go for Twilight bubble bar. Together with Mrs Whippy, these two were my most wanted bubble bars. I'm a huge lavender fan, and who could possibly resist this gorgeous bubble bar? I had much fun photographing this stunner, but after having drooled over its appearance for weeks, it was time to break it in half and use it in the tub.
If you're curious about this bubble bar, then keep on reading.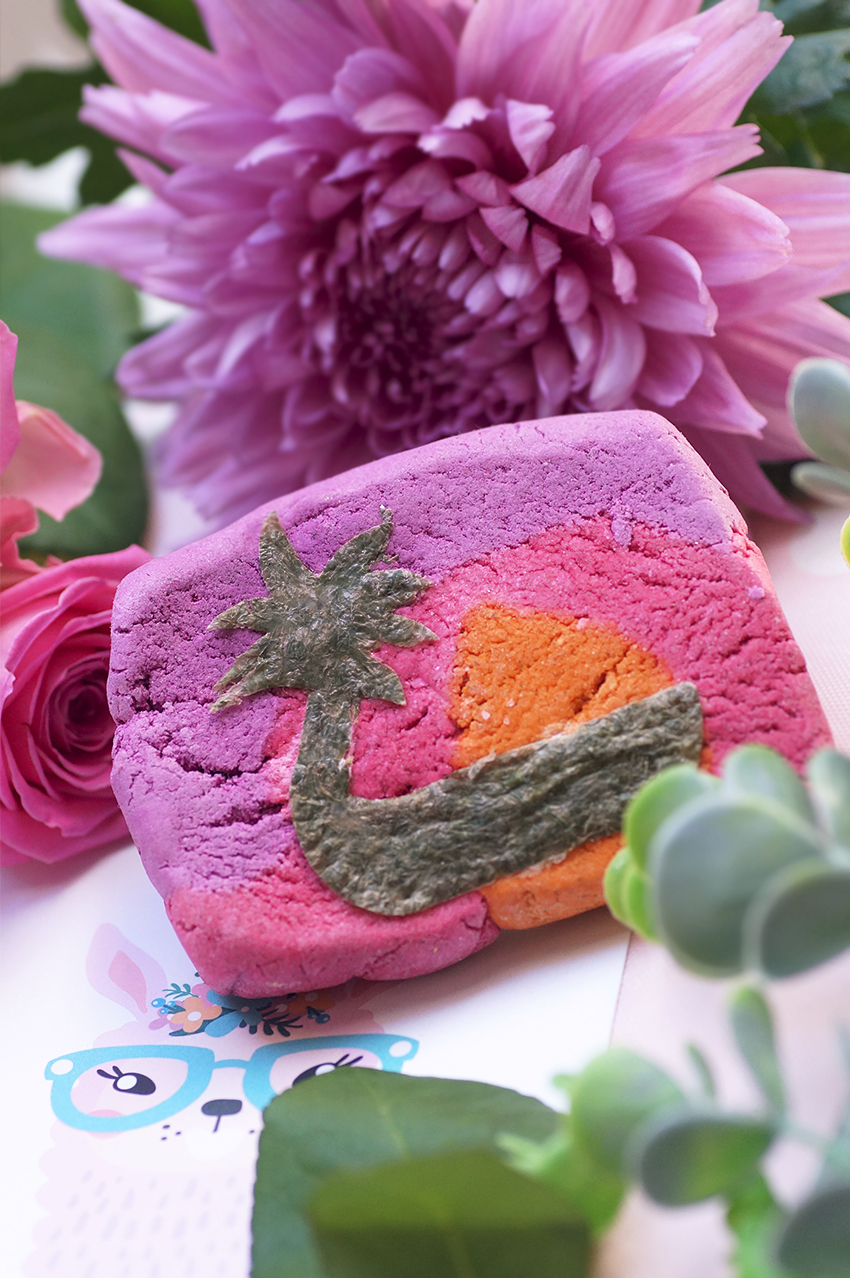 What is it?
Ingredients: Sodium Bicarbonate, Cream of Tartar (Potassium bitartrate), Sodium Laureth Sulfate, Sodium Lauryl Sulfate, Lauryl Betaine, Perfume, Lavender Oil (Lavandula angustifolia), Benzoin Resinoid (Styrax tonkinensis pierre), Tonka Absolute (Dipteryx odorata), Ylang Ylang Oil (Cananga odorata), Lavender Powder (Lavandula angustifolia), Titanium Dioxide, *Benzyl Benzoate, *Coumarin, *Linalool, Colour 15985:1, Colour 19140:1, Colour 17200, Colour 45410:1, Colour 45410, Colour 42090, Colour 14700, Nori Seaweed (Algae)
Lush Twilight Bubble Bar costs ¥920 and is part of the exclusive Harajuku bubble bar range, but will not be launched internationally. It's only for sale in the Harajuku store in Japan. It weighs about 120 gram and has the most stunning colors! It's supposed to resemble a sunset, and I love the palm tree shaped piece of seaweed on top. It strikes me that this bubble bar contains both Sodium Laureth Sulfate and Sodium Lauryl Sulfate — two foaming agents. Bubbles overload!
It has the classic Twilight scent, which is a sweet lavender scent. The lavender isn't overpowering, because there's a hint of benzoin, tonka and ylang ylang. Benzoin and tonka are both warm, sweet and comforting scents, rounding the lavender smell off with some sweet notes. The difference with the Sleepy bubble bar is that Sleepy smells more lavender to me. That's why I have always preferred Twilight over Sleepy; while Sleepy is more lavender and soft, Twilight is more sweet. Twilight is such a classic, amazing scent, I could never get bored of it!
Play the video in 2160p quality and on full screen for the best experience! The video has been sped up.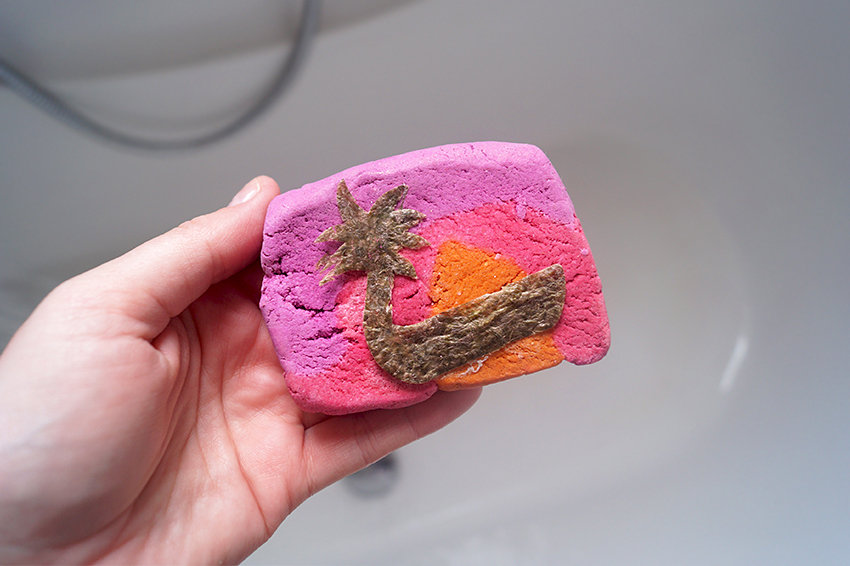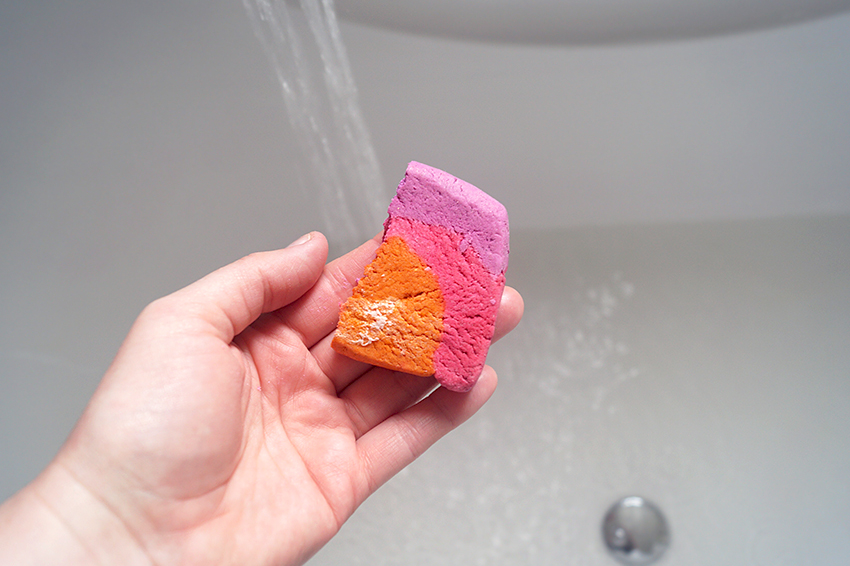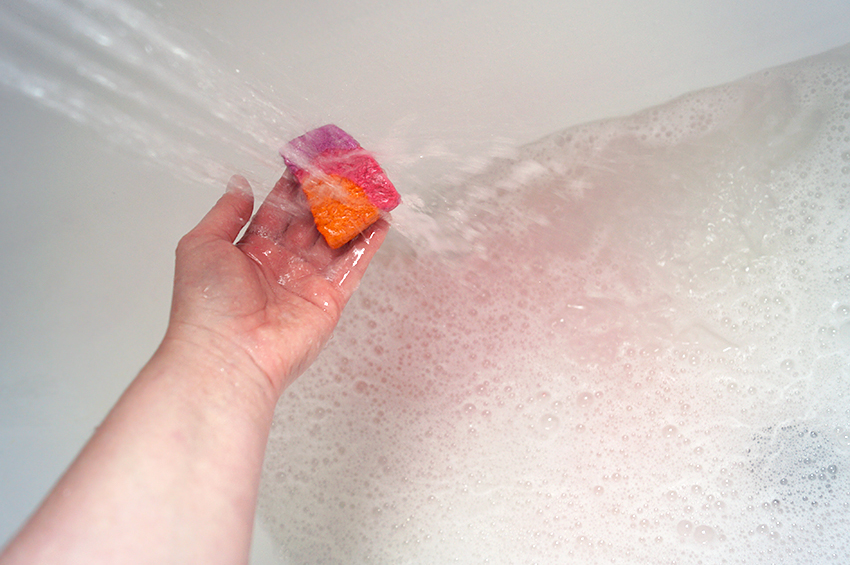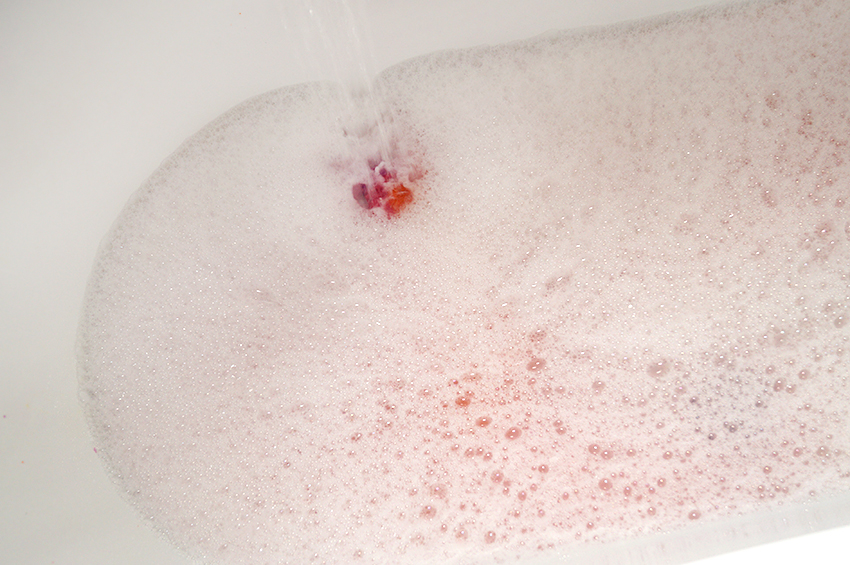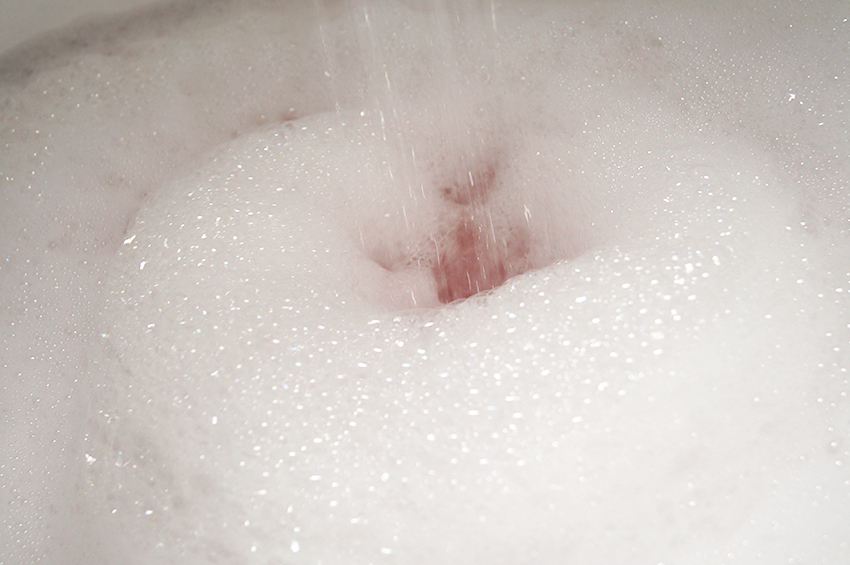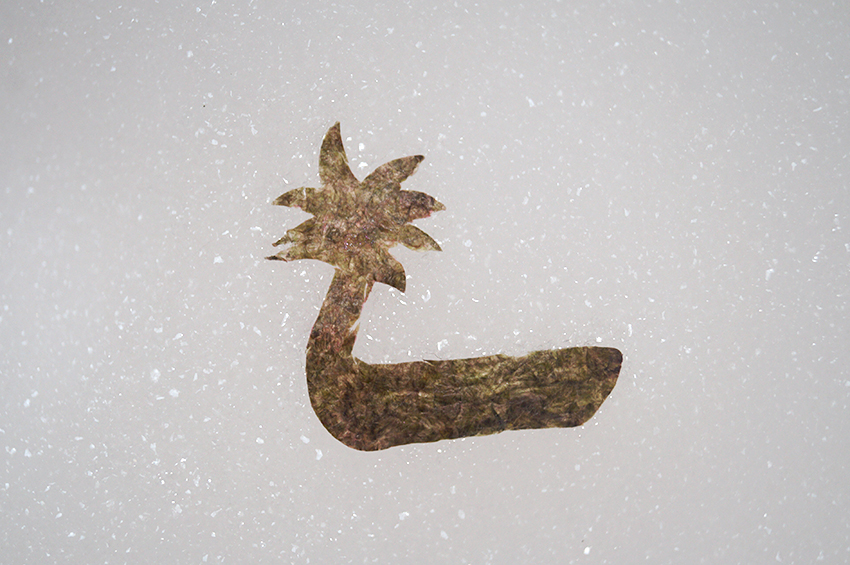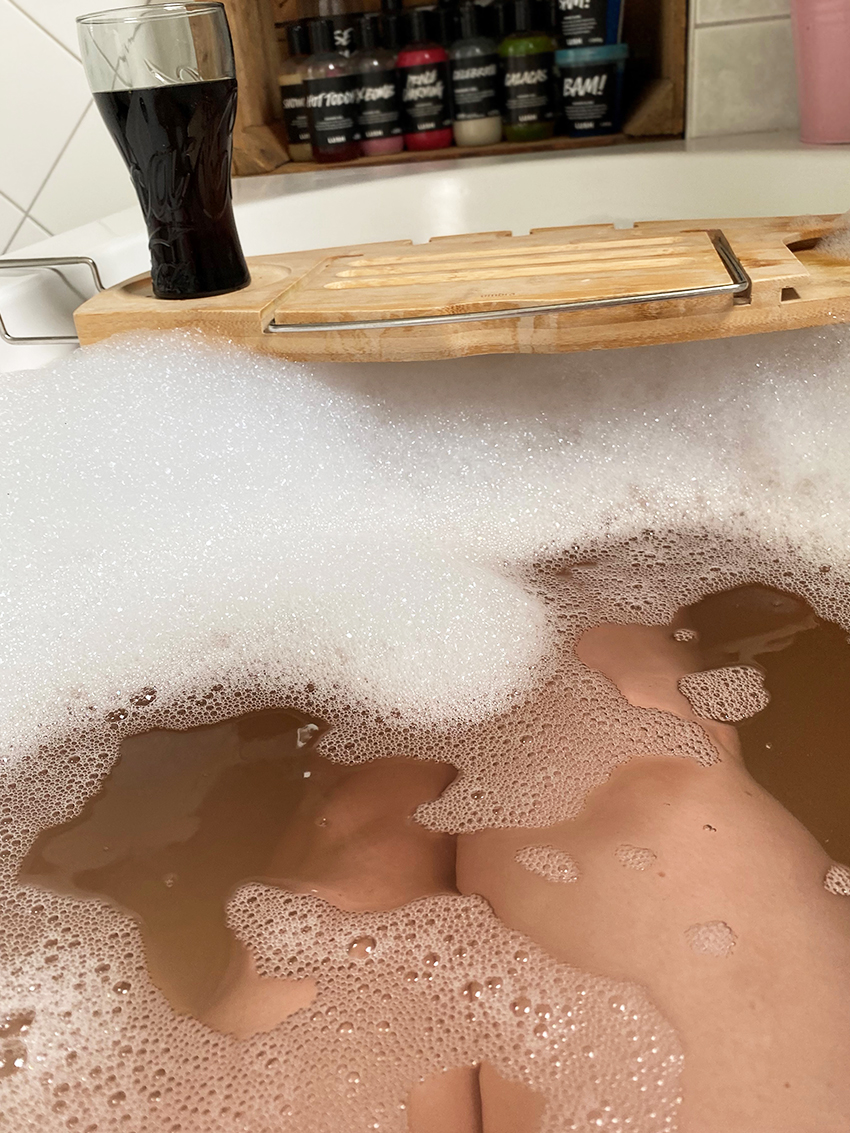 What do I think?
At first, a mix of orange and pink color comes off and colors the water gradually into a peachy shade. When purple is being added, the shade gets a bit dull, like a very pale peachy shade. It doesn't like so magical now! However, the thick layer of incredibly big and soft bubbles really makes up for it. These bubbles are HUGE! They're soft and fluffy, like I've never seen before. I wasn't able to detect anything of the scent, unfortunately — even though the bubble bar self smells pretty strong. I put the other half in my bathroom and for the first 2 days, I could smell the classic Twilight scent every time I entered the bathroom.
The end water was a bit boring and the lack of scent was a pity. I think pairing this bubble bar with another bath bomb, perhaps Twilight bath bomb, would create a lavender-colored AND lavender-scented bath. 💜 Nonetheless, I loved the huge, fluffy bubbles and my skin felt extra soft afterwards. I can't wait to pair the other half up with Twilight bath bomb!

Lush Twilight Bubble Bar is a Harajuku exclusive. It will be part of the second launch on June 26, meaning the rest of the world will get this bubble bar too.