Review: Lush Cookie Dough Lip Scrub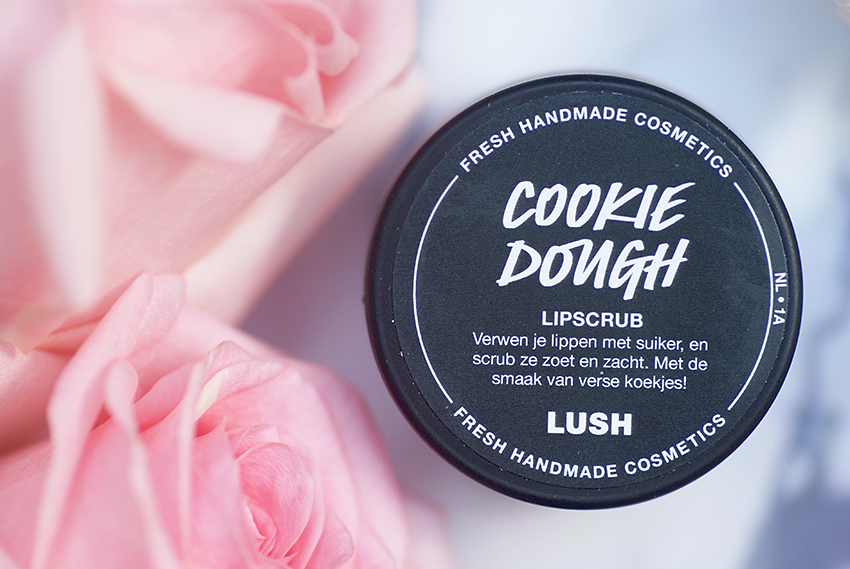 This is the product that was voted most for (to be available online at Lush Labs) — the Cookie Dough lip scrub. Makes sense, because who wouldn't want to scrub his or her lips with a lip scrub that smells and tastes like cookie dough? Lush has once again released a brilliant product, which is now one of my favorites. And although this is a Liverpool exclusive, it is temporary for sale online as well. I say: stock up like craaaaazy. Believe me, you need this.
Today you can read everything about this delicious lip scrub. Continue reading if you're curious to this product!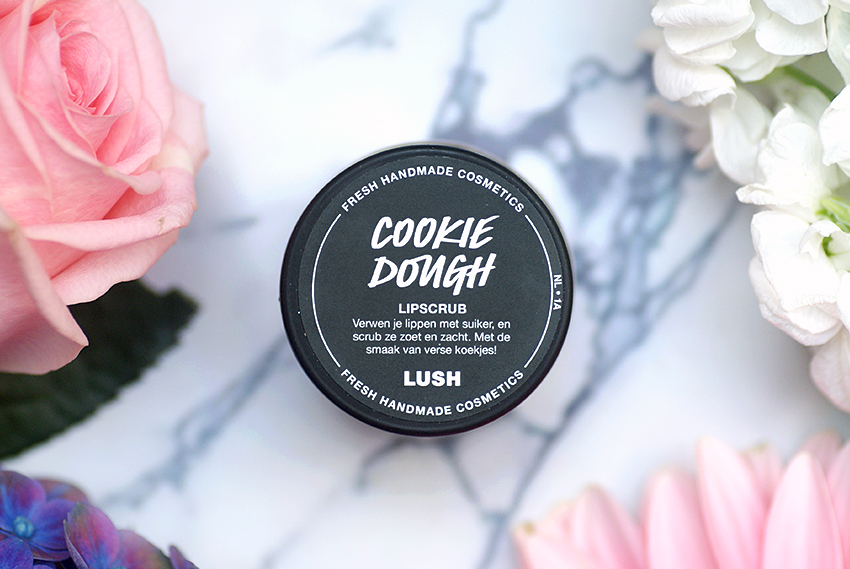 What is it?
Lush Cookie Dough Lip Scrub costs £6.50 and is temporarily for sale in the Lush Labs, where new and innovative products will be available every month. Unfortunately, it's only for sale in the UK and the rest of Europe. There is about 25 grams in this glass jar — I myself have never finished a lip scrub, they last a long time. You only need a little bit, because if you grab too much it will fall off your lips.
How to use? It's simple! Get a little out with your finger, carefully scrub your lips with it and then lick your lips. Delicious! All lip scrubs by Lush (and hopefully other companies as well) contain ingredients that are completely safe to eat. There's no harmful ingredients inside, just edible ingredients.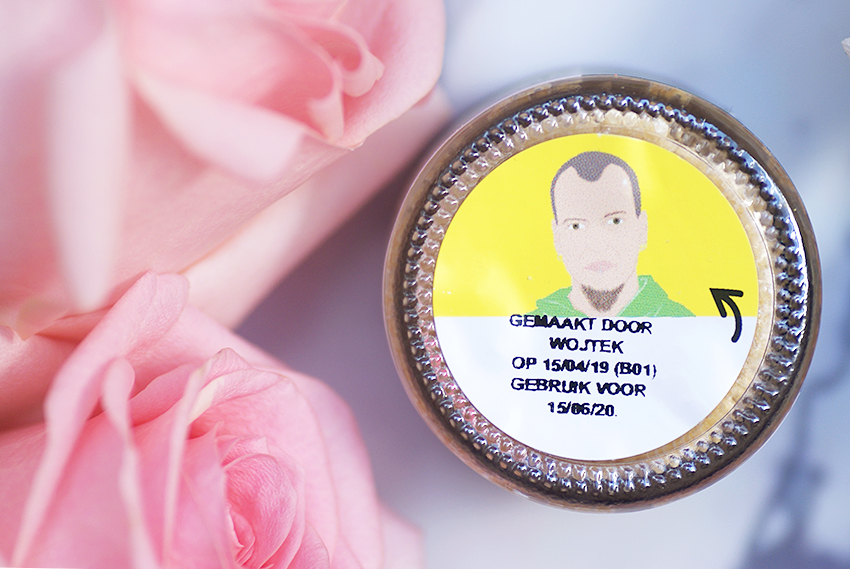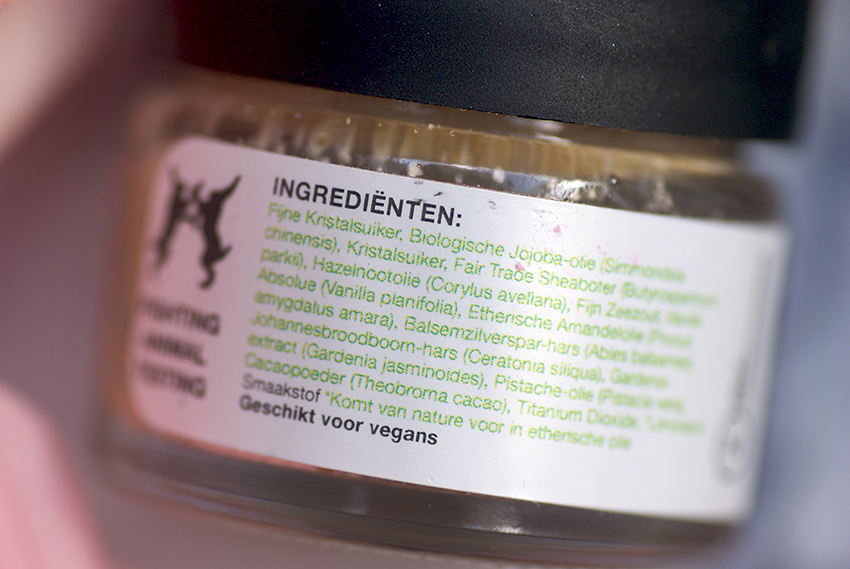 What's inside?
Ingredients: Caster Sugar, Organic Jojoba Oil, Granulated Sugar, Fair Trade Shea Butter, Hazelnut Oil, Fine Sea Salt, Vanilla Absolute, Almond essential oil, Balsam Fir Resin, Carob Resinoid, Gardenia Extract, Pistachio Oil, Cocoa Powder, Titanium Dioxide, *Limonene, Flavour
Cookie Dough is a vegan and self-preserving lip scrub. It has a shelf life of 14 months, but I guess it's long finished before it's due. The base is granulated sugar and fine sea salt and there's are all kinds of delicious, natural ingredients added to that — jojoba oil, shea butter, hazelnut oil, vanilla, almond oil, balsam fir resin, carob resin, pistachio oil and cocoa powder. You don't just scrub your lips, they're also being hydrated and cared for with this lip scrub.
By scrubbing your lips you make 'em soft and smooth, you also combat dead skin and generally chapped lips. The shea butter hydrates your lips, making them feel less dry. A lip scrub is not only very tasty — it's also very important to take good care of your lips, especially in winter. Because of the cold air outside and the dry air indoors, your lips can feel very dry and even get chapped, because lips don't contain oil glands.
If you have chapped lips, use a lip scrub a few times a day, for a week long and you'll see that they immediately recover after a few days. It's not without reason that a lip scrub is my secret to beautiful, plump lips. You can also use a lip scrub before applying lipstick, to make the lipstick look better and last longer on your lips.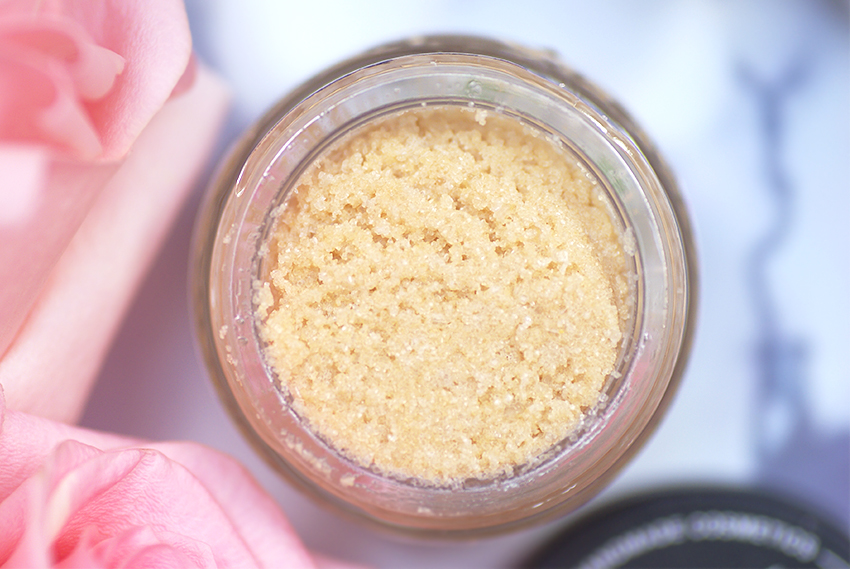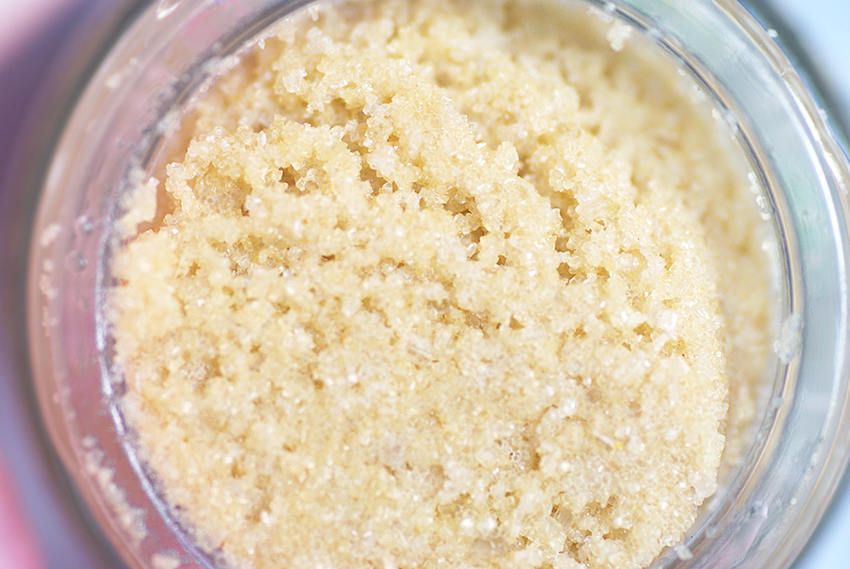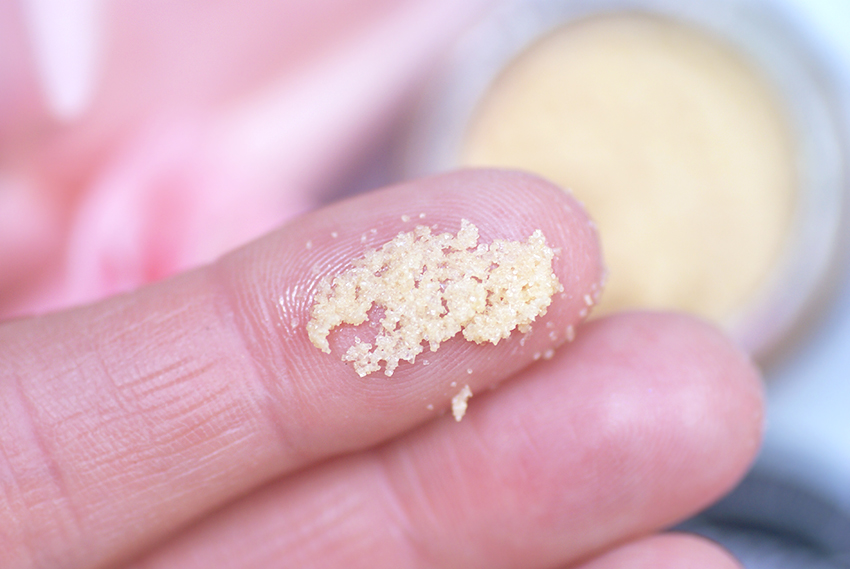 What do I think?
It's no surprise, but Cookie Dough is fucking amazing. It doesn't just smell like a batch of cookies, it's also as if I'm eating cake batter. It's great to have soft lips, but secretly eating this lip scrub is the best part about it. I find myself scrubbing my lips a liiittle bit too often thanks to this lip scrub. I mean, it's not like I have chapped lips, but I am scrubbing my lips like five times in a row. Simply because it tastes SO good. 🙄
The substance is just about right — not too fine, but too coarse either. It scrubs my lips gently yet effectively. I'm bummed that I only bought one jar, since it is temporarily for sale, I will definitely buy a few more. As long as you keep them closed, they will last for much longer. (Do not open new products before you actually use them — as long as no oxygen is added, you can store them for a very long time!) My lips feel amazing afterwards, very soft and hydrated, yet they look a bit fuller.
I have to be careful not to have this jar with me when I'm hungry, because I can see myself munching the entire contents. It's just so delicious, the best lip scrub by Lush so far. And even though your lips might not need a lip scrub, you still need this lip scrub in your life.

Lush Cookie Dough Lip Scrub costs £6.50 (England).

One Response to Review: Lush Cookie Dough Lip Scrub