Review: Lush Tea and Sympathy Bath Bomb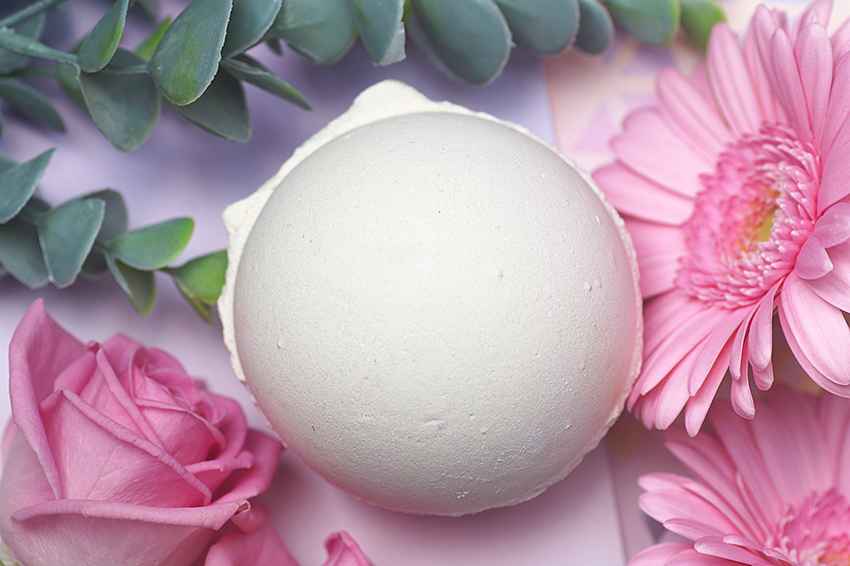 Need a soothing, relaxing soak? Why not fill up the tub with lots of tea! Pop the kettle on and turn on the hot water, it's time to unwind. Tea and Sympathy may not be a spectacular bath bomb to see — but it knows exactly how to reset your mind. Today I'll show you how I liked this bath bomb from the Harajuku range.
If you're curious about this bath bomb, then keep on reading.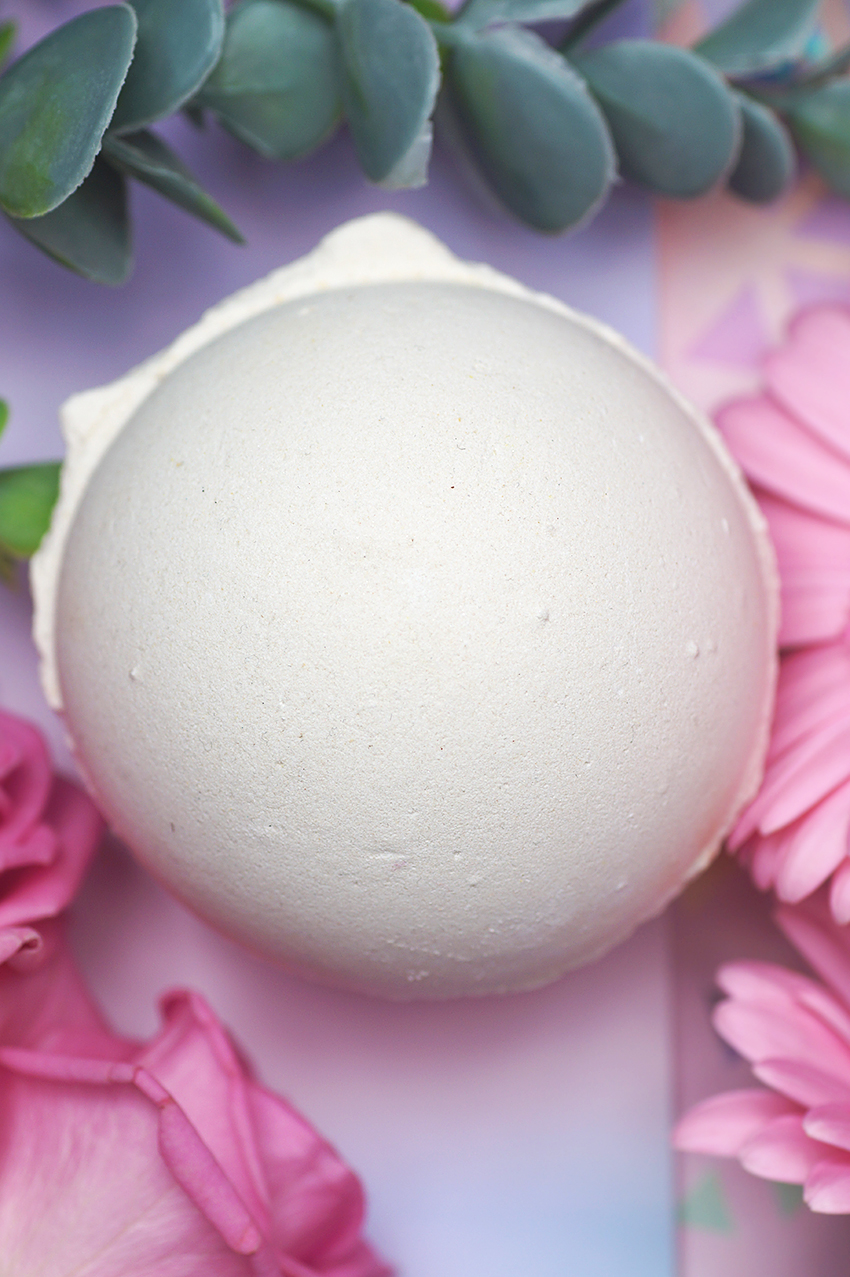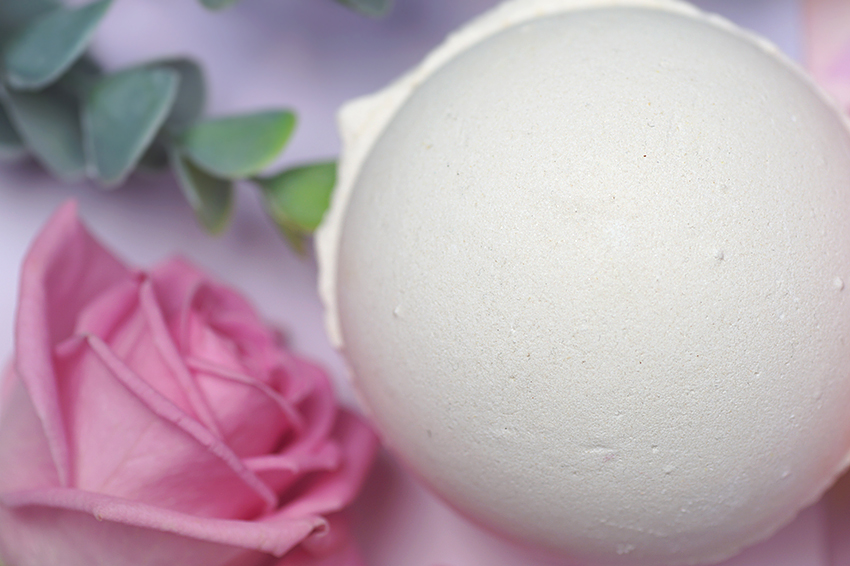 What is it?
Ingredients: Sodium Bicarbonate, Citric Acid, Soybean Flour, Calamine Powder, Perfume, Water (Aqua), Dipropylene Glycol, Chamomile Blue Oil, Olibanum Oil, Clary Sage Oil, Chamomile Tea Bag, *Limonene, *Linalool, Colour 42090, Colour 19140
Lush Tea and Sympathy Bath Bomb costs £3.95 / $6.45 and is part of the temporary Harajuku range, consisting of 54 new, exclusive bath bombs. Tea and Sympathy is a pretty boring bath bomb to see, compared to the rest of the Harajuku range. It's purely aromatic, so don't buy it for its appearance or its bath art. It's slightly cheaper than the average bath bomb.
Inside is soybean flour, when in contact with warm water it creates a rich and softening milk that will soothe the skin. Calamine powder is has a soothing effect on irritated and delicate skin, it's gentle toning and antiseptic. Chamomile blue oil calms and soothes the skin, but also has a very soothing scent, just like lavender. Olibanum oil is an amazing ingredient — it smells exact like a forest. It also has a soothing effect on the skin. Yes, you read it right, all of the ingredients are soothing! Lucky us. Finally, there's Clary Sage oil, which has a herbal aroma and is warming and relaxing. There's also an actual tea bag in the bath bomb, I didn't know so that was a bit of a surprise 😂
The scent is floral, but also slightly powdery. It's a warm and sultry scent, the olibanum in it provides a wonderful, warm base. Chamomile is good present, but not too overpowering. It gives the bath bomb it's floral smell, but without unbalancing the overall scent. Overall it's a floral, warm and powdery scent.
Play the video in 2160p quality and on full screen for the best experience! The video has been speeded up.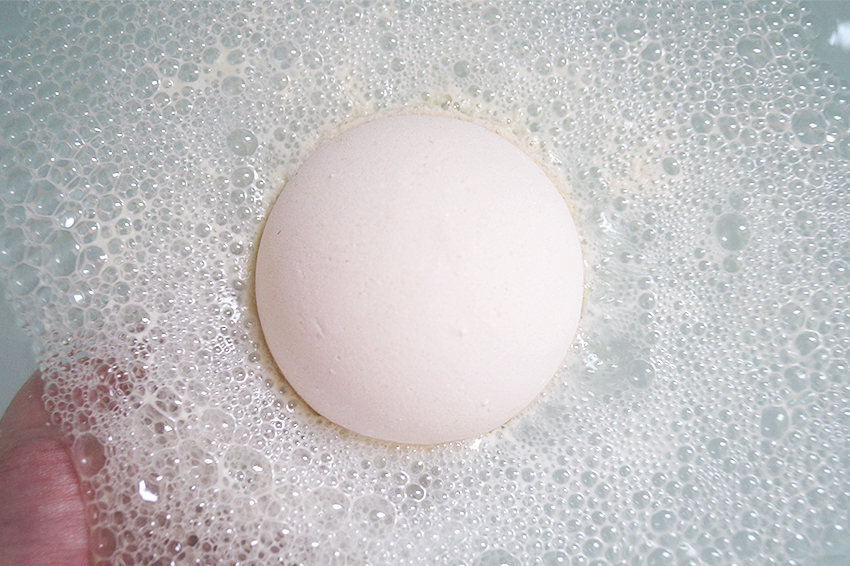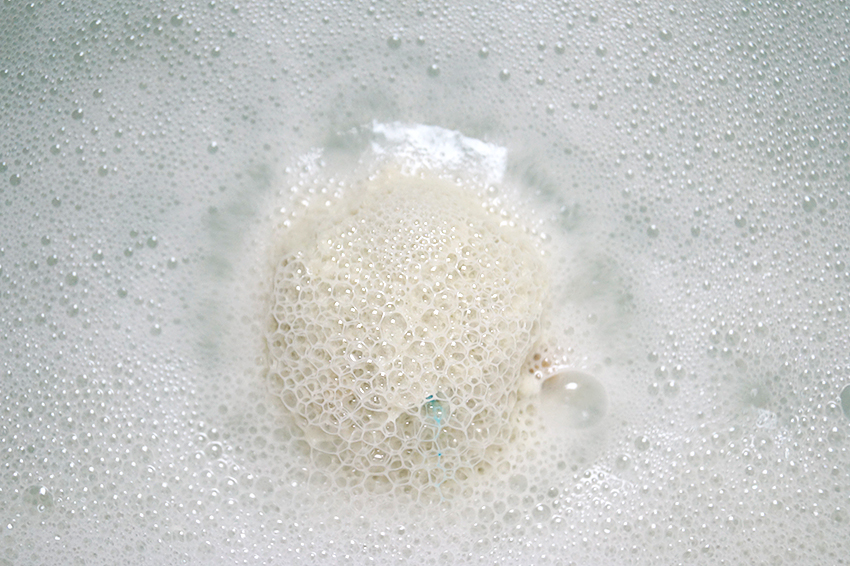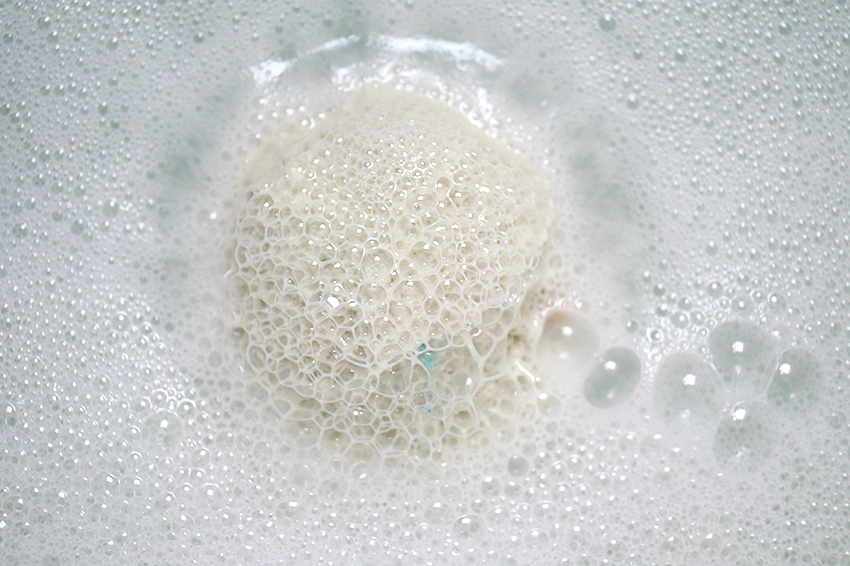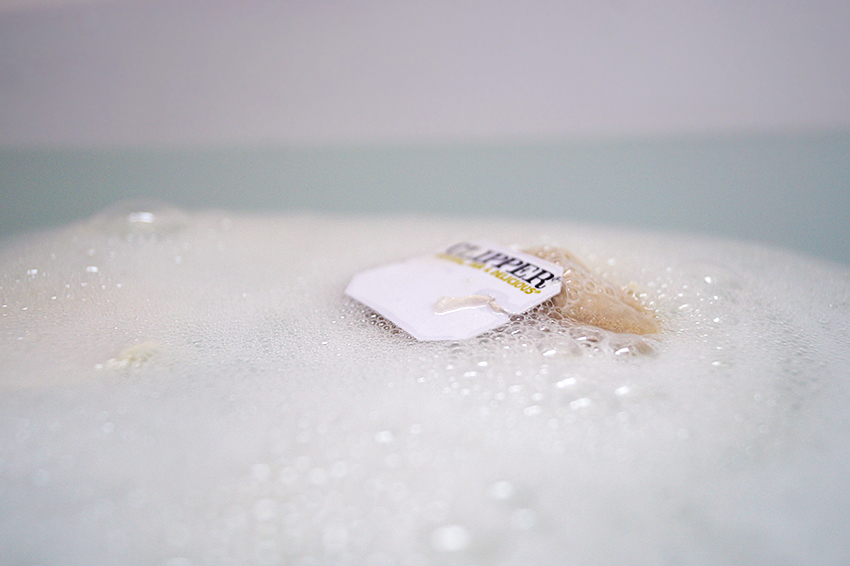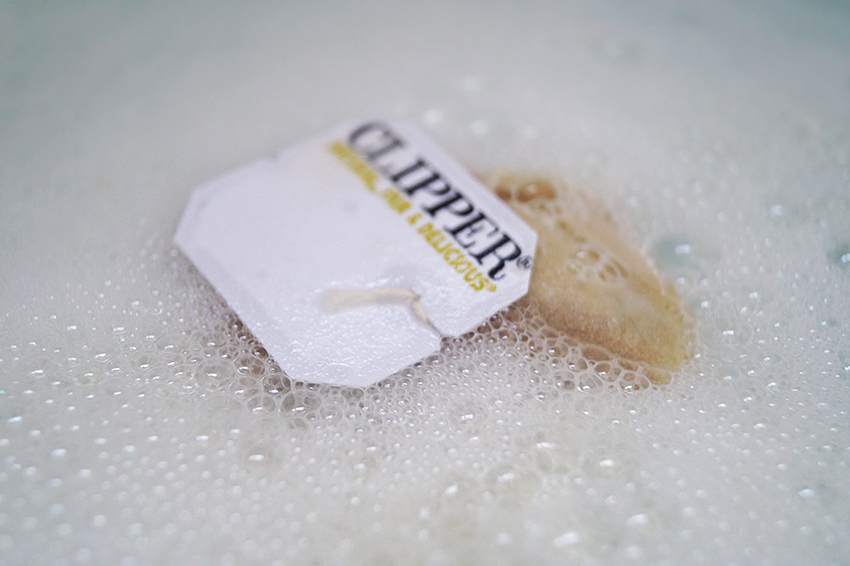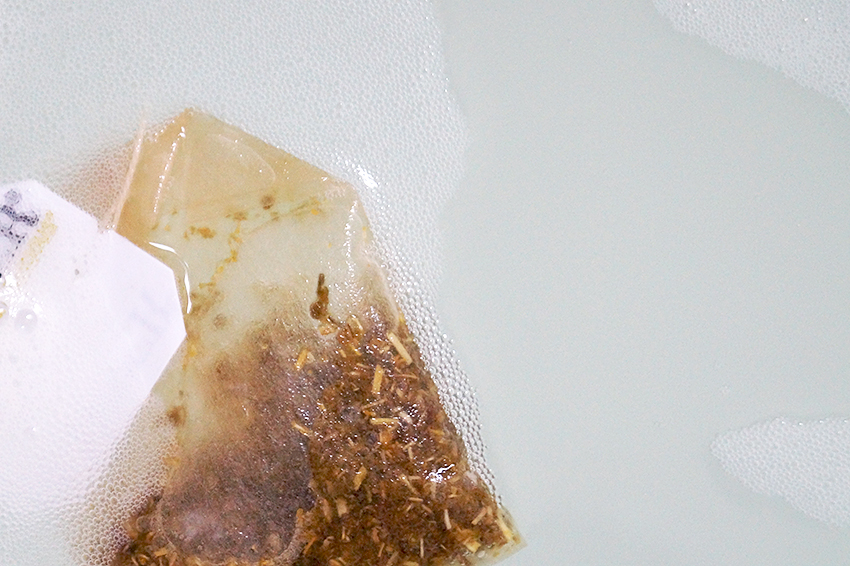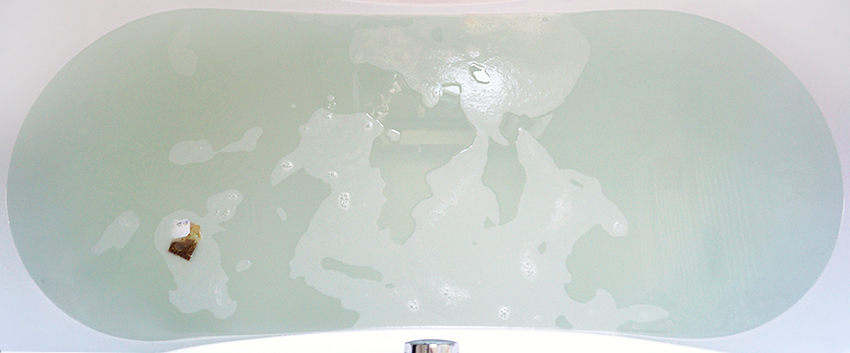 What do I think?
Once it hits the water, it starts fizzing and make its way through the tub while foaming like crazy. It's a pretty fast fizzer, and as expected, it turns the water a clear white shade. There's a little bit of milky layer in the water, although I would have love to see it more milky, the soybean flour definitely made the water softer. At some point a little bit of bright blue got spewed out the bath bomb – wait what? It has no effect whatsoever on the -pretty much already- white clear water, but it seems to be correct: Colour 42090 is blue, Color 19140 is yellow. So apparently there was also a bit of yellow inside as well. I love these surprise colors, but I would've love to see some effects in the water. But what I clearly did not miss was a complete tea bag that came out of the bath bomb! I did not expect this, but I love it. Lush never ceases to amaze me.
Despite the lack of colors and effects, this was a wonderful bath. Sometimes an aromatic bath bomb is just what you need, if you don't feel like all kinds of fuss. The soybean flour caused a white, clear water and the wonderful scent was constantly present. My skin felt very soft afterwards and also seems to feel smoother. I'm completely zen again.

Lush Tea and Sympathy Bath Bomb costs £3.95 (England) / $6.45 (USA).