Review: Lush Winter Garden Body Spray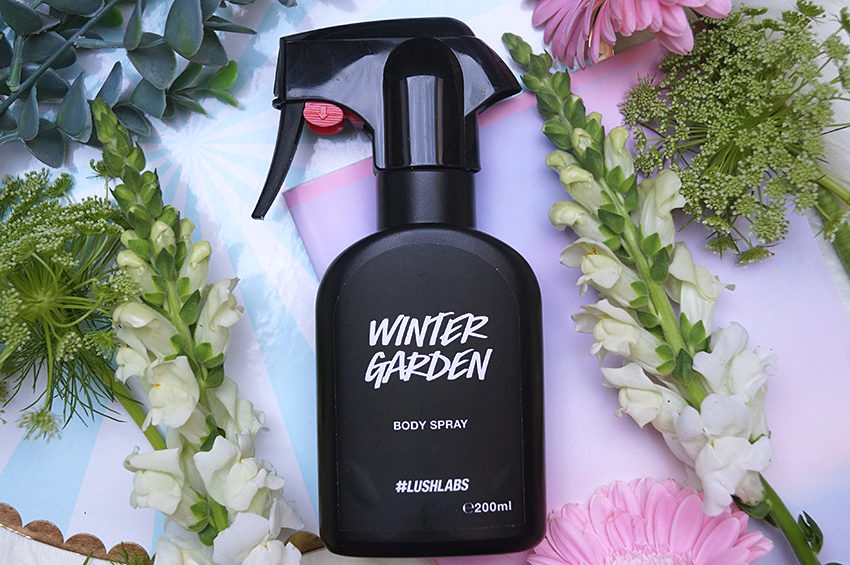 When I heard about the five new body sprays, it immediately grabbed my attention. I LOVE the body sprays by Lush — they're so strong of scent, last a lifetime and they keep releasing more scents, so I think I have about 10 of them now. (My favorite being Yog Nog — everyone tells me I smell of cookies!) I decided to buy just one (still haven't found a sugar daddy) and I choose Winter Garden.
If you're curious about this product, make sure you keep on reading!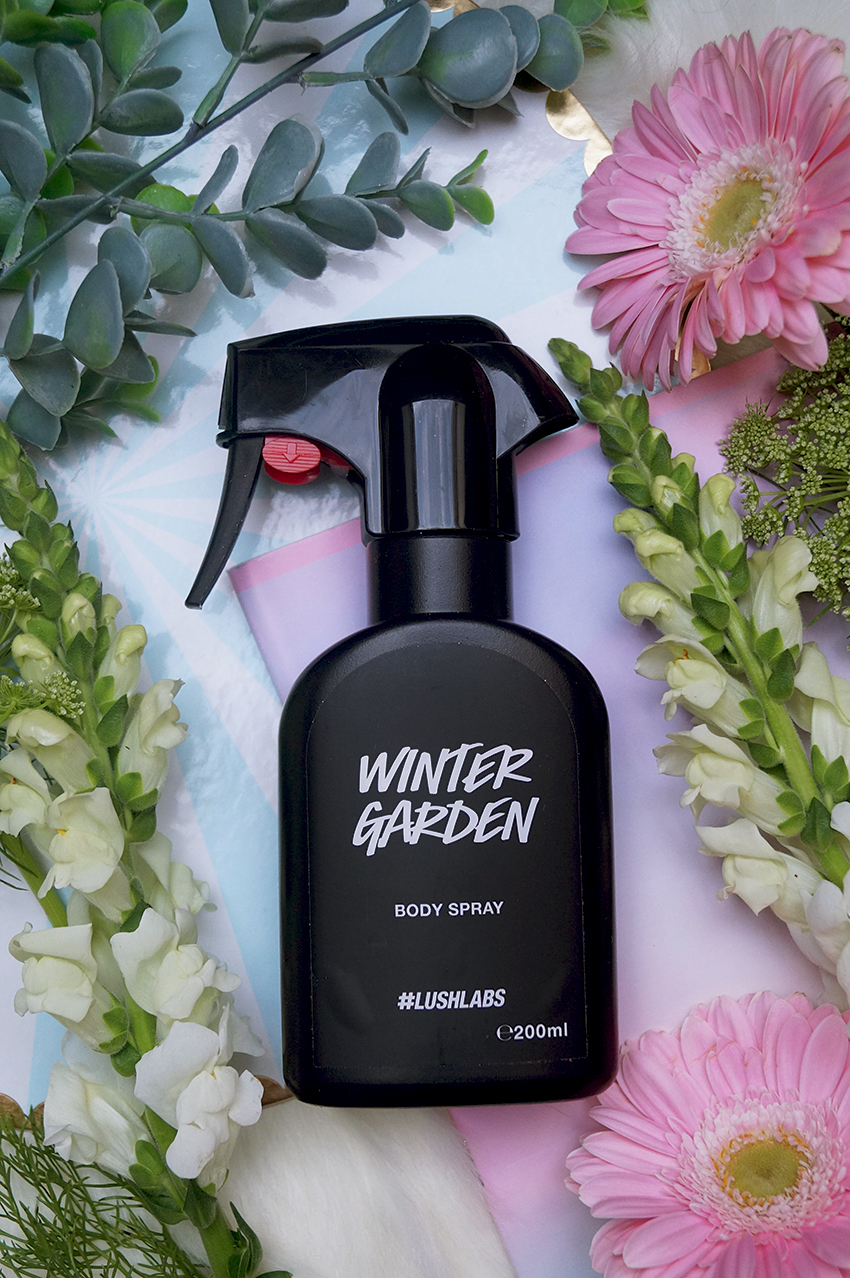 What is it?
Lush Winter Garden Body Spray costs £25.00 / €35.00 and is new to the body spray range, along with Mamma Mia, Ectoplasm, Space Girl and Sparkly Pumpkin. I hadn't actually really smelled the Winter Garden bath bomb properly, I only give a quick sniff, but when someone told me it *kinda* smells like Silky Underwear, I knew it would be a match. The body sprays aren't released in NA yet, but rumor has it they will be released around December 15.
I have actually always preferred the body sprays over perfumes. Somehow, the Lush perfumes are too 'complex' for me. I love how the body sprays are basically existing Lush scents, but in a spray bottle. I have a few bottles of Celebrate and Yog Nog — those are my absolutely favorites — but also Big, Sakura, Honey I Washed The Kids, Twilight, Rose Jam, Calacas and Sex Bomb.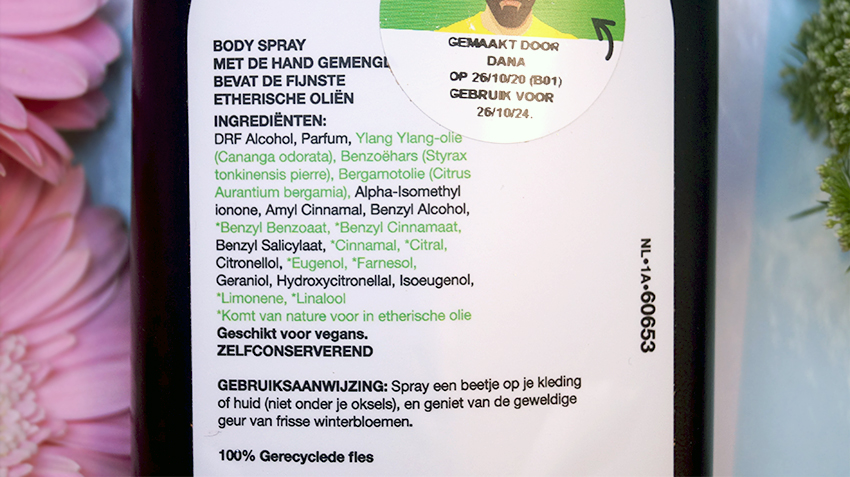 What's inside?
Ingredients: DRF Alcohol, Perfume, Ylang Ylang Oil, Benzoin Resinoid, Bergamot Oil, Alpha-Isomethyl Ionone, Amyl Cinnamal, Benzyl Alcohol, *Benzyl Benzoate, *Benzyl Cinnamate, Benzyl Salicylate, *Cinnamal, *Citral, Citronellol, *Eugenol, *Farnesol, Geraniol, Hydroxycitronellal, Isoeugenol, *Limonene, *Linalool
Winter Garden smells of ylang ylang and bergamot. Basically. The scent's a little more than that, though. After spraying it, I can smell straight up, pure, overpowering ylang ylang. I have a bottle of ylang ylang essential oil and believe me — it smells exactly like that. After a minute, the heaviness of ylang ylang disappears and the scent gets more powdery and floral — it's still the ylang ylang overpowering, but not 'in your face' anymore. Still, it's a very floral, very powdery, sultry scent. There's little depth to this scent, it's basically just ylang ylang, but with a touch of warmth. It doesn't have many layers, other than that.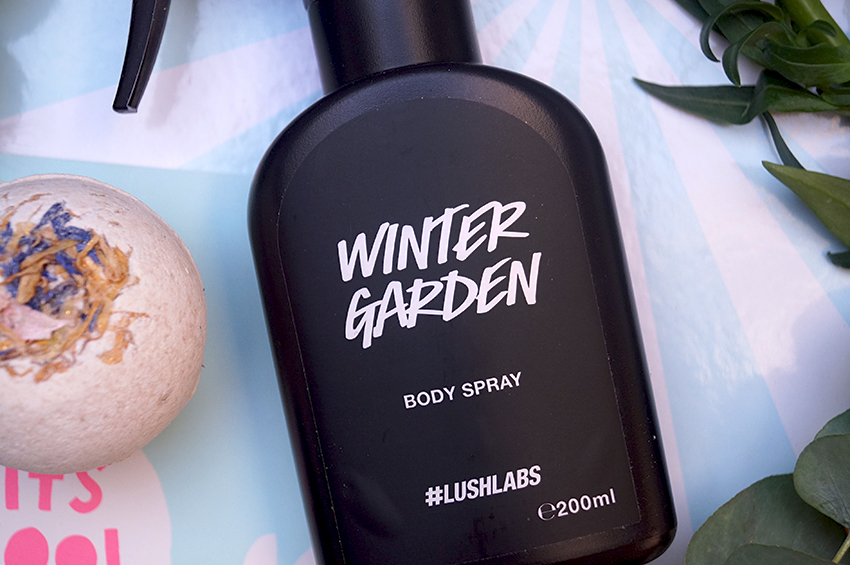 What do I think?
To be honest, I'm not a ylang ylang fan. Therefore I wasn't too excited to try out this body spray. Nonetheless, I used it in the morning (just one spritz) and around noon, I couldn't really smell anything anymore — so I guess the scent doesn't last as long as some other body sprays, such as Rose Jam (which in my opinion, lasts TOO long) or Yog Nog. I also sprayed some on my scarf, so whenever I'm going out, I can enjoy whatever scent I'm using. And I have to admit, Winter Garden smells pretty good on my scarf. It's not straight ylang ylang, but more like a soft, powdery, warm and floral scent. You could still detect some ylang ylang if you give it a good sniff, but it blends in perfectly with the overall scent.
Same goes for using the body spray on myself — after an hour, the heaviness of the ylang ylang has vanished and a soft floral scent is what you're left with. Yes, the ylang ylang is still present, so if you're a total ylang ylang hater, I wouldn't buy this. But if you love mature, floral scents, you and Winter Garden might be a match made in heaven.
If you have a positive (or negative) experience with this product, feel free to share them in the comments!

Lush Winter Garden Body Spray costs £25.00 (England) / €35,00 (The Netherlands)

2 Responses to Review: Lush Winter Garden Body Spray