Review: Lush Keep It Fluffy Liquid Perfume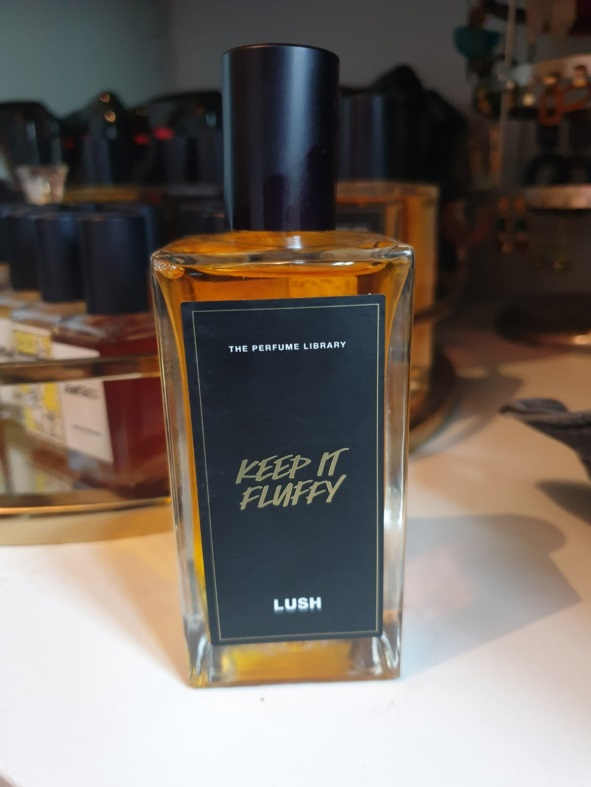 This blog post has been written by guest blogger T.
Evelien has kindly invited me to post my Lush perfume reviews on her blog, after she saw them on Reddit. I have a passion for fragrances and writing and I am so happy I finally found a way to combine the two!
In my 25 years I have tried roughly 100 Lush perfumes and body sprays. They are so special and unique but also… not the cheapest. This is why I always do my best to give a detailed scent description for each and every one, so you can make an informed purchase-decision.
Click further to read the blog post.
This new perfume definitely sparked my interest when it appeared on the Lush UK website: Keep it Fluffy! It's one of those names that keeps popping up every now and then when people mention it as a scent they miss a lot, from the good ol' retro Lush days – but I've never tried it before. Exciting!
'A soft and gentle vegan perfume with smooth, sophisticated vanilla swirled with rose wraps you in a pink cloud and gently caresses' is how Lush describes Keep it Fluffy on their website and I've heard this being described on YouTube as a 'light floral fragrance' as well. That sounds like it should be right up my street.
Keep it Fluffy contains Lemongrass Oil, Vanilla Absolute, Pakistani Rose Absolute, Ylang Ylang Oil and Jasmine Absolute. Currently there is also a Perfume Bubble Bottle available for in the bath, with the same name and scent.
Scent
Frustrations aside – let's get into this! Upon first spray I am greeted by lovely light notes of white flower. It's definitely not overpowering or offensive. This one has to breathe a bit first, as the alcohol is quite present at first.
As minutes go by, Keep it Fluffy starts to remind me more and more of another light floral fragrance that I love so dearly and that was recently discontinued: Sikkim Girls! Yes, it is quite similar. I'd say Keep it Fluffy is a bit softer and (even more) subtle. However, there is a prominent note of lemongrass present. It's bright and uplifting in a non-citrusy and very natural way.
This contains vanilla, but it isn't sweet at all. Powdery ylang ylang and blossomy elements of rose make this in to a fragrance perfect for Spring. I know Jasmine tends to scare some people off, but it does not carry that bitterness that we know from Lust or Flying Fox, it's in the background. In my opinion, it's the rose and lemongrass that take the forefront with that leafy, slightly earthy element that I also get from Sikkim Girls. As if you're walking in a field on a hot Summer day.
So, we have light florals mixed with a bright note of lemongrass and a tiny bit of earthiness. Nothing sweet, nothing heavy. Quite refreshing in its own natural flowery way.
Lasting power
As I said before, Keep it Fluffy is never overpowering. However, it has great lasting power and is still noticeable at the end of the day.
Final thoughts
Difficult! There is nothing bad I can say about this perfume. I will most certainly enjoy wearing it, probably more during the Spring and Summer months. It's a pretty safe bet for anyone who is into florals. If you're into the sweeter and citrusy fragrances, I'd maybe think twice about purchasing this. It's a mature floral, so there's nothing fruity or sugary about it.
The reason I'm finding it difficult, is the price. This is a lovely perfume, but is it worth £80? I really can't say! If they were still around, I'd recommend Sikkim Girls or even Smuggler's Soul instead, as they give me the same kind of feeling. They're similar enough not to need them both. The next one that comes to mind as a possible cheaper alternative is Pansy – same idea, a summery, light floral, although Pansy is a bit more creamy and maybe slightly more potent.
So it's really up to you whether you can justify it. It's a lovely scent in itself, nothing wrong with it. But how I wish they did smaller bottles!
T.
5 Responses to Review: Lush Keep It Fluffy Liquid Perfume