Review: Lush Galaxy Lip Scrub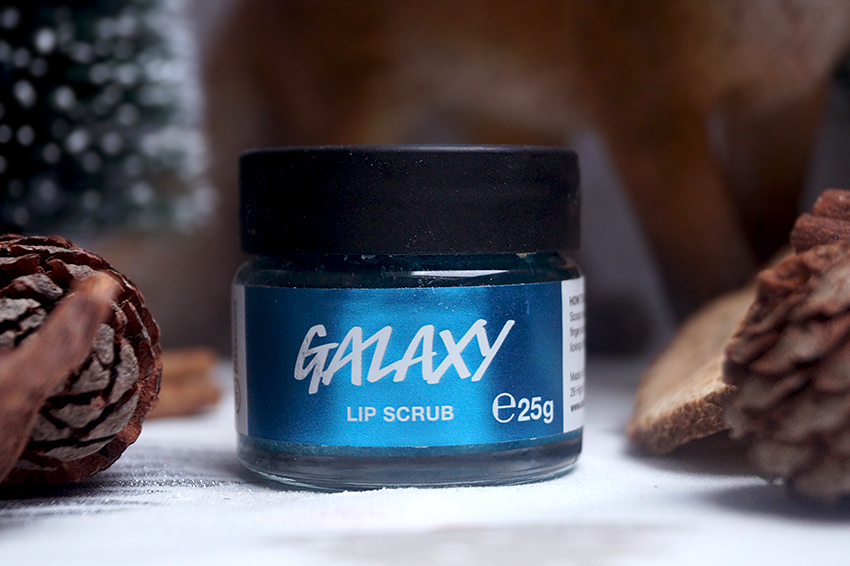 Hi loves! Let's talk lip scrubs today. How often do you use them? I do own a few lip scrubs, but I actually never use them. And I really should, though! Now that it's cold outside, my lips have been suffering a bit. They're chapped and feel very dry. Oh, the misery. So, my new goal is to use the lip scrubs more often. This Galaxy lip scrub was in the advent calendar, but luckily it's also available separately. Today I'll be reviewing this very blue lip scrub for y'all!
If you're curious about this product, make sure you keep on reading.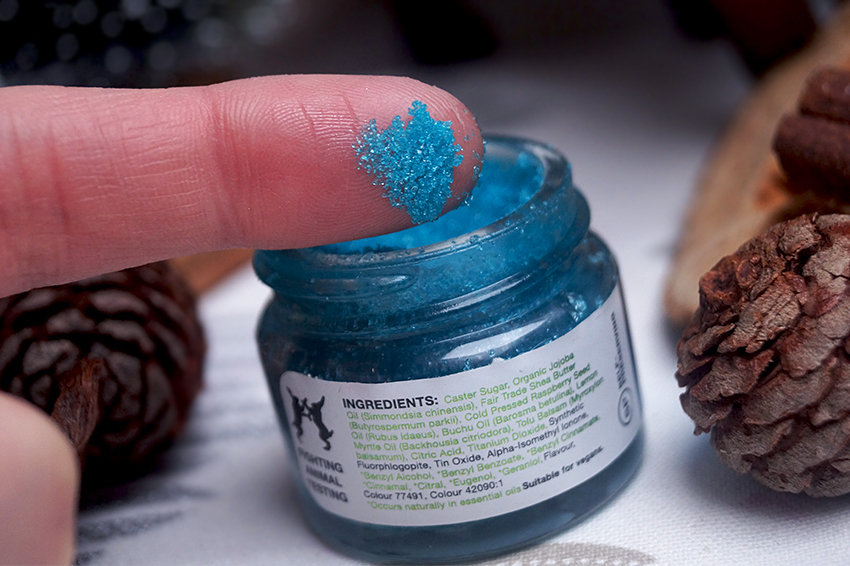 What is it?
Lush Galaxy Lip Scrub costs £6.50 / $12.95 (daaamn that difference) for 25 grams and it's part of the Christmas range. The lip scrubs come in a small glass jar with twist-off lid. Lush has different kinds of lip scrubs, like the temporary Pumpkin Spice, but also the classic Bubblegum lip scrub. And although 25 grams sounds very little, you're going to have to try and do your best to finish an entire jar of lip scrub! I've never managed it though. You need very little, because everything you grab too much falls to the ground anyway. After scrubbing your lips, you can lick the scrub off your lips. Yes, that's safe. There's no chemical shit inside, so no worries. I mean, I've licked off quite some lip scrubs, and I'm still alive.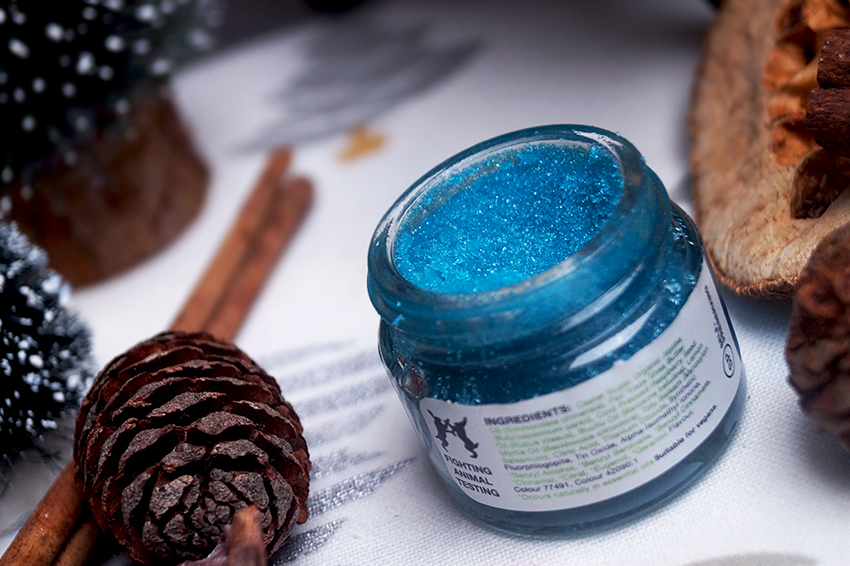 What's inside?
Ingredients: Caster Sugar, Organic Jojoba Oil, Fair Trade Shea Butter, Cold Pressed Raspberry Seed Oil, Buchu Oil, Lemon Myrtle Oil, Tolu Balsam, Citric Acid, Titanium Dioxide, Synthetic Fluorphlogopite, Tin Oxide, Alpha-Isomethyl Ionone, *Benzyl Alcohol, *Benzyl Benzoate, *Benzyl Cinnamate, *Cinnamal, *Citral, *Eugenol, *Geraniol, Flavour, Colour 77491, Colour 42090:1
The main ingredient of the lip scrub, and thus what will exfoliate and smoothen your lips, is caster sugar. Of course it tastes sweet as well, so that's nice. Jojoba oil is an excellent moisturiser, making your lips less likely to dry out. This also applies to shea butter, which is a great moisturizer, but also softens the thin skin of our lips. Raspberry oil protects your lips against UVA and UVB, but also improves skin's elasticity and glow. Buchu oil is antiseptic and anti-inflammatory, as well as lemon myrtle oil. Tolu balsam tastes sweet, is rich in antioxidants and softens and soothes the skin.
This lip scrub smells like they've murdered two-hundred black currants and stuffed them into this jar. This is 100% blue raspberry, black currant, whatever you want to name it — regardless, it's very sweet and fruity. Like a berry slush puppy.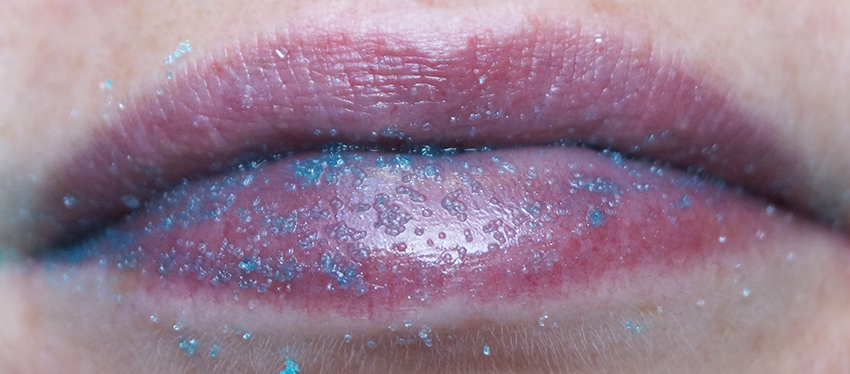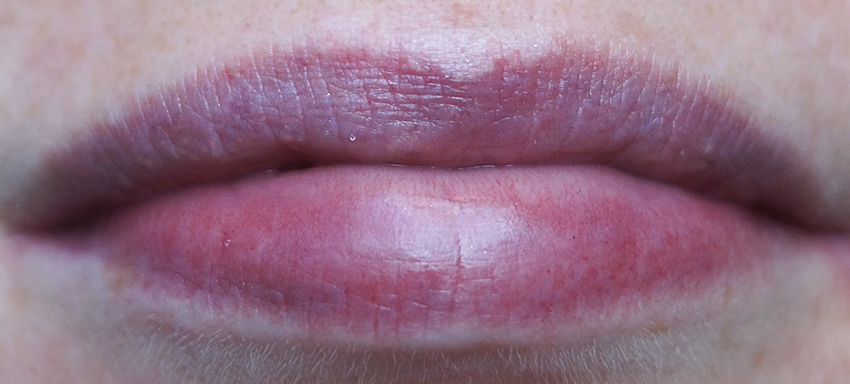 What do I think?
I'm still struggling with getting some of the lip scrub out of the jar, without spilling some. And I don't even have long nails! What strikes me first is when I open the jar, a strong berry scent greets me. I lick my lips to make them moist, put some of the substance on my lips and gently massage it across my lips. I always tilt my head back a little bit, it prevents me from spilling the lip scrub on the ground. After scrubbing, I lick off my lips and the scrub tastes exactly as it smells — black currants. Sweet and fruity, I definitely like the taste. And no nasty aftertaste! I have soft and smooth lips, but also a blue finger. The lip scrub stains my finger every time I use it. My lips also have a slightly blue tint, but you'd only see it if you knew it. Of course it wears out, but whoa Lush — easy with the color dyes please!
I really need to remind myself to use a lip scrub more often. It ensures soft lips that are no more chapped, and it curbs your sweet tooth. I wouldn't buy it again — it's not that I don't like it, but I think there's other lip scrubs with a better taste, like Cookie Dough. But I absolutely don't mind (trying to) finishing this jar!

Lush Galaxy Lip Scrub costs £6.50 (England) / $12.95 (USA).