Review: Lush Hot Toddy Shower Gel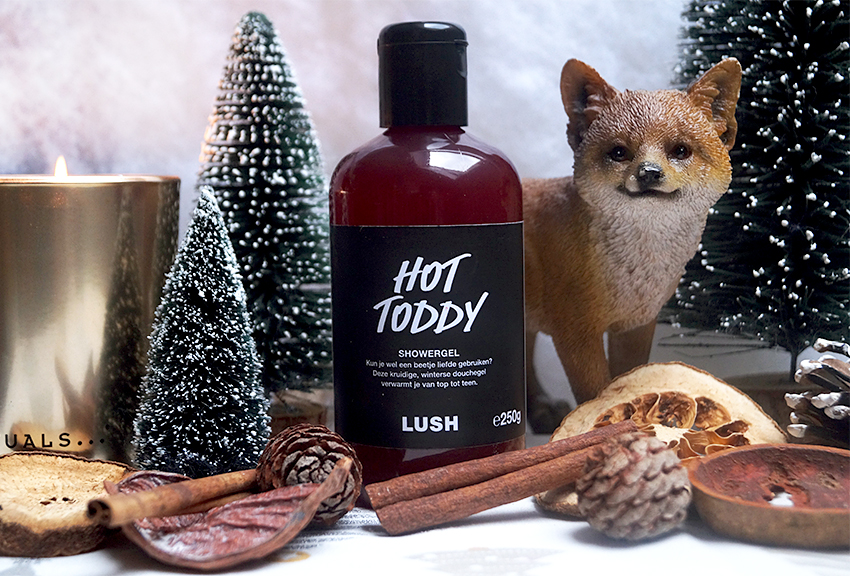 What's the best, spicy shower gel by Lush? Without a doubt it's Hot Toddy. Okay, I loved Glögg more, but they've discontinued that one. And since Hot Toddy comes pretty close, it's no wonder I had to grab me a bottle of this spicy goodness. I still had half a bottle, but yeah, you know how it goes. You cherish those products, you don't use them. But now I can finally indulge myself with Hot Toddy while it's -1 °C or less outside.
If you're curious about this product, make sure you keep on reading!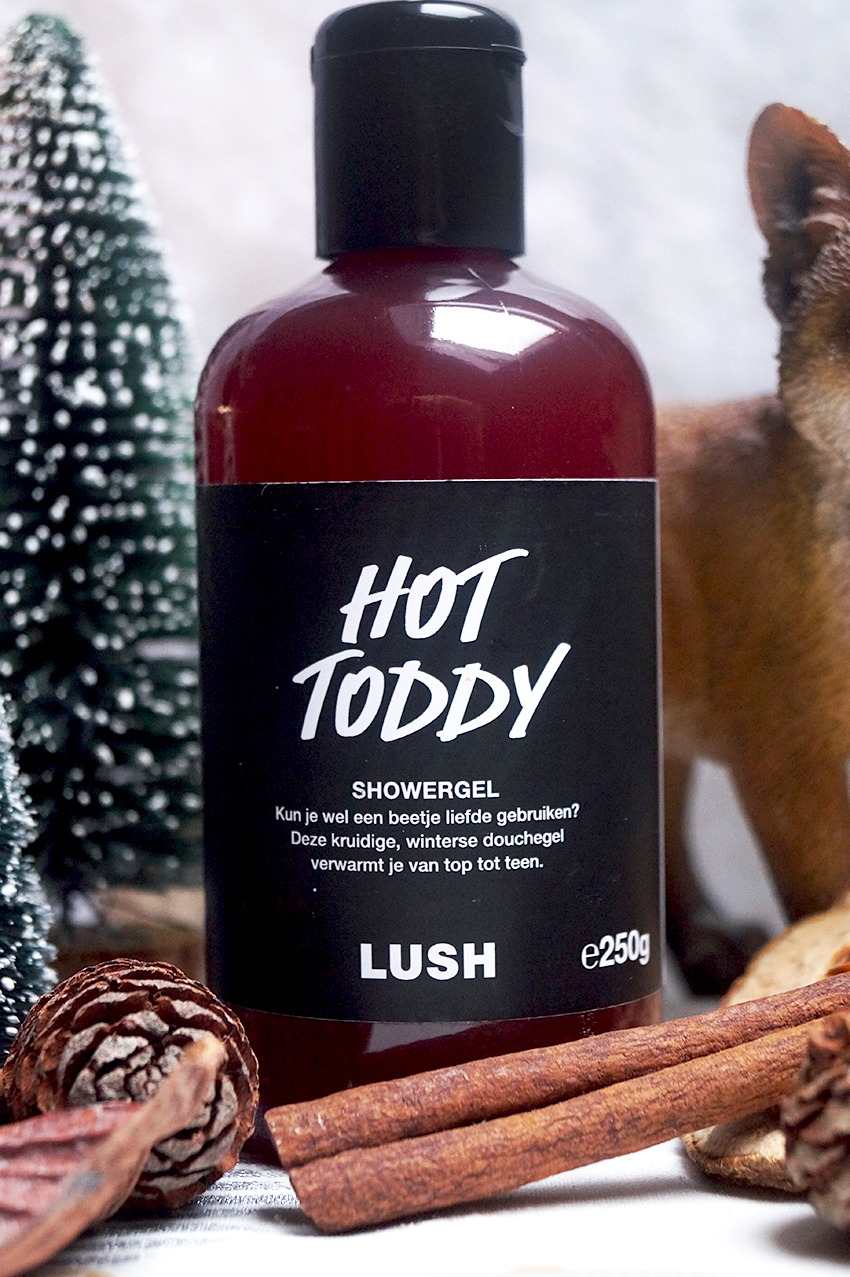 What is it?
Lush Hot Toddy Shower Gel costs £12.00 for 250 grams. It's a retro product making its temporary comeback as part of the Community Favorites (november 2019). It's only released in one size. This shower gel shares its scent with a few other products — but they're all discontinued, the most known being the Holly Golightly bubble bar. If it were up to me, they should release more products with this scent! It's one of the better spicy scents that Lush has. It's also a pretty popular fragrance among Lushies, so why it's not a part of the Christmas range is anyone's guess. I mean.. just look at the color! And all those (plastic-free!) glitters inside! It's magical.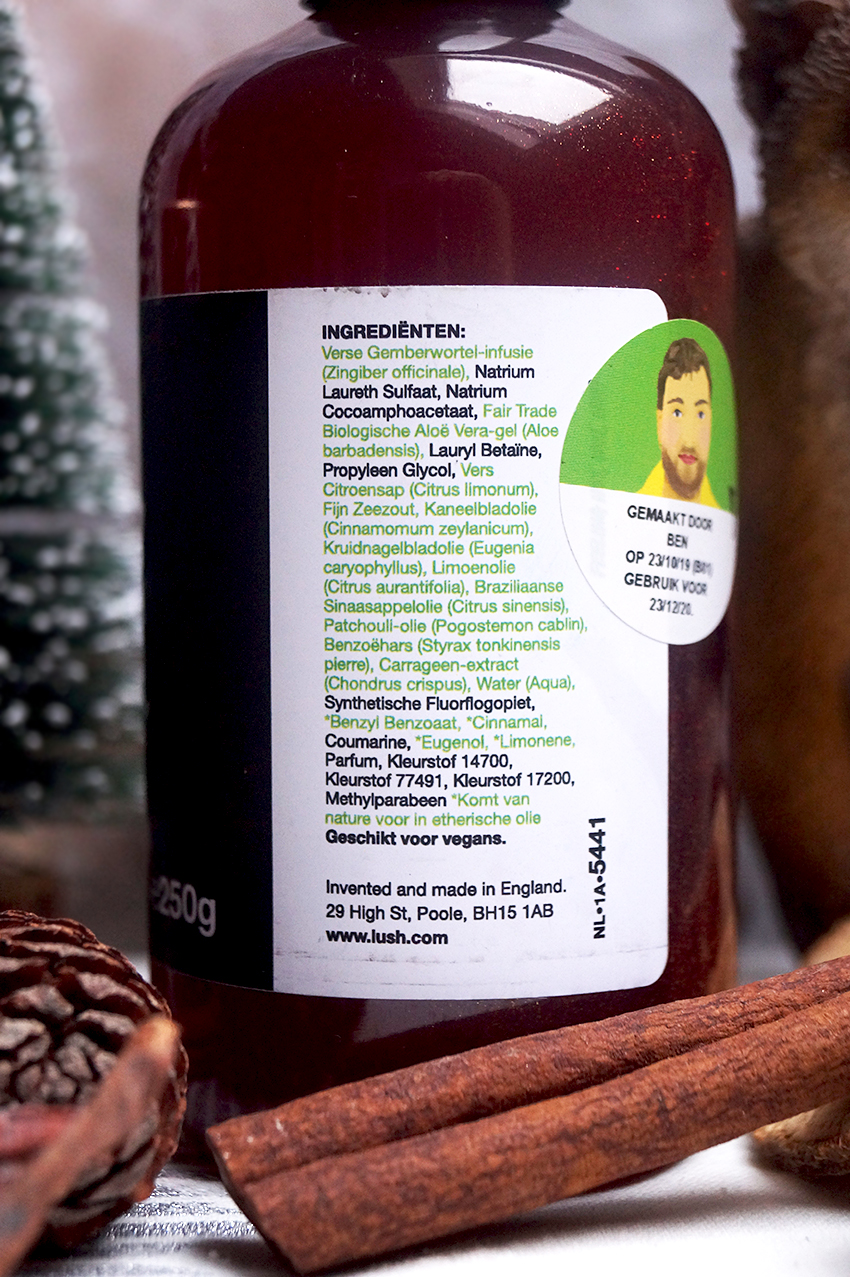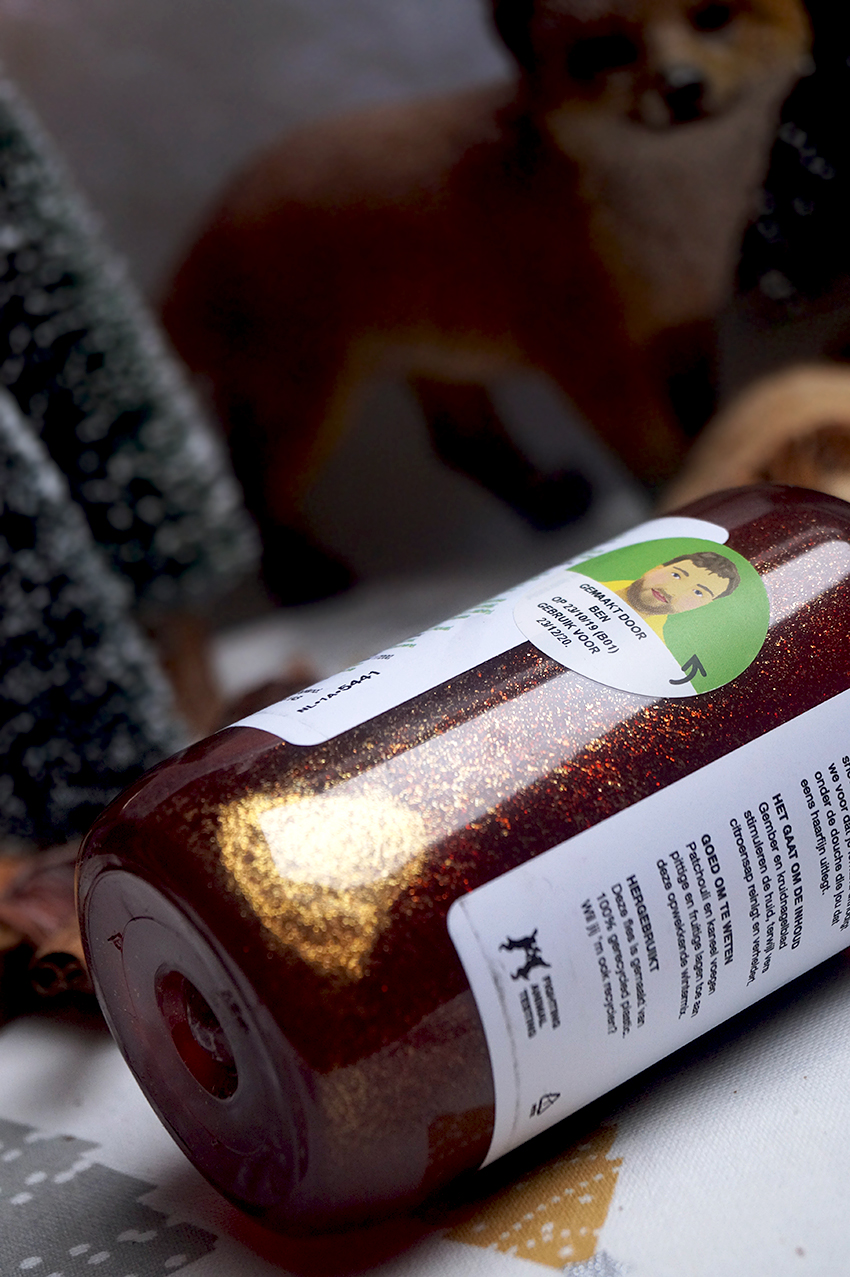 What's inside?
Ingredients: Fresh Ginger Root Infusion, Sodium Laureth Sulfate, Sodium Cocoamphoacetate, Fair Trade Organic Aloe Vera Gel, Lauryl Betaine, Propylene Glycol, Fresh Lemon Juice, Fine Sea Salt, Cinnamon Leaf Oil, Clove Leaf Oil, Lime Oil, Brazilian Orange Oil, Patchouli Oil, Benzoin Resinoid, Carrageenan Extract, Water (Aqua), Synthetic Fluorphlogopite, *Benzyl Benzoate, *Cinnamal, Coumarin, *Eugenol, *Limonene, Perfume, Colour 14700, Colour 77491, Colour 17200, Methylparaben
Hot Toddy contains some delicious ingredients that will nourish our chapped, dry winter skin. Starting with fresh ginger root infusion; this ingredient relaxes muscles, stimulates the circulation and warms you up. A good portion of aloe vera gel will soften and calm the skin and reduce redness. Sea salt cleanses the skin, and it's also antimicrobial and astringent. Both lemon juice and lime oil cleanse the skin, also adding a healthy glow to the skin. Both cinnamon leaf oil and clove leaf oil stimulates blood flow and warms up the skin. Orange oil adds an uplifting and refreshing note to the scent. Patchouli oil keeps the skin clean and soothed. Then there's benzoin resinoid, which also cleanses and soothes skin, and relaxes the muscles. At last, carrageenan extract, which hydrates the skin and gives it a radiant glow.
Scent
Hot Toddy is a magical scent, it's winter in a bottle. I can clearly smell the cinnamon and clove, but there's also a hint of ginger, making the scent a little more spicy. Hot Toddy isn't only spicy though — the 3 citrus ingredients in it make the scent also fruity and sweet. It's definitely not a heavy, spicy scent; rather perfectly balanced, an easy-to-love scent with best of both worlds. Short summary, I'd say cinnamon, cloves and orange. All in all a lovely, wintery, mulled spice kinda scent that will instantly warm you up. If Christmas was a scent, it would be Hot Toddy.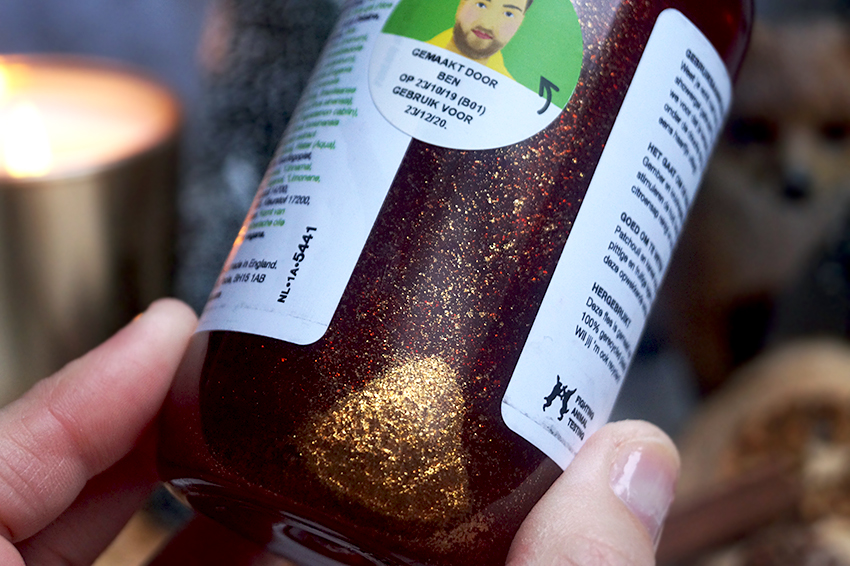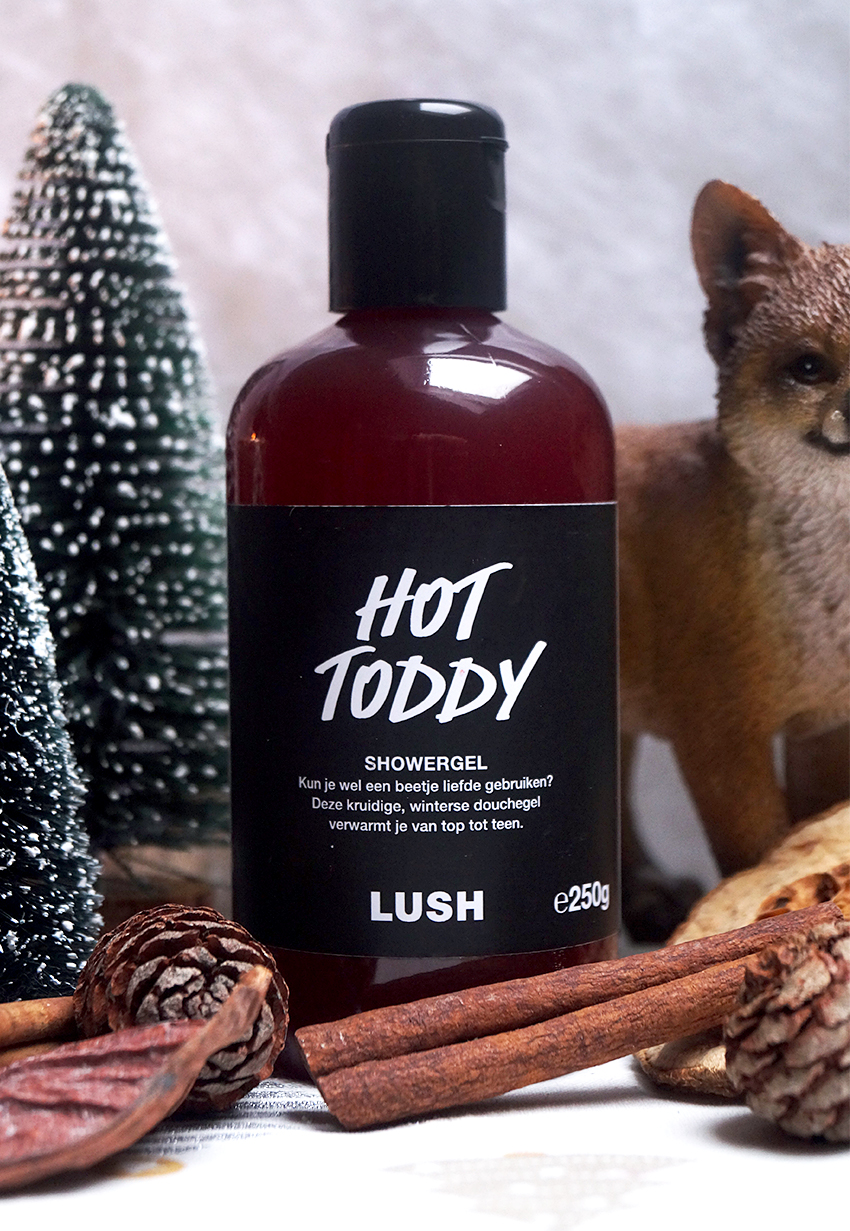 What do I think?
In the shower, the (rather thin) shower gel immediately lathers up to fluffy, rich froth that spreads wonderfully on the skin. The delectable scent hits you, filling both your nostrils and the bathroom with a wintery scent. The rich froth feels great on the skin, and while rinsing off, I can already feel how soft my skin is. The scent lingers on the skin for a long time, something I don't often experience with shower gels. The smell seems to be much warmer on both my skin and in the bathroom. It's like the patchouli is now more present. Also, my skin felt silky soft, smooth and it had a beautiful glow to it. It didn't feel more hydrated, but I should probably point out that my skin is terribly dry at the moment.
This shower gel is my bae right now. I want to buy 5 more, but my bank account already hates me, so yeah. Thankfully you don't need a much of this shower gel, a little goes a long way. The scent's also pretty strong, so you don't even need much. If you like wintry, spicy shower gels, you should definitely give Hot Toddy a try before it's gone. It's only available online in the UK, and for a limited time, so don't wait to long!

Lush Hot Toddy Shower Gel costs £12.00 (England).