Review: Lush Crash Shower Jelly
When I was in Liverpool, I already spotted this jelly from far away. There was a huge text above the jelly: PARTY EXCLUSIVE. Aka, not for sale. You have to book a party there in order to get one. Pfft. I was very disappointed, especially after I smelled it. A wonderful scent that smelled very familiar to me.. after a quick check, Crash appears to be sharing its scent with Celebrate. Perhaps better known as Buck's Fizz, Bubbly or Golden Wonder — one of my favorite scents of Lush. So I could barely contain my excitement when I saw the Party Exclusives for sale in the UK webshop, and immediately bought some. Unfortunately it's no longer for sale, but since Lush is full of surprises, I decided to just review it anyway.
If you're curious about this product, make sure you keep on reading!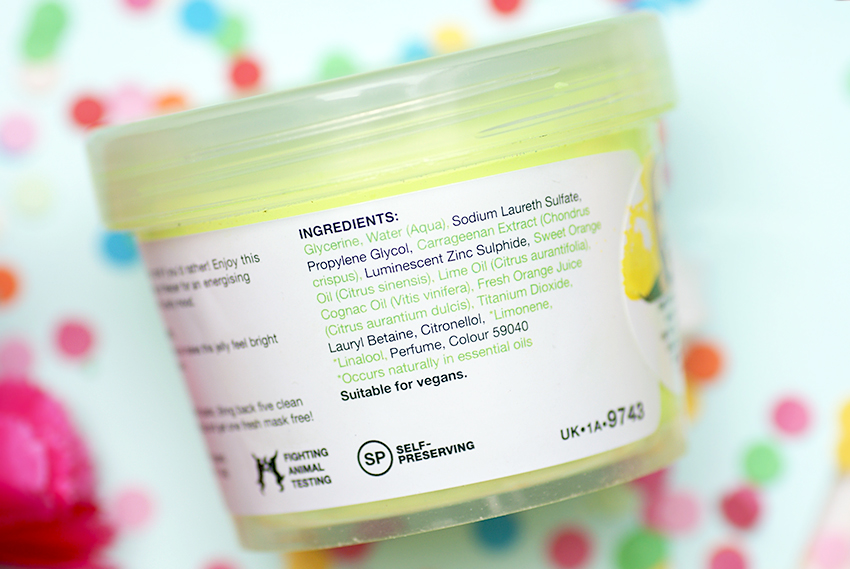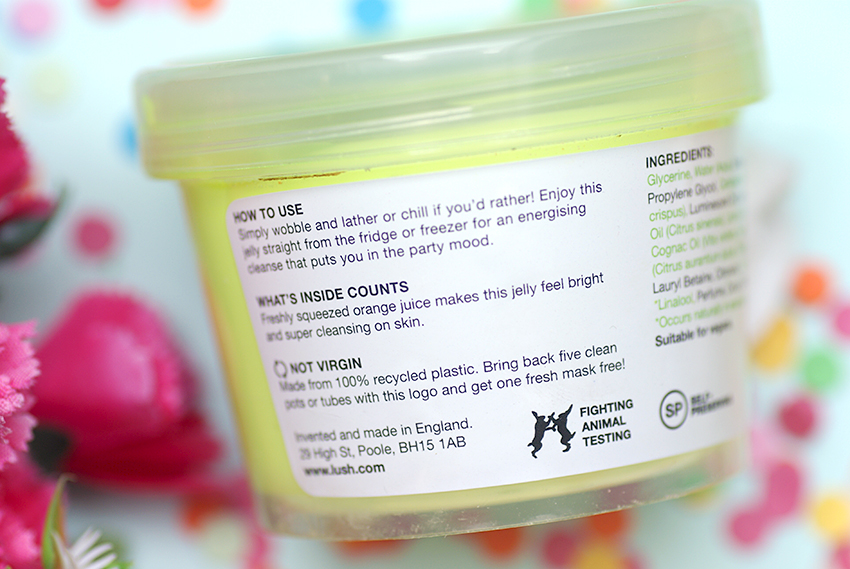 What is it?
Lush Crash Shower Jelly costs £5.00 for 100 grams. It's a party exclusive, meaning that you can get it when you book a party at one of the Lush stores in England. So I was both confused and excited when I saw these Party Exclusives for sale in the UK webshop, because there was no announcement or whatsoever. They were just suddenly there. I already reviewed both Cilla the Caterpillar and Calm A Llama Party Piñata bath bombs, but I wanted to review this jelly as well. I bought three jars, because I'm so in love with the scent.
I've often written about how to use a shower jelly — you can read my blog post on how to use a jelly here. I have to admit that I'm not a fan of holding the entire jelly, as they keep flying out of your hands because they're so slippery, but a 100 grams is easier to hold than a 240 grams. But the most convenient way for me to use a shower jelly, is to cut off a chunk and put it in a little organza bag. It's lathers up like crazy, without having to pick it 43 times.
You can also put the jelly in the fridge, or even the freezer. This is a great refreshment for when it's very hot outside! I've never done this myself though, I don't like the idea of icy cold stuff against my body. 😖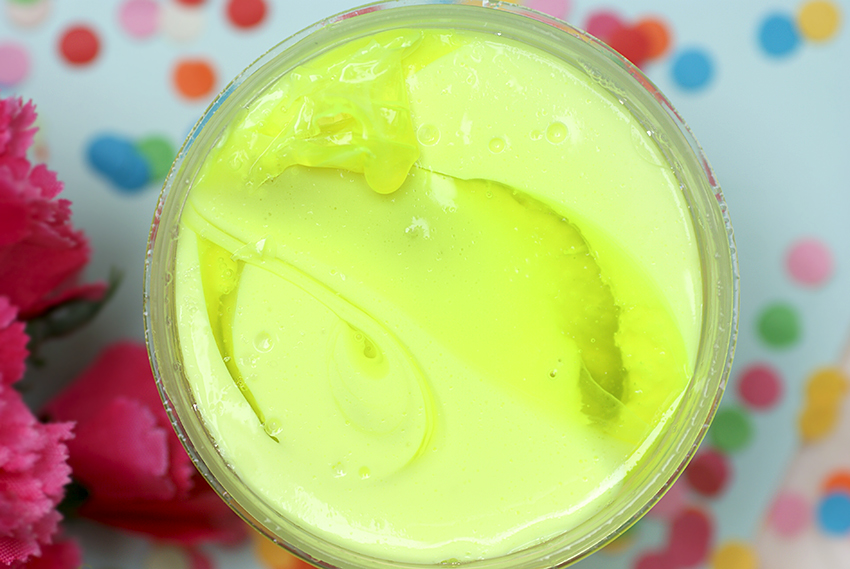 What's inside?
Ingredients: Glycerine, Water (Aqua), Sodium Laureth Sulfate, Propylene Glycol, Carrageenan Extract, Luminescent Zinc Sulfide, Sweet Orange Oil, Lime Oil, Cognac Oil, Fresh Orange Juice, Titanium Dioxide, Lauryl Betaine, Citronellol, *Limonene, *Linalool, Perfume, Colour 59040
This fluorescent jelly contains both glycerin and carrageenan extract, two ingredients that make your skin silky soft and nourished. Other than that, there's also sweet orange oil, lime oil, cognac oil and fresh orange juice. These are basically the key ingredients in all the products sharing this scent, e.g. Buck's Fizz body conditioner (both naked and liquid), Golden Wonder, the discontinued Snow Showers Shower Jelly, Celebrate body lotion, Celebrate shower gel, First Snow Dusting Powder, et cetera. It's all big, good-smelling family.
I hear you think: okay, and how exactly does that smell? Well, incredible, I can tell you. It's no secret that this is one of my favorite scents from Lush, perhaps even my favorite. It's a sweet, fruity and juicy orange scent, with a warm layer. It's the perfect balance between fruity/citrus and warm. The freshness of the oranges and the lime are both very well present, but it's rounded off due to the warm notes in the scent. It's heavenly and it makes me drool every time I smell it. Just kidding. (Or am I?)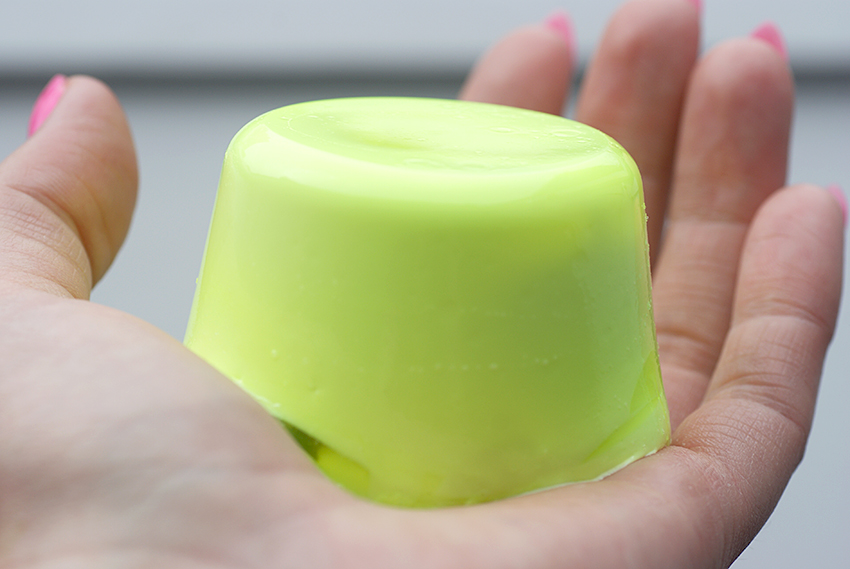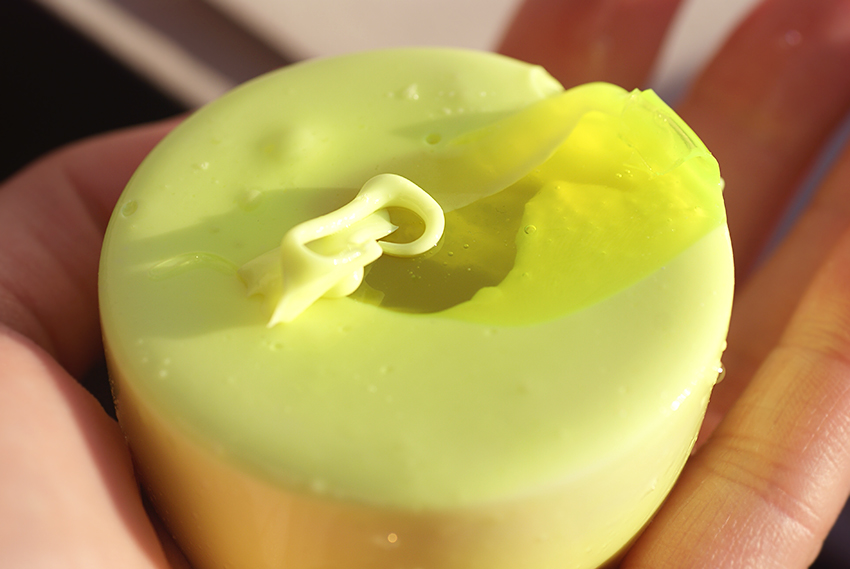 What do I think?
Okay, how incredible does this jelly look?! I mean, look at that color. If that doesn't make you instantly happy, then I don't know what will. But it's not just the color — it's also the scent that's capable of getting rid of my morning blues. In the shower, I just grab the whole jelly and lather it across my body. Hold it tight, because I can guarantee you — it's no fun chasing a slippery jelly through the shower. It's a fight you won't win. Anyway, when I lather the jelly across my skin, the juiciness of the jelly can be smelled very well and is truly amazing. It smells exactly as good as I hoped.
After towelling myself down and having breakfast downstairs, both my boyfriend and I noticed how radiant and glowy my skin was. I've been working in the garden for the past weeks, so I'm having a bit of a tan going on right now. The radiant glow on my skin looks therefore sooo good and healthy. I mean, I already loved this jelly because of its scent, but this is just amazing. Shine bright like a diamond? No problem!
Well, it's not surprise that I'm very happy with this jelly. And I'm so glad I got myself three of these jellies. I hope they will sell this jelly again, along with the other Party Exclusives (I never got the chance to stock up on Cilla 😞). I mean, Lush has more jellies that soften your skin and make it glow beautifully, but we need simply need more products sharing this scent!

Lush Crash Shower Jelly costs £5.00 for 100 grams.