Review: Lush Ectoplasm Shower Scream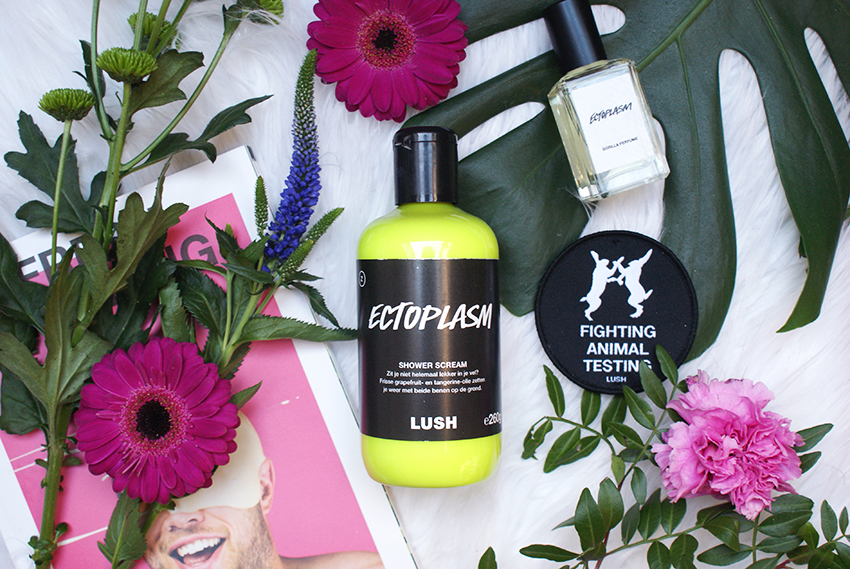 I own this Ectoplasm shower scream for a while now, but I kept forgetting to review it. And that while I'm in love with this shower scream! This spooky product was part of the Halloween 2018 range. I hope it's in the Halloween range this year as well, because I'm guessing my bottle will be empty by then. And how cool is the fluorescent color? Anyway, let me review this glow in the dark (YASSS!) shower scream for you.
Is it a trick or a treat? Keep on reading to find out!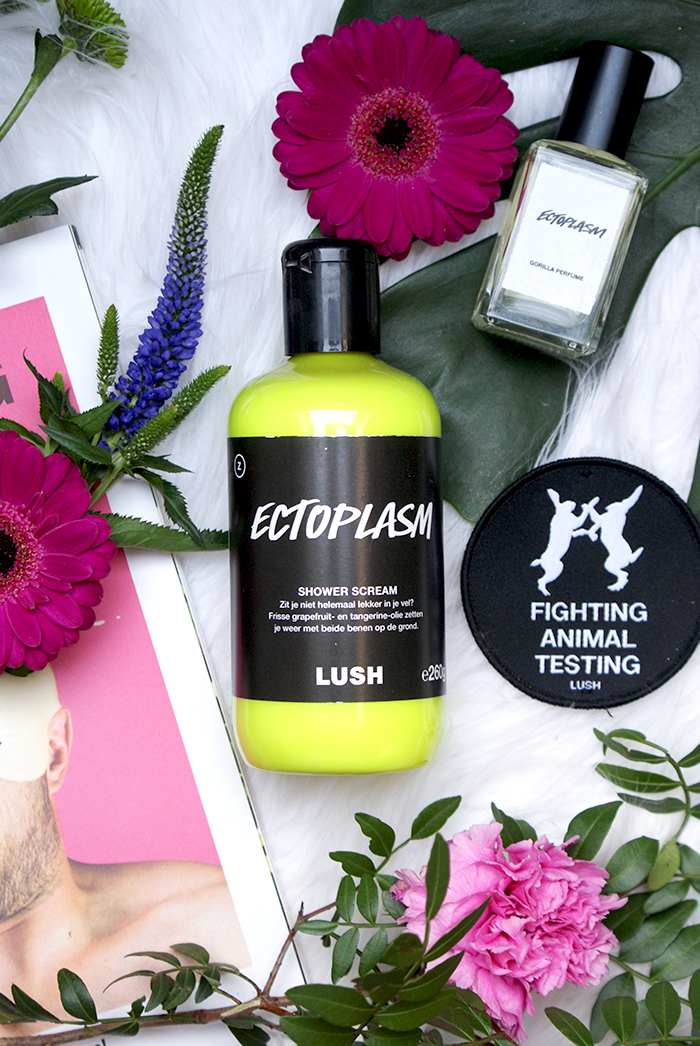 What is it?
Lush Ectoplasm shower scream costs £5.50 (100g), £10.95 (260g) or £18.25 (520g) in the UK and $9.95 (100g), $19.95 (250g) or $32.95 (500g) in the USA. There was also a naked shower gel, a liquid and solid perfume, a jelly bomb and a washcard. Like I said, this shower scream is glow in the dark, which is of course very cool, especially with Halloween! I also enjoy the bright neon, luminous yellow color. The difference between a shower cream and a shower gel is simply that a shower cream is much thicker, but it doesn't lather as much as a shower gel does. Because of all the hydrating ingredients in a shower cream, it's much more hydrating.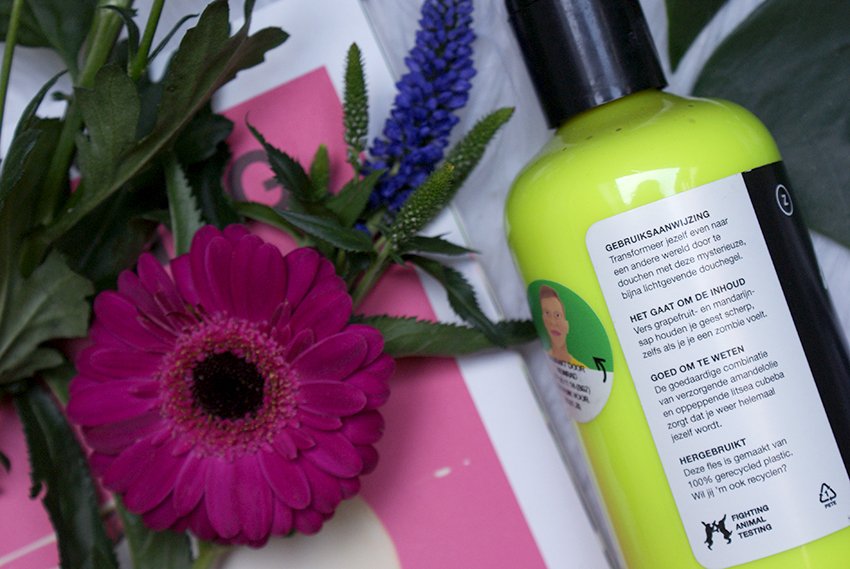 What's inside?
Glycerine, cocoa butter, almond oil, tangerine water, tangerine oil, mandarin juice, grapefruit juice, fine sea salt, grapefruit oil and litsea cubeba oil. Well, that's quite an awesome list of ingredients! The citrus fruit ensures that the scent is fruity and fresh, it's like a delicious sherbet. This shower scream will wake you up better than a cup of coffee can do. The grapefruit and mandarin really helps to lift spirits. Totally in love with this scent!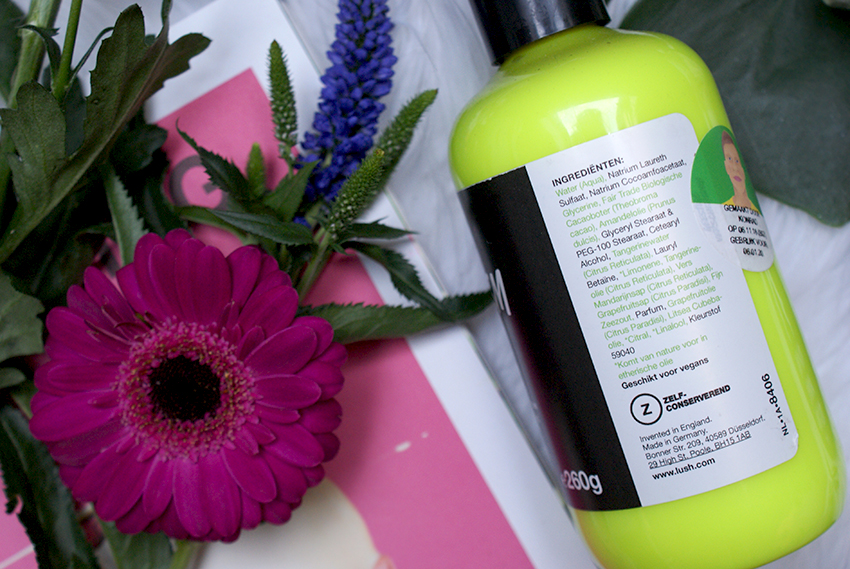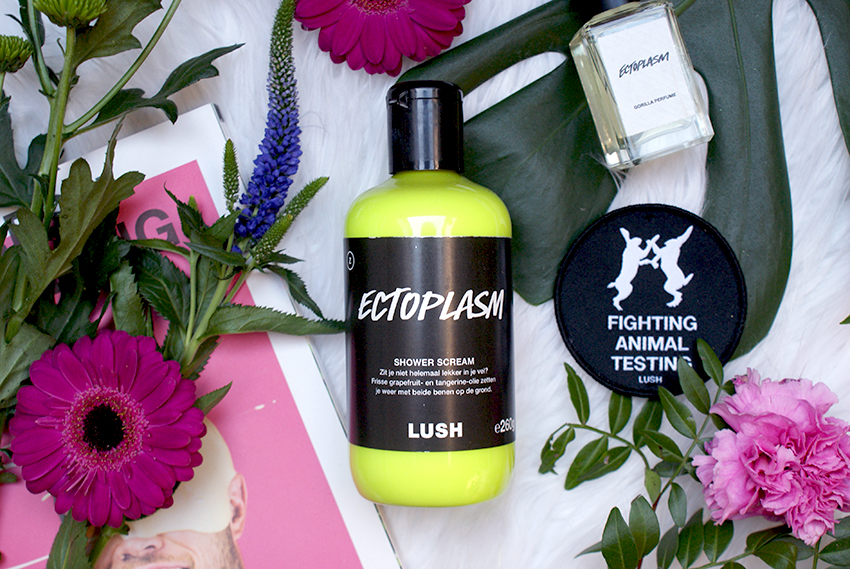 What do I think?
The consistency is thick and creamy, whereas as shower gel is more liquid. If you've ever had Oaty Creamy Dreamy or Santa's Christmas; this is exactly the same consistency. When I squeeze the bottle, the substance comes out straight and keeps standing up, it does not flow out of the bottle. Did that make sense? I think these kind of substances are better than ordinary shower gels, the (s)cream is like smearing a body lotion, because it doesn't really lather up as much as a shower gel would.
In the shower this shower cream is a real trick or treat. I really enjoy its cheerful citrus scents. There's a little bit of lather, which feels amazingly soft and hydrating. Afterwards my skin feels much more soft and less dry — even after a few hours, it still feels great. The smell is very subtle on my skin, something that's also a big plus for me. I'm very happy with this shower scream in my stash!

Lush Ectoplasm Shower Scream was part of the Halloween 2019 range.