Review: Lush Love Locket Amazeball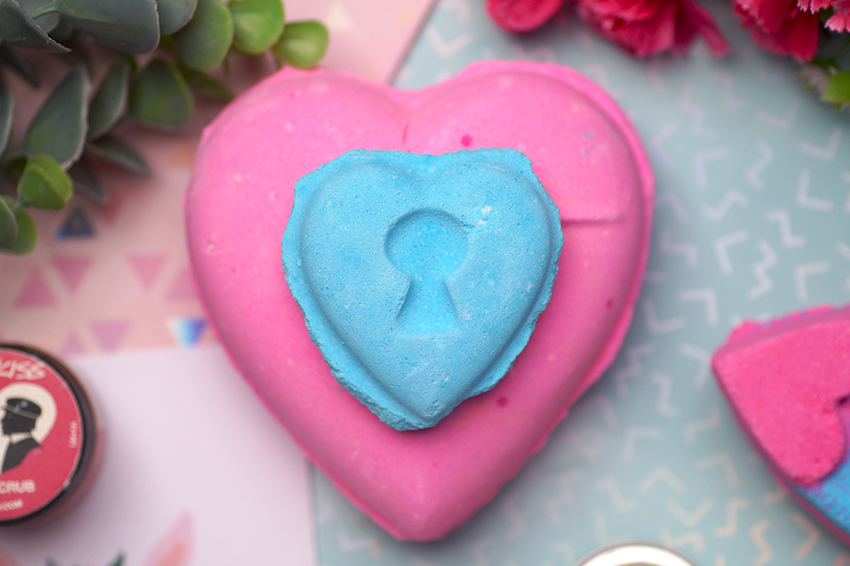 The Valentine's Day range hit the stores (and webshop) and I couldn't be happier. Don't get me wrong, I love the winter products, but seeing all these cute and cheerful spring products really make my heart beat faster. So when I received my order yesterday, I didn't know how fast I had to fill up the tub. Love Locket has made its debut again this year, but with a small make over, and I was very excited to give it a try!
If you're curious about this bath bomb, then keep on reading.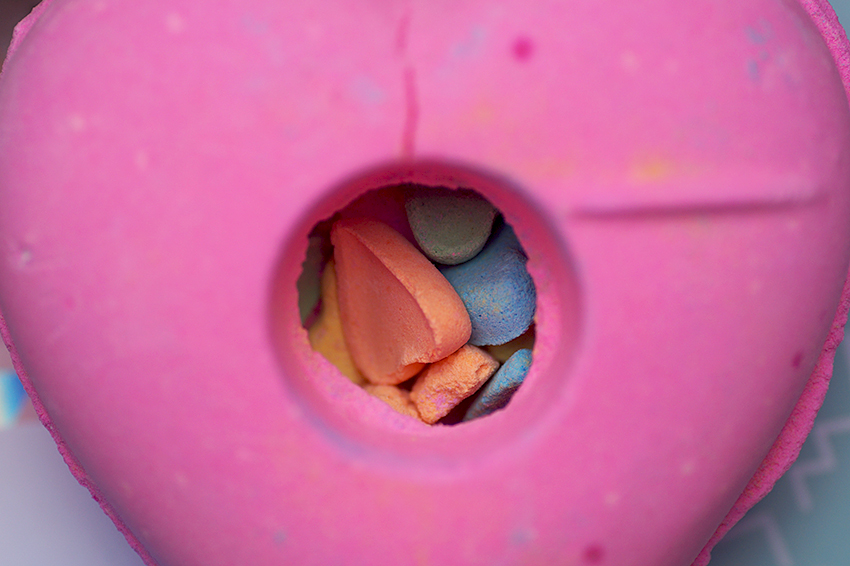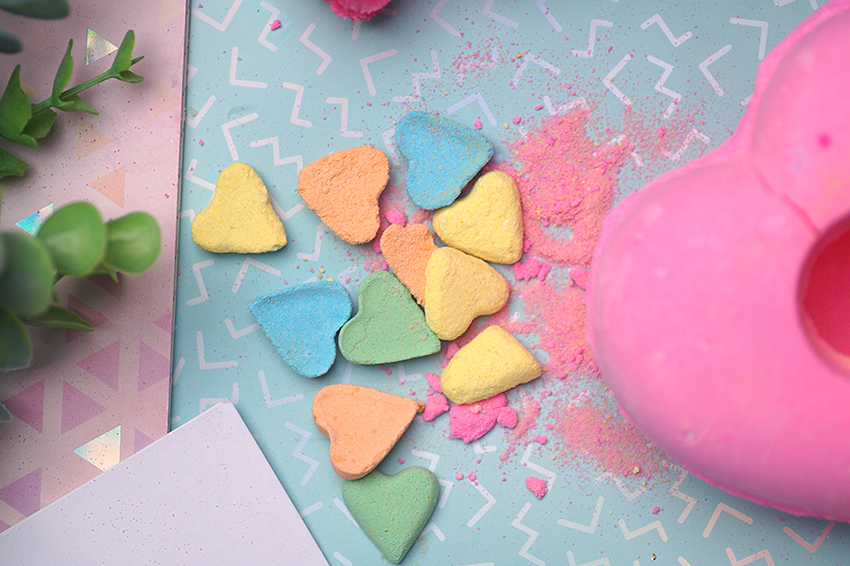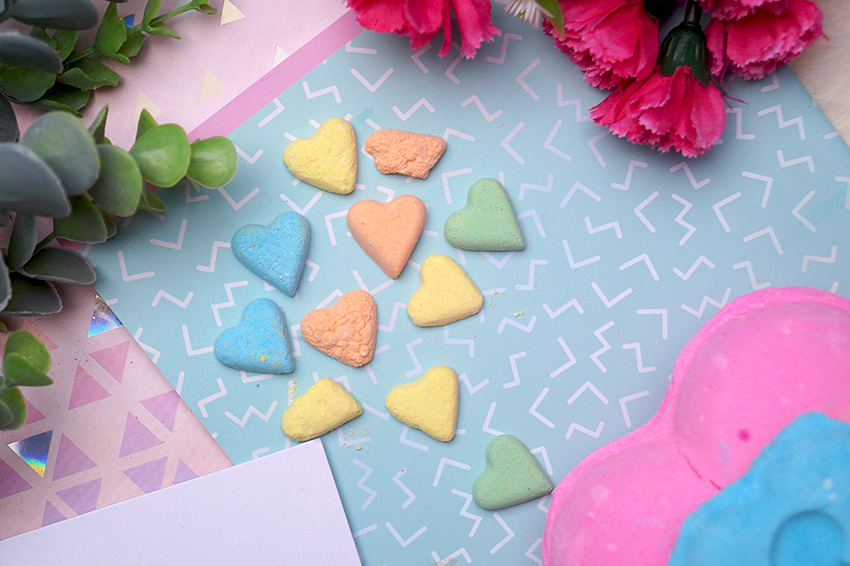 What is it?
Ingredients: Sodium Bicarbonate, Citric Acid, Geranium Oil, Brazilian Orange Oil, Tonka Absolute, Cream of Tartar, Water (Aqua), Cornflour, Cornstarch, Titanium Dioxide, Sodium Coco Sulfate, Propylene Glycol, Cocamidopropyl Betaine, Dipropylene Glycol, Synthetic Fluorphlogopite, Tin Oxide, Amyl Cinnamal, Benzyl Alcohol, Citral, *Limonene, Perfume, Colour 47005:1, Colour 45410:1, Colour 15510, Colour 45410, Colour 45380:2, Colour 19140, Colour 42090, Colour 17200
Lush Love Locket Amazeball costs £7.50 / $9.95 and is part of the Valentine's Day range. This bath bomb isn't a stranger to us Lushies, because it was originally released in 2014. Back then it was a ballistic; a large, sturdy and heavy bath bomb. This year it's hollow — remove the blue lock to release the containing small, colored hearts into the water. Ugh, that is SO CUTE. Love Locket used to cost a bit more, so it's dropped in price a bit. I think that's because this one's hollow, so it's less massive. Nonetheless, it's an okay price for such a big bath bomb.
Love Locket also contains geranium oil, orange oil and tonka. It shares its scent with Yummy Mummy, a fairly powdery strawberry scent. I have to admit I'm not a fan of this scent — to me, it smells like a mix of cardboard boxes and wet dogs. However, this scent family has a lot of fans. It's a sweet, fairly powdery, strawberry scent with a fruity note of orange to it. To me, the addition of orange makes the scent a bit strange, but like I said, there's not a lot of people that will agree with me. When in doubt, smell it in stores first!
Play the video in 2160p quality and on full screen for the best experience! The video has been sped up.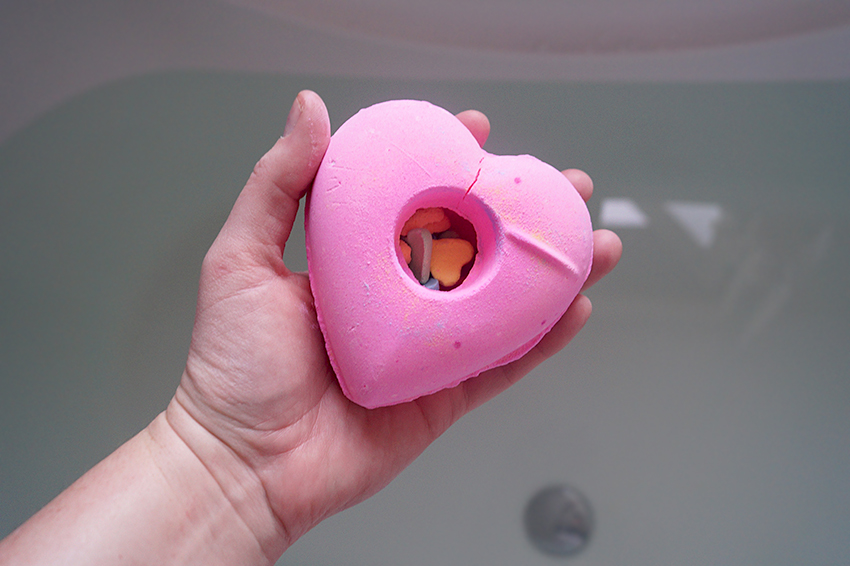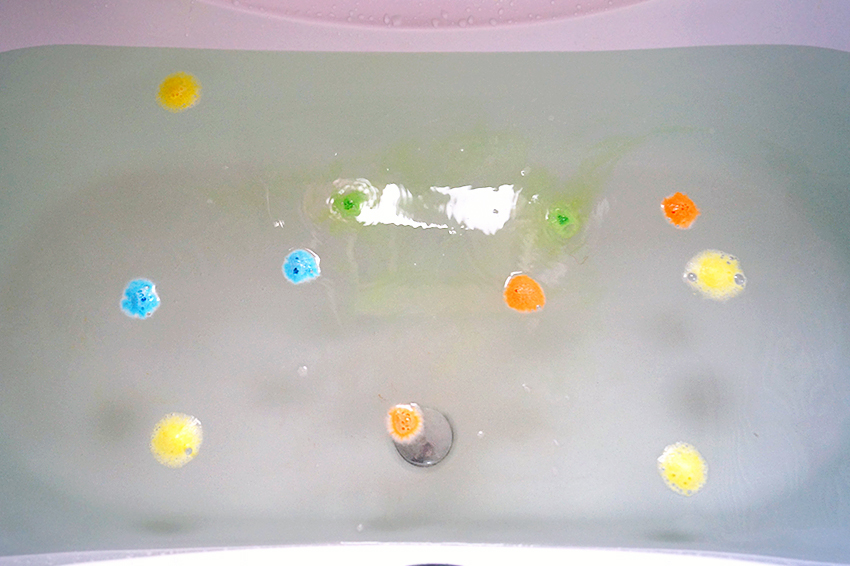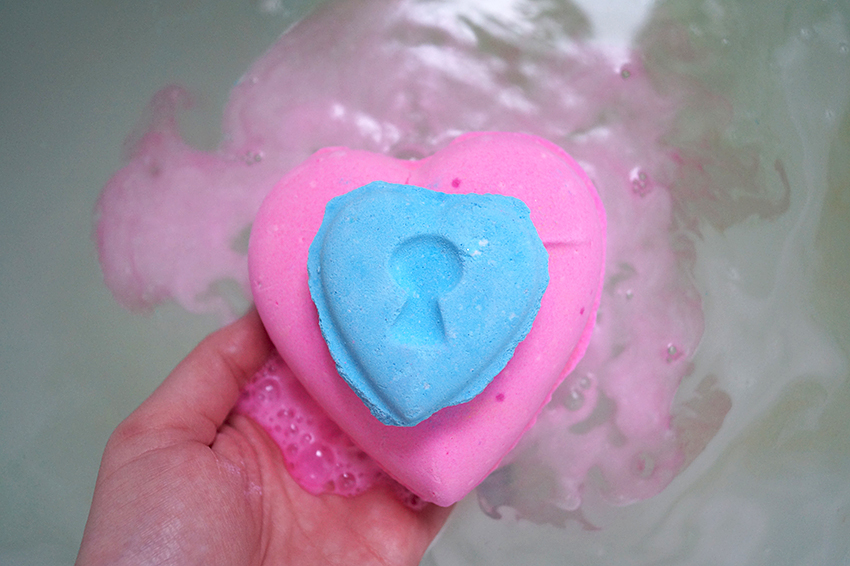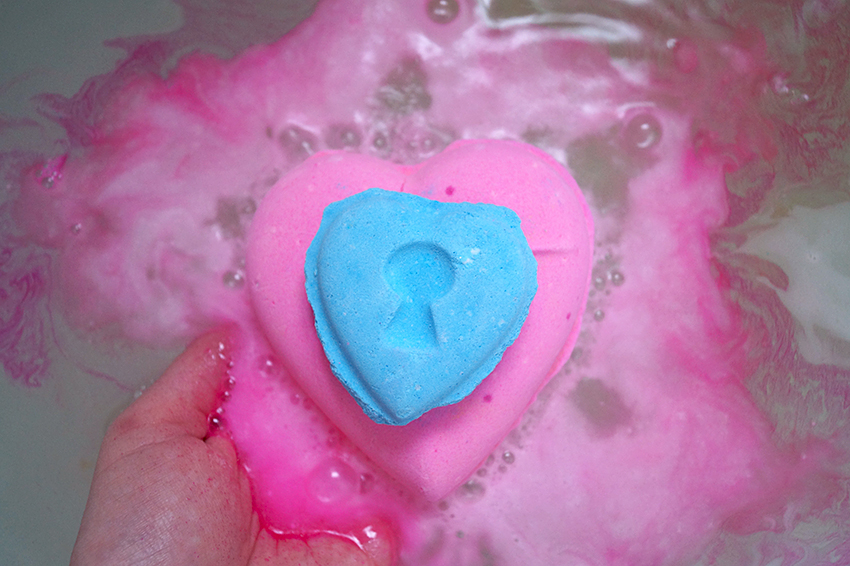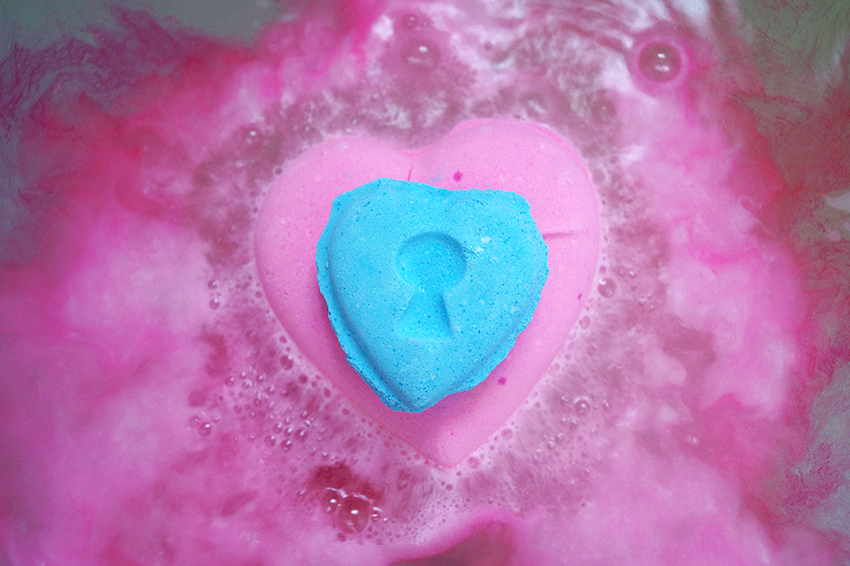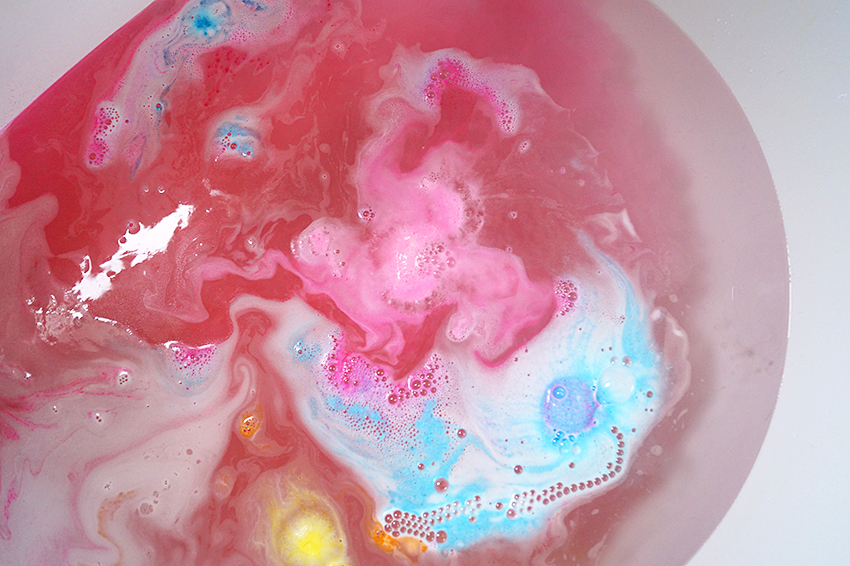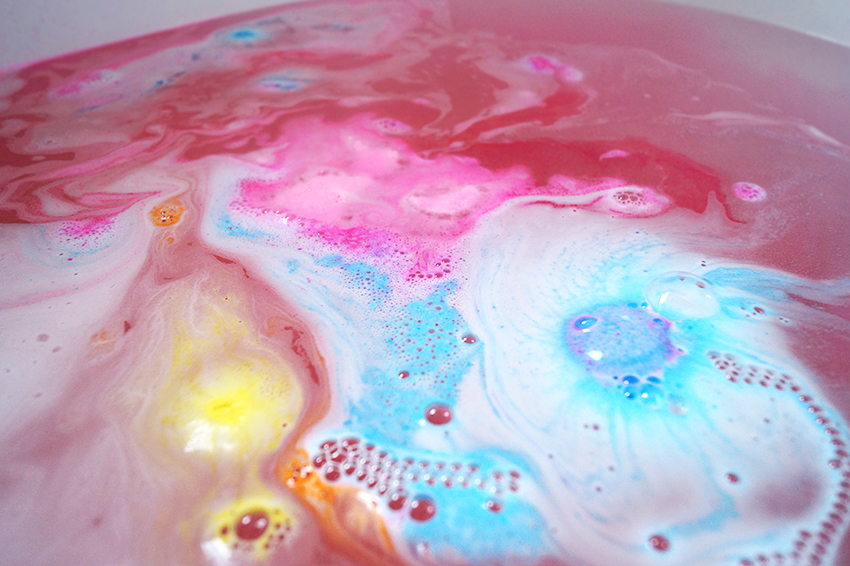 What do I think?
First thing to do: empty the contents into the water. And as you can see, the effect isn't really spectaculair. Lush says: "Feel free to indulge with the whole thing at once, or keep the shell for another time." — well, I'd throw in the whole damn thing. The Amazeball itself is fizzing really quick; once immersed, it was gone in under one minute! It does provide some really cool pink clouds under water, though. Gradually the pink clouds take over the water and turn the water into a pink shade. The colored hearts float on the surface, slowly disintegrating, just like the blue lock. The blue lock fizzes very slowly, turning the pink water a little towards pink/purple. The end result looked really stunning and colorful, it kinda reminded me of Luxury Lush Pud!
I didn't really detect any glitters under water, despite the addition of this ingredient (Synthetic Fluorphlogopite). This would've completed the whole picture for me, but I still really enjoyed bathing with this Amazeball. I love pink bath bombs, so this was a real treat! The brightly colored hearts were such a cute addition. The scent was constantly present in the background, poor me lol. Despite the considerable amount of synthetic colors in this product (hence the pink splatters on my hand), the tub was very easy to rinse afterwards and no colors stayed behind. My skin felt smooth and soft afterwards, as well. Yes, this is one I would definitely recommend trying! Especially if you love Yummy Mummy.

Lush Love Locket Amazeball costs £7.50 (England) / $9.95 (USA).