Review: Lush Twilight Shower Jelly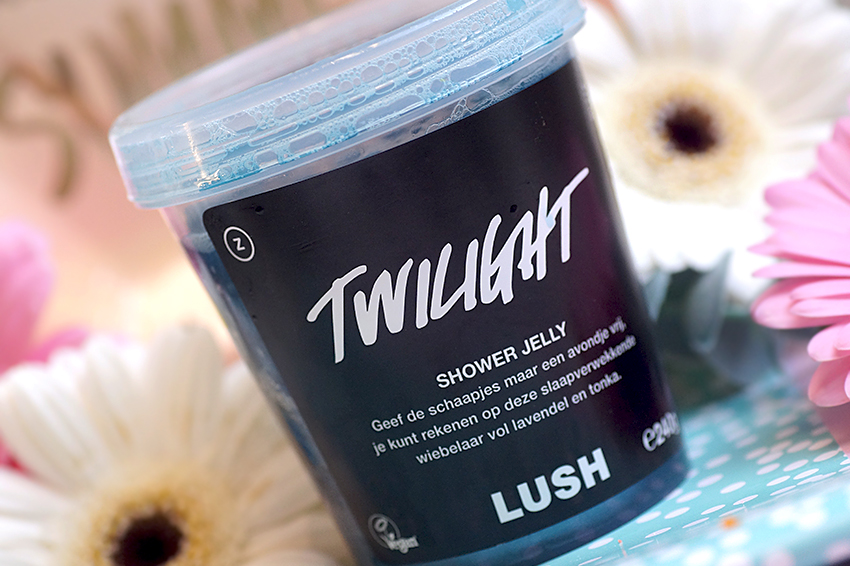 Initially, I didn't intend to buy this shower jelly, seeing as I already have a LOT. But when I saw photos of this gorgeous jelly, I couldn't help it. Who needs a spine, anyway? I ordered this jelly and upon arrival, I couldn't be more in love. It's so gorgeous, I must've taken about 100 photos of it! Today I'm going to show you this gem.
If you're curious about this product, make sure you keep on reading!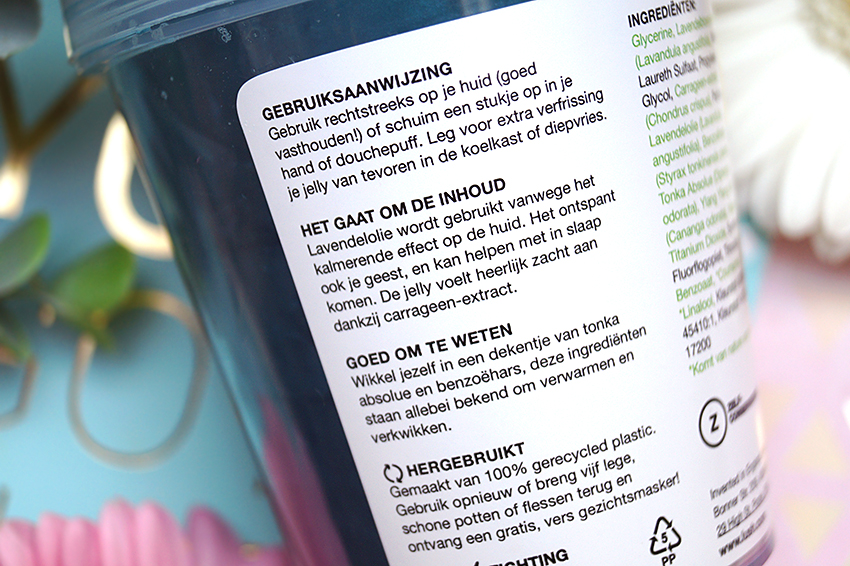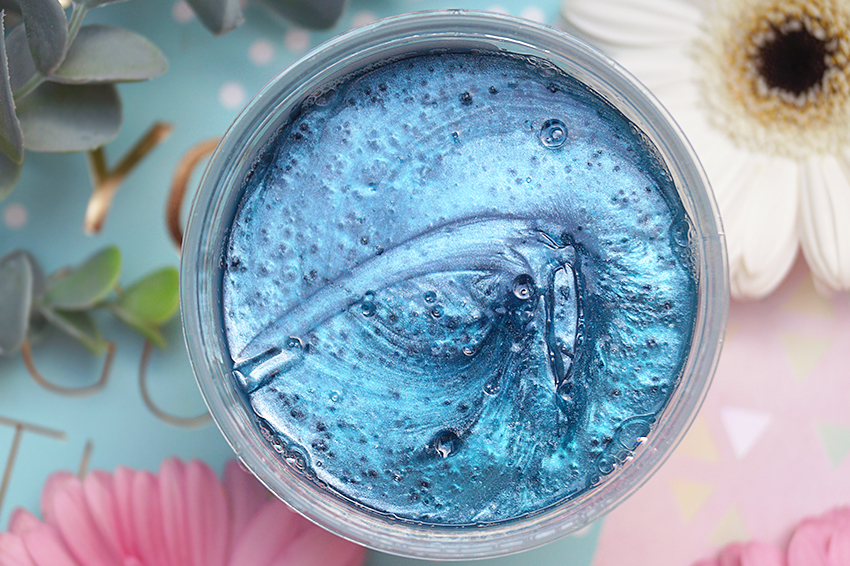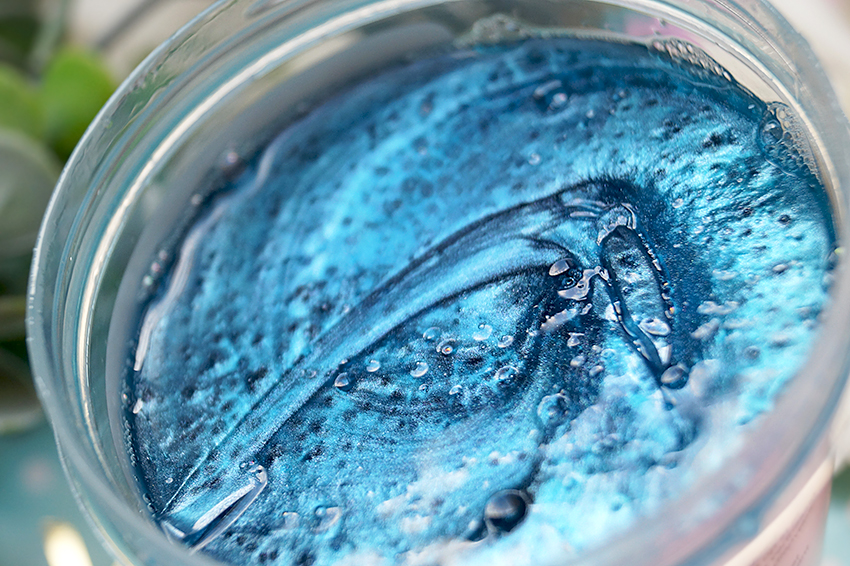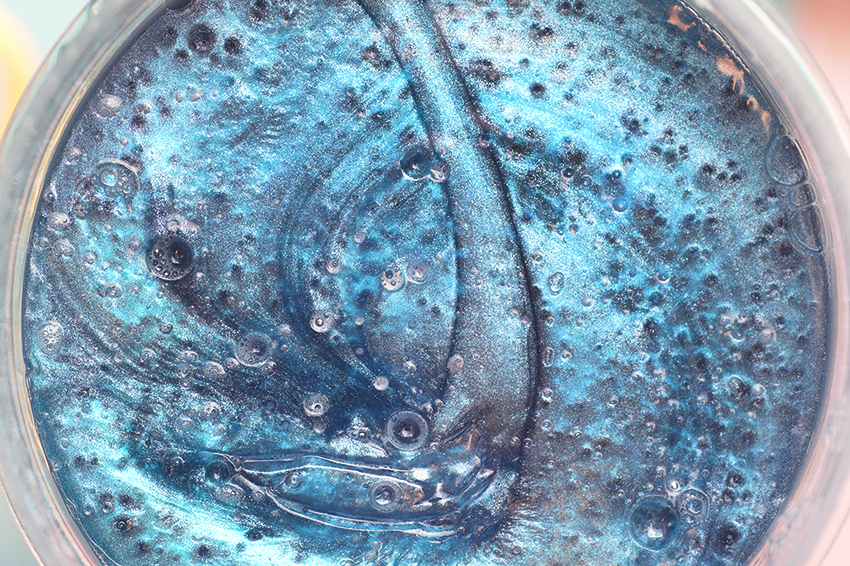 What is it?
Twilight Shower Jelly costs £11.00 / $16.95 for 240 grams (big size) and £5.50 / $8.95 for 100 grams (smaller size). It's part of the main range since a few months. Twilight shares its scent with Sleepy, although some people might disagree on that. The colors and the texture are clearly different, but some people also feel like the scent is a bit different. It's pretty confusing, to be honest. I've always preferred Twilight — this originally dark blue shower gel full of glitters, appealed more to me than the lilac creamy substance that is called Sleepy. The jelly is no exception, it looks like a galaxy. It has gorgeous colors, ranging from dark blue to purple, and it's packed with (plastic-free) glitters.
If you want to know how to use a jelly, click here. There are different ways to use a jelly, but I prefer to cut it in chunks and put a chunk into a little organza bag. This way it won't slip out of your hands and it lathers up really good due to the friction.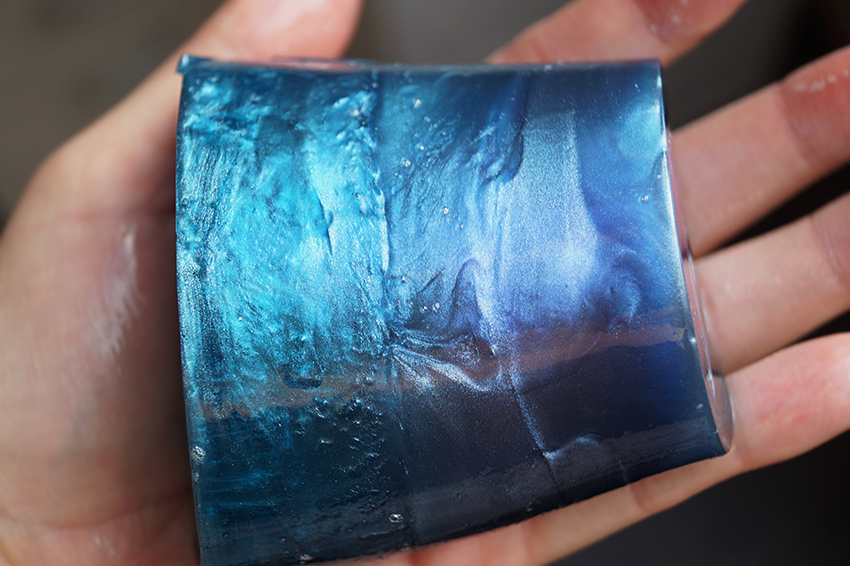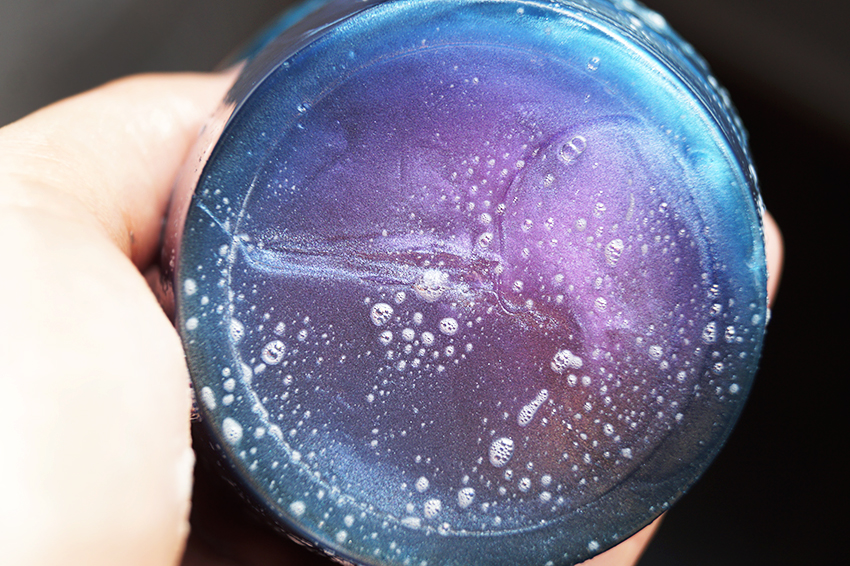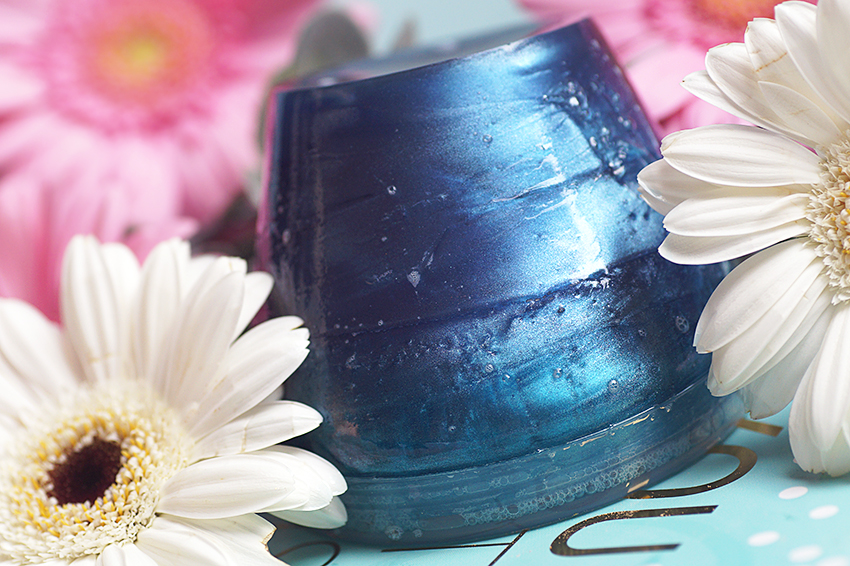 What's inside?
Ingredients: Glycerine, Lavender Flower Infusion, Sodium Laureth Sulfate, Propylene Glycol, Carrageenan Extract, Perfume, Lavender Oil, Benzoin Resinoid, Tonka Absolute, Ylang Ylang Oil, Water (Aqua), Titanium Dioxide, Synthetic Fluorphlogopite, Tin Oxide, *Benzyl Benzoate, *Coumarin, *Limonene, *Linalool, Colour 42090, Colour 45410:1, Colour 14700, Colour 17200
Twilight is known for its lavender scent. The main ingredient is glycerin, which is deeply hydrating, making skin soft and supple. After that comes lavender, known for its calming, soothing scent and effect, making this jelly ideal for nighttime. But you should also give it a try whenever you're feeling stressed or anxious — studies have proved that lavender eases the mind
and helps treat anxiety, depression, insomnia and nausea. The jelly also contains lavender oil. Despite its soothing scent, lavender is also great for irritated skin and scalps. Benzoin resinoid has a calming scent as well, but also cleanses the skin and puts a thin protective film on the skin, preventing it from losing moisture. Tonka absolue smells sweet and comforting, but it's also anti-inflammatory. Ylang ylang is popular in aromatherapy, its sweet floral smell makes the Twilight scent even better.
So, the Twilight scent. It's a immensely popular scent, often used by small children to help them sleep better. Lavender is, of course, the main note you'll smell, but it's not all lavender! It also has a sweet, slightly floral base. The benzoin and tonka make the jelly somewhat sweet, while ylang ylang makes it more floral. It's a beautiful fragrance, it will appeal to those who can't get enough of lavender scents. You mind want to skip this scent if you dislike lavender though, because despite its sweet and floral notes, the scent is still pretty much lavender.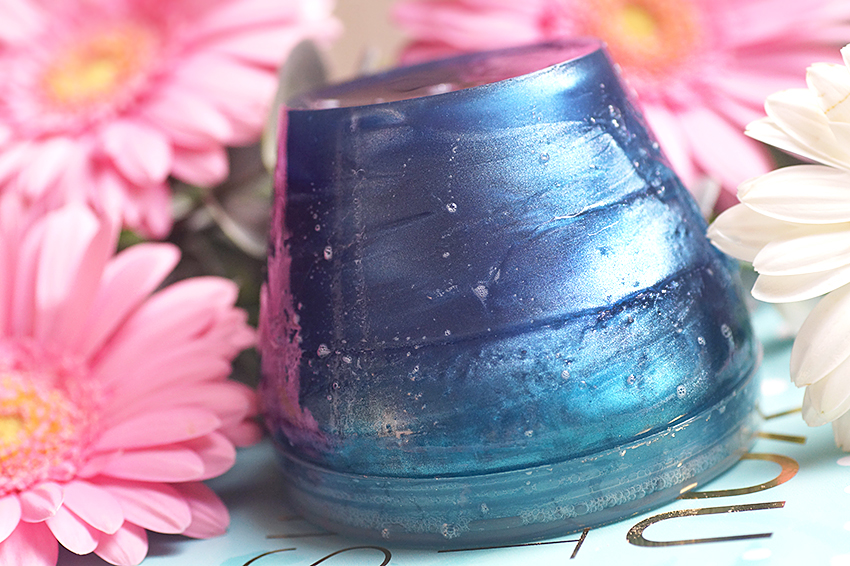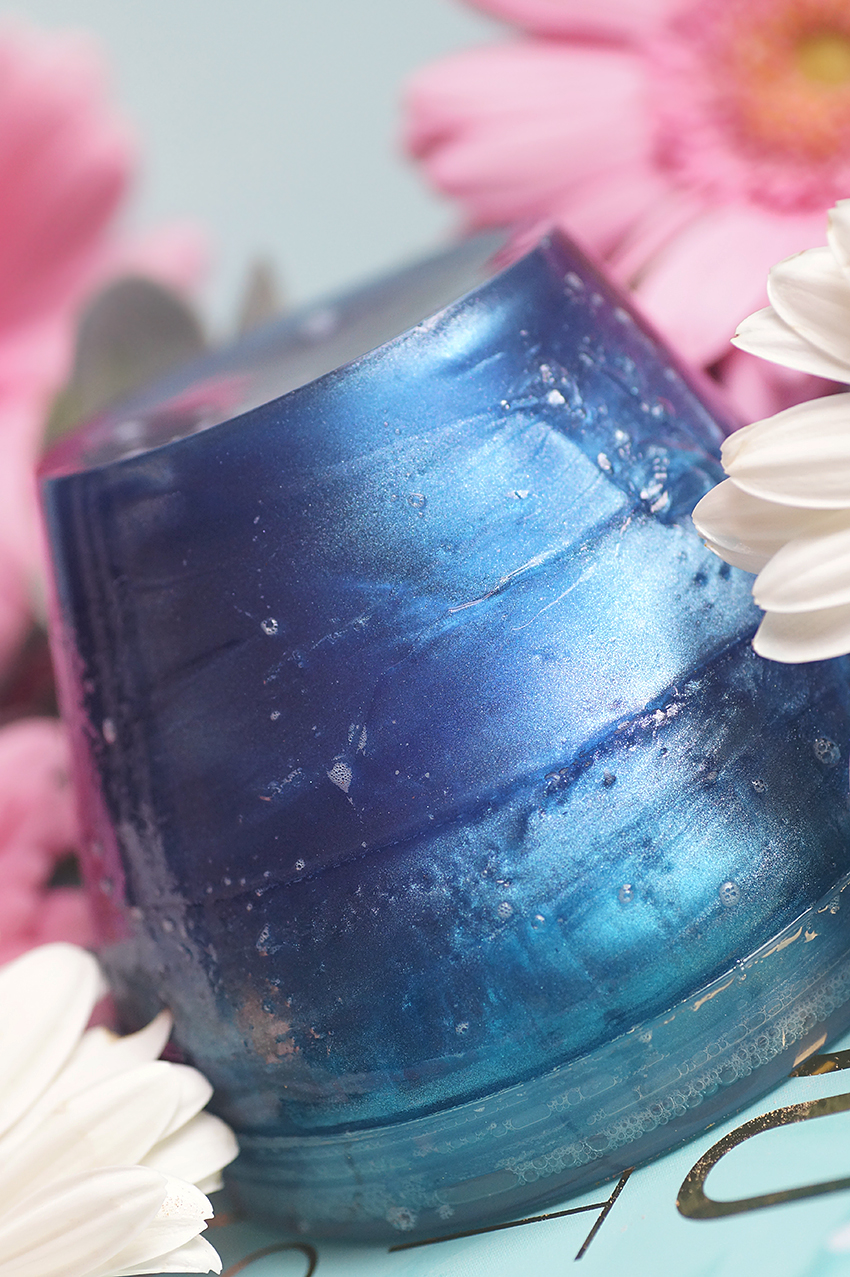 What do I think?
Despite my preference to cut it into little chunks and then use it, I just didn't have the heart to chop this gorgeous jelly into pieces. So, I took it with me into the shower as one whole piece (yes, I am very brave), holding it firmly in the middle. While gently rubbing it over my skin, the jelly lathers up a little bit — it doesn't give me a lot of lather, so I add some water so it will create some lather. The scent that comes off, it pretty strong and tends to get pretty spicy in the shower. It's a different scent than smelling directly from the jar, it's a lot more warm and spicy now.
After toweling down, I immediately notice the glow on my skin. My skin always has a beautiful and radiant glow after using the jellies, thanks to the carrageenan extract in it. The scent doesn't linger very long, but luckily there's where my Twilight body spray comes in. My skin does feel a lot more soft, smooth and clean. Despite the fact that the only thing that helps me fall asleep faster is being hit in the head with a sledgehammer, I love using Twilight products before bed time. It definitely soothes the mind, but also the skin! It doesn't make me fall asleep faster, but nonetheless this scent is one that can be found in my bathroom 365 days a year.

Lush Twilight Shower Jelly costs £5.50 (100 grams) or £11.00 (240 grams) (England) / $8.95 (100 grams) or $16.95 (240 grams) (USA).

2 Responses to Review: Lush Twilight Shower Jelly