Review: Lush Lucky Cat Bubble Bar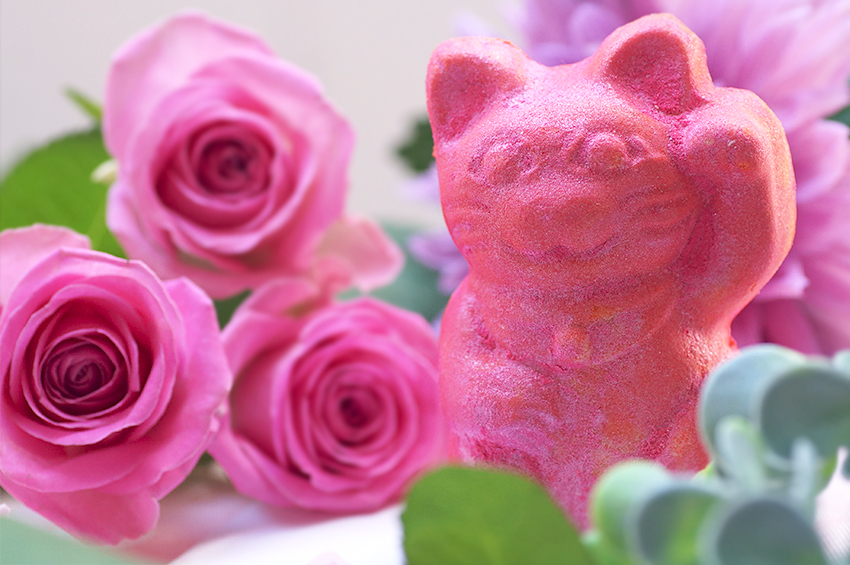 The horrors of Lucky Cat bath bomb were still fresh in my mind, so I wasn't too enthusiastic about a second Lucky Cat product. The bubble bar has the exact same look and size as the bath bomb, which makes it even harder to not be biased. I decided to buy it anyway, I had to give it another chance! I love cats and I love pink, so this one HAS to be a hit, right?
If you're curious about this bubble bar, then keep on reading.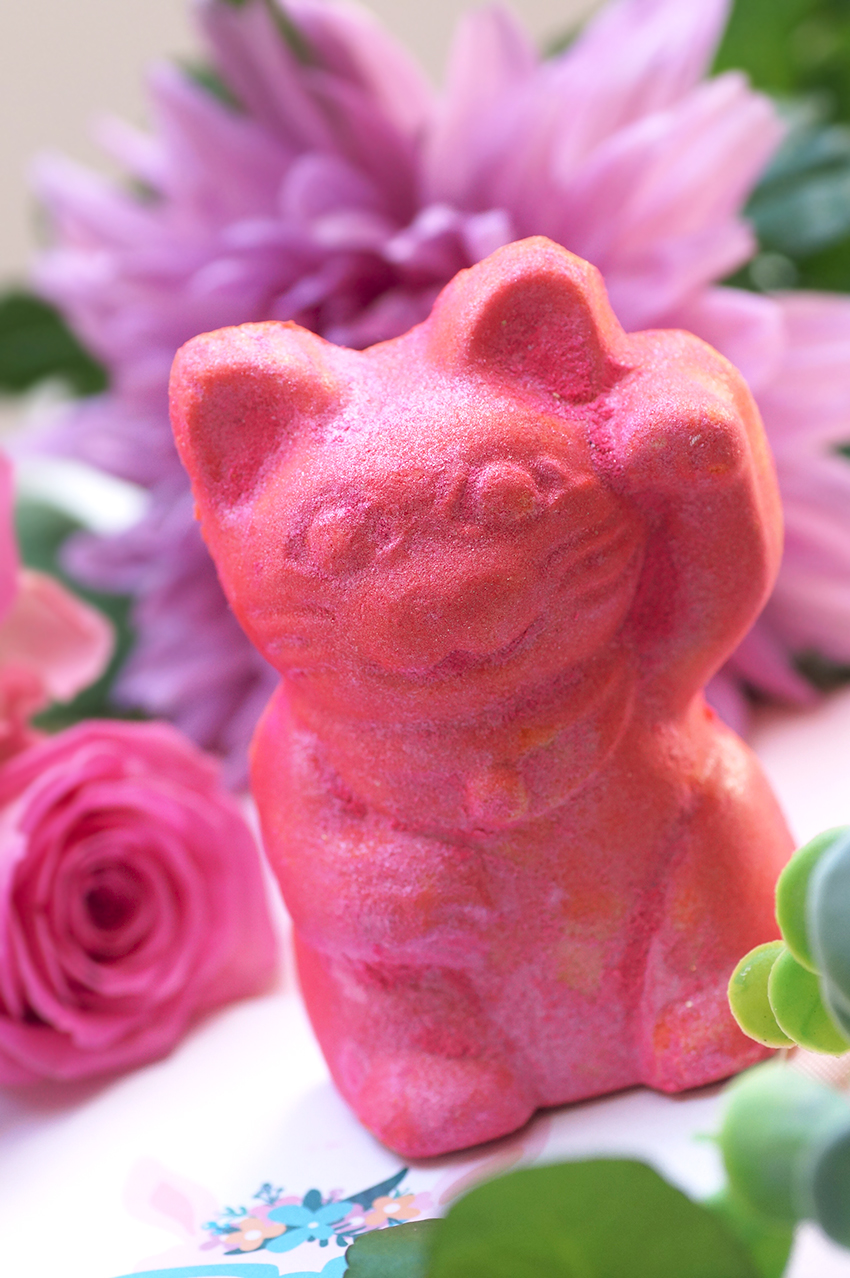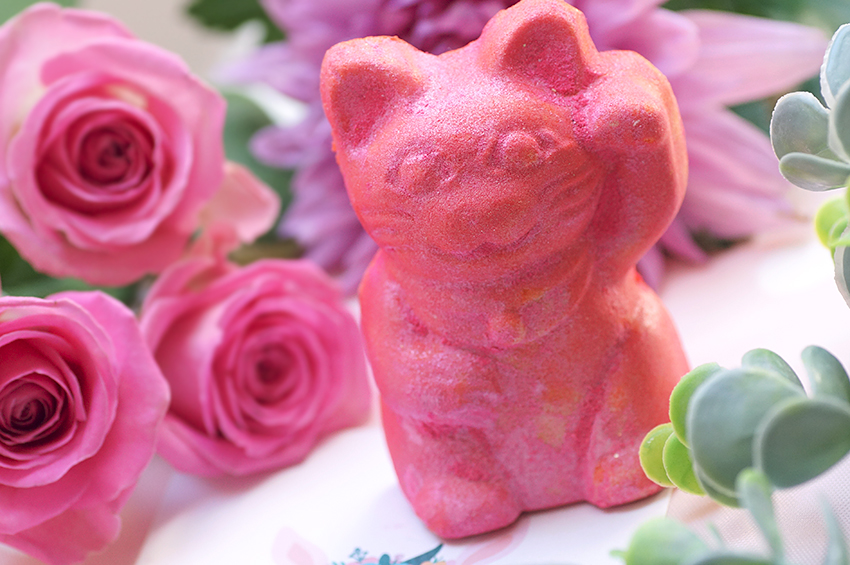 What is it?
Ingredients: Sodium Bicarbonate, Cream of Tartar, Sodium Laureth Sulfate, Lauryl Betaine, Perfume, Jasmine Absolute, Neroli Oil, Ylang Ylang Oil, Guar Gum, Titanium Dioxide, Glycerine, Cornstarch, Synthetic Fluorphlogopite, Tin Oxide, Hydroxy propyl methyl cellulose, Sodium carboxymethyl cellulose, Alpha-Isomethyl Ionone, *Benzyl Benzoate, Butylphenyl Methylpropional, *Citronellol, Geraniol, Hydroxycitronellal, *Linalool, Colour 15510, Colour 16255, Colour 19140, Colour 42090, Colour 77492, Colour 45410:2
Lush Lucky Cat Bubble Bar costs £4.95 / $0.00 (I don't see it for sale in NA) / €6,75 and is part of the exclusive Harajuku bubble bar launch. A part of these bubble bars was released on March 27 (in The Netherlands) and the second part will be released on June 26. Like I said, this bubble bar looks exactly the same as the bath bomb, which is kinda confusing. The bath bomb was real shitty, so I hope the bubble bar has got some improvements. It still has the Ghost scent the bath bomb had, which I like — although the bubble bar smells a tad more spicy to me. It's a very floral scent, in which the jasmine is very present. Neroli and ylang ylang add another floral note, creating a luxurious scent. It's an enjoyable scent — not my favorite, but still good nonetheless.
Play the video in 2160p quality and on full screen for the best experience! The video has been sped up.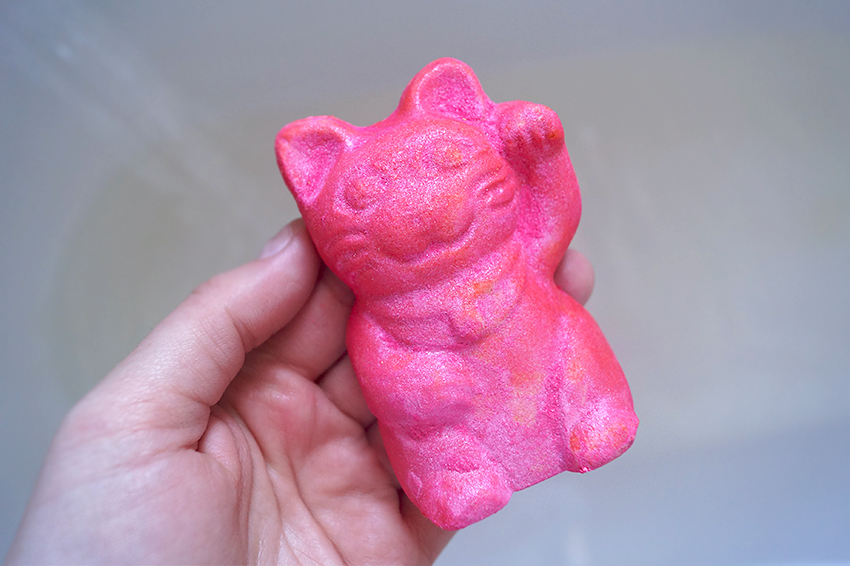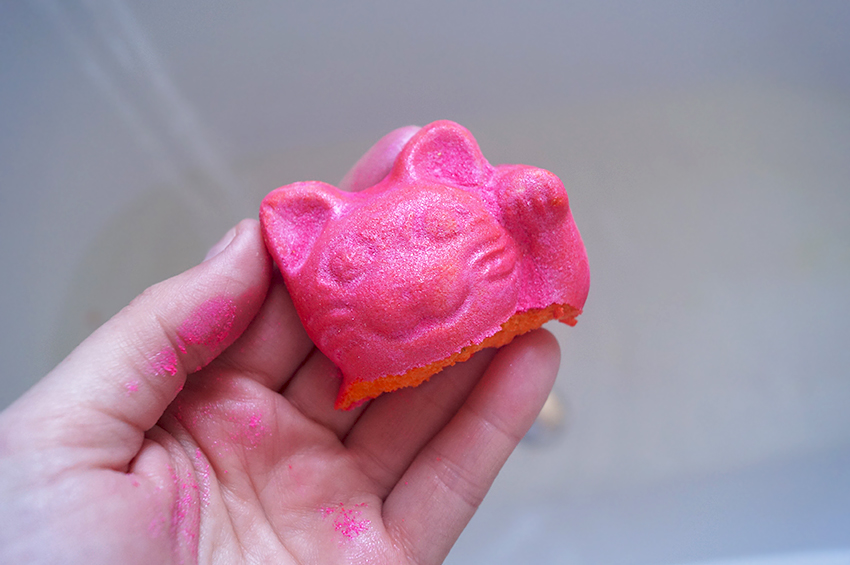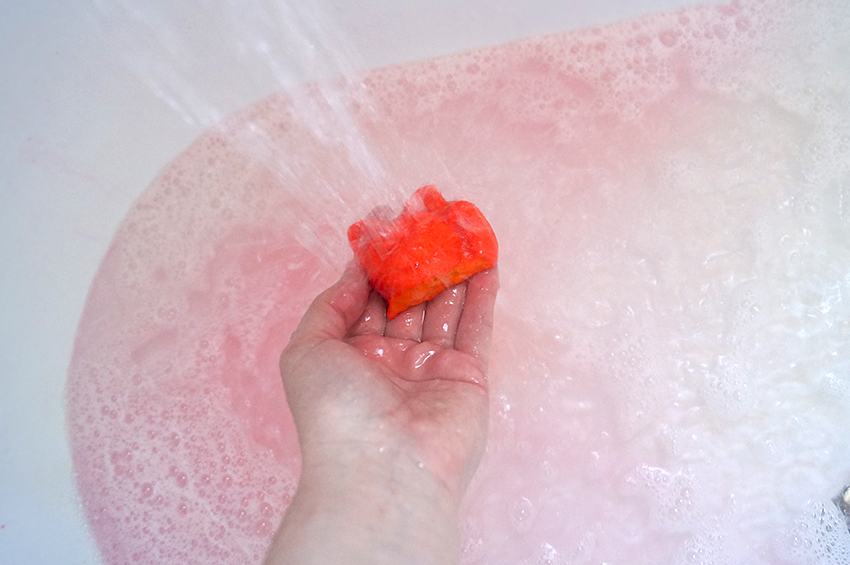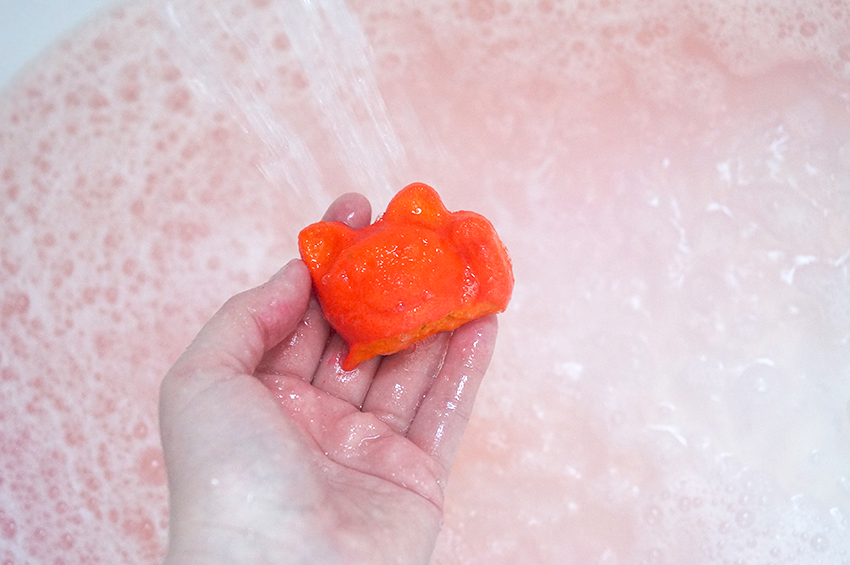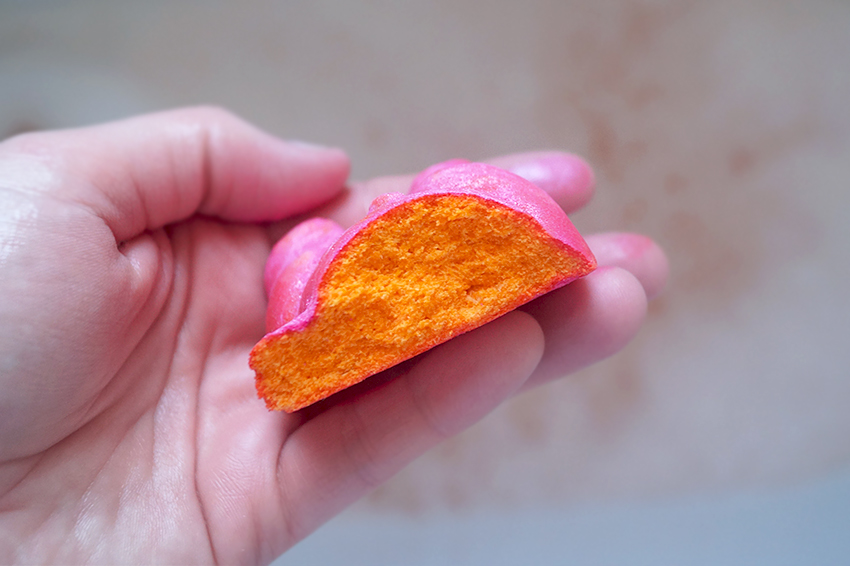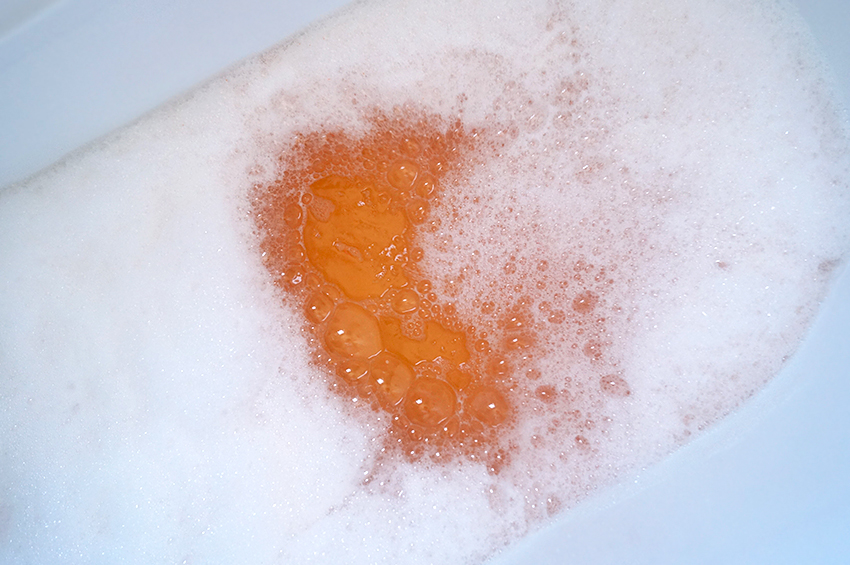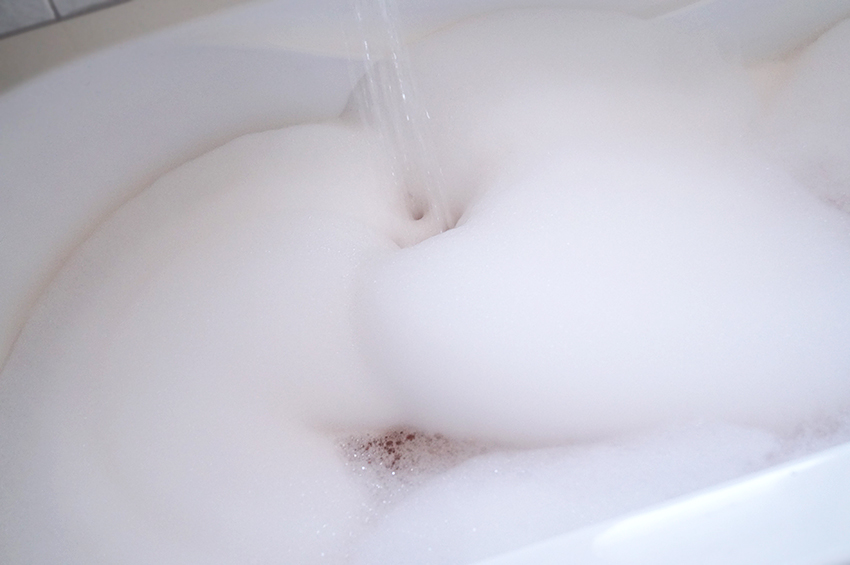 What do I think?
Despite Lucky Cat being all pink, there's a plot twist: it's just the outer layer that's pink. It's secretly orange. Man, I was hoping for a pink bath! I ended up using half the bubble bar, which gave me a lot of soft, floral bubbles and orange water. In terms of the end color, it really looked like Party Popper! The floral Ghost scent was slightly present, nothing too overpowering. I enjoyed the bath, the scent was pretty subtle, but I don't think a strong floral scent like Ghost should be too strong. The bubbles kept with me throughout bathing, and afterwards the tub was easily rinsed clean — unlike the bath bomb version.
I'm positive about this bubble bar, but I won't be buying it again. In a Lush world full of delicious bubble bars, there's ones I prefer over Lucky Cat. However, if you're a fan of cats, this is a fun bubble bar to have. It's also very cute to gift to someone! Also, Ghost scent lovers won't be disappointed this time.

Lush Lucky Cat Bubble Bar costs £4.95 (England) / €6,75 The Netherlands)

2 Responses to Review: Lush Lucky Cat Bubble Bar