Review: Lush Jingle Spells Bath Bomb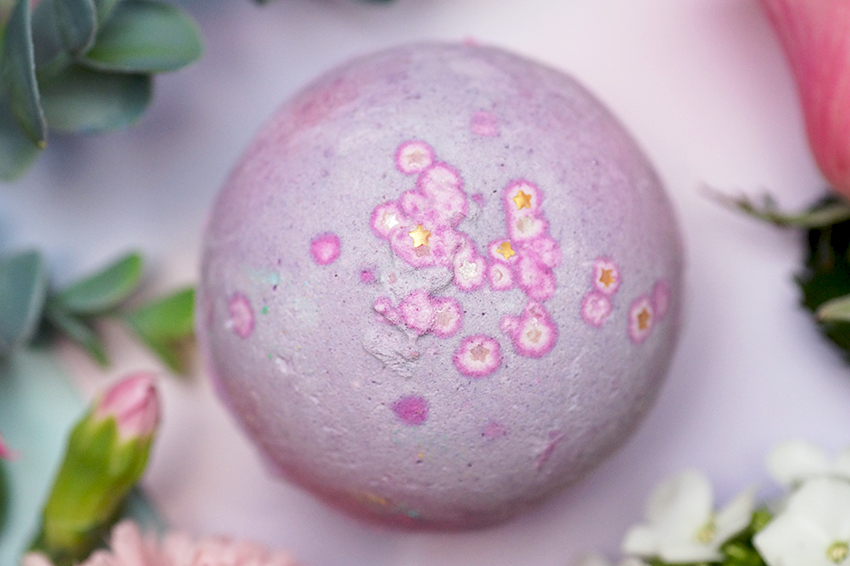 Jingle Spells, Jingle Spells, jingle all the way! In the advent calendar that I bought last week there were 5 retro products, including this one. A retro product is an older Lush product, often brought back to be sold temporary. In this case it's only included in the Advent Calendar, I'm guessing as an extra bait for those that are indecisive about the purchase. Regardless, I'll be reviewing this bath bomb, so if you're just as curious as I am.. keep on reading!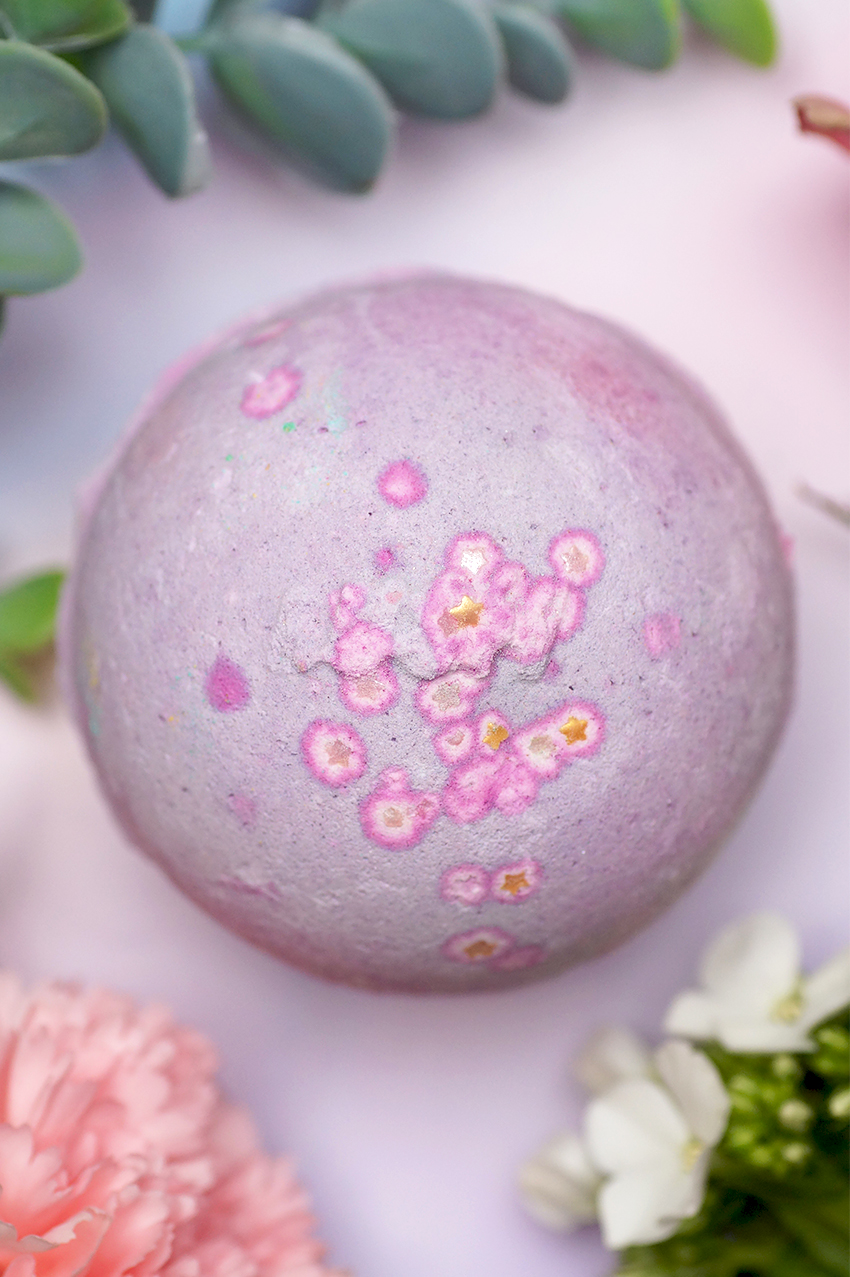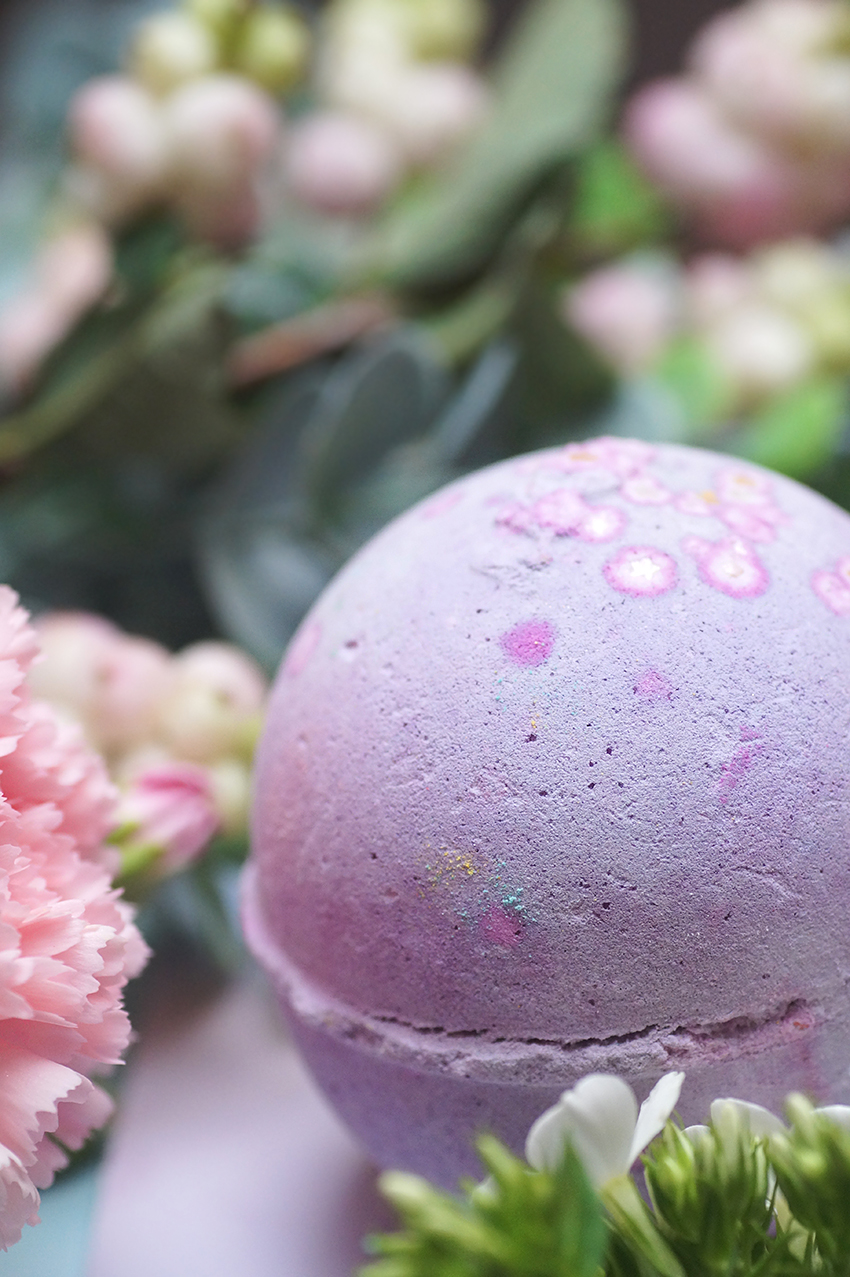 What is it?
Ingredients: Sodium Bicarbonate, Citric Acid, Perfume, Juniperberry Oil, Tangerine Oil, Fennel Oil, Ylang Ylang Oil, Water (Aqua), Glycerine, Titanium Dioxide, Hydroxy propyl methyl cellulose, Sodium carboxymethyl cellulose, Synthetic Fluorphlogopite, *Limonene, *Linalool, Colour 17200, Colour 42090, Colour 77491
Lush Jingle Spells Bath Bomb is a bath bomb that is part of the Advent Calendar, that was sold in the Lush Labs in the month August. It made a one-time comeback for the Advent Calendar. Originally, Jingle Spells was a Christmas product (starting in 2001!), but it has been discontinued for many years now. This purple bath bomb is covered with golden stars, though they are surrounded by weird spots, as if the bath bomb has chicken-pox. 🤨 Furthermore, it contains juniperberry oil, tangerine oil, fennel oil and ylang ylang oil. Inside there's glitter as well, so that's always good.
Without looking at the ingredients list, I can already smell floral and musky notes. The scent immediately reminds me of Sex Bomb, because of the ylang ylang in it, although both scents are different. Jingle Spells is a strong scented, sexy and floral scent. The most prominent note, the ylang ylang, adds a beautiful floral note, the rest of the ingredients create a musky, powdery base. It's a lovely scent.
Play the video in 2160p quality and on full screen for the best experience! The video has been sped up.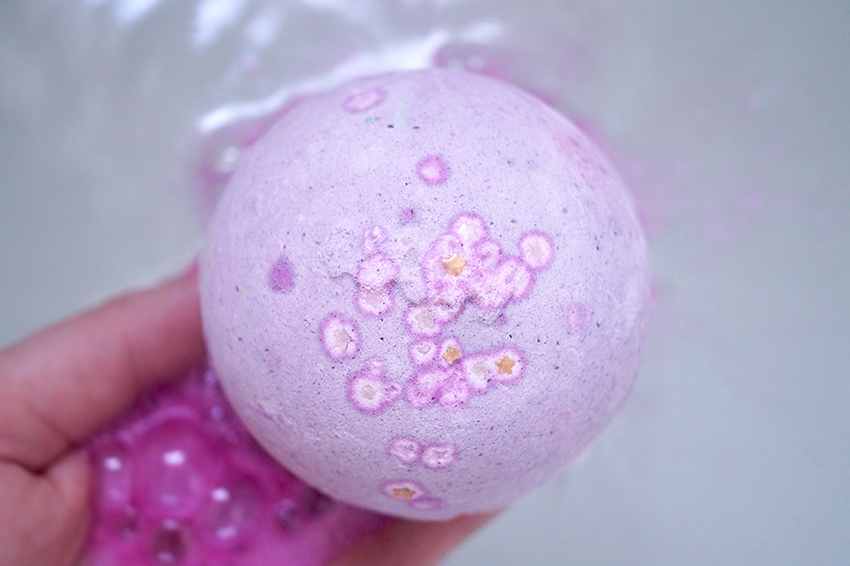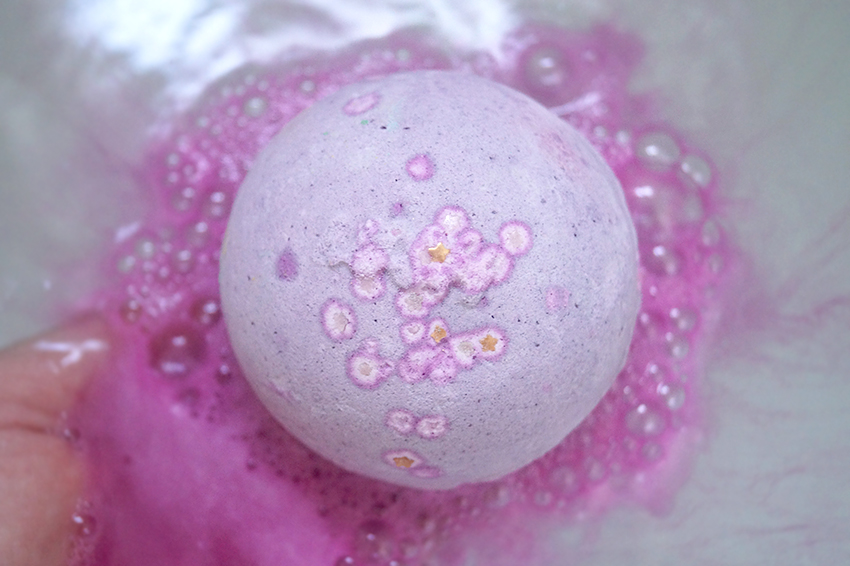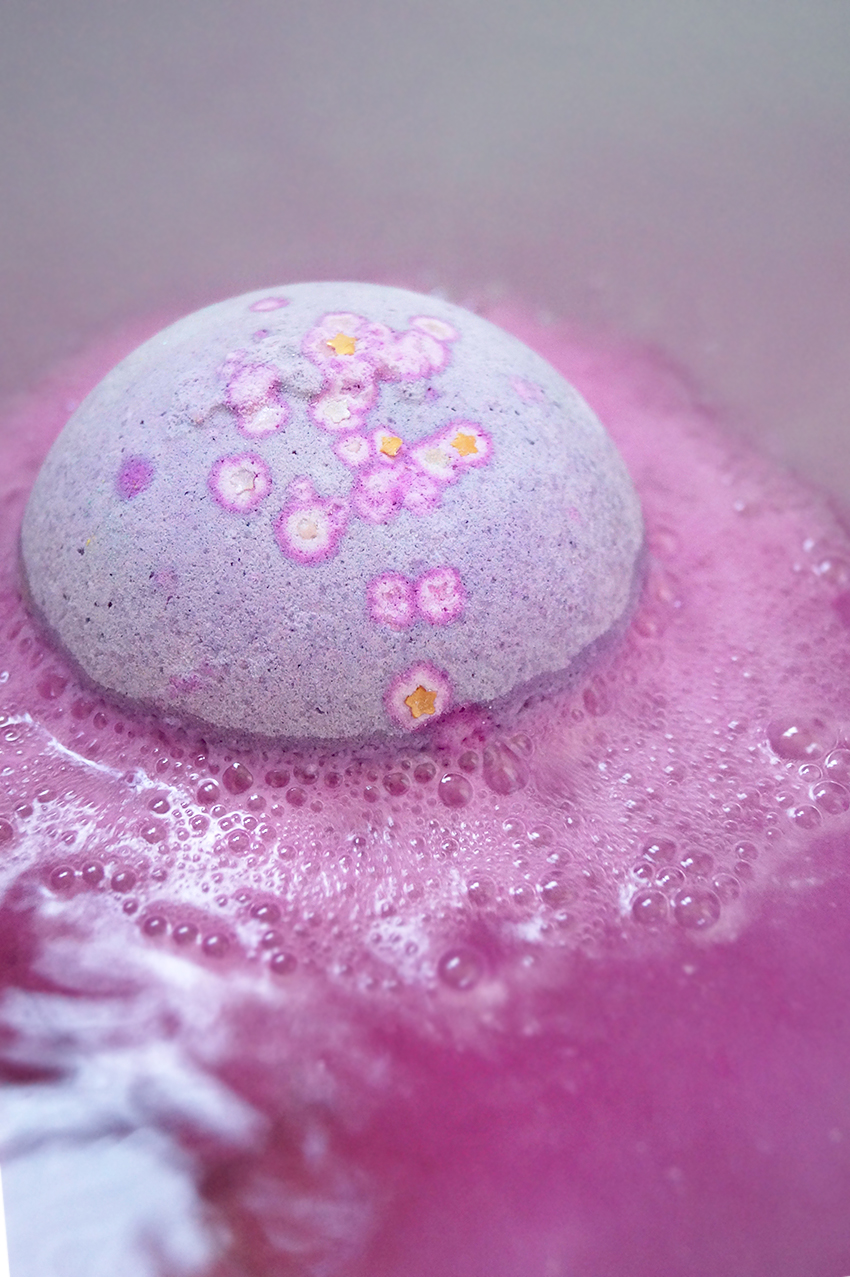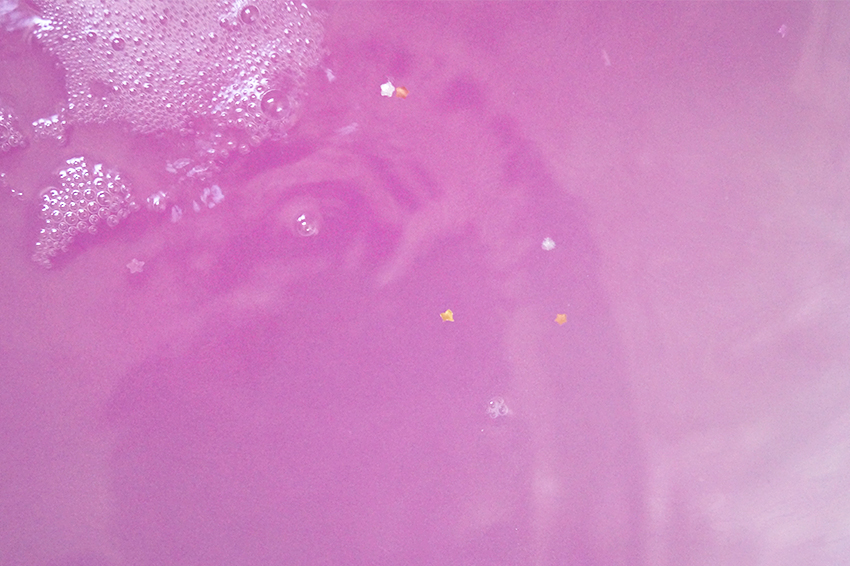 What do I think?
When I put the bath bomb into the water, it starts spewing out magenta colors. Unlike many bath bombs that spit out streams of foam, Jingle Spells only spews out colored bubbles. What also strikes me is that the scent isn't floral at all anymore — it's now rather fresh, fruity and slightly herbal-like! The tangerine fully comes to life, releasing a fruity and citrusy scent that lingers in the bathroom during bathing. I'm also able to detect the fennel — this ingredient has a anise and licorice smell, which adds something really lovely and interesting to the overall scent. Jingle Spells is a very quick fizzer, so it's gone in no time. It gives you no bath art and it leaves you with bright magenta colored waters. There's some small stars floating on the surface, very cute.
I dove into the vivid purple colored water and had fun playing with the small stars floating on the surface, which I tried to grab with my fingers, only to squish them. On the bottom I could feel some small chunks of jelly, perhaps these were the little stars? Anyway, it was a lovely bath, and the smell was present during the entire bathing session. In terms on my skin I didn't feel much of a difference, but mentally I felt like I had a small reboot. Oh, I was covered in tiny glitters though, so I got that goin' for me, which is nice.
Jingle Spells is not for sale, but to be honest.. if you are looking for a similar bath bomb, then Sex Bomb Bath Bomb should satisfy your floral and pink needs as well. Maybe it's not quite the same, but the scent and colors definitely show some similarities. 😊 Just sprinkle some small stars to the water and you're good to go!