Review: Lush Chick FUN Egg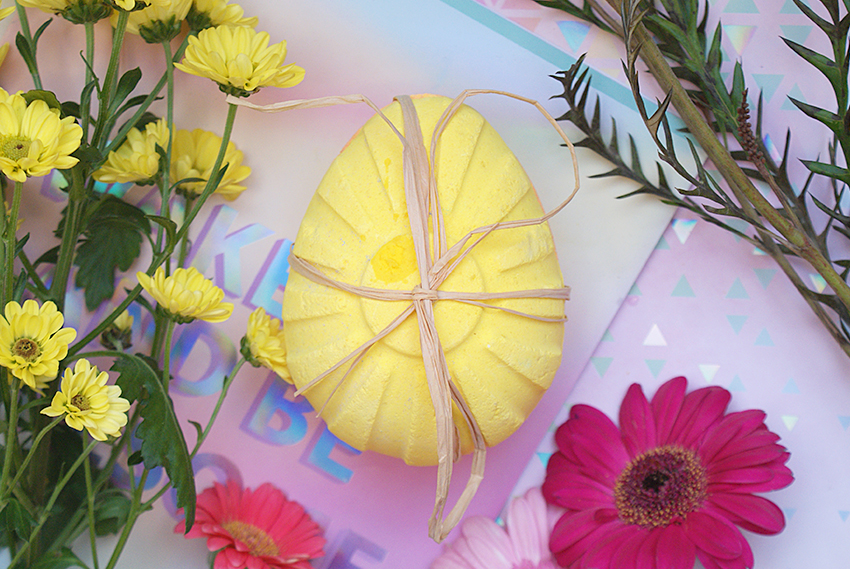 When I was browsing the Dutch webshop, I saw some products from the Easter range at the Last Chance section. Initially I wasn't planning on buying more FUN Eggs — although I LOVE the Stegosaurus FUN Egg, they're also pretty expensive. It was a struggle that didn't last long: I decided to just order it. There's a chance that this product will not make a comeback to the Easter range, but you never know. I'll show it to you anyway, so if you're curious about this bath bomb, then keep on reading.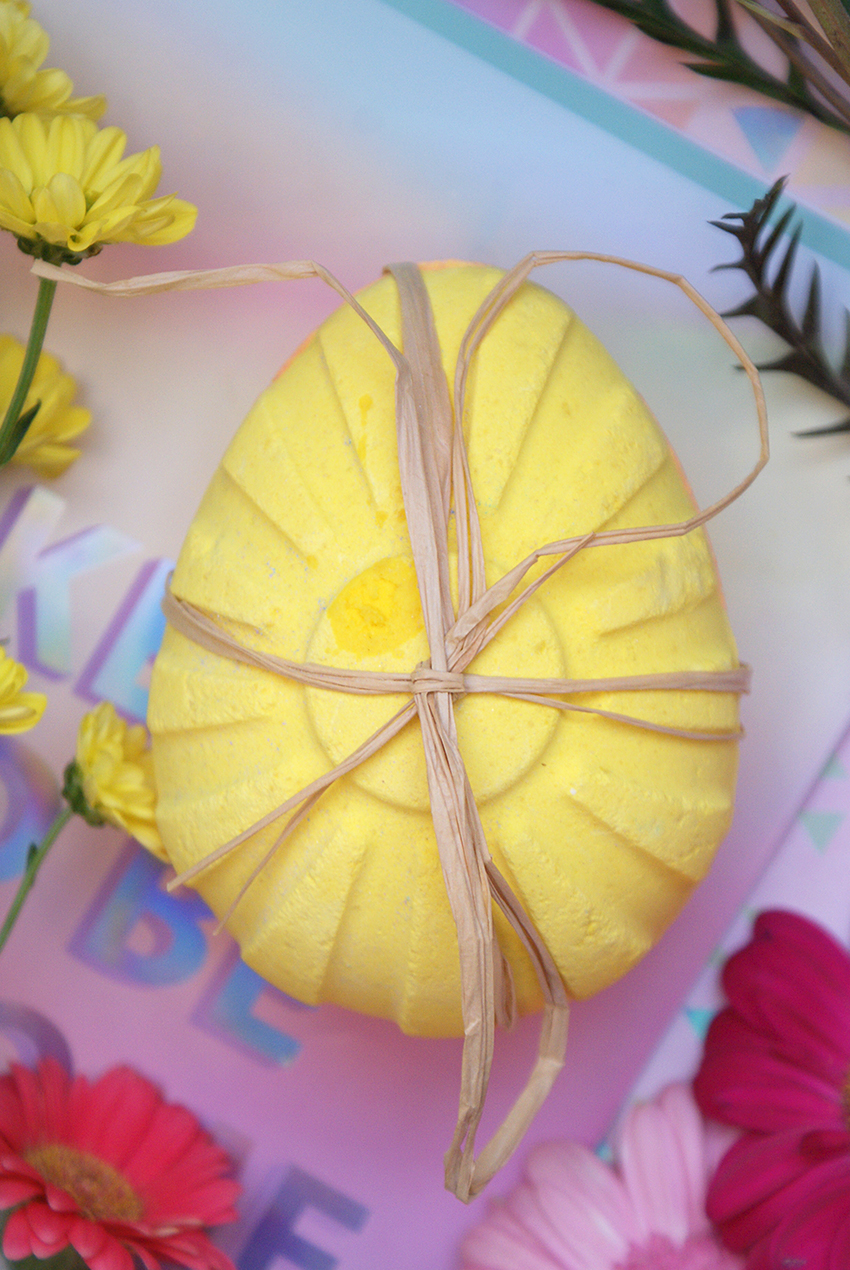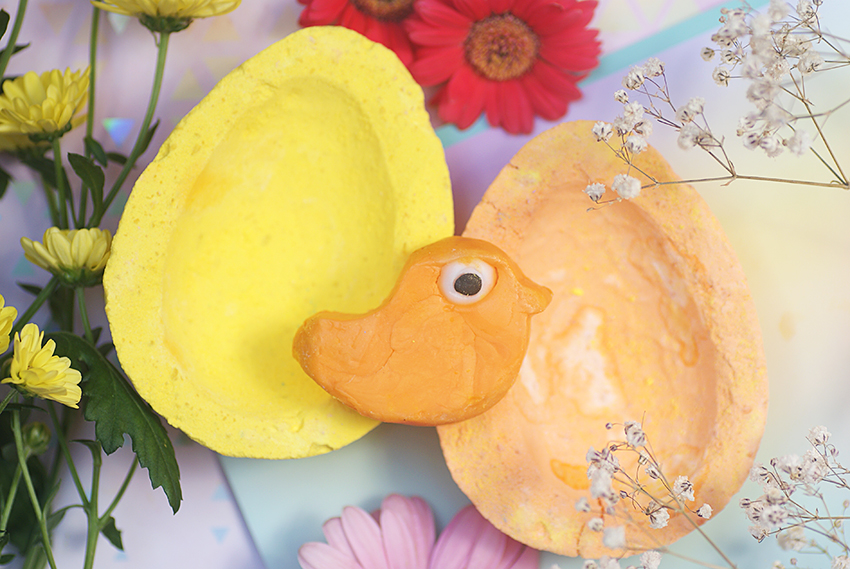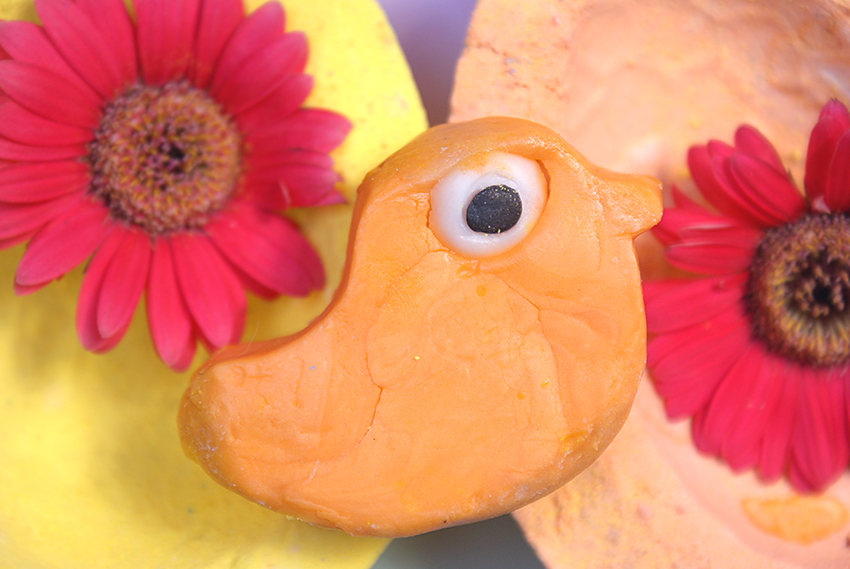 What is it?
Ingredients: Sodium Bicarbonate, Citric Acid, Cornflour, Talc, Popping Candy, Glycerine, Sodium Laureth Sulfate, Geranium Oil, Peppermint Oil, Water (Aqua), Dipropylene Glycol, Perfume, Colour 47005, Colour 15510, Candy Eye
Lush Chick FUN Egg costs £8.50 and is part of the temporary Easter range. This huge bath bomb costs a bit more, but is also a lot bigger. It consist of two halves, a yellow one and an orange one. Inside the egg there's a chick made of FUN. You could use this as a bubble bar to add some bubbles to your bath — just hold it under the running tap. You can also store it and use it later as a shampoo or shower gel in the shower. The possibilities are endless.
The egg contains glycerine, cornflour, geranium oil and peppermint oil. Despite the geranium and peppermint, I find the scent to be like oranges, but with a slightly warm and floral background. The peppermint gave the scent a fresh note, and the geranium made the overall scent a bit floral. A lovely combination though — I was afraid it would be too much citrus, but fortunately it's not. Furthermore there's also popping candy inside, just like with Stegosaurus. I love this extra effect! The little chick smells exactly the same as the egg halves; a warm and uplifting scent.
Play the video in 2160p quality and on full screen for the best experience! The video has been speeded up.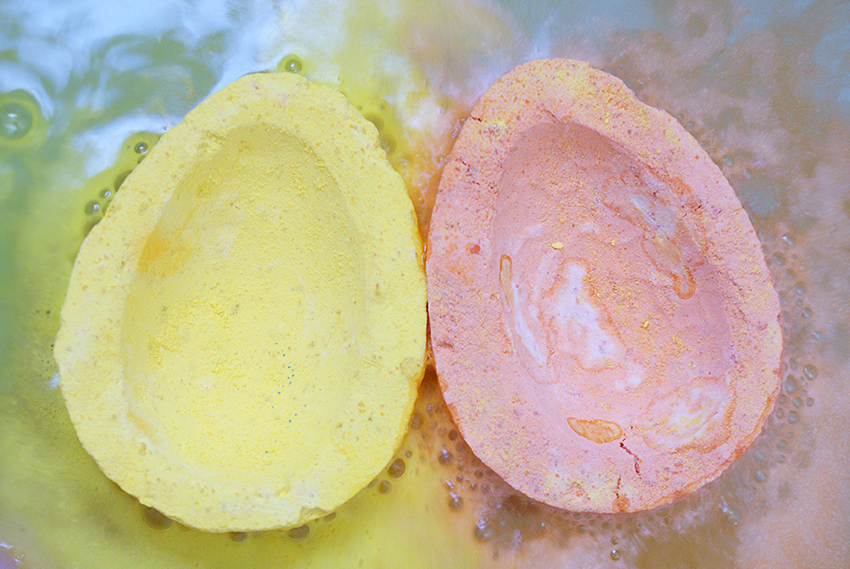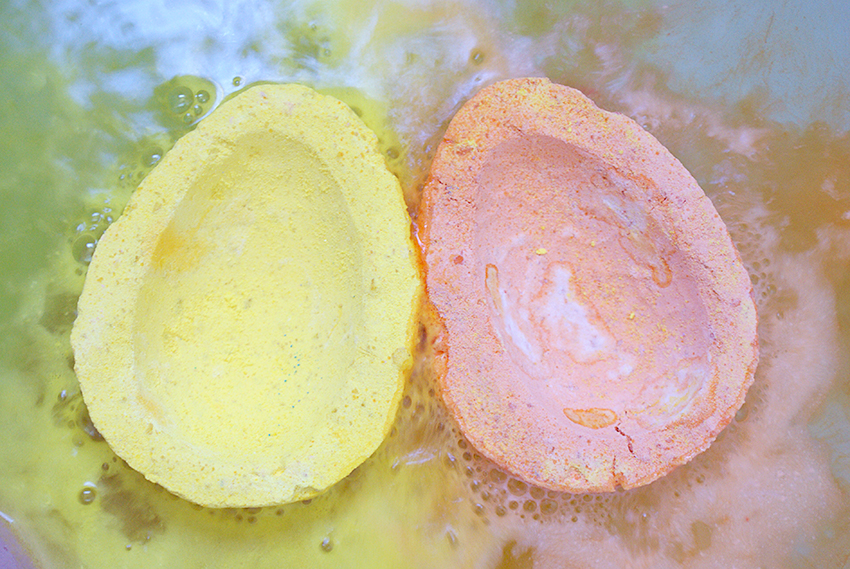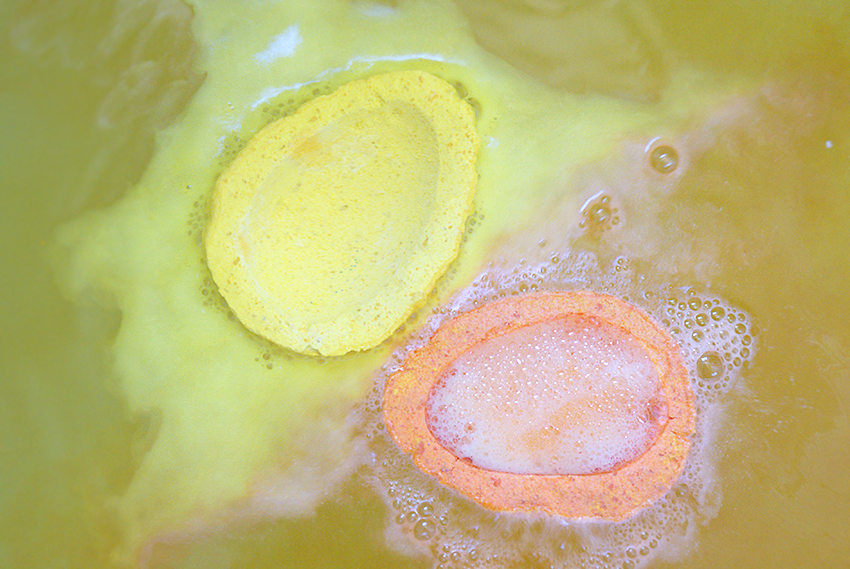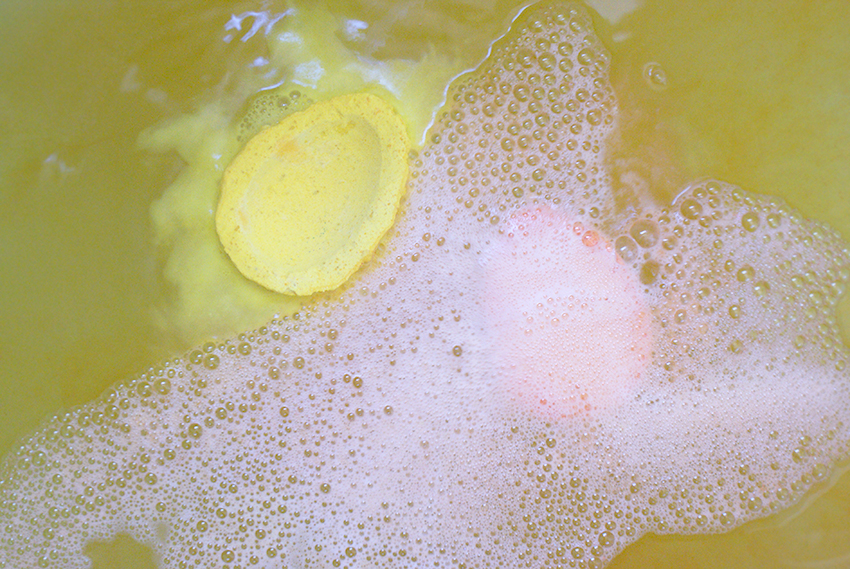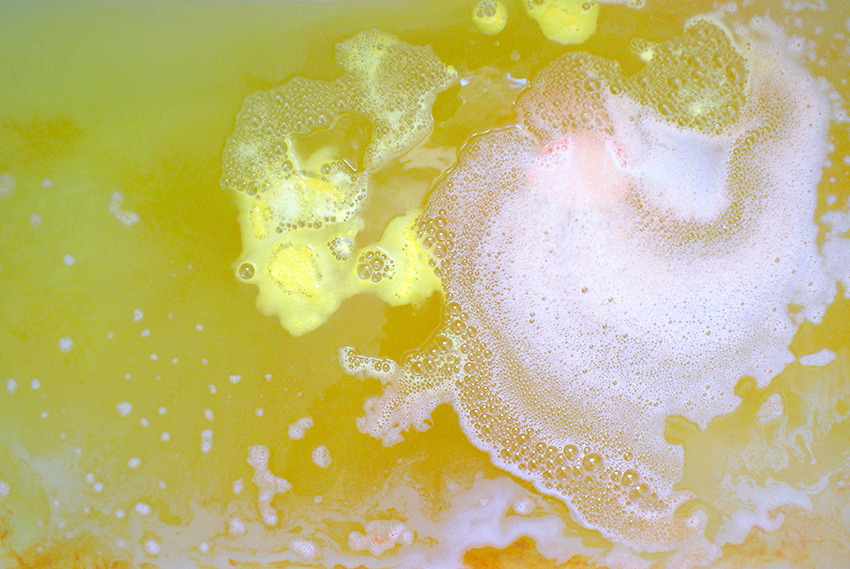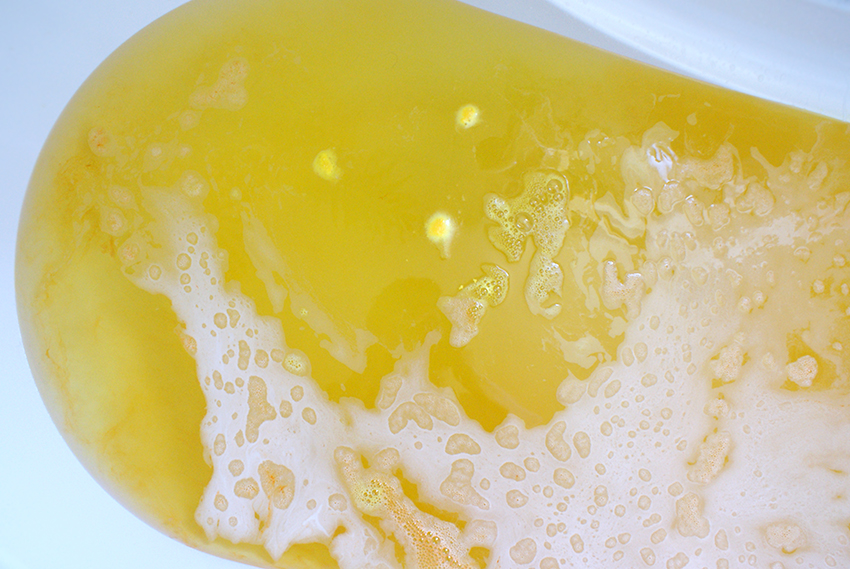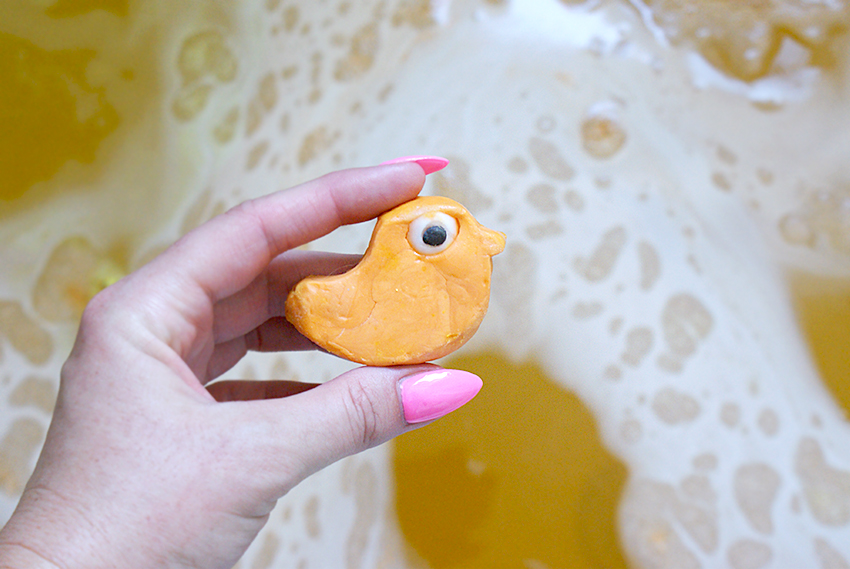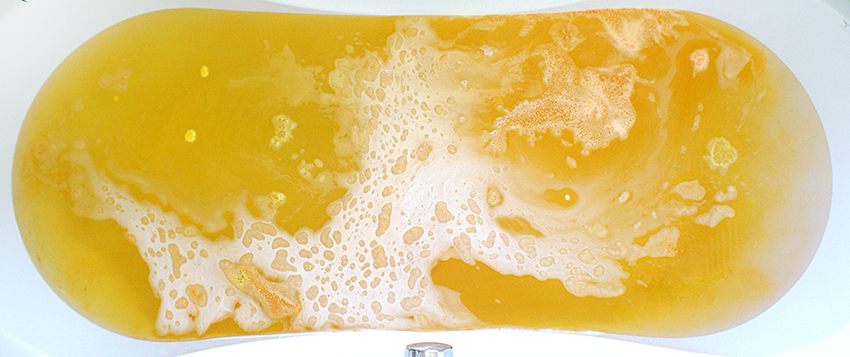 What do I think?
Upon hitting the water, each half spurts out their own color. The yellow half seems to be giving off more yellow — but eventually the colors blend together, making the final color of the water a pretty yellow and orange layered color, almost like an orange popsicle. There's a thin frothy layer on the surface, and the scent was present during the first 10 minutes of bathing, after that I couldn't detect the scent anymore. It's a pretty quick fizzer, and once it's completely dissolved, the popping candy starts to work in the water. This goes on for about two minutes, a fun effect while you let yourself slide into the tub. A con is that the water didn't get milky like with Stegosaurus, I also find Stegosaurus to create better bath art, but that's also because I love the combination of blue and purple. If you're a fan of yellow/orange waters, you'll love this egg.
My skin does not feel particularly softer or more hydrated afterwards, yet it was a nice soaking session. I wouldn't buy it again, I'd rather go for Stegosaurus then. If you're a fan of this bath bomb, grab it while you still can — it won't be up for sale long. In North America it's unfortunately not available anymore.

Lush Chick FUN Egg costs £8.50 (England).