Review: Lush Frozen Bath Bomb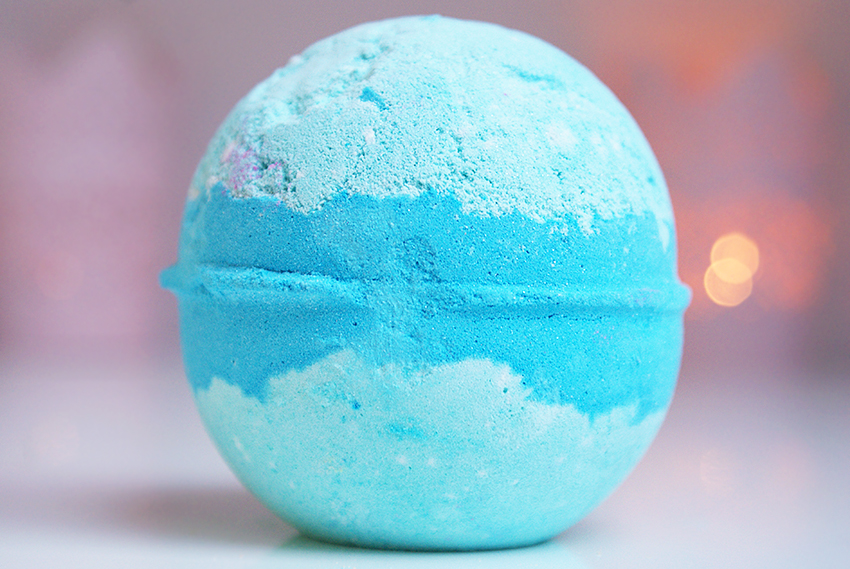 (This article was originally written in 2015 in Dutch and has been translated and rewritten in 2019. Unfortunately, Frozen has been discontinued in 2017.)
Not only Intergalactic was one of the new bath bombs that Lush made lately, Frozen has also recently been added. This bright, blue bath bomb reminds me of ice queens, cold weather and.. the movie Frozen, of course. Lush describes this bath bomb "a magical bath experience", because of the beautiful colors. Well, let's put that to the test.
If you're curious, keep on reading!
What is it?
Ingredients: Sodium Bicarbonate, Citric Acid, Snowflake Lustre (Potassium Aluminium Silicate, Titanium Dioxide), Perfume, Grapefruit Oil (Citrus paradisi), Neroli Oil (Citrus Aurantium amara), Rose Oil (Rosa damascena), Cream of Tartar (Potassium bitartrate), Sodium Laureth Sulfate, Lauryl Betaine, Lilial, Hydoxycitronellal, Geraniol, *Limonene, *Linalool, Silver Glimmer Lustre (Corn Starch, Maltodextrin, Mica, Colour 77400, Potassium Aluminium Silicate, Titanium Dioxide), Colour 42090, Colour 42053
Lush Frozen costs £3.75 / $8.95 and is part of the regular range. It has a very uplifting, floral scent, it shares its scent with the hair conditioner Happy Happy Joy Joy. It's an unique mix of two components. Grapefruit gives the scent a zesty and uplifting layer, while the neroli adds a floral layer. Rose oil makes the overall scent warm, while there's still something citrusy going on. Somehow, the combinations of these ingredients make a wonderful scent. It took me about half an hour to stop sniffing it. It is an average sized bath bomb, possibly the brightest blue that Lush has.
Play the videos in 2160p quality and on full screen for the best experience!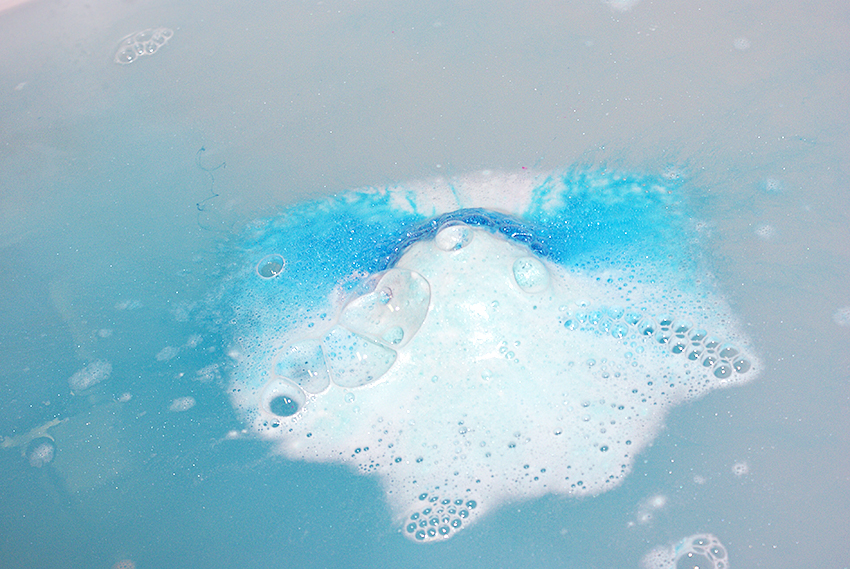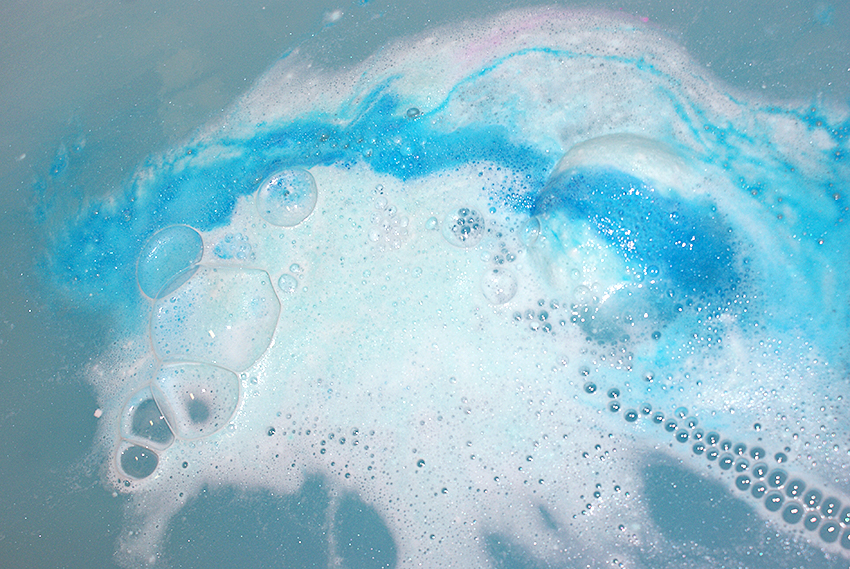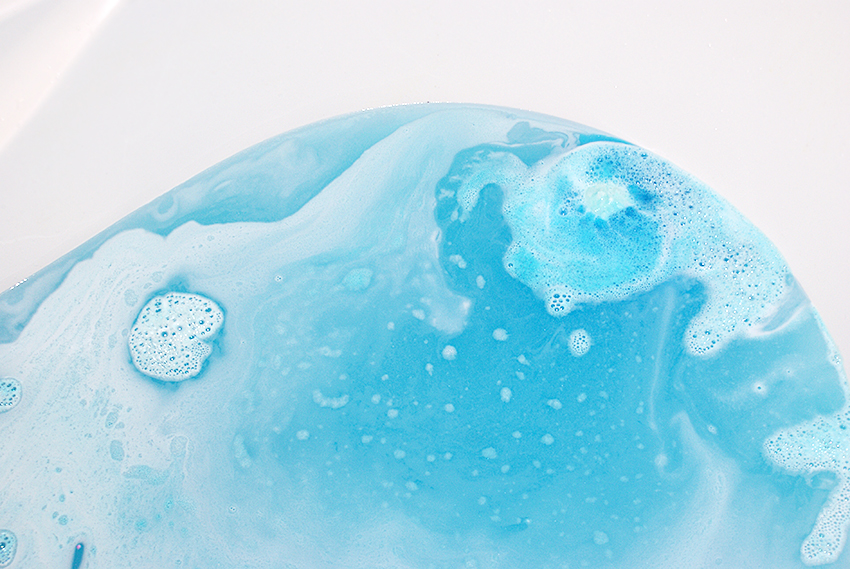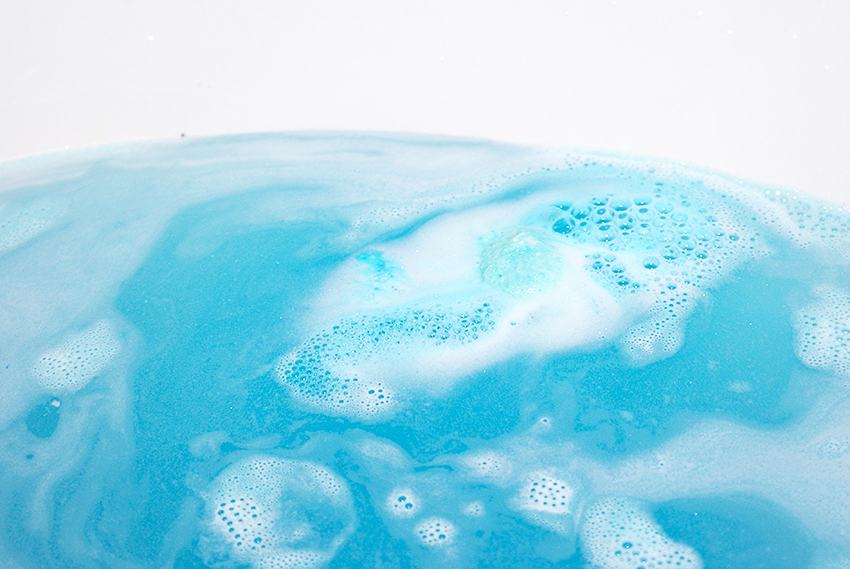 What do I think?
Unlike other Lush bath bombs, Frozen does not have any surprises inside, like a note, different colors or melting pieces of cocoa butter. It's just blue, with puddles of white foam. And glitter! Frozen gives away a magical show by sending out blue and white waves across the surface. The water turns a bright, vibrant blue color and glitters sway and pulsate under the surface. Frozen releases its glorious scent, making this bath session a truly dazzling experience.
The glitters are a nice addition; they were pretty easy to rinse off. My skin felt really soft afterwards, also the scent lingered on my skin for a while. All in all it's an amazing bath bomb, and now that I'm rewriting this in 2019, I'm really bummed out that they discontinued this bath bomb. I really hope it will make its come back one day.

Lush Frozen Bath Bomb has been discontinued in 2017.

One Response to Review: Lush Frozen Bath Bomb