Review: Lush Wake Up Call Shower Bomb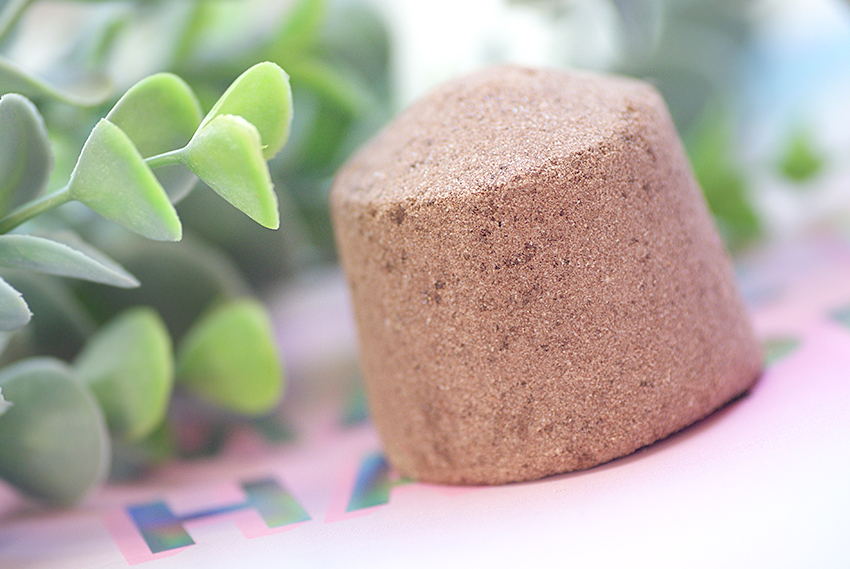 Is a cup of coffee in the morning not enough to wake you up? I know the feeling. Fortunatly, the Lush Gods have been listening to our prayers and gave us Wake Up Call. Unlike a cup of coffee, we can simply take this with us into the shower. Today i'll tell you all about this shower bomb!
If you're curious about this product, make sure you keep on reading!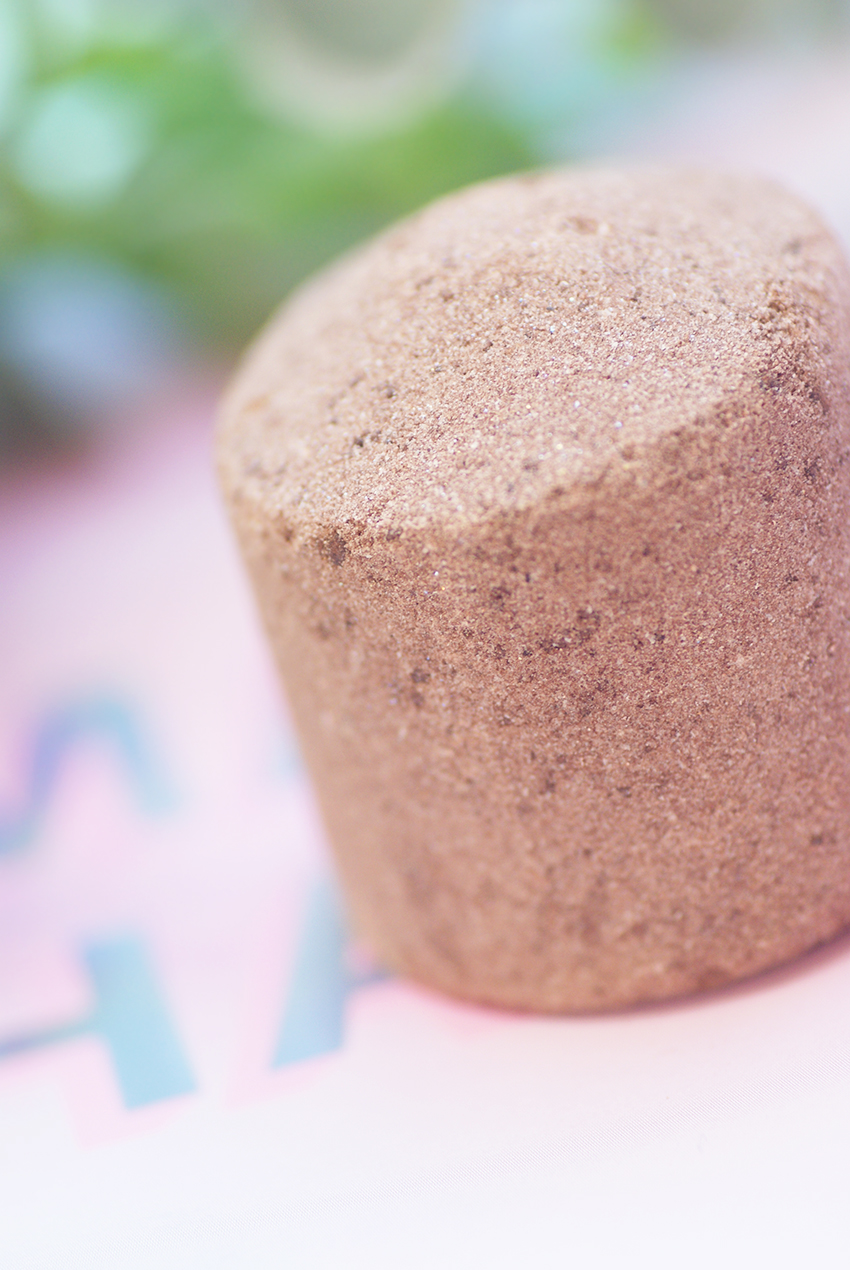 What is it?
Lush Wake Up Call Shower Bomb costs £2.75 and can only be purchased in Liverpool. A shower bomb is a bit like a small bath bomb that you take with you in the shower. Run the water and hold it under the water's flow. When in contact with water, it will start foaming and expanding, creating a frothy mousse. Scoop off the foam and sweep all over your body. When you're done using the shower bomb and there's still product left, put it in a dry spot and leave it to dry. You can also choose to cut it in half before using a shower bomb. Most shower bombs can easily be used more than once, depending on how generously you use it. This product is naked and therefore does not have any packaging.
What's inside?
Ingredients: Sodium Bicarbonate, Cream of Tartar, Citric Acid, Potato Starch, Cocoa Powder, Sodium Laureth Sulfate, Calcium Lactate Gluconate, Sodium Alginate, Cocamidopropyl Betaine, Perfume, Black Pepper Oil, Labdanum Resinoid, Guaiacwood Oil, Ground Coffee, Aloe Vera Extract, Benzyl Benzoate, Benzyl Salicylate, Cinnamyl Alcohol, Coumarin, Eugenol, Limonene
Have you been looking for something in the shower to get rid of your morning blues? Just like Cup O' Coffee (a favorite of mine) this product will wake you up and deal with those rough mornings. Black pepper oil is warming and stimulating, labdanum resinoid has a musky fragrance, guaiacwood oil is a sweet and woody scent, ground coffee is a great exfoliator and is deeply aromatic (and of course indispensable in this product), and aloe vera will soften, calm, and help protect the skin.
The scent is delicious and exactly as you would expect from this brown shower bomb. It is a spicy, warm coffee smell — it reminds me a lot of Cup O' Coffee, but unfortunately I don't have this product at the moment, so I can't compare the scents. But I can almost certain say that scent wise, it resembles Copperhead and Cup O' Coffee a lot. In the shower it's more like a wintery chocolate scent, the spicy pepper is less present.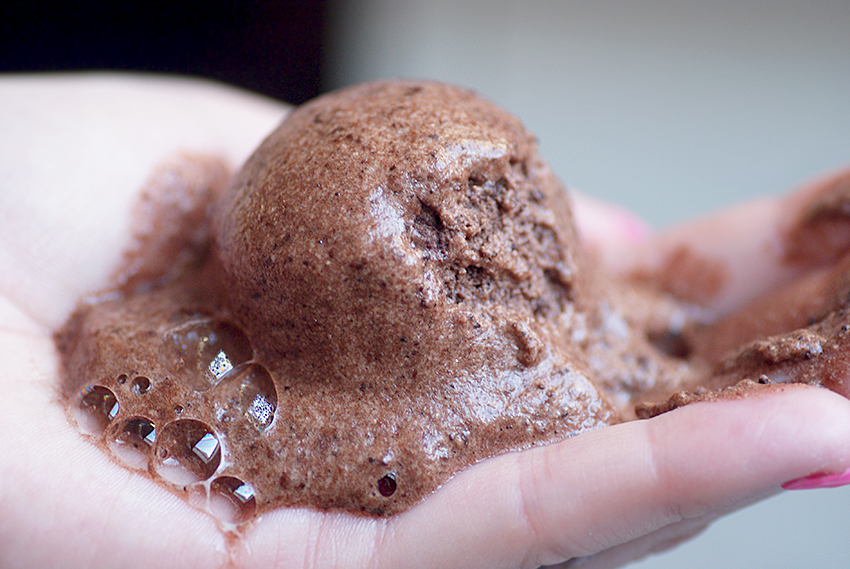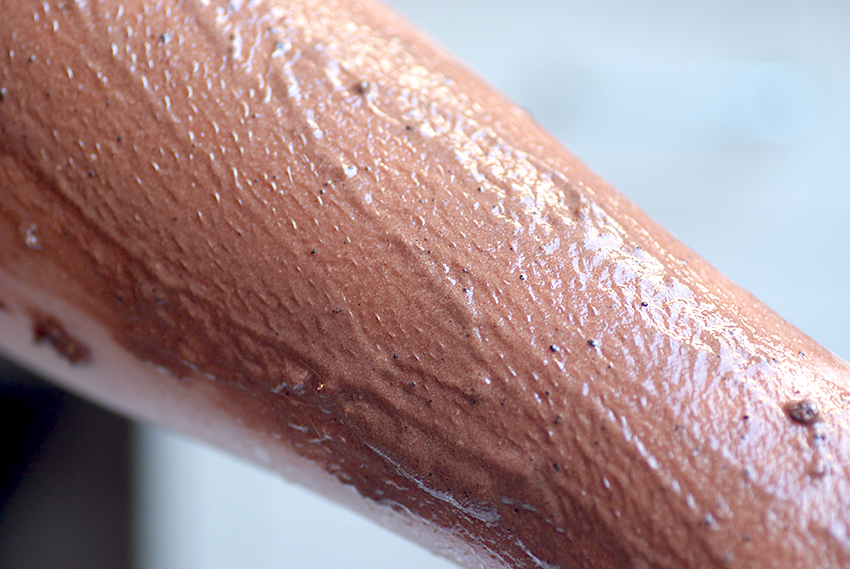 What do I think?
What I love about the shower bombs is that they foam like crazy, once they come in contact with water. Wake Up Call doesn't disappoint me on this. As soon as the water's flow hits the shower bomb, a thick, rich mousse is created and can be scooped off the shower bomb. The scent is very well present, which I love! It actually really benefits my mood. The shower bomb contains ground coffee, so at the same time, it mildly scrubs my skin, leaving it feel baby soft. The potato starch and Sodium Alginate (brown seaweed) also make my skin soft, which you can definitely feel afterwards. My skin has a radiant and healthy glow, the scent lingers on my skin for awhile. Especially when I used thew shower bomb the first time, I let it sit on my skin for a couple of minutes, afterwards I could just smell the delicious aroma on my skin for hours.
Unfortunately, the second time I use it, it barely creates new foam. I always have this problem with the shower bombs. There is some product coming off that I use to lather across my skin, and with the help of some water, it lathers up really well. Too bad it kinda takes away the whole mousse effect, but like I said in the Luck review — cutting it in half before using it, is a great solution for this.
I'm very happy with this wonderful shower bomb, it might be my favorite of all! Should it ever be for sale, I will definitely buy some more.

Lush Wake Up Call Shower Bomb costs £2.75 and is available in Lush Liverpool.

6 Responses to Review: Lush Wake Up Call Shower Bomb