Review: Lush Smell of Freedom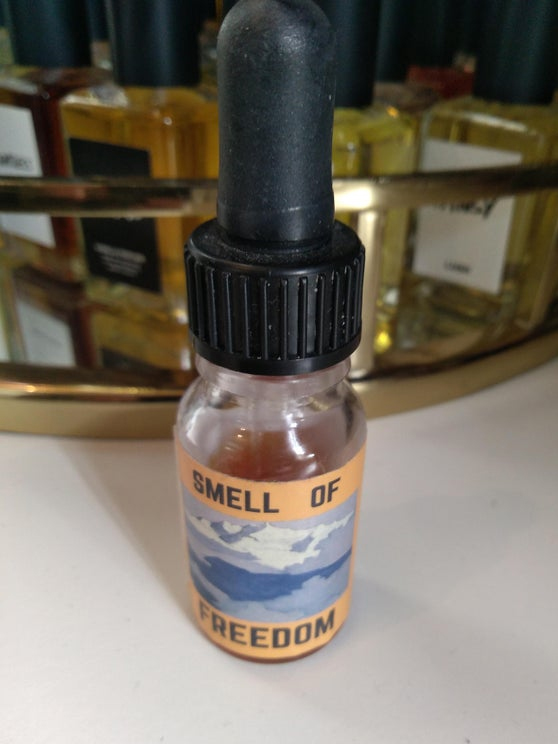 This blog post has been written by guest blogger T.
Evelien has kindly invited me to post my Lush perfume reviews on her blog, after she saw them on Reddit. I have a passion for fragrances and writing and I am so happy I finally found a way to combine the two!
In my 25 years I have tried roughly 100 Lush perfumes and body sprays. They are so special and unique but also… not the cheapest. This is why I always do my best to give a detailed scent description for each and every one, so you can make an informed purchase-decision.
I bought this cute little 10ML bottle with a dropper in 2017 and I'm about half way through it now. A 100ML one is still on the list, because this stuff is amazing!
Lush describes The Smell of Freedom as a liberating, spicy perfume. Inspired by resilience and emancipation, this fragrance weaves a thousand tales.
I never realised this before, but it shares its scent with the Hottie massage bar! TSOF contains Australian Sandalwood Oil, Orris Oil, Oudh Oil, Jasmine Absolute, Neroli Oil, Fire Tree Oil and Lemongrass Oil.
Scent
After I applied this perfume with the dropper, I was instantly greeted by the warm herbal and slightly smoky notes of this fragrance.
It's a dry, hot summer day and you're walking through a field. You can smell hay and powdery white flowers. The herbs and wildflowers in the field give off a subtle herbal spiciness.
It isn't spicy in a wintry ginger/cinnamon kind of way, but more so in a fresh sage, parsley and sandalwood kind of way. Not a green scent at all, this is not a freshly cut grass type of scent. Imagine that grass to be dried out by the hot summer sun, and what that would smell like.
When I smell this, I think of mountain air, of wind chimes and wearing a colourful scarf in my hair. A long dress and feather earrings; this perfume screams hippie to me! In that way it is slightly similar to Karma, only without that sharp and strong patchouli. The ingredients in TSOF blend together perfectly, none of them overpowers the others.
Another fragrance this is very similar to, is Sikkim Girls. In fact, I'd say it's so similar, that you probably don't need to buy both if you're on a budget. It has that same white flower, summery feeling. The main difference is that Sikkim Girls is a tad more blossomy and floral, but it really isn't a big difference. Sikkim Girls is a bit sharper as well and the alcohol in it is a bit stronger.
Does it last?
Yes, The Smell of Freedom is a subtle fragrance, but it lasts all day on my skin.
Final thoughts
I LOVE this perfume, probably because I also love Sikkim Girls! If you're looking for a pure summer scent, and you're not into sweet scents or green scents, but like a light, warm, herbal floral, this is it!
I'd actually say that out of all the expensive black label perfumes that only come in the 100ML bottles, this one is worth it the most (in my opinion).
Hope you have a lovely day!
T.
One Response to Review: Lush Smell of Freedom