Review: Lush Sunnyside Up Shower Jelly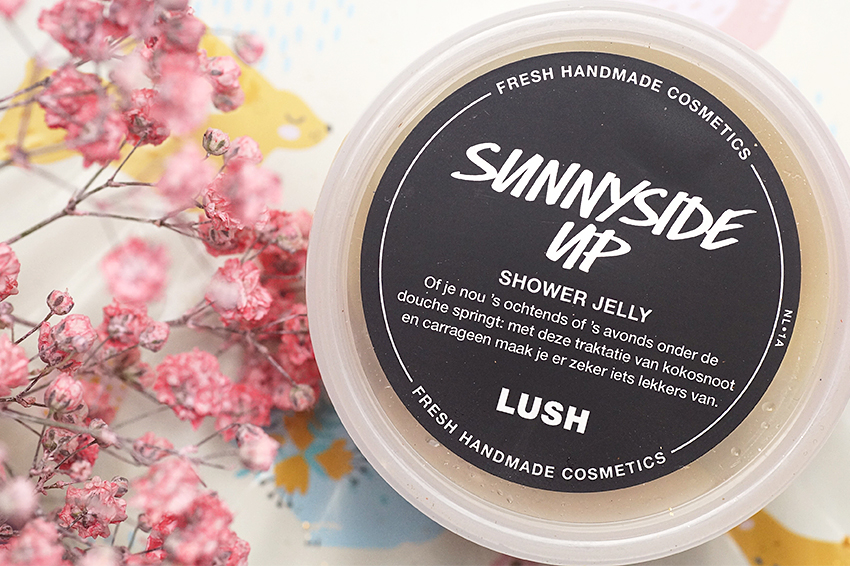 How do you like your eggs in the morning? Scrambled, boiled, poached, perhaps even fertilized, or from a pot while in the shower? If you're a vegan, then I have good news — this egg is 100% vegan. As part of the Easter collection, this wobbly egg is a funny addition to the cheerful products from this range. Y'all were most curious about this product, so I decided to immediately review it!
If you're curious about this product, make sure you keep on reading.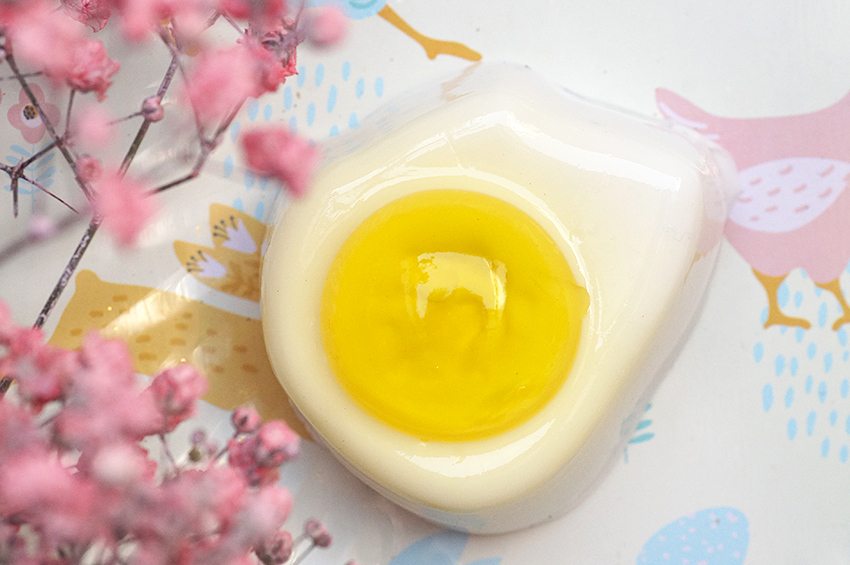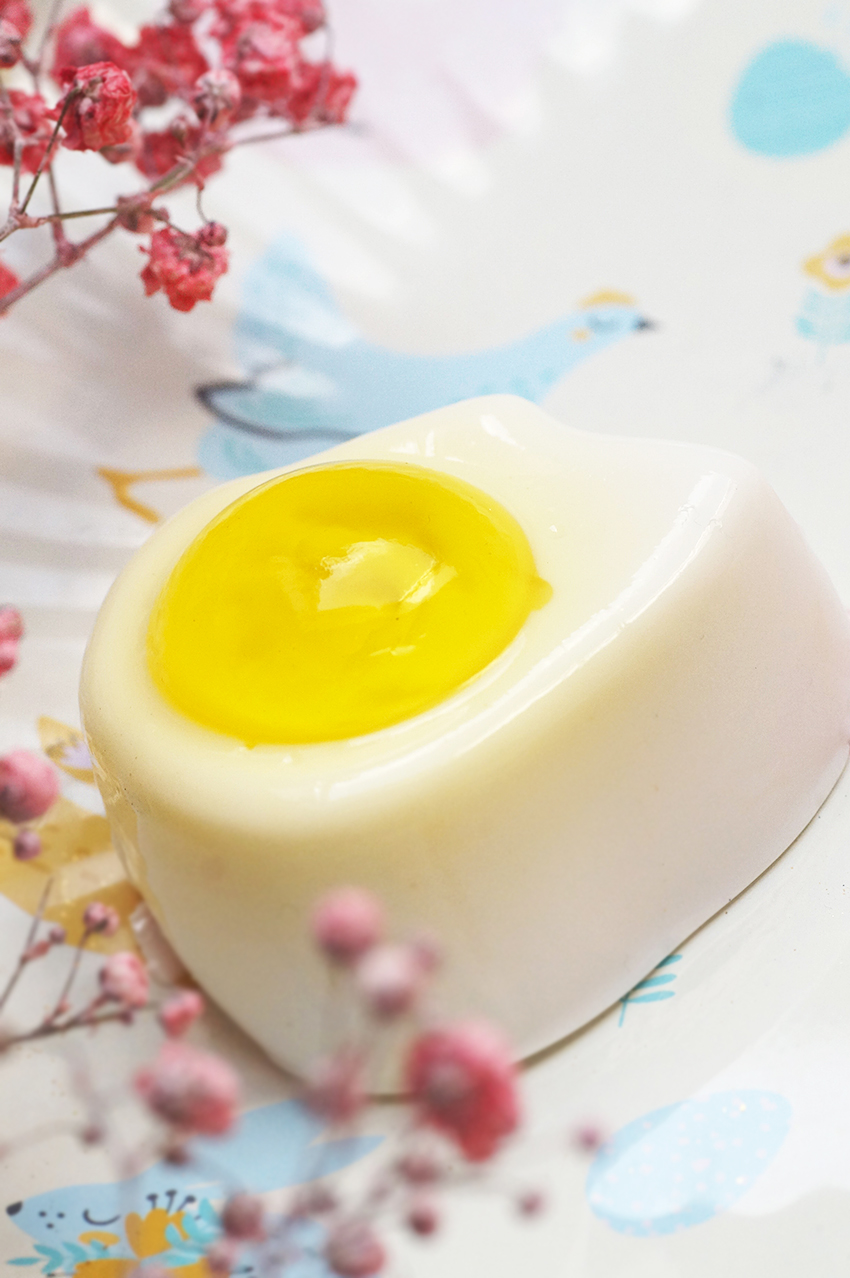 What is it?
Lush Sunnyside Up Shower Jelly costs £5.00 / $5.95 for 60 grams and is part of the Easter collection. It's available in one size, and considering the price is fairly average for a jelly, it is quite small. Normally you would get a jelly that's about 100 grams, but this one's quite small. It has a different look than the jellies you know — it's shaped like an egg, including a yolk on top. I love it, it's such a fun and cute design. It fits perfectly in a 100 gram jar, which should give you an idea of the size of this jelly.
If you want to know how to use a jelly, click here. There are different ways to use a jelly, but I prefer to cut it in chunks and put a chunk into a little organza bag. This way it won't slip out of your hands and it lathers up really good due to the friction.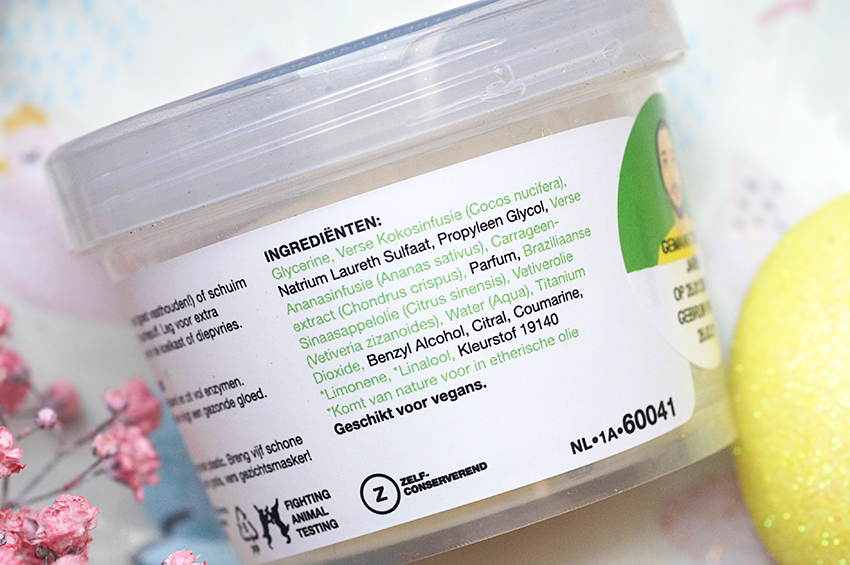 What's inside?
Ingredients: Glycerine, Fresh Coconut Infusion, Sodium Laureth Sulfate, Propylene Glycol, Fresh Pineapple Infusion, Carrageenan Extract, Perfume, Brazilian Orange Oil, Vetivert Oil, Water (Aqua), Titanium Dioxide, Benzyl Alcohol, Citral, Coumarin, *Limonene, *Linalool, Colour 19140
There have been rumors that Sunnyside Up is sharing its scent with Big Calm shower jelly. I've heard Coco Loco as well, but that scent is slightly different, as Coco Loco contains coriander seed oil and lemongrass oil, which Big Calm does not have. Therefore, Sunnyside Up is 100% Big Calm scented. If you have no clue what Big Calm smells like (which I can understand, since there were never really a lot of products with this scent), then keep on reading.
Scent
Sunnyside Up contains coconut and pineapple infusion — both soothe and moisturize the skin, also giving it a a revitalized glow. Brazilian orange oil and vetivert oil refresh the skin, but also give the scent a little more dimension. Upon the first whiff, I immediately recognize the pineapple, but with warm, typical coconut underlying notes. This combination creates a tropical and exotic scent — slightly fruity, but thanks to the addition of coconut you'll immediately find yourself at the beach on Paramaribo. Saves you thousand dollars and a 10 hour flight, though. I can also smell some resemblance with Bongo shower jelly, which is coconut infused with mango. Kinda gives you the same idea. Sunnyside Up is a warm and tropical scent, but with fruity notes of pineapple in it. I dislike coconut, but I can handle this jelly, because the coconut is not too overpowering.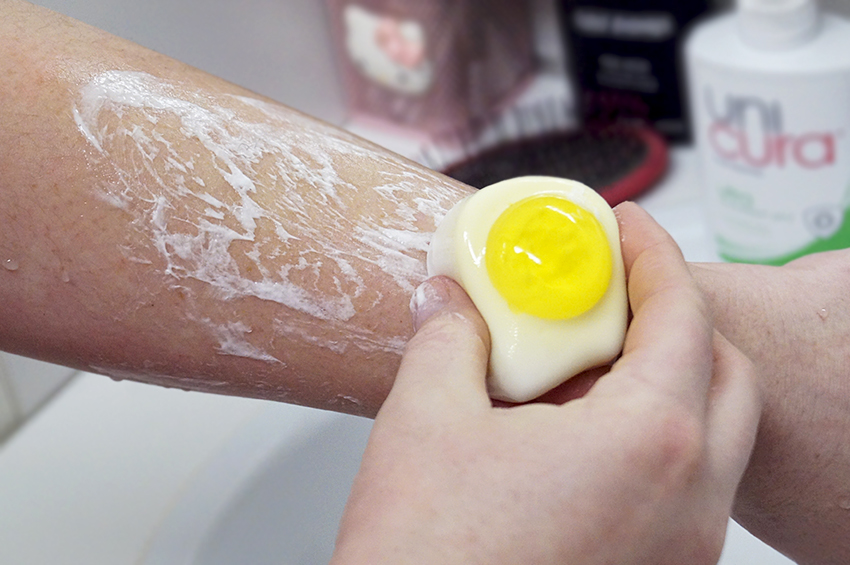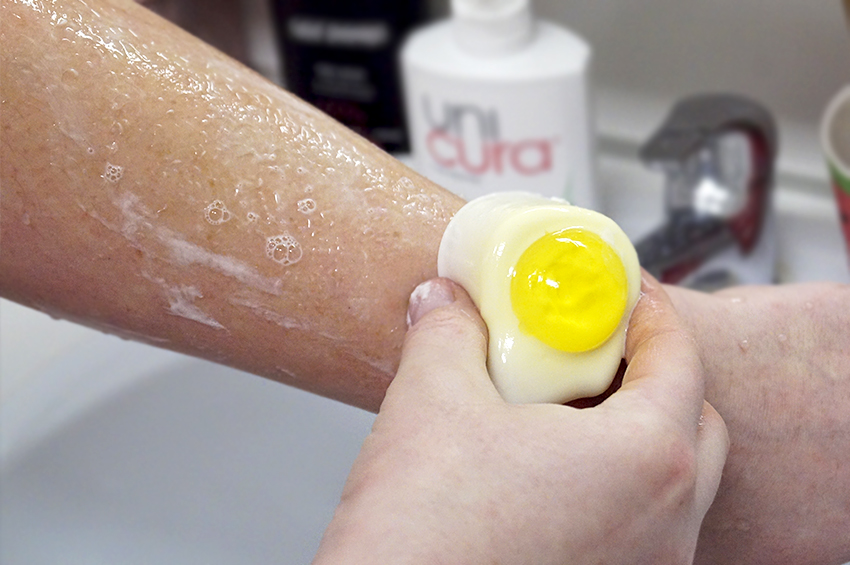 What do I think?
In the shower, I immediately notice how easy it is to hold this jelly. Unlike some jellies! Maybe it's because of the shape, or because it's pretty firm, perhaps it's a combination of both — regardless, I haven't dropped it yet. It's easy to use, leaving a white substance on wet skin, which transforms into a rich lather when in contact with water. The jelly slowly releases notes of a tropical pineapple smoothie and it's delicious. After rinsing off, I can already feel a difference on my skin.
After drying myself off, I'm SHOOK at the difference! My skin always has a beautiful glow after using jellies, but I've never experienced it like this. My skin has an amazing, healthy and radiant glow and there's a few glitters here and there. It also feels very soft, like I'm stroking velvet. My skin looks a little less dry, it's not as dry and flaky as the skin on which I did not use this product. It's not a hydration boost, but still — it looks less flaky, which is something. I can't really smell the scent on my skin, but that's okay. Now I can safely use another perfume without the scents clashing.
I'm positively surprised by this jelly. The tropical scent is wonderful and my skin looks and feels a lot better afterwards. Would I recommend this product? Hell yes! I hardly use any jellies, but this one got me egg-cited. I don't have anything neggative to say about this product. Sorry, I'm just yolking around. I'm such a comedi-hen. Okay okay, I'll stop now.

Lush Sunnyside Up Shower Jelly costs £5.00 (England) / $5.95 (USA).