Review: Lush Carrot Shower Oil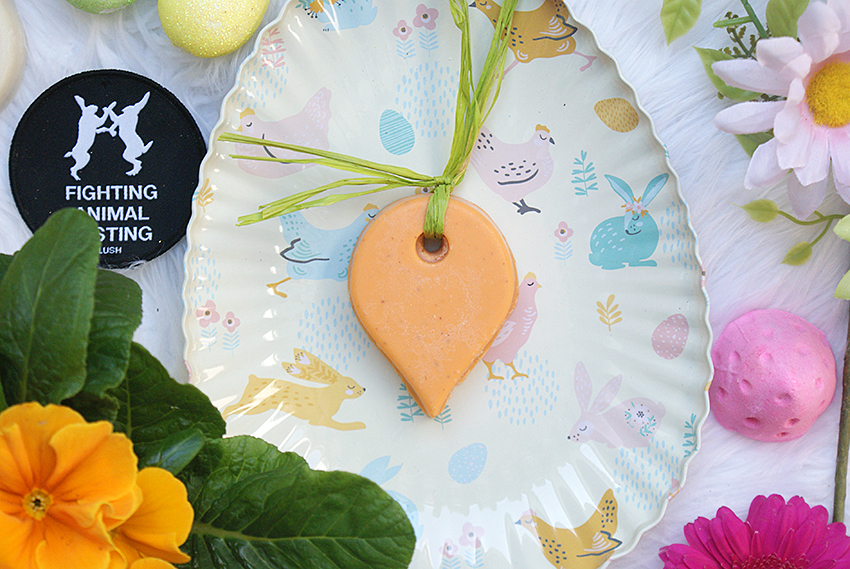 A new shower product, with no sulphates and palm oil? Sign me up. Lush brought us this shower oil which is naked ánd vegan. And of course I had to test this for my blog. Just like the rest of the complete Easter and Mother's Day range, by the way. All those amazing products. Poor me. Feel free to pity me. Let's find out how this product works and if it's a hit or a miss!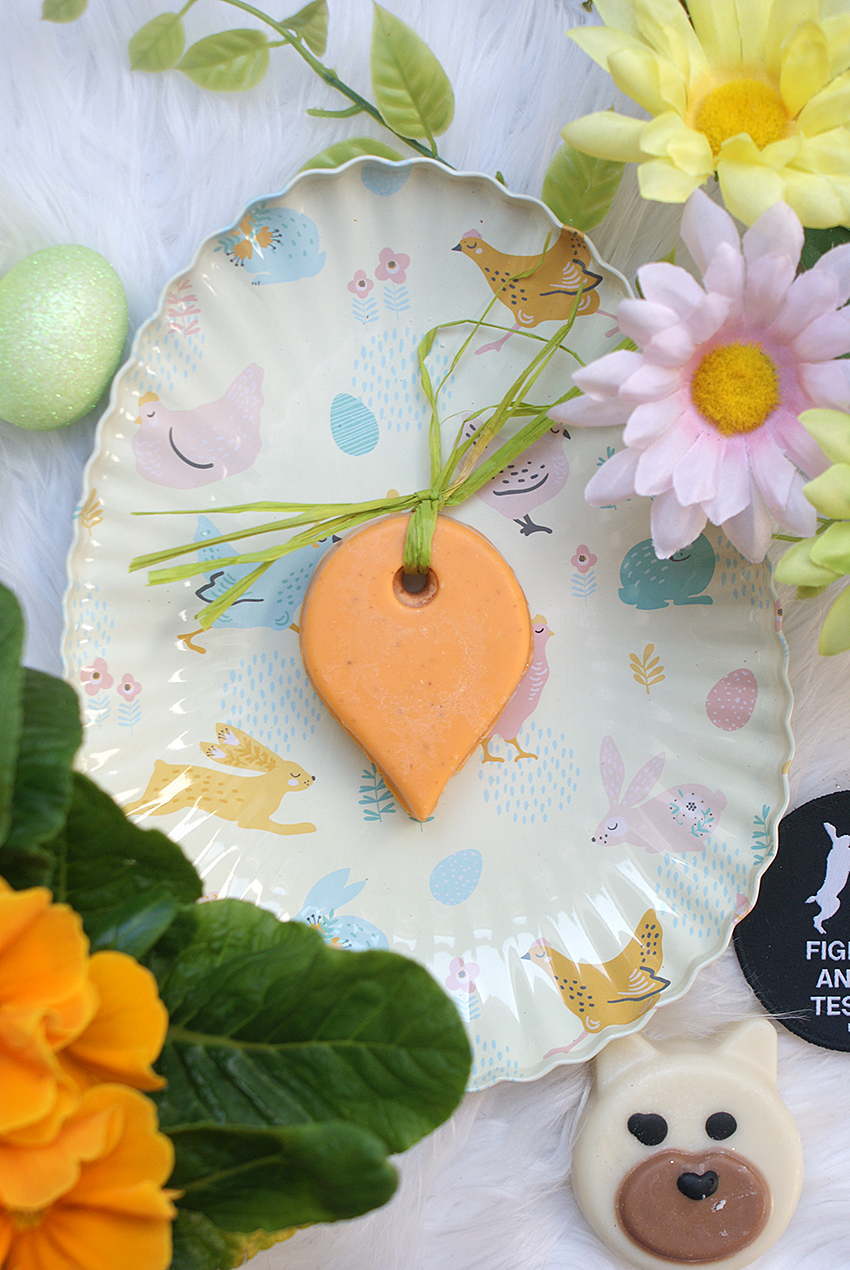 What is it?
Lush Carrot Shower Oil costs £4.95 and is part of the Easter range. This product cleans and moisturizes the skin. Take it with you into the shower and just rub it over your wet body – the cocoa butter and shea butter will melt and hydrate the skin. This product is completly naked and vegan. You can use it multiple times — just leave it to dry somewhere, where it can't get wet. This product is one of a kind so far in this range.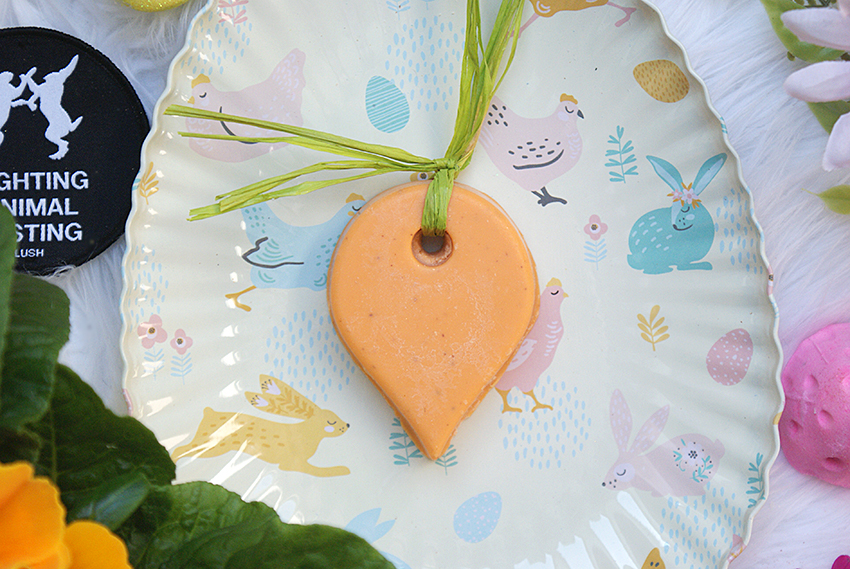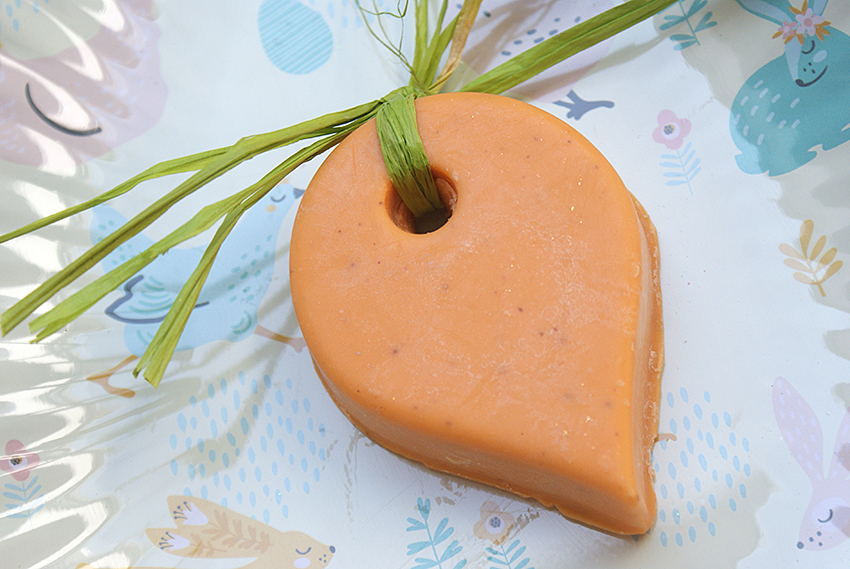 What's inside?
Carrot oil, sunflower wax, almond butter, orange juice, sandalwood oil, grapefruit oil, geranium oil and paprika extract, all these lovely ingredients will soothe and hydrate your skin, and that all while you are winning imaginary discussions. (Come on, I can't be the only one doing this in the shower!)
The smell is delicious! I actually hoped that the Carrot Cake Lip Scrub would smell like this as well. It is a very tasty, fruity and sweet fragrance. The smell reminds me a lot of Buck's Fizz, because of the orange oil in it. This is a wonderful start-up of the day. It's a great Spring scent as well – cheerful and sweet.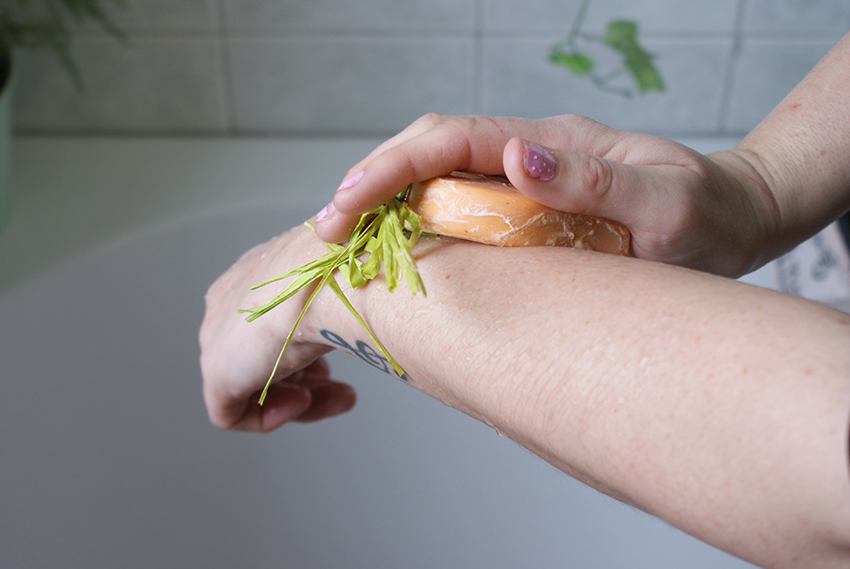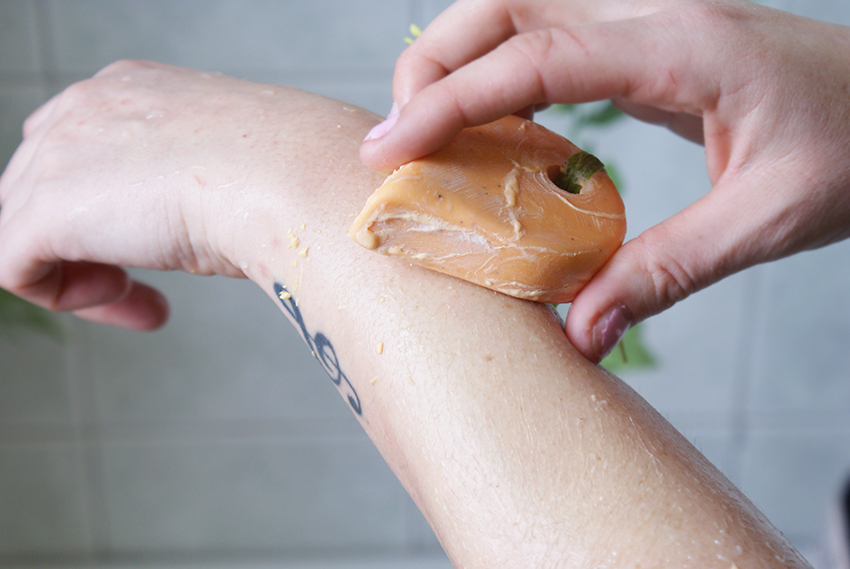 What do I think?
I have to get used to the fact that this products doesn't lather. The only thing happening is that the butters melt slightly and give off on my skin. In spite of this, the substance can easily be spread, no foam is needed. After I have rubbed my arm extensively with the Carrot Oil, I rinse off the excess and I can immediately feel the greasy layer on my skin.
After showering, I pat my skin dry carefully and again, I feel a thin layer of greasiness. It's not a gross kind of feeling, it's actually a very nice feeling.
In comparison with my other arm – which I did not use the Carrot Oil on – it feels a lot smoother and the skin is clearly more hydrated. It is really an hydration boost, a bit the same like the effect of the body conditioners. I smell the cheerful scent very subtly on my skin, though it does not linger enough to notice it for hours. I do notice that the skin is really hydrated, even hours after showering. And that makes me happy too.
How long would I be able to do with this product? I guess a lot of times, depending on how thick you rub yourself with it. I guess about 5 or 6 times if you use it generously for your whole body. If you are more economical, you will of course do much longer with this product. Anyway, I think it's worth the money!

Lush Carrot Shower Oil costs £4.95 (England) / $7.95 (USA).