Review: Lush Royalty Bath Bomb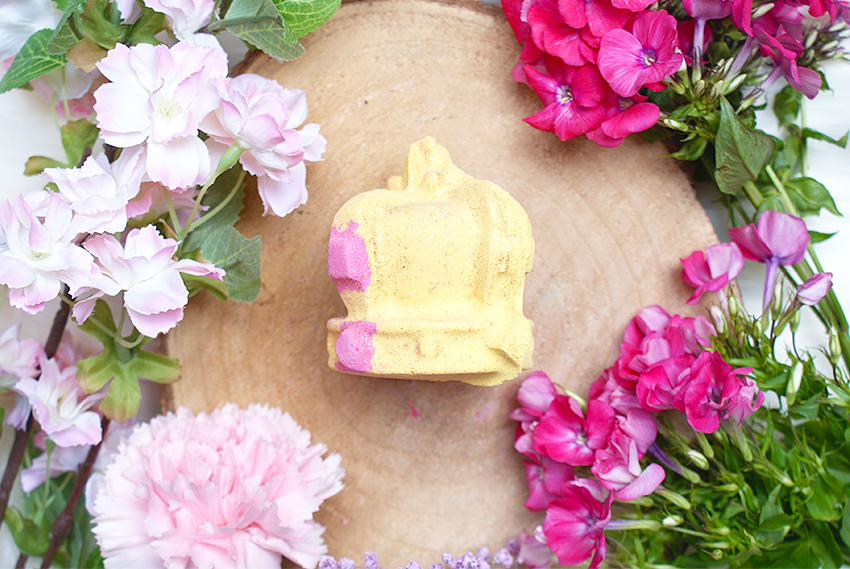 Are you sick of the daily bath bombs reviews yet? If yes, I'm genuinely sorry. I also don't like having to take a bath every damn day. Just kidding. But I just want to try out as many Harajuku bath bombs as possible, all for you, so you know which ones to buy and which ones NOT to buy. Today I'll tell you exactly how I think about this crown-shaped bath bomb. Is it worth its money? Is it better to buy one of the other 53 bath bombs? You'll find out today… if you keep on reading, that is.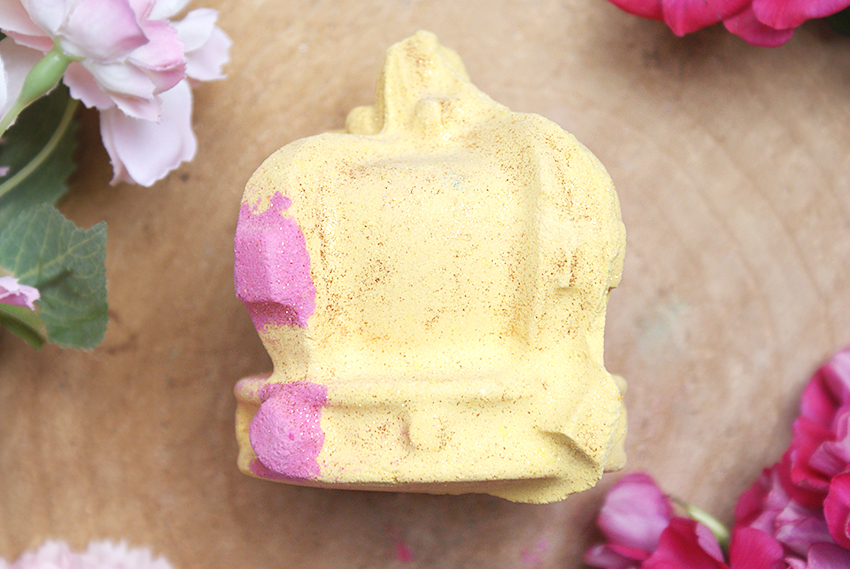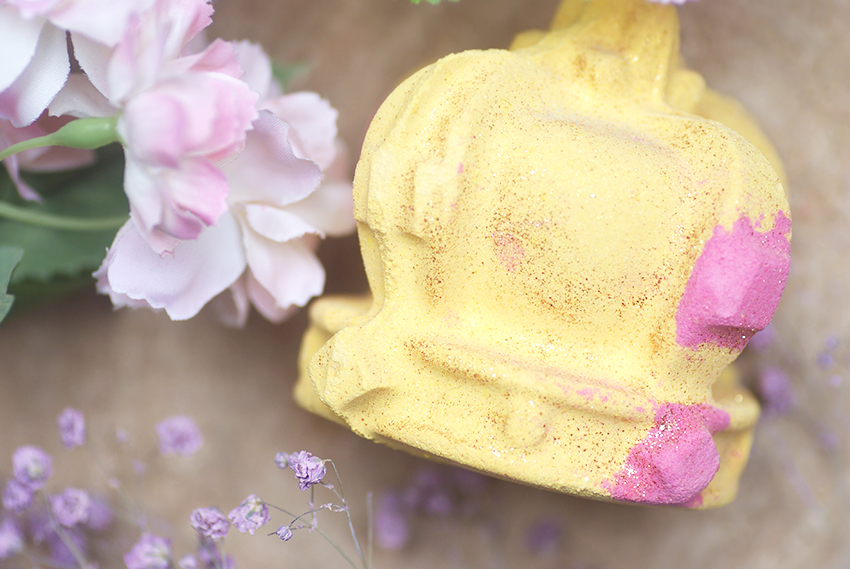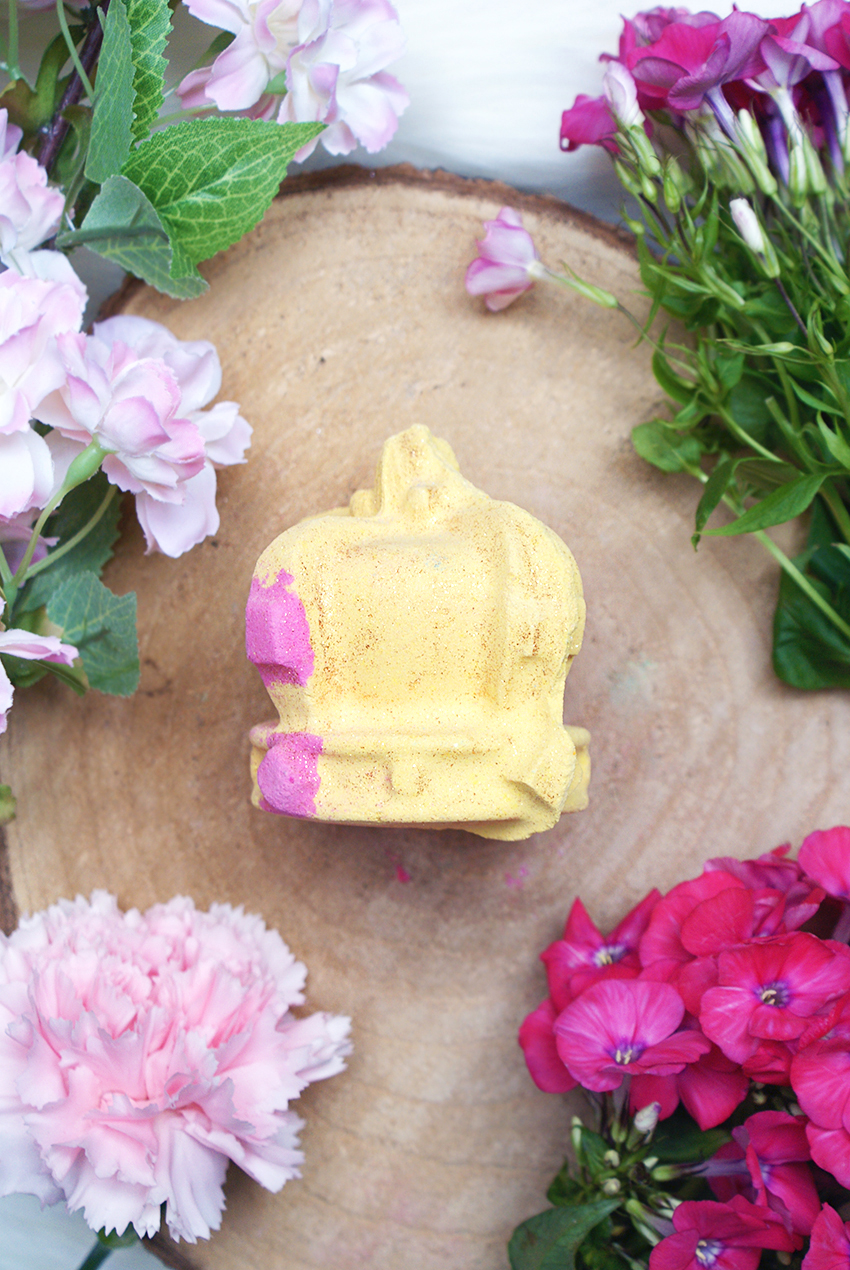 What is it?
Ingredients: Sodium Bicarbonate, Citric Acid, Titanium Dioxide, Jasmine Absolute (Jasminum Grandiflorum), Ylang Ylang Oil (Cananga Odorata), Sandalwood Oil (Santalum Austro-Caledonicum Vieill), Vanilla Absolute (Vanilla Planifolia), Soya Milk Powder (Glycine Soja), Water (Aqua), Cream of Tartar (Potassium Bitartrate), Dipropylene Glycol, Synthetic Fluorphlogopite, Tin Oxide, Sodium Coco-Sulfate, Cocamidopropyl Betaine, Silica, Propylene Glycol, Coumarin, Geraniol, *Limonene, *Linalool, Fragrance, Yellow 10, Iron Oxides, Yellow 5, Yellow 5 Lake, Red 4, Red 27, Red 28, Yellow 8, Red 33, Blue 1
Lush Royalty Bath Bomb costs £6.95 / $6.45 and is part of the temporary Harajuku range, consisting of 54 new, exclusive bath bombs. Royalty appealed to me because of its nice appearance, it's a yellow crown with pink pieces. It contains jasmine, ylang ylang, sandalwood and vanilla. The scent is exactly as you'd think — floral with a sandalwood touch. It's a nice scent, but it's not that spectacular. Royalty contains soy milk (glycine soja), a vegan ingredient that contains vitamin B (an antioxidant) and therefore makes the skin silky smooth.
Play the videos in 1080p quality and on full screen for the best experience! The video has been speeded up.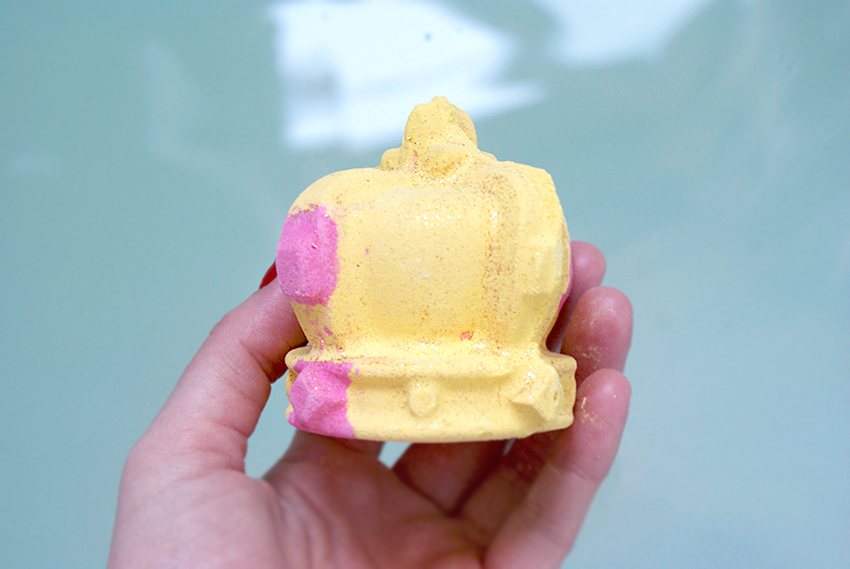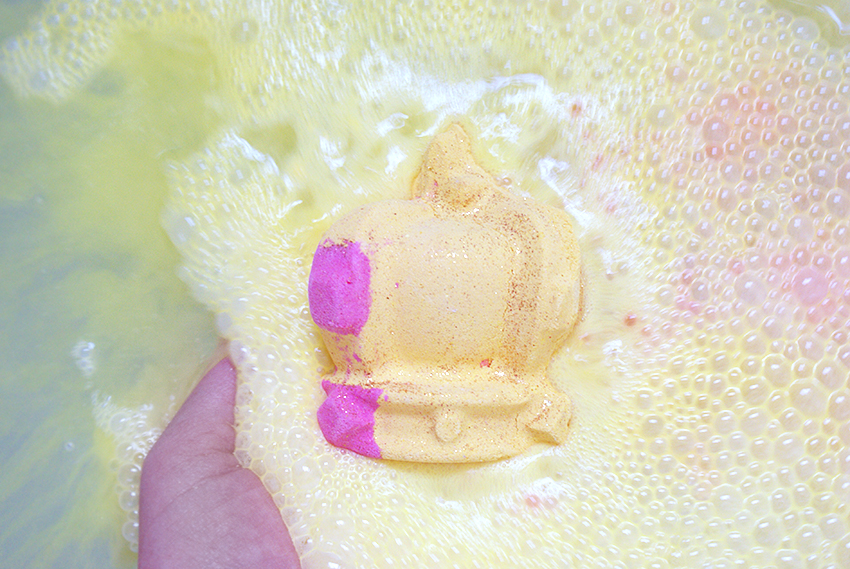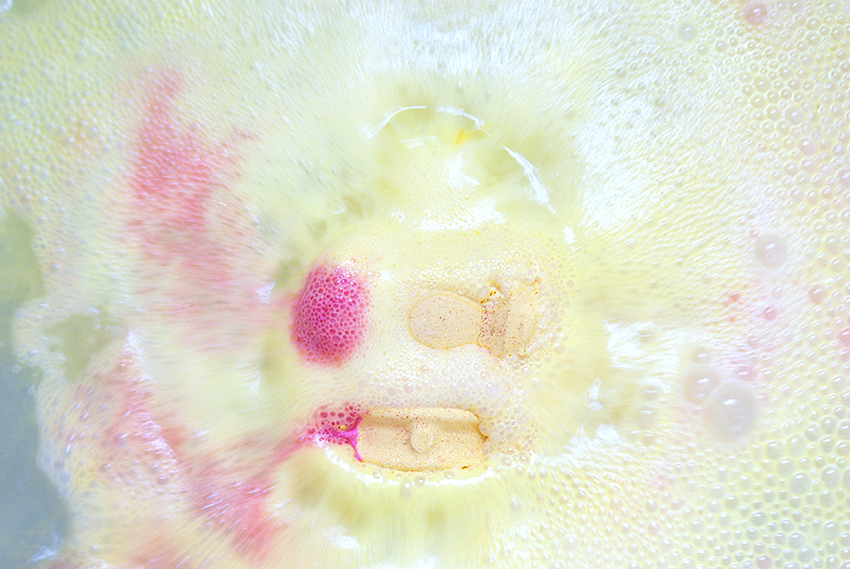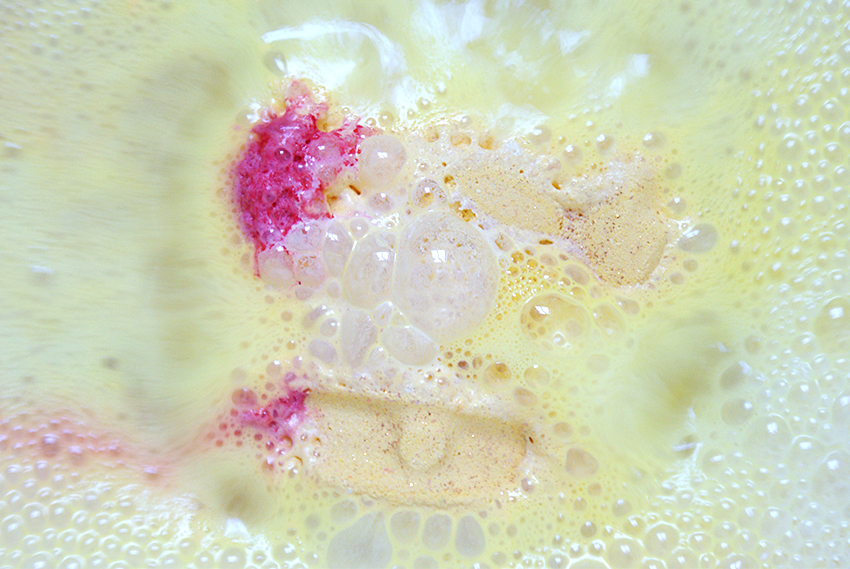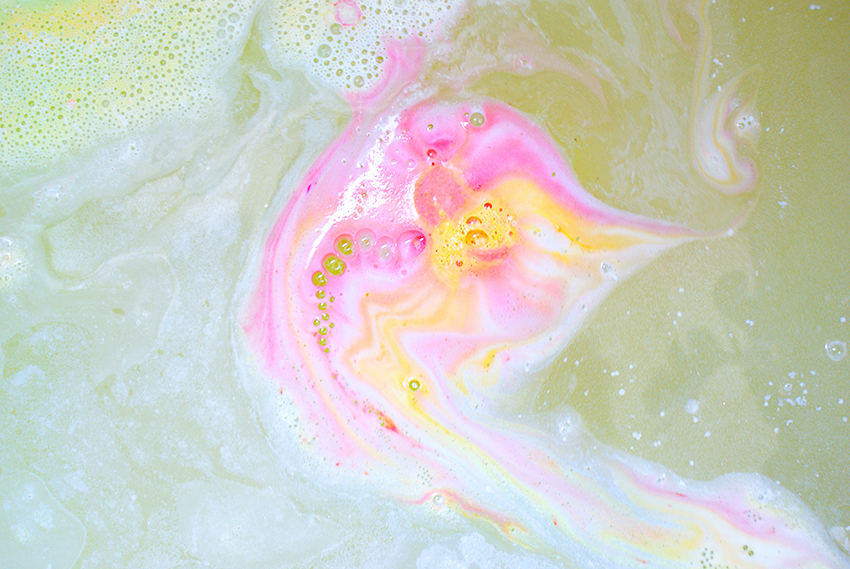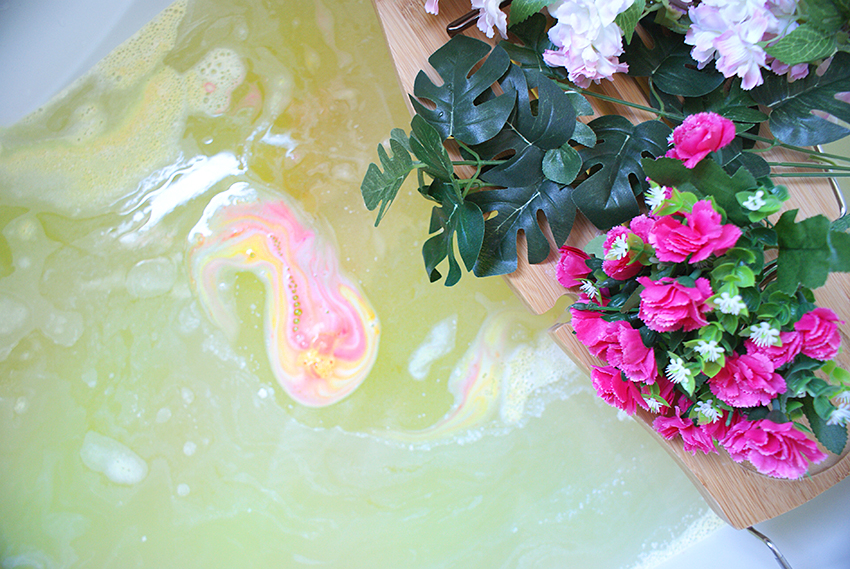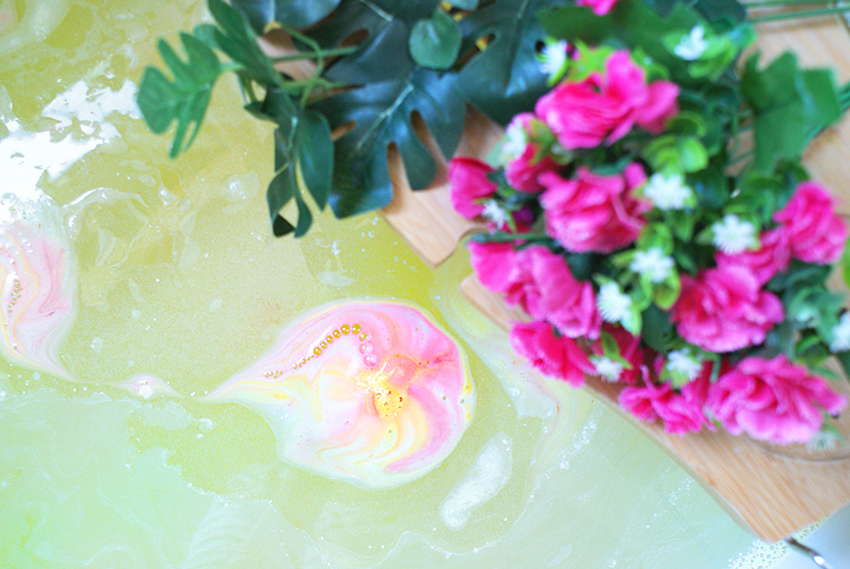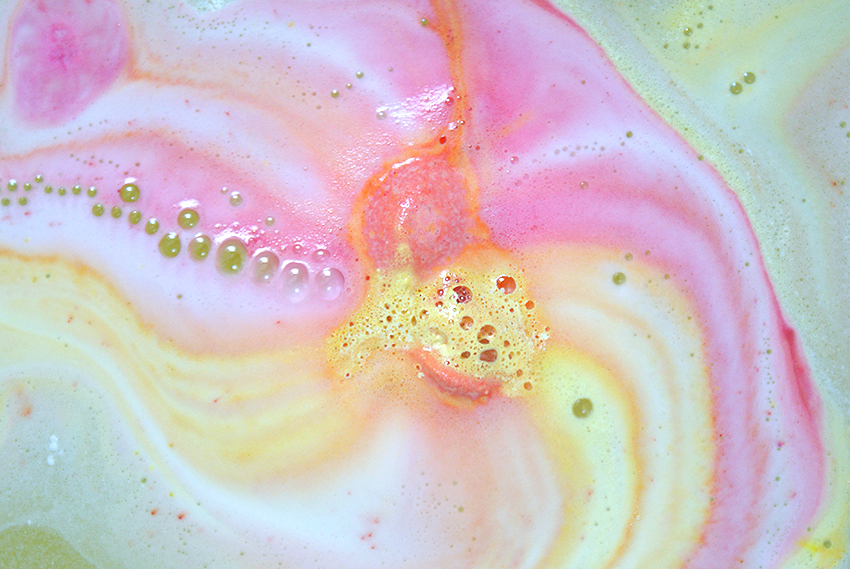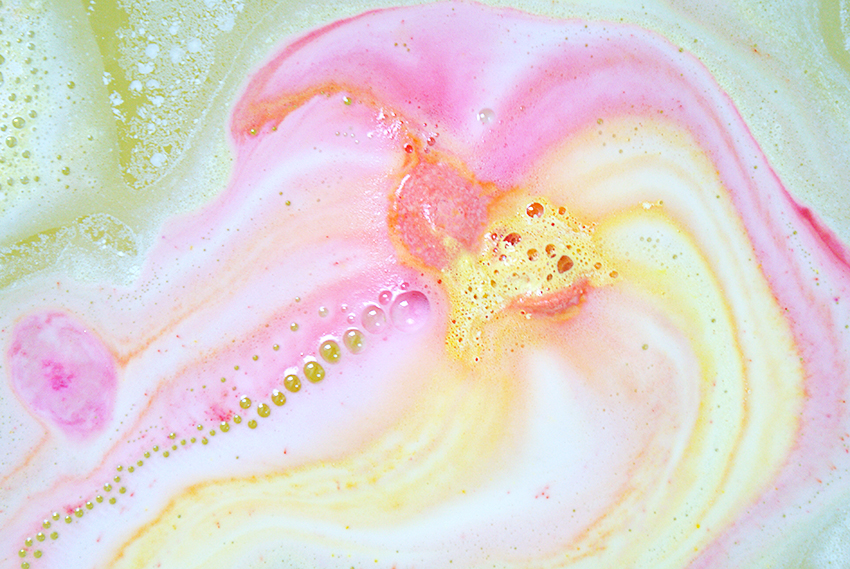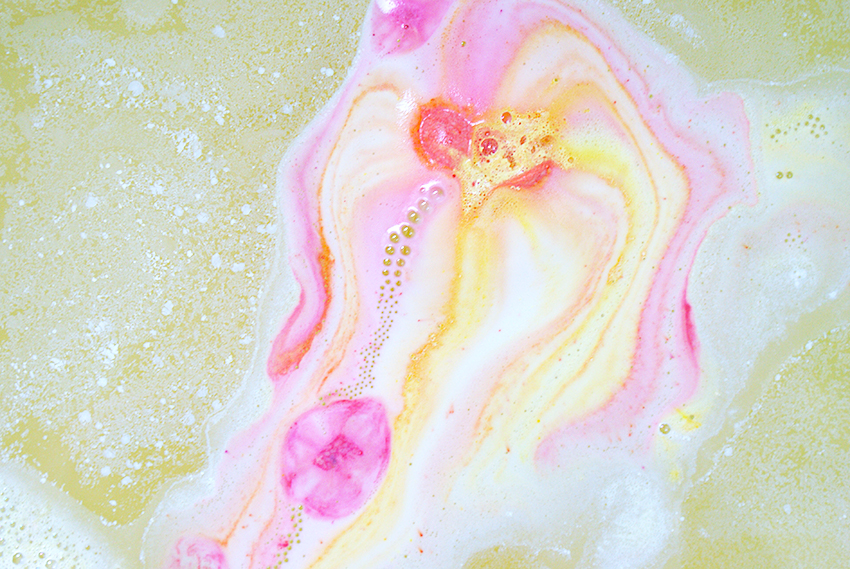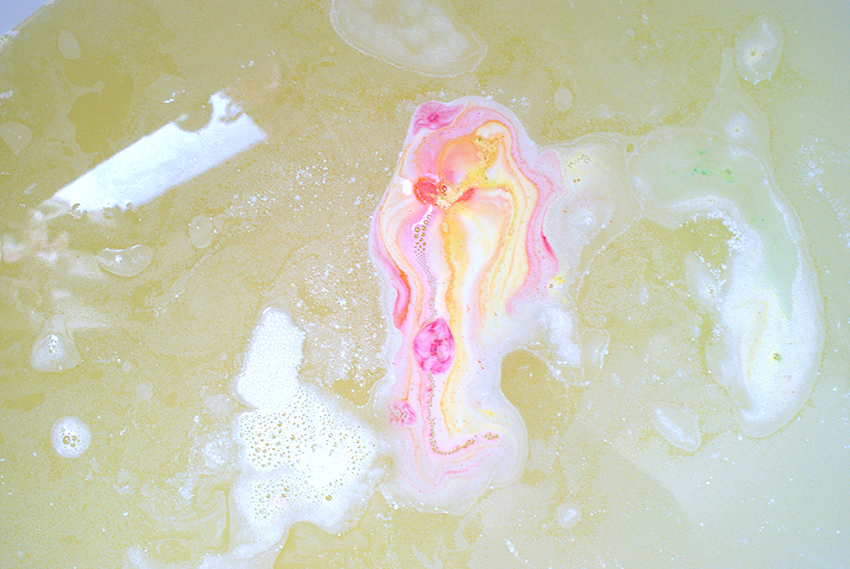 What do I think?
Royalty is a beauty in the tub. As expected, it transforms the water into a yellow shade — not a gross 'i have just urined in here' shade, but actually a pretty nice and vivid shade of yellow. Just like the bath bomb itself, before going down. Under the surface it leaves clouds of yellow color, also pink streams can be spotted while the bath bomb is bobbing around. In the end, a surprising green color appears. Creamy white bubbles form on the surface, stuck together like a group of teens on their first day in high school. These bubbles are actually bubbles of soy milk and when you touch them, you can spot a milky layer on your fingers. This ingredients makes the water feel very soft, but it does stain the bath a little bit. In the end, the water has creamy, yellow hue with some milky layered puddles.
Although I liked Royalty, I would not buy it again. It's just not special enough for its price. I had found a portion of glitters to be more royal and therefore fitting with this bath bomb, also perhaps a more golden shade would've been nice. But I like the idea. My skin did feel slightly softer afterwards, but also drier. And that while soy milk should be hydrating and nourishing. All in all, seeing the price of this bath bomb, a good portion of moisturizing ingredients would've been greatly appreciated. But maybe that's just my royal opinion.

Royalty Bath Bomb costs £6.95 (England) / $6.45 (USA).