Review: Lush Yog Nog Body Conditioner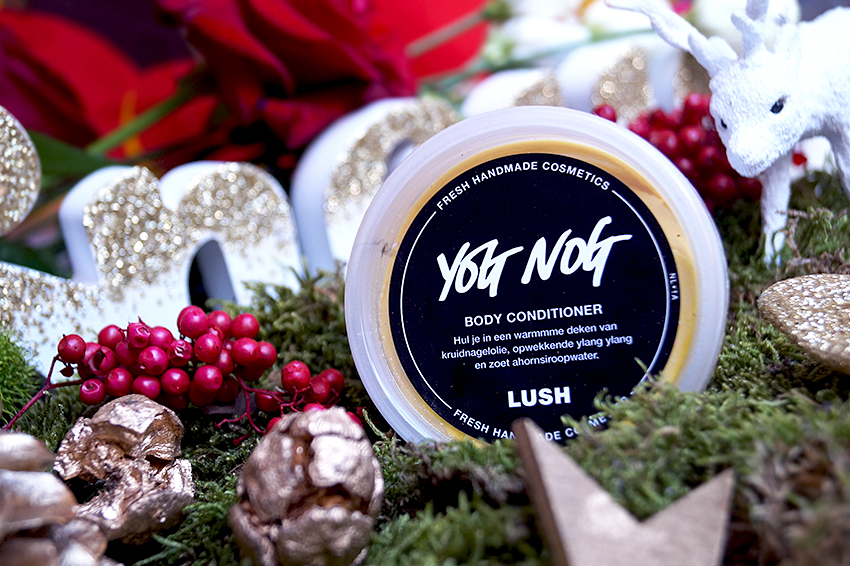 There are products that you KNOW you will love. I had this with the Yog Nog body conditioner — as a big fan of the Yog Nog scent family, I was anxious about the arrival of both the shower gel and the body conditioner. I couldn't wait to carry the wonderful, creamy scent with me all day long! And if my skin could also benefit from the ingredients, it would be a complete hit for me. 😍 Despite the pretty steep price (15 euros for 100 grams) I decided to buy it anyway..
If you're curious about this product, make sure you keep on reading!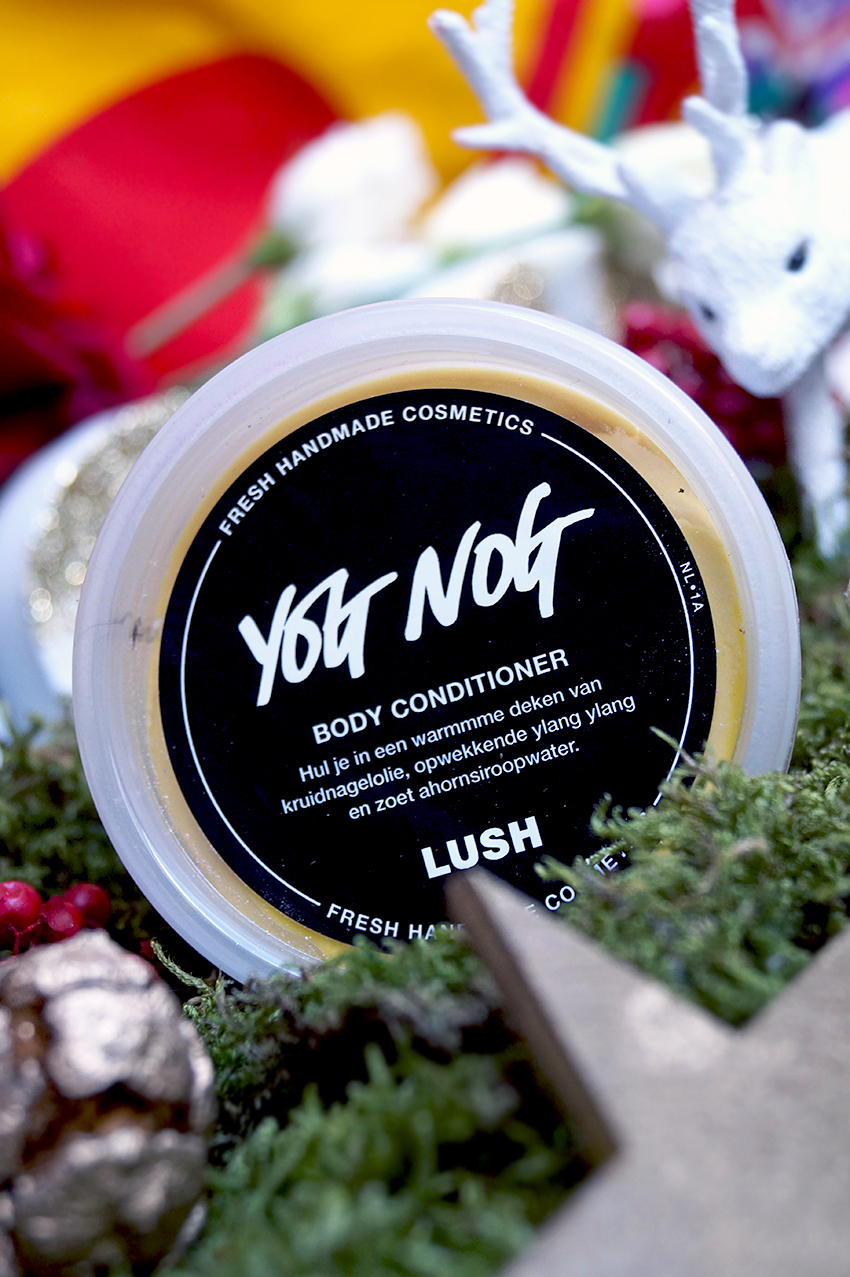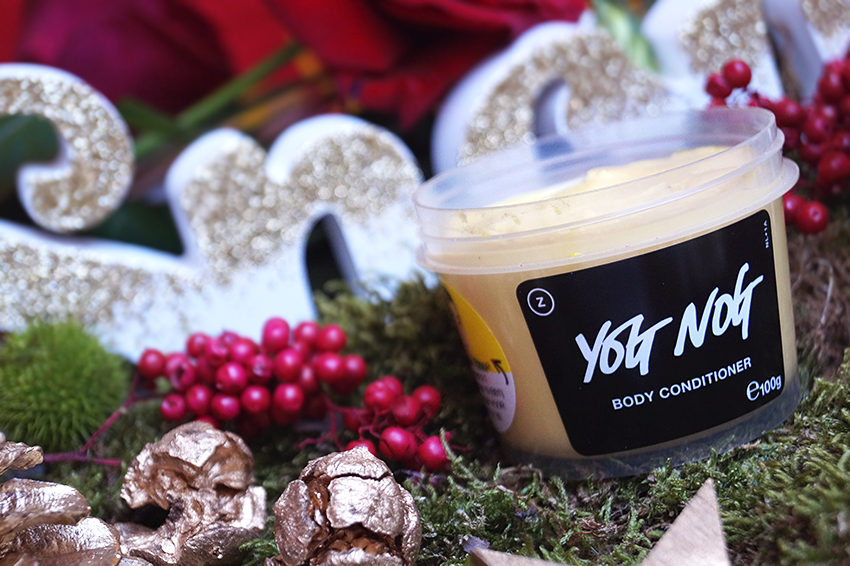 What is it?
Lush Yog Nog Body Conditioner costs £10.00 for 100 grams, £18.00 for 225 grams and £30.00 for 500 grams. It's part of the Christmas range. Lush has several body conditioners for in the shower, but this is the first time that there's one with the Yog Nog scent. This scent is very popular during the winter season! And the addition of a body conditioner is more than welcome, since our dry skins could all use some hydration. What strikes me about these body conditioners is that the jars are transparent, rather than black. I think this is much nicer!
A body conditioner can be used in the shower, preferably after using a shower gel. Scoop a little out of the jar, massage onto your wet skin and then rinse off the excess. It's important that you pat the skin dry after showering, rather than rubbing it dry. You'll want to keep the greasy layer on the skin as long as possible, so don't rub it off. Just gently pat. You can do it.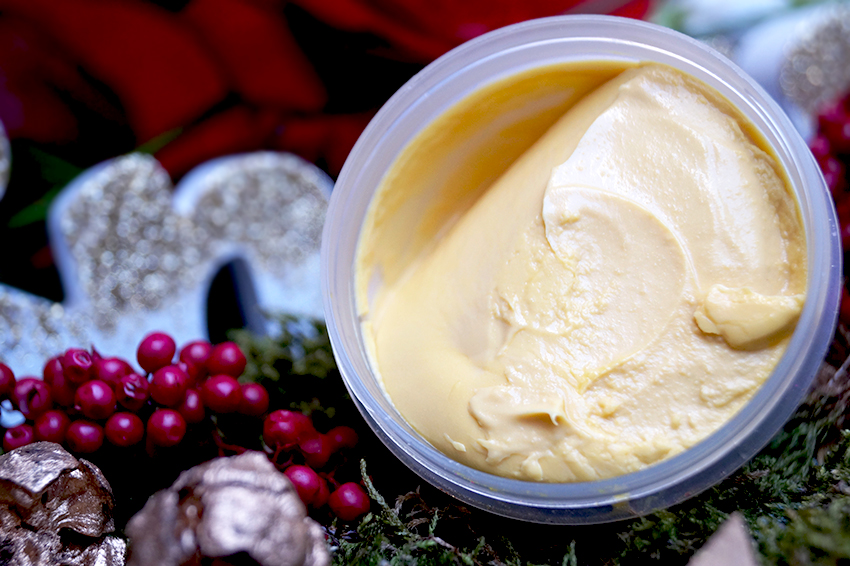 What's inside?
Ingredients: Maple Syrup Water, Almond Oil, Glycerine, Water (Aqua), Fair Trade Shea Butter, Fair Trade Organic Cocoa Butter, Oat Kernel Oil, Stearic Acid, Organic Illipe Butter, Perfume, Triethanolamine, Clove Bud Oil, Ylang Ylang Oil, Titanium Dioxide, Cetearyl Alcohol, Synthetic Fluorphlogopite, Tin Oxide, *Eugenol, *Linalool, Colour 19140, Colour 77491
Call me a greedy Dutch person, but for the amount of money I paid for it, there better be 50 grams of pure gold in this body conditioner. First of all, I spot maple syrup water in the list; which is moisturizing and softening for the skin. Then there's almond oil; which is conditioning, moisturizing and packed with vitamin E, ensuring a beautiful glow on the skin. Then there's shea butter and cocoa butter — both rich, fatty butters that are known for their extremely hydrating proporties. They do not only hydrate the skin, they also soften and soothe the skin. Oat kernel oil locks the moisture in, so that the skin doesn't dry out. Illipe butter will moisturize the skin and restore the skins elasticity. Clove bud oil has stimulating effects on the skin. Ylang ylang-oil contributes to the scent and uplifts the mood and reduces anxiety. Well, I don't see any gold. I do see a lot of moisturizing and caring ingredients (including three butters!) so that's promising.
The scent of Yog Nog is out of this world. It's a warm, creamy, sweet caramel scent. A typical winter scent — rich and creamy, but also slightly spicy due to the clove oil. I always link this scent to the warmth of the holidays. A real dessert, as Lush says, a sweet caramel dessert. I can also smell something light floral in the scent, which I think is the ylang ylang. This scent is divine. Scrumptious. This is winter in a jar, ready to gild your skin in a heavenly scent.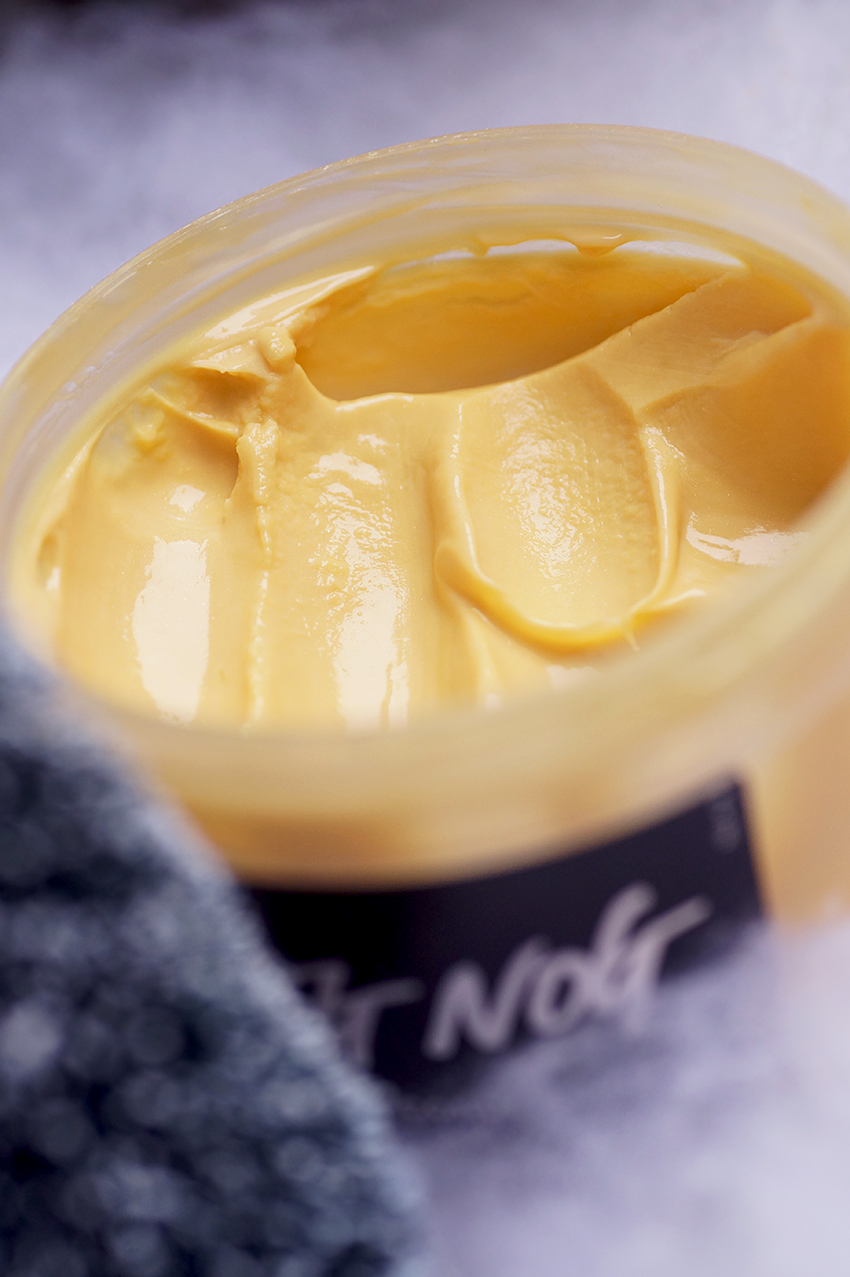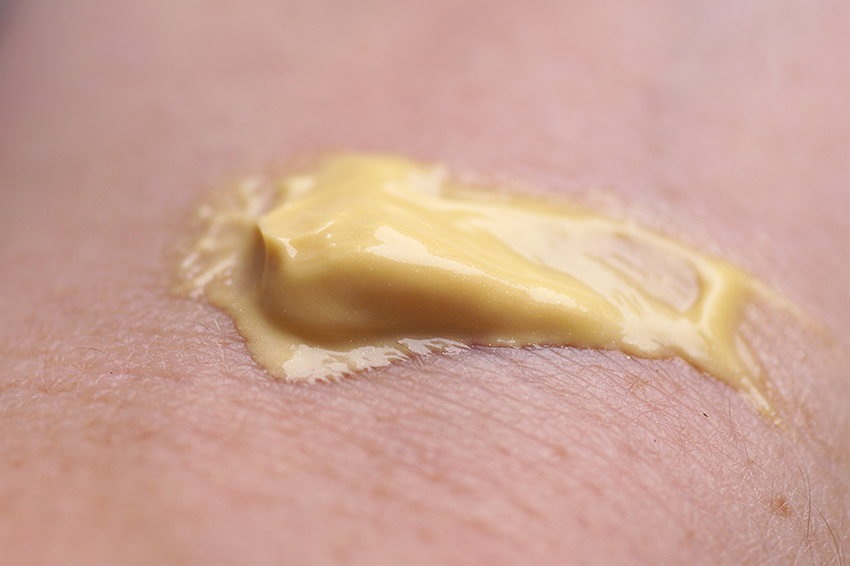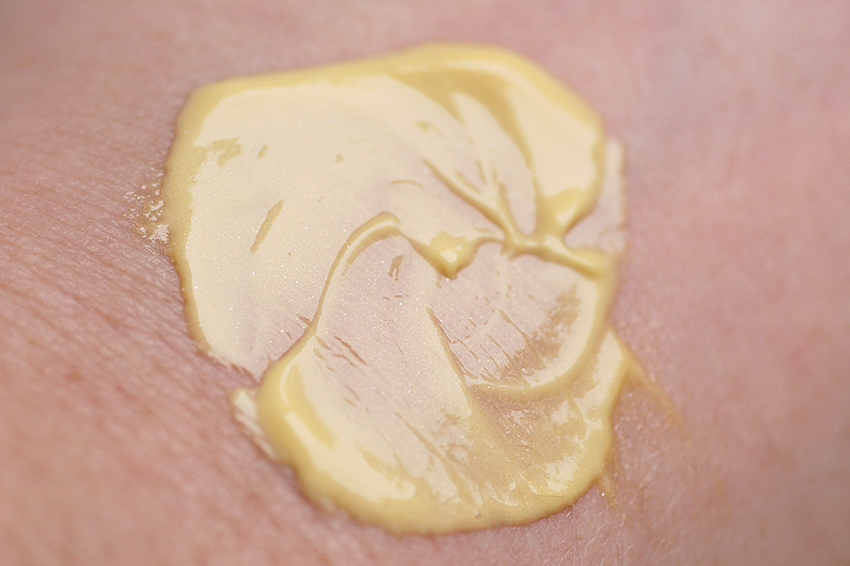 What do I think?
In the shower, I massage a little bit of the body conditioner onto my skin. I immediately notice that the body conditioner, in combination with water, becomes very thin and it seems to 'dissolve'. There's a tiny bit of the body conditioner left to be seen on my skin. The scent doesn't really come alive, I can only smell it when I put my nose close to my skin. I rinse off the remaining product, and after showering I gently pat my skin dry. My skin doesn't really feel greasy or oily, but it does feel supple and hydrated. That sounds good!
Unfortunately, my skin is dry and flaky again after less than half an hour. For a moment I doubt whether or not I accidentally rubbed anything of clothing along the skin, so that the greasy layer might have gone off. The following days I keep using the body conditioner in the shower, and with each day passing, I use a little more — maybe you need more product? After four days of testing, my jar is now almost half empty, and I'm left with nothing else but the conclusion that this body conditioner doesn't do shit for my skin. My skin is hydrated for about 10 minutes, after that, my skin is dry and flaky again. The scent is veeery subtle, almost not noticeable. What a bummer.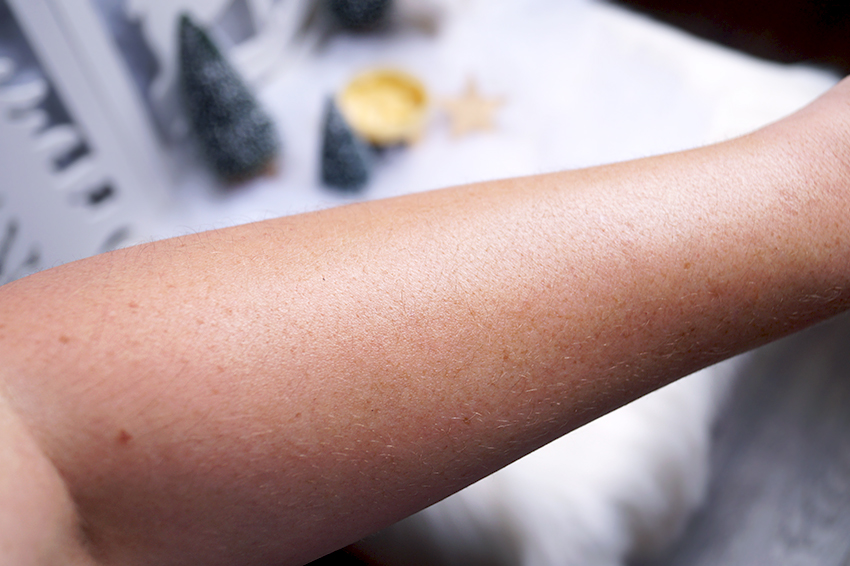 Somewhat irritated about this product (I pay 15 euros for such a small jar, of which the product doesn't do anything for me) I try the body conditioner on dry skin. So, not in the shower, and no rinsing off — just as a body lotion. And guess what? That might work best — just look at the photo above. When I put it on my skin as a body lotion, my skin is finally hydrated, soft, supple and has a radiant glow. No more dry and flaky skin. My holiday tan looks even more radiant, and the scent can be smelled very well — unlike when you use it as a body conditioner! It actually now smells divine on the skin, even warmer than directly from the jar. After 20-30 minutes, my skin has soaked up most of the ingredients, but I'm still left with a supple and hydrated skin for hours. Also, there's a fair amount of glitters in this product, which I don't have a problem with. But if you do, be aware of this.
Conclusion? If it doesn't work as a body conditioner, use it as a body lotion! Maybe my skin is too dry, but this is the first time that a body conditioner does nothing for my skin. A pity, because as someone who has a very dry skin, I had really hoped to benefit from this product. I also think it's a pity that the product is so expensive. In The Netherlands it's £12 / $15 for 100 grams. Although that isn't as bad as Ro's Argan, which costs £39 here.. and £30 in the UK. Anyway, I'm happy that I can still put this product to good use, but I won't be buying it again.

Lush Yog Nog Body Conditioner costs £10.00 for 100 grams (England).

One Response to Review: Lush Yog Nog Body Conditioner