Review: Lush Cinders shower gel
It is cold outside, it might snow later. The wind rushes past the house and it gets dark early. Inside you are wrapped in a fluffy sweater and you have your hands folded around a cup of hot chocolate. A hot shower would be perfect now.. and that wouldn't be complete without Cinders! This winter shower gel is a must have during this cold season. Today I'm telling you all about it!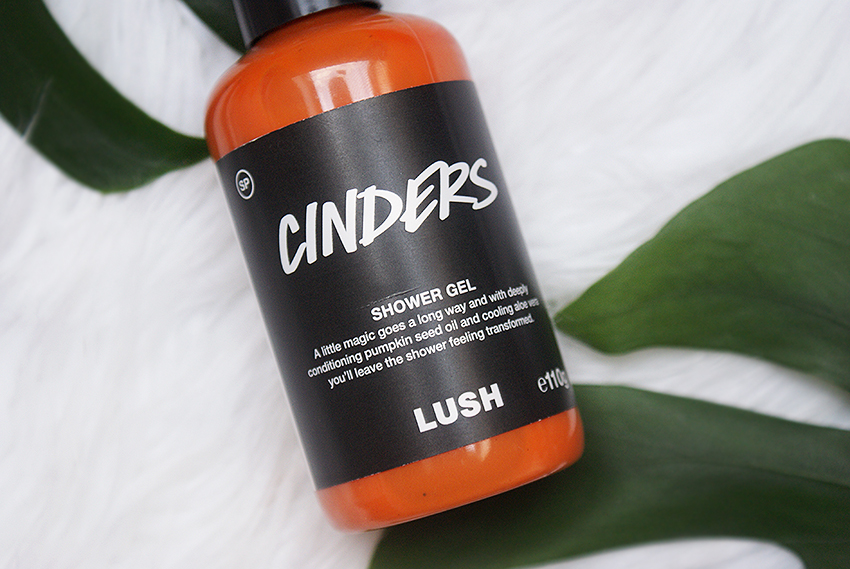 What is it?
Lush Cinders shower gel costs £5.50 for 110g, £10.95 for 260g, £18.25 for 520g. It's part of the Christmas collection. It's also available as a naked shower gel. If the name Cinders sounds familiar to you, you're not mistaken — it was a bath bomb for years, it's discontinued now. I never liked it as a bath bomb (too much cinnamon), so I took a big chance buying Cinders. Fortunately, I like this scent really a lot! It's a lovely shower gel to see, the color is aesthetically pleasing.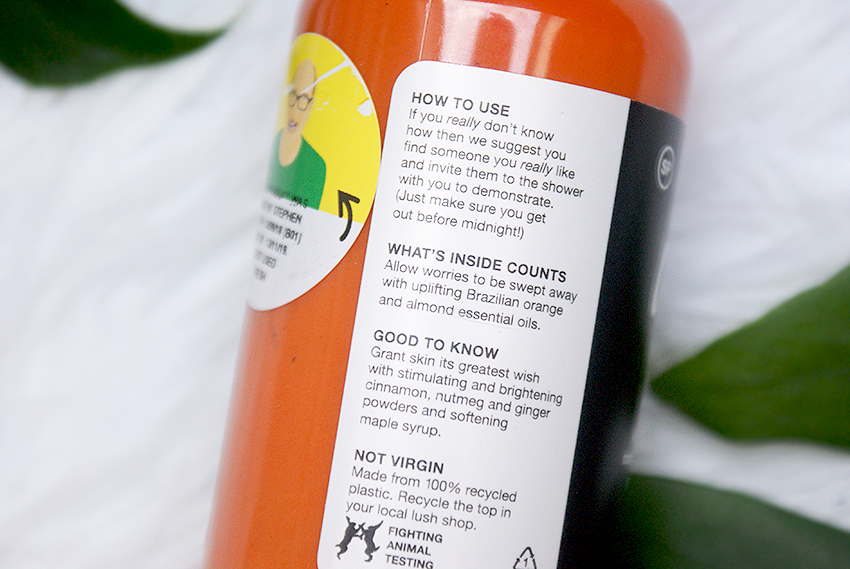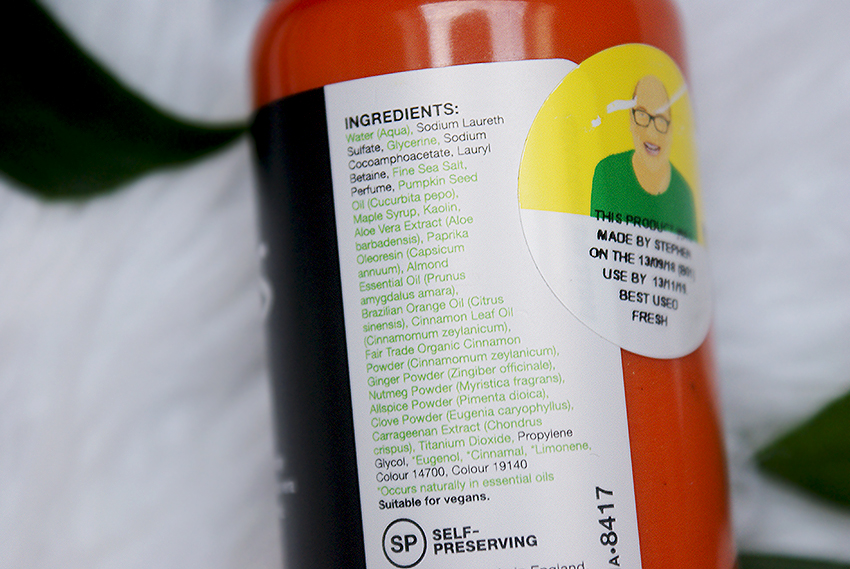 What's in it?
Water, Sodium Laureth Sulfate, Glycerine, Sodium Cocoamphoacetate, Lauryl Betaine, Fine Sea Salt, Perfume, Organic Pumpkinseed Oil, Maple Syrup, Kaolin, Aloe Vera Extract, Paprika Oleoresin, Almond essential oil, Brazilian Orange Oil, Cinnamon Leaf Oil, Fair Trade Organic Cinnamon Powder, Ginger Powder, Nutmeg powder, Allspice Powder, Clove Powder, Carrageenan Extract, Titanium Dioxide, *Eugenol, *Cinnamal, *Limonene, Colour 14700, Colour 19140.
– Glycerine (very hydrating)
– Fine sea salt (antiseptic effect and it stimulates blood circulation in the skin)
– Kaoline (is absorbent and removes toxins and dirt from the skin)
– Aloe Vera extract (has a soothing and healing effect)
– Bell pepper extract oil (gives color to the shower gel)
– Almond oil (full of vitamin e, partially closes the skin, prevents moisture loss)
– Brazilian orange oil (provides scent, moisturizing)
– Cinnamon leaf oil (provides scent and cleanses the skin)
– Cinnamon powder (cleanses and has antimicrobial properties)
– Ginger powder (provides the scent)
– Nutmeg powder (provides the scent)
– Carrageenan extract (moisturizing)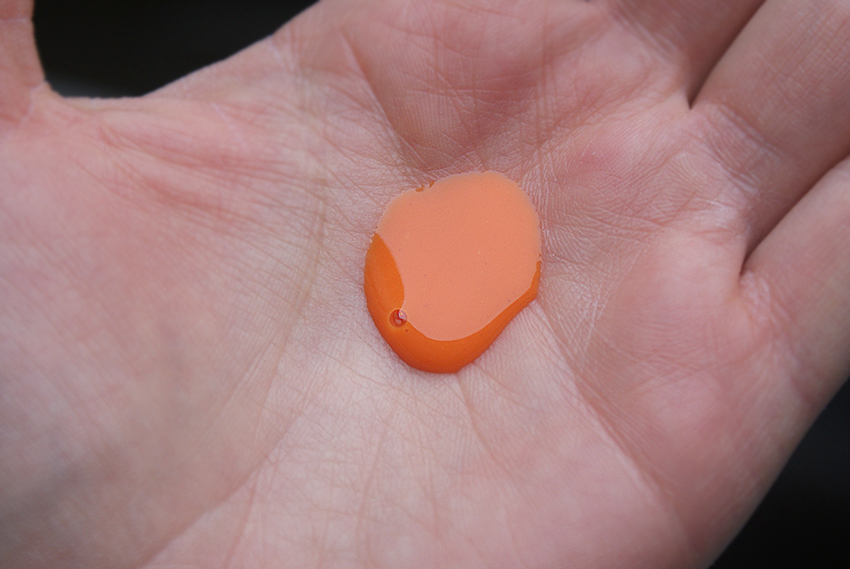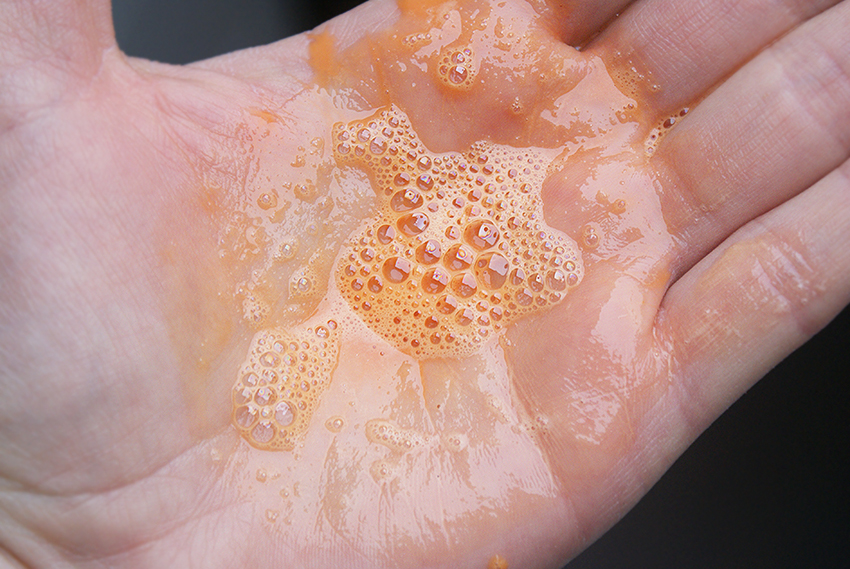 I'm so happy that I bought this shower gel. Although it looks pretty, the scent is truly the best thing about this shower gel. It's a festive yet warm scent, in which I can sense the almond oil pretty well. The scent is also spicy thanks to the cinnamon in it, but it also has a layer of sweetness, thanks to the orange oil and maple syrup. Overall it's a typical wintery scent, warm and spicy. It smells less of cinnamon than the bath bomb. (Thank God)
The consistency is very thick, it reminds me of a shower cream. This makes it extremely economical to use! You don't need much for lathering your whole body. In the shower, I notice how incredible festive this scent is. It brings me in a Christmas mood. I was like, 'when I got out of the shower, I'm going to put up the Christmas tree like, right away'. Definitely a must have during this season.
My skin feels very soft afterwards. The scent doesn't really linger on my skin, so this is the moment where I really would like to have more products with this scent. All in all, this shower gel is a real hit. I'm stocking up on this, because I think it's an all year round scent.

Lush Cinders shower gel was part of the Christmas 2019 range.