Review: Lush Ladybird / Ladybug Bubble Bar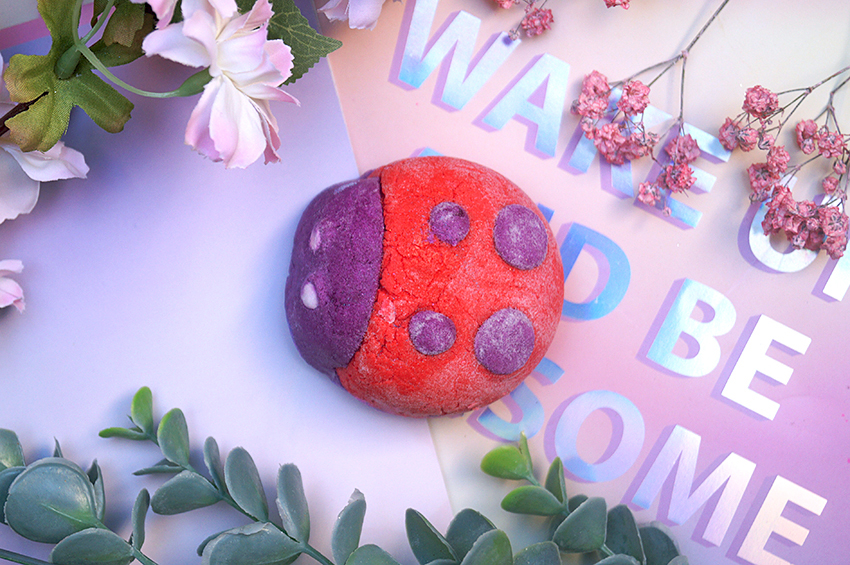 Isn't this the cutest bubble bar ever? I've always loved these little creatures, until they pissed on my hand and then took off, flying off to wherever he was heading. Luckily this Ladybird will not piss on your hand, but it will provide your bath with loads of bubbles, color and scent. Today I'm testing this cutie for you!
If you're curious about this bubble bar, then keep on reading.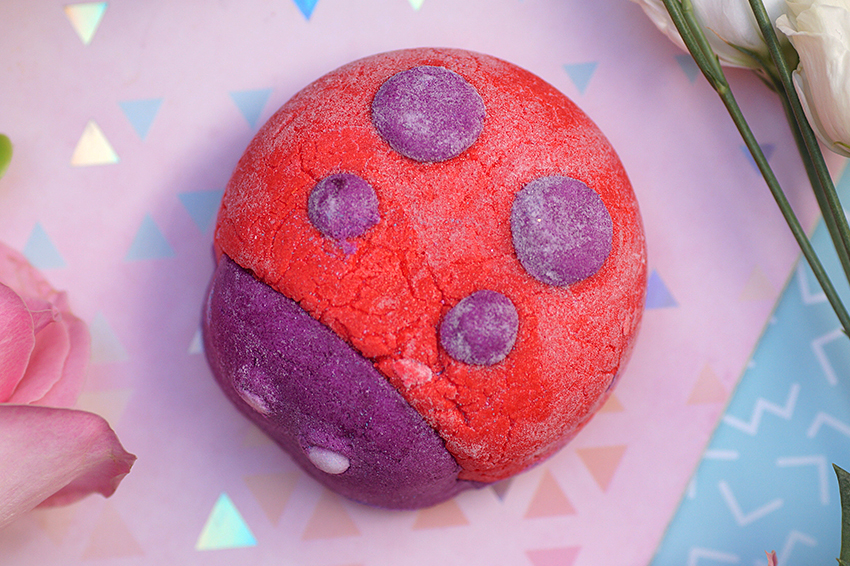 What is it?
Ingredients: Sodium Bicarbonate, Cream of Tartar, Sodium Laureth Sulfate, Lauryl Betaine, Cornstarch, Perfume, Geranium Oil, Peppermint Oil, *Citronellol, Colour 14700, Colour 45410, Colour 17200, Colour 42090
Lush Ladybird (Ladybug in NA) Bubble Bar costs £5.95 / $7.95 / €7,95 and is part of the new Harajuku bubble bar launch. Ladybird has been first introduced to us in the 2016 Mother's Day range. In the following years it hasn't been part of the Mother's Day range, until it was launched in the new Harajuku store in Japan. Ladybird is also part of a Mother's Day gift, named Garden Buds. It will be sold separately now, although I think the Garden Buds gift set is really sweet as well!
Ladybird contains geranium oil and peppermint oil, which probably doesn't give you a clue about the scent. It took me a while to figure out the scent as well.. it has something very sweet to it — like, VERY sweet, think Snow Fairy, or Yummy Mummy. It has that pink bubblegum sweetness to it, although it's less overpowering because of a floral background. Somewhere in the background I can smell a hint of peppermint as well. It's not a scent I'm fond of, the combination of floral, fruity and slightly minty doesn't really do it for me. It's not bad, but it's not my favorite scent.
Play the video in 2160p quality and on full screen for the best experience! The video has been sped up.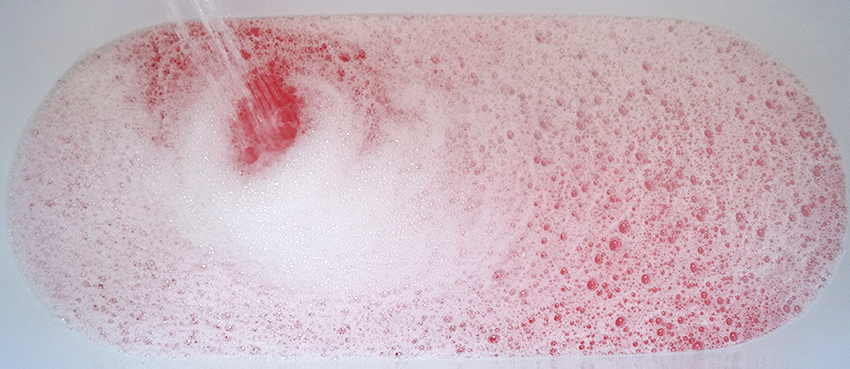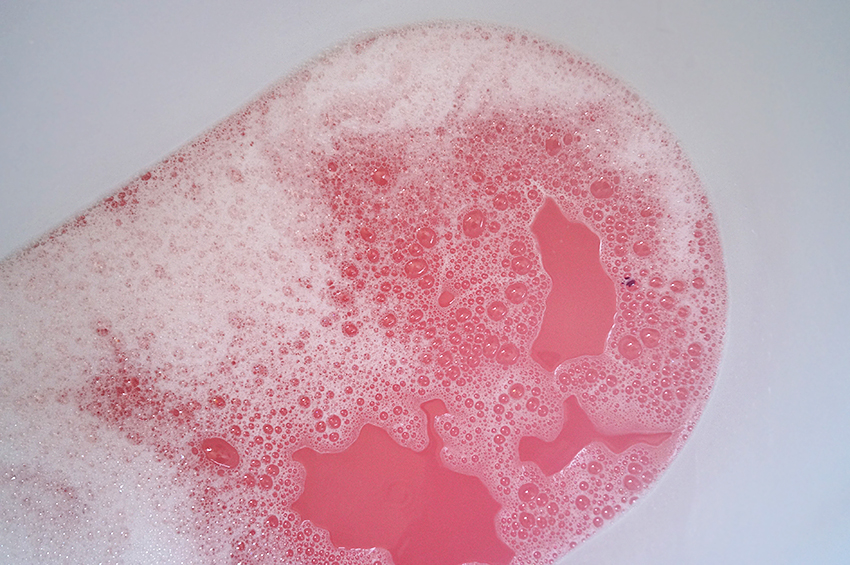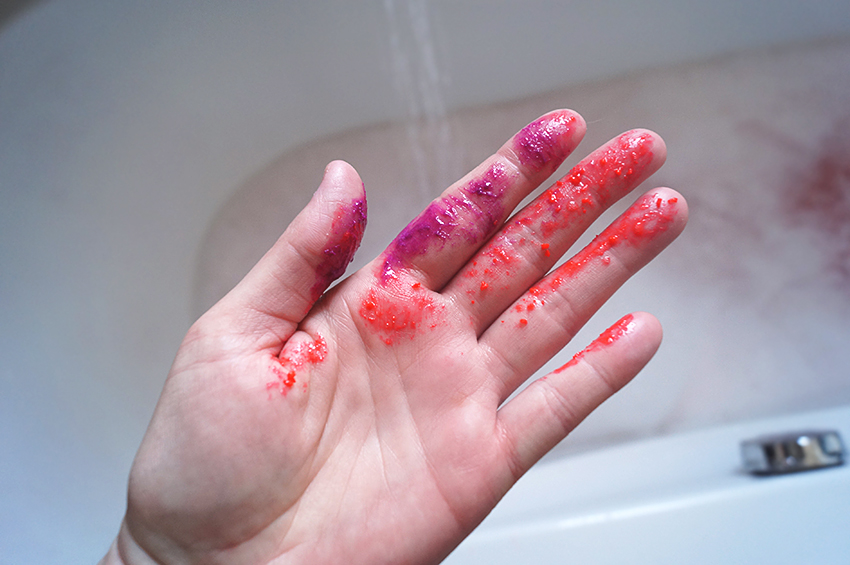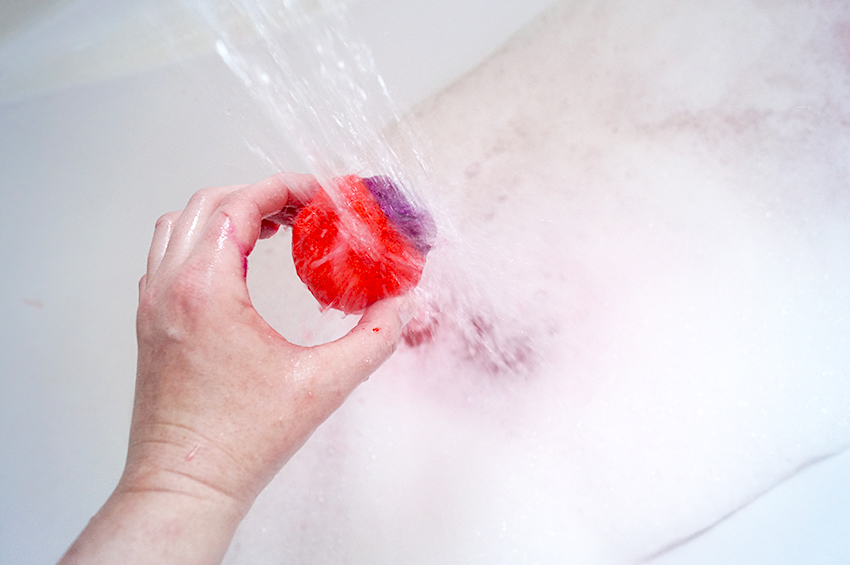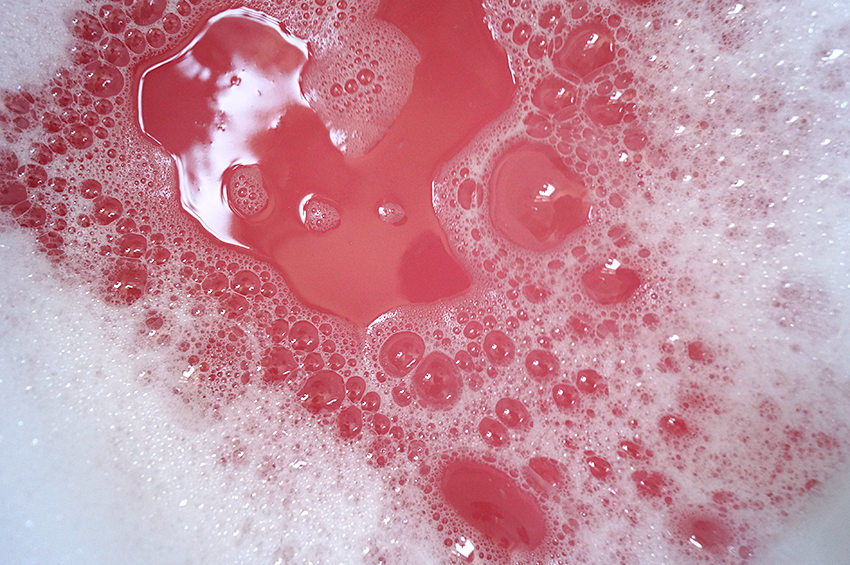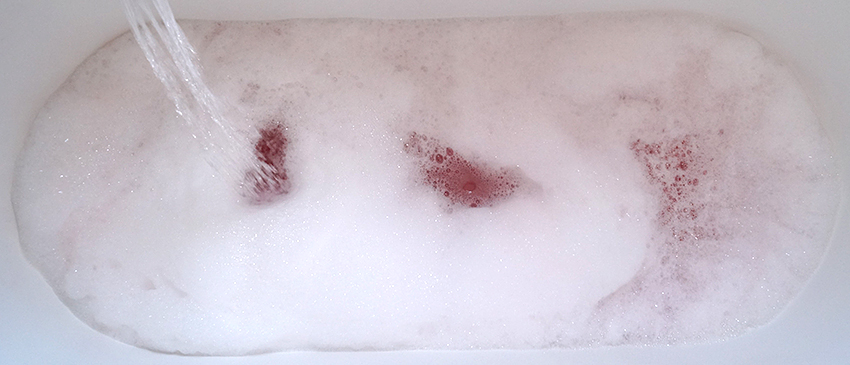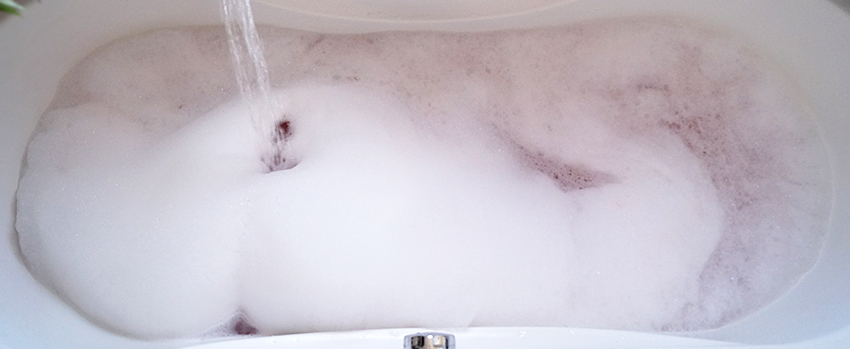 What do I think?
I held Ladybird in my hand, under the running tap. Color splatters went flying everywhere, making me realize this bubble bar bleeds colors a LOT. I let it dry on a scourer, but a small plate will work as well. Anyway — this bubble bar creates a LOT of bubbles, while coloring the water a pink, almost red, shade. It's gorgeous — you won't need anything other besides this bubble bar. The bubbles kept growing and growing, eventually providing my bath with mountains of bubbles. I'm someone who 'only' baths for 30 minutes, and when I did so, there was a still a shitload of bubbles everywhere. I was practically covered in bubbles! The scent was pretty weak to me nose, but since I'm not a huge fan of this overly fruity scent, I did not really mind. However, bathing in such an amount of bubbles is really a lovely experience. The popping of the bubbles near my ears has something relaxing to it.
I really liked this bubble bar. The end color of the water was a lovely shade, and that while I didn't even use up the whole bubble bar. I think I used about a 1/5th? You can really get a LOT of bubbles of this bubble bar, seeing as a 1/5th is enough for a pile of soft bubbles. The scent isn't 10/10 for me, but I know it's a very popular bubble bar, also because the scent reminds people of candy they used to have when they were a kid. I would definitely recommend this bubble bar, it's really worth the money.

Lush Ladybird / Ladybug Bubble Bar costs £5.95 (England) / $7.95 (USA) / €7,95 The Netherlands)

One Response to Review: Lush Ladybird / Ladybug Bubble Bar