Review: Lush Santa's Grotto Bath Bomb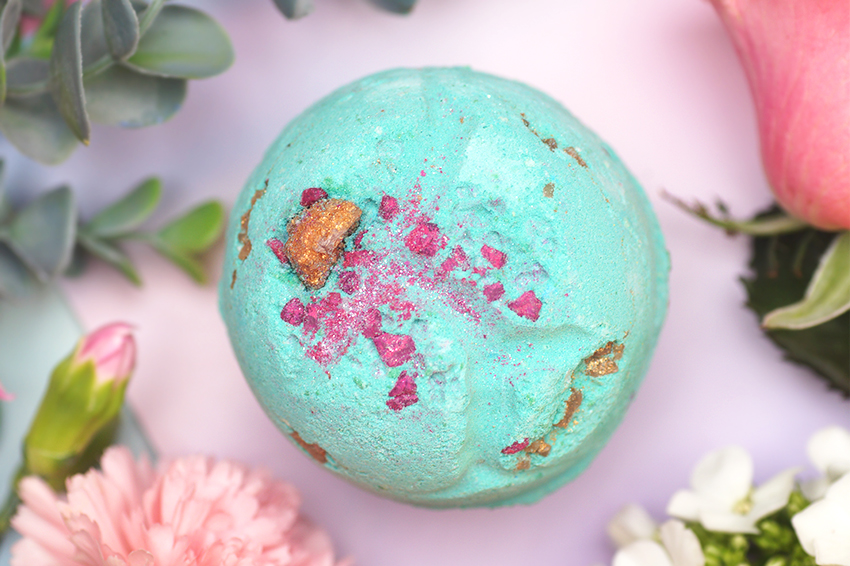 Yesterday I received my Advent Calendar, one of the 500 that were available in the Lush Labs. I wasn't planning on getting myself one of these — it costs 195 f*cking pounds — but looking at my current Lush products that I had left to review, which wasn't a lot, I decided to just buy it. For the blog. Because I'm SUCH a good blogger. *cough* 🙄 Regardless, this calendar contains 24 products, and one of them is Santa's Grotto. Today I'll be reviewing it, so if you're curious… keep on reading!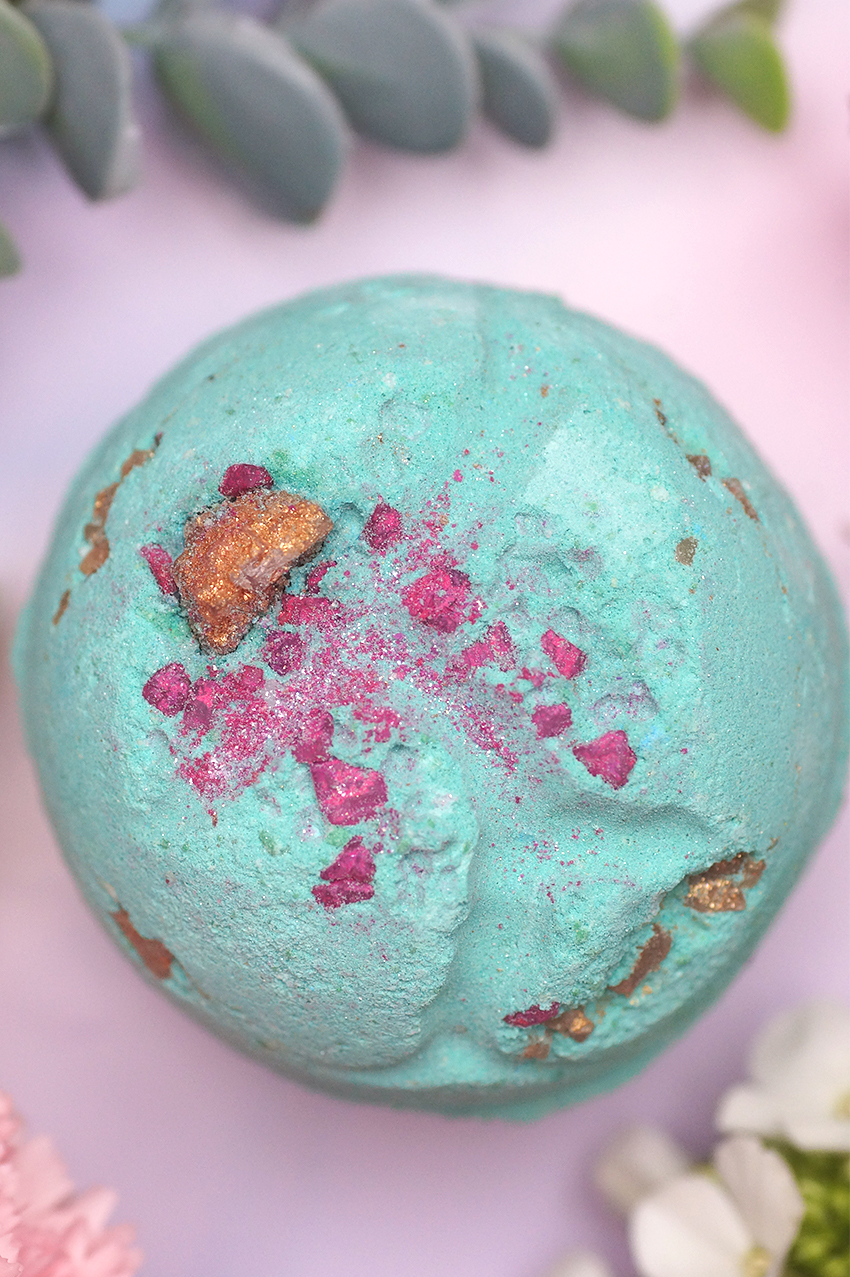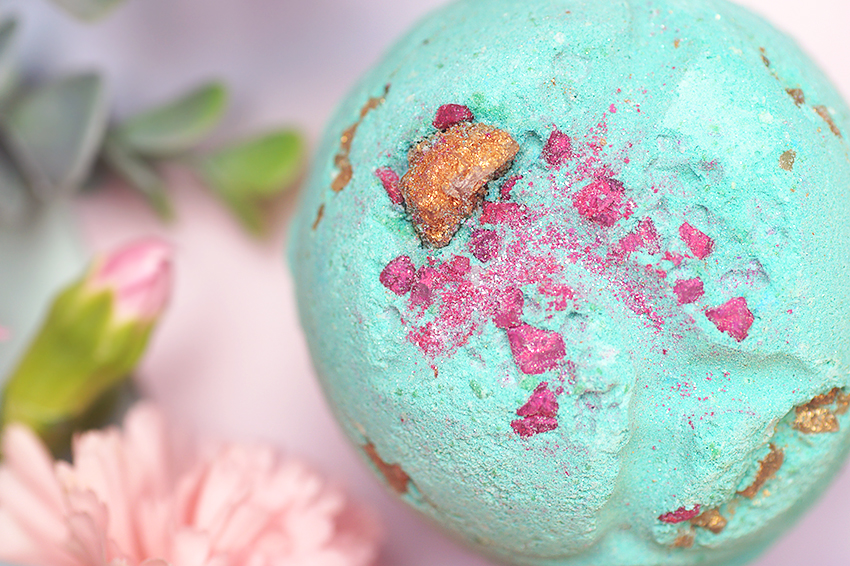 What is it?
Ingredients: Sodium Bicarbonate, Citric Acid, Coarse Sea Salt, Extra Large Sea Salt, Popping Candy, Everlasting Flower Absolute, Ylang Ylang Oil, Tagetes Oil, Cream of Tartar, Cornstarch, Titanium Dioxide, Water (Aqua), Sodium Coco Sulfate, Dipropylene Glycol, Synthetic Fluorphlogopite, Cocamidopropyl Betaine, Calcium Sodium Borosilicate, Tin Oxide, Silica, Alpha-Isomethyl Ionone, Amyl Cinnamal, Benzyl Benzoate, Benzyl Salicylate, Citronellol, Geraniol, Hydroxycitronellal, *Limonene, *Linalool, Perfume, Colour 42090:2, Colour 19140:1, Colour 77491, Colour 15850:1, Colour 45410:1, Colour 42090
Lush Santa's Grotto Bath Bomb is part of the Christmas 2019 range. Iit's included in the Advent Calendar, which was available in the Lush Labs in the month August. The entire Christmas range hits the store September 24th, till then I have no idea how much Santa's Grotto will cost. It's a green bath bomb with little chunks of colored sea salt on top, giving you that beautiful rhinestones look. This bath bomb doesn't only contain cleansing sea salt and playful popping candy, but also everlasting flower absolute, ylang ylang oil and tagetes oil. It's a pretty looking bath bomb, it fits the Christmas theme really well.
The scent is, however, not my thing. I can't quite figure out what I'm smelling — I detect a slight citrus smell, but also a spicy, grassy layer. Ylang ylang and tagetes are supposed to smell floral, but I find it hard to smell anything floral in this bath bomb. It's rather fresh, but with a spicy, herbal and grassy background. I don't know, I just don't like it. The combination of citrus and spicy / grassy seems weird.
Play the video in 2160p quality and on full screen for the best experience! The video has been speeded up.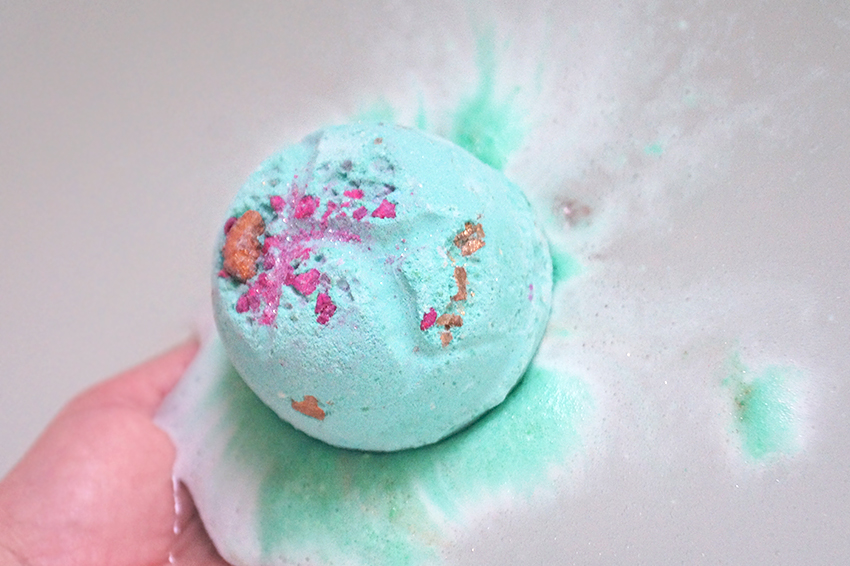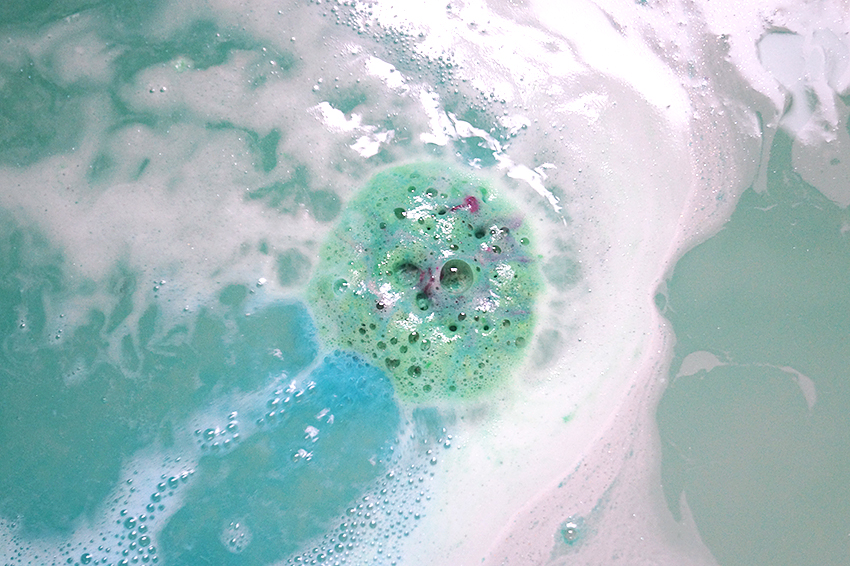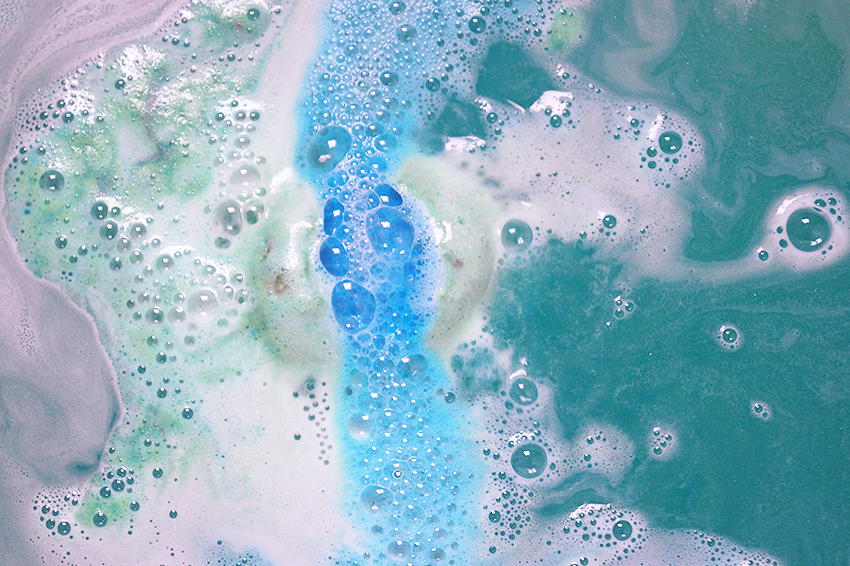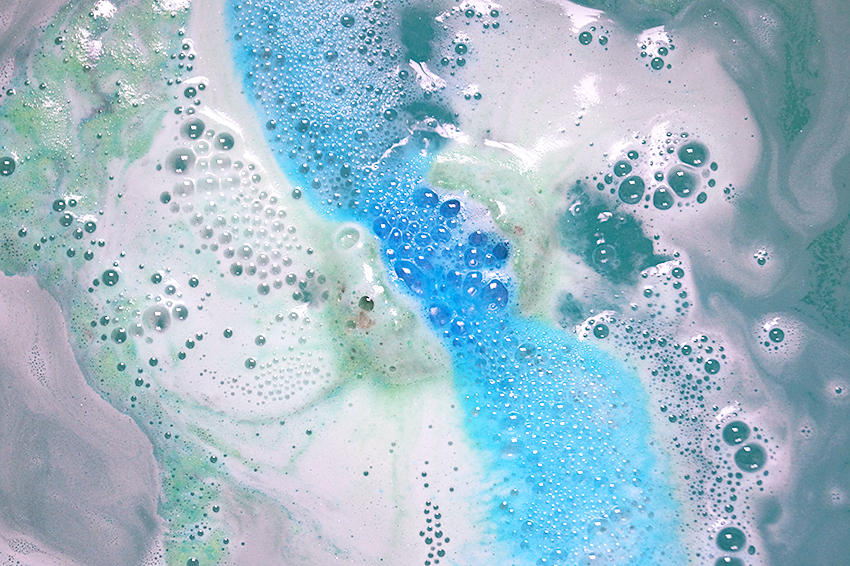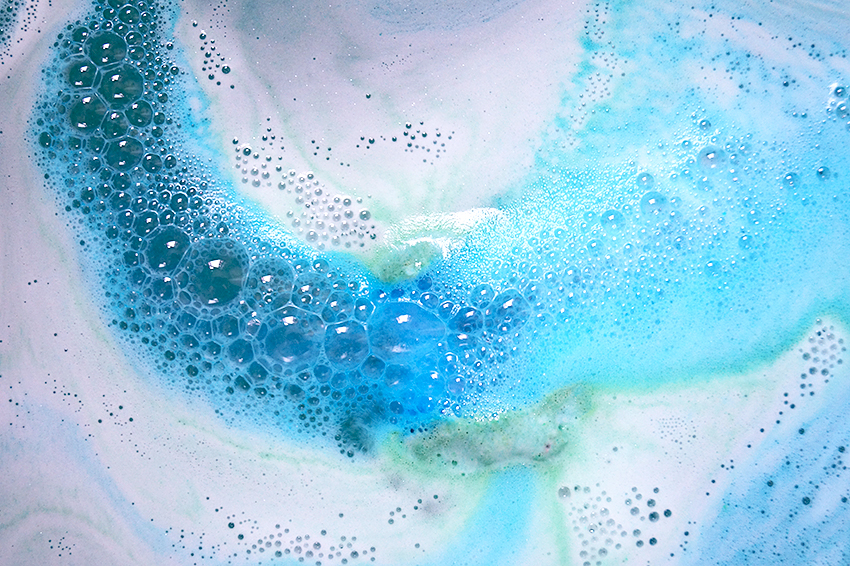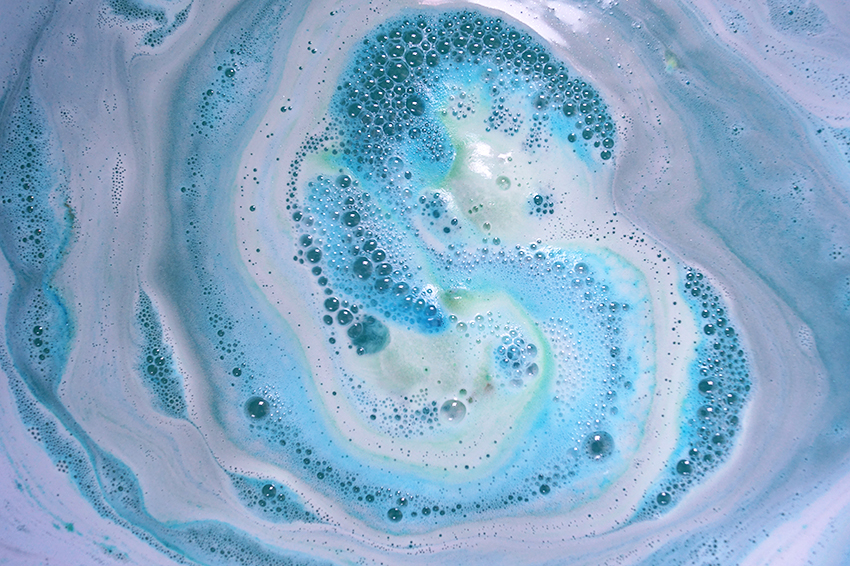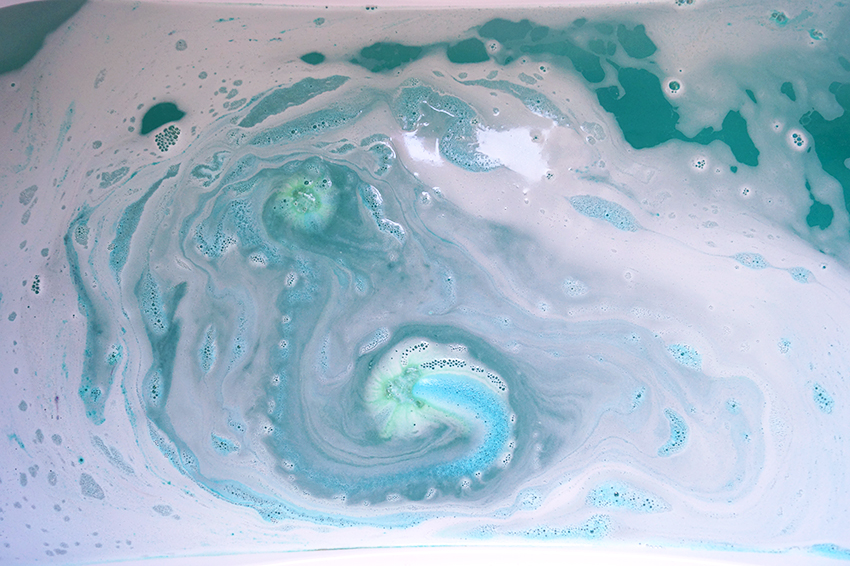 What do I think?
Upon hitting the water, a thick, frothy layer of foam surrounds the bath bomb. It floats through the water, slowly transforming the water into a pale green shade, while green foam decorates the surface. After a minute, Santa's Grotto starts spewing out dark blue, which will transform the color of the water from green to a pretty, teal shade — gorgeous! I can see lustre pulsating under the surface, which is always good. The blue color that's being spewed out by the bath bomb is now a bright, vivid shade of blue, ensuring some pretty bath art. It's a pretty slow fizzer, after about 6-7 minutes the show's over and it's time to dive in!
The final look of the water is a clear, teal water full of lustre. I love it. I could pick up the scent throughout the entire bathing session, it lingers in the bathroom for quite a while. My skin also definitely felt softer afterwards. All in all, this bath bomb gives us some lovely colors and glitters, too bad the scent isn't really my thing. Perhaps you would love this scent, I mean, there's also people who buy Snow Fairy voluntarily??? 😆 Regardless, I won't be buying this bath bomb again, but that doesn't mean it wasn't a nice bath. I'm curious to the rest of the Christmas bath bombs for sure!

Lush Santa's Grotto Bath Bomb is part of the Christmas 2019 range and is available September 24th.

One Response to Review: Lush Santa's Grotto Bath Bomb