Review: Lush Fireball Bath Bomb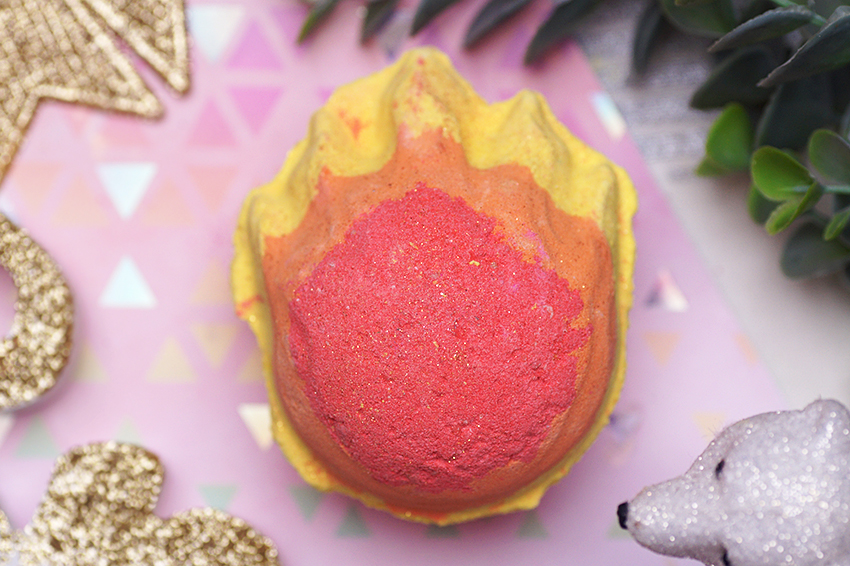 Nose almost freezing off? Can't feel your fingers anymore? Or do you look like Rudolph, with his big, red, shiny nose? No panic, Fireball bath bomb got your back. Throw this fireball into the tub for a warming bathing session. This bath bomb will warm up your muscles while you enjoy its delicious, cozy ingredients. I was very curious about this bath bomb, so on a cold day, I decided to give it a go.
If you're curious about this bath bomb, then keep on reading.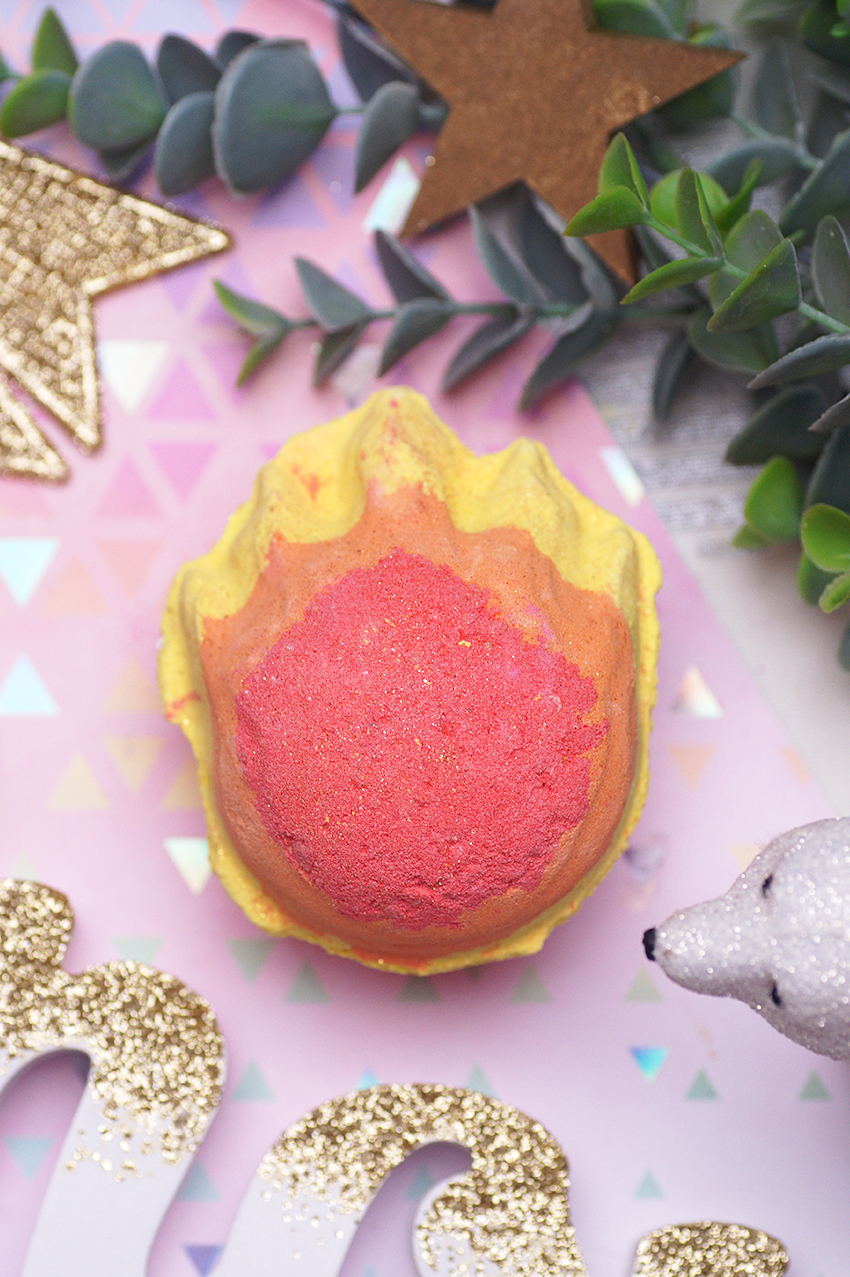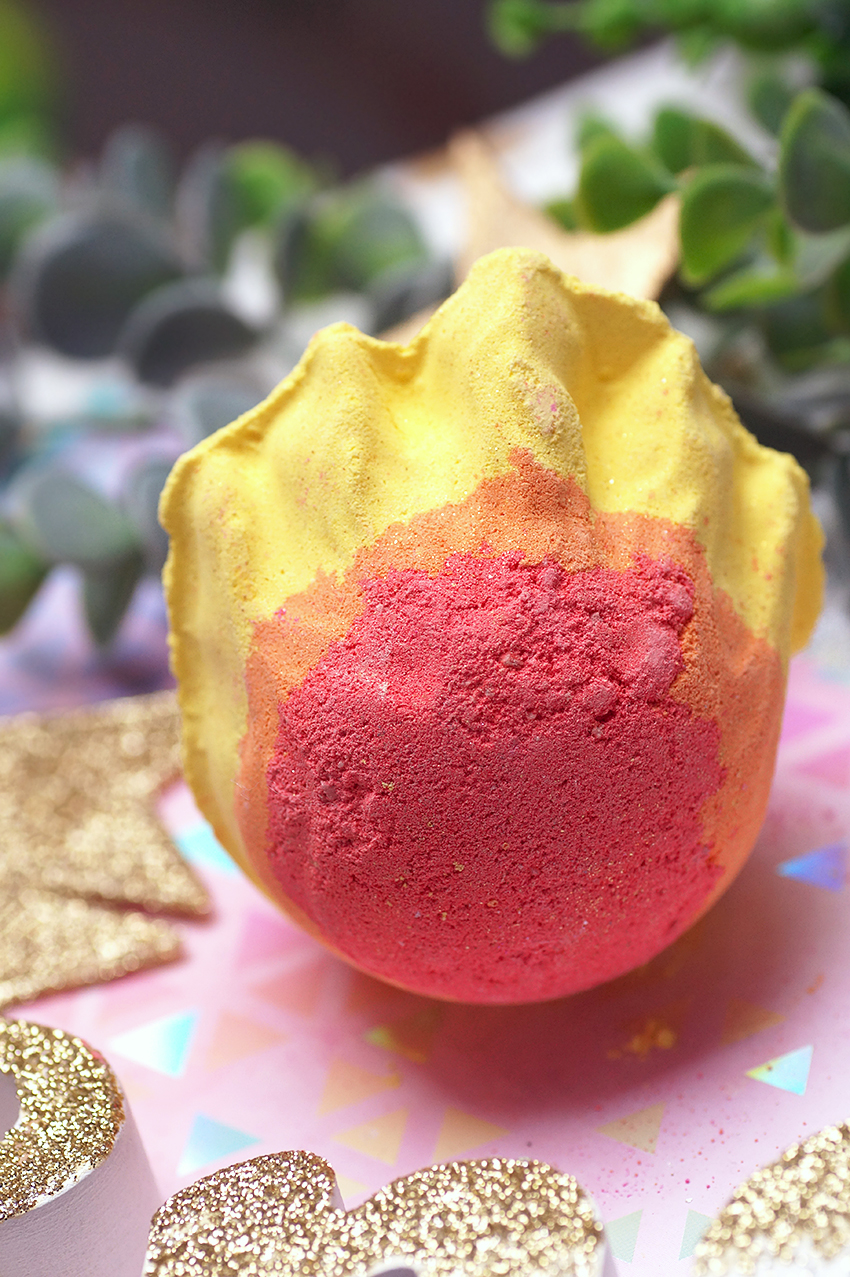 What is it?
Ingredients: Sodium Bicarbonate, Citric Acid, Almond Essential Oil, Brazilian Orange Oil, Cinnamon Leaf Oil, Zeolite Clay, Popping Candy, Water (Aqua), Cream of Tartar, Mustard Powder, Cornstarch, Titanium Dioxide, Dipropylene Glycol, Sodium Coco Sulfate, Synthetic Fluorphlogopite, Cocamidopropyl Betaine, Silica, Tin Oxide, *Cinnamal, *Eugenol, *Limonene, Perfume, Colour 47005:1, Colour 15985:1, Colour 19140:1, Colour 14700, Colour 77491
Lush Fireball Bath Bomb costs £4.95 / $5.95 and is part of the Christmas range. This pretty bath bomb isn't only called Fireball, it also resembles one. A cool design, I love the different colors, covered with a thin layer of golden glitter. This warm, spicy bath bomb is great for when it's very cold outside. It warms up your muscles, gives you a cozy and comfortable feeling and the crackling of the popping candy gives you the idea of having a large fireplace in your bathroom.
Fireball contains almond oil, orange oil, cinnamon leaf oil, zeolite clay and mustard powder. Zeolite clay is known as a powerful detox and purifies the skin, while mustard powder contains antioxidant and anti-inflammatory properties. It stimulates circulation and relaxes the muscles. The other ingredients provide a delicious, warm and cozy scent. A scent that you're maybe familiar with: Cinders! A warm, sweet and slightly spicy scent. I can pick up the cinnamon pretty well, but also the sweetness of the orange. It's a good combination and it's well balanced. I love the Cinders shower gel, so this bath bomb is very welcome.
Play the video in 2160p quality and on full screen for the best experience! The video has been sped up.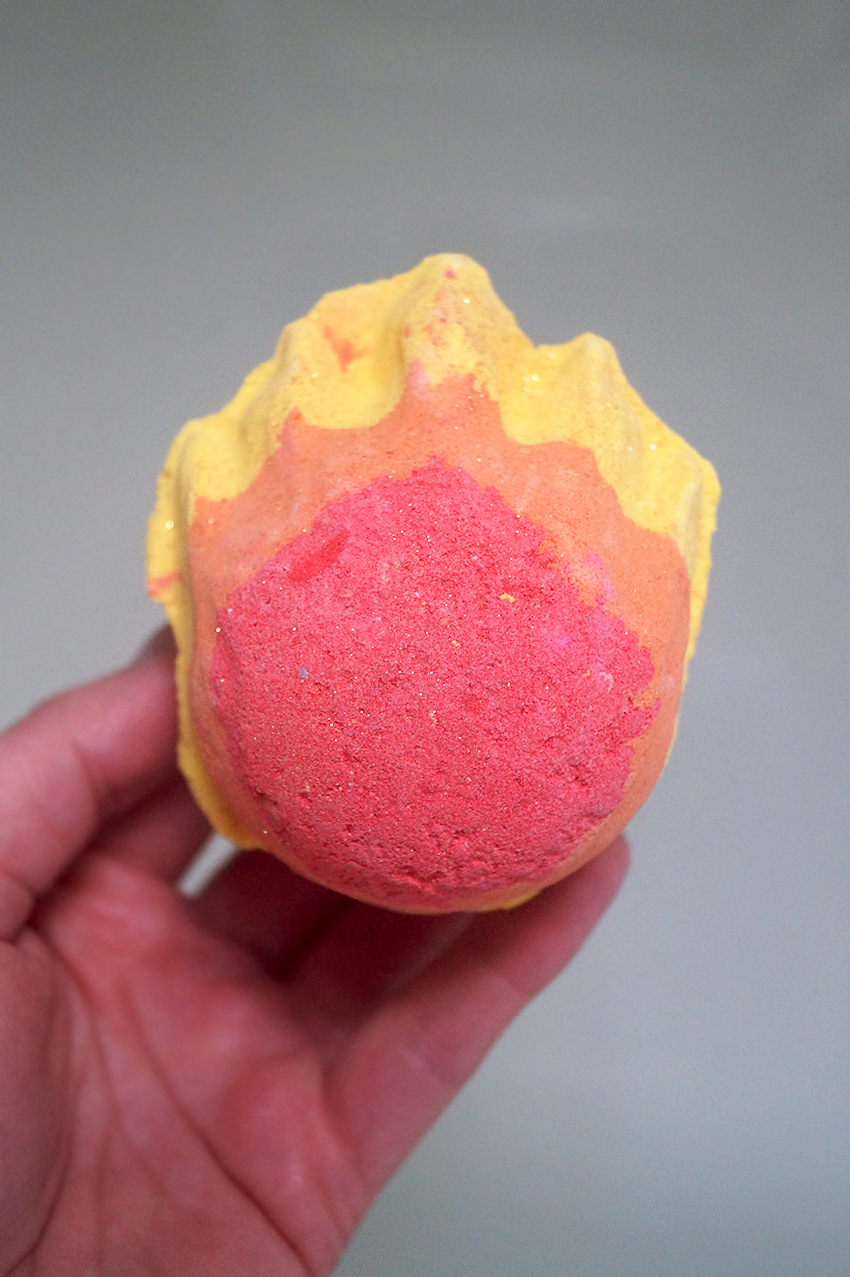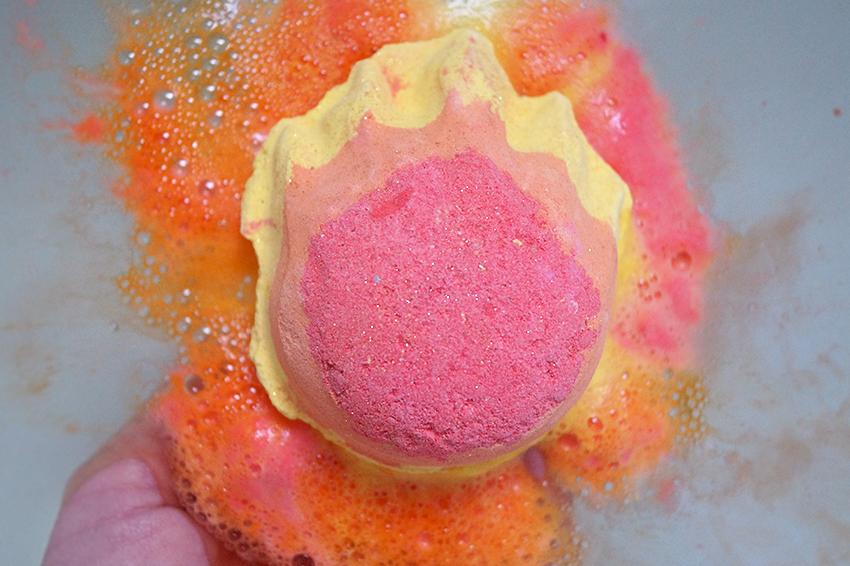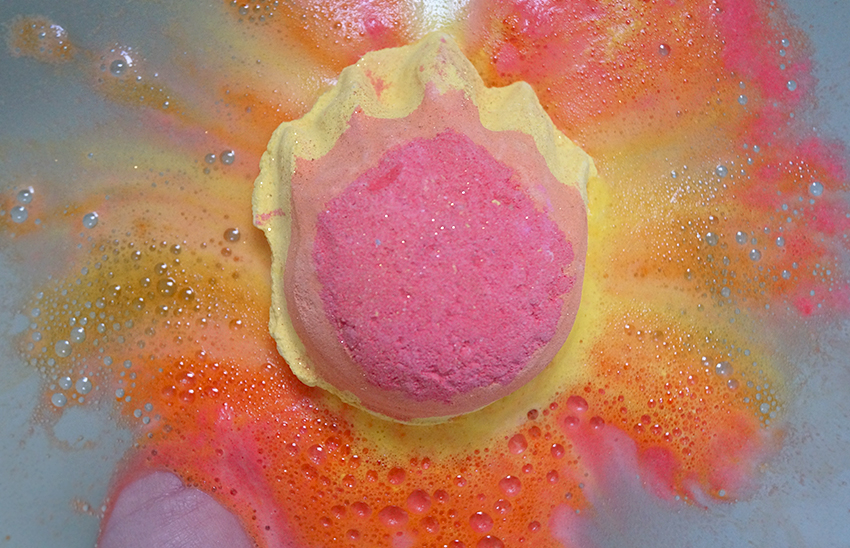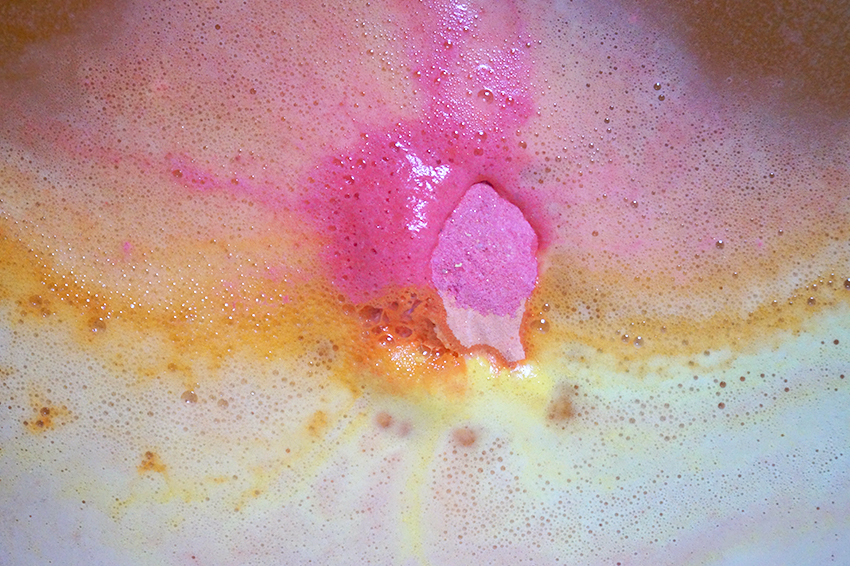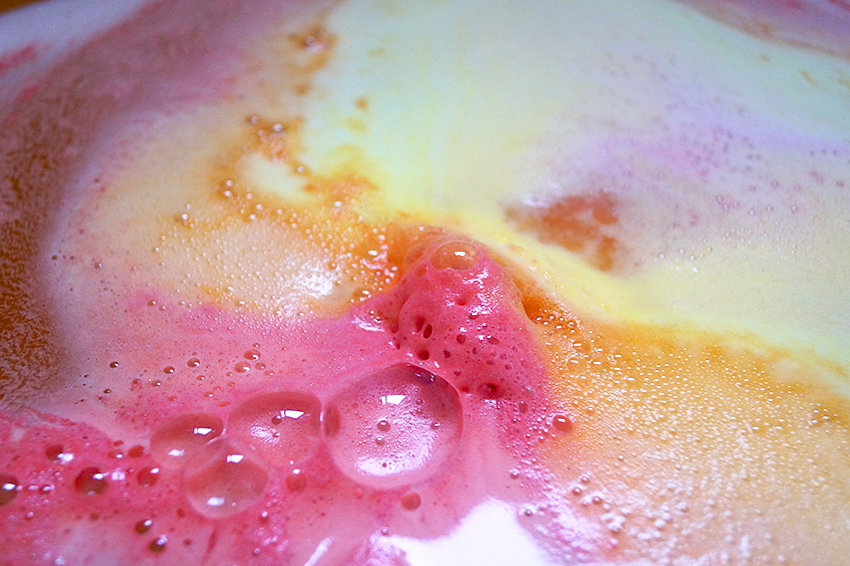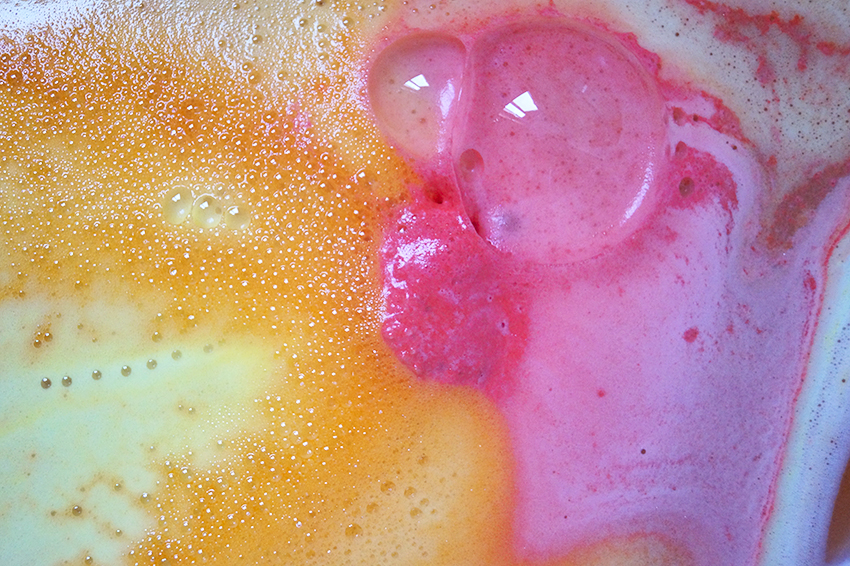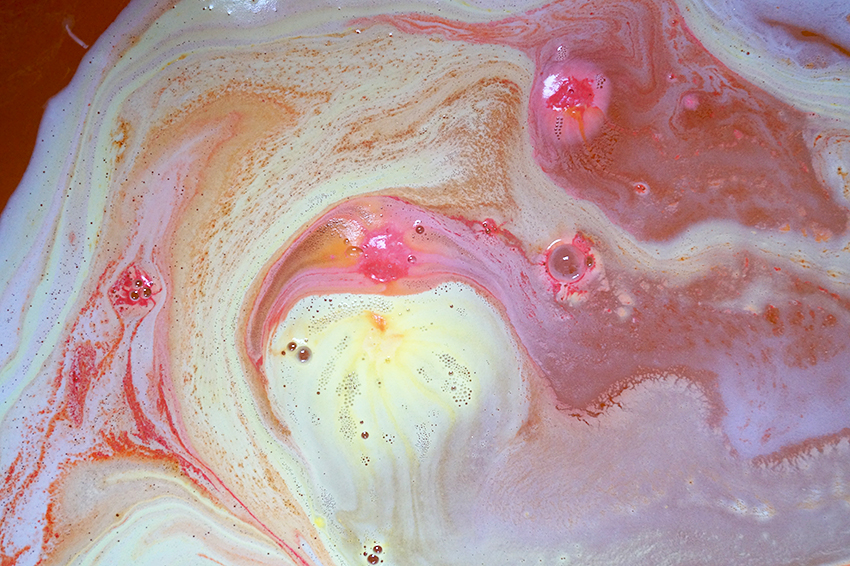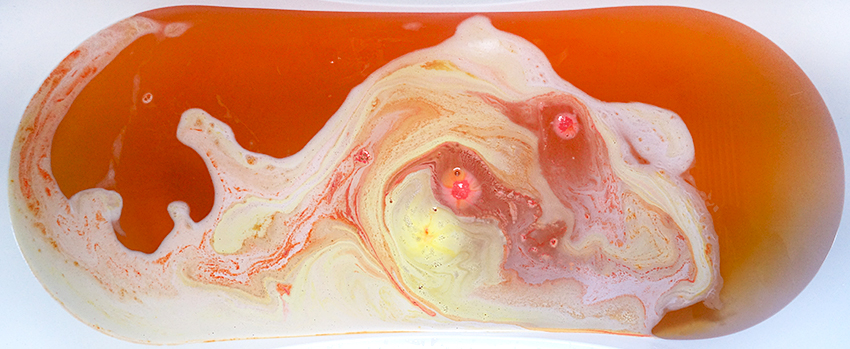 What do I think?
When it hits the water, it starts spewing out all kinds of colors onto the surface. All kinds of shades of orange, yellow and red take over the water, while the lovely, sweet cinnamon scent is spreading in the bathroom. The water gradually turns orange and wherever the bath bomb goes, it leaves a trail of orange and yellow froth behind. It really takes its time to provide the bath with cheerful, bright colors. They're exactly the colors of the bath bomb, so if you put the temperature sweltering hot, it's exactly like having a fireball in the tub. After about 10 minutes, the beautiful spectacle is over and it's time to step into this wet fireplace.
The scent was very good present during bathing. The final color was a shade of dark orange, with a glitter in it. Nothing too overdone, just subtle. Maybe it was the color, or the scent, or a combination of both, but I really found this to be a warming and comfortable bath. It's perfect for cold winter days. Add a lovely Cinders scent to that, and you have a hit. I'll definitely buy this bath bomb again! I couldn't really detect the smell on my skin afterwards, but my skin did feel a lot softer and less dry. And that's very welcome at the moment!

Lush Fireball Bath Bomb costs £4.95 (England) / $5.95 (USA).