Review: Lush Luxury Lush Pud Bath Bomb
This longstanding bath bomb isn't only loved by the majority of Lush fans, it's also very popular in my bathtub. I already reviewed it in January this year — but not in English! Because I thought the photos needed to be updated anyway, I just decided to write a new blog post about this beauty. I brought it with me to the bathroom and we dove right into the tub. If you're curious how that turned out, keep on reading!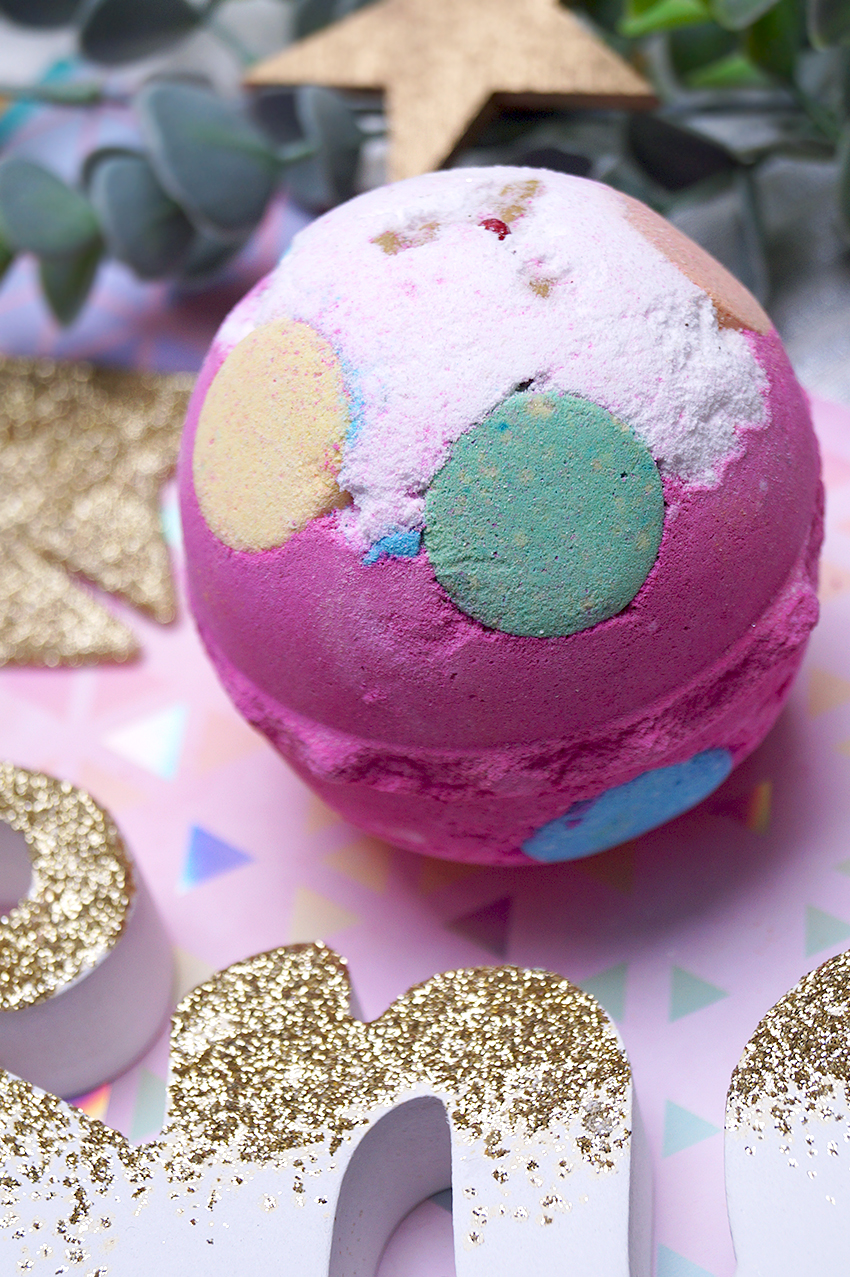 What is it?
Ingredients: Sodium Bicarbonate, Citric Acid, Perfume, Bergamot Oil, Blackcurrant Absolute, Cypress Oil, Cream of Tartar, Water (Aqua), Titanium Dioxide, Sodium Coco Sulfate, Propylene Glycol, Cocamidopropyl Betaine, Dipropylene Glycol, *Limonene, *Linalool, Colour 45410:1, Colour 15510, Colour 19140, Colour 42090, Colour 45410:2, Colour 14700, Colour 17200, Colour 47005:1, Candy Holly Leaf
Lush Luxury Lush Pud Bath Bomb costs £4.95 / $6.95 and is part of the Christmas range. It's been part of the Christmas range since 2013, to the delight of a lot of Lushies, including me. Some years this bath bomb has the The Comforter scent, some years they bring it out with the Twilight/Sleepy scent. This year, however, it contains the warm, berry scent of The Comforter. Luxury has retained its distinctive, cheerful appearance over the years: a lot of pink, a little white and full of colored discs. This just can't go wrong in the bath.
The bath bomb contains bergamot oil, blackcurrant absolute and cypress oil. This creates a sweet, warm berry scent. The blackcurrant smell is very present, but is made a little more warm and less fruity because of the presence of the cypress oil. It's a well balanced scent. Normally I'm not a fan of the The Comforter scent family, but with Luxury Lush Pud, it never really bothered me.
Play the video in 2160p quality and on full screen for the best experience! The video has been sped up.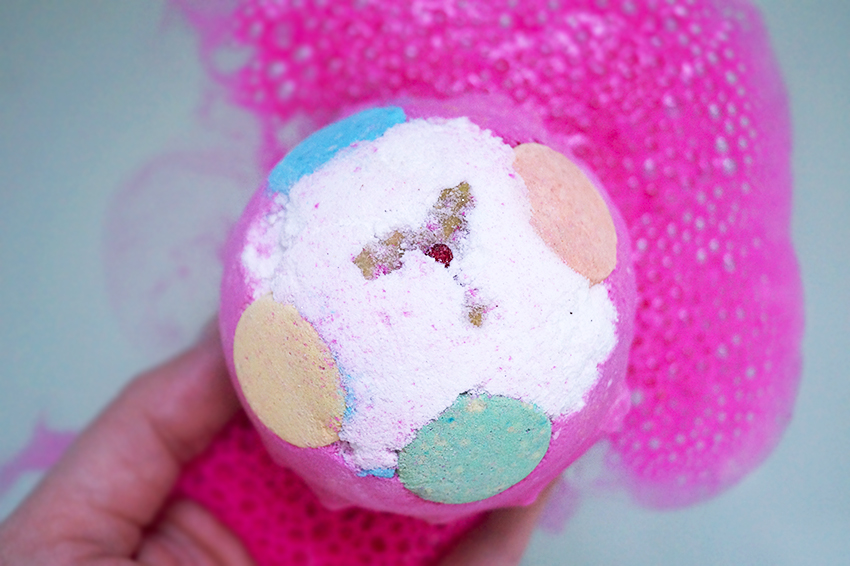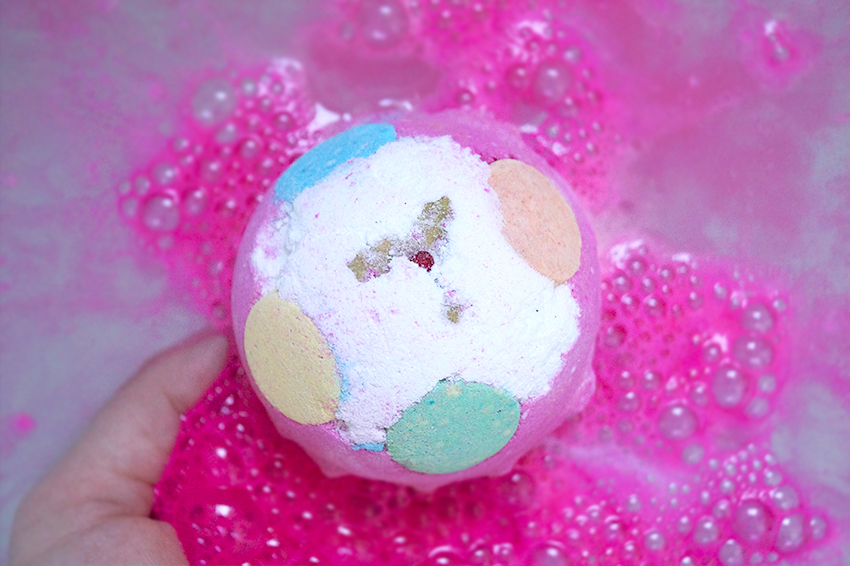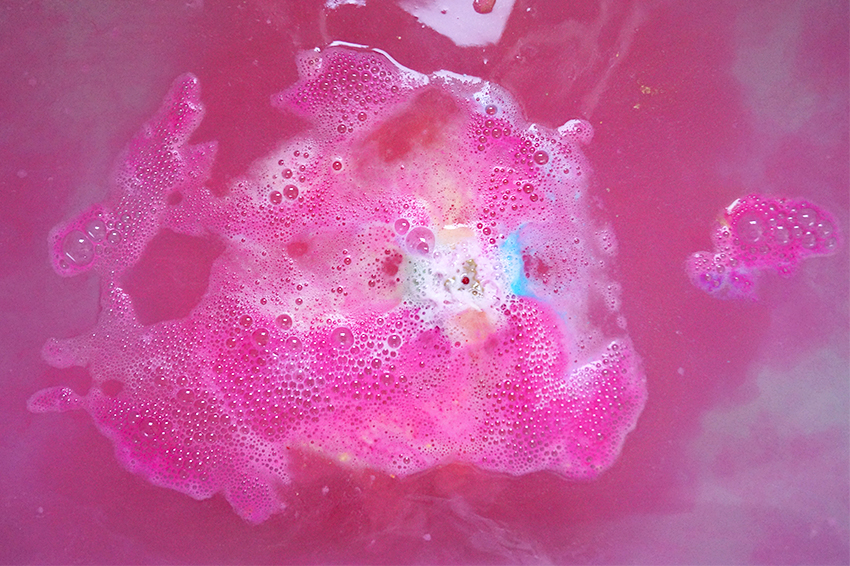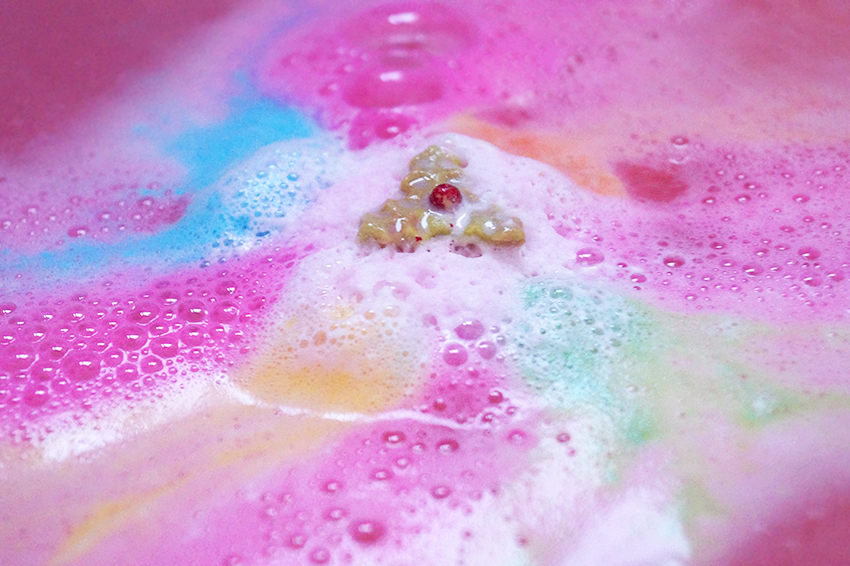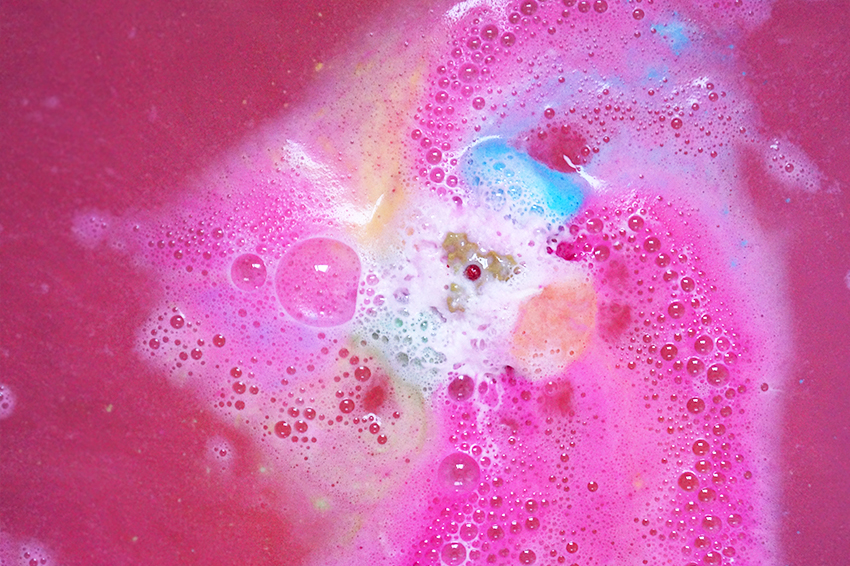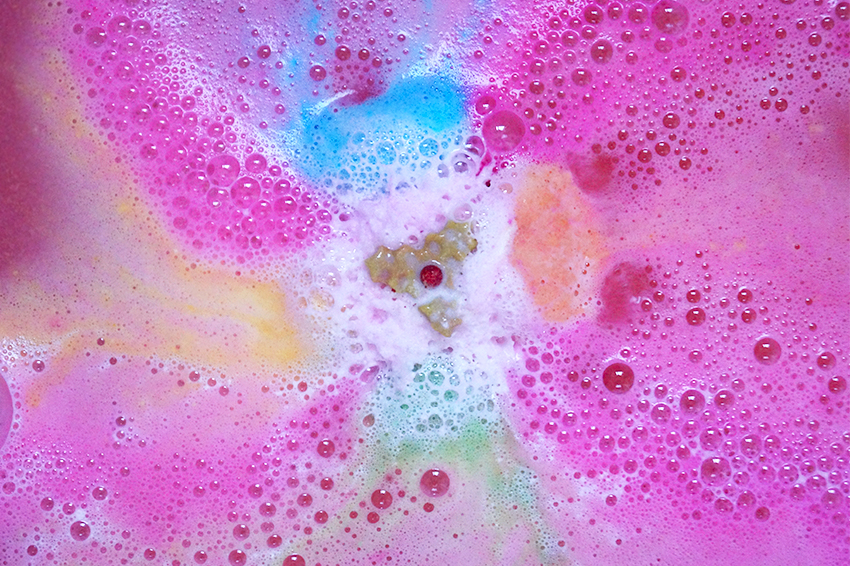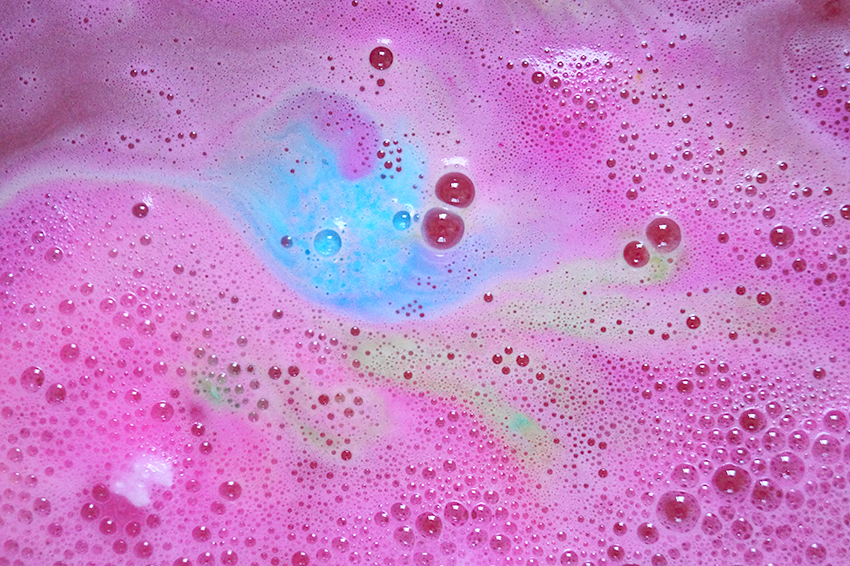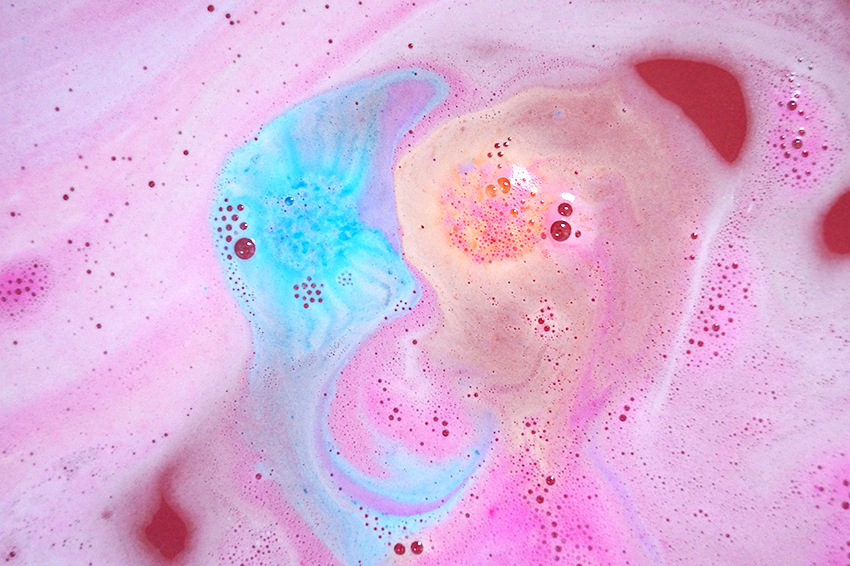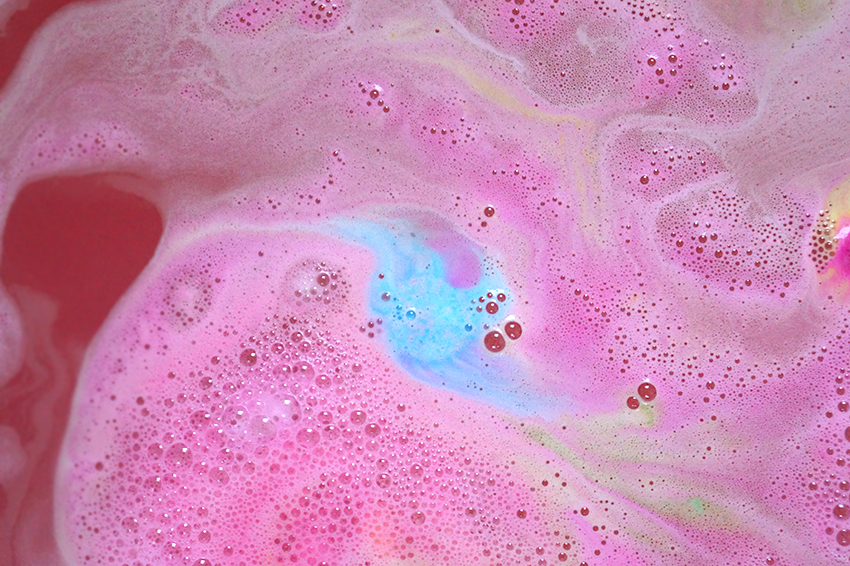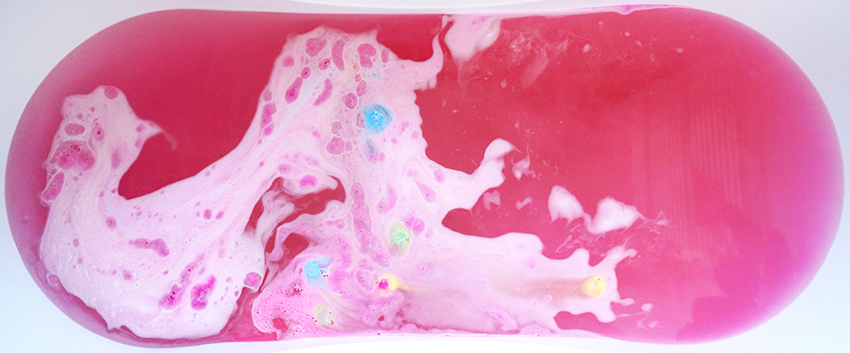 What do I think?
When Luxury Lush Pud hits the water, it vigorously spews out pink froth onto the surface. When I let go of the bath bomb, there's an explosion of pink froth coming out, followed by lots of cheerful, bright colors. Blue, yellow green and orange are slowly taking over the surface. The colored discs float through the water and under the water thick pink clouds arise that color the water a vivid shade of pink. Because I took a bath during the day, I didn't pay attention to the glitters in the water. There is glitter in this bath bomb, I'm sure, because the ingredients list states Synthetic Fluorlogopite as one of the ingredients. After a colorful, aesthetically pleasing show, lasting for almost 10 minutes, you're left with a beautiful, pink bath.
The warm, sweet scent of berries lingered pretty well in the bathroom. I kept smelling it subtly throughout bathing. Afterwards I couldn't detect the skin on my skin, but that's okay. My skin also didn't feel particularly softer, but that's not a must for me. I'm in love with this bath bomb. It creates such gorgeous water, after a amazing bath art show, and the scent is lovely. This will always be a favorite of me! Will definitely stock up on these before they're leaving us again.

Lush Luxury Lush Pud Bath Bomb costs £4.95 (England) / $6.95 (USA).

One Response to Review: Lush Luxury Lush Pud Bath Bomb